New Age Islam News Bureau
31 March 2019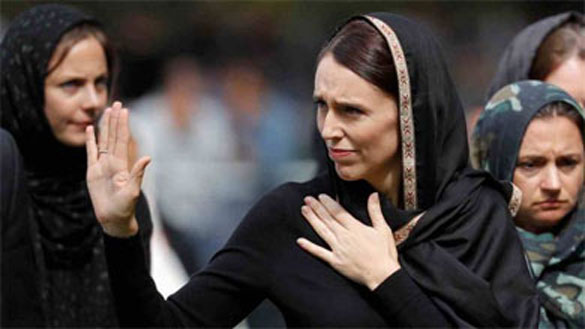 New Zealand premier Jacinda Ardern
------
• Angelina Jolie Pushes For Women To Be Part Of Afghan Peace Talks
• Middle East Organizations Accused Of Abandoning Muslim Women In Syria
• Pressure on Saudi Arabia might finally be starting to work. Keep it up.
• Breaking down Barriers — Meet the UAE's First Female Boxers
• France's Attack on Muslim Women Must Stop
Compiled by New Age Islam News Bureau
URL: https://www.newageislam.com/islam-women-feminism/new-zealand-pm-jacinda-ardern/d/118181
--------
Was New Zealand PM, Jacinda Ardern, Right To Wear Headscarf?
Heather du Plessis-Allan
31 March 2019
Should the Prime Minister have worn a headscarf after the Christchurch mosque attack?
You might not have realised that was even a question being asked. Here in New Zealand, there's been very little media criticism of Jacinda Ardern's decision.
Most of what you'll have read is praise for the PM. To many of us - myself included - her wearing the head scarf looked liked like an act of compassion and support for the Muslim community.
But, step out of the country, or even onto New Zealand's social media pages, and the praise isn't unanimous. There, you'll find a fair bit of passionate criticism.
Former Housewives of Auckland reality TV star Gilda Kirkpatrick's been persistently vocal about the PM's headscarf. She's railed on Twitter against it. Even I attracted an unsolicited tweet admonishing my praise for Ardern. Kirkpatrick knows about headscarves. She originally hails from Iran. To her, the garment is "a symbol of women's oppression" that "millions are fighting to avoid".
Offshore media have carried the criticism we've been muted on. "I wish she hadn't (wore it)", a Muslim women's rights advocate in Malaysia told the Thompson Reuters Foundation. And then Maryam Lee went on to suggest that the reason Ardern did it was because she didn't understand the implications. "She is not a Muslim and not from a Muslim majority country."
Which sounds a lot like what Spectator USA said too. It implied that New Zealanders are naive because it's our first brush with real terror. And then the publication raised the awkward subject of the PM being a feminist. Being "a self-professed feminist" makes wearing a headscarf even worse, the outlet suggested.
"If an elected female prime minister chooses to signal her virtue by wearing a hijab ... she will appear to be endorsing the hijab as the official and correct public costume of Muslim women."
Which is to say, it's telling Muslim women that it's ok to have men dictate what you wear.
And the criticism isn't limited to the PM. It's also aimed at all Kiwi women who wore headscarves for harmony last Friday. In an anonymous column online, a Kiwi Muslim woman calls it "cheap tokenism" and says it "stinks of white saviour mentality, where Muslim women need to be rescued by (largely) white folk".
So was it the right thing for the PM to wear the headscarf?
Despite all the criticism, yes.
Christchurch's Muslim community was singled out for nothing more than being Muslim. And it's the headscarf - in its various forms - that most easily marks out a member of the Muslim community.
So, putting on the headscarf was the simplest and most compelling way of the Prime Minister telling the Muslim community that they are us and they have our support.
Sure, it's a difficult choice for a feminist to make. How do you show support for a persecuted minority but at the same time continue to stand up for the rights of women? Ultimately, it's a question of which is the most important. To you. At that time.
And surely immediately after the attack, the Muslim community were the most vulnerable people in New Zealand. So, surely, supporting them was the most important thing to do. Which is to say, supporting all Muslims was more important than being a feminist in the days immediately following the attack.
But, that doesn't mean that the PM, or any other feminist, should tell themselves it's ok to continue to wear the headscarf. What was solidarity in the aftermath of the attack, can become endorsement if it continues.
But to answer the question right at the start of this column, yes. She was right to wear the headscarf.
https://www.newstalkzb.co.nz/opinion/heather-du-plessis-allan-was-pm-right-to-wear-headscarf/
--------
Angelina Jolie Pushes For Women To Be Part Of Afghan Peace Talks
MARCH 30, 2019
UNITED NATIONS (Reuters) - Academy Award-winning actress and refugee activist Angelina Jolie pushed for the inclusion of women in peace talks to end the conflict in Afghanistan during an address to ministers and diplomats at the United Nations on Friday.
Peace talks between U.S. and Taliban officials began late last year. However, some women fear the freedoms eked out since U.S.-backed Afghan forces overthrew the Taliban in 2001 could slide backwards, and complain their voices are being sidelined.
"In Afghanistan thousands of women have recently come together in public risking their lives to ask that their rights and the rights of their children be guaranteed in peace negotiations that so far they have been allow no part of," Jolie told a ministerial meeting on U.N. peacekeeping.
"The international community's silent response is alarming to say the least," said Jolie, a special envoy for the U.N. refugee agency UNHCR, which she began working with 18 years ago. "There can be no peace or stability in Afghanistan or anywhere else in the world that involves trading away the rights of women."
While the Taliban has said in official statements they might consider more liberal policies toward women, their chief negotiator has said the constitution, which protects women's rights, is an obstacle to peace, said the U.S. Special Inspector General for Afghanistan Reconstruction on Thursday.
Jolie also touted the importance of a United States that is "part of an international community," after a retreat by U.S. President Donald Trump from U.N. agencies and global agreements that has some countries concerned about his commitment to multilateralism.
"I'm a patriot, I love my country and I want to see it thrive. I also believe in an America that is part of an international community. Countries working together on equal footing is how we reduce the risk of conflict," she said.
"A country that believes that all men and women are born free and equal cannot be true to itself if it doesn't defend those principles for all people, wherever they live," she said.
https://www.reuters.com/article/us-afghanistan-talks-jolie/angelina-jolie-pushes-for-women-to-be-part-of-afghan-peace-talks-idUSKCN1RA2HA
--------
Middle East Organizations Accused Of Abandoning Muslim Women In Syria
March 31, 2019
Bassam Tawil, a Muslim Arab based in the Middle East, wrote at the Gatestone Institute website of the dozens of Muslim women who have been imprisoned in Syria.
"The plight of the Palestinian women in Syria is an issue that does not seem bother Palestinian leaders in the West Bank and Gaza Strip," he said. "These leaders are too busy fighting and inciting violence against each other, against Israel and the U.S. They have completely forgotten about the suffering of their people in an Arab country such as Syria."
He explained that the women mostly were arrested by Syrian authorities after the beginning of the civil war in 2011.
"The Syrian security authorities are continuing to hold dozens of Palestinian refugee women since the beginning of the war in Syria," said a recent international report.
It said researchers were able to document the cases of 107 Palestinian women who are still being held in prison; 44 from the Damascus area, 12 from the city of Homs, four from the city of Daraa and 41 from different parts of Syria.
But while they've been "subjected to rape and various forms of torture in Syrian prisons," Palestinian leaders "seem to only care about holding on to their bank accounts and their jobs," he said.
"Not a single Fatah or Hamas official – or the United Nations or Western so-called human-rights groups – has spoken out against the plight of Palestinian women in Syria. Why should they, when all they do most of their time is throw mud at each other while at the same time continuing to incite their people against Israel and the U.S.?" he said.
The writer's complaints were raised in light of the recent International Womens' Day.
"Among the female detainees are university students, activists and mothers, some of whom, report added, were incarcerated with their children," he explained.
The "testimonies of some women who were released from prison confirm that they had been subjected to various forms of torture at the hands of Syrian security officers," the report said. "It is worth noting that Palestinian women in Syria have been subjected to arrest, kidnapping, death and disability as a result of the conflict in Syria that erupted in March 2011."
So far, he wrote, 34 Palestinian women have died in Syrian prisons "as a result of torture."
The civil war also has killed 484 Palestinian women, including 240 from shelling, the report said.
"One former detainee who identified herself as Rana said that while she was in prison, the Syrian security officers burned alive a woman and her daughter who were being held in a nearby cell. She recalled that two other women from the city of Aleppo were raped by prison guards. She said that she herself was held in a small cell together with 15 other women who were subjected to various forms of torture," he wrote.
Tawil wrote, "The plight of the Palestinian women in Syria is an issue that does not seem bother Palestinian leaders in the West Bank and Gaza Strip."
https://www.wnd.com/2019/03/middle-east-organizations-accused-of-abandoning-muslim-women-in-syria/
--------
Pressure on Saudi Arabia might finally be starting to work. Keep it up.
March 30, 2019
SAUDI ARABIA may be conceding, slightly, to the growing international outrage over human rights crimes committed by security forces linked to Crown Prince Mohammed bin Salman. On Thursday, three of more than a dozen women arrested in the past year were freed. A Saudi human rights group says it is believed that eight other women on trial with them in Riyadh could also be released in the coming days. If so, that would be a step toward ending the enormous suffering inflicted on these peaceful activists. But it falls far short of the accountability necessary to ensure that the runaway abuses by the crown prince and his thugs will cease.
Aziza al-Yousef and Eman al-Nafjan were among a number of women's rights advocates who were arrested last May. They were provisionally released with religious scholar Rokaya al-Mohareb ,though their trial continues. Among those still being held are some of the most renowned Saudi women, including Loujain al-Hathloul and Hatoon al-Fassi. Two others, Samar Badawi and Nassima al-Sadah , were not included in the Riyadh trial and remain imprisoned without charge.
After the women were arrested, most were held incommunicado for months in secret prisons and, according to testimony they delivered in court, brutally tortured. Ms. Hathloul's family has said she and others were subjected to beatings, electric shocks, waterboarding and sexual harassment. One of the women reportedly was so traumatized that she attempted suicide. Meanwhile, government media and senior officials, including Mohammed bin Salman and Foreign Minister Adel al-Jubeir, slandered them as "traitors" who had accepted money from foreign governments to commit espionage.
When the closed trial of the women finally began this month, the charges turned out to be far weaker. According to human rights groups and other sources, Ms. Hathloul is accused of such offenses as communicating with human rights groups, journalists and Western diplomats about women's rights issues and applying for a young professionals program at the United Nations. That retreat from the libels of the crown prince and Mr. Jubeir probably reflects a recognition that the persecution of the women, which has been denounced by the United Nations, numerous Western governments and a U.S. Senate resolution, is unsustainable.
Simple justice demands that all of the women be released and the charges against them dropped. But that would not address the larger institutional problem, which is the crown prince's command of special security forces that have committed multiple crimes, including the murder and dismemberment of journalist and Post contributor Jamal Khashoggi. The reported architect of the Khashoggi operation, Saud al-Qahtani, is also alleged to have overseen the torture of Ms. Hathloul, whom he reportedly threatened with rape and murder. Yet this close aide to Mohammed bin Salman has not been held accountable. He is not among those on trial in Riyadh for the Khashoggi murder, and the government is stonewalling the women's accounts of torture.
Ending the abuses perpetrated by Mohammed bin Salman is particularly difficult because of the kid-glove treatment he has received from the Trump administration, which has had virtually nothing to say about the persecution of the women. But the pressure from Congress and European governments finally appears to be having some effect. It's vital that it be maintained until those Saudis responsible for torture and murder are held accountable — and the structures that enabled it are dismantled.
https://www.washingtonpost.com/opinions/global-opinions/pressure-on-saudi-arabia-might-finally-be-starting-to-work-keep-it-up/2019/03/30/c3df33b8-5242-11e9-88a1-ed346f0ec94f_story.html
--------
Breaking down Barriers — Meet the UAE's First Female Boxers
March 29, 2019
Dubai: Doors will open for more Emirati women to compete after the creation of the UAE's first women's boxing team this week, according one of the two fighters Fahima Falaknaz.
Prompted by last February's ruling by world amateur boxing sanctioning body AIBA, which now allows Muslim female fighters to wear the hijab, two Emiratis started a first UAE women's national team training camp in Abu Dhabi at Zayed Sports City on Friday.
Falaknaz, 35, from Dubai and Hanan Al Zeyoudi, 24, from Sharjah, are preparing for next week's camp in Uzbekistan ahead of the ASBC Asian Confederation Boxing Championships in Thailand from April 16.
"This is a historic opportunity and I will be really proud to be one of the first women to represent my country in boxing," Falaknaz told Gulf News.
The 56-kg category fighter, who has only been boxing for a year and a half, but hasn't yet fought competitively, said: "Hopefully we can inspire other Emirati women and open doors for them to follow us.
"The end goal is to reach the Olympics, but as I can only fight for another five years, (the age cut off to compete is 40) this project is very much about inspiring and preparing others.
"I will support them, especially ladies who don't want to be trained by men, and after this I hope to train others in female-only sessions.
"The UAE has always wanted women to box but they have not been confident enough and the hijab rule wasn't there, but now there are no restrictions for us and more ladies will join after watching us fight in Thailand."
Last year's appointment of Emirati sports administrator Anas Al Otaiba as president of the Asian Boxing Confederation and a member of the AIBA executive committee has no doubt helped the rise of women's boxing in the region, as he had made gender equality and the hijab rule his main mandate.
However, Falaknaz says her ability to step into the ring is also thanks to changing attitudes in her culture.
"There is a big change in society, people are more open, families are more relaxed and understanding. My family used to be stressed about me boxing but now they see Dubai is changing and becoming more open to the world. They are accepting it and they are supporting me.
"Women shouldn't listen to others who say women are weak and sensitive, they are strong and can do what men can do — we are female but we are still capable," added the assistant manager of communication and customer care at DP World, who trains out of the Real Boxing Only Gym in Al Quoz.
"Emirati men should be proud of their sisters, aunts and daughters reaching into a sport that wasn't there for us before — I think they will be very happy."
Asked about the benefits of boxing, she added: "It's been a life-changer. I used to be unable to look people in the eyes, but now I'm a lot more confident. It's not only about punching and fighting, it's a technique and movement, like a dance that makes you happy from the inside."
Other female Emirati trailblazers
■ Shaikh Lubna Al Qasimi — first Emirati female to become a minister, 2004
■ Salma Al Baloushi — first Emirati woman to fly a plane solo, 2009
■ Elham Al Qasim — first Emirati female to reach the North Pole, 2010
■ Mariam Al Mansouri — first female Emirati to serve as a UAE Air Force fighter pilot, 2014
■ Dr Amal Al Qubaisi — first female leader of a national assembly in the UAE and the region, 2015
https://gulfnews.com/sport/breaking-down-barriers--meet-the-uaes-first-female-boxers-1.62993108
--------
France's Attack on Muslim Women Must Stop
Hajar El Jahidi
19 March 2019
Last month, faced with a public backlash and violent threats, French sports retailer Decathlon pulled plans to sell a "running" hijab in France.
This is not an isolated case, but part of a larger, structural stigmatisation and exclusion of French Muslim women.
This intersectional form of discrimination marginalises the most vulnerable women and is part of a historical continuum of fundamental rights infringements - one that is set to continue, unless it is acknowledged by France's institutions, political elite and civil rights defenders.
The visibility of the Muslim presence in France - notably through the wearing of the hijab - has become a controversial topic, whose history spans several decades.
Obsession with the headscarf
In 1989, three Muslim girls were suspended from their school in a suburb of Paris for wearing the hijab. Since then, France has entered a regulation frenzy, consumed by the question of Muslim women's head coverings.
This obsession has taken shape through different laws, including the 2004 law banning the headscarf from schools and the 2011 ban on full face veils in public spaces.
Every now and then, advocates float the idea of banning the hijab in universities or even in all public spaces, dragging unwilling French Muslim women into yet another public debate.
Such developments reveal how the French state wants to regulate and confine the Muslim presence - in particular, the visibility of Muslim women - through legal means. Such laws, which clearly infringe on fundamental rights, have not been properly assessed to determine their impacts on the women targeted by them.
This profusion of French laws leads to the misinterpretation by the state apparatus and the population at large of the legal framework, leading to illegal exclusions and discrimination against Muslim women.
The over-zealousness of civil servants in protecting their own interpretation of French laicite (secularism) laws leads them to go beyond the actual laws - which are already "liberticide" in many regards.
According to a 2017 report by the Collective Against Islamophobia in France, 40 percent of Islamophobic acts were committed by government authorities, and a further 53 percent by legal entities.
The burkini controversy is a perfect example of state officials infringing on Muslim women's rights to wear religious clothing, or simply to dress as they wish, despite the absence of a legal framework for such interdictions. More than a dozen municipalities banned burkinis on public beaches, a clear breach of women's constitutional rights and freedoms.
Over-zealous secularism
In an even more vicious case of misinterpretation of the law, young women have been cast out of schools for wearing long skirts, interpreted as a religious symbol because of the young women's religious identity.
Such discrimination is not limited to the state: from social media, to traditional media, to the French streets and over-zealous secular citizens, French Muslim women are routinely excluded.
The Decathlon case marks the advent of a new strategy of exclusion. While many politicians and observers have rightly pointed to the legality and freedom of a private business to sell this product in France - and while there appears to be a consensus that it is not forbidden for Muslim women to run while wearing the hijab - a large fringe of the French elite took it upon themselves to feed the controversy.
This strategy heralds a new phase in the demonisation of the hijab and of Muslim women in France. If something cannot be banned through legal means, opponents turn to other methods, including violent threats, to target the country's Muslim presence.
Enemies of the state
This sustained attack on the visibility of Muslim identity has created a situation in which Muslim women are viewed as public enemies of the French state. The end result is collective hysteria whenever a headscarf is seen in the public sphere.
This has been seen over and over again, from the two women who were thrown out of a Paris restaurant because they were wearing headscarves, to the mother who was barred from attending a school field trip with her daughter because of her hijab, to the woman who was forced by local police to strip off her burkini on a public beach - and the list goes on.
As women around the world marked International Women's Day earlier this month, Muslim women in France face significant barriers to attending school, working in the public or private sector, swimming, and now even running. Their safety is constantly at risk.
It is time for civil society in France and elsewhere to see the situation for what it really is. Far from the bucolic and romantic image that France likes to portray, this is now a country that stigmatises, excludes and marginalises its Muslim minority - in particular, its Muslim women - to an extent beyond any other Western country in the last half-century.
https://www.middleeasteye.net/opinion/frances-attack-muslim-women-must-stop
--------
URL: https://www.newageislam.com/islam-women-feminism/new-zealand-pm-jacinda-ardern/d/118181
New Age Islam, Islam Online, Islamic Website, African Muslim News, Arab World News, South Asia News, Indian Muslim News, World Muslim News, Women in Islam, Islamic Feminism, Arab Women, Women In Arab, Islamophobia in America, Muslim Women in West, Islam Women and Feminism