New Age Islam News Bureau
12 Jun 2014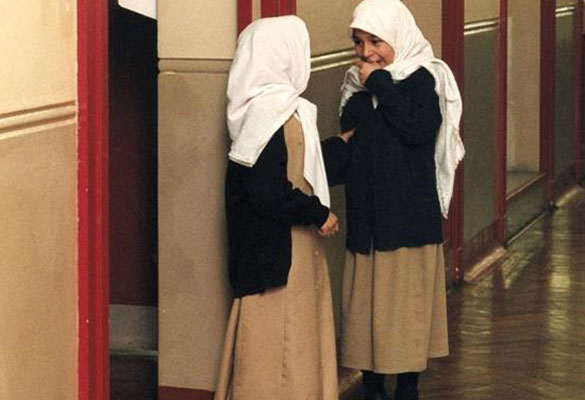 Photo: Let Schools Keep Boys and Girls Apart
---------
• Let Schools Keep Boys And Girls Apart, Says Watchdog
• School Inspector Refuses to Shake Women's Hands
• A Fight as U.S. Girls Face Genital Cutting Abroad
• Researcher Tries To Lift the Lid on Western Women Living In KSA
• Bilqis Is Unable To Play Pro Basketball; FIBA Rules Prohibit Her Wearing A Hijab
• Emirati Women to Raise Voice against Sexual Violence in Conflicts
• Texas Shelter a Refuge for Muslim Women
• Sindh Child Marriages Restraint Act Comes Into Effect
• SOMALIA: Women Struggle To Make It in Politics
Compiled by New Age Islam News Bureau
URL: https://www.newageislam.com/islam,-women-and-feminism/new-age-islam-news-bureau/'walk-like-an-egyptian-woman'-rally-to-hit-cairo/d/87494
-------------
'Walk Like an Egyptian Woman' Rally to Hit Cairo
12 June 2014
Following accounts of sexual harassment in Egypt's Tahrir Square earlier this week, during the inauguration of Egyptian President Abdel Fattah al-Sisi, a group of Egyptian women will rally on Saturday.
The event titled "Walk like an Egyptian Woman" – has already attracted over 13,000 Facebook users who say they'll participate in the anti-sexual harassment protest, according to Ahram Online.
Dina El-Shebba, the event's organizer, wrote on the Facebook page:
"So if in India people protested against the gang rape of two girls, [then this] is the least we can do for the woman that was raped in Tahrir today along with all the Egyptian women who are subjected to violence every day."
Shebba's comments refer to last month's news of the gang-rape and murder of two young girls, aged 12 and 14, in the north Indian state of Uttar Pradesh, which drew widespread condemnation.
On Tuesday, Sisi ordered his interior minister to do whatever it takes to combat sexual harassment and called for the decisive implementation of a new law that punishes convicted harassers with up to five years in prison, Ehab Badawi, a presidential spokesman told the Associated Press.
Also read: Seven arrested after Egypt sex assault video
Video: Disturbing sexual harassment scene in Cairo's Tahrir square
The statement came after a series of sexual assaults on women during celebrations marking Sisi's inauguration, including a mass attack on a mother and her teenage daughter.
Sisi also instructed Interior Minister Mohammed Ibrahim to honor a policeman who came to the teenager's rescue, Badawi added.
On Monday, the Egyptian interior ministry said police had arrested seven men aged 16 to 49 as "they had (sexually) harassed a number of girls during the celebrations in the Tahrir area."
Last week, outgoing interim President Adly Mansour signed a law criminalizing sexual harassment. Those found guilty of the offence now face large fines and long jail terms.
http://english.alarabiya.net/en/perspective/features/2014/06/11/-Walk-like-an-Egyptian-woman-rally-to-hit-Cairo.html
-------------
Let Schools Keep Boys And Girls Apart, Says Watchdog
12 June 2014
Ofsted has told its inspectors that segregating boys and girls is acceptable in Muslim schools and should not be criticised, The Times has learnt.
Instructions to inspectors say that girls and boys "may well" be taught or seated separately in schools with an Islamic ethos and that this does not amount to discrimination. The schools regulator also tells inspectors that music and art can be "restricted", despite being national curriculum requirements.
http://www.thetimes.co.uk/tto/education/article4116611.ece
-------------
School Inspector Refuses to Shake Women's Hands
12 June 2014
A Muslim schools inspector employed by Ofsted in London refused to shake hands with women teachers, the education watchdog admitted today.
Teachers complained that he snubbed female members of staff because he said it went against his Islamic faith.
The revelation follows the "Trojan horse" extremism row that saw Ofsted and the Government attacking schools for failing to "promote tolerance".
In particular Government officials criticised one Birmingham primary where a male teacher had refused to shake hands with a female inspector.
Ofsted received complaints about the London incident and has indicated that the inspector was a contractor, and that soon the watchdog will no longer outsource inspections to private firms.
But an upset member of staff said: "It's double standards by Ofsted. They can't criticise teachers for not being tolerant when someone inspecting for them is refusing to shake women's hands." Ofsted's code of conduct says all inspectors should treat staff with "courtesy, respect and sensitivity". An official told the Standard it would not comment on complaints about individual inspectors but added: "We can confirm that the person in question is an additional inspector contracted by our inspection service providers."
The organisation is now changing its rules so it no longer uses inspectors contracted in from the outside.
Concerns over extremism in Birmingham schools were raised after controversial Ofsted inspection reports were published last month. The report on Oldknow Academy said of the Birmingham school: "The curriculum does not promote tolerance and harmony be- tween different cultural traditions."
Education Funding Agency inspectors who visited the school complained that a member of staff did not shake a female inspector's hand "for religious reasons". Their report said: "He was surprised she did not know that."
http://www.standard.co.uk/news/education/muslim-school-inspector-employed-by-ofsted-refuses-to-shake-womens-hands-9527387.html
-------------
A Fight as U.S. Girls Face Genital Cutting Abroad
12 June 2014
ATLANTA — Last summer, an American-born teenager of Somali descent fled her parents' home in a suburb here after she discovered that a coming vacation to Somalia would include a sacred rite of passage: the cutting of her genitalia. In Guinea, a New Yorker escaped to the American Embassy after an aunt told her that her family trip would involve genital cutting. And in Seattle, at least one physician said parents had sent girls back to Somalia to undergo cutting.
Immigrant parents from African and other nations have long sent their daughters back to their ancestral homes for the summer, a trip intended to help them connect with their families and traditions.
During their stays, some girls are swept into bedrooms or backwoods and subjected to genital cutting in the belief that it will prevent promiscuity, ready them for marriage or otherwise align them with the ideals of their culture.
"Vacation cutting," as the practice is deemed by those who oppose it, has existed in immigrant enclaves around the world for decades. Federal law has banned genital cutting in the United States since 1996, and last year it became illegal to transport girls for that purpose.
But some are concerned that such cutting could be on the rise. The number of African immigrants in the United States has more than quadrupled in the past two decades to almost 1.7 million, according to the Census Bureau. The growing numbers have brought new attention to the issue, and have spurred a small Internet-age, app-enabled support network of girls and women who have been victims of cutting, or believe they will be.
About 228,000 women and girls in the United States have been cut or are at risk of it, according to an analysis that uses 14-year-old census data.
At the center of this new network is Jaha Dukureh, 24, a Gambian immigrant who was cut twice, once as an infant in Gambia and again at age 15 in New York. A former Wells Fargo banker and a mother of three, she lives here in Atlanta. In February, she filed an online petition, urging President Obama to conduct a study of the issue.
She now fields hundreds of text messages, phone calls and social media messages a week from immigrants who want to talk about cutting but have never been able to do so.
Ms. Dukureh, who is college-educated and drives — unlike many of her immigrant friends — switches easily among the roles she has adopted in the past few months: caseworker, health educator, political strategist, media coordinator.
The questions she gets are both intimate and universal. "I have girls calling me who have been cut, asking: 'Can I have sex? Will it hurt?' "
"No one is really talking about this in the U.S.," she said. "No one knows. When I tell people what we are trying to do, people are in shock."
Representatives Joseph Crowley of New York and Sheila Jackson Lee of Texas, both Democrats, have also spoken out on the issue. On Wednesday, they will deliver a letter to Congress and several federal agencies, requesting a national plan to study and address the cutting of American girls.
They suggest emulating efforts in Britain, which has established a help line for potential victims, created passport inserts that explain the law regarding female cutting, and delivered repeated warnings to school staff members about the dangers of the practice.
Last month, several British law enforcement agencies conducted a weeklong operation at Heathrow Airport intended to catch families sending girls abroad for cutting.
In Atlanta, Ms. Dukureh connects daily with 16 girls in places across the country who share messages, videos and fiery self-authored poems using the app WhatsApp.
Mariam Camara, 22, and Haddiejatou Ceesay, 19, are the authors of "They took it!" It goes:
I had my female cut from me, my sensations stolen and discarded replaced with numbness and pain. My say in the matter? Negligible and disregarded.
I was told it was to cleanse me. Purify me, ensure my chastity till the day my husband took me at sunrise.
So they mutilated me, without second thoughts or anesthetics they cut me with razor sharp non-sterilized blades, they sliced me. They took it!
The tradition of female genital cutting is nearly nonexistent in many African and Middle Eastern cultures, but is deeply entrenched in others, and occurs primarily in 29 countries, according to the United Nations. The highest rates are in Somalia (98 percent of women are cut), Guinea (96 percent), Djibouti (93 percent), Eritrea (89 percent) and Mali (89 percent).
It can take many forms. Sometimes, a community member cuts just a portion of the clitoris. In the most extensive cases, the clitoris may be removed, the labia are sliced and brought together and a seal is created, leaving a small hole for urination and menstruation.
Unlike male circumcision, the practice has no health benefits. Occasionally, it is accompanied by an under-age marriage.
Its existence in the United States remains unknown to many American officials, clinicians, teachers and counselors. The reasons are twofold: Immigrant families rarely speak about it to outsiders, and outsiders, often unsure about how to approach the tradition of a foreign culture, do not know how to ask.
Those working to end cutting say that they seek to do so in a culturally sensitive way, recognizing the practice's long history, and gently educating families about its consequences: immediate and long-term physical pain, complications during birth, loss of sexual feeling and mental health issues.
One goal, they say, is to dispel the falsehood that the tradition is supported by Islamic law.
"They think they're doing their best for us," said Naima Abdullahi, 37, a Kenyan-American who was cut at age 9 and now runs a support group in Atlanta for victims. "It's about engaging the community to talk. Why do we do these things?"
Another goal is to teach doctors how to treat women who have been cut.
The education process can be difficult. In some families, not being cut can limit a girl's chances of marriage and isolate her from her community. Parents sometimes agree to a child's cutting, even if they have reservations.
One African social worker living in New York explained that when she learned a 12-year-old client was headed to Mali this summer, she made repeated school visits to educate her about the consequences of genital cutting, plying her with notebooks and other small gifts.
"I'm like, 'You know you're going to get married, do you know what that means? Do you know what circumcision is?' " said the counselor, who asked that her name not be used so she could protect her client's privacy. "And she's like, 'Yeah, they did it to everybody.' I ask, 'Do you think that's what's going to happen in Mali?' And then she shut off. She's like, 'My mom told me not talk about that.' "
"The thing was," the counselor continued, "if they don't say that they want the help, we can't do anything."
ttp://www.nytimes.com/2014/06/11/us/a-fight-as-us-girls-face-genital-cutting-abroad.html?_r=0
-------------
Researcher tries to lift the lid on Western women living in KSA
12 June 2014
JEDDAH — An American woman is hoping to lift the lid on the experiences of Western women living in the Kingdom and who have converted to Islam.
Laura Bruster, a 25-year-old full-time sociology master's student at the University of Mississippi, is currently in Jeddah looking for participants to interview for her thesis, which aims to understand how women from the West were able to adapt and change their religious and gender identities while living in Saudi Arabia.
She told Saudi Gazette: "Saudi Arabia is often viewed as an Islamic safe haven that many converts only dream of living in, yet they do not understand the social and cultural norms that may not be based on Islamic ideals.
"So what happens to women born and raised in the land of choice and how are they affected when they arrive in Saudi and may feel that it was not an Islamic safe haven they once thought it was and much of their choices are limited, especially with regard to their dress outside the home?"
Bruster believed a lot of current research about Muslim women only focused on how Middle East and south Asian women migrated to Western countries and viewed Islam as an ethnic identity, rather than a religious one.
She said she did not intend to disparage Saudi Arabia in any way. "I want people to know that this is not a study to bash Saudi or its beautiful culture.
"It's only to understand a perspective from a small minority residing in Saudi, but it's important to understand to help take current religious research about Islam being an ethnic identity back to being a religious identity."
Bruster herself reverted to Islam almost five years ago and met her husband, who works in the Kingdom, a year after embracing the religion.
"After a very emotional draining spring semester at college I began to look into many different religions and when I found Islam, it was very much feeling like a missing puzzle piece, finally finding the puzzle I belong to."
Bruster said she has faced some challenges in conducting her research in Saudi Arabia, mainly with regard to finding participants and also getting to interviews due to transport challenges.
Interviews can be conducted through Skype, over the phone, or face to face, she said.
Bruster said she plans to release the results of her study in April 2015. If you are a woman from a Western country who lives in Saudi Arabia, converted to Islam and interested in participating in Bruster's research, please contact her on lrbruste@go.olemiss.edu or call her on 056 602 5817.
http://www.saudigazette.com.sa/index.cfm?method=home.regcon&contentid=20140612208205
-------------
Bilqis Is Unable To Play Pro Basketball; FIBA Rules Prohibit Her Wearing A Hijab
12 June 2014
Playing basketball, Bilqis Abdul-Qaadir was always the best player on the court. The Springfield native finished her high school career as the leading scorer in Massachusetts state history. During her senior season at New Leadership she earned the Goodnow Award and was named the Gatorade state player of the year.
Abdul-Qaadir went to college and excelled in the classroom and on the basketball court at Memphis and Indiana State. And now, this exceptional student athlete, a young woman who represented her community in the best possible way sits idle, unable to pursue a professional career because of politics.
"As of right now I'm really in a holding pattern because of FIBA," Abdul-Qaadir said. "I think in many ways the key word in FIBA is international. I think that's what upsets me most."
FIBA (International Basketball Federation) defines the rules that govern international basketball, and one of the organization's rules forbids women from wearing hijab, the traditional body covering Muslim women wear. FIBA said it wants basketball to remain religiously neutral, and for Bilqis Abdul-Qaadir, that means no chance to play professionally overseas.
"International means everyone, and FIBA isn't inclusive because of its ban on wearing my Hijab," Abdul-Qaadir said. "People have this impression of Muslims like they're afraid of us. What some people in the Muslim religion are doing has nothing to do with the rest of us. We're not all the same, just like any religion isn't the same. FIBA says it wants to remain religiously neutral but this is discriminatory."
"I have no plans to change the way I am so I can play basketball. I've come so far and my religion has taken me this far. I'm not going to change."
"There was an all Muslim women's team that made it to a championship game that FIBA was sponsoring and they wouldn't let them play. It just doesn't make any sense to me. It's going to take time for them to change the rules and I'm not going to wait around until they do. I have no plans to change the way I am so I can play basketball. I've come so far and my religion has taken me this far. I'm not going to change."
The 5-foot-4 Abdul-Qaadir has a master's degree in coaching and seems to have a strong connection to her hometown.
"I'd like to find a job somewhere, maybe coach on the high school level, Abdul-Qaadir said. "I think I'd like to do that. Even in the next couple of years. I know a place like Commonwealth Academy in Springfield doesn't have a team. They have girls there that might want to play basketball. I think I could go to a place like that and make a difference. We'll see how things go. Right now I'm just trying to weigh my options."
No one, not even Abdul-Qaadir herself, knows what the future holds. But so far wherever she's gone and whatever she's done, Bilqis Abdul-Qaadir has made a lasting impression.
"I learned a lot along the way," Abdul-Qaadir said. "In college you meet a lot of people that aren't like you. I've had a lot of stepping stones, and I really think that everything happens for a reason."
http://www.masslive.com/mywideworld/index.ssf/2014/06/my_wide_world_according_to_fiba_springfields_bilquis_abdul_qaadir_is_a_not_ready_for_prime_time_play.html
-------------
Emirati women to raise voice against sexual violence in conflicts
12 June 2014
Abu Dhabi: Emirati women will join global efforts to end sexual violence in conflicts as part of a three-day summit in London that ends on Thursday.
Two Emirati women will join other young activists in a tweet-up organised by the British Embassy in Dubai to raise awareness on the issue in the UAE digital community, senior British officials said here on Wednesday.
Lubna Qassim, a legal professional working in the banking sector, and Muna Al Gurg, Retail Director at Al Gurg Group and Chairperson of Young Arab Leaders in the UAE, will join Bridgitte Mountain, Director of Transforming Lives Consulting in Dubai, in the debate hosted by Edward Hobart, the British Consul-General in Dubai.
They will join the tweet-up from the British Embassy in Dubai between 10.30am and 11.30am on Thursday. The public can observe the debate by following UKinUAE#TimetoAct.
"We want the participation of all Arab-Muslim nations in the global campaign to end the sexual violence in conflicts," a senior British official said.
The UAE has taken a leadership role in these efforts and Shaikh Abdullah Bin Zayed Al Nahyan, UAE Foreign Minister, has been a champion of this cause, Alan Duncan, the UK Minister of State for International Development, told reporters at an event at the British Embassy in Abu Dhabi on Wednesday.
He expressed his happiness over the UAE's participation in the Global Summit to End Sexual Violence in London being hosted by the UK Foreign Secretary, William Hague, and Special Envoy of the UN High Commissioner for refugees, Angelina Jolie. Over 148 nations are participating in the summit that may deliver a set of practical agreements to bring together all those working to end sexual violence in conflicts.
"Rape as a weapon of war ruins the lives of women and men, boys and girls and destroys whole communities. We need to ensure the spotlight of the world falls on the issue and brings public pressure to bear on governments and the international community that now is the time to act to end these crimes," Duncan said.
"Talk is not enough. It is time to act," he added.
Paul Fox, Charge d' Affairs at the British Embassy in Abu Dhabi, who hosted the event at the embassy to highlight the importance of the summit, said it did not mean to raise awareness but translate the desire to end the sexual violence into action.
The British Embassies in the UAE are collaborating with a range of local institutions and individuals to shed light on this critical cause.
In Dubai, to support the campaign the Burj Al Arab, an iconic landmark, will illuminate its sail with the End Sexual Violence in Conflict hashtag #TimetoAct for the duration of the Summit.
http://gulfnews.com/news/gulf/uae/general/emirati-women-to-raise-voice-against-sexual-violence-in-conflicts-1.1346054
-------------
Texas shelter a refuge for Muslim women
The Dallas Morning News
12 June 2014
lano, Texas - She had no clue what abuse meant when she came to the U.S. two years ago, suddenly a target of her new husband's angry alcoholism.
A South Asian Muslim in her early 40s with dark skin and piercing olive eyes, she's still shaken by the experience, recalling the horror into which she'd unwittingly stepped.
"All I knew was that..." She paused, eyes wet with tears in a quiet meeting room in Plano. "I was getting hit and getting blamed for everything."
Eventually she would find solace in Peaceful Oasis, a shelter for Muslim women fleeing domestic violence. Though the North Texas shelter accepts clients of all faiths, it's focused on the needs of Muslim women who want to feel comfortable following Islamic customs.
"We try to be as helpful and supportive as we can," said Hind Jarrah, executive director of the Plano-based Texas Muslim Women's Foundation, which opened Peaceful Oasis in late 2012. "Our aim is for them to stand on their own."
When foundation leaders asked women in the community what issues needed attention, domestic violence loomed large. More than that, women wanted a shelter with a culturally specific approach.
"When they went to mainstream shelters," Jarrah said, "some said it was as if their identity had been stolen. They preferred to go back to their abusive husbands."
Traditional shelters, they said, posed language barriers and were ill-equipped to meet needs such as a diet free of the pork products that Islam forbids, or a space in which to pray the five times per day that Islam calls for.
"They worried about whether it would be allowed, how it would appear," Jarrah said. "Would it be accepted?"
That's how Peaceful Oasis came to be. About 80 percent of the shelter's clients are Muslim, many of them Asian or Middle Eastern immigrants. Others come from North Texas or even other U.S. states.
For many, response to abusive situations derives from a mix of ingrained culture and religious beliefs- a pattern of behavior trickling through generations until the cycle is broken.
Those who come to Peaceful Oasis, like the Southeast Asian woman in that meeting room in Plano, are taking a step toward breaking that cycle.
The woman did not want her name, exact age or native country divulged for fear of retribution within a community that still places a stigma upon speaking publicly about such things. Only her parents back home knew anything, and when they began calling more often to check on her, her husband only resented her more. He shut her off from everyone.
"He said he was trying to save our marriage," she said. "I was completely isolated."
It wasn't until the night he assaulted her in public that others found cause to intervene. Police were called.
The woman went back to her native country, but despite her fears, she returned to the U.S. for her husband's court proceeding. With nowhere to stay, police connected her with Peaceful Oasis so she wouldn't have to go back to him.
"The only reason I'm alive," she said, "is because I didn't go back."
Even now, she can barely talk about it. Only with the shelter's help, she said, has she made it this far, to a life with a grocery store job and foundation-sponsored yoga sessions that have helped her find the peace eluding her sleepless nights.
She celebrated her birthday at the shelter. "We had cake," she said, managing a smile through bittersweet tears.
"Staying here has made me feel that- maybe I can survive," she said. "I didn't know something like this existed in the world. I felt safe from the first day I walked in. I have received more respect here than I did in my entire marriage."
As the number of Muslims in North Texas grows, both the foundation and its fledgling shelter are raising important questions: What does Islam really teach about women? Why are women still underrepresented as board directors of houses of worship?
Even the foundation itself has had to fight for credibility.
"People have all kinds of stereotypical ideas about Muslim women and what role they play," Jarrah said. "We had to establish that we were qualified, that we could run a strong program."
Jarrah's first step was getting religious leaders of all faiths to recognize the problem, since they're often the people approached by abused women finally pushed to seek help.
"I'm very proud of this effort," said Imam Moujahed Bakhach of the Muslim-based Mediation Institute of North Texas. "Some people, they laughed at her. They said, 'What are you talking about? It does not exist.'"
Part of the problem is the stigma attached to airing dirty laundry and risking negative perceptions within a population still feeling burned by the harsh spotlight cast upon it in the wake of 9/11. It's a sensitive topic.
Peaceful Oasis can house up to 23 people at the shelter at any one time, including 16 women and seven children. Clients come from places like Lebanon, Jordan, Pakistan, India, Somalia, Eritrea and the Palestinian territories.
When the shelter opened in December 2012, agency leaders estimated it would serve 64 people the next year. The actual count was nearly twice as many: 122.
In addition to on-site staff, the foundation employs five case managers and two lawyers to help with family and immigration issues. In all, communication is offered in 15 languages, including Arabic, Kurdish and Urdu.
http://www.wxyz.com/news/national/texas-shelter-a-refuge-for-muslim-women
-------------
Sindh Child Marriages Restraint Act comes into effect
12 June 2014
KARACHI: To restrain solemnisation of child marriages, Sindh Governor Dr Ishratul Ebad Khan has signed Sindh Child Marriages Restraint Act- 2013, to be effective immediately.
According to the act, whoever, being a male above 18 years of age, contracts a child marriage shall be punished with rigorous imprisonment which may extend to three years but shall not be less than two years and shall be liable to fine, said an official statement here on Wednesday.
It says that whoever performs, conducts, directs, brings about or in any way facilitates any child marriage shall be punished with rigorous imprisonment which may extend to three years but shall not be less than two years and shall also be liable to fine unless he proves that he had reason to believe that the marriage was not a child marriage.
Where a parent or guardian or any other person in any capacity, lawful or unlawful does any act to promote the child marriage or permits it to be solemnised or fails to prevent it negligently from being solemnised, shall be punished with imprisonment which may extend to three years but shall not be less than two years and shall also be liable to fine.
Notwithstanding anything contained in the code, an offence punishable under this act shall be cognizable, non-bailable and non-compoundable.
The court shall on taking cognizance of a case proceed with the trial and conclude the case within 90 days, the official statement says.
http://www.dawn.com/news/1112097/sindh-child-marriages-restraint-act-comes-into-effect
-------------
SOMALIA: Women struggle to make it in politics
12 June 2014
Despite threats, clan politics and marginalization, some Somali women hope to change the country's political culture.
"I get threats, day in, day out," says Fawzia Yusuf Adam. "Yes, it happens, but I am not afraid about what might happen tomorrow. I am busy with today."
Adam is one of Somalia's most senior female politicians. A former diplomat and long-time women's rights activist, she became the country's first ever female foreign minister and deputy prime minister in 2012. No longer in that post, she is now one of a small number of female members of parliament.
The threats she laughs off come from al-Shabab, the hardline rebel group. It has a two-fold vendetta against female politicians: It is waging war against all members of the Somali government, and its extreme reading of Islam prohibits any female participation in the public sphere.
Somalia is broadly considered to be one of the worst places in the world to be a woman – a situation that predates the presence of Islamic extremism. The country's central government collapsed in 1991, kick-starting more than two decades of anarchy and civil war. Rape and domestic violence are endemic, while women have been almost entirely excluded from political and judicial structures in the country. The collapse of the state led to an emphasis on customary law and sharia law, and a reliance on clan-based political representation. None of these systems are particularly favourable to women.
The federal government of Somalia was established in August 2012, after the mandate of the country's transitional government, in place since 2004, expired. Article 3 of the provisional constitution specifies the importance of women's political participation, saying that "women must be included, in an effective way, in all national institutions, in particular all elected and appointed positions across the three branches of government".
The framework set up for the new federal government guaranteed that 30 percent of parliament's seats would go to women – but this was not included in the constitution, and women ultimately make up around 14 percent. President Hassan Sheikh Mohamud took over in September 2012, voted in by members of parliament. In his cabinet, there are only two female ministers – Nadifo Mohamed Osman, minister of public works and reconstruction, and Khadija Mohamed Diriye, minister of women and human rights. Women also occupy some deputy minister posts.
Mariam Aweis Jama was minister of women, human rights and gender in the last phase of the transitional government, and is now head of the Committee of Human Rights and Gender in parliament.
"The challenges are there," she says. "We had to mobilise politicians and traditional leaders just to accept women into the parliament. But Somali women are increasingly educated and ready to participate in the reconstruction of the country."
Somalia is gearing up for its first democratic election for more than 20 years, which will take place in 2016. Jama and other female politicians are fighting to get the 30 percent quota formalised before then.
Many speak of Adam's appointment to such a senior office as a turning point for female representation in the country.
"It was a first," says Adam. "I travel around the country and whenever I speak to young girls, they say, 'Now I have hope, now I know I can do something, I know I can get somewhere.' I always tell women wherever I speak that no one can stop you if you want to be somewhere. Men will support you in the end if you say no to going backwards."
Of course, there are worlds between the educated women entering Somalia's halls of power and the most disenfranchised in society: those trapped in camps for internally displaced people, where there is no formal education and rape is endemic.
But scant female representation has far-reaching implications for everyone. Human Rights Watch recently published a report titled "Here, Rape is Normal", which examines the extent of sexual violence in Somalia.
"When women are in positions of authority, it has a huge impact on how crimes are reported and investigated," says Samer Muscati, author of the report. "This permeates all the way to the top. It's not just in terms of making sure the security forces and police are better represented. Even in government and politics there's a link between women's inequality and sexual and gender-based violence. In order to eradicate gender inequality, you need to have women at the table."
Yet there remain major barriers to women's participation. First and foremost are regressive cultural norms. Both Jama and Adam cite "tradition", but are keen to stress that Islam is not to blame.
"It's in the roots to keep women away from power, but I don't believe it's religious," says Adam.
"The main issue is traditional," says Jama. "But during the civil war, women really played a big role to sustain their families and develop the country. They work in local NGOs to develop communities. So even if people cannot see it, women can already play a very big role developing this country."
Another issue is the prevalence of clan rule, a major factor in Somalia's politics and in the violence of the civil war. In an attempt to keep peace, members of different clans have been allocated certain numbers of seats in the federal government.
However, this arguably has a negative effect on women's representation. The system promotes the interest of male clan members; women cannot become leaders of clans and do not have access to traditional decision-making processes.
"Clan leaders often tell women wanting to become members of parliament that the number of seats designated to each clan are too few to allocate seats to women," wrote Shukria Dini of the Somali Women's Study Centre.
Clan divisions also hinder women from forming a powerful caucus in parliament that could lobby for change on issues such as sexual violence and female participation.
"This much-needed action is hampered by tribalism," says Adam. "I wish they never used that formula for parliament. Those divisions are still there, but hopefully, slowly, women will be brought together so we can achieve something for other women."
Somalia is now in the very early stages of rebuilding a collapsed economy and political system. It is a significant achievement that the federal government has remained in place this long, but much of the country remains mired in chaos and the enforcement of any laws is difficult.
"The government suffers from a lack of capacity and a lack of ability to move quickly," explains Muscati. "There seems to be a commitment to improving women's rights, but we need to see this followed up with practical steps."
Adam and Jama are optimistic about Somali women's efforts to change their future. "It is really a challenge, but we are trying to mobilise the community – especially politicians and traditional leaders – to understand that women are power," says Jama.
"If you go way back in Somalia's history, to nomadic times, women did everything," says Adam. "We were very strong from the beginning: We had women running for government in 1968. We have been put far back in recent years, so it's not easy.
"But when you start to join in, then men see that yes, you can achieve, you can do something, and they start to respect you. Women should not shy away from saying, 'Look, I can do it.' We will pick it up again. We are coming back."
Source: Aljazeera
-------------
URL: https://www.newageislam.com/islam,-women-and-feminism/new-age-islam-news-bureau/'walk-like-an-egyptian-woman'-rally-to-hit-cairo/d/87494