New Age Islam News Bureau
01 February 2022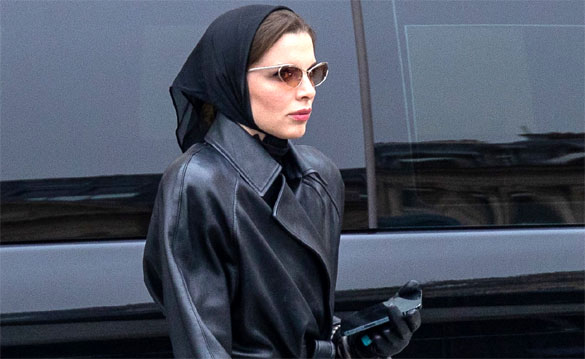 Credit: Marc Piasecki/GC Images/Getty Image
----
• Hijab Popularity Budding Among Educated Women In Bangladesh
• In Somalia, 100 Mothers Pledge Not To Subject Daughters To Female Genital Mutilation
• Arab League Hails Arab Women Achievements, Vital Role In Sustainable Development
• New Zealand To Allow In Pregnant Reporter Who Sought Taliban Help
• Turkish Hijab, Abaya Designs Attracting Women In Pakistan
• Albania: Afghan Women Start Eatery To Help Refugees Feel At Home
• Iraqi Women Defy Social Prejudice To Work In Oil Industry
• FIR Against 4 For Sending Rape, Death Threats To Journalist Rana Ayyub
Compiled by New Age Islam News Bureau
URL: https://www.newageislam.com/islam-women-feminism/vogue-france-headscarf-muslim/d/126282
--------
Vogue France Says 'Yes To The Headscarf.' Some Muslim Women Are Not Happy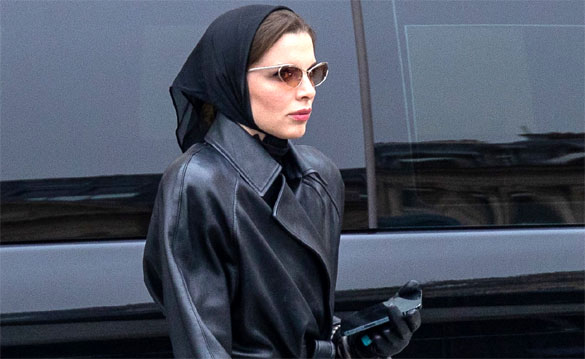 Credit: Marc Piasecki/GC Images/Getty Image
----
31st January 2022
Vogue France has been criticized after publishing a social media post that many users branded as offensive to Muslim women amid a culture of increasingly public Islamophobia in France.
Sharing a photo on Instagram on Friday of actress and model Julia Fox wearing a piece of fabric wrapped around her head, the outlet accompanied it with the caption "yes to the headscarf."
The caption has since been edited to remove this line, but Vogue France did not acknowledge the change.
The photo was posted as part of a montage featuring Fox and her boyfriend, rapper Kanye West, at Haute Couture Fashion Week in Paris. Two of the photos included West wearing a balaclava through which only his eyes were visible.
"Yes to the headscarf -- those few words were so simple," French-Moroccan model and activist Hanan Houachmi told CNN via video call. "Yet we've been begging and waiting and fantasizing about the day we will hear them, for us as hijabi women."
Houachmi said the hijab had been "reduced to just a simple accessory," with Fox, who is White and non-Muslim, able to wear a headscarf as part of a "trend," while the hijab, in Houachmi's view, is seen by the French government as the "uniform of terrorists."
In 2011, France became the first country in Europe to ban all face-covering garments in public spaces, including balaclavas, masks, burqas and niqabs. Several other countries, including Germany, Belgium, the Netherlands and Denmark followed with their own bans, partials bans and local bans of face coverings.
Last week, the French senate also voted to ban hijabs for female athletes, although the measure must now be voted on in France's lower house. President Emmanuel Macron and his party oppose the ban. And last year, a move to ban anyone under the age of 18 from wearing hijab in public was rejected by members of the national assembly.
Many users have cited Vogue's choice of words in these circumstances as being particularly insensitive for the French edition, given politicians' efforts to clamp down on the hijab, niqab and burqa.
CNN has reached out to Vogue France for comment but did not immediately receive a response.
"It's almost funny, to be honest, because they make fun of us, insult us and reduce us to objects," 18-year-old Chaïma Benaicha, who lives in the northeast of France, told CNN via Twitter messages. "But when it's a White woman doing it and not a Muslim it's trendy and something new in fashion even though wearing the hijab isn't something we do to please people."
Benaicha, who started wearing the hijab at the age of 14, said she received racist and Islamophobic comments at the beginning, and told CNN she found it strange that wearing the niqab is "perceived badly" while wearing a balaclava is "stylish" and "aesthetically pleasing to people."
"People have tried to remove my hijab in the street plenty of times. I find it inhumane," Sarah, an 18-year-old French Muslim who did not want to give her last name, told CNN via Twitter messages.
Sarah, a convert to Islam who lives in the southeastern French commune of Évian-les-Bains and began wearing the hijab four months ago, said the Vogue France caption was "racist" and "shameful," adding, "there's no other word for it."
The furor that accompanied the proposed hijab ban for minors in France last year -- as well as for mothers accompanying children on school trips -- has also led to international awareness of anti-Muslim sentiment in France.
"I think it's very telling of the general kind of thinking in France when it comes to headscarves and Islam," British writer and journalist Aisha Rimi told CNN on a video call, adding she was irritated by Vogue France's lack of "acknowledgement of the tone deafness of the post."
Citing the example of Kim Kardashian's Met Gala outfit, which obscured her entire face and was black from head to toe, Rimi said the reality star was "praised" for her innovative look while "Muslim women out there that wear burqas are constantly vilified and dehumanized."
"I can think of other hijab-wearing Muslim women who are models as well that they could have used that same caption for, but it never would have been the case," Rimi told CNN of Vogue France's words.
Houachmi -- who is among those models, having previously appeared on the cover of Grazia Arabia wearing a hijab -- said she found it heartening that many of those speaking out about the caption did not wear the hijab and were often not Muslim, but that Vogue France still had "a long way to go" in terms of representation of hijab-wearing women.
"When you flip the pages of a Vogue France, it doesn't reflect the France of today," she said. "That's my issue with it."
Source: CNN
https://edition.cnn.com/style/article/vogue-france-headscarf-instagram-scli-intl/index.html?939775F4-DDA2-2841-96DA-67BB3882A681_kis_cup_C6FA3ED5_6D17_47D1_B6E2_F4B02CC905E0_
--------
Hijab Popularity Budding Among Educated Women In Bangladesh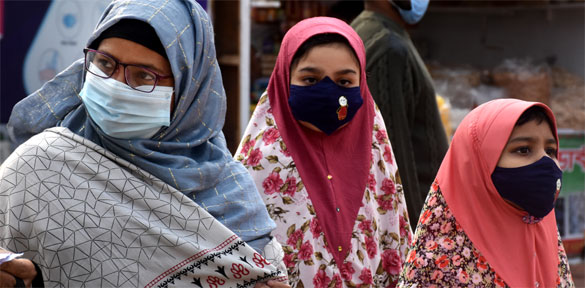 (Photo:aa.com)
-----
January 31, 2022
Using the hijab among educated women is on a rapid rise in Bangladesh, according to users of the Muslim head covering and scholars.
Combined social, cultural and religious values are contributing to the growing popularity of Islamic culture in the South Asian Muslim majority country of nearly 170 million.
On the eve of World Hijab Day which is being celebrated Feb. 1, many top-educated hijab users in Bangladesh are claiming that the hijab is not only a religious obligation but millions of females across the world have realized that it beautifies and dignifies women.
A Bengali-born woman in the US, Nazma Khan, introduced World Hijab Day in 2013 to put the hijab, at least for one day, as a counter to the discriminatory and ridiculous attitudes against the hijab users because of Islamophobia.
A senior executive at one of Bangladesh's top book publishers told Anadolu Agency that in the last decade there has been a tremendous change in Bangladeshis attitude toward the hijab.
"Now, the hijab is considered to be good culture. So it is not only important to me religiously, but also socially and culturally," said Sumiya Binta Karim.
"Since my teenage years, I have been using hijab as a family tradition and still now practice it as my honor and faith," said the graduate from Bangladesh pioneering academic facility, Dhaka University,
"Though in my life I have occasionally faced ridiculous comments for hijab from different quarters but in most cases my surrounding people and classmates have always shown respect to me and I always feel comfortable with it," she noted.
- Changing minds
Due to the massive spread of western culture and in the guise of removing male-female disparity, misconceptions have grown about the hijab and some people brand it as backdated, uncultured and discriminatory to females.
"Alhamdulillah, (All praise is due to Allah) the situation has been changed a lot and even many ultra-modern females are using the hijab as a part of their fashion and beautiful dress code," Nahiun Fairuz Nazifa, a medical student at Dhaka's Sir Salimullah Medical College told Anadolu Agency.
Nazifa said it is a common trend worldwide that whenever anything seems to be contradictory to the western culture, there is heavy propaganda against it.
"I consider the hijab as a way for me that not only plays a role like a shield, but it also helps to gain Allah's satisfaction," she said.
"Unfortunately, still some teachers at different universities and medical colleges show derogatory attitude to the students with the hijab," said Nazifa, adding that despite the barriers, the number of hijab users has been rising swiftly.
A student of Islamic history and culture at Dhaka University, Khadizatul Kobra said negative responses to hijab users by teachers are unexpected.
"We always expect the best attitude from our teachers. But some of them compare the hijab as contradictory to the progressive world," she said, adding that the hijab is currently one of the most popular styles and fashions in Bangladesh.
- Mostly unwelcomed in news media
Jabalun Noor, a former newsroom editor at private television channel, Diganta Television, which was closed in 2013, said the hijab is not welcomed at almost all television channels in Bangladesh -- a country with a population that identifies with more than 90% as Muslim.
"After shutting Diganta Television, I tried for a job at nearly two dozen private television channels in Bangladesh but failed to manage due to my hijab," Noor told Anadolu Agency, adding that during that time new staff without the hijab were recruited.
"Females with all types of dresses are allowed in the television channels but unfortunately the hijab is not appreciated," said Noor, who currently works as a freelancer.
Assistant professor in the department of world religions and culture in Dhaka University, Md. Abdullah Al Mahmud, said secularists in different sectors in Bangladesh try to discourage the hijab very tactfully.
"Most of the people in Bangladesh are very pious by birth. So those secularists are not courageous enough to directly say anything against the hijab and they disturb hijab users through different tricks," Mahmud told Anadolu Agency.
He added that even secular teachers at Dhaka University, as well as other universities, give poor marks to hijab users intentionally. "It's like killing in different ways without using hands," he said.
Mahmud noted that Turkish mega series have played a vital role in the rapid spread of hijab culture in Bangladesh.
"The hijab used by female actresses in different Turkish mega serials has a very positive impact among tens of thousands of educated Bangladeshi females," he said, adding that the issue has turned into "a spiritual infection."
"When one looks nice in a hijab, others are rapidly infected with it and I have positively termed it as 'spiritual infection'."
"When a female observes that after using the hijab people look at her with respect instead of usual sensual eyeing, she feels a spiritual peace along with safety," according to Mahmud.
Source: Yenisafak
https://www.yenisafak.com/en/world/hijab-popularity-budding-among-educated-women-in-bangladesh-3588659
--------
In Somalia, 100 mothers pledge not to subject daughters to female genital mutilation
January 31st 2022
When Halima* was eight, she underwent female genital mutilation under the blade of her mother, a traditional birth attendant (TBA). "The procedure was painful, with no anaesthesia. I bled for days," she recalled. "I was in bed for more than three months and urinating was a problem." When she reached adolescence, passing menstrual blood was difficult. As a newlywed, sex with her husband was painful. And as an expectant mother, childbirth was excruciating with labour dangerously lasting for days.
Despite her suffering, she allowed her first daughter to be cut. "My daughter underwent the sunna type of FGM [removal of part or all of the clitoris], and she felt the pain I have been through," Halima said. But because it was not the more severe pharaonic type (stitching the opening closed), people insulted them, saying her daughter was unclean.
Halima, 50, a mother of five daughters and five sons, now lives at an internally displaced persons (IDP) camp on the outskirts of the capital, home to 280 households that fled Danunay village nearly 250 kilometres away because of insurgent violence. She is also a camp gatekeeper, or a community member with influence. Which made her the ideal person to help end the harmful practice she and her daughter endured.
By the numbers
According to the 2020 Somali Health and Demographic Survey 99 per cent of women 15 – 49 in Somalia have been subjected to female genital mutilation, the majority between ages five and nine. The survey also reports that 72 per cent of women believe it is an Islamic requirement, though some religious leaders have said Islam condemns it. COVID-19 has raised the risk for girls to undergo the practice by disrupting preventive programmes or with school closures that parents can use to give their daughters more time to heal.
In 2020, UNFPA provided 52,225 Somali women and girls protection, prevention or care services related to female genital mutilation. While there is no national legislation outlawing the practice, Puntland state passed a FGM Zero Tolerance Bill last year.
A new way forward
As part of UNFPA and the Ifrah Foundation's Dear Daughter campaign, Halima and other influential women in the camp learned about the harmful effects of female genital mutilation, and she shared her personal experience at workshops. "Throughout the training course, I had flashback memories of how FGM has badly impacted my life," she said.
Three years ago, a young girl in the camp died as a result of female genital mutilation. Now Halima is galvanizing the community so that tragedy is never repeated. And the foundation with the Global Media Campaign to End FGM distributed UNFPA-supplied radio transmitters to 100 households so residents could listen to awareness campaigns. "It has been a long-standing dream of mine to work to save girls from the unnecessary pain and suffering I endured as a result of FGM," said survivor Ifrah Ahmed, founder of her namesake foundation. "Halima is an example of how we can change the future for all Somali girls."
The campaign, launched last fall, "is accelerating the voices of women and men alike to end FGM in Somalia," said Nkiru I. Igbokwe, gender-based violence specialist at UNFPA in Somalia. "It targets rural and urban individuals and communities that are undertaking extraordinary actions within their sphere of influence to change the FGM narrative."
Halima's advocacy has expanded beyond female genital mutilation. She encourages pregnant and lactating mothers to visit health centres and raises awareness on sexual and gender-based violence cases. She notes that community members used to stay silent about rape due to fear of stigmatization but now they seek help.
Because of her leadership, almost 100 mothers including Halima's own and other TBAs have pledged not to practice female genital mutilation, sparing about 200 girls in the settlement. "I don't want my other daughters and other young girls to go through the pain we have gone through," she said.
Source: African Business
https://african.business/2022/01/apo-newsfeed/in-somalia-100-mothers-pledge-not-to-subject-daughters-to-female-genital-mutilation/
--------
Arab League hails Arab women achievements, vital role in sustainable development
January 31, 2022
CAIRO — The Arab League praised on Monday the achievements made by Arab women at all political, economic, social, and environmental levels and their great role in working to achieve sustainable development and building community peace.
The remarks came in a speech by the League's Assistant Secretary-General and Head of the Social Affairs Affaires, Ambassador Haifa Abu Ghazaleh at the opening of the 41st session of the Arab Women's Committee (via a digital platform).
Abu-Ghazaleh noted that the agenda of this session includes several topics, issues and new initiatives presented by the League's General Secretariat in coordination with member states in order to advance and protect the conditions of women in the Arab region.
The Ambassador underlined the importance of advancing the status of women in the Arab region, "especially in light of developments at the international level on the issues of climate change and the extended effects of the COVID-19 pandemic."
She also noted that the agenda is full of topics that "shape the priorities of the Arab region, including the flexible handling of women in the Arab region in light of climate changes and responding to disasters."
Abu-Ghazaleh indicated that the Arab League adopted a joint regional initiative with the United Nations Women's Authority on empowering women's participation in green and blue economies to develop the work of the Khadija Network for Economic Empowerment of Women in the Arab Region.
She also referred to the preparation of the first regional review of the document (Cairo Declaration for Women: The Development Agenda for Women in the Arab Region 2030) after five years to keep pace with developments on the international agenda, including the topic of "Women and the Environment", in light of the implementation of a decision of the Arab Summit in this regard.
Abu-Ghazaleh reviewed the efforts of the Arab League to implement the recommendations of the 40th session of the Arab Women's Committee in coordination with member states and cooperation with the concerned authorities.
Abu-Ghazaleh expressed her hope that the recommendations would be adopted by consensus of all member states, as part of supporting the General Secretariat's action plan next year to support women's empowerment in the Arab region. — KUNA
Source: Saudi Gazette
https://www.saudigazette.com.sa/article/616536/World/Mena/Arab-League-hails-Arab-women-achievements-vital-role-in-sustainable-development
--------
New Zealand to allow in pregnant reporter who sought Taliban help
February 01, 2022
WELLINGTON — A pregnant New Zealand journalist who said she turned to the Taliban for help after being unable to return home has been granted re-entry after an outcry.
Charlotte Bellis said she had flown to Afghanistan after being unable to get an entry spot under New Zealand's strict Covid border rules.
Her story highlighted Wellington's tough border measures which are designed to keep out the coronavirus.
But others took issue with her privileged connections to the Taliban.
The Taliban has been regularly criticised for brutally clamping down on women's rights in recent months. They have been accused of arresting, torturing and even killing activists and campaigners.
On Tuesday, following significant public attention around the case, the New Zealand government said they had offered a quarantine spot to Ms Bellis and set up flight arrangements.
"There is a place in managed isolation and quarantine for Ms Bellis and I urge her to take it up," Deputy Prime Minister Grant Robertson told reporters at a daily Covid briefing.
He denied that the action had come as a result of the attention on her case, saying staff dealt daily with emergency applications.
"They always try to make contact with people and try to make arrangements work."
The New Zealand government had previously said it had twice offered consular assistance to Ms Bellis, who wrote about her experience in a national newspaper on Saturday.
In her column for the New Zealand Herald, Ms Bellis said the government had last week rejected her application to return home to give birth.
Currently, Wellington allows citizens and permanent residents to enter, but only if they spend 10 days isolating in quarantine hotels.
As there is high demand for such facilities and a limited number of spots, many New Zealanders wishing to return have effectively been shut out of their country for about two years now.
She compared that experience to the way she was treated by the Taliban, whom she had contacted to ask if she would be welcome in Afghanistan as an unmarried pregnant woman.
When she spoke to senior Taliban officials, Ms Bellis was in Belgium with her partner, a Belgian photojournalist. However, the time on her visa was running out as she was not a resident there.
Afghanistan was the only place she and her partner had visas for, as they had been in Afghanistan last year covering the withdrawal of US troops.
"You can come and you won't have a problem. Just tell people you're married and if it escalates, call us," Ms Bellis quoted the unnamed officials as saying in response to her request.
"When the Taliban offers you - a pregnant, unmarried woman - safe haven, you know your situation is messed up," she wrote.
Single Afghan mothers have reported being frequently harassed by Taliban officials, pressured to give up their children, and having their custodial rights threatened.
After Ms Bellis' letter was published, there were calls for New Zealand authorities to adjust the emergency quarantine allocation criteria to specifically cater for pregnant women.
Authorities defended the policy on Monday, saying the system had "served New Zealand exceptionally well, saved lives and hospital admissions and kept our health system from being swamped".
The government also said Ms Bellis had been advised to apply for a visa again under a separate emergency category.
It's unclear if that took place, or if she has now been granted entry under her original application.
Ms Bellis had said that she had also been offered asylum in another unnamed country since going public with her struggle.
However, her story has been criticised by some observers, rights activists and Afghans themselves.
"The story is just a continuation of how non-Afghans are treated differently by the Taliban ... than Afghans," tweeted Austrian-Afghan journalist Emran Feroz.
"Journalists who were seen as Afghans often faced threats, beatings, torture and murder while non-Afghans ... had tons of privileges and were welcomed and treated softly by all sides," he added.
Most recently, there have been calls for the Taliban to release a number of women's rights activists who have not been seen after their homes were raided and they were arrested. — BBC
Source: Saudi Gazette
https://saudigazette.com.sa/article/616558
--------
Turkish hijab, abaya designs attracting women in Pakistan
January 31, 2022
LAHORE:
The latest designs of Turkish abayas and hijabs are gaining popularity in Pakistan.
The abaya look like a jacket or a formal coat and the hijab covers the head. They are making it easy and modern to adapt.
On World Hijab Day that falls on Feb. 1, Karachi-based abaya and hijab designer Nida Imran launched her latest collection of Turkish designs.
"Most of my customers are young girls who go to school, college or the office. They are now preferring the Turkish style abaya and hijab as they are more comfortable and easy to carry," the 34-year-old designer told Anadolu Agency.
Due to demand and the latest trends, the designer has to launch a new collection every few months.
"In Pakistan, due to weather conditions, we have to launch a new collection after four to five months. And as the wedding season starts in winter, we get lots of orders for the festive collection. In that collection we create fancy abayas with their matching hijab, again taking inspiration from Turkish styles," said Imran.
According to research by Pulse Consultant, a private marketing firm, the "hijab" trend -- a trend from the Arab world -- has nearly tripled among young urban females from ages 16 to 28 in Pakistan.
Ten years of research show that 9% of young urban girls prefer wearing hijabs outside their homes in 2008. That figure soars in 2018 to 25%. The report was released in 2019.
"The study was conducted in 14 top cities of the country and the latest data is also being ready at the moment which will be released in coming months. The data shows that numbers have increased more than double again," Pulse Consultant CEO Kashif Hafeez told Anadolu Agency.
Sustainable fashion with budget
By carrying hijabs and abayas, women are choosing sustainable fashion that is also in their budgets.
"One casual abaya with hijab starts from 2,000 rupees ($12) and the festive collection goes to a maximum of 8,000 rupees to 9,000 rupees ($40 to $50) and the customer wears the casual abaya eight to nine hours daily and the fancy abaya four to five hours depending on the function they are attending," said Imran.
With trends in the different Muslim countries, options and styles have expanded from the basics.
"Just four to five years ago, we only used to make abayas and hijab in black colour but now after the Turkish and Malaysian trends, we have launched a range of colours because those style of hijabs look better in different colours and black absorbs more heat. That is why people are now preferring nude, white or light colour hijabs," according to Imran.
Pulse Consultant data showed almost 40% of young Pakistani urban females prefer to carry the chaddar -- a big piece of cloth to cover themselves -- when they go outside of their houses.
"The trend of hijab has come to the sub-continent from the Middle East and Arab countries. Chaddar or Dupatta was the tradition of the sub-continent but with globalization, this trend has come to our country and that is easier to carry for women in outdoor spaces," said Hafeez.
Saba Warraich, 25, who wears the abaya and hijab, said it is very easy to carry, gives a sense of security and makes her feel empowered.
"I started wearing the abaya in college. Before that, I only used to take the hijab. I have completed my MPhil in mass communication and even on outdoor projects and shootings I have always felt empowered and secure in my attire," she said.
Source: Tribune
https://tribune.com.pk/story/2341286/turkish-hijab-abaya-designs-attracting-women-in-pakistan
--------
Albania: Afghan women start eatery to help refugees feel at home
By Ruchi Kumar
31 Jan 2022
Shengjin city, Albania – The smell of freshly baked bread wafts from the kitchen of a small pizzeria in Shengjin city – a small coastal town in Albania. The bread, however, is not part of the usual offerings on the menu of Bella Vita Pizzeria, but in fact, a version of the Afghan naan, a quintessential traditional bread from Afghanistan that embodies much of the war-torn nation's food culture.
The naan is only one of the five new dishes that are now being prepared in the kitchen of this Albanian pizzeria that has agreed to share its space with a makeshift Afghan restaurant started by two Afghan refugee women – Hasiba Atakpal, a renowned journalist, and Negina Khalil, the first female prosecutor in the remote province of Ghor in Afghanistan.
"We have lobia (red bean curry), qabili pulaw (Afghan meat and rice delicacy), bolanis (stuffed fried bread), banjan borani (eggplant in tomato sauce)," said Khalil, who was a prominent member of Afghanistan's legal fraternity, investigating cases of children recruited by Afghan armed groups such as Taliban, ISIL (ISIS) affiliates. "And just like in Afghanistan, every meal is served with the naan," she added.
The familiar aromas of bread and spices invite the roughly 1,200 Afghan refugees in Shengjin to indulge in a nostalgia-evoking culinary experience, more than 5,500km (3,400 miles) away from the homes they left escaping persecution after Taliban seized the country in August last year. In all, nearly 3,000 Afghans have found refuge in Albania, most of them rescued by international aid agencies.
While it was Khalil's work prosecuting armed groups and criminals that put her at extreme risk, Atakpal's bold, front-line reporting as a correspondent for the TOLOnews – Afghanistan's biggest news channel – earned her threats from Taliban fighters who disapproved of her work.
Both women were forced to leave Kabul, but continue to dedicate their energies to serving their Afghan compatriots.
Atakpal and Khalil's restaurant, called Ghezaye Afghani (which means Afghan cuisines in Dari, one of the Afghan languages), does not have a business address – it exists within the local pizzeria that offered their space to the two enterprising women.
"We started this restaurant three months ago when we saw how much Afghans who escaped to Albania missed the food from home. Everyone here [at the refugee centre] is dealing with trauma, and we wanted to do something to bring smiles to their faces," explained Atakpal.
The two women, who first met at the refugee processing centre in the Middle Eastern nation of Qatar, approached the local restaurant outside the Rafelo resort in Shengjin where they were being housed. All Afghans have been accommodated at designated refugee centres.
Thousands of Afghans were brought to Qatar after they were airlifted out of Afghanistan in the wake of the Taliban's return to power in August, and as the US-led foreign troops prepared to exit the country after 20 years of war.
"We shared our problem with them; about how the Afghan community missed the local food. We explained the idea we had about starting an Afghan kitchen, and they readily gave us permission to use their restaurant space to cook and serve, at no cost," Atakpal said.
With a place secured, the two women, who are now good friends, sought out finding produce to prepare affordable authentic meals, and at times had to substitute them with the closest available ingredients. "It is not that hard to find ingredients.
"But our focus has been to prepare food that isn't expensive so the people can afford them because nearly all our customers are refugees here, like us," Khalil added.
They also hired another Afghan woman to prepare the dishes, since both women had limited cooking experience. "Back home, I was always so busy, I hardly spent time in the kitchen. But now my family find it very interesting that now I spend at least three days a week in the kitchen," Atakpal quipped.
The restaurant has also gained a significant following among the local residents in Shengjin – home to about 8,000 people.
"It is so joyful when Albanian people come to us asking for our qabili pulaw and lobia. I feel this space helps us build a relationship with the Albanians who have been so nice to Afghans and welcomed us with open arms," Atakpal said, adding that she hoped their little restaurant-within-a-restaurant leaves a positive legacy of Afghans who passed through Albania in their time of crisis.
They have applied for asylum in the United States and Canada, but it could take as long as a year to be accepted.
For Afghans, the small space has become a conduit to another world, where they gather over familiar flavours to discuss the news from back home.
"We get customers, Afghans from all walks of life, from across tribes and provinces, sharing a common loss and sorrow. It helps bring the community together," Atakpal said. "It has been such a positive space, that sometimes when the restaurant is close, people come seeking us to ask when we will open," she added.
Despite its popularity, the four-month-old business has not yet made much profit. In fact, there are days when they barely meet costs. But the women insist that the idea of this venture was never to make profits, rather to help Afghans in exile cope with the trauma they face. "Our best profit is that our people come and enjoy their time here and have their food.
For instance, many Afghan kids are used to eating only Afghan food, and when they visit us, the happiness on their face while devouring one of our delicacies, is everything for me," Atakpal said.
But, there is another group of Afghan children that Atakpal hopes to serve through the restaurant – a group of 45 young girls, who are child labourers, enrolled in a small private school that Atakpal founded last year, in Kabul.
"We had to shut the school when the Taliban took over, but restarted four months ago. However, we have been forced underground and all activities are now held discreetly," Atakpal said, speaking passionately about wanting to keep the school afloat even as the future of girls' education remains uncertain in Afghanistan. She has managed to partly fund the school with the extra income she earns by working as a freelance journalist and editor.
Despite international pressure, higher education and public universities for Afghan women have remained closed since the Taliban takeover last year. While the Taliban recently announced that schools and universities for Afghan girls would resume in March, many educationists remain sceptical.
Meanwhile, underground schools like Atakpal's have cropped up across the country, operating despite pressure from local Taliban fighters.
"We have students from grade five to 10, and cover all subjects in that syllabus. All teachers are currently working as volunteers, and many are my university friends. However, there are expenses for schools supplies, and also we compensate the students for their time since they are losing working hours when they attend the school," Atakpal explained.
"Currently, the restaurant doesn't make any profits to help support the school, and I am working another job as a journalist to pay for the costs to fund the school," she said, adding that she hoped she can expand her business to eventually support the school in Afghanistan.
Neither Atakpal nor Khalil knows what their future hold, as they wait for asylum confirmation.
"We lost everything, and are back to how things were 20 years ago, where women don't have rights, access to education, there is no justice system, there hardly any Afghan journalists left, and people are miserable," Atakpal said.
Khalil's mother was assassinated by the Taliban in 2020, while she and her brother were attacked during a visit to her mum's grave. Atakpal's family members are still based in Kabul.
"But even now if things change, even a little bit, we will both go back in a heartbeat. If not, we will continue to work for Afghanistan no matter which part of the world we are in. We will continue our fight and hope to bring change," Atakpal said.
Meanwhile, both women hope that their restaurant will continue even long after they are gone, kept alive by Afghans who might choose to stay.
"If nothing else, we will request the owner to continue to keep some of the Afghan delicacies on the menu, as a token to our shared experiences," Atakpal said.
Source: Al Jazeera
https://www.aljazeera.com/news/2022/1/31/afghan-women-in-exile-start-restaurant-in-refugee-camp
--------
Iraqi women defy social prejudice to work in oil industry
Jan 31, 2022
Each working morning, oil engineer Safa Al Saeedi dons a safety helmet and heads into a gas complex for another day of challenging conservative prejudices by being a professional woman in Iraq.
One of only 180 women among the 5,000 employees of the Basrah Gas Company, she sees herself as a trailblazer and is encouraging other women to join the industry.
"Society does not accept that a girl can live outside the family home," said Ms Saeedi, 29, who works in Iraq's southern oil and gas fields around Basra.
For many, a single woman working outside the household in a male-dominated sector is frowned upon and it is a hard task for women to break out of the role of wife and mother traditionally assigned to them.
"I often hear them say to me: 'You are almost 30, you will miss the boat! You will end up single,'" Ms Al Saeedi said. "It makes me laugh but I do not answer."
Female participation in Iraq's labour force is "one of the lowest in the world" at 13 per cent, said a report last year by UN Women, the agency working for gender equality, and the UN Economic and Social Commission for West Asia.
The report said surveys had found that "most Iraqis agree that university education is equally important for both sexes" but "attitudes towards equal rights in employment are discriminatory against women".
The World Economic Forum ranked Iraq bottom in women's economic participation and opportunity and put it 152nd out of the 153 nations assessed in its 2020 Global Gender Gap Index.
Ms Al Saeedi, who graduated in 2014 after studying engineering in Basra, was immediately employed by Shell for a job that "required spending some nights away from home".
Her mother opposed the role because she was "afraid of what people will say and that it will affect my reputation and my chances of getting married", Ms Al Saeedi said. "It was a challenge."
But she pressed on, rising through the ranks to become a team leader in the Basrah Gas Company, a joint venture majority-owned by the Iraqi government, with Shell and Mitsubishi.
Her job requires her to live on site for a month at a time, in company accommodation. After work, she plays sports or jogs around the vast gas storage tanks.
On leave, she returns home to Basra – if she is not indulging in her passion for travel, which has taken her to about 30 countries so far.
"I hope to reach a management position, because you rarely see women in these positions, even though Iraq has many powerful and brilliant women," she said.
It is a tough path to follow.
"I was initially overwhelmed with fear, because I was in a purely male environment," said Dalal Abdelamir, 24, a chemical engineer who works on the same site as Ms Al Saeedi.
"At the beginning, I thought that I was inferior, that I would never have the required level. I was even worried to ask questions," she said.
"But this job and this position has taught me not to be afraid, not to hesitate and not to fear that I cannot do it but to believe that I can."
Ms Abdelamir joined the company through a graduate programme which hired 20 men and 10 women.
"We didn't go to Basra University saying we wanted to recruit women," said Malcolm Mayes, managing director of Basrah Gas Company.
"We went there saying we wanted the brightest students."
Source: The National News
https://www.thenationalnews.com/mena/iraq/2022/01/31/iraqi-women-defy-social-prejudice-to-work-in-oil-industry/
--------
FIR against 4 for sending rape, death threats to journalist Rana Ayyub
Jan 31, 2022
Mumbai: A First Information Report (FIR) has been filed against unidentified persons for sending rape and death threats to independent journalist Rana Ayyub on Twitter and Instagram.
Ayyub told the cyber cell of Mumbai police that over 26,000 abusive, objectionable tweets were posted on her Twitter handle and other platforms over the past few days.
"The accused posted fake news about Ayyub saying that she has been banned from Saudi Arabia and the user also gave her rape threats and abused her. The offence has been registered against four Twitter and two Instagram account users on Friday," a deputy commissioner of police rank officer said.
On January 25, Ayyub had tweeted, "26.4 thousand tweets, most are abusive, rape and death threats, calling me a terror sympathiser. Most tweets are by the Indian right wing & Saudi nationalists who are attacking me after i posted a tweet in solidarity with Yemen and calling out the Saudis. Hello @TwitterIndia."
Ayyub, who has over 1.5 million followers on Twitter and 320K followers on Instagram, has been a staunch critic of the BJP-led union government and right-wing organisations.
The next day, on January 26, a Twitter user by name @thescoopbeats claiming to be an Indian News Media Organisation, posted a YouTube video link with a message, "Saudi Arab Banned Rana Ayyub #RanaAyyub #SaudiArabian #banned @RanaAyyub @KingSalman Anchor @Mannusahu1319, @Vidyanshi6 Editor @Patrakar_Ayush."
In the 10-minute video, two young women presented a news bulletin with memes under the title, 'Saudi Banned Rana Ayyub?'. The video received over 4,000 views.
In a tweet, Ayyub claimed that the portal spread fake news by using a photoshopped tweet image of Ayyub saying she hates India and she hates all Indians. In response, the portal uploaded another video claiming that the facts presented in their news were all correct and authentic.
Mumbai police sources said that they are looking into the YouTube video.
Dr Rashmi Karandikar, DCP, Cyber Cell, on Monday said that the complainant has received many obscene comments and death threats.
Based on her complaint an offence has been registered by the West Region Cyber Police Station under sections 354A (Sexual Harassment), 506-2 (death threats), 509 (outraging modesty of women), 500 (defamation) of the Indian Penal Code and 66c (Punishment for identity theft) and 67 (publishing or transmitting obscene material in electronic form) of Information Technology Act, she said.
"Mumbai Police has registered an FIR against those who disseminated fake news, morphed tweets and death and rape threats against me. About time these brazen and consolidated acts of online violence are stopped and the perpetrators brought to book," Ayyub tweeted on Monday.
"Impressed with the alacrity and co-operation of @CPMumbaiPolice @Dwalsepatil @supriya_sule @satejp @CMOMaharashtra. This bullying and assault on women needs to stop. Hope the accused are brought to book soon," she added.
The police has sought information on the six Twitter and Instagram accounts from the service providers. The cyber cell is also investigating whether the accused have targeted other journalists or individuals on social media.
Source: Hindustan Times
https://www.hindustantimes.com/cities/mumbai-news/fir-against-4-for-sending-rape-death-threats-to-journalist-rana-ayyub-101643643090742.html
--------
URL: https://www.newageislam.com/islam-women-feminism/vogue-france-headscarf-muslim/d/126282
New Age Islam, Islam Online, Islamic Website, African Muslim News, Arab World News, South Asia News, Indian Muslim News, World Muslim News, Women in Islam, Islamic Feminism, Arab Women, Women In Arab, Islamophobia in America, Muslim Women in West, Islam Women and Feminism