New Age Islam News Bureau
8 Apr 2020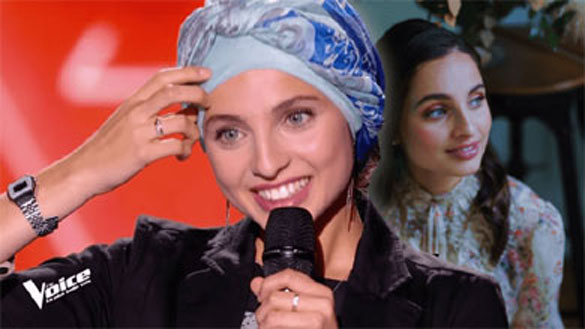 Singer Mennel Ibtissem, Viral 'Voice' and 'AGT' French Muslim Star Takes Off Her Hijab
-----
• Viral 'Voice' and 'AGT' French Muslim Star Takes Off Her Hijab — Here's Why
• Mariah Idrissi: As A Muslim, I Feel Great Responsibility to Do My Part In Taking Care Of The Planet
• Meet Ramla Ali, First Muslim Woman to Win A Boxing Title for England
• Women Lead the Charge as Regular Podcast Listeners Top 5mn In Saudi Arabia
• Women Can Play Vital Role to Keep Families Safe: Dr Fouzia
• Iran Urges Women Leaders to Act against US Bans amid COVID-19
• Egypt's Full Women Policy Tracker on Responsive Programs Amid Covid-19 Pandemic
• Malaysia Asks Women to Shoulder Burden Of Coronavirus
• NGO: Sexual Harassment Happens During MCO Too, Here's How Women Can Stay Safe
• Malaysian Actress Puteri Aishah Tests Positive For Covid-19
Compiled By New Age Islam News Bureau
URL: https://www.newageislam.com/islam-women-feminism/viral-voice-agt-french-muslim/d/121521
-------
Viral 'Voice' and 'AGT' French Muslim Star Takes Off Her Hijab — Here's Why
SAMANTHA AGATE
Singer Mennel Ibtissem auditioned for the French version of The Voice in 2018 with a rendition of Leonard Cohen's "Hallelujah" that went viral. She sang in both English and French. She then went on to audition for America's Got Talent in 2019 with another viral yet controversial audition. Her claim to fame wasn't just her amazing voice but also her proud identity as a hijab-wearing French Muslim female singer. Recently, she posted a photo on Instagram that looks a little bit different from her normal appearance which has her fans wondering what happened?
For those familiar with Ibtissem's auditions or her music, you know that her staple identity is her wearing a hijab, or a religious head covering worn by some Muslim women. As of late Mennel is no longer wearing her hijab, and is letting her long brown locks flow. Many fans in the comments, both in French and in Arabic are asking – why? Mennel didn't yet directly respond to the question but she wrote a lengthy caption thanking her fans for supporting her values and music on her most recent picture. The closest that she came to an explanation for her recent change in appearance is this part:
"I will never lower myself to the level that is not mine. And I keep that smile, the one who tells you "I am proud to be who I am and if that is not enough, then I have nothing else to offer" I am happy to be who I am and I share with my community, my "mennies ♥ ️" all the love that I have in me. I am 100% authentic and I intend to remain so. Thank you to those who appreciate my music and my person for his true values. To you, know that my story is Traced in the light of my inspiration.
And my inspiration is you. It is the love, sincerity, and kindness of those who feel connected to me, to this musical universe which encompasses our sorrows and our joys, our hopes, and our glories.
One day I was told: walk straight and don't turn around. So I take one step, then two, and I courageously move forward with an open heart and a free spirit.
She emphasized how social media is only a small part of life and that she appreciates the loving comments she gets but knows that the negative comments are not to be taken too seriously.
She also posted a cover of "Slow Dancing In A Burning Room" by John Mayer where she is seen without a head covering on and stated in the caption that she is currently working on her second album. The video has garnered over 77,000 views.
Ibtissem's AGT audition was featured in a short montage where it seemed like she struggled through her song. Simon Cowell offered her water and suggested she sing another song. The editing made it seem like she did not make it through to the next round. She took to social media to set the record straight and reveal that she did, in fact, make it to the next round. She quit the show because of this editing decision. In her audition, she is wearing a hijab.
It is clear that this faulty editing did not get her down. She has a loyal fanbase that has stuck by her and supported her music since her appearance on the show. She has 386,000 subscribers on Youtube and posts well-received covers. In the comments, fans mention that she is beautiful with or without her hijab. They recognize that it is her decision whether or not she wants to wear it and will support her regardless.
https://talentrecap.com/agt-contestant-mennel-ibtissem-takes-off-her-hijab/
-----
MARIAH IDRISSI: AS A MUSLIM, I FEEL GREAT RESPONSIBILITY TO DO MY PART IN TAKING CARE OF THE PLANET
07 APRIL 2020
BY MARIAH IDRISSI
In 2015, I was scouted in a shopping mall in London for a fashion campaign by a woman called Coralie. I had no idea that campaign was for retail giants H&M and would begin my career in fashion as the first hijab wearing model. To simply see a visible Muslim woman in the media wasn't common so my focus was directed in promoting more diversity in the industry.
Five years later, my relationship with fashion has turned full circle and brought me back to remind me what originally inspired me to pursue a career as a model and spokeswoman. It was purpose and substance. My first ever campaign focused on two main areas: recycling and diversity with the message that everyone should recycle their clothes and be more conscious of the way we shop and how that impacts the planet and people in it.
In between that time, I can hold my hands up and admit I hadn't been as fashion conscious in regards to sustainability as I should have been. My attention has been more focused towards building relationships between communities and promoting diversity in fashion and media. And as much as that's important, I feel now in these past five years we have witnessed a growth of Muslim representation with more and more hijab wearing models emerging, more discussions and more brands creating collections targeting the modest consumer such as Nike who recently brought out a new line of burkinis.
In 2020, the State of the Global Islamic Economy predicts that the Modest Fashion market could be worth more than £226bn. These figures are something we are often proud of. It demonstrates our spending power as a community as well as the influence we have in this space as more and more brands are tapping into what's called "the Muslim pound". However, on the flip side, how does all this consumption affect our planet especially when we take into consideration fashion consumption globally?
Now, I'm someone who likes a challenge and likes to solve a problem. Although fashion sustainability is an area that I don't have an academic background in so I'm still very much a student but I'm sure many will agree we all are to some degree because it can sometimes feel like a rabbit hole. As soon as I think I've found a solution or met someone with one, I'll meet someone else who has a completely different opinion and their own research to back it. It's a constant journey as the world keeps changing everything in it tries to adapt.
That being said, from my personal experience working with the designers, brands and consumers, I want to touch on some of the issues and some potential solutions. If we go back, from the 1900s to the 1950s, American consumers spent around 12-14 per cent of their annual income on clothing. Today, we spend about 3 per cent but our wardrobes are actually bigger. So that means we're getting more for our money but at what cost? A question many of us don't like to ask.
Fashion is considered the second largest polluter in our planet coming in after oil and gas. But the Global Fashion Industry itself is generating a lot of greenhouses gases due to the energy used in production, manufacturing and transportation of goods. Our clothes use up around 1.5 trillion litres of fresh water each year and the process, pollutes the water, mainly affecting people in developing countries but not limited to. The fish we eat comes from the same polluted water caused by the clothes we wear. As much as we all enjoy online shopping and the convenience of it, we can't ignore the affects its having not just on the environment but also the impact on local businesses and jobs.
With the increase of social media influencers promoting 'fashion hauls' as well as fast fashion brands releasing new products every few weeks it's no mystery why people overseas are overworked to meet our demands. SOLUTIONSI could spend hours talking about the effects the fashion industry has on our environment but then there's also the effects it has on the people making our clothes. Shopping with ethical brands should mean that people are not forced into modern-day slave labour. Aside from the working conditions many of our brothers and sisters are in, the other issue is a part we play, which is the excessive demand of new clothing to be produced in unrealistic time frames to keep up with new trends. With the increase of social media influencers promoting 'fashion hauls' as well as fast fashion brands releasing new products every few weeks it's no mystery why people overseas are overworked to meet our demands. I believe, in order to change our actions, we have to first change our thoughts. Our thoughts around the way we pride our spending habits, our thoughts around the way we do marketing and our thoughts around the way we can support businesses that are doing their best to provide a more sustainable product or service.
As consumers we have influence and this is where we can turn the table on the negative impacts social media may have on our spending habits and instead use it to promote positive solutions for people. Rather than priding ourselves on the quantity of clothes we own, we should pride ourselves on the quality, even if it means posting the same outfit more than once! As I'm talking I'm advising myself first before others!
As consumers, we should ultimately be spending more and buying less. I was watching a talk online and it was actually discussing how recycling isn't the ultimate solution, it's about consuming far less than we do today. Many of us may be aware that much of our recycled goods don't actually make it. I asked my mum, when she was my age how many pairs of shoes she had, she told me probably around six pairs. I'm embarrassed to say how many I own. It's even changing the way we view success and how we connect that to material gains. In all honesty as much as I love fashion, I would be happy to not have to stress about what I should wear in the morning if I simply had fewer options.
Now, on the other hand lies the responsibility of the big brands and corporations who provide us all these options but little information on how and where our clothes are made. This is where impactful solutions can be developed such as, creating more simple designs in clothing. One of the reasons why certain garments aren't recycled is because of all the extra bits added on which can cost more to separate in the recycling process than to simply discard so a leather jacket with loads of buttons and zips could likely end up in a waste site. However, the fast fashion industry, where the majority of people shop is attractive because of its affordability and vast selections. Again, it's about spending more on quality, buying less in quantity and changing that mindset around the excessive 'need' for more when in fact we need less.
A good example of a strong action plan which took effect in the UK was getting rid of plastic bags in supermarkets. Now initially, many people were annoyed with this change, you had to pay a few pence to buy a plastic bag if you didn't carry your own reusable one. Then naturally, people had to adapt and remember to bring their own one or constantly feel irritated purchasing another reusable bag to chuck under the sink. This change overall has been positive and I don't believe it would have been so effective if we waited on consumers to take that initiative. If I walked into H&M and the only options were from their conscious collection, I would naturally have to shop consciously.
As much as brands are creating and innovating to provide sustainable options, we can't ignore the fact that sustainable fashion isn't always the most affordable especially taking into consideration low-income households with larger families.
Sheikh Hamza Yusuf gave a speech discussing climate change and shared that there is a rise in two species – rats and jellyfish. They say what happens on earth, reflects the sea and jellyfish are spineless, brainless creatures. What does that say about our society?
As a Muslim, I feel a great responsibility to do my part in taking care of our planet As a Muslim, I feel a great responsibility to do my part in taking care of our planet especially considering I am a part of an industry that causes it great harm. I don't consider myself an expert in this field but that doesn't mean someone like you, or I can't openly show a willingness to learn and change our habits to be actively involved in something that benefits every one of us. I've made small changes by ensuring a larger percentage of my wardrobe has either recycled or 'preloved' items as well as trying to support brands that attach themselves to a cause.
https://www.graziame.com/style/fashion/mariah-idrissi-as-a-muslim-i-feel-great-responsibility-to-do-my-part-in-taking-care-of-the-planet
------
Meet Ramla Ali, first Muslim woman to win a boxing title for England
April 07, 2020
Ramla Ali took up boxing because she was bullied at school for being overweight. Now she's a British boxing champion, a model and the first Muslim woman to win a boxing title for England.
But for the coronavirus pandemic, the amateur featherweight boxer was prepared to be the first boxer to represent her home country Somalia at the 2020 Olympic Games in Tokyo this August.
Ali fled war-torn Somalia with her family as a child after her eldest brother, who was just nine at the time, died as a result of a grenade that was thrown into their front garden as they played. She took refuge in London.
Ali is unsure about her age because there is no official record. She, however, believes she is between the ages of 27 and 30. "I genuinely don't know the date, the month, the year," she told Evening Standard.
She took up boxing to knock off the weight, an activity she kept secret from her family because her mother thought it was immodest for women to play sports.
"When you come from an African household, education is key, " her mother said to her then. Today, her mother is her "number-one fan". She acknowledged that sexism is common across the boxing industry, adding referees are "really quick to stop a female fight".
"If one girl looks like she's dominating the other quite a bit, the referee is quick to stop it and say she can't continue they'll never do that with a man," Ali noted. She is optimistic that women will be held to the same standard as men "because we're just as good, better even," she said.
She recalled the first time she entered her local gym in East Ham, London, she had to wait up to 40 minutes to use the changing rooms because there were no facilities for women. "I was the only girl there," she said.
In 2016, Ali became the best amateur boxer in the country in her weight division; she won the Elite National Championships, English Title Series and the Great British Elite Championships. In 2018, she represented her birth country, Somalia at an international level.
Somalia had no boxing federation so Ali and her husband and trainer Richard Moore created a boxing federation in the UK. Ali now travels around the world for competitions and is currently the African Zone Featherweight Champion.
As a model, she inspires other African and Muslim women. When she was shot for British Vogue's September 2019 "Forces For Change" issue, she said: "To see girls that look like me, with an afro, on the cover of magazines is amazing."
Ali has been gracing fashion and beauty boards. She is an ambassador for brands including Coach, Nike and Pantene. She has also signed to IMG Models. "Beauty is 100% strength within yourself," Ali said. "You have to feel it – that's what beauty means to me. There are so many pretty women out there, but if you don't feel like a beautiful person inside then you've gone from a ten to a two. As cheesy as it sounds, I truly believe that."
She is giving back to her community by volunteering to teach self-defense classes to "predominately hijab-wearing" women, between the ages of 20-40, in south London once a week.
https://face2faceafrica.com/article/meet-ramla-ali-first-muslim-woman-to-win-a-boxing-title-for-england
--------
Women lead the charge as regular podcast listeners top 5mn in Saudi Arabia
April 7, 2020
DUBAI — As the global boom in podcasting continues, spurred by the sudden increase in home working, new research released today has revealed there are 5.1 million regular listeners in Saudi Arabia, with one in four women (21 percent) listening to podcasts every week.
That's according to new statistics released by the broadcast specialist, markettiers MENA, and supported by global podcasting consultancy 4DC for a first-of-its-kind study into the podcast landscape in Saudi Arabia.
The results reveal a nation that values the story-telling nature of the podcast medium above all else, with nearly a quarter (23 percent) of the adult population having listened to a podcast and 15 percent of the adult population tuning in regularly, at least once a week. The report puts Saudi Arabia on a similar par with the UAE, with 16 percent (1.3 million) of the adult population tuning in at least once a week to a podcast.
When it comes to those trailblazing the podcast trend, almost twice as many women (21 percent) define themselves as regular podcast listeners compared to 11 percent of men. The reasons women value podcasts so much is that they provide dedicated content to cater to their specific interests (69 percent), they can listen whilst doing other things (61 percent) and they value the storytelling nature (49 percent) of the medium.
The research, carried out during the wake of the COVID-19 outbreak canvassed the thoughts of more than 2,000 adults in Saudi Arabia and revealed that nine in 10 (93 percent) of those surveyed trust podcasts more than any other medium.
According to Cheryl King, managing director of markettiers MENA: "We've long known that there has been a burgeoning podcast community in Saudi Arabia, but there has been little data until now to identify just how many people are listening, what they're listening to and why. Following the success of our UAE podcast report, we are excited to launch the first ever study into podcast consumption in Saudi Arabia.
"The full results which will be released shortly highlight the huge relatively untapped opportunity that exists for brands to engage with connected audiences in a powerful way. Now more than ever in the current climate, the time is now for podcasts."
The preview data has been released ahead of the full markettiers KSA podcasting report — the first dedicated report looking into the podcast habits of KSA. Due to be released in May, you can pre-register to receive a copy here: https://markettiers.com/podcasts/
http://saudigazette.com.sa/article/591604/BUSINESS/Women-lead-the-charge-as-regular-podcast-listeners-top-5mn-in-Saudi-Arabia
--------
Women Can Play Vital Role To Keep Families Safe: Dr Fouzia
Fahad Shabbir
07th April 2020
ISLAMABAD, (UrduPoint / Pakistan Point News - 7th Apr, 2020 ) :Director General of the Pakistan National Council of the Arts (PNCA) Dr Fouzia Saeed on Tuesday said women could play a vital role in protecting their families from the coronavirus.
They should should persuade their children to stay at home and avoid unnecessary activities outside, beside maintaining social distancing, she said in a statement.
Dr Fouzia said the women should ask their children to avoid wasting their precious time and instead concentrate on their studies.
She highly praised the services of doctors, nurses and paramedical staff, who were on the front line in the fight against the corona pandemic.
https://www.urdupoint.com/en/pakistan/women-can-play-vital-role-to-keep-families-sa-886636.html
--------
Iran Urges Women Leaders to Act against US Bans amid COVID-19
April 7, 2020
Iranian Vice-President for Women and Family Affairs Masoumeh Ebtekar has written a letter to the women political leaders of the world, highlighting the impact of the US sanctions on Iran's ability to contain the COVID-19 pandemic.
The COVID-19 pandemic is a global challenge of epic proportions. The pandemic knows no borders, ethnicity race or religion. This crisis requires a unified and concerted response among states and civil society to save lives and livelihoods. Ongoing conflicts and military actions worldwide need to cease immediately and economic sanctions should be unconditionally lifted to enable local and international actors to intervene to provide necessary medical services and equipment to help alleviate the social and economic burdens of this pandemic on families and livelihoods.
The Islamic Republic of Iran has been facing the most brutal economic sanctions in history during the past months. These sanctions have impeded not only our economic growth and capacity to deal with the social requirements of employment but have also prevented the flow of necessary pharmaceuticals and medical equipment. The COVID-19 outbreak in Iran has been compounded by the economic sanctions and terrorism against my country. Health workers and medical personnel, a large proportion of whom are women physicians, nurses and hospital staff in Iran have served relentlessly to combat this disease and sacrificed to save lives. Additionally, Iranian women have taken a leading role in protecting their families and encouraging social distancing. They have also mobilized entrepreneurs to produce medical commodities such as face masks and surgical gowns for our hospitals.
Nevertheless, the pressures of terrible sanctions are taking their toll on our people. Echoing the voice of Iranian women and families, I hereby invite you to take action and to voice your objection to the continued illegal economic sanctions against my people by the US government. Our shared humanity requires that we stand together unified and that we resist oppression. The Iranian people will inscribe your position at this sensitive juncture in their hearts.
https://ifpnews.com/iran-urges-women-leaders-to-act-against-us-bans-amid-covid-19
--------
Egypt's full Women policy tracker on responsive programs amid Covid-19 pandemic
Apr. 7, 2020
CAIRO - The National Council for Women issued the first edition of its women policy tracker report that monitors the policies and measures that were taken by the government to contain the spread of Covid-19.
The report included an analysis of the existing situation amid the government's efforts to combat the virus during the period from March 14 to April 6, 2020.
Dr. Maya Morsy, President of the National Council for Women, confirmed that this report comes with the aim of monitoring all policies & procedures taken by the government in response to the needs of Egyptian women; designing an easier tool that can be used as reference by decision makers for more collaborative vision on means of moving forward; as well as documenting the coordinated efforts of the government; & reflecting on those policies with supporting programs.
The COVID-19 outbreak has an impact on both men and women. However it impacts women in different ways. In Egypt, women make up around 42.4% of human doctors and 91.1% nursing staff of who are actually working for the Ministry of Health, in addition to 73.1% of nursing staff in hospitals and therapeutic facilities in the private sector are women . Women in the health sector are more likely to be exposed to the virus and dealing with enormous stress balancing paid and unpaid work roles. Furthermore, overwhelmed health services may limit access to family planning services and to contraceptives, potentially leading to a rise in fertility rates and the socio-economic impact on individuals, households and communities. COVID-19 is expected to interrupted access of women to reproductive healthcare services and commodities. Given that pregnant women are more likely to have contact with health services (antenatal care and delivery), they can be greatly exposed to infections in health facilities which may discourage attendance.
COVID-19 poses a serious threat to women's engagement in economic activities, especially in informal sectors, and gender gaps can be increased in livelihoods. In Egypt, 18.1% of women are heads of households . 40.9% of females' total non-agricultural employment is in informal employment and 33.9% of females' employment is vulnerable employment. Meanwhile 6.7% of female employment in industry; 36.4% of females' employment is in agriculture; while 56.8% of female employment in services; Egyptian women also represent 70% of the paid care sector workforce (mainly as teachers, health and social workers). Moreover, the paid care sector in Egypt represents around 28–31 % of overall female employment. Women are almost four times more likely than men to work in the paid care sector.
Recognizing that, the Egyptian government started to take stringent procedures and measures to contain and prevent the spread of COVID-19 according to the pace of its spread, while considering all segments needs and women in specific during the execution of those measures. The government was particularly keen to integrate & mainstream all the needs of Egyptian women into the entire decision making process needed and the implementation of programs in order to ensure women's empowerment & protection against the socio-economic and psychological repercussions of the new COVID-19 pandemic.
During the meeting held on 22 March 2020 in celebration of the Egyptian Women's Day, the speech of the President of the Republic conveyed a number of messages that in general represent a mechanism to face the risks of spread of COVID-19. The President also issued a set of economic and social protection decrees to support and protect all society, and recognized the role and status of the Egyptian woman and the importance of continuing her supportive role during this current phase.
Since the National Council for Women is the national machinery concerned with proposing the government public policy on women's development pursuant to Law No. 30 of 2018, NCW has prepared a policy paper regarding Egypt's rapid response to women's situation during COVID-19 outbreak, which includes an analysis of the status quo. In this paper, NCW has presented a number of proposed response measures, whether immediate or middle-term responses, for concerned all line ministries & government institutions, regarding the following pillars:
1. Impact on human endowment (health, education and social protection) through applying/upscaling the already existing support programs regarding all health aspects including psychological, mental & physical as well as reproductive health care services; social protection programs; particularly response measures for older women; women with disabilities; pregnant women, and women of reproductive age, and education, to deal with the consequences of the school lockdown and the potential girls' dropout.
2. Women's voice & agency (Violence Against Women, Leadership and Representation in decision making during crisis managment) women's participation in the decision making process can enhance the health security control mechanisms, examination and protection of health, and ensure women's accessibility to the relevant information. Also response measures can be adopted to provide psychosocial, legal and advisory support for women who may be subject to violence resulting from the implications of social conditions generated by the precautionary measures taken to respond to COVID-19 outbreak.
3. Impact on economic opportunities: the proposed response interventions depend on the already existing mechanisms as well as introducing new ones to support the women workers whose livelihoods have been affected or whose income from freelance work has declined. Alternative solutions should be proposed to address the economic downturn and its impact on working women in the formal or informal sector.
4. Promoting data and knowledge: promoting the compilation of data designed by sex, age and disability-disaggregated data on COVID-19, including tracking the emergency response measures, support policy research & social innovation; monitoring & evaluating the impact of the COVID-19; and conduct public opinion surveys in order to recognize the differences in exposure and treatment & help design the preventive measures accordingly.
In this regard, NCW established the "Women policy tracker on Responsive Policies and Programs During COVID-19 Pandemic" to serve the following purposes:
1) Monitor all issued policies and procedures responsive to the needs of Egyptian women in light of the efforts made to reduce the spread of COVID-19.
2) Design an easier tool that can be used as reference to all women related issued policies that can be used by decision makers for a more collaborative & comprehensive vision on means of moving forward.
3) Document the efforts & highlight the outcome of the coordinated efforts of the government on women related policies to protect them & their families from the COVID-19
4) Reflect on all those policies with necessary supporting programs & initiatives
- The President issued a decree on suspending classes in universities and schools for two weeks; as protection for the children allowing the mothers to rest assure of their safety.
- The Ministry of Social Solidarity (MoSS) issued a decree on the lockdown of nurseries for two weeks; as protection for the children allowing the mothers to rest assure of their safety.
- The Prime Minister issued Decree No. 719 of 2020, including inter alia:
o The number of employees in government authorities and bodies shall be reduced under the set of the precautionary measures taken by the government to prevent the spread of COVID-19;
o Pregnant women or those looking after one child or more of less than 12 years shall be granted an exceptional leave for as long as the Decree remains in force; allowing all working mothers to be able to do their family duties without losing their jobs.
o Women employees looking after their children with disabilities shall be granted a leave pursuant to a circular; allowing mothers of children with disabilities to be able to take care of their children without losing their jobs.
- MoHP announced taking special measures on dispensing medicines for chronic diseases, formula milk and Family planning methods (contraceptives) for three months; accessibility needed reproductive healthcare services for women
- Ministry of Social Solidarity (MoSS) announced intensifying the precautionary measures for children in foster homes and providing all the health precautions and awareness-raising leaflets, including welfare homes, correctional institutions, orphanages, nursing homes, social protection facilities, people with disabilities, and women shelters; protection of elderly women and women with disabilities living in the shelters; Preparedness to any potential case of violence against women through secured concerned shelters.
- The President instructed as part of a set of decrees and directives aimed to address the new COVID-19 to launch campaigns for raising the awareness of citizens for guidance and providing precise information, and strengthen health control according to the highest standards, at the points of entry to the country; Awareness raising & promoting data & knowledge to include women beneficiaries.
- MoSS announced increasing the number of beneficiaries of conditional cash transfer from Takaful and Karama Program to 100,000 households; Social protection especially for women heads of households
- MoSS announced increasing the monthly income for rural women leaders from EGP 300 to EGP 900 per month; increased support to women rural leaders on ground
- MoSS announced integrating women aged 65 and above in nursing homes under the umbrella of social protection; protection of elderly women
- MoSS announced increasing the number of beneficiaries of soft loans and loans with negligible interest rates to set up micro enterprises so that they can improve the living standard of their families; economic opportunities to include women in need to microfinance loans
- Extending the suspension of classes in schools and universities and lockdown of nurseries of whatever type;
- The Ministry of Manpower (MoM) announced the steps of registration of irregular workers on MoM website to receive an exceptional allowance of EGP 500, as part of the government plan to protect them due to being affected by the COVID-19; providing economic support to include women irregular workers
The Prime Minister issued Decree No. 776 of 2020 on establishing a workers' emergency benefits fund and forming a committee for the irregular workers affected by the economic repercussions of the new Coronavirus, composed of (the Minister of Planning and Economic Development, Minister of Manpower, Minister of Social Solidarity, NCW President, Chairman of Information and Decision Support Center, Head of the Suggestion and Complaints Committee of the National Wage Council, and a member of the Administrative Control Authority). Including NCW in this committee reflects the government's belief in the importance of women's voice & agency through representation, participation & involvement in the process of decision making and taking into account the needs of Egyptian women while designing the policies and strategies aimed to respond and mitigate the impacts of the new Coronavirus.
The Committee shall be responsible for the following:
o Collect the data of the workers affected by the economic repercussions of the new Coronavirus, and take the necessary actions in coordination with the various concerned bodies to offer financial and social support to the workers to overcome the crisis.
o Coordinate the efforts and initiatives introduced by financial institutions, companies, businessmen, non-governmental institutions and other concerned bodies so that the aids are delivered to those eligible.
o Coordinate with the Workers' Emergency Benefits Fund to ensure the existence of a consolidated database for the affected workers to avoid double disbursement.
o Develop policies for workers' compensation in case of partial or full lockdown of the facilities in which they work, in coordination with the concerned funds and accounts.
- The President issued a decree on increasing the monthly allowance for medical professionals by 75% and establishing a risk fund for medical professionals; Economic benefits to include women health care providers (doctors & medical professionals)
- The President announced the disbursement of exceptional bonuses from "Tahya Misr" Fund for all the workers in quarantine, fever and chest hospitals and central labs allover Egypt; Economic benefits to include women health care providers
- The Financial Regulatory Authority (FRA) issued a set of resolutions on the activity of microfinance for the benefit of 3.1 million citizens, including:
o Reduce or postpone the installments due from the clients by 50% of the value of each installment for microfinance clients.
o Exempt microfinance clients who make timely payments from the commission of the prepayment of indebtedness or reducing the administrative fees to renew the existing funding; economic opportunities benefiting women in microfinance
- The President instructed to provide additional support to the health sector and enhance the financial conditions of the health workers, doctors and nurses, by increasing the bonuses granted to medical interns during their internships in university hospitals under the Ministry of Higher Education (MoHE0) and Scientific Research and Al-Azhar University hospitals, to EGP 2200 per month, instead of EGP 400, as of December 2019 class; economic benefits to include women doctors
- The MoH launched 2 hotlines to provide necessary psychological support to citizens at home; psychological support programs to include women beneficiaries
- The President instructed to provide allowances of 500 EGP for irregular workers who might be impacted by the COVID-19 for 3 consecutive months; economic benefits to include women irregular worker.
- The President instructed to upscale decent housing by building 250,000 new housing unit and another 100,000 housing unit for the people living in unsafe habitat; Social protection intervention to include women beneficiaries
The National Council for Women will continue tracking & monitoring all issued policies & programs that mainstream & respond to the needs of women during this crisis. NCW commits to a strong coordination with all concerned ministries and bodies to support the implementation of those policies as well as suggesting new polices in favor of Egyptian women.
https://www.egypttoday.com/Article/2/83446/Egypt-s-full-Women-policy-tracker-on-responsive-programs-amid
--------
Malaysia asks women to shoulder burden of coronavirus
7th April 2020
Malaysia has been in partial lockdown, subject to a Movement Control Order (MCO), since March 18 to control the COVID-19 pandemic. Twitter was aflame when the Malaysian government's Women, Family and Community Development Ministry (KPWKM) issued online propaganda instructing women how to shoulder the emotional labour, and hide signs of strain from their husbands during lockdown. The hashtag was #WanitaCegahCOVID19, which translates as #WomenPreventCovid19.
Here's Malaysia's women ministry's advice to women working at home, burdened with housework & family care, during the #COVID19 lockdown:
Wear make-up while working at home, speak to spouse in Doraemon voice, giggle coyly and don't "nag" #MCO https://www.malaymail.com/news/malaysia/2020/03/31/ministrys-mco-advice-to-women-wear-make-up-while-working-at-home-speak-to-s/1851985 …
KUALA LUMPUR, March 31 — The Women, Family and Community Development Ministry has imparted some rather left-field advice to women, especially wives and mothers working from home, which it posted on...
The advice specified that women, who are likely to shoulder the lion's share of childcare and housework, should keep the peace at home by refraining from "sarcastic" requests that their husband do chores when they are enjoying sitting on the sofa, avoiding "nagging" in favour of an infantile, cute voice associated with a cartoon cat named Doraemon, and dressing up and applying make-up while stuck at home. One choice quote reads:
"If you see your partner doing something wrong, avoid nagging – use 'humorous' words like saying: 'This is how you hang clothes my dear' (imitate Doraemon's voice and follow up with giggles!)."
Are Malaysian women expected to mother their adult male partners as though they are lazy teenagers who won't pick up after themselves? And then pretend not to be cross when taken for granted and treated like a maid? Surely such demands are a recipe for infantilised, cosseted, emotionally fragile men, and perpetually angry women—neither of which is good role modelling for children?
Astonishingly, to those of us squaring up to the semi-permanent working staycation of lockdown, the government also stated that mothers should endeavour to give up their own jobs and income-earning activities in case their children go outside. Clearly, fathers cannot be expected to shoulder the same responsibility, as their jobs must necessarily be higher earning and higher priority, at least in the eyes of the KPWKM.
"Such a long holiday and need to work from home is something difficult for mothers because oftentimes they lose focus on things... We would also like to remind you, don't be too focused on work until family members are not monitored, which can result in a violation of the MCO."
The troubling implication of the advice is that women are responsible if men act out their frustrations in violence against them, that it is within women's power to absorb all of the stress and protect their husband from it. Women are being placed under a duty to work extra hard to sweeten the hardships of lockdown for their male partners.
If shouldering a disproportionate amount of childcare and household chores are not enough, Malaysian women were pressurised to look like sex objects, protect men's leisure time, and even to entertain him, by the very government department which spends taxes to protect their interests. As if these women do not have enough on their plate with the basics of survival.
In my opinion, the advice reads as pure Gilead. Women are still seen, in Malaysia, as commodities and objects for male use. Even by women with bureaucratic power. One tweeter compared minister Siti Zailah Mohd Yusoff—who has a track record of similar pronouncements—to the commander's wife character Serena Joy from The Handmaid's Tale.
I woke up this morning to #Doraemon trending and women being subjected to a submissive role to the men around them. Is #Malaysia trending to becoming the next Gilead? If you have not read/watched the Handmaid's Tale, I'd highly recommend it #stayAtHome #wanitaBukanDoraemon
With women and men under unprecedented pressure during the pandemic, it would make sense for any such campaign to appeal to both sexes to dig deep into their reserves of generosity and courage for the sake of maintaining harmony at home—not that this should be a state matter to begin with. Yet the Malaysian government identified all the additional emotional and sexual labour as women's work, rather than a shared necessity, reinforcing sex roles which have had to loosen in an era where many households need two earners to survive.
Women's groups were outraged by the poorly-timed, provocative, tone-deaf campaign, stating that "sexist jokes further perpetuate the concept of patriarchy, which is one of the root causes of domestic violence."
Calls to a Malaysian government domestic violence helpline doubled during the lockdown period. Perhaps noting the contradiction between its advice that women take responsibility for managing men's emotional discomfort, and the vulnerability of women housed with violent men, they removed the campaign following an outcry on social media, saying they would "remain cautious in future," but insisting that their advice was intended to "maintain[...] positive relationships among family members during the period they are working from home." The irony was seemingly lost on them.
Malaysia ranks a poor 104 out of 153 countries in the 2020 World Economic Forum's Global Gender Gap index, due to scoring low on women's educational attainment (86th), health and survival (84th), political empowerment (117th) and economic opportunity and participation (97th).
https://www.thepostmillennial.com/malaysia-asks-women-to-shoulder-burden-of-coronavirus
--------
NGO: Sexual harassment happens during MCO too, here's how women can stay safe
07 Apr 2020
KUALA LUMPUR, April 7 — Women can still experience sexual harassment during the movement control order (MCO) including when they are on the road or shopping alone, All Women's Action Society (Awam) said today as it provided safety tips for such situations.
Awam highlighted a recent case of alleged sexual harassment which it was alerted of an enforcement officer allegedly used vulgar slang at a checkpoint, noting that this was on top of an increase in the alleged use of sexist language on social media during the MCO period.
"The abuse of power in the alleged sexual harassment case above has left the survivor extremely traumatised. Worse, the survivor is also afraid and unsure of how to make a report under the unusual circumstances of the MCO," Awam said in a statement of the alleged incident.
While acknowledging a huge sense of gratitude to all Covid-19 frontliners in all sectors such as health, hygiene, food aid, mental health aid, domestic violence support, the police and the army, Awam said that it has to be remembered that frontliners are "human too, and will also sometimes crack under stress and react in anger and/or an upsetting manner".
"However there are limits in how people should react under duress, especially when they are in the position of power. Authority tips the scales in favour of the police and the army, and thus they have the responsibility to ensure that the power is not abused," it said.
Awam pointed out that sexual harassment can happen anywhere and can be perpetrated by anyone, and can happen in multiple forms.
"Sexual harassment refers to an unwanted or unwelcome conduct that is sexual in nature, and may be committed physically, verbally, non-verbally, psychologically and/or visually, which can or may cause the person being harassed to feel humiliated, offended or threatened," it said.
Noting that Inspector-General of Police Tan Sri Abdul Hamid Bador had warned the public against taking photographs and videos of police officers at roadblocks with intention to create a negative perception, Awam urged those who have survived sexual harassment or their friends against posting such photos online.
Awam said sexual harassment survivors or their friends should instead submit these photographs as evidence when they lodge a report with the police or when they inform any non-governmental organisations.
Awam said it was happy to work with the police in any way possible to ensure that sexual harassment cases do not happen.
The group also provided quick tips for women to stay safe while driving or shopping alone during the MCO period, including by ensuring their mobile phones were adequately charged and by having emergency contacts readily available, and by taking down details of the sexual harassment incident such as location, time and other memories before reporting it to the police or to Awam.
Awam said anyone facing sexual harassment could contact Awam through its helpline 016-237-4221 or via email at telenita@awam.org.my.
Among measures imposed during the MCO period to slow the spread of Covid-19 are having Malaysians stay at home except for essential activities, and having only one person drive out when going out for matters such as getting groceries.
During the MCO period, women groups have continued to offer aid and operate hotlines for women who may be at higher risk or more vulnerable to harm such as domestic violence.
https://www.malaymail.com/news/malaysia/2020/04/07/ngo-sexual-harassment-happens-during-mco-too-heres-how-women-can-stay-safe/1854386
--------
Malaysian actress Puteri Aishah tests positive for Covid-19
08 Apr 2020
By KENNETH CHAW
Actress Puteri Aishah, best known for her work in the critically-acclaimed film Pulang, has tested positive for Covid-19.
The announcement was made on her manager Iman Tang's Instagram account on April 7, about an hour after she got her test results. He also told Harian Metro she did not show any symptoms.
The 25-year-old flew to Inverness, Scotland to film an upcoming 26-episode local drama series, Demi, on March 9, before the movement control order (MCO) by the Malaysian government took effect. She flew home on March 31.
The 18-member production crew of Demi including Puteri Aishah has been observing the mandatory 14-day self-quarantine upon their return. On April 4, one crew member tested positive for Covid-19.
https://www.thestar.com.my/lifestyle/entertainment/2020/04/08/malaysian-actress-puteri-aishah-tests-positive-for-covid-19
------
URL: https://www.newageislam.com/islam-women-feminism/viral-voice-agt-french-muslim/d/121521
New Age Islam, Islam Online, Islamic Website, African Muslim News, Arab World News, South Asia News, Indian Muslim News, World Muslim News, Women in Islam, Islamic Feminism, Arab Women, Women In Arab, Islamophobia in America, Muslim Women in West, Islam Women and Feminism