New Age Islam News Bureau
6 Sept 2016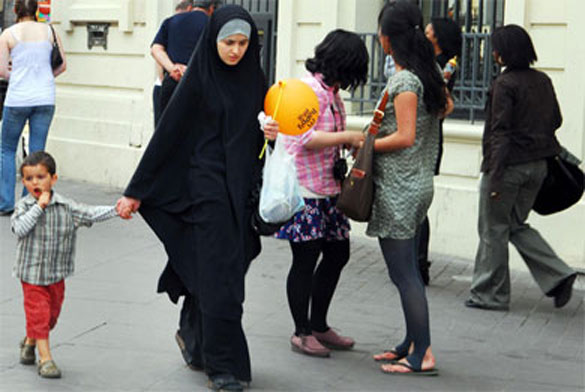 Muslim Woman Wearing Hijab In Marseille,France. (Shutterstock)
-------
• This 18-Year-Old Hindu Girl, Pooja Kushwaha, Teaches Quran to Muslim Kids in Agra, India
• Girls Get Top 10 Pre-Medical Positions In Karachi, Pakistan
• Turkish Woman Tries To Prove She's Alive For 23 Years
Compiled by New Age Islam News Bureau
URL: https://newageislam.com/islam-women-feminism/veiled-muslim-mothers-prevented-entering/d/108483
---
Veiled Muslim mothers prevented from entering French school
September 6, 2016
Marseille (France), Sep 6: Two Muslim mothers wearing headscarves were accosted and prevented from entering a nursery school on the French island of Corsica by two other parents, officials said. The incident happened yesterday as parents were dropping off their children at the start of the school day in Bonifacio, on the island's southern tip. The two women, wearing Muslim headscarves, "were stopped by two men, two brothers, who thought it wasn't right that their children are not allowed to wear emblems of their religion at school and yet these women could enter with their veils," said local prosecutor Eric Bouillard, confirming a report in the Corse-Matin newspaper.
Bonifacio mayor Jean-Charles Orsucci said his education official "had intervened to allow normal entry to the school". Police and a schools inspector were also sent to the scene "and the situation calmed down. There was no violence, no threats, and therefore no laws broken," said Bouillard. While religious symbols are banned for pupils and teachers in French schools, there is no such constraint on parents.
The incident is the latest example of intercommunal tensions in France. A burkini ban by local authorities in a string of resorts in southern France divided opinion and ended up in the courts. A Nice court finally suspended its ban on the Islamic swimsuit on Thursday after authorities there had defied a ruling by the country's highest administrative court.
The string of bans came after the full-body swimsuit allegedly sparked violent clashes in Corsica — in the latest in a series of incidents that have raised tensions between local Muslims and their neighbours. In December, protesters vandalised a Muslim prayer hall and trashed copies of the Koran after an assault on firefighters that was blamed on youths of Arab origin.
http://www.india.com/news/world/veiled-muslim-mothers-prevented-from-entering-french-school-1462031/
--
This 18-Year-Old Hindu Girl, Pooja Kushwaha, Teaches Quran to Muslim Kids in Agra, India
Sep 5, 2016
AGRA: In the communally restive western UP, an open-air classroom held every evening in a temple premises in Agra's Sanjay Nagar colony offers hope and also a rare insight into the state's composite culture. Here, 18-year-old Pooja Kushwaha, who is herself a normal class XII student by the day, turns into teacher at dusk giving away lessons to 35 Muslim kids in the area lessons in Quran.
With her impeccable accent tiding over difficult Arabic phonology involving a variety of syllables and emphatic consonants, the young girl looks every inch of the teacher the parents of these kids always wanted. Reshma Begum, mother of 5-year-old Alisha, one of Pooja's students, said, "It is a marvel to see her achieve this rare distinction at so young age. I am very pleased to have her as my kid's teacher. Her religion is the last thing on my mind or any other parents' that I know."
So, how did she learn Arabic?
"Many years ago, there was another woman of mixed faith in our locality. Born to a Muslim father and Hindu mother, Sangeeta Begum used to hold Quran classes for the kids. I got interested in the holy book and started attending her classes. I made steady progress and was ahead of all others in her class soon," Pooja told TOI.
Due to some personal problem, Sangeeta Begum had to discontinue her classes and she requested Pooja to keep alive this legacy.
"She taught me an important tenant of Islam, that there is no point in gaining knowledge if you don't share it," the 18-year-old says with maturity that belies her age.
She does it all for free. "Most of the kids are from poor families. They do not have money to offer and I do not want it either," she says. As the number of kids in her classes grew, her house became too small to accommodate all the kids. Elders in the locality readily offered her premises of a temple for her classes.
Pooja's elder sister Nandini, who is a graduate, also imparts local kids lessons in Hindi and Bhagwat Gita. "These children are from underprivileged backgrounds and giving education to them is a great work. I am proud of my daughters," their mother Rani Kushwaha says.
And how does the general Muslim population in the area see her efforts?
One of the city's most prominent Muslim leaders, 70-year-old Haji Jamiluddin Qureshi, who chairs many social forums and has a school of his own, says, "It's heartening to know that such rare examples of communal harmony exist in our city. A teacher is a teacher and her religion doesn't matter as long as she knows the holy scripture well. Moreover, Islam doesn't object to anybody learning Arabic or reading Quran."
http://timesofindia.indiatimes.com/city/agra/This-18-year-old-Hindu-girl-teaches-Quran-to-Muslim-kids/articleshow/54021192.cms
--
Girls get top 10 pre-medical positions in Karachi
September 6, 2016
KARACHI: After much delay and while still withholding 95 results, the Board of Intermediate Education Karachi (BIEK) announced the results of Higher Secondary Certificate Part-II science pre-medical, medical technology and home economics group on Monday.
According to Mohammad Imran Khan Chishti, the passing percentage of pre-medical students this year is 52.78, which shows improvement when compared to last year's passing percentage of 49.92. A total of 21,106 candidates appeared for the examination — 4,166 were male and 16,940 female. Some 1,776 males and 9,363 females passed, bringing up a total of 11,139.
All the top 10 pre-medical positions, among which there was a tie for the second position, were bagged by female students. The controller of exams said that although 95 BIEK exam results had been withheld owing to an ongoing investigation by the Anti-Corruption Establishment, they hoped to release those soon, too.
Three students of PECHS Government College for Women bagged the first and second positions. Asiya Khalid was first with 992 out of 1,100 marks while Marva Tanveer and Hiba Khalid were both second with 991 marks each. The third position was taken by Rimsha Imran of St Lawrence Government Girls Degree College.
The top three students when speaking to the media said that they only attended their college classes for doing practicals and they spent the rest of their time studying at coaching centres. When asked how come students who don't have 75 per cent attendance were allowed to sit for exams, the controller of exams said that they only recognised the certification of attendance given to them by college principals. "Beyond that, how can we know what has been going on?" he said.
Meanwhile, Rimsha Imran, who attended St Lawrence Government Girls Degree College said that she had good marks in Matric and that she could have gone to PECHS College, too, but she decided not to do that and opted for St Lawrence. "Our teachers worked very hard to help us understand the concepts in the course. They took extra pains to explain things to us and most of us didn't require any tuitions," she said.
Noorulain Anwer stood first with 1,020 out of a total of 1,200 marks in the home economics group. Hibah Masood and Aymin Nadeem were both second with 988 marks each while Fatima Ikram Zuberi was third with 982 marks. All the candidates are students of Ra'ana Liaquat Ali Khan Government College of Home Economics.
Only three candidates appeared for the medical technology exam and all three passed, bringing up a 100pc passing percentage.
BIEK chairman Mohammad Akhtar Ghori said there was a need to rethink the syllabus. He said he also wanted to see the standards of the board and its staff improved. These days, he said, he was actively involved in automation of the board. "After that there will be no room for any errors here," he said.
All the position holders were awarded the Dr Ishratul Ibad gold medal with cash prizes — Rs100,000 for the first position holder, Rs50,000 for second and Rs30,000 for the third.
Director general of the National Accountability Bureau, Sindh, retired Col Siraj Naeem was the chief guest on the occasion. He said he grew up in Islamabad but he had always found Karachi people to be very talented and they had above average intelligence but somehow they lacked the confidence to excel in life when compared to people from other cities of Pakistan. He urged the students to never divert their attention from their education. "This is your time to gain knowledge. So remain on track while also sparing some time for extra-curricular activities because it will help open your mind," he said.
He advised the intermediate board also to work on the lines of the O-Level and A-Level system and concentrate on multiple-choice questions and fill-in-the-blanks for examination papers as they helped build intellect while learning by heart from course books was no good.
About the 95 withheld results, he said there was no room for dishonesty in education but he hoped the BIEK would be able to move beyond the scandal.
http://www.dawn.com/news/1282319/girls-get-top-10-pre-medical-positions-in-karachi
--
Turkish woman tries to prove she's alive for 23 years
September 6, 2016
"Reports of my death are greatly exaggerated," Mark Twain quipped more than 100 years ago. Now, a 61-year-old Turkish woman is also saying the same thing, but she's having a tough time convincing authorities that it's the truth.
Sevim Hayva, who now lives in Canada and possesses Canadian citizenship, has spent the past 23 years attempting to prove that she is still living after a step-sibling allegedly registered her as "deceased" to prevent her from getting a share of the family's inheritance.
Hayva's parents divorced when she was 4 years old and she was given to another family, growing up in their household before getting married. Hayva had two children but later divorced and moved abroad.
Her father, meanwhile, married for the third time when she was abroad. The father, identified only as M., married a woman identified as E.K. The couple had six children, while Hayva, along with her sisters, K. Hayva and H.A., were also registered as the couple's children.
However, one of Hayva's brothers, identified only as A., applied to the village head and gave a false declaration, asserting that Hayva and her sister K. had died.
As such, the two have been officially registered as "dead" since Feb. 1, 1993.
After many years, another of Hayva's siblings, identified only as H.A., tried to reach her in Canada. H.A. determined that her sister had been registered as deceased but discovered her location through online search. The siblings met after many years, during which H.A. informed her sister that she was registered as "dead" in Turkey.
Hayva attempted to come to Turkey to correct the mistake, but was faced with a number of difficulties, including the fact that the village head who made the mistake was now dead himself.
She presented her citizenship and insurance documents, bank statement and passport information that she obtained from Canada, but could not make any headway.
"A total of 23 years ago today, the village head, who is dead now, registered Sevim Hayva dead upon her brother's statements," Hayva's lawyer, Hayrullah Çuhadaroğlu, told daily Hürriyet, adding that the woman was accepted as being alive "all over the world, except Turkey."
According to her lawyer, Hayva failed to receive her fair share of the inheritance that was left from her father and mother and that she also could not obtain any real estate or movable properties.
She has tried to travel to Turkey a number of times, but was rejected each time. In other instances, she was held in custody by the police due to the mistake and missed the plane as a result in airports.
Because she was not "officially living," she was neither arrested nor freed in the airports for days.
"She was in limbo, in a sense," Çuhadaroğlu said.
As years passed, Hayva managed to apply to a court in Turkey and file a complaint to a court in the western province of İzmir with a request to correct the mistake in her registration in 2015.
Necessary evidence was collected and the court on Aug. 31 ordered that the registration stating Hayva as "deceased" be annulled.
The procedures regarding the cancelation of the registration of her sister, K. Hayva, are continuing.
Meanwhile, the court filed a criminal complaint with the prosecutor's office against those who made the false declaration.
http://www.hurriyetdailynews.com/turkish-woman-tries-to-prove-shes-alive-for-23-years-.aspx?pageID=238&nID=103622&NewsCatID=341
--
URL: https://newageislam.com/islam-women-feminism/veiled-muslim-mothers-prevented-entering/d/108483
New Age Islam, Islam Online, Islamic Website, African Muslim News, Arab World News, South Asia News, Indian Muslim News, World Muslim News, Women in Islam, Islamic Feminism, Arab Women, Women In Arab, Islamophobia in America, Muslim Women in West, Islam Women and Feminism