New Age Islam News Bureau
5 Sept 2016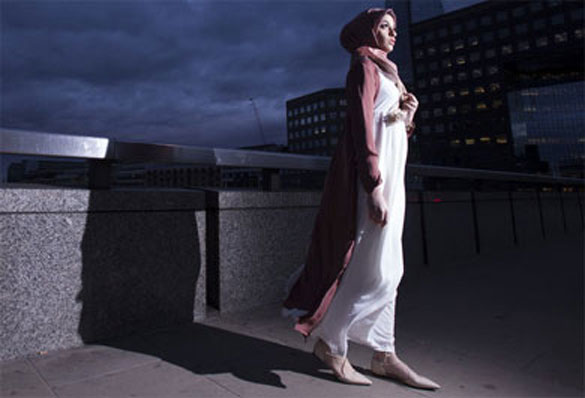 Verona is a one-stop shop for original and stylish conservation wear, filling a long-term void in the fashion industry. Lisa Vogl/Verona Collection
-------
• Indian Supreme Court Gives Centre Four Weeks to Respond On Triple Talaq
• Anti-Hijab Agitators in Southern India Left Red-Faced as Principal Refuses to Ban Uniform Scarves
• Campaign to Make Women Lawmakers Wear Hijab in Pakistan
• In Orlando, A 'Modest Fashion' Boutique for Hijabi Women
• Bangladesh Police Arrests 4 Women Militants of Jamaat-ul-Mujahideen
• Fair-Skinned Irish Women Are Keen On the Burkini According To Its Inventor
Compiled by New Age Islam News Bureau
URL: https://www.newageislam.com/islam,-women-and-feminism/new-age-islam-news-bureau/veil-means-muslim-women-integrating-more--oxford-study/d/108474
----
Veil means Muslim women integrating more: Oxford study
Sep 05, 2016
Researchers at the University of Oxford and the European University Institute studied why young, highly educated Muslim women who live in modern urban environments may be choosing to wear the veil – and uncovered a paradox. (Reuters File Photo)
Muslim women who wear the veil to cover their heads often do so because they are engaging with a modern, secular world, according to a new study of thousands of women in Belgium, Turkey and 25 Muslim countries.
Researchers at the University of Oxford and the European University Institute studied why young, highly educated Muslim women who live in modern urban environments may be choosing to wear the veil – and uncovered a paradox.
The study said that in social situations in which they mix with non-Muslim friends, work outside the home or interact with strangers, the women may wear the veil as a signal to others in their community that mixing with others does not compromise their religious piety.
The veil may also be used to strengthen their own sense of commitment to their faith and its values in a secular world, the paper said.
The study, published in the journal European Sociological Review, is said to be the first empirical study into why wearing the veil should increase in line with modernisation, a statement from the University of Oxford said.
The researchers tested earlier mathematical models to see how the intensity of wearing the veil varied according to the women's education, employment, urbanisation and contact with non-Muslims.
Through statistical modelling, researchers found that the tendency for veil-wearing decreased among young, highly educated women when they were exposed to modern influences if they were "averagely religious" Muslim women.
"However, Muslim women who are 'highly religious' tend to increase their wearing of religious head coverings and use more conservative styles as the level of modernisation, or 'risks' they are exposed to, increase," the statement added.
Study author Ozan Aksoy, from the department of sociology at the University of Oxford, said: "There are important implications for policymakers as if the option of wearing a veil is taken away from Muslim women, they fall on costlier ways of proving their piety. A veil is seen as a genuine expression of a woman's religiosity.
"Paradoxically, it is the women who are engaging with the modern world who appear to rely on the veil to signal to others that they will not succumb to the temptations of modern urban life."
http://www.hindustantimes.com/world-news/veil-means-muslim-women-integrating-more-oxford-study/story-fZDCb25T6pl5UdqCaPGOqL.html
--
Indian Supreme Court Gives Centre Four Weeks to Respond On Triple Talaq
5 September 2016
The Supreme Court on Monday gave the Centre four weeks' time to file its response on the right of Muslim women in matrimonial matters relating to divorce and maintenance, including triple talaq.
The bench of Chief Justice T.S. Thakur and Justice D.Y. Chandrachud gave the time on the request of Solicitor General Ranjit Kumar.
The Solicitor General had sought time mentioning that the Centre had to file its response to a suo motu writ petition filed on the direction of the apex court on the issue of the right of Muslim women in matrimonial matters.
The All India Muslim Personal Law Board (AIMPLB) had in its response defended both polygamy and triple talaq saying that courts have no jurisdiction to examine the issue as it relates to their religion based on the Quran and Sharia law.
http://www.millenniumpost.in/NewsContent.aspx?NID=323649
--
Anti-Hijab Agitators in Southern India Left Red-Faced as Principal Refuses to Ban Uniform Scarves
September 5, 2016
Mangaluru: The Principal of the Sullia College in a meeting on Saturday made it clear he would not snatch the right of Muslim girl students to wear Hijab.
The decision of the principal has irked the saffron agitators and therefore threatened to continue their protest on the campus, reported the CD daily.
The principal Chandrashekar Kantamangala adviced them to stop politicizing the scarf issue but some students, who apparently vow allegiance to Hindutva groups have been coming to college sporting saffron shawls.
Sullia MLA S Angara, who chaired the meeting asked the Principal to convene a meeting of saffron agitators and lecturers on Tuesday and put an end to the issue.
The Principal while speaking to the media said that some students were being misled by political forces and there are some students and a lecturer, who come to college wearing Hijab.
"This college has been functioning for over two decades. I don't know why this issue cropped up in the college where a majority of students are from poor financial background."
A Ex-Principal of the college said the Hindutva organizations are "interfering in the affairs of the college" and because of this, the college had been facing problems.
http://www.siasat.com/news/anti-hijab-agitators-left-red-faced-principal-refuses-ban-uniform-scarves-1012534/
--
Campaign to Make Women Lawmakers Wear Hijab in Pakistan
September 05, 2016
LAHORE - A private organisation working for the promotion of hijab among women is going to start a campaign across the country to persuade all women legislators to wear hijab.
Aalmi Chaddar Orh Tehrik, headed by Pir Kabir Ali Shah, at a ceremony on the World Hijab Day at the Alhamra Art Centre yesterday demanded ban through legislation on the use of mobile phones by female students in all educational institutions.
It also urged Pemra to order all female TV anchors to wear hijab while presenting their programmes.
The Tehrik, since its inception, has distributed about 550,000 chaddars among women belonging to various walks of life to motivate them to dress themselves according to Islamic tenets.
Through a resolution adopted on the occasion, the participants called upon the government functionaries not to shake hands with women during their foreign visits.
The resolution also called for a ban on Indian films, music and journals as they were like cultural invasion of Pakistan.
The Tehrik will launch an awareness campaign to counter the vulgarity being promoted through morning shows of TV channels.
Justice (r) Nazir Ghazi, Justice (r) Ahmed Farooq Sheikh, Pir Ahmed Sibtain Haider, Brig (r) Muhammad Ilyas Chaudhry, Syed Naeemul Hasan Shah, Syed Jawad Ali Shah and Syed Mustafeen Haider Shah were among the speakers.
http://nation.com.pk/lahore/05-Sep-2016/campaign-to-make-women-lawmakers-wear-hijab
--
In Orlando, A 'Modest Fashion' Boutique For Hijabi Women
September 4, 2016
At one end of Orlando's Fashion Square mall, between a karate store and a comic book emporium, is a clothing boutique called Verona. It's stocked with long-sleeved caftans, full-length slit-less skirts, and more than 300 varieties of hijabs. Inside, women peruse through racks of garments they once could only find online.
"It's nice to have something like Verona establish a store in a mall because it's kinda like 'Hey, I'm out here.' You're being represented as American," says Feena Quazi Abbati, sauntering from rack to rack in an orange hijab with a floral top and tapered khaki pants.
Abbati, an Orlando native of Pakistani descent, grew up dressing conservatively, a symbol she and other Muslim women attribute to spiritual growth and modesty. For years, she bought clothes at H&M, Target and Forever 21 that she could layer together. But she says having access to a one-stop shop for original and stylish conservative wear — for work, leisure, and fitness — is a sign of progress.
"People have this idea that a Muslim is someone who wears black and has a scarf on. You cannot define what a Muslim looks like. You have Indonesians who are Muslim. You have Italians who are Muslim. You have Hispanics. Some girls have afros. Some girls are blond. Some girls choose to cover their hair and some girls cover their face. It's going to open the door for more opportunity just to show people, 'Hey, this is what Muslims are like.' "
Verona co-founder Lisa Vogl and her partners first launched Verona as an online boutique to fill a void in the fashion industry for a demographic in need of special clothing.
Taslim Rajabali/Verona Collection
Verona co-founder Lisa Vogl, a 34-year-old Muslim convert, and her partners first launched Verona as an online boutique to fill a void in the fashion industry for a demographic in need of special clothing. Vogl remembers starting out with one dress, two skirts, and four hijabs. Now, with a brick-and-mortar shop that opened in May, her team has a steady flow of orders from all parts of the world for high waist, floor length skirts, maxi cardigans and, of course, hijabs.
"It's just exciting to see the idea in your head come into real life. We're excited to show Islam in a different light and we're excited to show that we're just as integrated and stylish and fashionable as everybody else."
Clients have driven hours to come to the store to try on clothing. Others drop by on vacation. But in the wake of the June 12 Pulse nightclub shootings that left 49 people dead at the hands of a Muslim-American, Vogl says the store has emerged as a place for dialogue.
"I've had men come in and sit and ask me questions about how we dress. It gives us a chance to explain who we are, what we believe, and what we're about. And that's really an environment that we want to provide. It's more than fashion and fun clothes. It's a way to actually make change."
Shortly after reports had spread that the man behind the Pulse shootings, Omar Mateen, was Muslim, Vogl and her partners closed their store for their employees' safety. The hijab has become a loaded symbol that has put her and other hijabi women at risk for backlash. The Council on American Islamic Relations (CAIR), a civil rights advocacy group, reported several incidents across the country in which women were harassed for wearing the hijab.
Vogl feels that now, more than ever, people are misunderstanding Islam. She blames the media for the stigma. That, and lack of interaction between Muslims and non-Muslims. She hopes her shop can help change that.
"This is front in-your-face that we are exactly not who you think we are. It is a hijabi Muslim-run, women-run business. We are strong, independent, business-educated women," she says.
Perceptions aside, pure numbers show the Islamic fashion industry is responding to a real need. Haroon Latif heads research for Dinar Standard, a global firm that looks at how the world's growing Muslim population is driving certain industries, like modest wear.
In a recent report, Dinar Standard found that Muslims spent an estimated $244 billion in clothing last year. Demand for modest wear is up — and mainstream companies are responding.
Lisa Vogl/Verona Collection
"There's 3 to 5 million Muslims in the U.S.," says Latif. "And that's expected to double by 2050. Muslim consumers are a consumer group that has their own values and as those values deepen, they start to demand very unique services. Modest fashion is just a subset of that."
In a recent report, his firm found that Muslims around the world spent an estimated $244 billion in clothing last year. He predicts spending to reach more than $300 billion by 2020. Demand for modest wear is up — and mainstream companies are responding.
Latif lists H&M and Dolce & Gabbana as prime examples. "In the U.K. in particular, Marks & Spencer is one of the leading retailers and they have just launched a burkini brand," he says.
Almost 150 modest-wear brands exist now, according to market researchers. Most brands are less than five years old. Their target demographic is Muslim women and others looking for conservative fashion.
"They're really seeing the buying power and how big the community is here and we're here like everybody else," says Nadine Abu-Jabara, New Orleans native and co-owner of Verona. "We need clothes and we need laptops from Best Buy. We are everybody else. We just like to wear a scarf on our head sometimes. Or all the time."
http://www.npr.org/sections/codeswitch/2016/09/04/489221890/in-orlando-a-modest-fashion-boutique-for-hijabi-women
--
Bangladesh police arrests 4 women militants of Jamaat-ul-Mujahideen
September 5, 2016
At least four women terrorists of the outlawed militant outfit Jamaat-ul-Mujahideen were arrested today in Bangladesh, weeks after similar arrests were made here as part of nation-wide crackdown following the country's worst terror attack on an upscale cafe here.
"We carried out the pre-dawn raid acting on a secret tip off... It was a rented house from where these women were conducting drives in recruiting other women in the name of preaching Islam," Sirajganj's district police superintendent Miraz Uddin Ahmed said.
Police also seized a large quantity of bomb-making materials, six improvised bombs, nine Jihadi books, four grenade shells and electrical equipment from the den, he said.
All the four arrested women are married and aged between 18 and 30. They are being questioned by police ahead of subsequent legal procedures.
Earlier on August 16, elite anti-crime Rapid Action Battalion (RAB) arrested three women students of a private university and a woman intern at the Dhaka Medical College Hospital for their alleged links with Jamaat-ul-Mujahideen (JMB), blamed for the terror attack on an upscale cafe in Dhaka that killed 22 people, including an Indian girl.
JMB is known for its ideological inclination to ISIS.
This is the third such major incident of arresting women militants since July when seven women JMB activists, three of them members of its suicide squad, were arrested from Tangail.
Security agencies have arrested dozens of JMB militants with officials calling some of them as masterminds of the outfit as a nationwide anti-militant security clampdown is underway since the July 1 attack.
Police call the arrested operatives as neo-JMB activists because of their inclination towards the Islamic State terrorist group, which initially claimed the cafe attack. But authorities have denied presence of ISIS in Bangladesh.
http://www.business-standard.com/article/international/bangladesh-police-arrests-4-women-militants-of-jamaat-ul-mujahideen-116090500343_1.html
--
Fair-skinned Irish women are keen on the Burkini according to its inventor
September 5, 2016
THE inventor of the burkini has revealed that fair-skinned Irish women are boosting demand for the controversial beachwear to protect themselves from the sun.
"It doesn't necessarily have to be for Muslim women," Aheda Zanetti, the Australian inventor of the swimwear told RTE's Morning Ireland. "It could be for many other women."
"In fact, there's been a high demand in my emails from Ireland from women who have got fair skin that don't want to expose their skin to all these high UV sun rays."
Zanetti spoke on Morning Ireland to talk about the recent uproar over the burkini ban in France, where concerns are growing over the forced removal of burkinis on beaches.
The French State Council will soon decide whether the ban should be upheld, with a vocal groundswell of opposition from around the world calling for the measure to be scrapped.
Last week, pictures emerged of armed police castigating a woman dressed in a burkini on a French police, but they later denied that they had forced the woman to remove the swimsuit.
Zanetti hsaid that the burkini should not be associated with extremism in any form, and that she merely invented the beachwear "to give people the freedom of choice."
Remarking on the former French president Nicolas Sarkozy's comments supporting the ban, Zanetti said that she doesn't "understand how he's labelled it as such a negative product when it was supposed to give freedom of choice.
"It doesn't symbolise any Islamic term or Islamic type of dress, it doesn't even symbolise that a Muslim wearer would wear it."
http://irishpost.co.uk/fair-skinned-irish-women-keen-burkini-according-inventor/
--
URL: https://www.newageislam.com/islam,-women-and-feminism/new-age-islam-news-bureau/veil-means-muslim-women-integrating-more--oxford-study/d/108474
New Age Islam, Islam Online, Islamic Website, African Muslim News, Arab World News, South Asia News, Indian Muslim News, World Muslim News, Women in Islam, Islamic Feminism, Arab Women, Women In Arab, Islamophobia in America, Muslim Women in West, Islam Women and Feminism