New Age Islam News Bureau
22 Nov 2013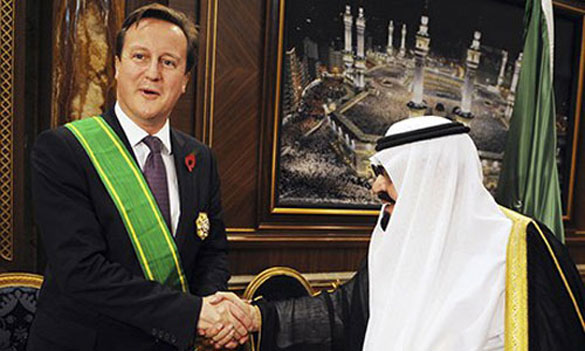 UK must do more to explain stance on Saudi Arabia David Cameron with King Abdullah of Saudi Arabia last year. Photograph: Stefan Rousseau/PA
-----------
North America
• U.S. Says Dozens of Americans Have Sought to Join Rebels in Syria
• US and Afghanistan clash on timetable for security pact
• US says 'very hard' to clinch deal with Iran as N-talks resume
• US senators jeopardize dragging out Iran talks with threat of further sanctions
• Connecticut elects first Muslim mayor
Arab World
• Six Islamist factions unite in largest Syria rebel merger
• Battle for Syrian army base kills 24 rebels
• Islamists reject Kerry charge they 'stole' Egypt revolt
• Al Qaeda affiliate captures Syrian town on border with Turkey: Activists
• MPs question UK relations with Saudi Arabia and Bahrain
• Nine dead as Iraq struggles to stem surge in unrest
• Syrian regime forces hit historic mosque in Alepp
• Iraq executions top 150 for 2013
South Asia
• Bangladesh's Jamaat-e-Islami leader, son arrested with 32 crude bombs
• UN can't force Rohingya citizenship: Myanmar gov't
• Uyghur Student Slapped With Travel Ban after Nearly Three-Month Detention
• Jamaat-e-Islami awaiting Khaleda's instruction
• Maldives to ramp up ties with India
Mideast
• Rabbi, Imam Plead For Understanding in 'Sons of Abraham'
• Israel's Defence Minister: A stronger Iran means a stronger Hezbollah, Islamic Jihad
• Yemen soldiers killed despite rebel-Salafist truce: Army
• Ruling AKP deputy insists on single-sex education as option
• Ultra-Orthodox anti-Zionist community flees Quebec for Iran
India
• Syria wants India to play an important role to resolve Syrian crisis
• Southern states vulnerable to 26/11 like attack: NSA
• More people to people contact between India-Pakistan needed: Indian envoy
Europe
• France says Central African Republic on verge of genocide
• UK must do more to explain stance on Saudi Arabia, say MPs
• Britain suffers systemic gov't failure for its part in Afghan-Iraq operation – report
• EU parliament for transparent election in Bangladesh
• Assad's sarin and how the Albanian 'yes' became 'no'
• Muslim World Forum to open in New Zealand
• UN warns of deteriorating Gaza humanitarian situation
Pakistan
• Pakistan's first Cubesat iCUBE-1 launched from Russia
• Altaf urges protesters to stay peaceful in demos
• Thousands of Pakistani youngsters detained in Greek jails
• Unreliable US does not want peace in Pakistan: Nisar
• Pak doctor who helped track Osama faces murder charge
• Sharif says drone strikes injustice against Pakistan
Southeast Asia
• PAS aims to bring Islam's 'blessing for all'
• Police Detain Aceh Shariah Police Chief Over Graft Suspicion
Africa
• Driven from towns, Nigeria extremists hit villages
Compiled by New Age Islam News Bureau
URL: https://newageislam.com/islam-women-feminism/u.s.-says-dozens-americans-sought/d/34543
-----------
North America
U.S. Says Dozens of Americans Have Sought to Join Rebels in Syria
By ERIC SCHMITT
November 22, 2013
WASHINGTON — Dozens of Americans have travelled or tried to travel to Syria to fight with the rebels against the government of President Bashar al-Assad since 2011, American intelligence officials said Wednesday.
The Americans are a small subset of the mostly radicalized young Muslims with Western passports who are entering Syria from Europe, North America and Australia, a group that numbers roughly 600, according to the officials and classified estimates from Western spy agencies. That represents a fraction of the roughly 6,000 to 11,000 foreign fighters over all who have poured into Syria by way of the Middle East and North Africa.
The Americans' numbers are small — intelligence officials would not be more precise than saying "dozens" were involved — and they have so far not distinguished themselves on the battlefield. But they are part of what officials said was a growing presence of foreigners who are fighting Mr. Assad's government.
"It's a very steady increase, and I expect that to continue as long as the fighting there continues," a senior American intelligence official said.
He was one of four intelligence officials who spoke in a wide-ranging background briefing for reporters who had requested information on the most current assessments by American and other Western spy agencies of foreigners fighting in Syria, including how they are recruited, trained and financed.
The influx of young Muslims with Western passports into Syria has raised fears among American and European intelligence officials of a new terrorist threat when the fighters return home.
In Syria, the Islamic State in Iraq and Syria has emerged as the leader in attracting foreign fighters as it exploits the chaos of the civil war and tries to lay the groundwork for an Islamic state. The group has repeatedly clashed with other rebel brigades, including another group aligned with Al Qaeda, the Nusra Front.
Mr. Assad has foreign fighters of his own helping his army, though in smaller numbers than those battling his government, American officials said. Hezbollah, the Lebanese Shiite militant group, has sent armed followers to fight in Syria, as has Iran's Quds Force.
In addition to these two Islamic extremist groups, the American officials said "migrant brigades," which do not have the strict vetting requirements of the Islamic State in Iraq and Syria or Nusra to weed out Western spies, are also proliferating.
Among the best known of these emerging units is Jaish al-Muhajireen wal-Ansar, a group that actively recruits armed followers from Central Asia and Europe, often using Twitter, online training videos and other social media, the officials said.
While the intelligence officials said there had not yet been any confirmed cases of foreign fighters carrying out attacks in their home countries upon their return — most of those suspected militants are still in Syria — it is the militants from groups like Jaish, they say, that pose the greatest threat when they come home.
One American, Nicole Lynn Mansfield, 33, of Flint, Mich., a convert to Islam, was killed in May while in the company of Syrian rebels in Idlib Province. Another, Eric Harroun, 30, a former Army soldier from Phoenix, was indicted in Virginia by a federal grand jury this year on charges related to allegations that he fought alongside the Nusra Front. In September, he pleaded guilty to a lesser charge involving conspiracy to transfer defense articles and services, and was released from custody.
In February, Mr. Harroun bragged about his involvement, posting a photo on his Facebook page saying, "Downed a Syrian Helicopter then Looted all Intel and Weapons!"
http://www.nytimes.com/2013/11/21/world/middleeast/us-says-dozens-of-americans-have-sought-to-join-rebels-in-syria.html
-----------
US and Afghanistan clash on timetable for security pact
November 22, 2013
The US has said a new post-2014 security deal with Afghanistan should be signed by the end of the year - conflicting with earlier comments from Afghan President Hamid Karzai.
The US said it was neither "practical nor possible" to delay the signing.
As a gathering of Afghan elders debated the pact, Mr Karzai said it would not be signed until after 2014 elections.
The deal may see 15,000 foreign troops remain, although the US says it has not yet taken a decision on any presence.
'I don't trust them'
Opening the four-day grand assembly of elders - or Loya Jirga - in Kabul on Thursday, Mr Karzai urged the delegates to approve the new security deal.
He said that a number of world leaders - including from Russia, China, and India - were backing the accord, and that it would provide the security Afghanistan needed, as well as the foundation for forces from other Nato countries who were assisting Afghan troops.
But the tone of his comments reflected the difficulties both sides had experienced in the months it took to hammer out the details. The draft was made public only hours before the gathering.
Mr Karzai admitted there was a lack of trust between him and the Americans.
He said: "I don't trust them and they don't trust me. The last 10 years has shown this to me. I have had fights with them and they have had propaganda against me."
Debates
Loya Jirga delegates are now meeting in smaller closed-door groups to look at the deal in detail.
The delegates were divided into 50 groups, and were read each article in Dari and Pashto, allowing those without literacy time to debate each point.
The BBC's Bilal Sarwary, at the Loya Jirga, says the atmosphere in some rooms was relaxed, with delegates in favour of the pact.
But in other groups he could hear tense debates between the delegates.
Our correspondent witnessed one angry participant leaving in a protest, saying he had resigned from his position.
Afghan intelligence agents prevented the BBC from speaking to him.
Timescale?
Mr Karzai also appeared to strike a new condition - saying any pact would not be signed until after presidential elections.
The vote will be held in less than six months' time, and Mr Karzai has served two terms so cannot stand again.
His office could not confirm to the BBC whether Mr Karzai - or his successor - would sign the pact.
The US quickly rejected that timetable.
State department spokeswoman Jen Psaki said: "We believe that signing sooner rather than later is essential to give Afghans certainty about their future before the upcoming elections, and enable the United States and other partners to plan for US presence after 2014.
"It is neither practical nor possible for us to further delay because of the uncertainty it would create."
White House spokesman Josh Earnest reiterated the US timetable: "It is important for this security agreement to be signed, approved and signed by the end of this year."
Mr Earnest also stressed that no decision had yet been taken on any post-2014 US troops, saying: "We have not yet determined whether a troop presence will continue in Afghanistan."
Currently the multinational Nato force is due to pull out of Afghanistan from 2014.
According to the draft agreed by the US and Afghanistan, the new pact would remain in force "until the end of 2024 and beyond".
However, Mr Earnest said the mission "wouldn't take that long".
Tight security
The draft of the pact appeared to have resolved two critical issues - US raids on Afghan homes and who would have jurisdiction over trying US soldiers.
On Thursday, US President Barack Obama sent a letter to Mr Karzai vowing to respect his nation's sovereignty, and pledging that US forces would not enter Afghan homes except for "extraordinary circumstances".
Mr Karzai appeared to have conceded on jurisdiction for the prosecution of US troops.
The US-Afghan draft says: "Afghanistan authorises the United States to hold trial in such cases, or take other disciplinary action, as appropriate, in the territory of Afghanistan."
The Loya Jirga can amend or reject clauses in the pact, though its decisions are not binding. The deal will also have to be approved by parliament.
Security is tight for the meeting after a suicide bombing last weekend near the huge tent where it is being held.
The Taliban has branded the meeting a US-designed plot, and has vowed to pursue and punish its delegates as traitors if they approve the deal.
http://www.bbc.co.uk/news/world-asia-25045439
-----------
US says 'very hard' to clinch deal with Iran as N-talks resume
PTI Posted online: Thu Nov 21 2013, 15:42 hrs
Washington: Amidst the resumption of nuclear talks between Iran and world powers in Geneva, the US has acknowledged that it would be "very hard" to clinch a deal on Tehran's controversial atomic programme.
"It is hard. It is very hard," a senior Obama administration official said in Geneva as the latest round of P5+1 talks kicked off with Iran.
"If this were easy to do, it would have been done a long time ago. This is difficult. This is tough. There is a lot at stake for every country in the room. The strongest thing that the P5+1 has had throughout this process is tremendous unity of purpose. That unity remains," another US official said.
"There was a need for everyone to go back and consult in capitals, but an agreement that we should get back together quite quickly, which we have. Ten days in diplo-speak is a pretty quick timetable to get everybody's schedule lined up to come back," the official said on condition of anonymity.
Describing the atmosphere as positive, the official said the focus is on the nuclear talks to try to reach that first agreement, the general outlines of a comprehensive agreement, and to take this first difficult step to a period of time where we can negotiate a comprehensive agreement.
"As Secretary (of State, John) Kerry said recently, we are not in a rush to just get any deal done. We want to make sure that we've taken the time to ensure that this is a good deal, the right deal, and takes us a step towards a comprehensive agreement that ensures the international community that Iran's program is entirely peaceful and that Iran will not acquire a nuclear weapon," the official said.
"The issue is very important, as you all know. The details are very complicated. And so we are working to get this first step to put time on the clock to negotiate a comprehensive agreement. Time is not unlimited, but we think we are making very good progress and people have arrived back here with a commitment to do the hard work necessary to try to reach our common objective," the official said.
Meanwhile, Vice President Joe Biden hosted a meeting at the White House with a group of Democratic Senators to discuss Iran. The meeting, joined by his national security team, lasted approximately two hours.
"The Vice President emphasised that the goal of the ongoing diplomatic negotiations between the P5+1 and Iran is to prevent Iran from acquiring a nuclear weapon. The current P5+1 proposal would halt the progress of Iran's nuclear program and roll it back in key respects, providing the first meaningful limits that Iran has accepted on its nuclear program in nearly a decade," a red out of the meeting said.
http://www.indianexpress.com/news/us-says--very-hard--to-clinch-deal-with-iran-as-ntalks-resume/1197837/
-----------
US senators jeopardize dragging out Iran talks with threat of further sanctions
November 22, 2013
Just as another day of Geneva talks on Iran's nuclear program brought no results, a bipartisan group of 14 US senators announced their plan to work hard and fast to introduce a new package of sanctions, adding more pressure on already tough negotiations.
"A nuclear weapons capable Iran presents a grave threat to the national security of the United States and its allies and we are committed to preventing Iran from acquiring this capability," the group said in a statement.
Among the political heavyweights pushing for new economic sanctions against Iran are Democrats Robert Menendez, chairman of the Senate Foreign Relations Committee and Charles Schumer as well as Republican Senators Bob Corker and John McCain, a member of the Foreign Relations and Senate Armed Services committees.
"We will work together to reconcile Democratic and Republican proposals over the coming weeks and to pass bipartisan Iran sanctions legislation as soon as possible," the statement read.
In the meantime Senate Majority Leader Harry Reid said that he will go ahead with the bill on new sanctions next month if Geneva talks fails.
"I will support a bill that would broaden the scope of our current petroleum sanctions, place limitations on trade with strategic sectors of the Iranian economy that support its nuclear ambitions, as well as pursue those who divert goods to Iran," Reid said.
Meanwhile, legislation proposed on Thursday by Senator Bob Corker is seeking to limit President Obama's ability to offer sanctions relief to Iran. According to the bill Obama would have only 240 days to strike a deal and would be required to prove any relief supports American national security interests.
Even as pressure from the US is mounting on Iran, so far there has been no breakthrough on the second day of talks in Geneva.
The head of Iran's delegation Abbas Araqchi said that "no progress" was made after a 4.5-hour-long meeting between Foreign Minister Mohammad Jarad Zarif and P5+1 chief negotiator Catherine Ashton.
The sides have "common viewpoints in many cases, while there are serious differences in some cases," Araqchi told Iranian state television.
"It has been very detailed it has been very substantial," Ashton's spokesman, Michael Mann said.
"We are making progress." One source from the European delegation told AFP that negotiators are "making progress" with "fewer points" of the draft agreement remaining in "brackets."
"But obviously the remaining issues are the hardest ones," the source added. "[Friday] will be important."
Meanwhile Israel remains on the offensive to stop the negotiations from advancing as Tel Aviv demands an immediate end to any of Tehran's nuclear ambitions.
At a meeting Thursday morning with Jewish leaders in Moscow, Prime Minister Benjamin Netanyahu once again said Iran's Supreme Leader Ali Khamenei had shown his true face on Wednesday.
"[Khamenei] called Jews 'rabid dogs' and said that they were not human," said Netanyahu. "The public responded to him with calls of 'Death to America! Death to Israel!' Doesn't this sound familiar to you? This is the real Iran! We are not confused!"
Iran's Supreme leader indeed delivered a speech just before the resumption of talks in Geneva, in which he used harsh words to emphasize that the Islamic system is "not after a war with others."
"Sometimes this is heard from the enemies of Iran, such as from the sinister mouth of the unclean rabid dog of the region in the Zionist regime," he said, referring to Israeli's Prime Minister Benjamin Netanyahu.
http://rt.com/news/senate-iran-sanctions-geneva-126/
----------
Connecticut elects first Muslim mayor
World Bulletin / News Desk
22 November 2013
M. Saud Anwar has become the mayor of the U.S. state of Connecticut's South Windsor. The Democrat representative becomes the state's first Muslim mayor.
The Pakistan-born mayor, 46, moved to the US in 1991, where he went on to study and graduate from Yale University with master's degree in public health.
Speaking on his election Anwar said, "Our community has been a very accepting community…We live in an embracing town where people are respected for who they are and for what they do rather than what they look like or what their belief is...that's one of the things that makes you fall in love with South Windsor."
Full report at:
http://www.worldbulletin.net/?aType=haber&ArticleID=123418
----------
Arab World
Six Islamist factions unite in largest Syria rebel merger
Nov 22, 2013
The six largest Islamist rebel factions in Syria declared a new Islamic Front, forming the largest alliance of opposition fighters yet in the 2-1/2-year conflict.
Syria's fractious rebel forces have tried many times to unify their ranks and failed. Islamist rebel commanders, in a video aired on al Jazeera, said their new union would not only seek to oust President Bashar al-Assad but establish an Islamic state.
"This independent political, military and social formation aims to topple the Assad regime completely and build an Islamic state where the sovereignty of God almighty alone will be our reference and ruler," said Ahmed Eissa, who heads the Suqour al-Sham brigades.
The merger undermines the secular Free Syrian Army (FSA) leadership, once seen as a symbolic umbrella leadership for all the rebels but weakened by infighting and defections.
It could also challenge the ascendance of al Qaeda-linked factions who have grown increasingly powerful as other rebel groups are weakened.
Full report at:
http://in.reuters.com/article/2013/11/22/syria-crisis-islamists-merger-idINDEE9AL0AB20131122
--------
Battle for Syrian army base kills 24 rebels
November 22, 2013
BEIRUT: Syrian activists say at least 24 rebels have died in battle for a military base near a northern opposition-held city but that government troops have managed to hold on to it.
The Britain-based Syrian Observatory for Human Rights says rebels fighting to topple President Bashar Assad's government launched an assault on the base northeast of the city of Raqqa on Wednesday.
Full report at:
http://www.dailystar.com.lb/News/Middle-East/2013/Nov-22/238654-battle-for-syrian-army-base-kills-24-rebels.ashx#ixzz2lQeRiwPQ
------------
Islamists reject Kerry charge they 'stole' Egypt revolt
November 22, 2013
CAIRO: Egypt's Muslim Brotherhood on Friday dismissed comments by US Secretary of State John Kerry accusing them of stealing the revolution, saying Washington backed the ouster of Islamist president Mohammad Morsi.
Unrest has spiked in Egypt since the military overthrew Morsi in July following popular protests against his one-year rule and accusations that he concentrated too much power in the hands of the Brotherhood.
Kerry had defended the army's action and Washington said Morsi had failed to live up to calls for an inclusive, transparent government based on democratic principles.
Morsi was Egypt's first freely elected president taking over from the military junta which replaced veteran strongman Hosni Mubarak after he was ousted by massive protests in 2011.
But on Wednesday Kerry delivered his harshest assessment to date of Morsi and his Islamist backers saying the revolt "got stolen by the one single-most organised entity in the state, which was the Brotherhood".
Full report at:
http://www.dailystar.com.lb/News/Middle-East/2013/Nov-22/238661-islamists-reject-kerry-charge-they-stole-egypt-revolt.ashx#ixzz2lQeXmfFz
------------
Al Qaeda affiliate captures Syrian town on border with Turkey: Activists
November 22, 2013
An al Qaeda affiliate has captured a northern Syrian town on the border with Turkey after ousting a moderate Islamist rebel unit and detained its leader, activists said on Nov.21.
The fall of the town of Atma, a crossing point for weapons and for Syrian rebels, signals disarray among some of the rebel groups, which are ceding ground to hardline Islamist units.
Some of these groups are now playing a lesser role on the battlefield in the war against President Bashar al-Assad's forces, opposition sources said.
Full report at:
http://www.hurriyetdailynews.com/al-qaeda-affiliate-captures-syrian-town-on-border-with-turkey-activists.aspx?pageID=238&nID=58345&NewsCatID=352
-----------
MPs question UK relations with Saudi Arabia and Bahrain
November 22, 2013
The government can no longer ignore claims of hypocrisy over its relations with Saudi Arabia and Bahrain, a report by a group of MPs has said.
The Foreign Affairs Committee (FAC) said concerns over human rights were being juggled with the UK's lucrative trade and other strategic interests.
MPs said the Gulf region was critical to the UK, yet many states were among the "least democratic in the world".
But campaign Against the Arms Trade said the report was a whitewash.
In a statement, the pressure group accused the committee of "giving cover to the UK government as it continues the policy of pandering to despicable regimes in its desire to drum up sales for [the defence manufacturer] BAE Systems".
Full report at:
http://www.bbc.co.uk/news/uk-25044337
-----------
Nine dead as Iraq struggles to stem surge in unrest
November 22, 2013
A series of bombings and shootings, mostly in Sunni-majority areas of Baghdad and northern Iraq, killed nine people Friday as security forces struggle to stem a protracted surge in bloodshed.
The attacks, which followed consecutive days in which more than 100 people were killed overall, are the latest in a flare-up that has prompted Baghdad to appeal for international help combatting militancy just months before Iraq's first general election in four years.
Officials have voiced concern over a resurgent Al-Qaeda emboldened by the civil war in neighbouring Syria which has provided the jihadist network's front groups with increased room to plan operations in Iraq.
Full report at:
http://english.ahram.org.eg/NewsContent/2/8/87209/World/Region/Nine-dead-as-Iraq-struggles-to-stem-surge-in-unres.aspx
-----------
Syrian regime forces hit historic mosque in Alepp
World Bulletin / News Desk
November 22, 2013
One of the most tragic things about the 32-month old Syrian civil war, after the countless numbers of deaths and injuries in addition to the hundreds of thousands of people who have been forced to flee their homes, is the destruction of historical sites.
Recently, the eastern wall of the historic Umayyad mosque in the city of aleppo was destroyed by regime forces, who fired on it with heavy weaponry.
According to a statement by the Syrian Revolution General Council, regime forces fired on the historical markets surrounding the mosque with tanks, mortars and rockets. In the process, the eastern wall of the mosque was destroyed and the surrounding markets were seriously damaged.
Full report at:
http://www.worldbulletin.net/?aType=haber&ArticleID=123464
----------
Iraq executions top 150 for 2013
AFP
2013-11-22
BAGHDAD: Iraq has confirmed seven more executions, pushing the number of people put to death this year to more than 150 in defiance of widespread international condemnation.
Those executed, who included a Libyan, had all been convicted of offences related to "terrorism", a statement posted on the justice ministry website on Thursday said.
They bring to at least 151 the number of people put to death by Iraqi authorities this year, compared to 129 for all of 2012, according to an AFP tally based on reports from the ministry and officials.
The statement, which was accompanied by an image of a noose, listed 19 executions between Nov 7 and 17 , but 12 of them had already been announced by a ministry official earlier this week.
Full report at:
http://www.dawn.com/news/1057843/iraq-executions-top-150-for-2013
---------
South Asia
Bangladesh's Jamaat-e-Islami leader, son arrested with 32 crude bombs
Nov 22, 2013
Detectives claimed that they recovered 32 crude bombs and various publications containing anti-government statements from the residence of a leader of Jamaat-e-Islami, who is also a retired army personnel, from the capital's Demra on Thursday. The Detective Branch (DB) officials also arrested the Jamaat leader and former Subedar, MA Matin, 67, and his son Mohammad Shahin, 37, at their residence at Boxnagar of Demra. Assistant Commissioner Abu Yusuf of the Dhaka Metropolitan Police (DMP-Media) said acting on a tip-off, a team of DB officials conducted a raid at the house of the Jamaat leader and recovered 32 crude bombs and various anti-government publications wrapped in a sack. "Both father and son are active in the Jamaat politics," said AC Abu Yusuf and added: "These bombs might have been preserved for carrying out subversive acts and the publications as part of their provocative acts." Police said the arrested were kept detained at Demra police station at night for custodial support and later they were taken to the DB office at Minto Road.
http://www.dhakatribune.com/crime/2013/nov/22/jamaat-leader-son-arrested-32-crude-bombs#sthash.m5LHaJcr.dpuf
-----------
UN can't force Rohingya citizenship: Myanmar gov't
Nov 22 2013
Myanmar will not allow itself to be pressured by a U.N. resolution calling on it to grant citizenship to members of the Muslim ethnic minority that identify themselves as Rohingya, an official said Thursday.
Presidential spokesman Ye Htut insisted in a posting on his Facebook page that the government does not recognize that there is a group called Rohingya, referring to them instead as Bengalis.
The U.N. General Assembly's human rights committee passed a resolution on Tuesday urging Myanmar to give the stateless Rohingya minority equal access to citizenship and to crack down on Buddhist violence against them and other Muslims.
Full report at:
http://www.thehindu.com/news/international/south-asia/un-cant-force-rohingya-citizenship-myanmar-govt/article5376224.ece
---------
Uyghur Student Slapped With Travel Ban After Nearly Three-Month Detention
November 22, 2013
Chinese authorities are preventing an ethnic Uyghur student who worked as a volunteer for an outspoken Uyghur online group from resuming his studies in Turkey after detaining him for nearly three months with no criminal charge.
Mutellip Imin, 24, said he was detained in Beijing in July when he tried to return to his university in Istanbul and held for 79 days in his hometown outside of Hotan in northwestern China's Xinjiang region.
Full report at:
http://www.rfa.org/english/news/uyghur/student-11212013165410.html
-----------
Jamaat-e-Islami awaiting Khaleda's instruction
Nov 22, 2013
Bangladesh Jamaat-e-Islami is waiting for 18-paty alliance Chief Khaleda Zia's instructions for whether to wage anti-government movement or participate in the upcoming 10th parliamentary elections. According to the party leaders, they have full preparations to observe any type of anti-government movement including non-stop hartal and blockade programmes. They had already made preparation to prevent law-enforcement agency's actions, said party insiders.
Full report at:
http://www.dhakatribune.com/politics/2013/nov/22/jamaat-awaiting-khaleda%E2%80%99s-instruction
---------
Maldives to ramp up ties with India
Nov 22, 2013
Newly-elected President of Maldives Abdullah Yaameen Abdul Gayoom has assured Prime Minister Manmohan Singh that he prioritised relations with India and was keen on finding ways to enhance the longstanding close friendly ties between the two countries if Dr. Singh decided to visit the island nation.
Replying to the congratulatory message sent out by Dr. Singh on November 17, Mr. Yameen pointed out that his first formal appointment with a foreign dignitary was with Indian High Commissioner Rajiv Sahare.
Full report at:
http://www.thehindu.com/news/international/south-asia/maldives-to-ramp-up-ties-with-india/article5379831.ece
-----------
Mideast
Rabbi, imam plead for understanding in 'Sons of Abraham'
November 22, 2013
The seemingly intractable problems of the Middle East — and, indeed, the rest of the world where Christians, Jews and Muslims exist and sometimes collide — might have a simple solution: We need to listen to what everyone is saying so that we might understand each other.
It's not as farfetched, or as simple, an idea as you might think, but it's one worth considering. I've come to that conclusion after reading "Sons of Abraham: A Candid Conversation about the Issues That Divide and Unite Jews and Muslims," a recent book authored by Rabbi Marc Schneier and Imam Shamsi Ali.
Full report at:
http://www.washingtontimes.com/news/2013/nov/21/kellner-rabbi-imam-plead-for-understanding-in-sons/#ixzz2lQFU0M6L
-----------
Israel's Defence Minister: A stronger Iran means a stronger Hezbollah, Islamic Jihad
November 22, 2013
Defence Minister Moshe Ya'alon met his Canadian counterpart Robert Nicholson in Ottawa on Thursday, expressing appreciation for the cooperation between the two governments and warning against Iran's hegemonic designs.
Ya'alon stated that the Iranian regime "is involved in every conflict in the Middle East and has also set up terror bases in Africa, Asia and South America. They want to defeat Western culture, and are prepared to sacrifice to achieve this."
Full report at:
http://www.jpost.com/Iranian-Threat/News/Yaalon-A-stronger-Iran-means-a-stronger-Hezbollah-Islamic-Jihad-332635
-----------
Yemen soldiers killed despite rebel-Salafist truce: Army
November 22, 2013
Two Yemeni soldiers were killed on Thursday as they deployed to police a truce between Shiite rebels and hardline Sunnis in the north, a military official said.
"A mine exploded as a military vehicle passed by, killing one soldier instantly and grievously wounding another who died later," the source told AFP.
The explosion came as the soldiers were moving in to place themselves between Zaidi Shiite rebels and Salafist fighters in the town of Dammaj, the official said.
The deployment was taking place under a ceasefire obtained by the presidency and parliament to separate the two groups that have battled sporadically since the end of last month.
Full report at:
http://english.ahram.org.eg/NewsContent/2/8/87185/World/Region/Yemen-soldiers-killed-despite-rebelSalafist-truce-.aspx
----------
Ruling AKP deputy insists on single-sex education as option
November 22, 2013
A senior member of the ruling Justice and Development Party (AKP), Sadık Yakut, who has been vocal in his objection to mixed-sex education, insisted that what he said was solely meant to offer an alternative in the educational system, not to eliminate mixed-sex education.
Still, neither his remarks nor the AKP's statement that those expressions were the reflection of a personal view have been satisfactory for the main opposition Republican People's Party (CHP) executives.
Full report at:
http://www.hurriyetdailynews.com/ruling-akp-deputy-insists-on-single-sex-education-as-option.aspx?pageID=238&nID=58320&NewsCatID=338
-----------
Ultra-Orthodox anti-Zionist community flees Quebec for Iran
November 22, 2013
An extreme ultra-Orthodox Canadian community, Lev Tahor (Pure Heart), has fled the province of Quebec to head for Iran, Yeshiva World News reported on Thursday, but the group was intercepted en-route.
Unnamed Canadian sources told YWN that the group, who live in Ste. Agathe-du-Mont in the Laurentian mountains, consists of approximately 40 families.
Recently, the group has had fears of social services taking their children into custody due to reports of violence within the community, which is known to the Canadian government as an "ascetic cult."
Full report at:
http://www.jpost.com/International/Ultra-Orthodox-anti-Zionist-community-flees-Quebec-for-Iran-332677
-----------
India
Syria wants India to play an important role to resolve Syrian crisis
IANS New Delhi, November 22, 2013
Syria wants India to play an important role in finding a political solution in that strife-torn nation, according to Bouthaina Shaaban, media and political advisor to the Syrian presidency.
"We want India and the BRICS countries (Brazil, Russia, India, China and South Africa) to play an important role in the political process, convening Geneva II and finding a solution to the crisis," Shaaban said while speaking to the media here Thursday evening after a meeting with India's external affairs minister Salman Khurshid.
"I met foreign minister Salman Khurshid today and the Indian side appreciated my coming here immediately after Moscow," she said.
Shabaan was part of a Syrian delegation that visited Moscow earlier this month to discuss the convening of the Geneva II peace conference with Russian foreign minister Sergei Lavrov and other leaders.
Full report at:
http://www.hindustantimes.com/india-news/india-s-role-sought-to-resolve-syrian-crisis/article1-1154372.aspx
-----------
Sourthern states vulnerable to 26/11 like attack: NSA
PTI | Nov 21, 2013
NEW DELHI: Coastal areas in southern states can be potential targets for terrorists to infiltrate into the country; sources quoted National Security Advisor Shivshankar Menon as telling a gathering of police chiefs from across the country here today.
Emphasising the importance of coastal security in the aftermath of 26/11 Mumbai terror attack, the NSA cautioned that South Indian shores may be used by terrorists to infiltrate using high seas and security agencies have to be alert to thwart any such attempt.
In the closed-door conference organised by the Intelligence Bureau, the sources quoted Menon as having said that despite the audacious attack on Mumbai in 2008, not much has been done by the coastal states to tighten security along the seas.
Full report at:
http://timesofindia.indiatimes.com/india/Sourthern-states-vulnerable-to-26/11-like-attack-NSA/articleshow/26165921.cms
-----------
More people to people contact between India-Pakistan needed: Indian envoy
November 22, 2013
SLAMABAD: Indian High Commissioner to Pakistan TCA Raghavan said on Thursday that there is a need for a process-based approach to take the agenda of India-Pakistan relations forward in a positive way, Radio Pakistan reported.
Answering questions after a special lecture on 'Trends in India-Pakistan Relations' at the Sustainable Development Policy Institute in Islamabad, Raghavan acknowledged the need for increased people to people interaction between India and Pakistan.
He appreciated the positive changes in Pakistan over the last decade' such as rise of media and strengthening of institutions that can help in fostering democratic norms in Pakistan.
http://tribune.com.pk/story/635056/more-people-to-people-contact-between-india-pakistan-needed-indian-envoy/
---------
Europe
France says Central African Republic on verge of genocide
November 22, 2013
France said that Central African Republic was "on the verge of genocide" and it expected the United Nations to give Paris and the African Union permission to intervene.
Central African Republic, a landlocked nation of 4.6 million people, has descended into violence and chaos since Seleka rebels, many of them from neighbouring Chad and Sudan, ousted President Francois Bozize in March.
The U.S. State Department estimates that nearly 400,000 people have been displaced and 68,000 have fled to neighbouring countries since Seleka leader and interim president Michel Djotodia has lost control of his loose coalition of warlords.
Full report at:
http://english.ahram.org.eg/NewsContent/2/9/87187/World/International/France-says-Central-African-Republic-on-verge-of-g.aspx
-----------
UK must do more to explain stance on Saudi Arabia, say MPs
Ian Black, Middle East editor
22 November 2013
Britain is suffering from a "credibility problem" in claiming to be backing reform in Saudi Arabia, which is described by MPs as "one of the least democratic states in the world with a notoriously poor human rights record" in a report published on Friday.
MPs on the foreign affairs committee are also asking the government to "assess" the supply of weapons by Saudi Arabia to Syrian rebels seeking to overthrow President Bashar al-Assad. But they said there would be no advantage in stopping lucrative UK arms sales to the conservative kingdom – triggering immediate condemnation of a "whitewash" by campaigners.
After a year-long investigation into Britain's relations with Saudi Arabia and neighbouring Bahrain, the all-party body says it is concerned about "limited but worrying evidence of a poor public perception of the UK in Saudi Arabia."
Full report at:
http://www.theguardian.com/politics/2013/nov/22/uk-stance-saudi-arabia-mps
-----------
Britain suffers systemic gov't failure for its part in Afghan-Iraq operation – report
November 22, 2013
UK accession to the American-led operations in Iraq and Afghanistan was incoherent, inconsistent, and opaque, says a Chatham House report examining British political-military relations between 2001 and 2010 through these conflicts.
"Britain seems to have suffered a wider failure of the government system, with politicians, senior military officers and civil servants all playing their part," wrote James de Waal for Chatham House.
The report challenges the view that politicians, notably Tony Blair and Gordon Brown, should bear the sole blame for Britain's military failures by giving too much free space for actions to Full report at:
http://voiceofrussia.com/2013_11_22/Britain-suffers-systemic-govt-failure-for-its-part-in-Afghan-Iraq-operation-report-0369/
-----------
EU parliament for transparent election in BD
Nov 22, 2013
The European Parliament (EP) on Thursday passed a resolution urging calm in the run-up to elections in Bangladesh. The call came from a debate that was held in the European Parliament for a resolution on Bangladesh focusing human rights and forthcoming election issues on Thursday night. The European Parliament called on all groups and individuals to exercise tolerance and restraint, especially in the lead-up to the elections in the country. It said Bangladesh Election Commission should organise and oversee the next general elections in a fully transparent manner. Meanwhile, it said the political parties should refrain from any violence during the electoral process, according to European Parliament website.
Full report at:
http://www.dhakatribune.com/bangladesh/2013/nov/22/european-parliament-urges-bd-political-parties-not-boycott-polls#sthash.1YP1dBQ0.dpuf
-----------
Assad's sarin and how the Albanian 'yes' became 'no'
November 22, 2013
TIRANA/THE HAGUE: On the evening of Nov. 11, the U.S. ambassador to Tirana, Alexander Arvizu, met Albanian Prime Minister Edi Rama and his foreign minister at a government villa in the capital.
News had emerged that a favor was being asked by the United States, and an unprecedented backlash was building just two months into Rama's tenure.
Washington wanted Albania, a NATO ally of 2.8 million people, to host the destruction of 1,300 tons of Syrian nerve agents under a plan agreed with Russia to eliminate them from Syria's civil war.
Full report at:
http://www.dailystar.com.lb/News/Middle-East/2013/Nov-22/238638-assads-sarin-and-how-the-albanian-yes-became-no.ashx#ixzz2lQfxEjS3
------------
Muslim World Forum to open in New Zealand
World Bulletin / News Desk
22 November 2013
Judith Collins, the Ethnic Affairs Minister of New Zealand, will open the first Muslim World Forum in Auckland on Saturday.
"This Forum is a fantastic opportunity for the Muslim community to reflect on its journey so far and discuss its future contribution to New Zealand," said Collins, adding "Participants will direct discussions, define issues and propose solutions, to contemporary challenges facing the Muslim community. They will also discuss what opportunities exist to highlight the benefits of inter-cultural collaboration may bring, as for example in the halal meat industry."
Full report at:
http://www.worldbulletin.net/?aType=haber&ArticleID=123457
----------
UN warns of deteriorating Gaza humanitarian situation
November 22, 2013
The humanitarian situation in Gaza has deteriorated one year after a truce that ended fighting between Israel and the Hamas rulers of the Palestinian enclave, UN officials said.
"After 12 months the initial hopes for a significant improvement on the ground have not been realised," said James Rawley, the United Nations' humanitarian coordinator for the Palestinian territories.
Full report at:
http://english.ahram.org.eg/NewsContent/2/8/87181/World/Region/UN-warns-of-deteriorating-Gaza-humanitarian-situat.aspx
-----------
Pakistan
Pakistan's first Cubesat iCUBE-1 launched from Russia
SUHAIL YUSUF
2013-11-22
ISLAMABAD: Pakistan's first Cubesat satellite, iCUBE-1, was launched on Thursday on-board Dnepr launch vehicle from Yasny launch base in Russia.
Built by the Institute of Space Technology (IST), iCUBE-1 was designed and developed at a cost of Rs3-3.5 million.
Talking to Dawn.com, Spokesperson IST Raza Butt said that it's a positive move for technology in Pakistan.
"The world is moving towards miniaturisation. The launch cost is significantly low for CubeSats as compared to the bigger satellites. The low cost factor is very attractive for researchers who can test their payloads using these cubesats and then incorporate this technology in their bigger satellites," he commented.
Full report at:
http://www.dawn.com/news/1057688/pakistans-first-cubesat-icube-1-launched-from-russia
-----------
Altaf urges protesters to stay peaceful in demos
November 22, 2013
Muttahida Quami Movement (MQM) Chief Altaf Hussain Friday appealed to people coming on roads to mark protest against Rawalpindi tragedy across the country, to keep their demonstrations absolutely peaceful and avoid causing harm to properties and human lives.
In a video message issued during the meeting held at MQM International Secretariat London, Altaf Hussain condemned the Rawalpindi killings on Ashura, saying, "Everyone goes through heart-wrenching torment over the loss of innocent lives. We all invoke Allah's mercy and blessing for the departed souls."
Full report at:
http://www.nation.com.pk/pakistan-news-newspaper-daily-english-online/karachi/22-Nov-2013/altaf-urges-protesters-to-stay-peaceful-in-demos
-----------
Thousands of Pakistani youngsters detained in Greek jails
November 22, 2013
LAHORE - Thousands of Pakistani youngsters remain stranded at detention facilities in Athens city of Greece after illegal border-crossings, said an FIA officer, citing 42 Pakistani deportees who touched down in Lahore on Thursday.
The deportees arrived by Qatar Airlines flight QR-620 at around 7:50 in the morning. It was the third flight within a week brining deportees back from Athens in large numbers. Forty-four Pakistanis were deported on Wednesday and 31 on November 14 from Greece. The deportees were transported under International Organization of Migrants programme.
Full report at:
http://www.nation.com.pk/pakistan-news-newspaper-daily-english-online/lahore/22-Nov-2013/thousands-detained-in-greek-jails
-----------
Unreliable US does not want peace in Pakistan: Nisar
2013-11-22
ISLAMABAD: Interior Minister Chaudhry Nisar Ali Khan on Friday said Pakistan could no longer rely on any assurances given by the United States as it had proven that it does not want peace in Pakistan.
Speaking to media representatives outside Parliament House, Nisar said he failed to understand why Sartaj Aziz, Adviser to the Prime Minister on National Security and Foreign Affairs, developed confidence in the US on its assurances relating to drone strikes. He added that the US had also wanted to approach him with "such fairy tales", however he had flatly refused to entertain them.
Full report at:
http://www.dawn.com/news/1057856/unreliable-us-does-not-want-peace-in-pakistan-nisar
----------
Pak doctor who helped track Osama faces murder charge
PTI | Nov 22, 2013
ISLAMABAD: A jailed Pakistani doctor, who helped the US track down al-Qaida chief Osama bin Laden, has been slapped with murder charge after a woman complained that he caused her son's death during a surgery.
Naseeba Gul, mother of Salman Afridi, a resident of Sipah area in Bara in Khyber Agency, lodged a complaint with the political agent some five months ago, accusing Shakeel Afridi of conducting a surgery on her son when he was not qualified to do so.
She said the doctor, currently imprisoned in Peshawar jail on charges of having links with a banned outfit, was not a surgeon and unlawfully conducted the surgery that resulted in death of her son.
Full report at:
http://timesofindia.indiatimes.com/world/pakistan/Pak-doctor-who-helped-track-Osama-faces-murder-charge/articleshow/26209468.cms
----------
Sharif says drone strikes injustice against Pakistan
Nov 22, 2013
Prime Minister Nawaz Sharif on Friday expressed deep concern over a drone strike that killed six persons, including commanders of the Haqqani network, and said Pakistan had conveyed its opposition to the attacks to the US.
"We are really upset by the strikes...this is injustice against Pakistan," he said while speaking at the "National Consultation Conference — Pakistan Vision 2025".
In an apparent reference to his efforts to engage the Taliban in talks, Mr. Sharif said the government has opted for dialogue to deal with terrorism.
Full report at:
http://www.thehindu.com/news/international/south-asia/sharif-says-drone-strikes-injustice-against-pakistan/article5379947.ece
-----------
Southeast Asia
PAS aims to bring Islam's 'blessing for all'
November 22, 2013
SHAH ALAM, Nov 22 — With questions hovering over its Islamic credentials, PAS today stressed its aim to not be "just a political party", but instead an Islamic movement that brings the faith's "blessing" to every citizens of the nation.
Speaking in its annual muktamar (conference) here, president Datuk Seri Abdul Hadi Awang also claimed that the party's Islamic struggle puts it above every other Islamic political parties in the world.
"As I have always stressed, PAS is not solely a political party, but we are also an Islamic movement that moves in the line of 'tarbiyah' (education)… inheriting the ambition as a khalifah (leader) on the face of the Earth, that puts politics as an important agenda inseparable from Islam," Hadi said in his keynote speech here.
Full report at:
http://www.themalaymailonline.com/malaysia/article/pas-aims-to-bring-islams-blessing-for-all#sthash.TIWRbPm8.dpuf
-----------
Police Detain Aceh Shariah Police Chief Over Graft Suspicion
November 22, 2013
Banda Aceh. Detectives with the Banda Aceh Police have arrested and detained the head of the province's shariah police on suspicion of embezzlement, an officer said on Friday.
Sr. Comr. Moffan Mudji Kafanti, who heads the Banda Aceh Police, told the Jakarta Globe that Khalidin Lhoong, chief of the shariah police, was officially detained late on Thursday afternoon and be questioned on Friday. He is being accused of misappropriating part of the wages for contract-based personnel of the shariah police.
Full report at:
http://www.thejakartaglobe.com/news/police-detain-aceh-shariah-police-chief-over-graft-suspicion/
----------
Africa
Driven from towns, Nigeria extremists hit villages
Nov 22, 2013
YOLA, Nigeria (AP) — The businessman heard his neighbors' screams around midnight. He ripped off his pajamas and jumped out the window, hoping his dark skin would not be visible from the bush at night.
Like many villages in northeast Nigeria in recent weeks, Mbitiku was under attack from Islamic militants competing with the government for support in the Nigerian countryside.
Before the attack, the insurgents sent threatening letters to the village ordering young men to join their Boko Haram insurgency.
"Boko Haram people were going from one house to the other slaughtering people by slicing their throats," the survivor told The Associated Press of the Nov. 4 attack. He insisted on anonymity for fear of being targeted by the extremists.
Full report at:
http://news.yahoo.com/driven-towns-nigeria-extremists-hit-villages-114933766.html
--------
URL: https://newageislam.com/islam-women-feminism/u.s.-says-dozens-americans-sought/d/34543