New Age Islam News Bureau
01 September 2022
• Afghan Female Student, Elaha, Sexually Assaulted, Beaten By Taliban Official
• Canadian Spy Smuggled British Teenagers Shamima Begum, Kadiza Sultana And Amira Abase To Syria As UK Covered Up: Book
• Taliban Official Says Islam Grants Women Right to Education, Work
• How Two Arab Women Launched a Start-Up That Trains Interns For the Corporate World
• UAE In-Focus — Emirati Women Invest $9.4bn in Abu Dhabi Financial Market In 2022
• Over 800 Pakistani Women Developers Trained By Google under Women Techmakers Initiative
Compiled by New Age Islam News Bureau
URL: https://newageislam.com/islam-women-feminism/honour-killing-muslim-woman-poison-dalit-up/d/127854
--------
UP 'Honour Killing': Muslim Woman's Autopsy Suggests Poison, Brothers 'Killed Dalit Lover in Her Room'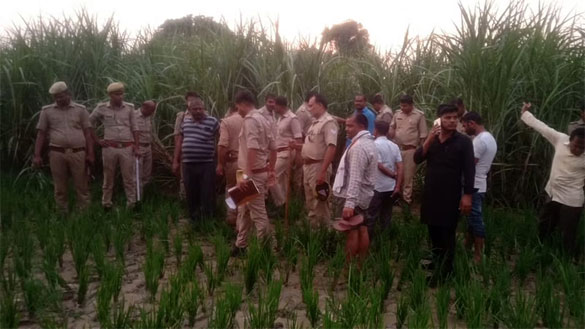 Basti police in the field where the Dalit youth's body was found | By special arrangement
-----
Shikha Salaria
1 September, 2022
Basti: Three brothers of a 19-year-old Muslim woman who was buried by her family in alleged secrecy Saturday conspired to eliminate a Dalit youth who was in love with her, and may have killed him in front of her eyes, UP police officers probing a suspected case of honour killing in Basti district told ThePrint.
The woman — whose remains were exhumed Sunday, a day after the youth's body was found in a field near her home — could have either taken her own life by consuming insecticide or been forced to drink the same after confronting her family members about his death, they added.
Basti police officers further said that an autopsy of the woman's body had revealed that she had consumed poison, but the cause of her death is still unclear. The youth died of strangulation.
Though the youth's body was found in a field, he was killed in the woman's room Friday night, after one of her brothers found the duo there, Rudhauli Station House Officer (SHO) Ram Prakash Mishra told ThePrint.
Both deaths took place in Padariya Chet Singh village of Basti. Police have booked the woman's two older brothers and her cousin under sections 302 (murder), 201 (causing disappearance of evidence) and 34 (common intention) of the Indian Penal Code, as well as the Scheduled Castes and Scheduled Tribes (Prevention of Atrocities Act) on the basis of a complaint by the youth's mother.
No complaint has been filed from the woman's family, say police sources.
Speaking to ThePrint, Circle Officer (Rudhauli) Ambika Ram said that the woman's family was allegedly opposed to her relationship with the youth. "About a month back, they found the man in her room and left them with a warning. But the two kept in touch over phone and even met when the family was asleep."
CO Ram further said the two spoke to each other the night they died, adding that prima facie, it appears that the woman had consumed insecticide: "Her body had turned black. An empty bottle of insecticide was found in the room."
Another senior police officer told ThePrint the post-mortem had revealed that she had injury marks on her chin and chest, and stains that indicated she had been foaming at the mouth — which were indicative of poisoning.
Signs of confrontation
The youth ploughed the village fields for a living and was frequently employed at the woman's house, Abdul Rehman, a resident of Padariya Chet Singh village, told ThePrint.
The two lived 100 metres away from one another.
He had been working with the woman's family for five years and they had great trust in him, according to the 18-year-old's kin.
"He would stay here for only about 2-4 hours but spend most of his time at their house," his younger brother told ThePrint, adding: "All her family members used to call him for work. Everyone in her family, even some relatives living far away, knew him. He worked there as a domestic help."
Sushil Chaudhary, a villager at whose house the youth's parents work, explained how close he was to the woman's family.
"He would take the women of the family to the doctor when they were sick. If the girl had to give an exam, he would take her to the exam centre," he told ThePrint.
The Dalit man allegedly left his house some time between 7.30 and 8 pm on Friday evening. His family claims he got a call from the woman's older brother.
"He got a call from the woman's brother who asked him to come to their house. He left between 7.30 and 8 pm and did not return. Some villagers saw him till around 11 pm," the youth's brother told ThePrint.
It wasn't until Saturday morning that the family began suspecting something was wrong. At 6 am the next day, they heard that the woman had died.
"My mother then went to their house because we knew that our brother had also gone there and got anxious about him," the brother said.
The family began to frantically call him and found his phone a few steps from his body.
The police, however, claim that it was a call from the woman that brought the man to her house. They also believe that the woman's family had found the youth with her Friday.
Rudhauli CO Ram said the woman's eldest two brothers confronted her and the youth that night. "He crept into her house from a back door and entered her room. Her second brother, who slept in another room, realised they were together and confronted them. He and his older brother called another cousin who lived with them and strangled the youth in her room."
Police believe his body was dragged to the field where it was found.
The youth's brothers found his body at 5 pm Saturday, police said — hours after he went missing.
Meanwhile, labourers who helped exhume the woman's body on 28 August at midnight too claimed that there were marks of foam around her mouth. The body was exhumed following directions from the sub-divisional magistrate and police.
"We saw foam stains around her mouth. Her mouth was wide open and her body had turned black," Irshad Ali, one of the four labourers involved in the body's exhumation, told ThePrint. "The body was emitting a strong stench and the sheet over her head had turned reddish in some places."
Police said her viscera had been preserved to help pinpoint the exact cause of death.
Hints in Facebook posts
Although the woman and the man kept their relationship a secret, the latter's Facebook post showed that the relationship was at least a year old.
So much did the woman's family trust him, in fact, that her older brother had given the man a key to his bike, the youth's brother told ThePrint.
"He would plough their fields. He would get calls from other villagers too but when someone from their family called, he would drop everything and go. He would listen to no one," he said, adding that the family had yet to pay him for the work he did this farming season.
On Facebook, he would sometimes use the woman's first name or half of her name. Sometimes, he used only her initials. For instance, two posts from October 2021 had the woman's first name with his photo, along with the words: "Meri adhoori mohabbat (My incomplete love)".
However, his more recent posts were more cryptic. On 4 March, he posted a photo of a youngster trying to cut his hand.
Additional Superintendent of Police Deependra Nath Chaudhary told ThePrint that they have yet to see the posts, but the two had been regularly in touch with each other for the last few months.
"They would frequently talk to each other over the phone and records have shown regular conversations between the two," he added.
The youth's brother told ThePrint that the woman's cousin had sworn revenge after the youth sided with the woman's brothers in a fight a year ago.
"About a year back, the woman's brothers and her cousin fought over some construction-related matter. The two brothers beat up the cousin."
The cousin, he said, was angry after his brother went against him, he said.
"About ten days back, their cousin had said someone needed to be eliminated, even if it meant selling off a few bighas of land to achieve it," he said.
He also claimed that youth's body bore marks of injuries on his arms and private parts. The police however have denied these claims.
Source: The Print
https://theprint.in/india/up-honour-killing-muslim-womans-autopsy-suggests-poison-brothers-killed-dalit-lover-in-her-room/1110609/
--------
Afghan Female Student, Elaha, Sexually Assaulted, Beaten By Taliban Official
Elaha Dilwaziri (L) and Qari Saeed Khosty (R). Photo: Aamna News English, Twitter
-----
31 August, 2022
Kabul [Afghanistan], August 31 (ANI): An Afghan female medical student, Elaha, whose father was a former general in the National Security Directorate said that she was sexually assaulted and beaten by a Taliban official.
Elaha, an Afghan student, published a video message on Twitter claiming that she was forced to marry Qari Saeed Khosti, the former spokesperson of the Taliban's interior ministry.
Elaha, whose father was a former general in the National Security Directorate, said that she was raped and beaten many times during this period.
New videos of Elaha, a medical student in Kabul were leaked to Aamaj News.
She said that the Taliban's former interior ministry spokesman, Saeed Khosty, married her forcibly.
The sources say that the life of Elaha is in danger. Elaha told that she might be killed soon for recording this video, reported local media.
Khosti is a senior Haqqani Taliban official. Notably, the Taliban has refused to allow female students to leave the Afghan capital to go to study in Kazakhstan and Qatar, reported Sputnik citing sources.
The Taliban has banned Afghan women from working outside their homes and has introduced gender-based segregation in schools. Girls are not allowed to receive education beyond sixth grade.
Moreover, the Taliban has forced all women to cover their faces while in public and women are not allowed to participate in entertainment activities and visit parks at the same time as men.
After the Taliban took over Afghanistan in August 2021 and imposed policies severely restricting basic rights–particularly those of women and girls. Taliban decrees prohibit women from travelling unless accompanied by a male relative and require women's faces to be covered in public–including women TV newscasters.
Moreover, the Taliban dismantled the system to respond to gender-based violence, created new barriers to women accessing health care, blocked women's aid workers from doing their jobs, and attacked women's rights protesters.
Since they took control of the country in August 2021, the Taliban have violated women's and girls' rights to education, work and free movement and decimated the system of protection and support for those fleeing domestic violence.
The group has also detained women and girls for minor violations of discriminatory rules and contributed to a surge in the rates of child, early and forced marriage in Afghanistan.
Several rights groups have called out the Taliban to implement major policy changes and measures to uphold the rights of women and girls. The Taliban had previously promised an inclusive society and equality during their first press conference after the takeover of Afghanistan, however, their actions reflect a different picture.
There are restrictions on movement, education and freedom of expression of women posing a threat to their survival.
According to locals, the Taliban has prevented women from using smartphones, and the Women's Affairs Ministry often extorts money to provide essential protection.
Around 80 per cent of women working in the media have lost their jobs, it said adding that almost 18 million women in the country are struggling for health, education and social rights. (ANI)
Source: The Print
https://theprint.in/world/afghan-female-student-sexually-assaulted-beaten-by-taliban-official/1110457/
--------
Canadian Spy Smuggled British Teenagers Shamima Begum, Kadiza Sultana And Amira Abase To Syria As UK Covered Up: Book
31 August 2022
A British teenager of Bangladeshi descent who traveled to Syria in 2015 with two friends to join the Daesh terrorist group was smuggled into the war-ravaged country by a Canadian spy, a new explosive book reveals.
Authorities in Shamima Begum's home country conspired with Canada to cover up her disappearance, according to a newly released book, 'The Secret History of the Five Eyes' by Richard Kerbaj, a former security correspondent of The Sunday Times, based on interviews with world leaders and top spies.
Then-15-year-old Begum and her two friends – Kadiza Sultana, 16, and Amira Abase, 15 – left their homes in east London's Bethnal Green area in 2015 to be the Daesh brides.
Begum subsequently married a Dutch foreign fighter in Syria and gave birth to three children.
In February 2019, Begum expressed her desire to return home, but the British government revoked her citizenship, leading to a legal battle for the restoration of her citizenship.
Begum, now 23-year-old, remains detained in a camp in northern Syria.
The explosive book makes startling disclosures about the case, saying the Scotland Yard [London police] knew the teenage girls were trafficked into Syria by a smuggler who was working as a double agent for Daesh and the Canadian intelligence.
"Canada knew about the teenagers' fate but kept silent while the Metropolitan Police ran a frantic, international search for the trio," British newspaper The Times cited the book in a report on Tuesday.
"Canada privately admitted its involvement only when it feared being exposed, and then successfully asked the British to cover up its role," it added.
Canadian authorities continued to remain silent, but after Türkiye arrested the smuggler, Canadian national Mohammed Al Rasheed, it privately conveyed it to the UK, the book and media reports said.
According to reports, before becoming Canada's spy, Rasheed had traveled to Jordan where he met officials at the Canadian embassy and sought asylum in the country.
However, the book reveals that the human trafficker was instead recruited and told to collect intelligence on the Daesh terrorist group.
In a report on Tuesday, BBC said it has seen files that show Rasheed claimed to have shared Begum's passport details with Canada and smuggled her and other British nationals to fight for Daesh.
Rasheed, it added, provided information to a Canadian spy agency while smuggling people for Daesh.
The British broadcaster said it had received a dossier "that contains information gathered by law enforcement and intelligence, as well as material recovered from his hard drives, which provide extraordinary detail about how he operated."
"He told authorities that he had gathered information on the people he helped into Syria because he was passing it to the Canadian embassy in Jordan," the report hastened to add.
Tasnime Akunjee, a lawyer representing the Begum family, has demanded an inquiry into what the police and intelligence services knew but remained tight-lipped about.
"Britain has lauded its efforts to stop ISIS and the grooming of our children by spending millions of pounds on the Prevent programme and online monitoring," he said.
"However, at the very same time, we have been cooperating with a Western ally, trading sensitive intelligence with them whilst they have effectively been nabbing British children and trafficking them across the Syrian border for delivery to ISIS, all in the name of intelligence gathering."
"The calculation here is that the lives of British children, and the risk of their death, is part of the algorithm of acceptable risk our Western allies have taken," he added, adding that the revelations were of "crucial importance", given that Begum had argued she was trafficked into Syria.
Source: Press TV
https://www.presstv.ir/Detail/2022/08/31/688368/Canadian-Spy-Smuggled-British-Girls-Syria-UK-Covered-Up
--------
Taliban official says Islam grants women right to education, work
31 Aug 2022
A Taliban official said Islam grants women the right to education, work, and entrepreneurship, and reiterated that the group is working to create a so-called "safe environment" for girls and women in secondary schools and the workplace.
"I must say that Islam has given women the right to education, Islam has given women the right to work, Islam has given women the right to entrepreneurship," Taliban spokesperson of the Ministry of Vice and Virtue, Sadeq Akif Muhajir, told Al Jazeera's Start Here.
"If Islam has allowed it, who am I to ban it," he said during the interview.
The comments by Muhajir came more than a year after the armed group took over the country and imposed several limitations on women's freedoms, including a ban on secondary education for girls.
The move has drawn international condemnation and sanctions.
Since returning to power, the Taliban has among other things, shut down girls' secondary schools across the country, ordered women to wear hijabs in the workplace and to cover their faces in public, and has banned women from travelling long distanced without a close male relative.
The restrictions on freedoms and movements are reminiscent of the Taliban's last time in power in the 1990s, when the group denied girls and women the right to education and barred them from public life.
The armed group had promised women's rights and media freedom after returning to power on August 15, 2021. But it has since backed away from its pledge.
The Taliban has defended its decision, saying such restrictions have been done to preserve "national interest" and women's "honour".
Afghanistan's economic woes
Muhajir said there are currently "many women' working in various ministries, including "people from the previous government".
"I am working to create a situation where they can work in a way that protects their honour," he said. "It shouldn't be in a way like it was in the previous administration."
But a study by the International Labor Organization (ILO) this year found that Afghan women's employment levels fell by an estimated 16 percent in the months immediately following the Taliban takeover. In contrast, male employment dropped by 6 percent.
"In the pessimistic scenario in which restrictions intensify and women do not feel they can safely show up at their workplaces, the scale of job losses for women could reach 28 percent," the report said.
Working Afghan women have previously told Al Jazeera that while the Taliban has not directly fired female government employees, it has restricted women from entering workplaces and has paid them a notably reduced salary to remain at home.
The Taliban's return to power has exacerbated Afghanistan's economic woes. The country has been reeling from a humanitarian crisis with more than half of the population facing hunger.
The Western-imposed sanctions and the freezing of nearly $10bn in Afghan central bank assets by the US have largely contributed to the collapse of the economy.
The Taliban has been criticised for imposing restrictions on women instead of focusing on saving Afghanistan from economic ruin.
The diplomatic isolation of the government led by the Taliban has further worsened the situation, with Western nations pressing the group to allow more freedoms to women as a condition for engagement.
Source: Al Jazeera
https://www.aljazeera.com/news/2022/8/31/taliban-official-says-islam-grants-women-right-to-education-work
--------
How two Arab women launched a start-up that trains interns for the corporate world
August 31, 2022
Justin Varghese
Dubai: After completing graduation degrees in their respective educational fields, two Arab women in the UAE went on to build up their resumes in the corporate world, like so many others.
However, after spending two decades working full-time jobs in the UAE, they together dared to take the entrepreneurial plunge. So here's how their start-up journey began a little over a year ago.
Egyptian expat Deena Habib was born in the UK and raised in Dubai, while Ban Jishi is originally Palestinian but born and raised in Dubai. And like their diverse upbringing, their individual passions too differed, but this only helped when they put their heads together to start a business.
Passion for tech, 'experiential learning' launches two business women's careers
Deena, a working mother of two boys, is a techie passionate about public speaking. On the other hand Ban, a professional life coach, is passionate about 'experiential learning' or 'learning by doing'. They have both started a platform to train interns preparing to work full-time with corporates.
"As a child and growing up, I always envisioned myself doing something for youngsters," said Deena, chief executive officer (CEO) and co-founder of the training platform known as 'Yspot', which primarily enrols teenagers between the ages of 16-25 in tailored courses within relevant organisations.
"I used to dream of a villa in Jumeirah that was a 'hangout' for the youth with common spaces to study together as well as entertainment for the youth. I always had the passion in me to do something for youth and to own my own business."
Before venturing into entrepreneurship in the UAE, Deena spent more than 20-plus years in marketing, working with tech titans like Amazon Web Services, Microsoft, Dell, Oracle and IBM. Deena now uses her technical background to help youngsters tackle their ever changing career-related aspirations.
Two decades of working with tech giants in marketing
Meanwhile, "unconventional" student Ban found her path to graduation "challenging and not well-rounded", as she excelled in areas that weren't considered as conventional building blocks to a professional career back then.
Almost two decades after graduation, Ban eventually recognised 'human connection' to be a key element that students needed to thrive in the corporate world. But this was after Ban took on all work opportunities that came her way, holding jobs in retail management and marketing.
"Throughout my professional endeavours I've always been open to new and exciting opportunities that will contribute to my personal and professional growth," said Ban, who is the chief operating officer (COO) and co-founder at 'Yspot'.
"Having explored various roles and industries I got to a point where I was ready to branch out and the driving factor was the passion to give back and support generations to come in a meaningful way."
Love for work in diverse fields led her to train in 'experiential learning'
Although Ban explored jobs in diverse sectors, she always loved what she did, and this kept her going. This is a passion she attributes to her upbringing.
"My father is a self-made man who came from very humble beginnings and set a great example about the importance of education and ambition with purpose. A phrase he lives by and preaches is 'work is love, if you don't love what you do, do something else'," recalled Ban.
"That has always been a driving factor and which is why my professional career is so diverse, seeking work I love. My father established his own successful business over 40 years ago and even though owning your own business has its challenges, I've witnessed the rewards to be far greater. Especially when you are creating something that will have a lasting and rippling impact in the lives of others."
In the last decade, Ban took to 'experiential learning', earning certifications in life coaching (improving relationships, careers, day-to-day lives), 'breathwork' (referring to breathing exercises or techniques) and 'bodytalk', which teaches one how to cope with emotional, physical, and environmental influences.
So by being particularly passionate about guiding or coaching students through career-related challenges, Ban aims to empower them create a real-world vocation they desire.
Proving that one can manage a business while still working full time
While being at the helm of 'Yspot', Deena also manages to balance work at a US-based cloud software development firm Dynatrace. While it isn't easy to balance two jobs at the same time, Deena offered time management tips to other part-time entrepreneurs.
"I normally spend the first half an hour of my day planning the day ahead and prioritising my work. I always set realistic timelines for projects so I don't put myself under pressure," said Deena. "I feel that planning and prioritising work are two key elements that prevent me from getting overwhelmed."
"I also stay active and workout three times a week. This helps me stay mentally alert and keeps me happy. I always ensure I get my family time and downtime in as well. During the week I try to go to bed as early as possible, but I also ensure that I completely switch off over the weekends, and use it to spend time with my boys and do things I enjoy."
In school, Deena recalled how she worked on a student committee to put the graduation year-book together, managing the budget and plan everything from the photoshoots, to collecting advertisements for the yearbook, to organising the printing and finally to selling the yearbooks to cover the costs.
"The reward of this experience was that I did something for our school year that was much needed and it gave me a lot of insights from a young age of how to manage work related projects," Deena added, before she went on to elaborate how their business trains interns.
How are interns given adequate work and equipped with the skill to speak up?
During a recent internship program, which was their first, as part of an 'on-boarding' process, interns were asked initially to work remotely through their portal, while being required to complete three courses prepared by them – in time management, presentation skills and work culture ethics.
"They also need to learn about the organisations' (that they will intern at). We ask the organisations to share with us, through the portal, assets that help the interns learn and we also ask the interns to spend some time researching the organisation before starting the internship. Any employee that joins a new company gets on boarded so we aim to give the interns as close an experience as possible."
The co-founders also explained the mentorship aspect of the internship program, where they get mentored by industry leaders and learn from their experiences, while getting the interns to prepare their questions
"We [also] ask the organisations to set tasks for the interns that are to be delivered within a certain time frame and with expected results. The organisation assigns the intern a contact person that they can reach out to if they need guidance or support; however the intern is expected to complete the task(s) on their own," the entrepreneurs explained.
Interns being trained primarily to engage in open dialogue with organisations
At the end of the program, they ask the interns to present back to the organisations on their experience, what the organisation means to them, their feedback on the program and the interns can use this as an opportunity to share any ideas or recommendations they may have from their time at the organisation.
"This part of the program is valuable to the interns, as it allows them to speak openly, while also giving the intern the experience of presenting within a large organisation. This is of great value to the organisations as well, as they get to learn from their interns through open conversations."
The co-founders are currently collaborating with organisations across industries such as beauty, technology and healthcare. "We are looking to broaden our reach into other industries as we continue to grow," they added.
"During our summer program we collaborated with organisations that were in the beauty industry such 'L'Oreal Middle East', US-based software firm 'Ingram Micro' in technology and Dubai dental clinic chain 'Dr. Nicolas & ASP' in healthcare."
What were some of the struggles of starting this business? What was your initial investment?
While the co-founders preferred not to talk about how much money went into their initial investment when starting their business, they revealed that they had not approached investors and everything has been 100 per cent bootstrapped from their own personal savings.
"When we first started, we had a different idea of what the business would be. However by doing our research and asking the youth what they wanted and understanding more about what they needed, we pivoted Yspot into a different direction," they said.
"I think learning to pivot along the way, especially in the beginning, is key, however it is certainly a struggle," they revealed, while adding that a lot of entrepreneurs get fixated on their ideas and this can have a negative impact on the business.
"Learning to be open to change was one of the main things we struggled with initially as change meant time and money but the benefit is that if start-ups learn to pivot seamlessly they can continue to learn and grow and do what is best for their business."
Deena also shared that it was personally a struggle when particularly coming from a corporate environment, evaluating how there was a fundamental difference in how work was done in a corporate set-up and in a start-up environment.
"I believe your ideas and work are validated daily through your peers and your managers run performance reviews all the time so you know you are on the right track. In the start-up world, there is no right or wrong way of doing things and one needs to make informed decisions and test things before knowing whether or not it will work. This was a change I did struggle with in the beginning as well."
Any advice you would give women looking to take up leadership positions?
The key, according to Deena, is to follow what you're passionate in and finding a work-life balance. As to how one can, here is an advice she gives.
"I believe that everyone should follow their passions. Finding a work life balance does take some adjustment but it really is key. As long as you can plan the weekends to make the most of your time with the family and ensure that time spent with family is enjoyable and engaging then you can manage both.
"I personally ensure that lunches during the weekends are spent as a family and that during that time phones and all other distractions are removed. I also plan outings with my family and it always gives us something to look forward to."
If you are targeting a leadership position and it is something that you are passionate about and know it to be fulfilling and a positive contribution to your life and living, Deena encourages to "go for it!"
"When you follow your passions, and your children see you do that, you are leading by example and there is no greater teacher! So, take the plunge, follow your passions and ensure to prioritise family on the weekends," she conclusively advised fellow women entrepreneurs striving to be their own bosses.
Source: Gulf News
https://gulfnews.com/your-money/community-tips/how-two-arab-women-launched-a-start-up-that-trains-interns-for-the-corporate-world-1.1661954323729
--------
UAE In-Focus — Emirati women invest $9.4bn in Abu Dhabi financial market in 2022
DANA ALOMAR
August 29, 2022
DUBAI: Emirati women invested 34.6 billion dirhams ($9.4 billion) at the Abu Dhabi bourse from the beginning of the year until mid-August, Abu Dhabi Securities Exchange figures show.
It represents a 74.7 percent increase over last year when their trading value was about 19.8 billion dirhams.
"Emirati women completed transactions over nine billion shares during the reference period, up 42 percent from 6.3 billion shares during the same period last year," the statement said.
As of mid-August 2022, there are 219,000 Emirati women investing in ADX, accounting for 89.8 percent of all women trading there.
Abu Dhabi entities sign strategic agreement
The Abu Dhabi Residents Office and Abu Dhabi Global Market have entered into a partnership agreement to ensure the seamless integration and continued stability of ADGM's international community, according to a statement.
This agreement will provide a number of digital services related to visas via ADGM's web portal, including support for Abu Dhabi Golden Visa nominations, and the exploration of new opportunities, the statement said.
After the nomination process for Abu Dhabi Golden Visa is successful, the statement said that ADRO will return the applications to ADGM's portal, reaffirming the office's commitment to Abu Dhabi's community.
Also, ADGM will provide ADRO with access to a comprehensive list of global companies so it can provide investors and entrepreneurs with exclusive benefits.
Aside from joint marketing activities through several digital and direct channels, the two parties will also highlight ADRO's strategic initiatives, such as the promotion of the Abu Dhabi Golden Visa, as well as other initiatives locally and internationally for the attraction and retention of top talent.
Through ADRO's exclusive loyalty program, ADGM will offer a suite of exclusive services and offers to Abu Dhabi Golden Visa holders.
ADGM's partnership is an important step in enhancing customer experiences and making international financial hubs doing business easier.
Source: Arab News
https://www.arabnews.com/node/2152481/business-economy
--------
Over 800 Pakistani women developers trained by Google under Women Techmakers initiative
August 31, 2022
KARACHI: More than 800 women developers across Pakistan received training through a series of Women Techmakers sessions organised by Google this year.
The sessions were held as part of celebrations for International Women's Day (IWD), which covered important topics such as online safety, coding, and presentation skills.
The theme behind IWD this year is #ProgressNotPerfection, which seeks to celebrate the progress of women in all of its forms rather than holding on to preconceived notions of perfection and failure.
"At Google, we actively work to recognise the achievements of women in tech, and inspire more women in Pakistan to embark on a tech career. The Women Techmakers ambassadors have done an amazing job this year to organize meaningful and helpful programmes for the women developer community," said Farhan S Qureshi, Google's Regional Director for Pakistan, Bangladesh and Sri Lanka said.
Qureshi added that the Google looks forward to seeing more women in tech step up to become role models for other women.
In line with the theme, the sessions by Google featured inspiring women speakers who shared stories on how they resolved roadblocks in their lives and careers, and networking events, which enabled women participants to connect with more people in the industry and forge new opportunities.
"Based on feedback, the Women Techmakers sessions brought a lot of positive energy to the women communities and gave many women the confidence to overcome obstacles in their own journeys," Hira Tariq, a WTM Ambassador in Karachi said, emphasising on the need for celebrating women's successes and also assure them that it's okay to fail.
Since 2013, Google has hosted thousands of Women Techmakers events in over 75 countries around the world to celebrate women's day. The mission of these events is to build a world where all women can thrive in tech, and the company provides them with visibility, a community, and resources to grow.
Source: The News
https://www.thenews.com.pk/latest/987147-over-800-pakistani-women-developers-trained-by-google-under-women-techmakers-initiative
--------
URL: https://newageislam.com/islam-women-feminism/honour-killing-muslim-woman-poison-dalit-up/d/127854
New Age Islam, Islam Online, Islamic Website, African Muslim News, Arab World News, South Asia News, Indian Muslim News, World Muslim News, Women in Islam, Islamic Feminism, Arab Women, Women In Arab, Islamophobia in America, Muslim Women in West, Islam Women and Feminism