New Age Islam News Bureau
2 Oct 2015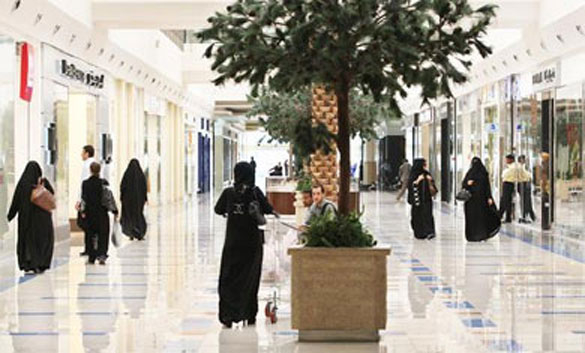 Saudi Women at a Mall (Representative photo)
----------
• University Niqab Ban Fuels Election Debate In Egypt
• Hillary Clinton Worried She Could Hurt the Fight to Lift Saudi Ban on Female Drivers
• Saudi Women Welcome Mall Searches
• Saudi Woman Divorces Husband for Being Short
• Egypt's Lost Queen Nefertiti May Lie Concealed in King Tut's Tomb
• Angela Merkel has 'Good Chance' Of Winning Nobel Peace Prize: Report
Compiled by New Age Islam News Bureau
URL: https://www.newageislam.com/islam,-women-and-feminism/new-age-islam-news-bureau/university-niqab-ban-fuels-election-debate-in-egypt/d/104778
-------
University Niqab Ban Fuels Election Debate In Egypt
October 2, 2015 Gulf News
By Ramadan Al Sherbini, Correspondent
Cairo: A controversial ban ordered by Egypt's main public university on the Niqab, a face-covering veil worn by some Muslim women, has fuelled debate ahead of the country's parliamentary elections slated for later this month.
Earlier this week, Cairo University barred its female teachers from wearing the Niqab while doing their job, a move that has drawn a sharp criticism from the ultra-conservative Salafists.
"This decision violates the law and constitution. It constitutes discrimination against a certain group of people due to their religion," said Yasser Burhami, a leading Salafist. "The niqab does not violate the Islamic Sharia. Some Islamic scholars even consider it obligatory. Therefore, the university's ban on the Niqab is an infringement of women's right to wear it."
Burhami urged the university to scrap the decision or face lawsuits.
The head of Cairo University Jaber Nassar has denied that the ban is politically or religiously motivated.
"The aim of the decision is purely educational. It seeks to enhance direct communication between the student and the teacher. It will not be expanded beyond the lecture halls or applied to female students."
Burhami is a senior leader in the Salafist Dawa (Call), an umbrella group for the ultra-conservative Al Nour Party, which is the only Islamist force contesting the two-round legislative elections due to begin on October 18.
A member of Al Nour calling himself Rabae Al Salafi posted the Cairo University's ban on his Facebook account, urging people to vote for the party in the elections. "Lest they [authorities] order the removal of the Niqab in the street, you should vote in favour of Al Nour," he said.
In recent months, secularists have stepped up criticism of Al Nour, accusing it of manipulating religion for political gains.
"Al Nour is reviving the tactics of the Muslim Brotherhood by portraying themselves as the guardians of Islam," said Hassan Sobhy, an anti-Islamist activist.
"Egyptians are already fed up with the exploitation of religion in politics. Al Nour should learn a lesson from the black end of the Brotherhood."
In 2013, Islamist president Mohammad Mursi of the Brotherhood was deposed following enormous street protests against his rule. Al Nour backed Mursi's ouster. Months later, the Brotherhood was outlawed and designated a terrorist organisation.
Dozens of lawsuits have recently been filed in Egypt requesting the dissolution of Al Nour for allegedly violating a constitutional article banning the establishment of political parties on religious grounds. The party has repeatedly denied the accusation and is fielding Christian candidates in the coming elections.
Al Nour was one of several Islamist parties licensed after the 2011 uprising that forced long-time president Hosni Mubarak out of power.
The party had 25 per cent of seats in the 2012 Islamist-led parliament. The legislature was dissolved in June that year by the country's top court.
Egypt has since been without a parliament.
http://gulfnews.com/news/mena/egypt/university-niqab-ban-fuels-election-debate-1.1593933
------
Hillary Clinton Worried She Could Hurt the Fight to Lift Saudi Ban on Female Drivers
Amanda Terkel
Senior Political Reporter, The Huffington Post
Posted: 10/02/2015
WASHINGTON -- In 2011, women in Saudi Arabia were increasingly organizing and speaking out about their country's ban on female drivers. But for weeks, then-Secretary of State Hillary Clinton was silent, disappointing many activists who knew about her long record on global women's rights.
A new email released by the State Department on Wednesday reveals that Clinton was privately supportive of the women's fight but worried that by speaking out, she would hurt their cause.
In May 2011, a Saudi woman named Manal al-Sharif launched a Facebook page called "Teach me how to drive so I can protect myself." Saudi Arabia is the only country in the world that bars women from driving. The Facebook page quickly attracted thousands of supporters and international attention.
On May 22, authorities arrested Sharif for driving. She was attempting to publicize the issue ahead of a large protest planned for June 17. Officials released her about a week later because of "pressure from inside and outside" Saudi Arabia, according to another activist.
The following day, Clinton emailed former top State Department aide Anne-Marie Slaughter and shared the good news of Sharif's release, revealing the role she played:
Assume you saw the good news. We sent our messages thru embassy upon advice that public [sic] comments by me would hurt her and her cause. And we learned that women intend a big demo in June. So let's hope change can happen even there--
Activists, meanwhile, were wondering why Clinton wasn't doing more publicly. The coalition Saudi Women For Driving posted an online petition asking the secretary of state to get involved and sent a letter asking, "Where are you when we need you most?"
On June 20, reporters asked State Department spokeswoman Victoria Nuland whether Clinton was staying quiet out of respect for the Saudi government, which is a U.S. ally on other international issues.
"I don't think anybody can question the secretary's commitment to universal human rights for women," Nuland said. "I think she is making a judgment on how best to support universal human rights for women. There are times when it makes sense to do so publicly, and there are times for quiet diplomacy."
The next day, however, Clinton spoke out for the first time, publicly throwing her support behind the cause.
"What these women are doing is brave and what they are seeking is right," Clinton said. "This is about Saudi women themselves, they have joined together. They are acting on behalf of their own rights."
http://www.huffingtonpost.com/entry/hillary-clinton-saudi-women-drivers_560d69dde4b0768127010ea4?section=india&adsSiteOverride=in
-------
Saudi Women Welcome Mall Searches
ARAB NEWS
JEDDAH, 2 October 2015: Many Saudi women have welcomed the searching of their bags at the country's malls, saying it is necessary because terrorists are threatening the country's safety.
Initially, when the government introduced the measures at malls, women complained that their privacy was being invaded, a local publication reported recently.
Fatimah Al-Sadoon, a shopper, said: "At first the inspections scared me but over time I realized that it was the correct approach, and now I feel safe and secure while shopping with my children."
Huda, another shopper, said although she was aware that the inspections were for security reasons, she wanted the government to find other ways to check bags. She said the measures invade her privacy.
Naif Al-Shammari, head of security at a well-known commercial center in Riyadh, said the searches are done in coordination with Riyadh police. "We were asked to search and inspect the bags and purses of all shoppers, men and women alike, as a preventive security measure," he said.
"We appointed trained women employees to check the contents of bags and children's prams. The personal physical search of the body is done with sensitive electronic devices which detect metals immediately."
He said there were some surprises during searches. "Once we found a gun in a woman's purse but it turned out to be a licensed firearm. Another time we caught a man disguised in a woman's Abaya, whom we arrested immediately."
"Then there was the time we had to eject a woman from a mall because she refused to be searched and threatened to call her husband. The security employees were suspicious of her and did not allow her to enter for safety reasons."
A woman security official said most women do not mind having their bags searched, while some insist that men security officials are present while this happens. Some female teenagers refuse to be searched, claiming they do not have prohibited substances in their possession.
"Often I've found scissors and white weapons in their bags. They justified this by saying that they feared being attacked by taxi drivers, and this made them feel more safe. Some women said that their children placed these weapons in their bags," said the inspector.
Another female inspector, Meaad, suggested having two women security employees at the gate of each commercial centre to ease the pressure on one woman working during a shift. "The bags of female shoppers are stuffed with so many items it is difficult to search the contents with one quick look," she said.
http://www.arabnews.com/saudi-arabia/news/814361
------
Saudi Woman Divorces Husband for Being Short
October 1, 2015
By Habib Toumi, Bureau Chief
Manama: A Saudi woman has proven that height is important in matters of the heart after she filed to divorce her husband, citing his sort stature.
The woman, in her 20s, has told the endowment department in Al Qatif in Saudi Arabia's Eastern Province that she wanted to be separated from her husband of seven months, saying that she could no longer withstand the mockery and shocked looks of her friends because he was too short for her.
She added that the shocking attitudes by strangers in public when they remarked how she was towering over her husband made her feel painfully uneasy and distressingly uncomfortable, Saudi daily Okaz reported.
Shaikh Mohammad Al Jirani, the head of the endowments department, said the case was among the most peculiar they had received.
Most Social media users condemned the move by the young woman, claiming she was utterly insensitive in her attitude and blaming her for accepting to marry him when he proposed.
The few who supported her said she was right to ask for the separation, arguing that her uneasiness was not a matter of days that could be overcome with patience, but of a lifetime.
According to a study by New York University published last year, researchers found that height might affect "more than just a man's suit size."
The study concluded that "short men married later in life than average or tall men, but were 32 per cent less likely to divorce. They were also more likely to marry less educated and younger women. Once married, they did less of the housework and earned a much higher income than their spouse."
According to the findings, tall men married sooner in life, but were more at risk for divorce later on, as shorter men had more stable marriages. Tall men were also more likely to marry women closer to their age, and who were better-educated.
The researchers argued that "from the perspective of relationship exchange models, this indicates that the tallest men exchange their attractive attribute (height) for better-educated spouses, while short men are unable to do so."
http://gulfnews.com/news/gulf/saudi-arabia/size-does-matter-saudi-woman-divorces-husband-for-being-short-1.1593116
--------
Egypt's Lost Queen Nefertiti May Lie Concealed in King Tut's Tomb
1 October 1, 2015 Gulf News
Reuters
Cairo: High-resolution scans suggest the tomb of Ancient Egypt's boy-king Tutankhamun contains passages to two hidden chambers, including what one British archaeologist believes is the last resting place of Queen Nefertiti.
If proven, the discovery would be the most significant this century and shed light on what remains a mysterious period of Egyptian history despite frenzied international interest.
Nefertiti, whose chiselled cheek-bones and regal beauty were immortalised in a 3,300-year old bust now in a Berlin museum, died in the 14th century BC.
British Egyptologist Nicholas Reeves told a news conference in Cairo on Thursday that he believes Tutankhamun's mausoleum was originally occupied by Nefertiti, thought by experts to have been his step-mother, and that she has lain undisturbed behind what he believes is a partition wall for over 3,000 years.
"If it is true, we are facing a discovery that would overshadow the discovery of Tutankhamun himself," Egyptian Antiquities Minister Mamdouh Al Damaty told reporters. "This would be the most important discovery of the 21st century." Reeves said radar and thermal imaging could help establish whether secret rooms were indeed hidden behind Tut's burial chamber and what they might hold. Damaty said the next step would be to carry out radar studies at the site, which could begin in the next one to three months.
Al Damaty promised that authorities will move quickly to get the necessary radar equipment to search for Queen Nefertiti's tomb
He said that plans are being finalised and that he believes the radar equipment "will confirm whether there's something" there.
King Tut, as he is affectionately known, died around 1323 BC. His intact tomb, complete with his famous golden burial mask, was discovered in the Valley of the Kings in 1922 by another British Egyptologist, Howard Carter.
Experts have long sought to understand why Tut's tomb was smaller than that of other pharaohs and why its shape was more in keeping with that of the Egyptian queens of the time.
Egyptologists remain uncertain over where Nefertiti died and was buried. She was long believed to have passed away during her husband's reign, suggesting she could be buried in Amarna, where her bust was found in 1912. More recently, most experts, including Reeves, have come to believe she outlived Akhenaten but changed her name and may have briefly ruled Egypt.
Reeves developed his theory about Nefertiti's resting place after studying high-resolution scans he believes suggest the presence of two rooms hidden behind the northern and western walls of Tut's burial chamber.
He thinks one is a Tutankhamun-era storage area and another may contain the remains of Nefertiti, whose name means "the beautiful one has come".
But some archaeologists have urged caution. The evidence remains scant and others believe Nefertiti's mummy was found in 1898 and already lies in the Egyptian Museum.
"The idea that one (room) might lead to a pre-existing burial chamber, let alone that of Nefertiti, is pure speculation," Aidan Dodson, an Egyptologist at Bristol University, said.
Damaty, who recently returned from a tour of the Valley of the Kings with Reeves and other senior Egyptian experts, said he believed there was a hidden chamber which could contain a royal woman's remains but thought it was likely to be Tut's mother.
Nefertiti was the primary wife of the Pharaoh Akhenaten, who introduced a form of monotheism to Egypt in the 14th century BC.
Many Egyptologists believe Tutankhamun was Akhenaten's child with his own sister Kia.
Tut himself is believed to have married his own half-sister Ankhesenamun, one of the six daughters of Akhenaten and Nefertiti.
Nefertiti is believed to have survived her husband and ruled Egypt herself as pharaoh under the name Neferneferuaten.
If her tomb is found intact, it would likely contain hidden treasures and shed new light on a turbulent period rich in artistic and architectural accomplishments.
http://gulfnews.com/news/mena/egypt/egypt-s-lost-queen-nefertiti-may-lie-concealed-in-king-tut-s-tomb-1.1593635
-------
Angela Merkel Has 'Good Chance' Of Winning Nobel Peace Prize: Report
 AGENCE FRANCE PRESSE
2 October 2015
Berlin: German Chancellor Angela Merkel could win this year's Nobel Peace Prize, the influential Bild newspaper said Friday, as the leader is lauded worldwide for her courage in opening her country's doors to refugees fleeing war and persecution.
"Chancellor Angela Merkel has a good chance of winning the Nobel Peace Prize," said the newspaper.
"Reasons: her actions in the Ukraine crisis and the refugee policies," it added.
The report came a day after the director of Norway's Peace Research Institute, Kristian Berg Harpviken, a leading peace prize analyst and one of the few to publish a shortlist predicted that Merkel, 61, will be this year's laureate.
"I think the European refugee crisis, or perhaps we should say the global refugee crisis — because there is an equally dramatic refugee crisis in large parts of East Asia — is something that ought to grab the committee's attention this year," he said at a press conference in Oslo.
"Angela Merkel is the one who really took moral leadership and who turned the debate on refugee issues in a European context entirely around," he added.
Despite opposition from other EU leaders and even a rebellion among her domestic allies, "she stood her ground," said Harpviken, who however has yet to accurately predict a peace prize winner despite his expertise.
Germany is expecting to receive up to one million new arrivals this year, and despite reservations expressed by overwhelmed local authorities, Merkel has held fast to the mantra "we will manage this."
Nevertheless, her popularity at home has been hit and last week she slipped from the top spot to fourth on the most popular politician scale published by news weekly Der Spiegel.
http://www.arabnews.com/world/news/814416
-------
URL: https://www.newageislam.com/islam,-women-and-feminism/new-age-islam-news-bureau/university-niqab-ban-fuels-election-debate-in-egypt/d/104778