New Age Islam News Bureau
27 December 2020
• United Kingdom's Ikram Abdi Omar, The Hijabi Model: Hijab Represents Beauty
• The Women 'Fighting For Freedom' In Belarus
• Indian Women Achieve Many Firsts In Higher Education
• Nigerian Women Told To Be Homemakers, Not Breakers
• Danish Trine Tveen Nielsen received Malaysian Women Leaders Award 2020
• Egypt U-20 Women's Team Fall To Defeat Against Lebanon In Second Friendly
• 6 Times That 2020 Showed Us Women From Antiquity Were Totally Badass
Compiled By New Age Islam News Bureau
URL: https://www.newageislam.com/islam-women-feminism/united-kingdoms-ikram-abdi-omar/d/123892
-------
United Kingdom's Ikram Abdi Omar, The Hijabi Model: Hijab Represents Beauty
By Osob Elm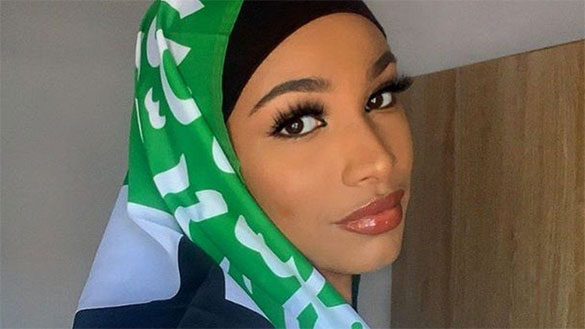 Ikram wearing the Somaliland flag to celebrate Independence Day
-----
"It's all about modesty for me. As a Muslim, being modest is a major thing and I just wanted to showcase to everyone that you can be modest and be into fashion because the hijab itself - apart from representing Islam - represents beauty."
Ikram Abdi Omar was the UK's first hijab-wearing model to feature on the cover of Vogue at the age of 21 and became the face of Burberry in 2019.
The Swedish-born Somali model, now 23 and living in Bristol, said her heritage and religious beliefs have greatly influenced her modelling career.
"I believe my role in this industry embodies women's empowerment itself, because it shows that women have the choice to dress however they like, whether that includes showing skin or not, and still feel brilliant."
"In a more spiritual sense, I feel closer to God and more connected to Islam when I wear the hijab and that in fact has intensified over the years."
Breaking the news to her relatives in 2018 that she would be quitting her biomedical science degree to pursue a modelling career prompted mixed reactions.
She said: "I feel like when grandparents hear the word modelling, they start to think of modelling that isn't modest and it worries them.
While her father, Abdi Omar, wanted her to finish the course at the University of the West of England (UWE), he has been supportive of her choice.
"When we go back to our traditional roots, the older generation do not approve of anything to do with modelling or involving women being at the forefront in the public eye, but it's important to educate them and highlight that if you have morals and values, the western society respects you."
Being one of the first ever hijab-wearing models, Ikram has paved the way for women from the Muslim community to enter the modelling industry.
She said: "It's exciting to see a new wave of young Somali models because I feel like I have more sisters that I can connect and share experiences with.
"We can all help support, learn and lean on each other because it can be very intense and draining with a schedule in this industry. We can get advice on how each of us copes with everything.
Ikram has walked for the likes of Roland Mouret, Tommy Hilfiger, Molly Goddard, Iceberg, British fashion designer Richard Quinn, Juicy Couture and more. 

In November 2019 she was featured in the Burberry festive campaign depicting motherhood.
"When we were in Sweden and she was in nursery school, her teachers asked me if she could star in a film and I didn't allow her because I didn't want her to mix in the film industry and drift away from her culture and religion."
"I felt like I was representing a bigger role than just myself, but a community that has dreams and aspirations of reaching places in different industries, regardless of how they look," she added.
Her modelling career began in the summer of 2018 when a casting director from Premier Models spotted her in Bristol's Cabot Circus shopping centre.
"Our culture has such beautiful, colourful and detailed clothing which definitely has had a massive influence on my clothing style today and my interest in fashion as a whole.
"For instance, our traditional clothing called the Dirac - which is one of my personal favourites - and the baati that we wear at home which also has such fantastic patterns and colours."
"Being a part of something so revolutionary relating to the history of a company like Nike was right up my alley, full modest wear aimed at Muslim females, as opposed to blending my modest wear in with a brand."
"Carrying the name of Islam holds a very deep meaning and although modelling is not culturally accepted in our culture, as her father I had no doubt in her, there is a fine line that cannot be crossed.
"I taught her to love herself because to love yourself means you preserve, protect and respect yourself before anyone else and this is a foundation we built from her childhood.
"You can share your lived experience and try to make your child understand the consequences and reasoning behind why you don't approve of something they may want.
https://www.bbc.com/news/uk-england-bristol-53096029
------------
The Women 'Fighting For Freedom' In Belarus
MICHELE KELEMEN
December 26, 2020
Yelena Leuchanka was lying on a cold, hard bed in a detention center in Minsk in late September when she heard other detainees singing.
"I just laid there because I was still in shock," she recalled. "And the next thing I hear are women singing Kupalinka. It's a Belarus song that women, when they go on their marches, they sing this song."
Leuchanka, a former WNBA basketball center from Belarus who played on her country's Olympics team, spoke about the 15 harrowing days she spent in a flea-ridden cell during an event held online earlier this month, hosted by the Georgetown Institute for Women, Peace and Security.
Women have been at the forefront of protests against the regime of President Alexander Lukashenko, whose claim of victory in an August election is widely disputed. Holding flowers and flags, they gather weekly, risking arrest, harassment and beating by security forces.
"The face of what is happening in Belarus is largely the face of women," says Melanne Verveer, the Georgetown institute's executive director and a former U.S. ambassador at large for women's issues. This, she says, is something "unexpected in a region largely male-dominated, certainly in politics."
The protests began after Belarus' disputed Aug. 9 reelection. Lukhashenko, who has been in power since 1994, claimed victory over Svetlana Tikhanovskaya, the wife of a jailed opposition figure. Since then, Lukashenko has led a brutal crackdown, jailing key opposition leaders or forcing them into exile. Tikhanovskaya fled to Lithuania.
After her release, Leuchanka managed to leave Belarus for Greece — but one of her cellmates was sentenced to 2 1/2 years in prison for trying to tear off a policeman's balaklava at a protest.
"It's like at that time you realize that you are there not because you did something, not because you committed a crime. You are there because you are fighting for freedom. And the spirit of people, I mean, I was so amazed," Leuchanka said.
None of the Belarusian officers accused of torturing and raping women in prison have been held to account, she said. But, she said, "Not one woman that I have been in a cell with said, 'I am regretting that I did this, I regret that I'm here.' We will continue to fight and speak and raise our voices... Do you understand the strength I am talking about?"
Deputy Secretary of State Stephen Biegun met with Tikhonovskaya in August, and Congress recently weighed in with legislation to support the protesters. But President Trump has been silent about Belarus. Verveer says Trump's effort to overturn his own election loss has tarnished America's image abroad.
"I think it does not just undermine our credibility, but our ability to promote democratic values, to promote democracy, to be what we have always claimed to be and more often than not acted on," she tells NPR.
Still, the women of Belarus are looking to the U.S. for support and have high hopes for President-elect Joe Biden.
"We definitely do think that Biden administration will be absolutely different from the Trump administration," Natalia Kaliada said at the Georgetown event. Kaliada cofounded the Belarus Free Theatre, a group that has performed in secret for more than a decade. Kaliada now lives in exile in the U.K.
Kaliada said Biden will have an early chance to offer his support: Tikhanovskaya is planning a trip to Washington, D.C., in January, around the time of Biden's inauguration.
"We can't waste time anymore," said Kaliada.
She said the people of Belarus are ready to sacrifice and are sending "a May Day message to the world now."
https://www.npr.org/2020/12/26/949977023/the-women-fighting-for-freedom-in-belarus
------------
Indian Women Achieve Many Firsts In Higher Education
byTV Mohandas Pai
Dec 27, 2020
India's focussed efforts to include women in mainstream higher education has gained significant momentum over the last decade and achieved a notable milestone last year — in 2018-19, gender parity in the overall Indian higher education system reached 1.0 for the first time.
The gross enrolment ratio of women at 26.4 exceeded that of men at 26.3. Over the last eight years since MHRD (now Ministry of Education) has been tracking annual higher education (HE) indicators in detail via the All India Survey on Higher Education (AISHE), India has witnessed a steady increase in the number of women enrolling and graduating.
https://swarajyamag.com/ideas/indian-women-achieve-many-firsts-in-higher-education
-----------
Nigerian women told to be homemakers, not breakers
DECEMBER 26, 2020
By Arogbonlo Israel
Nigerians, especially women, have been charged to wake up to their responsibility of being homemakers, in order to have a better Nigeria.
Dr. Oluwafemi Aladenusi from Federal College of Education, Technical, Akoka, Lagos, gave the charge at 2020 Women Conference organised by the New Seraph on "The Women of Valour" at the church premises in Sattelite town.
In a message at the occasion, Aladenusi, who was guest speaker, said the reason for the programme was to see women performing their responsibilities effectively in their family and in the community.
She made known the capacity of a family woman in the sense that "When you educate a woman, you educate the whole world, which is as a result of the great power God has given unto them."
Also in her message, she said a virtuous woman is one with great ideology, courageous, full of strength, and wisdom personified.
According to her, the major reason things go wrong in the family is because women fail to perform their activities well, most especially when they disrespect their husband.
She, however, enjoined women to be respectful, be homemakers and not home breakers, ensure things are done orderly, be trustworthy and helpmate to their husband, adding that the government should empower the women so that they will not be a liability to their husband.
In her remark, prophetess Aroja Funmilayo Awolabi said it is high time the women began to see themselves as nation builders, game changers and responsible human beings.
Awolabi made it known that women are helpmate to the men and to pray by reminding God His words concerning the immorality in the country.
The doctor said in the family, women should not be in competition with their husband, but rather submit to their husband in order to build a better nation.
She noted that women are the brain box of the men, urging the government to show concern to the plight of the womenfolk.
In related news, Superintendent Mother Oluwatoyin Okoo, while revealing the Founder of the programme as Dr Yomi Shokoya, said: "The annual programme was set aside to ensure that we have women of good character and value, women that can manage the affairs of their family effectively in our community."
In conclusion, they advised all family women to be helping hands to their husband, respecting their husband, and that their character should be Christ-like in nature.
They also enjoined the government to show concern to things that pertain to women in the community, and in turn, there would be women who are nation builders and home builders in the country at large.
https://www.vanguardngr.com/2020/12/nigerian-women-told-to-be-homemakers-not-breakers/
------------
Danish Trine Tveen Nielsen received Malaysian Women Leaders Award 2020
by Zazithorn Ruengchinda
December 27, 2020
Danish Trine Sofie Tveen Nielsen, Executive Director of Malaysian Danish Business Council released recently a thank you note for having received the Malaysia Women's Leader Award 2020.
Trine Sofie Tveen Nielsen was given the award based on her contribution in building a sustainable leadership pipeline, for support and encouragement to gender, diversity and inclusion at work and promoting of empowerment and social change and for her ability to influence policy and strategy and optimal utilization of opportunities and recourses.
"I honestly am not sure what makes me most proud. To be awarded and recognized as a woman leader in Malaysia, or being privileged having a job that gives me enough room to unfold my talents (and to make the mistakes I learn so much from).
Whether it is one or the other, I think in the end it is two sides of the same coin. Working in the right position and with the right people as well as working with what you are passionate about, then the framework is well set for recognition.
Therefore, I give much of the credit for this award to my employer and my team, who have made it all possible. Thank you Malaysian Danish Business Council, thank you to the board and all members of our Malaysian Danish Business Community! thankyou for your support."
https://scandasia.com/malaysian-danish-business-councils-executive-director-recieved-malaysian-women-leaders-award-2020/
------------
Egypt U-20 women's team fall to defeat against Lebanon in second friendly
by Ahmed El Ramady
December 27, 2020
Egypt are hosting Lebanon in two friendly encounters this winter in preparation for the AFCON and World Cup qualifiers.
The Pharaohs came out victorious 3-1 in the first game last Wednesday, thanks to a hat-trick from Nadia Ramadan.
However, Lebanon managed to narrowly edge Egypt in their second friendly at the Petrosport stadium on Saturday.
Despite their defeat, Nada El-Gharib and Laila Sherif scored for Egypt while last week's hat-trick hero Nadia Ramadan couldn't get on the scoresheet.
https://www.kingfut.com/2020/12/27/egypt-u-20-women-defeat-lebanon/
------------
6 times that 2020 showed us women from antiquity were totally badass
By Mindy Weisberger
Throughout history, women have been fighters, strategists and charismatic leaders, performing feats of strength, cunning and bravery. And in 2020, archaeologists uncovered intriguing evidence from the past showing that women didn't hesitate to kick butt and take names. From hoisting a spear to hurling a vengeful spell, here are six times that women from antiquity showed us that they were not to be trifled with.
Using lidar (light detection and ranging), a remote-sensing method using laser pulses to measure distances, the researchers analyzed the ancient "white road." Earlier surveys declared that the road ran in a straight line between Cobá and Yaxuná. But the new analysis revealed unexpected twists and turns in the so-called white road that likely encompassed small settlements, which the queen's forces would also have conquered on her path to victory.
Archaeologists discovered Cui Shi's tomb in 2012, and recent analysis of the donkeys' leg bones confirmed that they had a different gait than pack animals did, hinting that they were bred for quick maneuvering during high-speed polo games. Records from this period during the Tang Dynasty (A.D. 618 to 907) show that polo was popular among imperial China's upper classes, despite the game's dangers; one historic account notes that Cui Shi's husband lost an eye during a polo match.
A closeup of the papyrus showing the Egyptian jackal-headed god Anubis shooting Kephalas with an arrow. Kephalas is depicted nude with an enlarged penis and scrotum. The arrow Anubis shoots is supposed to make Kephalas lustful for a woman named Taromeway.
A closeup of the papyrus showing the Egyptian jackal-headed god Anubis shooting Kephalas with an arrow. Kephalas is depicted nude with an enlarged penis and scrotum. The arrow Anubis shoots is supposed to make Kephalas lustful for a woman named Taromeway. (Image credit: Photo courtesy University of Michigan)
About 1,800 years ago in ancient Egypt, a lovestruck woman named Taromeway commissioned an "erotic binding spell" to drive a man named Kephalas mad with lust — the spell was documented in a papyrus scroll, which researchers recently translated. It called upon a ghost to hound Kephalas until he gave in to Taromeway, with "his male organs pursuing her female organs," according to the spell. The scroll also contained a drawing of Kephalas in the nude, with the Egyptian jackal-headed god Anubis firing an arrow at the naked man (presumably to inflame Kephalas' desire for Taromeway). Scholars have translated binding spells like this one before, but such spells are typically used by men to attract women, the scientists reported.
A 2,500-year-old burial in Siberia holds a woman warrior and her weapons stash, including an axe, knives and bronze daggers. There are four bodies in total in the grave — the woman, a man, an older woman and an infant — and they belonged to the ancient Tagar culture, a subset of southern Siberia's nomadic Scythian civilization. The woman was likely in her 30s or 40s when she died, and she was arranged on her back with her set of weapons positioned close by. Tagarian women were often buried with long-range weapons, so the presence of a melee-style long-handled battle axe is very unusual, one of the archaeologists said.
https://www.livescience.com/women-antiquity-badass-2020.html
----------
URL: https://www.newageislam.com/islam-women-feminism/united-kingdoms-ikram-abdi-omar/d/123892
New Age Islam, Islam Online, Islamic Website, African Muslim News, Arab World News, South Asia News, Indian Muslim News, World Muslim News, Women in Islam, Islamic Feminism, Arab Women, Women In Arab, Islamophobia in America, Muslim Women in West, Islam Women and Feminism