New Age Islam News Bureau
27 May 2020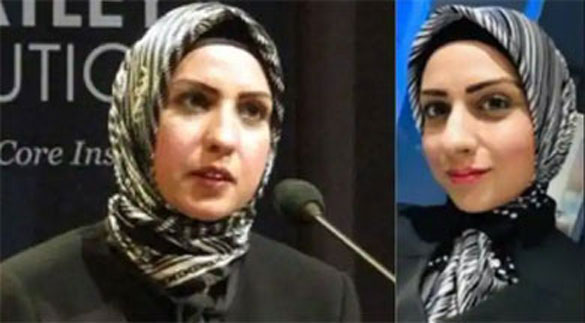 Raffia Arshad becomes the first hijab-wearing judge in the UK (Photo Courtesy: Twitter)
-----
• Iranian Girl, 13, Beheaded by Father in Reported Honour Killing
• Zara Abid: Model Presumed Dead in Pakistan Plane Crash Abused Online
• Time for Gulf's Women Entrepreneurs to Make True Gains
• Yemeni-Emirati Singer BalqeesFathi Stars in Luxurious International Campaign
• UNDP Supports Empowerment of Iranian Women-Headed Households Amid COVID-19
• Among WEF's Class Of 2020 Young Scientists, 2 Women Are Making Turkey Proud
• Turkey Cracks Down On Kurdish Women's Rights Activists Despite COVID-19
• Malaysian Mission In Singapore Ready To Assist Woman Bus Driver Return Home
Compiled by New Age Islam News Bureau
URL: https://www.newageislam.com/islam-women-feminism/united-kingdom-raffia-arshad-creates/d/121962
--------
United Kingdom's Raffia Arshad Creates History by Becoming the First Hijab-Wearing Judge Even When There Is Still A 'Prejudicial View'
By India.com Viral News Desk
Edited by Zarafshan Shiraz
26 May 2020
At a time when covering the head as a choice of practicing their religion by Muslim women is looked down upon as signs of oppression and pitied or caution, 40-year-old Raffia Arshad dented the image of Islamophobia by becoming United Kingdom's first hijab-wearing judge. After a 17-year career in law last week, the mother of three was appointed a deputy district judge on the Midlands circuit. Also Read - 3 Brothers Let Black Widow Spider Sting Them Hoping They Would Turn into Spider-Man, Hospitalised
Fearing that her ethnic minority background would be a major hindrance in the profession she had been dreaming of since she was 11, Arshad recalled how in 2001 her family dissuaded her from wearing her hijab to an interview for a scholarship at the Inns of Court School of Law. Speaking to news agency Metro, she shared, "I decided that I was going to wear my headscarf because for me it's so important to accept the person for who they are and if I had to become a different person to pursue my profession, it's not something I wanted. So I did, and I succeeded in the interview. I was given a considerable scholarship. I think that was probably one of the most profound first steps in my career. It was a solid "yes, you can do this"." Also Read - Doctors Request UK to Cut Down on Meat Intake to Avoid Pandemic Like COVID-19 in Future
Arshad rose to have a successful career as a barrister and practiced in private law children, forced marriage, female genital mutilation and any cases with Islamic law issues while also becoming the author of a leading text in Islamic Family Law. She told the daily, "It's definitely bigger than me, I know this is not about me. It's important for all women, not just Muslim women, but it is particularly important for Muslim women. I've had so many emails from people, men and women. It's the ones from women that stand out, saying that they wear a hijab and they thought they wouldn't even be able to become a barrister, let alone a judge." Also Read - Coronavirus: UK Ready to Move to 'Level Three' of Lockdown
Narrating the incident where she was mistaken for a client or interpreter by an usher while in the courtroom, Arshad highlighted the prejudice and discrimination faced often, saying, "I have nothing against the usher who said that, but it reflects that as a society, even for somebody who works in the courts, there is still this prejudicial view that professionals at the top end don't look like me."
Adding another feather to her cap of success by creating history on becoming UK's first hijab-wearing judge, Arshad revealed that she wishes to use her platform "to make sure the sound of diversity is heard loud and clear". While her wealth of experience came to little help in battling ethnic discrimination, Arshad also feels that there is a lack of confidence hindering women's growth. She opined, "I think one of the things that holds women back is Imposter Syndrome. There are many times I've been in a courtroom and I suddenly think: 'Am I good enough?'"
However, claiming her own sense of responsibility to champion diversity while the judicial office is doing its utmost to promote inclusion, Arshad said, "'Now it's up to me to be that voice for them, to make sure the sound of diversity is heard loud and clear and that it gets to the appropriate places."
Gushing over the newly appointed judge, the Joint Heads of St Mary's Family Law Chambers, Vickie Hodges and Judy Claxton told the news agency, "Raffia has led the way for Muslim women to succeed in the law and at the Bar and has worked tirelessly to promote equality and diversity in the profession."
https://www.india.com/viral/muslim-woman-on-becoming-first-hijab-wearing-judge-in-uk-make-sure-the-sound-of-diversity-is-heard-loud-and-clear-4041150/
--------
Iranian Girl, 13, Beheaded by Father in Reported Honour Killing
26 May 2020
A 13-year-old Iranian girl was beheaded in her sleep by her father on Thursday in a so-called "honor killing," local media reported.
The incident occurred in the city of Talesh in the northern province of Gilan.
The father has been arrested, the governor of Talesh told the official IRNA news agency on Tuesday, adding that "the details of this case will be made public after the legal process."
The victim, RominaAshrafi, had run away from home following her father's opposition to her marrying a man she had "fallen in love with," according to local media. The man Ashrafi wanted to be with is reportedly 35 years old, according to local Iranian media outlets.
After being found and returned home by the police, Ashrafi's father killed her in her sleep using a sickle.
Ashrafi was handed over to her father despite her "repeated warnings" that she would be in danger at home, according to reports.
After killing his daughter, the father went to the police station with the murder weapon in his hand and confessed to what he had done, according to reports.
The murder has been widely condemned by Iranians on social media.
SarbasNazari
@Sarbas1982
#Iran #honorkilling Teenage #girl elopes with lover, is caught by police & forced back home, where father stabs her to #death. Father won't be charged with premeditated #manslaughter under law.
Shocking!#Women#human_rights#honor_killing#Romina#قتل_ناموسی#زنان#رومینا_اشرفی
View image on Twitter
18
4:23 PM - May 26, 2020
Twitter Ads info and privacy
See SarbasNazari's other Tweets
Since he is the "guardian" of the victim, based on Iran's Islamic penal code, the father will be exempt from "qisas," an Islamic term meaning "retaliation in kind," or retributive justice.
MasihAlinejad🏳️
✔
@AlinejadMasih
This 13-year old Iranian girl, Rumina, is a victim of anti-women laws in Iran.
A 35-year old man tricked her into eloping with him.
Then, she was arrested. The judge decided to hand her over to her dad.
Her dad cut her head off in her sleep.
There was no-one to save her
View image on Twitter
2,634
7:34 PM - May 26, 2020
Twitter Ads info and privacy
1,304 people are talking about this
The exact figures for honor killings in Iran are unknown. In 2014, HadiMostafaei, a senior police official at the time, said that honor killings made up 20 percent of the murder cases in the country.
https://english.alarabiya.net/en/News/middle-east/2020/05/26/Iranian-girl-13-beheaded-by-father-in-reported-honor-killing.html
--------
Zara Abid: Model Presumed Dead in Pakistan Plane Crash Abused Online
By Saira Asher
26 May 2020
A top model, presumed dead in a plane crash in Pakistan last week, has been attacked by online trolls, accusing her of having led an immoral life.
Zara Abid's social media accounts were deactivated after comments poured in criticising her clothes and lifestyle.
The 28-year-old was on board a PIA flight when it crashed in a residential part of Karachi on Friday, according to the manifest and her friends.
Victims have not been named but authorities said only two men survived.
Initial reports she had survived led her brother to issue a plea to people to stop spreading fake news, media reports said.
Her Instagram, Twitter and Facebook accounts are no longer visible, though it is unclear if they were taken down by the social media sites or her family and friends.
In conservative Pakistani society, women are expected to be modest and many of those in the public eye are subjected to moral policing on social media.
Zara Abid worked with some of the biggest brands in Pakistani fashion and in January this year won "Best Female Model" at the Hum Style Awards.
Leading designers paid tribute to her professionalism and style. She was set to make her debut as an actress later this year.
As news spread that she was thought to have been on the ill-fated flight on Friday, hundreds of comments were posted on her social media accounts by religious radicals questioning her faith and adherence to Islamic practises.
Many of the comments suggested that she would be punished in the afterlife for her choices.
Pictures of her wearing clothes that would be considered revealing in Pakistan were being posted online as examples of her "sinful" behaviour.
One Twitter user said, "Allah Pak doesn't like those women who are showing their body parts to everyone and jannat [heaven] is only for pure men and pure women".
Skip Twitter post by @sethimirajee
Mira Sethi
@sethimirajee
you on the other hand have done an excellent job of showing your brain part to all of us https://twitter.com/irfan12165162/status/1263921836653510657 …
Irfan
@Irfan12165162
Those people who are saying that she will be in paradise after #planecrash accident then being Muslim I would tell them ALLAH Pak doesn't like those women who are showing their body parts to everyone and jannat is only for pure men and pure women #karachiPlaneCrash #ZaraAbid
View image on TwitterView image on TwitterView image on TwitterView image on Twitter
782
8:14 PM - May 23, 2020
Twitter Ads info and privacy
136 people are talking about this
Report
End of Twitter post by @sethimirajee
Prominent women can face abuse and even rape or death threats online in Pakistan in the name of morality or religious piety.
There were of course also many tributes to her from fellow models, designers and actors who called it a "tragedy for the fashion industry".
Some said she had redefined conventional beauty standards with her tanned complexion. In Pakistan, like in much of South Asia, fair skin is considered beautiful and idolised.
https://www.bbc.com/news/world-asia-52794940
--------
Time for Gulf's Women Entrepreneurs to Make True Gains
May 26, 2020
The professional playing field may not be level for women just yet... but it's getting there. This past decade we have been witnessing something of a golden age for female entrepreneurship. Indeed, it has never been easier before for women to start and run businesses.
On the global stage, the number of women-owned firms in the US increased by 114 per cent in the last 20 years, according to a 2017 report by National Women's Business Council. A 2018 American Express study further found that women make up more than 40 per cent of new entrepreneurs in the US, while the number of women-owned businesses in the country multiplying 31 times since 1972.
This new climate of female professional empowerment is also sweeping across the Middle East.
A burst of regional transformation
Today, one in three start-ups in the Middle East is founded or led by a woman – a higher percentage than in Silicon Valley. This number is expected to continue growing as women entrepreneurs leverage the internet and digital channels to enter the workforce and start their own businesses. Given that women's increasing participation in the workforce could add an estimated $2.7 trillion to the region's economy by 2025, female-led companies could be transformative for the Middle East.
Recognizing the importance of supporting women entrepreneurs in any economy, the UAE offers a number of platforms for them to develop their business. Some of them, through local partnerships such as the International Trade Centre's (ITC) SheTrades initiative, provide a unique network and platform to connect local women entrepreneurs to global markets, address trade barriers, and create greater opportunities.
Through an interconnected ecosystem of tailored business solutions and knowledge-sharing, SheTrades supports and empowers female entrepreneurs to realize their fullest potential by connecting women buyers and suppliers across regions and offering training workshops on logistics concepts and best practices for global trade.
A vital need
The development of women entrepreneurship is a priority for the MENA region, especially as a driver for economic growth, diversification and development. Female labor force participation rates in the MENA region are among the lowest in the world. Therein lies the opportunity for entrepreneurship to help women generate their own income, which corresponds to higher spending on family welfare, which could range from improving nutrition to boosting girls' literacy rates and access to education.
A 2018 Mastercard report revealed a lack of female business owners in the region: in the UAE, only 2.8 per cent of all business owners are women. In Saudi Arabia, this number is 1.4 per cent, while Egypt takes the lead for women-owned business representation at 3.3 per cent.
Much needs doing
But women-owned businesses in the MENA region represent a wealth of untapped potential – in 2017 alone, 33 per cent of women-run enterprises in the UAE generated revenue in excess of $100,000, compared to 13 per cent in US, based on a Payfort report. This highlights the growing potential of women-owned businesses, but more support is required from both the private and public sector to encourage women to take the entrepreneurial route.
While the proportion of established businesses owned by women in the UAE, Saudi Arabia and Egypt are among the lowest in the world, those that became successful and growth-focused were among the most innovative and internationally driven.
New ways
Thankfully, the tide is changing. Today, more venture capitalists who are women are looking to invest in other women-owned businesses. The public and private sectors are also furthering their efforts to provide equal opportunities, encouraging SME development and championing women-owned businesses.
The gender gap is slowly and steadily closing as we acknowledge the female potential. Dismantling discriminatory barriers to trade will help women entrepreneurs start their businesses, join the workforce and connect to global value chains, in turn, bolstering economic growth and stimulating long-term benefits for the region.
As the world begins to recover from the pandemic, let us continue to work to a future where men and women can participate equally in the global economy.
- Jean-Francois Condamine is UPS President for growth and emerging markets.
These were the details of the news Time for Gulf's women entrepreneurs to make true gains for this day. We hope that we have succeeded by giving you the full details and information. To follow all our news, you can subscribe to the alerts system or to one of our different systems to provide you with all that is new.
It is also worth noting that the original news has been published and is available at Gulf News and the editorial team at AlKhaleej Today has confirmed it and it has been modified, and it may have been completely transferred or quoted from it and you can read and follow this news from its main source.
https://alkhaleejtoday.co/business/103056/Time-for-Gulfs-women-entrepreneurs-to-make-true-gains.html
--------
Yemeni-Emirati singer BalqeesFathi stars in luxurious international campaign
May 27, 2020
DUBAI: Luxury watchmaker and jeweler Piaget revealed its new campaign this week, starring ten exceptional women pioneers in varying fields, ranging from cinema and art to music and design. Among the women chosen to star in the campaign is Yemeni-Emirati singer BalqeesFathi.
Fathi features in the Extraordinary Women campaign – which was shot in Los Angeles – alongside award-winning actresses Jessica Chastain and Cynthia Erivo, South Korean star Kong Hyo-Jin, US entrepreneurs Shiva Safai and Olivia Palermo, American actress Constance Wu, Chinese artist Chen Man and founders of Red Carpet Advocacy Arianne Phillips and Carineh Martin.
"No stranger to the limelight meet shining star of the stage @balqeesfathi. A ground-breaking singer who uses her platform to raise women up, sharing her extraordinary with people around the world," wrote Piaget on its official Instagram page alongside a clip of the singer.
A UN Champion for Women's Rights in the Middle East, Fathi continuously uses her platform to shed light on important humanitarian causes. As part of her philanthropic work, the x-year-old visited Yemeni refugee camps in Djibouti and launched the #DontCoverItUp campaign, which aims to raise awareness on domestic abuse.
She is also the first Arabic singer to appear on Saudi national television, 40 years after singers Fairouz, Sabah and Umm Kulthum.
It's all these reasons and more that make her an exceptional woman and a perfect fit for Piaget's new campaign.
https://www.arabnews.com/node/1680531/lifestyle
--------
UNDP Supports Empowerment of Iranian Women-Headed Households Amid COVID-19
May 26, 2020
Iranian people are currently witnessing some of the most extraordinary times in recent history, not only due to the unilateral sanctions being imposed on the country but also because of the COVID-19 outbreak which hit home just before the Iranian New Year (Nowruz).
A time to celebrate, and generally a period of intense economic activity, has turned into a period of uncertainty and stress for many. These extraordinary times call for extraordinary measures, and apart from helping with the immediate health needs in the country, UNDP is supporting Iran to deal with the broader socio-economic and human development impact of COVID-19.
In Iran, there are 3 million Women Headed Households (WHH), out of a total of 22 million families, and most of the WHH can be found in less developed areas of the country. The labor market structure indicates that most women in Iran, especially those in rural and less developed areas, are keen to start micro, small and medium-sized enterprises (MSME). As in many other countries, WHH is most likely to re-invest their earning in the children's wellbeing. However, women face many barriers in accessing the market and developing viable MSMEs, in particular with access to finance, awareness of competitive value chains, and untapped local economic potential in their geographic area.
UNDP's aim is to support the Iranian WHH in working towards building stories of resilience, change, and achievement. This is done through a partnership with the Vice Presidency for Women and Family Affairs, Vice Presidency for Rural Development and Deprived Areas, and other UN entities in Iran including UNICEF and UNFPA, according to the UNDP.
The UN in Iran has developed a Technical Assistance Package (TAP) as a concrete response to the COVID-19 sanctions with the objectives to both protect development gains with a focus on vulnerable groups and identify innovative solutions to respond to the current context. To collectively overcome challenges faced by WHH, the mission is to support government efforts to improve the livelihood and well-being of WHH, facilitate better access to available resources, build critical awareness on the responsibilities and social status of WHH and increase women's' control over the decision-making process on all levels.
COVID-19 adds additional challenges for economically empowering WHH in Iran, meaning that innovative strategies are needed. By focusing on analysis and knowledge exchange, UNDP can support the government in the assessment of the socio-economic impact of COVID-19 and can facilitate the exchange of best practices from other countries on combatting the impact of COVID-19, with a focus on groups such as WHH. UNDP also focuses on policy, advocacy, and network development through assisting in the development of policies to address systemic issues, establishing and strengthening community-based groups, and making sure there is access to information and resources when it comes to decision-making that affects WHH. Finally, through programming UNDP can ensure the implementation of technical and management skills to enhance the economic participation of WHH in the country.
In the past couple of years, the ever-growing number of WHH in Iran has brought women and their families to the center of attention of policymakers. Investing in women's economic empowerment sets a direct path towards inclusive economic growth and achieving sustainable development. Therefore, in times of uncertainty, whether caused by sanctions or the COVID-19 pandemic, there must be a focus on WHH in Iran to ensure that no one is left behind.
https://www.tehrantimes.com/news/448222/UNDP-supports-empowerment-of-Iranian-women-headed-households
--------
Among WEF's Class Of 2020 Young Scientists, 2 Women Are Making Turkey Proud
MAY 26, 2020
The World Economic Forum announced its annual roster of the world's best and brightest young scientists in Geneva, Switzerland Tuesday, honoring 26 leading minds who are tackling the world's most pressing problems.
These exceptional researchers, all under the age of 40, have been working on issues as diverse as child psychology, biosensor technology, aerospace navigation and artificial intelligence. While eight of this year's Class of 2020 Young Scientists study in Europe, seven work in Asia, six are based in the U.S., two are in South Africa and two are in the Middle East. More than half of this year's scientists are women.
Selected according to their achievements in research, leadership potential and commitment to serving society and humanity as a whole, among this year's brilliant academics are also two familiar faces from Turkey.
The first is FatmaZeynepTemel, who is currently working at Carnegie Mellon University in the U.S. With an academic background from Istanbul Technical University (ITÜ) and Sabancı University, as well as experience from the Harvard Microrobotics Lab, Temel has been using mathematical models and physical prototypes to create small-scale novel robots and sensors that draw inspiration from organisms and biology itself. Eskişehir-born Temel says her bio-inspired designs could be used to create surgical robots, to make air quality measurements or in search-and-rescue missions as well as space exploration. Last year, she worked on an ant-sized micro-robot modeled on spring-loaded ant jaws.
The other Turkish name on the list is Mine Orlu, who is currently an associate professor at University College London. Orlu is currently designing pharmaceutical and health care technologies that are tailored to each patient and contribute to healthy aging across the life course. After finishing her bachelor's, master's and Ph.D. studies at Istanbul University, Orlu moved to London where she worked with prominent researchers on vaccine formulations and drug delivery systems with a patient-centric approach.
From addressing the current pollution crisis in the world's oceans to preventing the next viral outbreaks, here are some of the other scientists at the forefront of key scientific discoveries and technologies.
Joe Grove from the Imperial College London is working on a very hot topic, considering the current situation with the novel coronavirus. His research is investigating how viruses enter human cells and evade the immune system to help in developing future vaccines and better understand the biology of these viruses. Meanwhile, Andy Tay is developing new technology and materials to engineer immune cells, tissues and systems but with applications for the treatment and prevention of cancer.
To continue with biology and medicine, Stefanie Sydlik, a research fellow at Carnegie Mellon University, where Temel also works, is working on making metal implants a thing of the past by designing new materials that could stimulate the body to regenerate its own bones.
Lee Sue-Hyun from the Korea Advanced Institute of Science and Technology is diving into the realm of memories and the brain, researching how memories are recalled and updated and how our emotions affect such processes. He strives to make his findings useful in therapeutic interventions for mental disorders.
Sho Tsuji at the University of Tokyo in Japan is working on how infants' social environment affects their language acquisition, to be used for culturally sensitive, science-based societal interventions.
Meanwhile, Jan Dirk Wegner from ETH Zurich in Switzerland has an ecological focus in his studies, working on developing artificial intelligence (AI) methods to analyze environmental data and accelerate our response and solutions.
https://www.dailysabah.com/life/science/among-wefs-class-of-2020-young-scientists-2-women-are-making-turkey-proud
--------
Turkey Cracks Down On Kurdish Women's Rights Activists Despite COVID-19
RukenIsik
May 27 2020
The crackdown against Kurdish organisations, activists, and municipalities continues in Turkey, despite the COVID-19 coronavirus pandemic. Kurdish women have become the latest target.
On the eve of Eid al-Fitr, the holiday marking the end of the holy month of Ramadan, 18 prominent Kurdish women's rights activists were arrested and detained after their offices and homes were raided on May 22.
Co-chair of the pro-Kurdish Democratic Regions Party (DBP) SalihaAydeniz in an interview with VOA-Kurdish said that 12 of the women were members of the Rosa Women's Association in the southeastern city of Diyarbakır.
This included Rosa Women's Association President Adalet Kaya and founding member NarinGezgör.
Other arrested activists included those from the Kurdish women's umbrella organisation Free Women's Movement (TJA), as well as from other institutions.
It was not clear what the women had been arrested for. However, lawyers representing the activists stated that prosecutors had interrogated their clients by asking questions about their peaceful activism.
This included questions about activities around International Women's Day on March 8, statements to the press over the replacement of pro-Kurdish mayors by government-appointed trustees, and support for the Peace Mothers – a non-violent women's civil rights movement – in their efforts to lobby the state into accepting demands of prisoners on hunger strike.
The women were also asked questions in regards to campaigning for a missing university student GülistanDoku. Doku's family and friends has been searching for her for more than 100 days since she went missing in the city of Dersim (Tunceli in Turkish).
The TJA in a statement said the arrested activists were being criminalised for women's rights activism.
"Women's right and freedom to independent organisation is being taken up as an incriminating matter. All uses of the right to freedom of expression in favour of women's freedom are being treated as incriminating evidence," the TJA said.
"Using the rights to freedom of organisation and expression which are under the guarantee of international law and states has now become a crime leading to the arrest of women."
In a recent interview with Ahval, TJA spokeswoman Ayşe Gökkan said the Rosa Women's Association has been active during the coronavirus pandemic and reached out to women facing violence at homes during the lockdown. Since the start of the pandemic there has been a surge of violence against women worldwide and in Turkey.
HDP parliamentarian MeralDanışBeştaş wrote on Twitter that the three-year-old son of GönülAslan, a member of Bağlar Municipality in Diyarbakır, had also been taken to prison with his mother when she was arrested.
Aslan's son Dilgeş has kidney disease that requires close monitoring and her husband had to leave Turkey for political reasons. A social media campaign is calling for Dilgeş and all women activists to be released immediately.
The arrests are part of a wider crackdown on pro-Kurdish activism, which has continued despite the COVID-19 outbreak.
"We are fighting against two viruses simultaneously – COVID 19 and racist authoritarianism against the Kurds and their democratic will – both being severe public health issues," pro-Kurdish Peoples' Democratic Party (HDP parliamentarians HişyarÖzsoy and FeleknasUca said in a recent statement on Kurdish municipalities seized by the Turkish state since the local elections of March 31, 2019.
Since March 2019, 22 Kurdish co-mayors have been arrested and 45 HDP municipalities out of 65 have been seized by the Turkish government.
According to Amnesty International, nearly 400 NGOs have been shut down since the state of emergency decree was announced 2016 following the failed coup attempt, including women's rights organisations providing shelter for victims of domestic violence.
The Rosa Women's Association was established after Kurdish women's organisations and municipality centres were shut down in Diyarbakır.
Action against Kurdish rights organisations and to remove elected pro-Kurdish mayors is often taken under spurious terrorism allegations. In a statement, the TJA rejected any accusations and charges on terrorism.
"We are organising the March 8 [protest] against femicide, rape and sexual abuse, gender inequality, child marriage, child abuse, discrimination on the basis of religion, racism, sexism, against state appointed trustees which violate women's right to elect and be elected, against isolation, war, exploitation of labour and patriarchy," the statement said.
"If this is a crime, then we are all committing this crime. We hereby invite all to stand up for the TJA."
https://ahvalnews.com/gender-equality/turkey-cracks-down-kurdish-womens-rights-activists-despite-covid-19
--------
Malaysian Mission In Singapore Ready To Assist Woman Bus Driver Return Home
May 25, 2020
SINGAPORE: The Malaysian High Commission here is ready to assist the Malaysian woman bus captain seen in a heart wrenching viral video clip to return home for her husband's funeral.
The Malaysian mission is aware of the plight of the woman, who became inconsolable after receiving news of her husband's demise but no one is sure if she has made it back home.
Deputy High Commissioner Muhammad RadziJamaluddin said the Malaysian mission is ever ready to assist Malaysians who have to return home due to emergencies though strict travel restrictions apply at both sides of the Causeway because of the Covid-19 pandemic.
Since April 27, Malaysians who wish to return home from Singapore by land are required to obtain an entry permit from the High Commission of Malaysia at least two days before their departure date.
"If the case is an emergency, we will do our best to give the next available date to the applicant," said Muhammad Radzi.
A video circulated on social media on Saturday night showed the Malaysian woman, who was at the wheel of a stationary bus No 189, being inconsolable and could not continue driving after receiving the news through her handphone.
She had stopped the bus at a Clementi bus stop and cried uncontrollably before passers-by rendered assistance and communicated with the bus control centre.
Tower Transit, the bus operator, has pledged to give her its full support as well.
"It is a deeply painful time for her and we're going to give her our full support as well and the space she needs to grieve privately," said Tower Transit's spokesperson to Bernama in an email reply.
During the incident, the spokesperson said, the company sent one of its officers to assist her once it found out about her situation through passers-by who called in to help her.
"Our officer arrived shortly after to assist her, while another one of our Bus Captains drove the bus back," said the spokesperson, while thanking the people who had stopped to help her.
Meanwhile, Johor Health and Environment Committee chairman R. Vidyananthan, when contacted, said: "She may return. Why not?
"Just that after the funeral she needs to go into quarantine. Every day, we are assisting Malaysians to return to their hometowns due to death in their family," said Vidyananthan.
He said she needs to be registered in the Johor Baru quarantine centre first as she will be assessed by health personnel and will have to take a swab test.
"An application will be made to the National Disaster Management Agency (NADMA). Once approved, the Civil Defence Force (APM) will take her to attend the funeral.
"Once rites are done, they will send her to the nearest quarantine centre," he said.
For example, if the funeral is in Selangor, she would be taken by Johor APM to attend the funeral and later sent to a quarantine centre in Selangor, he said.
Bernama is still trying to identify the driver and her place of origin in Malaysia. - Bernama
https://www.nst.com.my/news/nation/2020/05/595266/malaysian-mission-singapore-ready-assist-woman-bus-driver-return-home
--------
URL: https://www.newageislam.com/islam-women-feminism/united-kingdom-raffia-arshad-creates/d/121962
New Age Islam, Islam Online, Islamic Website, African Muslim News, Arab World News, South Asia News, Indian Muslim News, World Muslim News, Women in Islam, Islamic Feminism, Arab Women, Women In Arab, Islamophobia in America, Muslim Women in West, Islam Women and Feminism