New Age Islam News Bureau
27 March 2017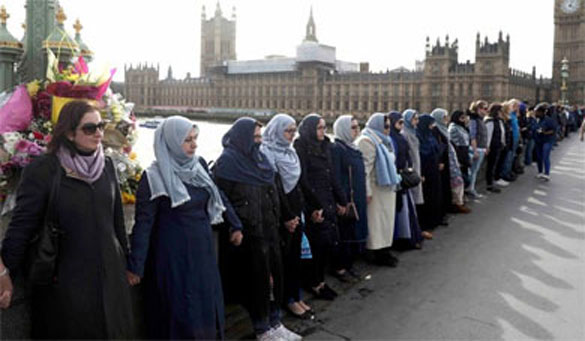 The women formed a human chain as they stood in solidarity with victims of the attack (Photo: REUTERS)
------
• United Airlines Bars Teenage Girls in Leggings from Flight
• Indonesian Girl Howls through Circumcision As Debate Heats Up
• Muslim Women Form Human Chain On Westminster Bridge, Condemning Terrorism
• Will NYC Invite The 'Fearless Girl' To Stay On Wall Street?
• Muslim Women Shrug Off Stereotypes about Oppression at Adelaide Forum Passion Cafe
• Ivanka Trump to Attend Women's Economic Summit in Berlin
• 'No Permission Needed'—Muslim Women Blast Donald Trump in the Bronx
Compiled by New Age Islam News Bureau
URL: https://www.newageislam.com/islam-women-feminism/united-airlines-bars-teenage-girls/d/110550
-----
United Airlines Bars Teenage Girls in Leggings from Flight
Two teenage girls wearing leggings were barred from boarding a United Airlines flight on Sunday because they did not meet a dress code for special pass travellers, a company spokesman said amid a furore on social media.
The two girls, who were travelling with a companion, would not have been turned away for wearing leggings had they been paying customers, United spokesman Jonathan Guerin said as the airline responded to the backlash.
"(The two girls) were instructed that they couldn't board until they corrected their outfit. They were fine with it and completely understood," Guerin said, adding that all three passengers missed the flight. He did not know if they had boarded later plane or made alternate travel arrangements.
Though the three passengers did not complain about their treatment, another traveller, Shannon Watts, who overheard the discussion touched off a firestorm on social media with a series of tweets describing a policy she suggested was unfairly targeting women and girls.
"This behaviour is sexist and sexualises young girls," Watts said on Twitter. "Not to mention that the families were mortified and inconvenienced."
United pass travellers are typically company employees or their friends or family members.
Watts' tweets and United's defence of it touched a raw nerve for many women and girls who have made leggings a staple in their wardrobes.
The popularity of leggings has sparked criticism that they are inappropriate attire under certain circumstances. Some schools have barred girls from wearing them to class.
Social media lit up with outrage against the policy and the airline for its response to the initial outcry. Celebrities chimed in with humorous protests.
"I have flown united before with literally no pants on. Just a top as a dress. Next time I will wear only jeans and a top," model Chrissy Teigen tweeted.
United later put out a statement titled: "To our customers... Your leggings are welcome!" that explained the policy for passholders in greater detail.
That policy also bars midriff-baring tops, attire that reveals undergarments or is designated as sleepwear or swimwear, mini-skirts, shorts that fall less than 3 inches above the knee or dirty or torn clothing.
Guerin conceded that the airline, in its initial response to the flap, could have done a better job of explaining the situation and countering apparently inaccurate information about the incident that appeared on Twitter.
"We'll definitely take something away from today, but we'll continue to engage with our customers (on social media)," he said.
https://www.dawn.com/news/1323130/united-airlines-bars-teenage-girls-in-leggings-from-flight
------
Indonesian Girl Howls through Circumcision As Debate Heats Up
Olivia Rondonuwu
March 27, 2017
Indonesian toddler Salsa Djafar was wearing a glittering golden crown decorated with ribbons and a shiny purple dress to mark a special occasion -- her circumcision day.
At the celebrations attended by relatives, shrieks filled the modest, yellow-walled house in remote Gorontalo province as a traditional healer covered the 18-month-old girl with a white sheet and sliced skin off her genitals.
The healer used a knife to remove a tiny piece of skin from the hood that covers the clitoris -- which she said looked like a "garlic skin" -- then stuck the knife into a lemon.
It marked the end of a procedure supposed to rid the child of sin and signal she was now officially a Muslim.
"It's hard to see her crying like this, but it is tradition," her father Arjun Djafar, a 23-year-old labourer, told AFP at last month's ceremony.
Female circumcision -- also known as female genital mutilation or FGM -- has been practised for generations across Indonesia, which is the world's biggest Muslim-majority country, and is considered a rite of passage by many.
The United Nations condemns the practice and the government once sought to ban it, but opposition from religious authorities and its widespread acceptance mean FGM has been impossible to stamp out.
Nowhere is it more common than Gorontalo, a deeply conservative area on the central island of Sulawesi, where the procedure is typically accompanied by elaborate rituals and celebrations.
A government survey estimated over 80 percent of girls aged 11 and under in Gorontalo had been circumcised, compared to about 50 percent of girls in the same category nationwide.
- An obligation -
Despite the pain it causes and growing opposition inside and outside Indonesia, residents of Gorontalo, mostly poor rice farmers, consider female circumcision an obligation.
The healer, Khadijah Ibrahim, who inherited her job from her mother when she passed away several years ago, said that girls who were left uncut risked developing "mental problems and disabilities".
Local healers say the practice prevents girls from becoming promiscuous in later life, while there is also a widespread belief that uncircumcised Muslim women's prayers will not be accepted by God.
But the practice is not limited to far-flung parts of the archipelago. It remains common among Muslim families even in Jakarta, although doctors there typically carry out a less extreme form of the procedure that involves pricking the clitoral hood with a needle.
In an effort to accommodate cultural and religious considerations, the government has moved away from previous attempts to ban the practice entirely and has instead sought to stamp out the more harmful methods and ensure safety.
Authorities insist the methods most commonly used in Indonesia -- usually involving a pin prick -- do not amount to female genital mutilation.
The methods used in Indonesia are generally less harsh than the most brutal forms of FGM found mainly in African and Middle Eastern countries, that can go as far as total removal of the clitoris.
The UN however disagrees with the Indonesian government's stance, classifying FGM among "harmful procedures to the female genitalia for non-medical purposes" and has passed two resolutions aimed at stopping it worldwide in recent years.
The global body says FGM has no health benefits and can cause many problems, such as infertility and an increased risk of childbirth complications.
- 'Not in Koran' -
Debate within Indonesia has been heating up in recent times, with activists and even a major Muslim organisation arguing against female circumcision, saying it violates a woman's right to do as she wishes with her body.
"I believe there are no verses in my religion that allow female circumcision -- it is not in the Koran," Khorirah Ali, a member of the government-backed national commission on violence against women, told AFP.
The country's second-biggest Muslim organisation, Muhammadiyah, discourages its followers from partaking in circumcision but the largest, Nahdlatul Ulama, and the country's top Islamic authority the Indonesian Ulema Council (MUI) are still in favour.
The issue is a hot potato and the government has flip-flopped in recent years.
In 2006, the health ministry banned doctors from carrying out female circumcision, saying there was no medical benefit -- but the MUI hit back with a fatwa saying that women who undergo the procedure would be considered noble.
https://sg.news.yahoo.com/indonesian-girl-howls-circumcision-debate-heats-033425774.html
------
Muslim Women Form Human Chain On Westminster Bridge, Condemning Terrorism
27 March 2017
The women, from various backgrounds and dressed in blue to symbolise hope, stood in silence for five minutes as the Big Ben chimed 4pm Sunday.
According to reports the event was organised by Women's March On London.
A number of women in attendance told local media they felt an "overwhelming" sense of emotion as they stood in eerie silence at the same spot innocent civilians were mowed down, and blood was shed, just a few days earlier.
"The feeling of what happened here on Wednesday was really strong," Fariha Khan, 40, told the Telegraph UK.
"We thought of the ordinary people who were here and were mown down, standing here like this, it was very overwhelming."
Another woman, Sarah Waseem, told the publication that when an attack happens in London, "it is an attack on me".
"It is an attack on all of us. Islam totally condemns violence of any sort. This is abhorrent to us," she explained.
Four innocent lives were lost when British-born Khalid Masood drove a car across Westminster Bridge, hitting anyone in sight, before stabbing a police officer to death near Parliament.
https://tenplay.com.au/news/national/march-2017/muslim-women-form-human-chain-on-westminster-bridge-condemning-terrorism
------
Will NYC Invite The 'Fearless Girl' To Stay On Wall Street?
March 26, 2017
Should the "Fearless Girl" stand up to Wall Street's charging bull forever?
That's the question New York City officials are facing after a statue of a ponytailed girl in a windblown dress went up in front of the bronze bull early this month and immediately became a tourist draw and internet sensation.
What was intended as a temporary display to encourage corporations to put more women on their boards is now getting a second look in light of its popularity, which has spawned an online petition seeking to keep it.
But does keeping the girl past her scheduled April 2 deadline forever alter the meaning of the bull? After all, the 11-foot-tall, 7,100-pound bull has been hugely popular in its own right; it was placed in a lower Manhattan traffic median in the wake of the 1987 stock market crash as a symbol of Americans' financial resilience and can-do spirit.
Some fans of the bronze girl already see the bull much differently.
"The bull represents men and power," says Cristina Pogorevici, 18, a student from Bucharest, Romania, who visited the statues this past week. "So she is a message of women's power and things that are changing in the world right now."
Holli Sargeant, 20, a visitor from Queensland, Australia, says the 4-foot-tall, 250-pound bronze girl "is standing up against something and we see her as powerful image. She represents all the young women in the world that want to make a difference."
Such shifting perceptions of the bull — from American hero to villain of sorts — outrage bull sculptor Arturo De Modica, who wants the girl gone.
He dismissed Kristen Visbal's statue as nothing more than an "an advertising trick," noting the bronze was a marketing effort on the eve of the March 8 International Women's Day by Boston-based State Street Global Advisors and its New York advertising firm, McCann.
As for his bull, "I put it there for art," the Italian-born sculptor told MarketWatch, which first reported his anger. "My bull is a symbol for America. My bull is a symbol of prosperity and for strength."
Visbal, the artist behind the girl statue, said she could not comment without the permission of State Street Global Advisors, whose spokesman did not return phone calls.
A spokesman for New York City, which controls public art in the area, did not say when a decision would be made. Mayor Bill de Blasio has said only that he would try to prolong the girl's presence, but has not yet said whether she could stay permanently.
David Levi Strauss of Manhattan's School of Visual Arts, known for his writings about the impact of art on society and politics, says he is excited by the dynamics the girl statue has brought to the space and agrees the overall meaning has shifted.
"The girl has changed the meaning of the bull forever," he says. "With public art like this, you never know what's going to happen; it's a Rorschach test onto which people are projecting their own opinions and feelings."
A similar point-counterpoint was played out at the Vietnam Veterans Memorial, erected in 1982 in Washington, with three soldiers in bronze added two years later, seemingly interacting with the stark marble wall bearing the names of the dead. The result prompted debate; some said the soldiers infused life onto the wall, while protesters blasted the statue as a tasteless intrusion.
When it comes to the girl facing the bull, Strauss said, "the bull's stature diminishes. She's the individual standing up to the beast of power. … She's frozen in a sort of dream of winning, and that's what appeals to people. She's irresistible."
http://indianexpress.com/article/world/will-nyc-invite-the-fearless-girl-to-stay-on-wall-street-4586761/
------
Muslim Women Shrug Off Stereotypes about Oppression at Adelaide Forum Passion Cafe
By Sowaibah Hanifie
"Do I look oppressed and voiceless to you?" This was the question asked by Muslim mother of two Suraya Sara at a forum in Adelaide as she recounted her experiences living in Australia.
She was one of several participants in the Passion Cafe on Saturday, a forum that asks women to give short and engaging seven-minute speeches about issues close to their heart.
Based on a similar conference held in Melbourne a few years ago by the Islamic Council of Victoria, its organisers, the Islamic Council of SA, plan to hold it every three months in Adelaide with an open invitation to all women.
Suraya Sara
Mrs Sara said she was proud of being loud, opinionated and strong but people were often puzzled by her personality, which they told her did not fit the "typical Muslim woman".
"Who says?
"Do I look oppressed and voiceless to you?"
She spoke about her abuse as a child, which she said affected one in five people, many of whom did not have the courage to speak out.
Mrs Sara said voicelessness and repression were challenges women across all societies faced, and the opinions of Muslim women were often "dumbed down".
"Some women choose not to express their voices because society tells them they're not worth airtime," she said.
Using the example of the young Pakistani activist Malala Yousefzai, who was shot while advocating for womens' right to education, Mrs Sara said women were breaking free from social expectations and making waves.
"There is now an uprising of Muslim women who have a strong voice and who want to break from the norm," she said.
Sarah Idris
For Sarah Idris, a radiographer who is currently on the way to achieving her masters, listening to women share similar experiences helped her find solace.
She said when she got her graduate job she was told by her classmates she only got the job because her employer needed a token Muslim to make it seem like they were accepting.
"I was one of three that got the job but no one said it was because I was good at what I did," Ms Idris said.
"No one admitted that I had earned this job … They tried to diminish my successes."
When asked about the changes to the Racial Discrimination Act in Australia and legalising the Hijab ban in the European Union, Ms Idris considered them contradictory developments for societies that were supposed to be progressive and free.
"We have progressed and overcome various major societal barriers like women's right to vote and eliminating slavery," she said.
"It goes against everything the previous generations have worked so hard to achieve."
She acknowledged the media had a responsibility to report terror attacks, but said not enough positive stories were being told about Muslim communities who worked hard to defeat radicalisation and contribute to society.
"I'm told I'm a different kind of Muslim, that I'm a good Muslim only because I was born in Australia … It's really frustrating," Ms Idris said.
"I don't blame people when they hear stories about just Muslims … but the effort that we go through is not highlighted … the average day to day good things we do that are inspired by faith."
Hafifa Khelwaty
Hafifa Khelwaty was a 12-year-old trying to fit in when the September 11 attack on the World Trade Centre in New York rocked the world and her community.
She recounted feelings of isolation and how she felt pressured to remove her headscarf.
Ms Khelwaty said the day after her school principal saw her wearing the hijab, the principal told her she did not know who she was any more, and she was twice not allowed on the school bus.
She explained after 9/11 she was expected to answer questions on terrorism, despite only being 12 years old.
"Suddenly I was being asked 'what are your thoughts on Al Qaeda?'," Ms Khelwaty said. "I didn't have a take on Osama Bin Laden. I just wanted to watch Neighbours."
She said racism was a reoccurring challenge that did not get any easier with what she considered racist rhetoric from politicians.
She said the backlash the Muslim community faced after terrorist events led to comments that Islam was a disease and Muslims needed to be banned.
"[Young Muslim women] struggle to apply themselves as useful productive citizens, feel helpless, worthless and taken advantage of," Ms Khelwaty said.
"It makes a Muslim feel ashamed in their own skin. It gives people the ability to lash out and commit hate crimes free from any guilt or responsibility."
She said forums like Passion Cafe formed important bonds of sisterhood forged between women and the most vulnerable.
"It's not even the discrimination that hurts me the most," Ms Khelwaty said.
"It's when the people don't sympathise when I tell them about my experiences. They question whether I even experienced the discrimination in the first place."
http://www.abc.net.au/news/2017-03-27/passion-cafe-gives-adelaide-women-a-chance-to-discuss-racism/8390836
------
Ivanka Trump to Attend Women's Economic Summit in Berlin
March 27, 2017
ivanka trump, women's economic summit, ivanka berlin trip, world news, US news Ivanka Trump, daughter of US President Donald Trump, arrives at Trump Tower in New York. (Source: AP)
Ivanka Trump is planning a trip to Germany to attend a summit on the economic empowerment of women. A senior administration official says the first daughter was invited by German Chancellor Angela Merkel during Merkel's recent White House visit. Ivanka Trump plans to attend the women-focused effort within the Group of 20 countries, called the W20 summit. It meets in Berlin in late April.
The official wasn't authorized to discuss details of the trip by name and requested anonymity. Merkel and Ivanka Trump spent time together when Merkel visited the White House to meet with President Donald Trump.
At the request of German officials, the first daughter helped arrange a meeting between American and German business leaders to discuss vocational training.
http://indianexpress.com/article/world/ivanka-trump-to-attend-womens-economic-summit-in-berlin-4587077/
------
'No Permission Needed'—Muslim Women Blast Donald Trump in the Bronx
By Madina Toure
03/26/17
img 2323 No Permission Needed—Muslim Women Blast Donald Trump in the Bronx
Muslim women marched and rallied in the Bronx to educate President Donald Trump and others about Muslim women and the religion. Madina Toure/Observer
Under the theme "No Permission Needed," Muslim women of all ages demonstrated in the Bronx Saturday afternoon to inaugurate a "Week of Action" intended to educate the populace about their religion—and to rip into President Donald Trump's repeated efforts to bar entry from certain majority-Islamic lands.
The seven days of outreach and activism—capping Women's History Month—aim to provide Muslim women with the opportunity to draw attention to their experiences, highlight their contributions and to organize around their particular needs and concerns in the city and throughout the world. Christina Tasca, executive director of the Muslim Community Network, which is a member of the NYC Muslim Women's Alliance, said that around the time of the election she and other female activists convened with the goal of building relationships and cooperating on issues affecting all of them.
"We realized that Women's History Month was coming up and so we decided that, you know, there's really no events for Muslim women that are really getting a platform in addition to the fact that there's so much misinformation and misunderstanding about Muslim women," Tasca told the Observer following the rally. "We're very often talked over, we're talked about, but our voices are ignored."
Several of those at the Demonstration recalled Trump's campaign trail attacks on Khizr and Ghazala Khan, the parents of an Army captain killed in Iraq. Khizr Khan used his speech at the Democratic National Convention to deliver a scathing critique of the GOP nominee's plan to ban Muslims from entering the country, while his emotional wife stood at his side—after which, Trump claimed that Ghazala Khan did not speak because "she wasn't allowed to have anything to say."
In response, Ghazala Khan revealed that her husband asked her if she wanted to speak, but she said that she "could not"—and blasted Trump for his ignorance about their religion.
Get important updates on political events and situations around New York.
Ramatu Ahmed, executive director of the African Life Center, one of the organizers, said that she wanted Trump and other people to "better understand where we come from" as well as "our values as Muslim women." She noted, for example, that some Muslim wear the hijab and others do not but that "we are all Muslim."
"We want President Trump to know Muslim women," Ahmed said. "We want him to understand Muslim women. If you don't know somebody, if you don't know people, you will not not know what their values are and you will not understand how you can live with them. So we are good people, we are Muslim women, we dress as Muslim women, we have our culture, that we are good people."
She also wanted to push back on the stereotype that Muslim women "need permission to do things," and called the them of "No Permission Needed" a "cautionary note." And she asserted that all Muslims' "human rights [are] being attacked" under the new administration, which has twice sought to curtail refugee resettlement from Syria and to exclude migrants from Somalia, Sudan, Iran, Libya and Yemen.
"We don't need to ask permission, we don't need to get clearance to go to where other people will go," Ahmed said.
She asserted that rampant Islamophobia and xenophobia have created an atmosphere of fear in the Muslim community.
"We don't need permission to do things but with this sentiment of anti-immigrant, people are kind of scared, people are scared to go out," she said.
A Hawaiian judge temporarily suspended Trump's second attempt at a moratorium on visas from the six impacted countries, but the president's aggressive immigration agenda remains otherwise in effect. In January, Trump signed executive orders which subjected any foreign national accused of any crime to detention or deportation.
Asset Sy, founder and director of the Malian Cultural Center, blasted Trump's politics as bad for the country and said she came out to unite with other Muslims.
"All Muslims, men, women, from north, from south, from west and from anywhere, we're all in one and we cannot be divided," Sy said. And Trump politics…You cannot divide us, we're all in one and his politics is not good for America."
The dozens of protesters drew applause from passersby as they marched from Grand Concourse and East Burnside Avenue to Joyce Gilmer Park near the Bronx County Courthouse. Many yelled chants such as "Ho, ho! Hey, hey! Muslim women are here to stay!," "From Palestine to Mexico, all these walls have got to go!" and "No ban, no wall! The Trump regime has got to fall!"
img 2353 No Permission Needed—Muslim Women Blast Donald Trump in the Bronx
Kids marching during the Muslim women march and rally in the Bronx. Madina Toure/Observer
But perhaps the loudest voices during the march were those of the kids in attendance who led the procession.
"I'm fighting for the freedom of Muslim women because they are not here to be feared," nine-year-old Mohamed Kone told the Observer ahead of the rally. "They are here to be freed, they are here to be passionate and protected. What Trump has here is fear. Fear is not American."
Twelve-year-old Leila Camara said participating in the event was essential for her.
"It was very important for me to come here today because I wanna fight for freedom for women and Muslim women around the world because what Trump is doing is very wrong and it's against what we're here for and if Trump just sends away all Muslim women, what would America be for?" Camara told the Observer.
The rally also featured performances by Muslim women who sang, performed spoken word and shared their poetry.
http://observer.com/2017/03/no-permission-needed-muslim-women-trump-bronx-week-action-womens-history-month/
------
URL:https://www.newageislam.com/islam-women-feminism/united-airlines-bars-teenage-girls/d/110550
New Age Islam, Islam Online, Islamic Website, African Muslim News, Arab World News, South Asia News, Indian Muslim News, World Muslim News, Women in Islam, Islamic Feminism, Arab Women, Women In Arab, Islamophobia in America, Muslim Women in West, Islam Women and Feminism