New Age Islam News Bureau
12 March 2014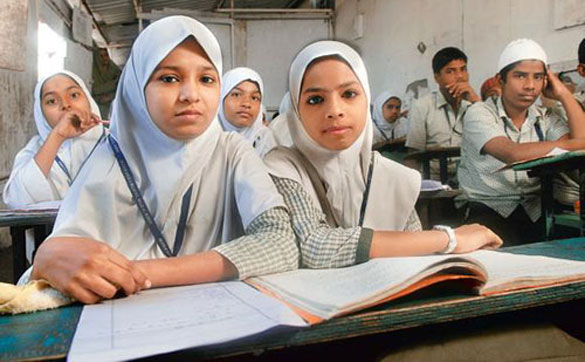 Proportion of educational institutions in Muslim-dominated localities tends to be low, and that access barrier is particularly damaging for women. Photo: Hemant
-------------
• Pro-Iranian Shiites to Legalize Marrying 9-Year-Old Girls in Iraq
• Muslim Sisters' 'Nikah' In Shiva Temple in Uttar Pradesh
• 60pc Bangladeshi Women at Risk during Pregnancy
• A Look at the Status of Arab Women As They Fight To Win More Rights
• The Silent Battle Waged By Indian Muslim Women
• Mother of Islamabad Suicide Attacker Emerges
• The Hijabi Monologues Delivers Emotional Experience to Viewers
• EU's Ashton Sparks Controversy in Iran for Meeting with Women
• Women's Guild in Oman Holds Spring Fair
• Alexandria Declaration on Women's Rights in Islam
• Muslim Bodies in Manipur, India, Observed International Women's Day
Compiled by New Age Islam News Bureau
URL: https://newageislam.com/islam-women-feminism/underage-marriage-un-islamic-pak/d/56109
---------------
Underage Marriage Not Un-Islamic: Pak Council of Islamic Ideology
March 12, 2014
ISLAMABAD: Pakistan's top constitutional body responsible for giving legal advice to the legislature on Islamic issues has said Islam doesn't prohibit underage marriage (Nikah) – but consummation of marriage (Rukhsati) is allowed only when the couple – both husband and wife – reaches puberty.
The decree came at the end of a two-day meeting of the Council of Islamic Ideology (CII) on Tuesday. CII Chairman Maulana Muhammad Khan Sheerani presided over the session.
The council suggested removal of a clause in the Child Marriages Restriction Act 1929 that prohibits a child from going against the will of his/her father and maternal grandfather, who have arranged an underage marriage for him/her.
CII members suggested that after reaching puberty, the child should have the right to undo the decision of his/her father and grandfather on underage marriage.
Under the 1929 marriage laws, a couple can defy their underage marriage if it is contracted by their relatives, but they cannot go against the decision of their fathers and maternal grandfathers.
A source, who attended Tuesday's meeting, told The Express Tribune that most CII members agreed that children should be given the right to undo their underage marriage after reaching puberty, if they desire so.
The CII members believe that the modern-day children are comparatively more aware and mature to take a decision about their marital life, therefore the 1929 marriage laws need to be amended and the specific clause relaxed, the source said.
The Shia Ulema told their CII colleagues that according to Fiqa-e-Jaferia, the clause is not binding since it is not against any principle of the Sharia law.
Meanwhile, Dr Nafisa Shah, the coordinator of PPP's Human Rights Cell, expressed concern over a statement of the CII chief about second marriage. Maulana Sheerani said on Monday that a male Muslim does not need a written approval from his existing wife/wives in order to contract another marriage.
"Why is the CII concerned with men's four marriages and why they have done nothing to ensure that women get their right in inheritance as enshrined in Islamic law? Or why have they failed to stop practices such as Vani, Swara and Karo-Kari? Or stop rape, and acid crimes against women?" asked Dr Shah.
"Unfortunately, Islam has been misinterpreted over a period of time by a mindset and a particular school of thought. Islam and modernism are compatible provided progressive scholars interpret the religion," she added. She called upon the government to induct progressive Islamic scholars in the CII so that women's rights are also protected.
http://tribune.com.pk/story/681784/marital-matters-underage-marriage-nikkah-not-un-islamic-cii/
---------------
Pro-Iranian Shiites to Legalize Marrying 9-Year-Old Girls in Iraq
March 12, 2014
About two dozen Iraqi women demonstrated on Saturday in Baghdad against a draft law approved by the Iraqi cabinet that would permit the marriage of nine-year-old girls and automatically give child custody to fathers.
"On this day of women, women of Iraq are in mourning," the protesters shouted.
"We believe that this is a crime against humanity," said Hanaa Eduar, a prominent Iraqi human rights activist. "It would deprive a girl of her right to live a normal childhood."
Shi'ite Islamists have come to lead the government and look to impose their religious values on society at large.
It describes girls as reaching puberty at nine, making them fit for marriage, makes the father sole guardian of his children at two and condones a husband's right to insist on sexual intercourse with his wife whenever he wishes.
The legislation is referred to as the Ja'afari Law, named after the sixth Shi'ite imam Ja'afar al-Sadiq, who founded his own school of jurisprudence.
The draft was put forward by Justice Minister Hassan al-Shimari, a member of the Shi'ite Islamist Fadila party.
Mohammed, the Muslim prophet, married a six-year-old, so Islamic law has no problem with raping nine-year-olds.
http://www.frontpagemag.com/2014/dgreenfield/pro-iranian-shiites-to-legalize-marrying-9-year-old-girls-in-iraq/
---------------
Muslim Sisters' 'Nikah' In Shiva Temple in Uttar Pradesh
March 12, 2014
At a time when Uttar Pradesh has witnessed an increase in communal violence, a small temple of Lord Shiva at a village in the state's Bulandshahr district, turned into a symbol of Hindu-Muslim unity when it became witness to the marriages of two Muslim girls.
The "Nikah" of the sisters was solemnised at the Shiva temple at the Ramnagar village of the district on Monday by the "Quazi" in the presence of hundreds of people from both communities.
According to reports, Iqbal Khan, a resident of the village, had fixed the marriage of his two daughters, Nazma and Muzma, with two youths of the same district. Though the Nikah ceremony was scheduled to be performed at his residence, Khan wanted the ceremony to be a symbol of communal amity and brotherhood. He had also expressed his desire to some of his Hindu friends.
Khan was surprised when he was approached by members of both communities a few days ago with a proposal to solemnise the Nikah of his daughters at the Shiva Temple in Ramnagar.
"It was like a dream come true for me," said Khan. He readily agreed.
Khan discussed the matter with the families of the two grooms, and they too said they had no objection to the arrangement. The priest of the Shiva temple also happily gave his permission.
On Sunday, the wedding party of the two girls arrived at the temple for the ceremony.
While the Quazi performed the ceremony in accordance with Islamic traditions, a local Hindu family made arrangements for the community feast on the occasion.
The two girls were given a traditional and tearful send-off by hundreds of people from both the Hindu and Muslim communities on Monday.
http://www.deccanherald.com/content/391439/muslim-sisters-nikah-shiva-temple.html
---------------
60pc Bangladeshi Women at Risk during Pregnancy
March 12, 2014
For having nutritionally inadequate diets, around 60 percent of Bangladeshi women between ages 19 and 49 years are at risk of pregnancy complications and of having underweight babies, said a nutritionist of Helen Keller International (HKI)-Bangladesh.
Meredith Jackson-de Graffenried also observed that for having such a diet, around 30 percent of girls aged between 10 and 18 years were stunted and 40 percent underweight.
Moreover, some 24 percent of married adolescent girls and women are undernourished and 13 percent stunted, she said citing the government's "Food security and nutrition surveillance project-2012".
She was addressing a discussion, "Institutionalizing gender in nutrition and agriculture intervention", HKI-Bangladesh and World Fish jointly organised in a hotel in the capital marking International Women's Day, observed on Saturday.
Women's diets lack diversity resulting in malnourishment and birth of undernourished babies, she said, adding that underweight babies are more susceptible to morbidity.
Admiring the decline in Bangladesh's maternal mortality rate, Canadian High Commissioner to Bangladesh Heather Cruden said adolescent girls were unable to remain in schools for, among others, being undernourished and subjected to harassment and violence. She, however, stressed that the government must remove barriers to women's health and nutrition which are ultimately hindering progress in achieving Millennium Development Goals.
State Minister for Women and Children Affairs Meher Afroze Chumki, Spring Bangladesh Country Manager Aaron Hawkins and HKI-Bangladesh Country Director Erica Roy also spoke.
HKI also presented an award on Bangladesh Sangbad Sangstha journalist Selina Sheuly for her reporting on women's health last year.
http://www.thedailystar.net/city/60pc-women-at-risk-during-pregnancy-14899
---------------
A look at the status of Arab women as they fight to win more rights
March 12, 2014
BEIRUT – Here is a look at women's rights across the Arab world:
JORDAN:
Women can travel freely without permission from their husbands or male relatives. They hold public posts and female pilots, police officers and soldiers. Recently, Jordan's parliament passed a law that allows Jordanian women married to foreigners to pass on their nationality to their children. However, domestic violence and "honor killings" still happen.
SAUDI ARABIA:
King Abdullah has granted women the right to vote and run in the 2015 municipal elections. The king also appoints 30 women to the top advisory body, the Shura Council. The body cannot legislate and its male-dominated chamber has so far not taken up a request by three female members to discuss the issue of allowing women to drive. The Saudi government also has rolled out a law penalizing domestic abuse, including neglect. The law does not address the guardianship system that grants male family members authority over their female relatives.
UNITED ARAB EMIRATES:
Mothers can now pass their citizenship on to their children — giving them access to generous social services and stable government jobs. The UAE is among the most socially liberal of the Gulf states and authorities have made an effort to hire women to prominent government roles. However, traditional attitudes toward women have run up against the country's modern image. A 24-year-old Norwegian woman was sentenced to 16 months in prison last year for having sex out of marriage and on alcohol charges after she claimed she was raped by a co-worker. She and her alleged attacker, who was jailed on similar charges, were later pardoned after an international outcry.
KUWAIT:
Women earned the right to vote for the first time in 2005, and in 2009, four women won seats in parliament. As in nearby Qatar, they aren't able to convey citizenship to their children. Those born to Kuwaiti mothers do get the same benefits as Kuwaiti citizens up until they're 21. That includes free education, health care, and monetary benefits. Unlike in neighboring Saudi Arabia, women can drive and travel on their own. They aren't required to cover their heads, though expectations of modest dress remain as in other Gulf countries.
IRAQ:
There are no laws focusing on domestic violence against women. The country's 2005 constitution states that a quarter of parliament seats and government positions must go to women. This later was extended to provincial and local councils. But with the growing power of the religious institutions, women in some areas have been forced to put on veils and abaya — the long, loose black cloak that covers the body from shoulders to feet.
SYRIA:
Women are members of parliament, Cabinet ministers and one of the country's vice presidents. The Syrian nine-member government delegation that went to peace talks earlier this year over its civil war included two women. In northeastern Syria, the al-Qaida-breakaway group called the Islamic State of Iraq and the Levant forced women in areas under its control to cover their bodies, including hands and faces. In other rebel-held areas, where less radical Islamic groups are in control, most women wear the Islamic veil.
PALESTINIAN TERRITORIES:
Twenty-six women were slain by relatives in the West Bank and Gaza in 2013, twice as many as the year before, according to official figures. The rise stems from mounting economic difficulties in the Palestinian territories, compounded by ongoing leniency for those killing in the name of "family honor" and social acceptance of violence against women. Activists have urged Palestinian President Mahmoud Abbas to repeal sections of a penal code that allows for short sentences for the perpetrators.
http://www.foxnews.com/world/2014/03/08/look-at-status-arab-women-as-fight-to-win-more-rights/
---------------
The Silent Battle Waged By Indian Muslim Women
March 12, 2014
Mumbai: Shabina Khan's greatest ambition is also the source of her biggest fear. Khan, 21, who lives in Shiv Shahi, a colony of rehabilitated slum dwellers in Mumbai, aims to clear her board examinations through an open school exam but lives in constant dread that her father, who forced her to drop out of school, will find out and scuttle her plans.
Shabina's schooling ended in the 9th standard, when her elder sister Farheen completed her 12th standard course. Till then, the two of them would go together to the same school in Malad, a Mumbai suburb.
Shabina's father, Salauddin, baulked at the idea of sending his young daughter to school alone, and put an end to her schooling as well. Salauddin, a scrap dealer, would have forced both the sisters to drop out of school even earlier were it not for Farheen's fiancé, who insisted that she write her 12th standard exams before their marriage. That allowed Shabina a chance to tag along with Farheen till the time the eldest sister was still going to school.
Shabina was dejected but she has refused to give up. She decided that like several of her peers in Shiv Shahi, she would finish her schooling through a distance learning programme without letting her father know.
Khan's mother Sadia is equally determined that her daughter finishes schooling without her husband finding out.
"He (Salauddin) does not see any point in educating girls," said Sadia. "And I don't see any point in arguing with him on this."
http://www.livemint.com/Politics/viW8h7EjlvZhU4tR5d4Z7M/The-silent-battle-waged-by-Muslim-women.html
---------------
Mother of Islamabad Suicide Attacker Emerges
March 12, 2014
ISLAMABAD: A women has disclosed that her son blew himself up during the deadly attack on am Islamabad district court which claimed almost 11 lives including a judge.
Sources said that a correspondence between the intelligence and law enforcement agencies revealed that Palwasha Khan had told the investigators her son Fidaullah, who went missing on January 9, was involved in the attack.
She further told the intelligence agencies by telephone that a report was also lodged with the Iqbal Town Police Station in Lahore about Fidaullah's disappearance, the sources said.
The correspondence further stated the woman claimed that mastermind of the court attack owned a restaurant.
http://www.thenews.com.pk/article-140636-Mother-of-Islamabad-suicide-attacker-emerges-
---------------
The Hijabi Monologues delivers emotional experience to viewers
March 12, 2014
On Friday evening, March 7, students, families, and friends gathered together in the Social Science Building to see the performance of the Hijabi Monologues.
Hanan Hashem and Jamilah Alhashidi, co-directors of the show, appeared on stage to welcome their guests, promising tears and laughter, heartbreak and hope to their audience. They did more than deliver.
Eleven stories were told, each shining out with its own unique voice. In each, the actors, students of our university, gave their all. "I practiced my lines at least three or four hours a week," Liala Sobh, one of the performers, stated.
Hanan Hashem, a co-director, mentioned that the girls had been studying their parts since the auditions in January. A few of the actors remarked that extra practice was essential in bringing a sense of natural flow to their characters.
Although each performance was magnificent, there were three which stood out on Friday night. The first was "Light on My Face" performed by Naseem Bokhari. It was the story of a young Muslim girl who has been ostracized by her schoolmates due to her plain looks and weight.
She is led on by the neighbor boy to the point where she winds up pregnant. He completely breaks all connections with her and she becomes consumed by feelings of loss and betrayal. The stirring performance of Bokhari held the audience spellbound throughout.
Andrea Chavez was given a more comedic role in the story of "Ten Things". In this skit, Chavez numbered off ten things that she did which were quite opposite of the stereotype hijabi.
As she walked back and forth across the stage, bouts of laughter erupted from the audience with each bad habit she described. Chavez ended her performance by declaring that if they were shocked by her behavior, they should try to remember the hijab was, "a piece of fabric; not a magic wand".
However, one of the most moving pieces was that of one of our own Michigan students, Rima Zalghout. Zalghout won a local competition last year when she entered her story, Control, which entailed the struggles she faced with an eating disorder. Zalghout appeared on stage and explained to the audience that when everything in her life was chaotic, the one thing she could control was her food intake. She took out her frustration by eating less every day.
She exerted her control by winding her headscarf so tight red marks began to appear around her neck. Zalghout's monologue truly brought home the realization that these were stories of everyday women. Underneath the scarf, they're just normal people trying to get through another day.
As I watched the actors come together, hand in hand, to take their bows, I recalled all the stories and how different each experience was. Such a mixed group could not possibly be defined by one article of clothing.
"This event was about educating people and having fun…It's important that people understand that just because I look a certain way, doesn't mean you know me," Co-director Jamilah Alhashidi expressed.
This seems such a basic concept; don't judge a book by its cover. Yet, it's an easy enough hole to slip into. "Being in Dearborn, you wouldn't think this would happen, but people still look at you and assume things," Alhashidi stated.
The main impression this co-director wished to leave her audience was to not be afraid to ask questions. "If anything I admire their courage for asking," one of the performers, Walaa Tout, remarked, her fellow actors nodding in agreement. "…the only way to dispel ignorance is through asking questions" Alhashidi said.
The Hijabi Monologues is about answering these questions and showing a side of the hijabi that most can't see on their own. Hopefully someday no help will be needed. In the meantime, thank you for showing at least one person a new point of view.
http://michiganjournal.org/2014/03/11/the-hijabi-monologues-delivers-emotional-experience-to-viewers/
---------------
EU's Ashton sparks controversy in Iran for meeting with women
March 12, 2014
TEHRAN — The highest-level European diplomatic visit to Iran in six years has ended, but controversy remained Tuesday about the European Union envoy's meeting with a pair of women activists.
Political conservatives have lashed out at the meeting involving Catherine Ashton, the EU's foreign policy chief, and two women closely identified with the opposition.
The dispute has put Iran's foreign minister, Mohammad Javad Zarif, on the defensive just days before the scheduled resumption of sensitive nuclear negotiations between Iran and world powers. It was Zarif who invited Ashton, a key figure in the nuclear talks slated to resume in Vienna on Monday, to visit Iran.
Ashton arrived in Tehran on Saturday and and left the country on Monday in a whirlwind trip that was hailed by moderates as a potential breakthrough in long-strained diplomatic relations between Iran and the West.
During her time in Iran, Ashton held a joint press conference with Zarif and also met with President Hassan Rouhani, among other high-ranking dignitaries.
In the aftermath of her visit, however, conservatives were furious that Ashton also met with Narges Mohammadi, a prominent human rights activist who was jailed in 2011, and Gowhar Eshqi, the mother of a dissident blogger who died in police custody in 2012. The pair were among a number of Iranian women who met with Ashton on Saturday evening in the Austrian ambassador's residence in Tehran.
Decrying the meeting as improper, some conservative commentators said it signaled western nations' intention to bring contentious issues such as human rights to the table in the upcoming nuclear negotiations. Many Iranian conservatives are wary of the talks and of Rouhani's diplomatic overtures to the west.
The Iranian government is sensitive about what it views as foreign "meddling" in its human rights record. Many officials regard western criticisms of the nation's human rights practices as a pretext meant to undermine the Islamic Republic.
On Tuesday, Iran's Foreign Ministry spokeswoman, Marziyeh Afkham, labeled Ashton's meeting with the two women an "undiplomatic action." At the regular weekly news conference, the spokeswoman said the ministry had not coordinated or arranged the encounter. Iran formally expressed its displeasure to Austria's envoys, the spokeswoman said.
Also, a group of more than 20 conservative parliamentarians summoned Iran's intelligence chief, Mahmud Alavi, to quiz him about the matter, the semi-official Fars news agency reported. The officials wanted to know why the meeting was allowed.
An influential hard-line law-maker, Alaeddin Boroujerdi, who heads parliament's national security and foreign policy commission, said that Ashton "fell in a trap," reported the Iranian Students' News Agency.
A number of students are planning a protest Wednesday outside the Austrian embassy, reported the Nasim news agency.
Kazem Sadighi, a Friday prayer leader in Tehran, was quoted in Fars saying: "Such meetings make people upset and dissatisfied."
Ashton's spokesman, Michael Mann, said via email that the EU envoy "wanted to meet a group of women activists during her visit to Iran." The timing was "particularly pertinent," Mann said, as Saturday was also International Women's Day.
"Human rights is a key part of the EU's foreign policy and our view on the situation in Iran is well-known," Mann wrote. "[Ashton] always makes a point of seeing civil society, in particular women's groups, on her journeys abroad."
http://www.latimes.com/world/worldnow/la-fg-wn-european-ashton-iran-women-20140311,0,243757.story#ixzz2vmxYdHYZ
---------------
Women's Guild in Oman holds spring fair
March 12, 2014
The Women's Guild in Oman (WGO) held its spring fair recently at Al Bahja Hall, Jungle Restaurant in Qurum Natural Park, celebrating its 40th anniversary.
1394523694755460700The fair included various items made by the participants such as pastry, handicraft items, fabrics, crochet patterns, Islamic arts, and other items made with materials derived from local Omani environment.
Sladjana Myatovic, a participant said, "I love forming sculptures from natural shells, since I've been working in Sur, I collected many shells of different sizes and shapes to create artworks and picture frames, this fair is a good opportunity to sell and display my handmade creations."
More than 70 craft-people participated in the spring fair, "The participants are selling handmade invitations, children's clothing, knitted items, baked goods, stationary, jewellery and handmade items." said Sunaina Serna Ahluwalia, Publicity Coordinator at WGO.
Founded by a group of 13 British women in 1973, which has grown over the years to include 2,200 members from 92 different nationalities, and provides many opportunities for friendship and adapting to life in Oman.
http://main.omanobserver.om/?p=63663
---------------
Alexandria Declaration on Women's rights in Islam
March 12, 2014
During the International conference, "Women's Issues: Towards a contemporary Islamic Ijtihad ", participants discussed the importance and significance of issuing a declaration that springs from cognitive and cultural grounds, and asserts legitimate rights of women in Muslim-majority societies.
The conference organized by the Bibliotheca Alexandria, Egypt, in collaboration with a number of civil society organizations during the period 10 – 11 March, 2014, maintained that participants produce a declaration that meets women's aspirations for justice and equality, and acknowledges their creeds and cultural diversity.
This Declaration is grounded on the sublime principles of Islamic Sharia, along with some genuine Ijtihad-based efforts, the rich sessions of the conference and the additional commentaries issued by a number of senior Sharia scholars in the Muslim world.
It is also the joint fruit of discussions that took place under the auspices of Al-Azhar Al-Sharif involving a number of Egyptian feminists and representatives of civil society institutions concerned with women rights.
Moreover, this Declaration includes fundamental principles and common denominators for social, economic, political and cultural rights in a manner that fits Muslim communities, and allows them to deal with women issues according to their different cultures, economic, and political conditions.
The declaration thus embraces the following issues.
Premises:
1-The total rejection of the politicization of community issues or the exploitation of women's issues in the political struggle among the various societal powers. Therefore, the document calls for the necessity of addressing women's issues through nations' and communities' genuine needs and authenticated religious and scholarly knowledge, and social field studies.
2-Stressing moderate values that are characteristic Islamic culture and its offshoot familial culture, and that are far from religious and cultural extremism and parochialism, which negatively bears on the set of family relationships, family's social and worldly choices, and hampers development and proper social change.
3-The belief in equality, in terms of human soul, spirit, dignity, and joint responsibility for the universe, is an essential concept in the man-woman relationship in Islam.
4-Ensuring that legislations related to women be of a harmonic and sympathetic societal rather than conflicting nature. This will serve to protect individual rights for the entire community, and on top of it are the individuals within the family, without differentiation. This is to be observed on condition of guarding the interest of the child, being the one having top priority in the development of such legislations.
5-Tending to assert women participation in public fields, and maintain equity between her and men in terms of dignity and human capacity, and prohibit viewing women in light of her bodily functions only.
Full report at:
http://www.libyaherald.com/2014/03/11/alexandria-declaration-on-womens-rights-in-islam/#axzz2vZBjX9x4
---------------
Muslim Bodies in Manipur, India, Observed International Women's Day
March 12, 2014
Imphal: As in other parts the globe, International Women's Day was observed in Manipur on March 8, 2014. Manipur State Commission for Women, Department of Social Welfare, political parties and different civil society organizations observed the day by deliberating on some of the pressing issues of women in the State.
All Manipur Muslim Women's Cultural Organization (AMMWCO), one of the prominent Muslim women's bodies in the State, along with other Muslim civil society organizations also observed the day at the head-office of All Manipur Muslim Women Development Organization (AMMWCO) at Hafiz Hatta, in Imphal.
The observance function was graced by Adviser of All Manipur United Clubs' Organization (AMUCO) K.T. Rahaman, President of AMMWCO Singamayum Mumtaz, President of Pangal Students' Organization (PSO), Manipur M.A. Zasir, President of AMMDO Mohd. Ali Khan and President of All Manipur Muslim Development Organization (AMMDO) Phundreimayum Abdullah Pathan as the Chief Guest, President and Guests of Honour respectively.
Speakers at the function stated the significance of the day and also highlighted some of the issues of the Muslim women in the State. Adullah Pathan urged the Muslim women in the State to come out and join in solving the issues that relates to women. The womenfolk in the State are facing problems on various fronts. However, very few are coming out to face these challenges. The Muslim women should also join hands with women from other communities in the struggle to claim their de jure position in the society.
In her speech, Singamayum Mumtaz stressed the need to conduct legal awareness programmes for Muslim women and ensure legal rights for their upliftment. She urged the Muslim males to encourage participation of women in public sphere to discuss social issues with their veils. She also called upon all the Muslim women in the State to participate in the fight on crimes against women.
K.T. Rahaman remembered the rich contributions made by women in the history of the State. He also said that the contemporary Manipuri society is in dire need of an agitation against the inhuman Acts. It is time for the women in the State to launch a third Nupi Lal to free the State from the inhuman AFSPA.
M.A. Zasir said in order to bring women's empowerment they should be given due representation in the political sphere. Women should fight for bringing the Women's Reservation Bill that will guarantee 33% reservation for women in the Assemblies and the Parliament, he added.
Mohd. Ali Khan said Muslims in the State need a separate demand for their own to effectively implement the programmes meant for the Muslims. He urged all Muslims of the State to support those political parties that include such an agenda in their manifestos in the coming Parliamentary elections.
The Department of Social Welfare, Government of Manipur observed the International Women's Day on the theme 'equality for women is progress for all.'
The All Assam Manipuri Meira Paibi Co-ordinating Committee and United Women's Welfare Society, both based in Silchar, Assam, honoured anti-AFSPA crusader Irom Chanu Sharmila at an observance function held at District Library Auditorium in Silchar.
The different political parties in the State also observed the day. The newly formed Aam Aadmi Party (AAP), Manipur, also observed the day at its head-office at Nagamapal, in Imphal.
Calls for women's empowerment, demand for women's reservation in Assemblies and Parliament, curbing crime against women and demand for framing effective legislation to punish perpetrators of criminal acts against the women, demand for repeal of AFSPA, giving women access to health, education and economic facilities, raising the awareness level of women on their rights marked the International Women's Day observance functions organized by different organizations across the State.
http://twocircles.net/2014mar10/muslim_bodies_manipur_observed_international_women%E2%80%99s_day.html
---------------
URL: https://newageislam.com/islam-women-feminism/underage-marriage-un-islamic-pak/d/56109