New Age Islam News Bureau
23 Jun 2012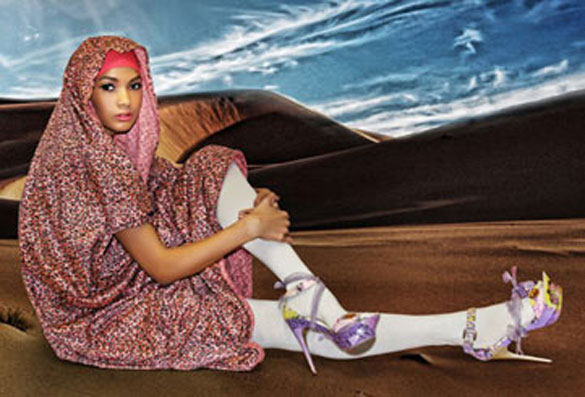 • Muslim Fashion Going Global and Bleeding Into Western Culture
• Terrorists Blew Up A Girls' School In Kohat
• Two Moroccan Women Jailed For Prostitution in Dubai for Six Months
• Pakistan: Women Legislators Fear 'Mistreatment' Outside Assembly Also
• Social Customs Keep Saudi Women Jobless
• Procedures to Employ 11,000 Saudi Women in Administrative Posts Begins
• Emirati Woman Bags Top Award At Arab Film Studio
• Debate on Women Dress Code in UAE Reaches to the Echelons of the Government
• Lesbians In Morocco: Should We Stay Or Should We Go?
• Pakistani Teen Delighted To Participate In Olympic Torch Relay
Complied by New Age Islam News Bureau
Photo: Muslim Fashion Going Global and Bleeding Into Western Culture
URL: https://www.newageislam.com/islam,-women-and-feminism/new-age-islam-news-bureau/under-the-abaya-saudi-women-grasp-reform-toehold/d/7713
-----------
Under The Abaya, Saudi Women Grasp Reform Toehold
22 June, 2012
Deema al-Mashabi is eager to show off the gold brocade decorating the folds of her abaya.
She designed her own robe - the traditionally all-black, enveloping gown that observant Muslim women wear in public.
For al-Mashabi, appearing in public in a customized style is not just a fashion statement, but a symbol of the changes taking place in her native Saudi Arabia.
"A lot of women are designing their own abayas now," she said of her reversible garment.
Indeed, the glitzed-up abayas being seen all over Saudi Arabia stands as a metaphor for the gains women are making in this oil-rich kingdom. Women are not throwing off their cloaks, but they are making modest inroads in loosening the restrictions that govern this male-ordered, conservative country, which is a key U.S. ally in the Middle East.
That is the impression gained by a group of senior American editors - including this reporter - who visited Riyadh last month as fellows of the International Reporting Project at Johns Hopkins University. Although men remain dominant and women's rights are severely limited by Western standards, there are signs of incremental change in education and politics, as well as fashion.
Like the decorations on the abayas, the movement is often nuanced and visible only on the fringes.
Like Henry Ford and his Model T, which he told customers they could have in any colour so long as it was black, abayas still come almost exclusively in only one colour. But in Riyadh's upscale Faisaliah mall, many now boast glittery embroidered caricatures and carry a price tag in riyal equivalent to $500. In Jeddah's old town market, rows of abayas selling for about $20 showcase beadwork of flowers and sunbursts. Women are finally being allowed to sell lingerie to other women, a significant change from the days when only men could handle the sale of bras. Soon, women will be allowed to sell make-up, too.
Livelier clothes hardly make for a Saudi Spring, but the 18 months of protests and uprisings that have shaken the region have left their mark on this conservative kingdom. The ruling monarch, King Abdullah bin Abdulaziz, swiftly responded to the Arab Spring turmoil with a package of incremental reforms that analysts say are aimed at maintaining the status quo without provoking a backlash from the powerful religious clergy.
Last year, he announced a $93 billion financial aid package for citizens and promised that women will be allowed to take part in the next municipal elections in 2015 - the only elections held in Saudi Arabia, which is ruled by an absolute monarchy. He also decreed that women can serve as full members of the Consultative Council, or Majlis al-Shura, a 150-member advisory council he appoints for four-year terms.
The king also acted swiftly after the death of Crown Prince Nayef last week to safeguard his reforming legacy by appointing a moderate successor. Less than a day after leading funeral prayers Sunday for his late heir, King Abdullah appointed as crown prince the pragmatic Prince Salman, a brother considered likely to continue the monarch's initiatives.
REINING IN THE MUTAWA
Perhaps the most noticeable Saudi lifestyle change comes from the reining in of the religious police, known as the mutawa but officially titled the Commission for the Promotion of Virtue and Prevention of Vice. The commission's members often have functioned as volunteer vigilantes, raiding malls to chastise women for showing their hair or trying to catch couples suspected of dating.
Saudi analysts say the monarch is trying to curb the mutawa by his recent appointment of a more moderate leader and last month's firing of a royal adviser who criticized the mingling of men and women in the courts.
Analysts say the new mutawa head, Sheikh Abdullatiff Abdel Asiz al-Sheikh, is navigating a fine line between placating conservative clerics and curbing abusive mutawa. Earlier this month, he made local news when he criticized one of his men for ordering a woman out of a Riyadh mall for coloring her nails.
The nail incident was recorded and posted on YouTube by the woman involved - an increasingly common publicity tactic used by Saudi women against the religious police.
It remains unclear, however, how much of a reformist the new religious police chief really is. Arrangements for our group to interview him stalled because it included women.
"We were told that he was reluctant to meet with a mixed gender group," said Louise Lief, the deputy director of the International Reporting Project, who led the editors' delegation to Saudi Arabia. "We were told that he would meet only with the men, but I would not agree to do that."
A Saudi Ministry of Information official told Reuters there had been an "unfortunate miscommunication" with the editors' group. One official familiar with the interview request believed the mutawa leader may have avoided it so as not to give ammunition to his conservative critics.
Meanwhile, bearded members of the mutawa continue to patrol for women who show strands of hair in public and to remove men - only recently allowed to enter malls alone - who they think are looking too closely at the robed female shoppers.
Other forms of gender segregation continue to be rigidly enforced: men and women have to stand in separate lines at fast food restaurants and eat in separate sections of coffee shops and food courts. Museums have different opening days for male and female visitors. Access to clothing stores is often restricted by gender, with "ladies only" signs at lingerie stores like the upscale La Perla chain.
Even in international hotels, foreign female guests are barred from the swimming pools or gyms. For exercise they are confined to makeshift hotel rooms - often with euphemistic names such as the make-up room - equipped with just two or three exercise machines.
For Saudi women and girls, restrictions extend to the playing field. Girls don't have exercise classes at school, and the few women's soccer and basketball teams must practice secretly. Saudi Arabia also refuses to include women in its London Olympics team, although one Saudi female equestrian may yet be permitted - but probably not as an official team member.
Saudi women do try to exercise in spite of the obstacles. There is a waiting list for the Curves gym in Riyadh, and the all-women Luthan hotel draws a loyal clientele to its elegant spa that comes complete with a biggest loser exercise class, a well-equipped gym, weight room and indoor pool.
EDUCATION IS KEY
One sign of change is that Saudi women are being encouraged to pursue world-class educations, with new schools opening for gifted girls and a greater emphasis on attending university. In 1965, the country's female literacy rate was 5 percent. Today, 60 percent of the college students in Saudi Arabia are women, and their employment rate has nearly tripled from 5.4 percent to 14.4 percent, according to a report in Thursday's Saudi Gazette.
The king has also launched a generous scholarship program for young Saudis to study abroad with about 130,000 students now enrolled at universities outside the country, about half of whom are in the United States. Many are women, yet they only are granted an award if a male relative travels with them.
Still, as these women return, the king may be hoping their exposure to the outside world will help him move mainstream opinion in favor of controlled change, observers say.
http://www.timeslive.co.za/lifestyle/2012/06/22/under-the-abaya-saudi-women-grasp-reform-toehold
-----------
Muslim Fashion Going Global and Bleeding Into Western Culture
22 June 2012
Muslim fashion is one of the fastest growing markets and is reportedly worth an annual $96bn. British fashion pales in comparison, which is valued at £21bn, and designers are looking to embrace the Muslim customer by catering to a more conservative look.
Muslim designer Barjis Chohan, a protégé of Dame Vivienne Westwood, stated Muslim fashion is going global and bleeding into Western culture for the first time, with more and more women embracing style and modest dressing. Supermodel Kate Moss has endorsed her designs, which will have an enormous impact on sales.
Chohan stated: "Young, fashionable Muslims are also struggling to buy clothes from the Western, high-street shops, because of the unsuitable hemlines and necklines, and they resort to wearing layers, which are very hot and uncomfortable in the summer. My extensive research showed that the market is saturated with low- end designers, making polyester abayas and poor quality clothing, but calling their label 'couture,' or over-embellished and decorated abayas that are only suitable for special occasions."
"So that is why I created Barjis, to fill this gap, with practical, high-quality, modest and fashionable day and evening wear for the busy, modern woman."
Chohan's label, Barjis, is riding the crest of the Muslim fashion wave, which is encouraging more and more women to dress conservatively, with celebrities including Nigella Lawson, Felicity Kendall Joanna Lumley and Twiggy embracing the modest, Muslim fashion trend.
Milan Fashion Week and Moda Italia are also embracing the trend, and will feature Malaysia's Islamic Fashion Festival to show its designers; Dubai Fashion Week has merged tradition with modernity by adding the abaya to their pieces and luxury department store Harrods, who has a very loyal Arab and Muslim customer, has started to stock abayas.
The London College of Fashion has said that modest dressing is a growing phenomenon in Muslim and western culture, which also explains the bleed into the highstreet.
http://www.fashionunited.com/fashion-news/fashion/muslim-fashion-resonates-with-westerners-20122206489457
-----------
Terrorists Blew Up A Girls' School In Kohat
23 June 2012
KOHAT: Terrorists blew up a girls' school in the district, police said on Friday. According to details, unidentified terrorists had planted an explosive device in a girls' school in the Ghulam Banda area, which went off on Thursday night. The blast completely destroyed three rooms and sidewalls of the school, however no causality was reported. At least five schools in the settled parts of the district and 23 in FR Kohat areas have been destroyed by terrorists.
http://www.dailytimes.com.pk/default.asp?page=2012\06\23\story_23-6-2012_pg7_9
-----------
Two Moroccan Women Jailed For Prostitution in Dubai for Six Months
Marie Nammour / 23 June 2012
Two Moroccan women were each sentenced to six months in jail by the Court of First Instance on Thursday for indulging in prostitution. The convicts will be deported after serving their jail sentences.
The two women, a 19-year-old who worked in photography and a 29-year-old saleswoman, were arrested in February from Muraqqabat. The 19-year-old defendant admitted to the Public Prosecution that she had been a prostitute for six months. She met many men in different parts of Dubai where she had paid sex with them. She used to charge between Dh1, 000 and Dh1, 500.
The other defendant admitted during investigation that she had indulged in prostitution for about two months. She had sex for money with several men in different parts of Dubai and she used to collect between Dh500 and Dh1, 000.
mary@khaleejtimes.com
http://www.khaleejtimes.com/nation/inside.asp?xfile=/data/courtroundup/2012/June/courtroundup_June75.xml&section=courtroundup
-----------
Pakistan: Women Legislators Fear 'Mistreatment' Outside Assembly Also
By Kashif Hussain
22 June 2012
LAHORE: Opposition in the Punjab Assembly (PA) on Friday expressed grave concern over the recent violent attacks of treasury on women MPAs, saying they now feared legislators' mistreatment outside the PA premises as well.
The PA session on Friday started late from its scheduled time, under the chairmanship of Rana Iqbal. Soon after recitation from holy Quran, PML-Q's Chaudhry Zaheer stood up on a point of order and said that the Speaker should reconsider his decision about suspending members of the provincial assembly.
He said that a "trouble-creating team" from the treasury's side, which included Sh Allaudin and Ch Abdul Razzaq Dhillon, was responsible for the awful occurrence in the House and the atmosphere of the assembly could not be improved until the Speaker punished them.
He urged the Speaker to take a serious action against Ch Abdul Razzaq Dhillon who also used inglorious language and levelled "horrible" allegations against the honourable female members of the assembly. Giving references of some previous incidents and suspensions – Minister Ch Abdul Ghaffor and Bushra Gardezi – he appealed the Speaker to enhance the period of suspension of male members who exhibited abusive conduct towards female colleagues.
Full report at:
http://www.dailytimes.com.pk/default.asp?page=2012\06\23\story_23-6-2012_pg13_1
-----------
Social customs keep Saudi women jobless
SARAH ABDULLAH
Friday 22 June 2012
A recent study conducted by Booz & Company has found that 78.3 percent of female university graduates are unemployed with more than 1,000 of these women holding a doctorate degree.
The report blamed the national education system for failing to prepare Saudi women for competitive roles in the labor force, which resulted in largely limiting them to traditional fields such as teaching and service businesses.
As a result, Saudi women are seeking employment outside the kingdom. As many as 300 Saudi graduates having already accepted teaching positions in Bahrain, Kuwait and Qatar, the report said.
"From my perspective, some of the responsibility is on higher education for not providing a means for following up with graduates," said Tahira Hoke, director of the Academic Assessment and Planning Center at Prince Sultan University's College for Women in Riyadh. "I believe that it is very important for all universities and colleges to have a career development center that can have a strong inter-community role in linking graduates and employers."
Hoke added that such a center ensures that graduates will be future leaders and employers themselves and expand opportunities for other Saudi women. "I always emphasize to my graduates that they should be proud of their field and not merely look for a job because they may very well be the first group of Saudi women to work in a specific specialty in the Kingdom," Hoke said.
In addition to graduate's need of community-driven educational cooperation programs, some academics have said that the high unemployment rate can also be attributed to grade point averages.
Full report at:
http://www.arabnews.com/social-customs-keep-saudi-women-jobless
-----------
Procedures To Employ 11,000 Saudi Women In Administrative Posts Begins
MD AL-SULAMI
22 June 2012
The Civil Service Ministry has begun procedures this week to employ as many as 11,000 Saudi women in administrative posts at the Ministry of Education.
This was in line with a royal decree issued by Custodian of the Two Holy Mosques King Abdullah last year to create administrative jobs for 11,000 women graduates in the educational sector, the ministry said in a statement.
The ministry will announce on Wednesday the names of women graduates who have submitted online applications for various posts. The ministry would then scrutinize the personal data of the applicants and verify their original documents and certificates on June 30, the Saudi Press Agency reported.
Those who qualify for available jobs will be short-listed for employment at administrative posts education departments throughout the Kingdom.
The employees will be offered salary and allowances similar to that of the grade six public sector employees. Those young women who have completed their graduation either in education or other disciplines will be given priority in accordance with the higher number of academic points that they are given in the short-listing process, the ministry said.
The ministry is exerting all efforts to employ the maximum number of qualified young Saudi women. It has advised appointment of 28,000 women during the last two months. A total of 29,000 women have already been appointed, of which 28,000 were in the educational sector while the rest in the administrative sector, the statement added.
http://www.arabnews.com/procedures-employ-11000-women-begins
-----------
Emirati Woman Bags Top Award At Arab Film Studio
22 June 2012
Young Fatima Al Daheri bagged the award for overall Best Film for her short movie and a Dh50, 000 development deal for another project at the Arab Film Studio 2012.
The Emirati filmmaker secured the top award for her film Something Called Fear at the inaugural Arab Film Studio (AFS) competition sponsored and organised by Image Nation Abu Dhabi and twofour54 Tadreeb.
"I am really thrilled that my final film was selected for the Best Film Award here tonight. The AFS programme has been an amazing learning opportunity, and it is great to see all my hard work pay off with this award. I look forward to working with Image Nation on my development deal, and am excited to get started," an excited Al Daheri said after receiving the award.
The film Something Called Fear was selected from the five AFS 2012 finalists to receive the overall grand prize of 'Best Film', winning a Dh50,000 development deal for Al Daheri with Image Nation. The other four finalists also received awards in various competition categories, including screenplay, cinematography, editing, costume, music and sound design.
Foreign Minister Shaikh Abdullah bin Zayed Al Nahyan and Shaikh Nahyan bin Mubarak Al Nahyan, Minister of Higher Education and Scientific Research, attended the award ceremony held at Yas Viceroy Hotel on Yas Island on Wednesday night.
Full report at:
http://www.khaleejtimes.com/nation/inside.asp?xfile=/data/entertainmentnation/2012/
-----------
Debate on Women Dress Code in UAE Reaches to the Echelons of the Government
Ali Zafar / 23 June 2012
As a Western expatriate, Lauren Maher says she's irritated by the way her compatriots dress in the UAE.
"Don't make the excuse 'we're Western people, this is what we do'. People seem to be behaving in a worse way here than they do in their home countries," says Maher, who is originally from South Africa and has lived in the UK.
"It irritates me. The excuse usually is that it's too hot, but if you actually look at them in their spaghetti-string tops and shorts half way up their legs, their husbands are standing next to them in their full pants and golf shirts.
"If the husband covers up, why can't they?" she asks.
Maher's voice is one of many in what has turned into a dress code debate in the UAE, first ignited by two young Emirati women, Hanan Al Rayes and Asma Al Muhairi. The pair took their campaign to Twitter last month after seeing women scantily dressed in malls. Since then, their page under the Twitter handle @UAEDressCode has got over 2,600 followers. Their campaign has reached the echelons of the government as the Federal National Council has proposed a dress-code law to the Cabinet. If passed, the law would put into effect a national unified dress code, something Maher says is needed now.
Currently, there is no national law asking residents to abide by a specific dress code, but an informal understanding that everyone respect local customs.
Full report at:
http://www.khaleejtimes.com/nation/inside.asp?section=nationgeneral&xfile=/data/
-----------
Lesbians In Morocco: Should We Stay Or Should We Go?
Marie von Hafften
June 22, 2012
Being gay is a cultural and social taboo that these young Moroccans keep hidden.
RABAT, Morocco – In Morocco, often considered one of the most liberal Muslim countries, affection between women is common. Girls loop arms, stroll hand-in-hand and sit cuddled together. But when this affection becomes romantic and women want to live openly as lesbians, Morocco's acceptance abruptly stops.
"Lesbianism is not a good thing. Our God does not allow us to do something like this. It is Haram," said Hasnae Krimi, 22, a linguistics student at Rabat's Mohammed V University, who believes that sickness and natural disasters are increasing as a warning to reject homosexuality. Most people in this Islamic country respond in similar fashion: Homosexuality is Haram, prohibited by God.
Even after the Arab Spring, as demands for democracy and human rights ripple through North Africa, homosexuality is still an island unchanged, officially illegal and too taboo to be discussed openly. Moroccan author Abdellah Taïa, who has written a new book about growing up gay in the Arab world, lives in Paris for fear of reprisal in the country of his birth.
Under Moroccan law, committing "lewd or unnatural acts with an individual of the same sex" is punishable by six months to three years in prison and a fine ranging from 120 to 1,000 dirhams (about 14 to 117 USD). Algeria and Tunisia have similar bans. There have been no reports of women arrested in violation of these laws in Morocco, perhaps because experts say it's rare for a lesbian to be open about her sexual orientation.
Full report at:
http://www.globalpost.com/dispatch/news/regions/africa/morocco/120621/morocco-LGBT-gay-lesbian
-----------
Pakistani Teen Delighted To Participate In Olympic Torch Relay
22 June 2012
KARACHI: A Pakistani schoolgirl selected to take part in the Olympic torch relay spoke of her delight on Friday, and said she hoped it could improve the country's tarnished image.
Zainab Imran, 15, was selected to participate in the relay next week in Nottingham by the British Council.
Council volunteers from 20 countries were chosen to hold the torch and represent their country at a June 28 ceremony. The Olympic Games begins on July 27.
"It is a once in a lifetime opportunity and I am very happy," Zainab told reporters. "It is a great inspiration for all Pakistani youth and I will try to present a soft image of my country."
Pakistan's image worsened spectacularly after US troops killed Osama bin Laden northwest of Islamabad in May 2011.
It has also attracted international criticism for its human rights record and the reluctance of its elites to pay taxes when so many millions live in poverty and from handouts from foreign donors.
"It's unfortunate that a few people have tarnished our country's image and it's our duty to fight that out and don't allow these people to create a bad name for Pakistan," said Zainab.
Pakistan's men's field hockey team qualified, but otherwise Pakistan will field only wild card entries at the Games.
http://dawn.com/2012/06/22/pakistani-teenager-to-participate-in-olympic-torch-relay/
-----------
URL: https://www.newageislam.com/islam,-women-and-feminism/new-age-islam-news-bureau/under-the-abaya-saudi-women-grasp-reform-toehold/d/7713