New Age Islam News Bureau
27 Feb 2013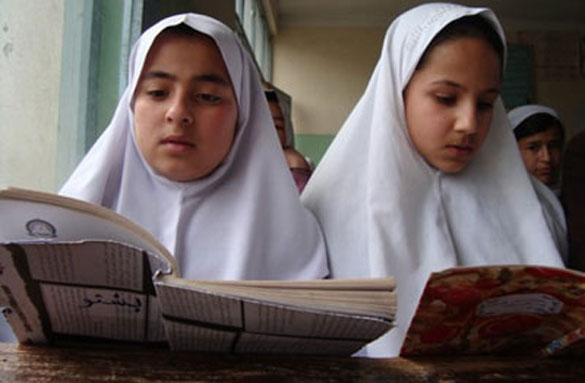 • Afghanistan's Opium Brides married off to Men Twice Their Age, Or Sold on Further
• Mother of deceased premature baby receives 100 lashes for
• Husband Wanted To Kill Me, Eat Others: NYC Woman
• Afghan Girls Give More than Their Hands in Marriage
• Suspected Killers of Minor Girl Claim They Also Killed SP's Daughter
• 60-Year-Old Emirati Accused Of Assaulting Ethopian Housemaid
• Saudisation: Who Is More Important — HIV Girl Or Woman Cashier?
• Even After Ten Years, Afghan Women Still Do Not Have Basic Human Rights
• Nigerian UK Midwife Says: I Lost Count after Delivering 1,000 Babies
• UG's Women's Commission to Launch Week-Long Celebration
• Islam Protects Women's Rights: Wife of Turkish Prime Minister
• Flourishing Trend of Islamic Fashion in the UK
• Women and Children Bear the Brunt of the Syrian War
• Mother to Decide Fate of Ungrateful Son
Compiled by New Age Islam News Bureau
Photo: Roughly 82 percent of Afghan girls drop out of school before the sixth grade, partly due to early child marriages
URL: https://newageislam.com/islam-women-feminism/under-age-maldivian-rape-victim/d/10576
----------------
Under-Age Maldivian Rape Victim Convicted Of Fornication, Sentenced To 100 Lashes
By Ahmed Naish | February 26th, 2013
A 15-year-old rape victim from the island of Feydhoo in Shaviyani Atoll was convicted of premarital sex at the Juvenile Court today and sentenced to 100 lashes and eight months of house arrest.
In June 2012, the girl gave birth to a baby that was discovered buried in the outdoor shower area of her home. Her stepfather was later charged with child sexual abuse, possession of pornographic materials and committing premeditated murder.
Her mother was meanwhile charged with concealing a crime and failing to report child sexual abuse to the authorities.
An official from the Prosecutor General (PG)'s office told Minivan News in January this year that the fornication charges against the minor were related to a separate offence of premarital sex that emerged during the police investigation. The charges were filed on November 25, 2012.
In its verdict delivered today, the Juvenile Court ordered the state to transfer the girl to the Children's Home in Villigili to enforce the sentence of eight months house arrest, according to local media reports.
The girl reportedly confessed at the trial to having consensual premarital sex.
The Islamic Shariah punishment of flogging would be administered when the girl turns 18. However, the sentence could be implemented earlier should the minor request expedition, a court official explained to local media.
In late January, the PG's Office told Minivan News that it was reviewing the decision to press charges against the minor. Two hearings at the Juvenile Court were subsequently cancelled upon request by the PG.
However, the trial resumed after the PG decided earlier this month not to withdraw the charges.
Officials from the PG were unavailable today to clarify whether the male offender faced the same charge of premarital sex.
The case of the 15 year-old had prompted concern from the executive following international media coverage. The government announced last month that it would review and "correct" laws that victimise young women and minors who have suffered sexual abuse.
President's Office Spokesperson Masood Imad told Minivan News that from government's perspective, the 15 year-old girl was a victim who needed to be protected, not punished by authorities.
"We will be talking with the Ministry of Islamic Affairs over this manner and will review and correct the problem," he said.
Masood said that the Maldives had experienced a number of similar cases of late where young women had been victimised and punished by authorities – a situation he said the government was looking to prevent.
"We are reviewing this right now and if we have to go to the extent of changing existing laws then we would look to do this," he said.
"Absolute outrage"
The criminal charges against the minor were slammed by Amnesty International last month, which called the prosecution "an absolute outrage."
"This is an absolute outrage, regardless of the reason for her charges. Victims of rape or other forms of sexual abuse should be given counselling and support – not charged with a crime," said Abbas Faiz, Amnesty International's Maldives Researcher.
"We urge the Maldivian authorities to immediately drop all charges against the girl, ensure her safety and provide her with all necessary support.
"Flogging is a violation of the absolute prohibition on torture and other cruel, inhuman and degrading treatment or punishment. The Maldivian authorities should immediately end its use regardless of circumstances. The fact that this time a 15-year old girl who has suffered terribly is at risk makes it all the more reprehensible," said Faiz.
"Flogging is not only wrong and humiliating, but can lead to long-term psychological as well as physical scars."
In response to a Minivan News report in 2009 of an 18 year-old woman fainting after a 100 lashes, Amnesty International called for a moratorium on the "inhumane and degrading punishment."
Of the 184 people sentenced to public flogging in 2006, 146 were female, making it nine times more likely for women to be punished.
In November 2011, UN High Commissioner for Human Rights Navi Pillay urged the authorities to impose a moratorium on flogging and to foster national dialogue and debate "on this issue of major concern."
"This practice constitutes one of the most inhumane and degrading forms of violence against women, and should have no place in the legal framework of a democratic country," the UN human rights chief told MPs during a maiden visit to the Maldives.
Her remarks sparked protests by Islamic groups outside the UN building and drew condemnation from the Islamic Ministry, NGOs and political parties.
According to statistics from the Department of Judicial Administration, almost 90 percent of those convicted of fornication in 2011 was female.
Of 129 fornication cases in 2011, 104 people were sentenced, out of which 93 were female. This included 10 underage girls, 79 women aged 18-40 and and four women above 40 years.
http://minivannews.com/society/under-age-rape-victim-convicted-of-fornication-sentenced-to-100-lashes-53712
----------------
Afghanistan's Opium Brides married off to Men Twice Their Age, Or Sold on Further
By Roma Rajpal
Feb 27, 2013
While opium trade might be lucrative for some of those involved, many find themselves at the losing end. Daughters of farmers who find themselves desperate and indebted are used as little more than currency.
To provide for their families, many Afghan farmers turn to the relatively lucrative practise of poppy cultivation.
Initial capital costs for items such as seeds, can be high. Many are forced to take loans from unscrupulous lenders, the drug lords and the Taliban among them.
But growing the poppy plant is no definite route to success. There are risks. While the government's eradication program may not be far-reaching, those farmers that do feel the brunt are left with bare earth and no way to settle their debts.
Some resort to bartering their daughters in marriage to settle the loans. These daughters are known as the "loan brides" or even "opium brides."
Afghanistan is the largest opium producer in the world, despite the trade being banned. About 93 percent of the country's population lives in the rural areas, relying on the land for a living.
Najibullah Qureishi, Frontline Correspondent, whose award-winning documentary Opium Brides took him to the remote countryside of Afghanistan, said many farmers had grown disillusioned with government promises about alternative forms of agriculture. "In 2001, there was great optimism in my country; the future looked bright," Qureishi told DW. "Farmers believed the public pronouncements and awaited major investment in agriculture, which would have allowed them to turn away from the poppy."
However, Qureishi said, many of those promises were not fulfilled. Instead, the government's eradication program had left farmers in a desperate situation.
"Many farmers had borrowed money from traffickers to grow poppy and, when the government turned up to destroy the crop, they had no way of paying back their loans to the drug lords. They were given a simple ultimatum: give us your young daughters or we will kill you."
Women suffer most
The fate of such women is uncertain. Some are married off to men twice their age, or simply sold on further.
"Normally, the girls are quickly transported to other countries, mainly Pakistan and Iran, where they are either sold and married off to older men as child brides or used as 'mules' to transport drugs to other countries," Qureshi told DW. "In many cases, however, it became clear that they are also used as child prostitutes."
The Afghan government claims there is no large scale practice of selling opium brides, but that it typifies the social problems that opium can cause.
"I can tell you confidently that even if cases like that exist somewhere in Afghanistan, it is extremely limited. It is undeniable that the opium cultivation and opium production and the criminal networks that are engaged in that trade have caused tremendous suffering and hardship for the Afghanis people," Janan Mosazai, Spokesperson to the Ministry of Foreign Affairs of Afghanistan, told DW.
Problem wider than opium
However, Jean-Luc Lemahieu, Regional Representative for Afghanistan and Neighbouring countries for the United Nations Office on Drugs and Crime (UNODC) said the issue of females being used to pay off loans part of a societal problem beyond the opium trade.
"You could call them 'loan brides,' because it is not restricted to opium only. In a very regretful situation where females are used to settle financial loans - it is not uncommon is this country and it's absolutely deplorable."
"It happens in many circumstances where people are not able to pay back loans and then use the females in the household as an economic transaction. It does happen mostly in the rural areas… and it does happen with regards to those farmers who are planting opium are not able to pay the loan back."
For Qureishi, part of the problem is that changes to improve the lives of women since the American-led invasion of 2001 have not been felt in the more remote parts of the country. He places the blame at the door of the government.
"The plight of those living in the countryside has hardly changed in centuries. Most importantly, for young girls, the future is bleak," said Qureishi. "With poverty rising, they will become more and more vulnerable as time goes on. These are the real victims of the failures by both the Afghan government and the West."
http://www.rawa.org/temp/runews/2013/02/25/the-plight-of-afghanistan-s-opium-brides.html#ixzz2M5ZE7tPm
----------------
Mother of deceased premature baby receives 100 lashes for fornication
By Eleanor Johnstone | October 27th, 2011
Aminath Shaira, age 30 of Finolhu/Noonu atoll Manadhoo, was publicly lashed 100 times outside the Justice Building for committing fornication. Lashing is the standard punishment for intercourse outside of marriage under Maldivian law.
Shaira was sentenced to one years' imprisonment after she was identified as the mother of a premature baby that was found on 19 May in a Coast Milk tin in the bushes near the Vilimale' powerhouse.
Forensic experts at the time claimed the baby was dead upon birth, and had been aborted after a five-month pregnancy.
Shaira was also sentenced to 100 lashes and one year's house arrest for fornication, the Criminal Court confirmed today. Officials said she would be transferred to a prison in the next few days.
Shaira had been charged with disobedience to an order under article 88(a) of the 1968 penal code as well as violations under the Child Protection Act.
Fingerprints belonging to Mariyam Rizna, 18, of Guraidhoo in Kaafu Atoll, had been found on the Coast Milk tin at the time. Rizna was sentenced to six months in prison for helping Shaira deliver the baby.
A third suspect, Aishath Aniya, 24, of Huraa in Kaafu Atoll, was released after the court determined that there was not enough evidence to prove that she had provided abortion pills to the defendant.
Police were unable to identify the baby's father at the time, and Shaira did not reveal his name.
Abortion is illegal in the Maldives except to save a mother's life, or if a child suffers from a congenital defect such as thalassemia. Anecdotal evidence, however, points overwhelmingly to a high rate of abortion and unwanted pregnancy.
Around the same time as Sharia's arrest, a dead infant was found in a plastic bag in Male's swimming track area. A medical examination later concluded that the baby had sustained cuts, bruises and other wounds, an indication of possible abortion practices.
In November 2010, an abandoned newborn was discovered alive in bushes near the Wataniya telecommunications tower in Hulhumale'.
In January 2010, Minivan News reported that many women unable to travel to Sri Lanka resort to illegal abortions performed by unskilled individuals in unhygienic settings.
Deputy Minister of Health and Family Fathimath Afiya told Minivan News that a meeting was held today to discuss reproductive services in the Maldives. While Maldivian and Shariah law criminalise abortion and intercourse outside of wedlock, Afiya said communication between relevant services and the judiciary made it difficult to fully address each case.
"There needs to be an appropriate legal framework for reporting these cases to the services that could help unmarried and teenage women in compromised positions," said Afiya. "We are very concerned about the rising number of unwanted pregnancies and abortions by married and unmarried women. Today, we began formulating an action plan for short- and long-term improvements."
The action plan, which will be finalised during a half-day workshop in November, aims to create awareness of the challenges that pregnant married or unmarried women face, and the comparative lack of appropriate services, among citizens and legislators.
"The situation is very serious, I was surprised at the work that needed to be done to improve the situation," Afiya said.
Sexual education is not administered per se in the Maldives, and the only official study of reproductive health was done in 2004. Other unofficial studies have noted that very little information is available on the subject.
According to Afiya, up to three cases of abortion are reported by Indira Ghandi Memorial Hospital's (IGMH) family protection unit–a scant slice of the real picture. Most abortions go unreported or are only brought to medical professionals when an unsafe abortion has damaged the mother.
The stigma of having a child out of wedlock appears to drive women to grave action. Some use abortion-inducing pills or receive injections from amateur abortionists; others turn to harmful vaginal preparations, containing chemicals such as bleach or kerosene. Although infrequent, some women insert objects into their uterus or induce abdominal trauma.
Afiya said the situation is not limited to abortions – an increasing number of women abandon their babies at the hospital after birth.
"Some will just leave after giving birth. It does happen somewhat regularly," she said.
In 2009, a young woman convicted of having extra-marital sex was also flogged. Amnesty International called for a moratorium on the "inhumane and degrading" punishment in the Maldives.
Although flogging is still a legal form of punishment in many Muslim countries worldwide, Amnesty officials claim that it specifically discriminates against women. Of the 184 people sentenced to lashing in 2006, 146 were female.
http://minivannews.com/society/mother-of-deceased-premature-baby-receives-100-lashes-for-fornication-27557
-------------
Husband wanted to kill me, eat others: NYC woman
THE ASSOCIATED PRESS
26 February 2013
NEW YORK: The wife of a New York City police officer on trial on charges that he conspired to kidnap, torture, kill and eat women objected to a defense lawyer's characterization of what she saw on her husband's computer as pornography.
"It wasn't porn. That was dead people," 27-year-old Kathleen Mangan-Valle told defense attorney Julia Gatto Monday in an emotion-packed opening day of testimony that took a federal court jury in Manhattan into some of the darkest corners of sexually driven activity on the Internet. "I don't know why you keep calling that stuff porn."
The testimony came soon after a prosecutor insisted that Gilbert Valle was intent on conspiring to kidnap, kill and cook women he knew, including his wife. Gatto told jurors the 28-year-old officer wanted only to share extreme sexual fantasies on the Internet with like-minded people, some of the 38,000 registered to a website that caters to those interested in asphyxiation and cannibalism.
At times speaking through sobs and twice crying so hard that the judge ordered breaks, Mangan-Valle described coming across grisly photographs last summer on a website that was a regular stop for Valle, the baby-faced man she met in October 2009 through an Internet dating service.
Gatto tried to soften the image of her client by showing jurors pictures of a uniformed Valle and the couple's 1-year-old daughter, a moment that caused the wife on the witness stand and eventually the officer at the defense table 30 feet away to cry out amid sobs.
She asked Mangan-Valle about good times with friends the couple had shared and their wedding last June.
"The wedding was nice. The marriage was not," Mangan-Valle said.
Mangan-Valle made clear there were no mixed emotions when she told Gatto why she did not agree to speak with defense attorneys prior to the trial.
"You're representing the man who wants to kill me. No, I don't want to talk to you," she said.
A prosecutor, Hadassa Waxman, had asked her earlier to describe what she found after she put a tracking device on a computer used by her husband to see what websites he visited and what he wrote to others in e-mails and instant chats. She said she learned she was a target.
"I was going to be tied up by my feet and my throat slit and they would have fun watching the blood gush out of me because I was young," she said.
Mangan-Valle also discovered plans to put one friend in a suitcase, wheel her out of her building and murder her. Two other women were "going to be raped in front of each other to heighten their fears," while another was going to be roasted alive over an open fire, she said.
http://www.arabnews.com/world/husband-wanted-kill-me-eat-others-nyc-woman
----------------
Afghan Girls Give More Than Their Hands in Marriage
February 26, 2013
KABUL, Feb 26 (IPS) - In Afghanistan, the maternal mortality rate is on the rise; hospitals are filling up with anaemic women and girls; and in over 200 districts, high schools are devoid of even a single female pupil. These issues are not unrelated - they are all products of a grave social problem in this country of 35 million people: early child marriages.
According to Sadia Fayeq Ayubi, head of the reproductive health department at the ministry of public health, early marriage (of girls younger than 16 years) is illegal in Afghanistan yet girls as young as 13 are frequently married, often to much older men.
In 2013 alone, 53 child marriages have been reported, said Nazia Faizi, a representative of the rights department at the ministry of women's affairs.
And although that number is less than in previous years, it does not provide an accurate picture of the situation since "there are more unreported cases in the rural areas where women are more deprived and have no rights or access to legal help", Faizi added.
Child marriages are most common in four northern provinces: Kunduz, Sarpol, Faryab and Herat, where women's "access to justice is poor", she said.
Girls are coerced into marrying young. Many families consider it a matter of shame if their daughter is not married by the time she is 16 years old.
Sometimes, young girls are also "traded" in marriage to save family honour or in compensation for a crime committed against a member of the family the girl is being married into.
According to Sayed Salahudin Hashimi, a preacher in Abu Bakr Siddiq Mosque in Khair Khana, Kabul, although Sharia law allows the marriage of post-pubescent girls, the decision to take a husband lies entirely with the girl herself: she cannot be forced, and she has the right to reject the offer.
But while this may be the case on paper, the reality for millions of girls is very different.
Medical concerns
Nayela, a teenager hailing from the Sarpol province in northern Afghanistan, is currently in the Malalai Maternity Hospital in the capital city of Kabul for treatment of fistula.
A serious reproductive health condition arising during childbirth, fistula is common among women and girls who receive little or no professional medical care during pregnancy and labour. One of the most common forms of the condition, obstetric fistula, is characterised by an abnormal passage between the birth canal and an internal organ like the rectum.
Both painful and humiliating, fistula leads to a host of related medical problems including incontinence, bladder infections, infertility and kidney failure.
As happens with many victims of fistula, Nayela delivered a stillborn child and sustained severe internal injuries during the process. When it became clear that her condition would linger on, her husband and mother-in-law drove her out of the house.
Her mother subsequently brought her to the hospital for treatment, which involves surgery.
Dr. Hafiza Omarkhail, head physician of the Malalai Maternity Hospital where Nayela is now awaiting treatment, identifies fistula as a "rampant female problem" here, exacerbated by childhood marriages.
Nayela's father died when she was very young and by the time she was a teenager her grandfather had forced her to marry a 40-year-old man, for what he claimed were "financial reasons".
Now she is suffering the consequences, along with scores of other girls battling both the pressures of early marriage as well as a weak maternal health sector.
According to Sadia Fayeq Ayubi, head of the reproductive health department at the Public Health Ministry, girls are married off between 13 and 17 years, and are often pregnant between 17 and 19 years of age.
This statistic is put in sharper perspective when viewed alongside national maternal mortality statistics: one in 50 Afghan women is likely to die of pregnancy-related causes, according to the 2010 Afghanistan Mortality Survey. The lifetime risk of pregnancy-related death is five times as high in rural areas as it is in towns and cities.
But the survey's maternal mortality rate of 327 per 100,000 live births in the survey area -- which excluded parts of the country disrupted by conflict -- is significantly lower than the 1,400 per 100,000 live births assigned by United Nations agencies and the World Bank for the same year.
Meanwhile, divorce rates, suicide and self-immolation are on the rise, said Parwin Rahimi, in charge of the women's support department at the Afghanistan Independent Human Rights Commission (AIHRC).
In 2010, former Deputy Health Minister Faizullah Kakar completed a study based on hospital reports and Health Ministry records, which showed that over 2,300 women and girls in the 15 to 40 age group attempt suicide annually.
That same year, 100 cases of self-immolation were registered at the Herat City Hospital – 76 of those women succumbed to their burns.
Experts and advocates suspect that early marriages are playing a role in pushing an increasing number of women to these desperate, often fatal, acts.
Rahimi believes it is a "legal flaw" that girls can be married as young as 16 and allowed to start a family.
Most of these teenage brides face exploitation and unimaginable violence at the hands of their husbands and in-laws. They have little access to justice, and more often than not their stories go untold.
Child marriages could also explain the high drop-out rate for girls in Afghanistan – according to the international development organisation BRAC, 82 percent of Afghan girls drop out of school before the sixth grade.
The Education Ministry says the situation is worse in rural areas, where girls rarely manage to finish school. It is estimated that 70 percent of Afghan women are illiterate.
Although most girls are resigned to their fate, some fight back.
Nineteen-year-old named Mahjooba was engaged to her cousin when she was just a child. When she refused to marry him, the family became violent.
"I had continued my studies up to Class Nine. I passed an exam for admission to nursing school. When my aunt's family got to know, they did not want me to continue with my studies. But I did not agree with their decision. I was divorced," she said.
The AIHRC has been pushing for the registration of marriages in court as a solution to child marriages.
*Abida M. Telaee writes for Killid, an independent Afghan media group in partnership with IPS.
http://www.iede.co.uk/news/2013_1103/afghan-girls-give-more-their-hands-marriage
----------------
Suspected Killers of Minor Girl Claim They Also Killed SP's Daughter
February 27, 2013
ISLAMABAD: The couple that allegedly raped and killed an 11-year-old girl in Bhara Kahu confessed to killing the daughter of Crime Investigation Department Superintendent of Police Hakim Khan Niazi.
An official of the Bhara Kahu police told The Express Tribune that the accused, Maha* and Qamar* confessed during interrogation to the murder of the SP's daughter, whose name could not be ascertained.
Full report at:
http://tribune.com.pk/story/513015/surprise-confession-suspected-killers-of-minor-girl-claim-they-also-killed-sps-daughter/
----------------
60-Year-Old Emirati Accused Of Assaulting Ethopian Housemaid
Marie Nammour (Court round-up) / 27 February 2013
A 60-year-old man allegedly kidnapped and raped a maid in the desert after he forced her into his 4WD posing as a policeman, a court heard.
The man, an Emirati working as a mechanic, faced rape and kidnap charges in the Court of First Instance. He denied the charge alleging the sex was consensual.
The maid, a 33-year-old Ethiopian, said in the investigation that she had gone shopping at a nearby hypermarket in Al Qusais. She was walking back home around 10am in September last year when a 4WD driven by the defendant stopped. He honked, stepped out of the car, grabbed her hand and forced her in claiming to be a policeman.
Full report at:
http://www.khaleejtimes.com/nation/inside.asp?xfile=/data/courtroundup/2013/February/courtroundup_February66.xml&section=courtroundup
----------------
Saudisation: Who Is More Important — HIV Girl Or Woman Cashier?
Feb 27, 2013
Reham, we apologize to you! Please accept the regret of the entire homeland with all its plains, shores, mountains, deserts and oasis. Listen to our sobs and notice the sadness in our eyes when we look at your innocent face as you narrate the details of your tragic story, the causes of which you are not aware.
Your story is a painful human episode. You have simply exposed our crime and intellectual distortions. We occupy ourselves with trivial cases and leave the most important ones unattended. The writers, preachers and men of letters are not concerned with the conditions of people or the level of services being provided to them. They are more obsessed on the issue of female cashiers: Is she a seduction or not?
They were doing this at a time when an innocent girl visited a hospital only to have her innocent body infused with HIV-tainted blood. It is a serious and deadly virus which people used to keep in secret until very recently.
Full report at:
http://www.saudigazette.com.sa/index.cfm?method=home.regcon&contentid=20130227154717
----------------
Even After Ten Years, Afghan Women Still Do Not Have Basic Human Rights
26/02/2013
Sara Basharmal Student at City University, studying Journalism with Arabic
Women in Afghanistan face the most challenges in the world, according to a study by the Thomson-Reuter foundation, which was undertaken in July 2011.
Afghanistan has been placed on the poll as the 'most dangerous' country for women. This decision takes into consideration the human rights, education and security that women lack in the war-torn country.
Full report at:
http://www.huffingtonpost.co.uk/sara-basharmal/afghanistan-womens-rights_b_2762006.html
----------------
Nigerian UK Midwife Says: I Lost Count after Delivering 1,000 Babies
By JULIANA TAIWO-OBALONYE
Feb 27, 2013
A United Kingdom-based Nigerian, Mrs. Kate Anolue, is the mayor of the London Borough of Enfield. Anolue, a midwife and the second black female Mayor of Enfield, hails from Nanka in Anambra State. Although the position of mayor in UK is mostly ceremonial, it places a distinction on a serving councillor, who is respected by all the political parties.
She spent most of her time to attend civic functions, including presiding over full council meetings as well as acting as returning officer during elections. She followed her father's desire for her to become a nurse and moved to Edmonton more than 20 years ago, starting her training in May 1972, eventually qualifying as a midwife.
Full report at:
http://sunnewsonline.com/new/specials/abuja-metro/nigerian-uk-midwife-says-i-lost-count-after-delivering-1000-babies/
----------------
UG's Women's Commission to launch week-long celebration
Feb 27, 2013
The Women's Commission of University of Ghana will launch its week-long activity to reinvigorate students' lives on campus.
The event under the theme, "Strategising for the Future; The Woman and Her Environment", would enable them to realize the challenges that lie ahead of their lives and ways to tackle them as and when they come.
Full report at:
http://www.ghanaweb.com/GhanaHomePage/regional/artikel.php?ID=266012
----------------
Islam Protects Women's Rights: Wife of Turkish Prime Minister
By a staff reporter
February 27, 2013
SHARJAH: Emine Erdogan, wife of Turkish Prime Minister Recep Tayyip Erdogan, praised the role of Islam in supporting women's rights and said that Islam protects such rights.
She made the statement during a visit to Sheikha Jawaher Bint Mohammed Al Qasimi, wife of His Highness Dr Sheikh Sultan Bin Mohammed Al Qasimi, Supreme Council Member and Ruler of Sharjah, and Chairperson of the Supreme Council for Family Affairs at Al Badea Palace, Sharjah. Sheikha Jawaher discussed with Emine Erdogan ways of strengthening relations and enhancing the role of women in society.
Full report at:
http://gulftoday.ae/portal/83ed9654-2d65-4f80-93c0-15549a140783.aspx
----------------
Flourishing Trend of Islamic Fashion in the UK
Feb 27, 2013
During the past decade, Islamic fashion has become much more prominent worldwide. Muslim women living in the western world now have the sort of fashion choices available to them that would have been inconceivable 20 years ago. The British market for this type of clothing is particularly large, with a number of different fashion brands keen to make their mark in the industry.
Full report at:
http://www.digitaljournal.com/pr/1092375#ixzz2M5Rnc9Yp
----------------
Women and children bear the brunt of the Syrian war
27 February 2013
The War in Syria continues to claim hundreds of casualties daily for the second year in a row, and for those it does not kill, it affects them for life. Children and women especially, bear the brunt of the war as thousands of them are left orphans and widows.
According to The Syrian Human Rights Watch Network, an estimate of 40,000 Syrian children are fatherless and 4,237 are motherless as a result of daily airstrikes and gun battles across the country.
Full report at:
http://english.alarabiya.net/articles/2013/02/27/268521.html
----------------
Mother to Decide Fate of Ungrateful Son
February 27, 2013
Tamder Al-Rehaili
JEDDAH — The Criminal Court in Jeddah has sentenced a man to prison for fracturing his elderly mother's hand and was told he will not be released until his victim is satisfied he has sufficiently repented his actions.
He assaulted her repeatedly, the court was told during the trial.
The Bureau of Investigation and Public Prosecution had detained the man and filed a case against him.
Full report at:
http://www.saudigazette.com.sa/index.cfm?method=home.regcon&contentid=20130227154707
----------------
URL: https://newageislam.com/islam-women-feminism/under-age-maldivian-rape-victim/d/10576