New Age Islam News Bureau
4 Sept 2015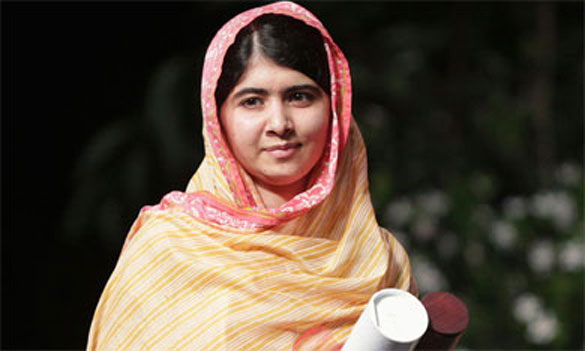 Titled "He Named Me Malala', this new documentary lifts the lid on her family life in central England --- Reuters
---------
• Cars of 'Poorly Veiled' Iranian Women to Be Seized
• 'I Want a Blue-Eyed Yazidi': Teen Details Daesh Slave Market
• Family Jokes and School Struggles, Film Shows Private Side of Malala
• Israel Blocks Muslim Women from Entering Al-Aqsa
• Female Islamist Extremists Banned from Temple Mount
• Forty-Six Saudi Women Have Joined ISIS since 2011, MOI Says
• French Soldier Sexually Abused Girl in C Africa: UN
• Hyderabad: Karvy Staff Force Muslim Women to Remove Head Scarf For Aadhar Biometrics
Compiled by New Age Islam News Bureau
URL: https://www.newageislam.com/islam,-women-and-feminism/new-age-islam-news-bureau/uncovered-women-to-blame-for-crimes-against-other-women--jawi/d/104482
-----------
Uncovered Women to Blame for Crimes against Other Women: Jawi
September 4, 2015
KUALA LUMPUR, Sept 4 — A Friday sermon by Federal Territories' Islamic authorities today blamed women who do not cover their "Aurat," or intimate body parts, for causing social ills that would affect even those who do.
In its sermon distributed to mosques under its jurisdiction, the Federal Territories Islamic Department (Jawi) also compared uncovered women to uncovered dishes, which it said are bound to frequent by flies, making them unappetising.
"Let us think, what will happen if a dish is not covered? Surely flies will go to the dish, subsequently making those who love the dish lose their appetite," Jawi said.
"Looking at today's social ills, it is worrying. When women fail to cover their aurat perfectly, it will open the door to vices," the sermon added.
"The exploitation of women will prosper. Illicit sex will invite calamities. Life will no longer be peaceful. Safety will be worthless. Even those who take care of their aurat will be victims. Those who reveal their Aurat, sins await them."
The sermon told Muslims that women should wear their tudung, or scarf, to cover their chests and the material must not be translucent, while their dresses must be long, made of thick materials and are not body-hugging.
It also complained that Muslim women have fallen victims to trend and fashion by copying the cultures of other societies, tarnishing the image of women who cover their heads.
According to contemporary Muslim teachings, Muslim women's "aurat" towards unrelated men is their whole body except their faces and both palms.
There was no mention in the sermon about the obligation of men to also cover their aurat, although Friday prayers are attended almost exclusively by Muslim men in Malaysia.
The sermon was similar in message to the one written by Selangor's Islamic authority in February this year, urging Muslim women to cover up their "aurat" to prevent rape and other forms of sexual harassment.
The sermon, prepared by the Selangor Islamic Religious Department (Jais), also compared women who do not cover up to homes which are left unlocked, and therefore are liable to break-ins by robbers.
Several Muslims caused a furore in June this year after they slammed 21-year-old SEA Games gold medallist Farah Ann Abdul Hadi's gymnastic attire, attacking her for showing her "aurat" and the "shape of her vagina" in a leotard.
http://www.themalaymailonline.com/malaysia/article/uncovered-women-to-blame-for-crimes-against-other-women-jawi-says-in-friday
-----------
Cars of 'poorly veiled' Iranian women to be seized
September 03, 2015
Women drivers in Iran's capital could have their cars impounded by police if they are caught driving with a poorly fixed veil or without their heads covered, a police chief said this week.
"If a (female) driver in a car is poorly veiled or has taken her veil off, the vehicle will be seized in accordance with the law," the head of Tehran's traffic police, Gen. Teymour Hosseini, was quoted as saying by the official ISNA news agency.
He added that any woman who had her car seized would need to obtain a court order before getting it back.
Since the revolution in 1979, wearing a veil in public has been mandatory for all women in Iran.
But recent decades have seen a loosening of the rules governing female dress and many women in Tehran dress in a way that is far removed from the strict clothing regulations in other observant Muslim countries such as Saudi Arabia.
"Unfortunately, some streets of the capital have come to resemble fashion salons," Iran's judiciary chief Ayatollah Sadegh Larijani said this week, questioning the "tolerance" that has led to "such a situation".
Iran's moderate President Hassan Rohani has since his June 2013 election overseen some political and social reform but much of the country's political establishment remains deeply conservative. — AFP
http://www.saudigazette.com.sa/index.cfm?method=home.regcon&contentid=20150904255489
-----------
'I want a blue-eyed Yazidi': Teen details Daesh slave market
September 03, 2015
Jinan, 18, an Iraqi Yazidi, survivor of Daesh (the so-called IS) group and co-writer of the book "Esclave de daesh" ("Daesh's Slave") poses this week in Paris. Jinan was captured in early 2014 and held by Daesh militants for three months before she managed to flee, she said on a visit to Paris ahead of the publication of a book about her ordeal on Friday. She said Daesh is running an international market in Iraq where Christian and Yazidi women are sold as sexual slaves. — AFP
Kidnapped, beaten, sold and raped: Daesh (the so-called IS) group is running an international market in Iraq where Christian and Yazidi women are sold as sexual slaves, a teenager who escaped told AFP.
Jinan, 18, a Yazidi, was captured in early 2014 and held by Daesh militants for three months before she managed to flee, she said on a visit to Paris ahead of the publication Friday of a book about her ordeal.
Seized as Daesh fighters swept through northern regions inhabited by the Yazidi religious minority, Jinan was moved around between several locations before being bought by two men, a former policeman and an imam.
She described to AFP how she and other Yazidi prisoners were locked up in a house.
"They tortured us, tried to forcefully convert us. If we refused we were beaten, chained outdoors in the sun, forced to drink water with dead mice in it. Sometimes they threatened to torture us with electricity," she said.
"These men are not human. They only think of death, killing. They take drugs constantly. They seek vengeance against everyone. They say that one day Daesh will rule over the whole world."
In the book, Jinan describes how once, in Mosul, she was led into "a massive reception hall with large columns ... dozens of women were gathered there."
"The fighters circulated among us, laughing raucously, pinching our backsides," she writes in "Daesh's Slave".
She said one man complained, saying: "That one has big breasts. But I want a Yazidi with blue eyes and pale skin. Those are the best apparently. I am willing to pay the price."
During such "slave markets" she saw Iraqis and Syrians but also Westerners whose nationality she could not discern.
The best-looking girls were reserved for the bosses or wealthy clients from Gulf nations.
Once she was sold, Jinan's days were punctuated by men's visits to the house where she was imprisoned with other women.
Fighters came to make their purchases in the foyer where traders acted as intermediaries between the slave owners and emirs who inspected the "livestock", Jinan wrote in the book, which was written with the help of French journalist Thierry Oberle.
"I will exchange your Beretta pistol for the brunette," said one of the traders. "If you prefer to pay cash it is $150 (133 euros). You can also pay in Iraqi dinars."
Convinced that she did not speak Arabic, Janin's two owners spoke freely in front of her and one night she heard a conversation revealing the extent to which the slave trade is run like a business.
"A man cannot purchase more than three women, unless he is from Syria, Turkey or a Gulf nation," said one, named Abou Omar.
"It's good for business," replied the other, Abou Anas. "An Arab buyer has transport and food costs that a Daesh member does not. He has a higher quota to make his purchases profitable. "It is a good deal: Daesh increases its profits to support the mujahideen and our foreign brothers are satisfied."
After managing to escape using a set of stolen keys, Jinan made her way back to her husband and is now living in a Yazidi refugee camp in Iraqi Kurdistan.
"If we go back home, there will be other genocides against us. The only solution is that we have a region to ourselves, under international protection," she said. — AFP
http://www.saudigazette.com.sa/index.cfm?method=home.regcon&contentid=20150904255488
-----------
Family jokes and school struggles, film shows private side of Malala
September 4th, 2015
Most people know Pakistani Nobel Peace Prize winner Malala Yousafzai, who was shot by the Taliban in 2012 for demanding girls' right to education, but few have heard of the 19th century Afghan heroine she was named after.
According to Pashtun tradition, Malalai of Maiwand spurred her countrymen to victory against British troops in 1880, taking to the battlefield to rally a demoralised Afghan force with a verse about martyrdom. She was later struck down and killed.
The legend is recounted in "He Named Me Malala", a new documentary about Yousafzai, now 18, whose attack while riding a school bus shocked the world.
"You named her after a girl who spoke out and was killed. It's almost as if you said she'd be different," director Davis Guggenheim tells Yousafzai's father, Ziauddin, in the film.
"You're right," he replies.
Filmed over 18 months, the intimate portrait shows a teenager more at ease on the world stage - speaking at U.N. headquarters in New York - or addressing students in Syrian refugee camps than with classmates in Britain where she was flown for surgery.
"In this new school, it's hard," she says, admitting a lack of shared experiences with the other girls.
While much is known about Yousafzai's advocacy work, the documentary lifts the lid on her family life in central England with much humour generated by her two brothers.
"She's a little bit naughty," says Yousafzai's youngest brother, who she introduces as "a good boy" in contrast to her other brother who she calls "the laziest one".
She giggles when asked if she would ever ask a boy on a date.
BE SILENT OR STAND UP
Using archive footage and voice recordings of Islamist leader Fazlullah, the documentary captures the steady crackdown on freedoms in Yousafzai's native Swat Valley, including schools destroyed by bombs and music CDs burned.
Encouraged by her teacher father, Yousafzai began blogging for the BBC at the age of 11. Writing anonymously, she described life under the harsh edicts of the Taliban, bombed-out schools, executions under the cover of dark and girls' education limited to reading the Koran.
She later made public appearances in Swat Valley, calling for girls' right to an education.
"My father and my mother both inspired me to believe in myself. In a society where women's rights are not respected, my parents gave me examples," Yousafzai said at a screening of the documentary in Washington DC this week.
"There's a moment where you have to choose to be silent or to stand up," she says in the film. "My father only gave me the name Malala, he didn't make me Malala. I chose this life and now I must continue it."
Ziauddin Yousafzai said the film was not the story of one family but millions suffering because of war and conflict, adding that millions of Syrian children had been deprived of an education.
"When you meet these girls, their passion and taste for education it is remarkable. They want to learn," he said in Washington.
"In the global south, in developing countries, most of the children fight every day to get educated. Many families have sold their whole property - their cows, their farm and everything to get their children educated."
Yousafzai's Malala Fund, which support girls' secondary education, wants the film to be shown in schools to inspire students to stand against bullying, racism and human rights violations.
The movie opens in theatres in the United States from Oct. 2 before it is released in Britain later in the month.
http://www.dawn.com/news/1204878/family-jokes-and-school-struggles-film-shows-private-side-of-malala
-----------
Israel blocks Muslim women from entering Al-Aqsa
September 3, 2015
The Israeli occupation forces prevented a group of Muslim women from entering Al-Aqsa compound on Thursday, under the pretext of the so-called "black list" of women to be denied entry via all gates, prompting them to gather in front of Al-Silsila (chain) Gate and refuse to leave.
The Israeli forces also seized the ID cards of Palestinian women and girls before allowing them to enter Al-Aqsa Mosque. They had been barred from entering the mosque during the 10-day period of Al-Aqsa storming by the settlers in the hours before noon.
Meanwhile, the Israeli Special Police Units arrested the Palestinian youth Samih Al-Haddad from inside Al-Aqsa Mosque and took him to one of the outposts in the Old City for interrogation due to his participation in protests against the provocative tours of Al-Aqsa compound by the settlers.
It is to be noted that the Jewish settlers renewed on Thursday their storming of Al-Aqsa through the Al-Magharebah Gate under the guard of the Israeli police.
http://en.abna24.com/service/middle-east-west-asia/archive/2015/09/03/709009/story.html
-----------
Female Islamist Extremists Banned from Temple Mount
9/4/2015
Israeli authorities on Thursday distributed a list of 40 Arab women who are banned from entering the Temple Mount, local sources told the Bethlehem-based Arab news agency Ma'an.
The women, who are members of the Islamic Movement's "Murabitat" group, are reportedly banned from entering the Mount for periods between 10 and 60 days.
Ma'an cited Jerusalem police commander Avi Bitton as saying on Wednesday that the list is made up of women who "cause trouble and damage" at the site, but that other Murabitat women not on the list would be allowed entry. Bitton reportedly said that the the recent restrictions were imposed "to prevent any tensions in the area, as they violate order, and present a threat to visitors."
Elishama Sandman, Director of Yera'e, a Jewish Temple activists' group, told Arutz Sheva Friday that after eight days in which police prevented female rioters from entering the Mount between 7 and 11 AM, Jews who ascended the Mount on Thursday did encounter some Murabitat who disturbed them, but that these were few in number and that the situation is a "a great improvement" compared to the past. He confirmed that Arabs said that police have banned several dozen Murabitat from entering the Mount.
Director of the Al-Aqsa Mosque, Sheikh Omar al-Kiswani, told Ma'an that in addition to Israeli police preventing women from entering the mosque, forces also imposed restrictions on the entrance of men.
Male students of Islamic religious schools inside the Temple Mount compound have reportedly only been allowed entrance to the compound through the Hatta Gate with a teacher as an escort, while female students also require an escort and have been only allowed entry through the Chain Gate.
http://www.israelnationalnews.com/News/News.aspx/200298#.VemHWtKqqko
-----------
Forty-six Saudi women have joined ISIS since 2011, MOI says
3 September 2015
More than 40 Saudi women, some with their children, have joined the Islamic State of Iraq and Syria (ISIS) militant group since 2011, Maj. Gen. Mansour Al Turki, spokesman for the Saudi Ministry of Interior told Al Hayat newspaper.
The most recent of the 46 Saudi women to join ISIS travelled to Syria in July along with her children and a number of women, the Arabic daily reported.
Upon arriving in ISIS-controlled territory, the woman - who Al Hayat kept anonymous - declared on her Twitter account that she would commit a suicide attack "soon."
The 40-year-old is reportedly from the Sajir governorate, which lies 270 kilometers north-west of Riyadh.
Saudi Arabia launched a crackdown on ISIS supporters in the kingdom after two separate attacks by loyalists to the militant group killed scores of people earlier this year.
Of the 1,677 suspects detained by authorities and charged with supporting ISIS, 1375 are Saudi while 302 are foreign residents from 31 countries.
In July, Saudi Arabia arrested 431 people as part of a crackdown on a cluster of cells linked to ISIS.
Authorities also thwarted seven mosque attacks that had been planned by the suspects in the capital Riyadh as well as the Eastern Province, MOI Spokesman Al Turki said in a press conference carried by Al Arabiya News Channel in July.
Among the arrested were Saudi nationals and suspects from nine other nationalities, he said adding that the cluster of cells was divided by tasks and target, he told reporters.
http://english.alarabiya.net/en/News/middle-east/2015/09/03/Forty-six-Saudi-women-have-joined-ISIS-since-2011-MOI-says-.html
-----------
French soldier sexually abused girl in C Africa: UN
September 04, 2015
GENEVA - The UN said Thursday its staff had learned that a French soldier had sexually abused a teenaged girl in the Central African Republic, who became pregnant and gave birth. "This is the latest in a series of appalling allegations of sexual exploitation and abuse by foreign troops in CAR," UN High Commissioner for Human Rights Zeid Ra'ad Al Hussein said in a statement.
UN workers in the country learned on August 30 that a girl was allegedly sexually abused around a year ago by soldier from the French military force, known as Sangaris, the United Nations rights office said.
The girl, who is believed to have been in her mid to late teens at the time of the alleged abuse, gave birth to a child in April, it said, adding that the victim has lodged a paternity case with the local authorities.
French authorities had been informed of the allegations and that the UN was ready to help with any investigation, Zeid said.
A source close to French Defence Minister Jean-Yves Le Drian said he "immediately ordered an investigation and will refer the case to Paris prosecutors once the details have been transferred to him."
The ministry had been informed three days ago that the UN was planning to put out a statement about sexual abuse allegations, but had not received any details yet, the source said.
"We're waiting for the UN to give us a bit more," ministry spokesman Pierre Bayle said, stressing the French would be "completely transparent" in their handling of the case.
France is already investigating allegations that 14 Sangaris soldiers sexually abused children in CAR in return for food, from December 2013 until June 2014.
"Although this particular case did not involve UN peacekeepers, there have been a number of other cases in CAR - and elsewhere - which have," said Zeid, who is currently visiting the chronically restive, impoverished nation.
The case announced Thursday is only the latest in a string of alleged sexual abuse cases involving foreign troops.
The French Sangaris soldiers were not deployed under UN command, but the UN's 12,000-strong MINUSCA force, which took over from an African Union mission nearly a year ago, has also been plagued by a series of allegations of rape and other misconduct by its own troops.
The UN mission in CAR has been hit by 13 cases of alleged sexual abuse by its peacekeepers, including nine that involve underage victims as young as 11, an official said last month.
"We simply have to find ways to prevent such odious acts being committed by any soldiers anywhere who are supposed to be protecting vulnerable populations," Zeid said.
He said governments who send peacekeeping troops have an obligation to investigate all such cases in a timely manner. "Any UN or other foreign military personnel found guilty must be given sentences that fit the crime," he said.
http://nation.com.pk/international/04-Sep-2015/french-soldier-sexually-abused-girl-in-c-africa-un
-----------
Hyderabad: Karvy staff force Muslim women to remove head scarf for Aadhar biometrics
4 September 2015
Karvy Data Management Services staff, who were recording biometrics for Aadhar cards in Hyderabad, reportedly forced Muslim women to remove their head scarves. One Karvy staffer was sacked and two others suspended for 180 days when UIDAI pulled up the company for violation of rights.
The Andhra Pradesh State Minority Commission (APSMC) was also made aware of the incident when reports appeared in local media. The APSMC sent notices to UIDAI asking them to submit an action taken report. Now, the APSMC has reportedly sent a notice to Karvy Data Management Services and UIDAI director-general in New Delhi. A hearing has been scheduled for September 11.
UIDAI guidelines states: "Use of accessories that cover any region of the face is not permitted. The head may remain covered but the full face contour should be visible. Further, accessories like turban/head gear are also allowed as religious/ traditional practices."
According to a report in Deccan Chronicle, Karvy has now published ads in local newspapers in Urdu to make people aware of UIDAI guidelines. It also states, "A lady who wants to enrol can opt for a lady operator for the enrolment process".
http://www.dnaindia.com/india/report-hyderabad-karvy-staff-force-muslim-women-to-remove-head-scarf-for-aadhar-biometrics-2121708
-----------
URL: https://www.newageislam.com/islam,-women-and-feminism/new-age-islam-news-bureau/uncovered-women-to-blame-for-crimes-against-other-women--jawi/d/104482