New Age Islam News Bureau
23 March 2017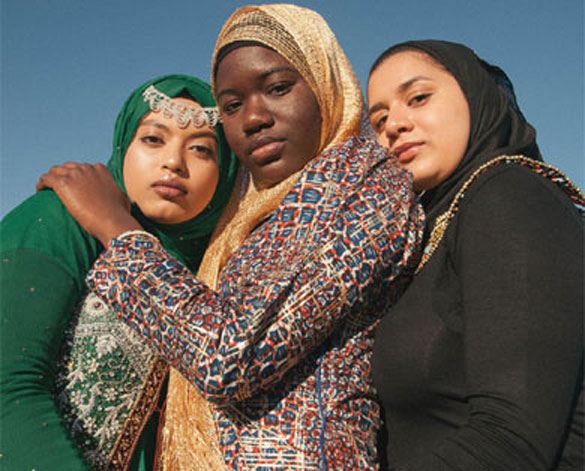 The photographs feature three teens named Alishba, Aissatu and Aya, dressed in earth-toned hijab adorned with sparkles and gold,
--------
• Unable To Meet Educational Expenses, Muslim Girl Writes To PM Narendra Modi – Know What Happened Next
• Instagram Bursts With Mockery of Syrian First Lady's 'Mother's Day' Congratulations
• Women's Talents under Spotlight at Zero Nine Exhibition
• Attackers Hurl Grenade At Girls School In Killa Abdullah
• Swaraj Wants 'Abused' Indian Wife to Return from Pakistan
• American Woman Supporting Afghans For 38 Years Granted Citizenship
• Israel Foreign Min. Cadet Course to Include First Muslim Woman
• Khamenei: Gender Equality 'Zionist Plot'
• Aisha Mohamed: "This event showed me how resilient we all are as young women"
• Gorgeous Portraits Capture the Sisterhood Between Muslim American Teenagers
• Cambridge photo exhibit highlights stories of community's Muslim and Sikh women
Compiled by New Age Islam News Bureau
URL: https://www.newageislam.com/islam-women-feminism/unable-meet-educational-expenses-muslim/d/110506
------
Unable To Meet Educational Expenses, Muslim Girl Writes To PM Narendra Modi – Know What Happened Next
Thursday, March 23, 2017
Unable to meet educational expenses, Muslim girl writes to PM Narendra Modi – Know what happened next
Bengaluru: With Prime Minister Narendra Modi's quick response, a Muslim girl name BB Sara, who hails from Karnataka's Mandya, is now able to fulfil her dream of completing her education.
Sara, an MBA student, had applied for a loan from Central Bank of India in order to meet her educational finances.
However, to her dismay the bank refused to sanction the loan, saying she had not paid the loans that had been taken earlier, so further financial assistance cannot be provided.
Thereafter, she decided to write a letter to PM Modi and seek help.
Within no time, the Prime Minister's Office intervened into the matter and helped her get a loan from Vijaya Bank.
Sara wishes to meet the PM in person and thank him for the kind gesture.
Speaking to news agency ANI Sara said, when she applied for the loan, the bank refused in spite of her good score, saying how will she repay as her father works at a sugar factory.
When asked to comment on PM Modi, she said, "I was confident that PM will respond but did not expect that the action would be so fast."=
Sara confirmed that she received a reply from the PMO just 10 days after she appealed to PM modi for help.
http://zeenews.india.com/india/unable-to-meet-educational-expenses-muslim-girl-writes-to-pm-narendra-modi-know-what-happened-next_1989094.html
------
Instagram Bursts With Mockery of Syrian First Lady's 'Mother's Day' Congratulations
Wednesday 22 March 2017
DUBAI: Social media users made fun of Syrian First Lady Asma Al-Assad being named as the "Mother of the Nation."
In comments replete with derision and taunts, they said it was galling on her part to be called the "Mother of the Nation" after having overseen the murder of nearly 400,000 of her compatriots since the 2011 revolution.
Almost 5 million people have fled Syria since the beginning of the war and a further 6.3 million remain as internally displaced persons, according to UNHCR data.
The Syrian president wife was named "Mother of the Nation" in a flurry of pictures and video clips released on the occasion of Mother's Day in the Middle East.
To mark the occasion, which is celebrated on March 21 in the Arab world, Asma Al-Assad welcomed a group of mothers whose sons had died in the fighting in Aleppo.
The Instagram and Facebook accounts of the Syrian presidency posted images of the meeting, showing Asma Al-Assad hugging and laughing with a group of women.
The images and video were titled "Mother of the Nation," in reference to the first lady. Instagram users went ballistic against her. "She has no shame," said one Instagram user. "She and her husband have reduced the country into one big graveyard."
In a video posted to the Facebook page, Asma Al-Assad told the mothers: "You, Aleppo mothers, made Aleppo stronger. You have been the compass we all followed and went through toward victory. You decided you would win and you did through your sons, your homes, your endurance and your support to your army. You won and Aleppo won along with you."
She further said: "Every mother that insisted on staying at her home despite the bombs of terrorism is a weapon in the hand of a soldier, and every mother who sent her children to school despite the fear and danger is a bullet in the rifle of every soldier.
The plight of civilians in Aleppo caused global outrage as Syrian troops moved from neighborhood to neighborhood and civilians posted social media videos bidding farewell to their followers.
"We appear to be witnessing nothing less than ... a total uncompromising military victory," former UN Secretary-General Ban Ki-moon said at the time, according to Reuters.
http://www.arabnews.com/node/1072246/middle-east
------
Women's Talents under Spotlight at Zero Nine Exhibition
Thursday 23 March 2017
The fourth edition of the Zero Nine charity exhibition will be held on April 12-15 in Fujairah. This was announced by Sheikha Shamsah bint Hamad, chairwoman of the organizing committee of Zero Nine, who was speaking at a press conference last week.
She said the exhibition is aimed at bolstering values and cherishing women's talents and achievements.
Nearly 70 businesswomen from across the UAE and GCC countries are expected to take part in the event, organized this year under the theme "Happiness is in Giving."
"Proceeds from the event will be allocated to support a program launched by Make a Wish Foundation UAE. The program provides assistance to young people who suffer from life-threatening diseases to help alleviate their sufferings and increase their morale," she said.
The annual event is expected to be met with active contributions from the participants, either by entry fee for the exhibition or via a dedicated voluntary fund.
"This event comes as a continuation of the march of benevolence spearheaded by the UAE President Sheikh Khalifa bin Zayed Al-Nahyan who declared the year 2017 as the Year of Giving," bint Hamad added.
She also thanked Sheikh Hamad bin Mohammed Al-Sharqi, member of the Supreme Council and ruler of Fujairah, Sheikh Mohammed bin Hamad Al-Sharqi, crown prince of Fujairah, and Sheikh Rashid bin Hamad Al-Sharqi, chairman of Fujairah Culture and Media Authority (FCMA), for their support of all community activities in the emirate.
Hamdan Karem Al-Kaabi, director general of FCMA, said: "The authority is keen on supporting all community charity initiatives, keeping in mind that this year's theme of the exhibition supports Make a Wish Foundation UAE in line with the directives of Sheikh Rashid bin Hamad Al-Sharqi, FCMA chairman, and Sheikha Shamsah bint Hamad," he added.
Hassa Al-Falasi, the event director, said; "The exhibition aims at showcasing and elevating the talents of local and Middle Eastern businesswomen across a variety of categories, such as fashion, interiors, make up, accessories and foods."
Zero Nine (Fujairah's area code) also offers a closer look at what the naturally beautiful emirate has to offer to tourists from across the world.
http://www.arabnews.com/node/1072366/corporate-news
------
Attackers Hurl Grenade at Girls School In Killa Abdullah
Mar 23, 2017
SYED ALI SHAH
Armed attackers hurled a hand-grenade at a government girls' high school in Balochistan's Killa Abdullah district near Pak-Afghan border on Wednesday, security sources said. No loss of human life was reported.
Levies sources said two armed militants riding on a motorcycle hurled a hand-grenade at girls high school in Killi Pir Alizai area of district Killa Abdullah. The blast smashed the glasses of school.
"Fortunately, the girls were inside their classes at the time of attack, " Zamarak Achakzai, the parliamentary leader of Awami National Party (ANP) who belongs to the same village told DawnNews via telephone.
"We strongly condemn this terror act and demand the arrest of culprits behind the attack," Achakzai said.
The assailants sped away on their motorcycle after the attack.
Levies personnel reached the girls high school as investigation into the incident went underway. Panic prevailed among the students in the aftermath of the attack.
This was for the first time in the area to target any educational institutions. There was no immediate claim of responsibility for the attack.
https://www.dawn.com/news/1322151/attackers-hurl-grenade-at-girls-school-in-killa-abdullah
------
Swaraj Wants 'Abused' Indian Wife to Return From Pakistan
March 23rd, 2017
NEW DELHI: Indian External Affairs Minister Sushma Swaraj has directed the Indian High Commission in Islamabad to renew the passport of an allegedly abused Indian woman married to a Pakistani man, and facilitate her return, reports said on Wednesday.
They said Mohammadi Begum, who hails from Telangana, was living with her husband in Sialkot. She complained to her parents that she was being harassed and beaten up by her husband and in-laws and that she wanted to come back to India.
The woman's father Moham­mad Akbar appealed to Ms Swaraj who, in turn, asked officials of the Indian High Commis­sion to meet Ms Begum.
On Monday, Ms Swaraj posted on Twitter that the officials met Ms Begum and she had expressed her desire to return to India.
Following this, Telan­ga­na's Majlis Bachao Tehreek spokesperson Amjed Ullah Khan posted the video of a telephone conversation between Ms Begum and her mother, in which she allegedly said she was beaten up and threatened by her husband for informing the Indian mission.
Mr Khan also mentioned that Ms Begum's husband married her by claiming that he was an Omani national but has been keeping her in 'captivity' in Pakistan for the past 15 years.
"Mohammadi Begum said that she has faith in Allah and the Indian government, especially in Smt Sushma Swaraj, MEA and the Indian Embassy officials in Pakistan, that they had assured her that as soon as her passport is renewed she will be transferred to Mumbai and then to Hyderabad," Mr Khan said.
It was not clear if the woman has retained her Indian nationality or become a Pakistani citizen.
https://www.dawn.com/news/1322292/swaraj-wants-abused-indian-wife-to-return-from-pakistan
------
American Woman Supporting Afghans For 38 Years Granted Citizenship
Thu Mar 23 2017
An American woman supporting the Afghan people for the past 38 years has been awarded citizenship by the Afghan government.
The Office of the President, ARG Palace, said President Ghani granted the citizenship to the woman, Marie Caroline during a ceremony organized in the Palace.
According to a presidential decree, Ms Caroline was formally granted the citizenship after she stayed for over 38 years in the country, mainly to focus on supporting the Afghan people.
President Ghani congratulated Ms Caroline for earning the Afghan citizenship and instructed the Ministry of Foreign Affairs, Ministry of Interior and other relevant institutions to jointly work for the implementation of the decree.
He also thanked Ms Caroline for supporting the Afghan people during the period she has been staying in the country.
In her turn, Ms Caroline said the Afghan people are friendly and warm and that she feels comfort by staying alongside them.
The ARG Palace said Ms Caroline was actively involved in supporting the Afghan people in various sectors, specifically in handicrafts, tailor works, and supporting the needy women.
http://www.khaama.com/american-woman-supporting-afghans-for-38-years-granted-citizenship-02446
------
Israel Foreign Min. Cadet Course to Include First Muslim Woman
22.03.17
31-year-old Rasha Uthmani from the northern city of Baqa al-Gharbiyye is the first Muslim woman to be accepted to the Foreign Ministry's cadet course. Uthmani is currently nominated to be Israeli Embassy in Turkey's spokesperson. She had previously represented Israel in a delegation to the United Nations.
Uthmani passed the cadet course's rigorous selection process and was accepted together with 21 other cadets. In the past, Israeli Christian Arabs and Muslim men have been accepted to the course, which is considered to be akin to the IDF pilot's training course in terms of difficulty, selectiveness and prestige. Rania Joubran, the Christian daughter of Surpreme Court Justice Salim Joubran, was accepted to the course, but quite after three and a half years. Muslim men have previously served as Israeli ambassadors, though never a Muslim woman.
Uthmani is a Psychology graduate from the Hebrew University who currently resides in Jerusalem. Toward the end of her studies, she joined the university's Model UN club and represented Israel at the (actual) UN Human Rights Council for three months.
As a young cadet, Uthmani wrote in her blog that "The term 'UN' enchanted me, and though at the time I didn't know much about the organization, I did know that for me, a girl who grew up in Baqa al-Gharbiyye and experienced firsthand the Israeli-Palestinian and Arab-Jewish conflict, I believed, and still and forever will believe in peace among the world's nations. I signed up for the Model UN, and over time discovered that it was one of the best decisions I've made in my life.
"Out of the three months I spent in the UN, one turning point will always stay with me: one day, I sat down in my usual seat in the human rights committee, and listened with great interest to a discussion taking place on women's rights violations.
"At this point, I had gotten used to the continuous barrage of accusations leveled against Israel by many countries on the council, much like (US Ambassador to the UN—ed) Nikki Haley had recently described in the pres s. The discrimination against Israel in the UN is very obvious and disappointing. But this time it was different. This time I listened to speeches by Syria, Saudi Arabia, Iran, Iraq and Egypt, all decrying the 'systematic women's rights violations' by Israel, while I, an Arab, Muslim Palestinian origin, represent Israel at the UN Human Rights Council."
Uthmani continued by saying, "that day at the UN made me desperately disappointed and pushed me to take matters into my own hands, to try and at least object in thought to the systemic conduct carried out in the international arena against Israel. I believe in peace in part because I believe that people are able to create positive change in the world. I want to be a part of that change, and I started doing this by choosing to join the Foreign Ministry's cadet course."
http://www.ynetnews.com/articles/0,7340,L-4939352,00.html
------
Khamenei: Gender equality 'Zionist plot'
Thursday 23 March 2017
LONDON: Iran's Supreme Leader has claimed gender equality is a "Zionist plot" aiming to corrupt the role of women in society.
Ayatollah Ali Khamenei told a meeting of religious speakers that Iranians should resist feminist ideas and instead hold Fatimah — daughter of Prophet Muhammad (peace be upon him) — as their ideal.
"Making women a commodity and an object of gratification in the Western world is most likely among Zionist plots aiming to destroy the society," he said, according to a translation on the Shiite leader's official website.
"Today, Western thinkers and those who pursue issues such as gender equality regret the corruption which it has brought about."
Khamenei claimed that men and women are equal in the "ascendance of spiritual positions, the power of leadership, and the capability to lead humankind," but that some tasks for women "collapse and humiliate" their primary roles as housewives and mothers.
A report by the government-controlled Mehr news agency said the Supreme Leader "expressed hope that views of those who raised similar (gender equality) issues inside Iran were not based on the Western misconception."
Iranian women are heavily restricted in their personal and public lives, including with state-enforced dress codes, curbs on higher education courses, jobs and sporting activities open to them, and freedom of movement under controls requiring a husband's signature to leave the country.
Many have been rallying round movements like My Stealthy Freedom, which combats the compulsory hijab, but women found to have broken "morality" laws have been arrested and forced into public apologies.
Among them are women detained for breaking a fatwa issued by Khamenei to ban women cycling in public — claiming it "attracts the attention of men and…contravenes women's chastity" — as well as others arrested for posting "vulgar" photos without headscarves on Instagram.
Iranian religious leaders frequently cast pushes toward gender equality as part of a conspiracy by the West or enemy "Zionists" in Israel.
Earlier this month, Khamenei issued a speech warning that "cultural attacks by the enemy are more dangerous than military attacks," hitting out at human rights groups and think tanks.
Urging Iranians to resist using their "cultural wealth," he called for renewed holy war, adding: "What is cultural wealth? For example, willingness for and belief in jihad is an example of cultural wealth."
http://www.arabnews.com/node/1072676/world
------
Aisha Mohamed: "This Event Showed Me How Resilient We All Are As Young Women"
Written by Aisha Mohamed
Aisha Mohamed represented the riding of Edmonton Manning, Alberta at Equal Voice's Daughters of the Vote gathering in March, which brought together 338 young women between the ages of 18 and 23, representing each Canadian riding. Muslim Link had the opportunity to interview several of the young Muslim Canadian women who were selected to participate in this historic event, including Aisha.
Coinciding with International Women's Day on March 8, Daughters of the Vote was aimed at encouraging more young women to become involved in Canadian politics, a space where there are still challenges to gender equity. The young women spent a week in Ottawa on Parliament Hill where they had the opportunity to meet the Prime Minister, past and present Members of Parliament, and women leaders in the fields of politics, law, and technology.
Somali Canadian Aisha Mohamed is aiming to get a Bachelor of Science degree in Psychology and Mathematics at the University of Alberta. She also wants to do research in Public Health. She is currently involved in many social groups and organizations such as A Plus Tutor , Edmonton Refugees , and L.O.V.E., a student group that give encouragement to junior high and high-school students that have mental/ physical disabilities. L.O.V.E. focuses on helping these students realize their potential.
What was it like to represent your city at this event?
It was exciting to be able to represent my riding Edmonton Manning. It's rare that you see women, especially women of colour, being represented in Parliament. This experience has allowed me the opportunity to provide others with a different perspective on veiled Muslim immigrant women: that the outward appearance and personal beliefs do not completely define the individual as a whole. To be representing a city that is surrounded by diversity is incredible and I am super thankful for this opportunity.
Sunidar Turkish Coffee Machine
Advertise here
Throughout the entire week I had the chance to listen to members of Parliament speak on their experiences with discrimination; specifically women discussing how they dealt with criticism, misogyny, racism and xenophobia, and what it took to overcome these obstacles and hardships. The narrative that the media constantly tries to feed to us is that of a middle-aged, heterosexual, White man. And, unfortunately, the vast majority of us do not fit this narrative. So it definitely was refreshing to see so many passionate young women from a variety of different backgrounds have a chance to voice their opinions on issues that affect all of us.
What were some highlights for you from the event?
Being Black is hard because people judge me based on my skin-tone without getting to know me which I have had to just learn to just accept. And then adding on the fact that I'm Muslim it gets even harder because of what the news spews 24-7 about terrorism. But this event, no one judged me based on my skin tone or the fact I was Muslim, these young women were welcoming with open arms. Also I felt so comfortable with sharing my experience with racism and reflecting on what is occurring in the world.
The last night before we went back to our hometowns, we went around the room and each person talked about what they went through. That was the moment where I was able to connect with these young women even more, the fact that we are all vulnerable, but held onto each other and supported each other. This event showed me how resilient we all are as young women are and that no matter what situation we are in we have to rise above because that's the only option we have.
How would you like to see the voices of young Muslim women leaders better incorporated into both Canadian life but also Muslim Canadian life (ie Muslim organizations, mosques, etc).?
As a minority myself, I've come across so many minority groups seeking change within their own communities. However, this will take time, so an effective way in bringing more minority women into Parliament would be to implement programs into mosques that aim to engage and empower the average Muslim woman, and to subsequently give these women an outlet to voice their opinions on issues that have personally impacted them.
I also suggest providing more volunteer opportunities for students to work and shadow Members of Parliament, providing them better insight on the workings of the Federal government.
I genuinely believe that if the community is focused on working together and are committed to making effective changes, that these changes will reflect positively on the diversity of the House of Commons.
http://muslimlink.ca/news/daughters-of-the-vote-delegate-aisha-mohamed
------
Gorgeous Portraits Capture the Sisterhood between Muslim American Teenagers
22/03/2017
"Being a Muslim girl means so much to me," a teenager named Aya told photographer Kyna Uwaeme. "In this day and age, many people have misconceptions about Muslims, especially Muslim women. Some people see us as oppressed and closed-minded. However, that is not the case."
Aya was one of three young women to respond to Uwaeme's open call inviting Muslim women to participate in a photography project focused on the challenges, joys and misconceptions surrounding Muslim American girls. Aya continued: "Being a Muslim girl in America means that I need to represent my religion properly to get rid of the ignorance that plagues many societies today. It means respect, not submission ― tolerance, love, selflessness and much much more."
Uwaeme, a Nigerian-American woman who was raised Catholic, had little knowledge of Muslim culture and tradition before this project. However, between hearing news about the violence inflicted by militant Islamist group Boko Haram in her parents' homeland and the Islamophobia that plagues the U.S., Uwaeme wanted to increase her knowledge of the religion and those who observe it.
"The whole point was to bridge the gap between the Western understanding of Islam and the African understanding of Islam," Uwaeme told The Huffington Post.
Although Uwaeme wasn't planning on working exclusively with teens ― she put a casting call on Instagram and, somewhat unexpectedly, only high-school girls responded ― she was excited by the prospect of working with women who are still growing and discovering themselves.
"Younger girls are more open to working with me," the photographer said. "They are at a place in their lives where they are becoming who they are. I like to give them confidence and power through my photography, more of a voice. They got to go to school afterwards like, 'Look at me now.'"
The photographs feature three teens named Alishba, Aissatu and Aya, dressed in earth-toned hijab adorned with sparkles and gold, moving through an empty field against a dusty blue sky. In some images, the women stare confrontationally into the camera, daring the viewer to judge or deride them as they pose with self-possession, power and poise. In others, the girls hold hands, hug and lean on one another, communicating the body language of sisters or old friends.
"Even though they didn't all know each other they had this sisterly bond," Uwaeme said. "They all overcame similar struggles and I think that connection shows."
Alishba, Aissatu and Aya described such struggles to Uwaeme throughout the shoot. Each subject faced more ignorance, discrimination and hatred than any person should have to endure, especially at such a young age. "I have been called a 'terrorist,' an 'immigrant' ― what's insulting about that? ― 'Osama bin Laden's daughter' and many other hateful things," Alishaba recalled. "Staring is almost a daily occurrence and quite frankly I'm used to it."
Aissatu's recollections were just as disturbing. "Two years ago while traveling to Senegal with my family my mum was given a pat down at the airport," she told Uwaeme. "I will never forget it because my mum began crying because she felt that she was being discriminated against. My mum always gets chosen for pat downs even though they claim it as 'random.' There have been times where I've sat down next to someone on a bus or train and they immediately sprang up. Once that happened while I was with a friend and she was so shocked that it was such a normal encounter for me."
Yet despite the prejudice the young women have experienced as a result of their religious identity, to them, Muslim faith is still a source of power and love.
"Being a Muslim girl represents my love of Allah and the prophet Muhammad," Alishaba told the photographer. "It means that I am not afraid to express what I believe in and it means that I am strong. Islam gives me my strength and hope. So, really, being a Muslim girl means everything to me."
Additionally, Alishaba is well beyond worrying too much about what others think or say. "I now know that there is nothing wrong with me, and that I am just as American as that white boy," she said.
Through her photos, Uwaeme hopes to spread understanding and compassion in a time when such sentiments are increasingly scarce. "I'm not too much into politics," she said. "But socially, I just wish for more acceptance within the world. I hope we can accept all people and all groups and just find something in common. We need to realize we are all in this together."
http://www.huffingtonpost.in/entry/photography-muslim-american-teen_us_58d26e2fe4b0f838c62e0f44
------
Cambridge Photo Exhibit Highlights Stories of Community's Muslim and Sikh Women
Mar 22, 2017
A Cambridge YWCA initiative is trying to tackle gender-based Islamophobia by telling the stories of the community's Muslim and Sikh women.
The (UN) Covered Project: Why We Choose to Cover Our Heads, asked the women to share what their head coverings mean to them.
"The root goes back to religion," Abiha Syed, the organizer of the project, told CBC News. "But how they cover, what style they cover, goes to culture."
The exhibit was part of an event at Kitchener City Hall marking the United Nations International Day for the Elimination of Racial Discrimination.
The exhibit featured women of all ages who left messages like: "As Sikhs, we believe that God is sitting in our mind (our conscience) so we cover our heads to respect God, who is sitting inside us."
For Syed, her head covering is an expression of her Islamic faith.
"Hijab for me [is] my identity," she said. "I cannot imagine stepping out of my home without my hijab."
'Look at me as a person'
That sentiment was echoed by Syed's teenage daughter Madiha who was also photographed for the exhibit.
At Tuesday's event, she recited a spoken word poem about the stereotypes faced by women in the Muslim community.
'I just wish people would look at me, and not look at my scarf.'
- Madiha Syed
"As a Muslim, my stereotype is being someone who's oppressed, who is a terrorist or who is part of ISIS," she said.
For her, being a part of this project was a way to diminish those prejudices and show people that she is just like everyone else.
"I just wish people would look at me, and not look at my scarf," she said. "Look at me as a person, and not [just] my body type or my skin color or what I wear."
An educational opportunity
Also at the event were Muslim students from the International School of Cambridge.
Faud Gaya, a teacher at the school, pointed out many people in the community don't know or interact with their Muslim neighbours.
"One of the problems that we have is that we're not very aware of each other," he said. "[It's] the fear of what you don't know."
He wants the students to understand they have nothing to fear, and although they are Muslim, they are just the same as everyone else.
Abiha Syed said she hopes the exhibit will be the starting point for more conversations like this in the region and be a tool to help people better understand these communities.
http://www.cbc.ca/news/canada/kitchener-waterloo/cambridge-photo-exhibit-highlights-stories-of-community-s-muslim-and-sikh-women-1.4036068
------
URL: https://www.newageislam.com/islam-women-feminism/unable-meet-educational-expenses-muslim/d/110506
New Age Islam, Islam Online, Islamic Website, African Muslim News, Arab World News, South Asia News, Indian Muslim News, World Muslim News, Women in Islam, Islamic Feminism, Arab Women, Women In Arab, Islamophobia in America, Muslim Women in West, Islam Women and Feminism