New Age Islam News Bureau
29 Oct 2015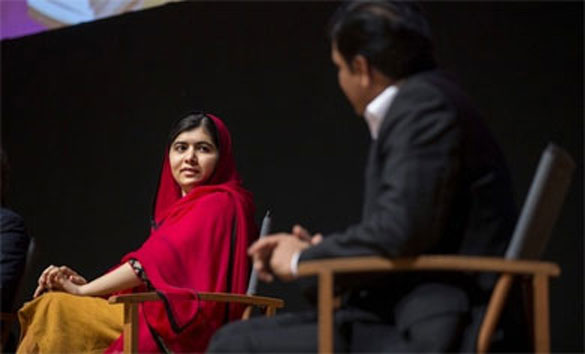 Malala Yousafzai listens as her father Ziauddin speaks at the Emirates Palace hotel on Wednesday night. Reem Mohammed / The National
---------
• 'Islam Does Believe In Education', Malala Tells UAE Audience
• Desperate Zionist Puppet ISIL Forms New Female Suicide Squad to Carry out Bombings
• Michelle Obama to Visit Qatar, Jordan to Discuss Girls' Education
• 105-Year-Old Afghan Refugee Seeks Better Life in Europe
• Militant Attack on Girls' School in Charsada, Pakistan
• Hundreds of Women and Children Rescued From Boko Haram
• Increased Representation of Women in Police Dept in Pakistan Urged
• Foundation Laid For Model Women Crisis Centre in Pakistan
• Saudi Man Fighting for Daesh Surrenders after Mother's Plea
Compiled By New Age Islam News Bureau
URL: https://www.newageislam.com/islam,-women-and-feminism/new-age-islam-news-bureau/unable-to-afford-marriage-expenses,-young-saudi-men-go-for-'misyar'/d/105093
-------
Unable To Afford Marriage Expenses, Young Saudi Men Go For 'Misyar'
Oct 29, 2015
RIYADH — Experts said more and more Saudis are opting for the "misyar" marriage due to unaffordable living expenses, Makkah daily reported.
The misyar is a type of marriage contract carried out normally according to Islamic customs but with the stipulation that the couple give up certain rights of a normal marriage, such as living together, the wife's right to housing and living expenses and the husband's right to housekeeping.
Family consultant Nasser Al-Thubaiti said most young men do not have the means to get married while most young women have high expectations of their marriage.
"The rate of divorce is increasing and the rate of polygamy is decreasing. More and more marriage officiators are willing to sign misyar marriage contracts now. It is a way for men to get married without having the liability of dowry and family support," said Al-Thubaiti.
Sultan Al-Saleem, a marriage officiator, said many engagements have been dissolved and it is becoming a trend.
"There are a few reasons why engagements fail. Many engaged couples are not open about their marriage conditions in the beginning and are shocked when they see certain conditions in the contract," said Al-Saleem.
He added the man usually finds himself unable to pay the dowry or support the marriage, which leads to breaking up the engagement.
"Another reason is when the parents force daughters to accept a man against their will. Being forced into a marriage creates tension and unhappiness in a relationship and things usually fall apart quite quickly," said Al-Saleem.
He added in some cases the couple agree to marry based on what they know of one another but are surprised by facts and behavior they did not expect from one another.
"A lot of men grow impatient or become temperamental during or after their engagement. In some cases, the couple are forced to break up a marriage because they are unable to complete the official paperwork with the marriage officiators," said Al-Saleem.
http://saudigazette.com.sa/saudi-arabia/unable-to-afford-marriage-expenses-young-men-go-for-misyar/
---------
'Islam Does Believe In Education', Malala Tells UAE Audience
Ayesha Al Khoori
October 28, 2015
ABU DHABI // Malala Yousafzai, Nobel Peace Laureate and the global face of the fight to ensure girls' rights to education, was in Abu Dhabi on Wednesday night ahead of a UAE preview of the inspirational film He Named Me Malala.
"My basic message is about education, and that is linked to Islam because the Taliban use the name of Islam to stop girls from school," Malala, 18, told an audience at the Emirates Palace hotel. "I am trying to spread the message of people having independence, education and identity in society.
"My focus is on education right now, and Islam does believe in it and allows it."
The film, partly produced by Abu Dhabi company Image Nation, tells the story of the girl who became an international activist after being shot in the face by a Taliban hitman for defying their ban on young women in schools.
That attack in October 2012 led to an even more committed campaign for the right of girls to attend school – and to her last year becoming the youngest recipient of the peace prize.
Malala said making the movie was "a great part" of her life. "Education and raising the voice for me, my family and this cause – the message that we have is that we should also share and we had great fun together," she said.
Malala said she particularly enjoyed the animation sequences in the film telling the story of her family. But she joked that her brothers were given too much screen time to say "everything they could against me".
Her father, Ziauddin Yousafzai – the "He" in the film title – said international media sometimes painted an ugly picture of Islam.
"With education, the very first world of the Quran is 'Iqra', or read. There is no specification, it's for everybody, so we hope that will send a very powerful message to the world," Ziauddin said. "People want to live with harmony, love, with respect, and that is what we know from Islam."
He said he hoped the film and his daughter's message would "wash away the all those bad pictures. How much we succeed, we don't know".
Director Davis Guggenheim said the film opened his eyes to the true nature of Islam.
"I spent time with this beautiful family and they taught me more about forgiveness and being a good father," Guggenheim said.
"Malala taught me to speak up for what I believe, to always be honest."
Guggenheim said he focused on telling a human story amid struggle, not on the political conflicts that led to Malala's shooting.
"I decided to make a very personal movie, looking through the eyes of a girl and her father," he said. "The movie is told from their point of view, it is very experiential and very personal.
"Sometimes, we forget that human beings are also involved in conflict. It is very important to understand to raise your voice, despite the political side that you are on."
Michael Garin, chief executive of Image Nation, said his company aimed to support important films that did not push a political agenda.
Guggenheim said the movie showed the UAE's support for education and gender equality.
"And that came through in the making of the movie," he said.
"Image Nation was the best partner we could have, because as we were making the movie we had many questions on how to make it right, and Image Nation gave us insightful notes on how to make that and reach an audience for the whole world."
Producer Laurie MacDonald said the film showed "a powerful story of a Muslim family", to counter negative images portrayed by the media.
"From a very early point we felt that obviously the message was of education, which is Malala's main mission, but also the powerful story of a Muslim family especially to a western audience," MacDonald said.
The movie will be released in UAE cinemas on November 5.
aalkhoori@thenational.ae
http://www.thenational.ae/uae/islam-does-believe-in-education-malala-tells-uae-audience
---------
Desperate Zionist Puppet ISIL Forms New Female Suicide Squad to Carry out Bombings
Oct 28, 2015
Activists from the human rights group 'Syria is being Slaughtered Silently' say that sources inside the ISIL held city of Raqqa learnt the terrorists have turned to women to carry out training for deadly attacks.
An Egyptian woman was offered a large amount of money and the promise to 'go to your husband in heaven' if she became an ISIL suicide bomber.
It is thought the new terrorist bride suicide squad will be trained up to carry out deadly bomb attacks as the terrorist group believe women are less likely to arouse suspicion.
The activist group also suggested that it is unlikely ISIL will use foreign terrorist brides from the notorious al-Khansaa brigades, who patrol the streets of Raqqa.
The propaganda success of the al-Khansaa brigades, which are thought to include several British women including ex rocker Sally Jones, are a key part of ISIL's terrifying image.
Due to the value of foreign women in ISIL held territory, the terrorist group have been targeting Arab women to make up the new suicide battalion, having run low of teenagers.
The activist group's report also cited a woman known only as Farah, who is from Raqqa. She says an ISIL woman approached her and hinted ISIL needed women for "battles to protect Raqqa".
Farah was told that the defense of Raqqa was part of her "duty to the city".
"The conversation of this woman started to evolve trying to convince me to join ISIS (ISIL), but what more surprised me was that she asked me to join a new women battalion of ISIS (ISIL) and their mission is not to fight , but to carry out a suicidal operations being the enemy of ISIS (ISIL)," she said.
"They (the enemy) won't expect that a woman would do such an operation," Farah was told.
The ISIL recruiter also told Farah that the terrorist group would "take care of her family after her death and will give the large sum of money before the implementation of the operation".
"Alkhansa'a battalion has a bad reputation among the civilians, and it is a nightmare for the women in Raqqa city as a result for the practices they do to provoke people for personal reasons," activist Abu Mohammed wrote.
The activist said that some of the women who joined al-Khansaa battalion used to work in prostitution before the arrival of ISIL and "joined to get high salaries" or avoid being stoned.
The female suicide squad suggests ISIL's fears for its defense of the city of Raqqa with a large forthcoming Kurdish-led offensive expected soon.
http://english.farsnews.com/newstext.aspx?nn=13940806000897
---------
Michelle Obama to visit Qatar, Jordan to discuss girls' education
29 October 2015
Michelle Obama will travel to Qatar and Jordan next month to continue her longstanding efforts to promote girls' education, the White House said Wednesday.
The U.S. first lady will visit a school in Amman built with technical and financial support from the U.S. Agency for International Development and plans to commend Jordan's "generosity and commitment to educating all children living within its ?borders," a statement said.
Due to the conflict in neighboring Syria, a number of Jordanian schools have welcomed Syrian students to their classrooms.
Jordan is hosting more than 600,000 Syrian refugees, according to the UN High Commissioner for Refugees.
Obama will also visit the ancient city and archaeological site of Petra in Jordan, which President Barack Obama visited in 2013.
In Doha, the first lady will speak at the World Innovation Summit for Education. She will also visit the U.S. military's Al Udeid air base.
http://english.alarabiya.net/en/News/middle-east/2015/10/29/Michelle-Obama-to-visit-Qatar-Jordan-to-discuss-girls-education.html
---------
105-Year-Old Afghan Refugee Seeks Better Life in Europe
By ZABIHULLAH MOOSAKHAIL
Oct 29 2015
A 105-year-old Afghan refugee has arrived in a Croatian refugee camp seeking a better life in Europe where she does not have to worry about bomb blasts and fighting.
Bibihal Uzbeki, is among tens of thousands of migrants who passed the trek across mountains, deserts, seas and forests of thousands of miles to reach Europe for a happier and safer future.
Being in a weak condition, she was wrapped in a blanket and brought to Croatia's main Opatovac refugee camp from Serbia on a stretcher on Tuesday.
She was accompanied by a large group of migrants including her son, grandson and several other relatives.
"My legs hurt, but I'm fine," Uzbeki said in Farsi while sitting on the floor inside a Red Cross tent.
As her hands were shaking, she said her 67-year-old son and 19-year-old grandson would often carry her on their backs during the 20 days journey to Europe.
"We had problems many times. I suffered a lot," she said. "I fell and injured my head. I have scars on my head."
Her documents have been checked stating that she is 105 years old, police said. Her grandson Muhamet also confirmed her grandmother's age.
Muhamet said they come from the restive Kundoz province of Afghanistan and wish to settle in Sweden.
http://www.khaama.com/105-year-old-afghan-refugee-seeks-better-life-in-europe-4058
---------
Militant Attack on Girls' School In Charsada, Pakistan
October 29, 2015
Militants have attacked on Almashriq Girls School in Charsada, Waqt News reported. "There were six attackers," the media reported.
According to the further media reports the militants flew away after the timely counter response by Police and the local people
http://nation.com.pk/national/29-Oct-2015/militant-attack-on-girls-school-in-charsada
---------
Hundreds Of Women And Children Rescued From Boko Haram
Oct 28, 2015
Nigerian troops have rescued 338 captives, almost all children and women, from Boko Haram camps in a northeastern forest.
Thirty extremists were killed on Tuesday in attacks on two camps on the fringes of the Islamic insurgents' holdout in Sambisa Forest, according to a defence headquarters statement.
Separately troops ambushed and killed four suspects on a bombing mission in northeastern Adamawa state, it added.
Hundreds of people have died in suicide bombing attacks mainly targeting mosques and markets in recent months.
The military posted photographs of several guns and ammunition which it said were seized in the attacks, along with images of bodies of alleged insurgents.
Nigerian troops have rescued hundreds of Boko Haram captives this year but none of the 219 girls kidnapped from a school in Chibok town.
International outrage
Their mass abduction in April 2014 sparked international outrage against the extremists and Nigeria's government for failing to rescue them.
It highlighted military and government failures in fighting the six-year-old Islamic uprising that has killed an estimated 20,000 people and driven 2.3 million from their homes, according to Amnesty International and the United Nations.
Those failures and massive corruption led Nigerians to vote out president Goodluck Jonathan and elect former military dictator Muhammadu Buhari in March.
Earlier this year, troops from Nigeria and Chad forced Boko Haram out of a large swath of northeastern Nigeria where Boko Haram, which is allied with Islamic State, had declared an Islamic caliphate.
Mr Buhari has promised to halt the uprising by December. Nigeria's home-grown extremist group has responded with a relentless campaign of suicide bombings in northern, northeastern and central Nigeria, as well as in the neighbouring countries of Chad, Cameroon and Niger.
The deployment of a multinational force has been delayed without explanation for months.
http://www.irishtimes.com/news/world/africa/hundreds-of-women-and-children-rescued-from-boko-haram-1.2409141
---------
Increased Representation of Women In Police Dept In Pakistan Urged
October 29, 2015
Islamabad - The speakers yesterday called for increasing representation of women in all government departments including police to ensure their effective role in decision-making and empowerment.
"There is a dire need of increasing the number of women in all government departments especially in the police department as more than half of 180 million population of Pakistan is estimated by women but their contribution within the police department is less than one percent," the speakers said while speaking at a focus groups discussion on Women police in Pakistan. The event was organised by Individualland Pakistan, a research based consultancy organization in collaboration with Friedrich Naumann Foundation.
MNA Munaza Hassan said if women are given top position in police department, the number of women in police department will increase or more women will be encourage to join police force. She said that lack of education is big problem for creating barriers for women to join police other department.
She dismissed the perception that women parliamentarian is not playing their active role in the parliament, saying that female MNAs have moved more bills during the two and a half year as compared to male parliamentarians.
Another parliamentarian Nafeesa Khattak said that the responsibility to encourage representation of women in government department as well as in police department does not lie only upon women parliamentarians, it is also the responsibility of every male including male parliamentarian to think about this serious issue and allow their women to join security forces. "Our men encourage other women to join forces but do not allow their own relatives or kin to do so," she said.
MNA Aasia Naz said that women parliamentarian is playing active role and are fighting for women rights. She said that she will raise the issue regarding one percent women representation in police department in the parliament. The participants were in agreement that there is a need for separate police stations for women but they also recommended that women should be posted in every police station so that the aggrieved women are not reluctant to visit any police station.
Since 2011 Individualland Pakistan has conducted two surveys on women police in Pakistan and has also published two publications. Apart from this Individualland Pakistan also contributed in a research publication "Women Police in South Asia" by compiling the findings of Pakistan in the report. In order to improve the image of police in the society and create awareness amongst the public, Individualland Pakistan organized sessions, printed brochures and also employed the social media in this regard. Individualland Pakistan's main objective of organizing a session with parliamentarians and the media was to share the findings of their research on Women Police and to involve them for a way forward.
http://nation.com.pk/islamabad/29-Oct-2015/increased-representation-of-women-in-police-dept-urged
---------
Foundation Laid For Model Women Crisis Centre in Pakistan
October 29, 2015
MULTAN
The town is going to have Asia's first and unique model Women Crisis Centre in March 2016. The centre will be established at a cost of Rs140 million and it will offer legal assistance and many other facilities to the women facing violence.
The groundbreaking ceremony of the centre was held here in Matti Tal area on Wednesday. Foreign diplomats and representatives of UN including Australian High Commissioner Ms Margaret Adamson, Canadian High Commissioner Ms Heather Ruth Cruden, Consular /Deputy High Commissioner of Netherland Ms Renate Pors Theodora, UNO representative Mr Jamsheed M Kazi (Bangladesh) Programme Specialist/UNO Ms Yanthe Clazien Cornelissen, UNO's Officer Hooria Syeda joined the ground breaking ceremony. Provincial Minister for Auqaf Haroon Sultan Bukhari and Punjab Minister for Social Welfare Zakia Shah Nawaz also joined the ceremony.
A spokesperson of Punjab Government said that the centre would have all facilities available under one roof like first aid, Police reporting, Medical legal examination, Forensic lab, Psychological treatment and rehabilitation of women. She informed that same crisis centres would be set up throughout the province, where medical, psychological and legal aid will be provided to the women facing violence. She said that Daarul Aaman and crisis centres will be linked together and affected women will be provided immediate assistance through helpline.
http://nation.com.pk/national/29-Oct-2015/foundation-laid-for-model-women-crisis-centre
---------
Saudi man fighting for Daesh surrenders after mother's plea
29 October 2015
JEDDAH: A 35-year-old Saudi who had gone to Syria two years ago to fight for the Daesh terrorist group surrendered before the authorities in the Kingdom after his mother pleaded with him to do so.
The Special Criminal Court has sentenced him to eight years in prison, a fine of SR3,000 and a travel ban equal to his jail term once released, according to reports in local publications on Tuesday.
The court found him guilty of receiving training in Syria, being a guard at the camps of the Daesh group, and attempting to fight under its flag, without the authorization of the Kingdom's rulers. He was also convicted of giving his passport to a Daesh member.
The court heard that the man had gone to Syria in 2013 even though he had been warned by his cousins, who had previously also joined Daesh, that the terrorist group's members were lying about what was happening in the country.
However, a few days later he managed to secure a loan and traveled to Turkey and then a town on the Syrian border. He sent a message to his wife via WhatsApp that he had contacted Daesh members and was on his way to join the group.
His wife pleaded with him to return home, but he refused to do so, and spent several months traveling between various Daesh camps across Syria. Later he contacted his mother, who also pleaded with him to return home, and it was only on her insistence that he decided to travel back to the Kingdom.
He told his mother that Daesh members would kill him if they knew he wanted to return home, so he managed to make secret contact with a smuggler who helped him reach the Saudi embassy in Turkey.
http://www.arabnews.com/saudi-arabia/news/827341
---------
URL: https://www.newageislam.com/islam,-women-and-feminism/new-age-islam-news-bureau/unable-to-afford-marriage-expenses,-young-saudi-men-go-for-'misyar'/d/105093