New Age Islam News Bureau
19 May 2018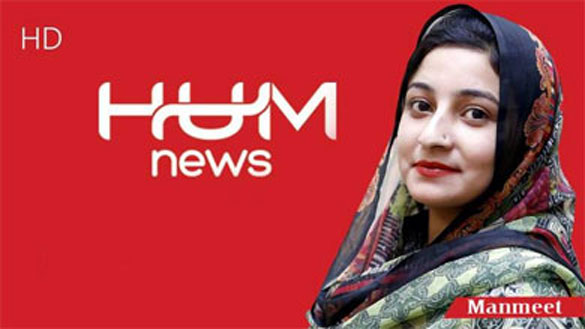 Manmeet Kaur, who is a resident of Peshawar city, joined Hum News on Saturday.
-----
• Meet Manmeet Kaur – Pakistan's First Sikh Female News Reporter
• Meet Britain's First Female Muslim Football Referee
• Iran: A Woman Becomes Press Photographer of The Year
• Saudi Arabia Detains Female Advocates Ahead Of Lifting Driving Ban: HRW
• Who Is Madhuri Gupta? 9 Facts about Former Indian Diplomat Who Fell for ISI's Honey Trap
• Islamic Marriage, English Divorce: For Growing Numbers of British Muslim • Women, the Results Can Be Devastating
• KSA Now Ready To Give Driving Licenses to Women Who Have Valid Overseas License
Compiled by New Age Islam News Bureau
URL: https://www.newageislam.com/islam-women-feminism/un-slams-death-sentence-raped/d/115298
--------
UN Slams Death Sentence for Raped Sudanese Teen
18 May 2018
The UN said Friday it was "acutely concerned" for a teenager sentenced to death in Sudan for killing her rapist husband, warning her trial did not appear to have been fair.
Noura Hussein, 19, received the sentence last week for the "intentional murder" of the man her father had forced her to marry and who she said raped her.
"Discrimination and violence, including sexual violence, against women and girls in Sudan has been brought into stark focus" with this case, UN rights office spokeswoman Ravina Shamdasani told reporters in Geneva.
Evidence
"We have received information that Hussein's forced marriage, rape, and other forms of gender-based violence against her were not taken into account by the court as evidence to mitigate the sentence, and that the most stringent guarantees of a fair trial and due process were not fulfilled in this case," she said.
Hussein's case has triggered outrage, with activists launching a campaign called "Justice For Noura" and the United Nations' women's agency appealing for clemency.
Rights group Amnesty International says Hussein was forcibly married at the age of 16, and that when she refused to consummate the marriage, her husband invited two of his brothers and a male cousin to help him rape her.
When he tried to rape her a second time, she stabbed him to death, said Amnesty. Sudanese law allows children above 10 to be married.
UN 'acuetely concerned'
Shamdasani warned that since Hussein's case had drawn international attention, the UN rights office had become "acutely concerned about her safety and that of her lawyer and other supporters."
"We urge the authorities to ensure full protection for Hussein's physical and psychological integrity during her detention, as well as full respect for her rights to a fair trial and appeal," she said.
She pointed out that in trials where capital punishment is at stake, "scrupulous respect for fair trial guarantees is particularly crucial."
"We call on the authorities to fully take into consideration Hussein's claim of self-defence against the attempt by the man to rape her," she said, also questioning why Hussein was given just 15 days to appeal her death sentence.
She urged Sudan to amend its laws to criminalise domestic violence and marital rape, and stressed that it had the opportunity with Hussein's case "to send a clear message that gender-based violence will not be tolerated in the country."
https://english.alarabiya.net/en/News/middle-east/2018/05/18/UN-slams-death-sentence-for-raped-Sudan-teen.html
--------
Meet Manmeet Kaur – Pakistan's First Sikh Female News Reporter
By Sarfraz Ali
May 13, 2018
LAHORE – A newly launched private television channel has employed a Sikh woman as news reporter for the first time in the history of country.
Manmeet Kaur, who is a resident of Peshawar city, joined Hum News on Saturday. She completed her masters in social sciences from Peshawar University. She has four siblings.
She will be seen reporting on the issues of human rights, minorities, local communities and non-governmental organizations.
Talking to reporters in Lahore, the 24-year-old said although the media is not her field, she accepted the job to prove herself.
"In our country (Pakistan), most of the Sikh girls prefer to sit at homes after completing their formal education," Kaur said while urging her community to step into the practical field.
"I want to serve my country as a journalist and want to show the world that we [Sikh women] are also talented."
Kaur also highlighted the treatment minorities are given in Pakistan, saying "talented people are always treated with honour whether he or she belongs to any religion caste and creed".
https://en.dailypakistan.com.pk/pakistan/meet-manmeet-kaur-pakistans-first-sikh-female-news-reporter/
--------
Meet Britain's First Female Muslim Football Referee
18 May 2018
As the season comes to a close, Jawahir Roble has just made FA history. She's become the first Muslim female referee in the UK. Dressed in a black coat and shorts over leggings, she also wears a hijab pitch-side. JJ, as she's more commonly known, says that the first time she officiated a match, the players couldn't believe that she was the ref. 'When I first turned up to the match you could hear some boys just giggling, "No way she is the ref?! no!",' she recalls. '[But] they can see that I am the ref because I am wearing my full kit.' Today, however, the players just ask her appropriate questions and she hasn't had to face any kind of sexism on the pitch. 'There was one time a guy came up to me and said, "I really like female referees, they're good".
'I will take that, that's very nice, but no one has ever said, "Get in the kitchen, you don't belong here". I've not heard that yet and I don't want to hear it.' Online, however, it's a less positive story. She says she gets 'stuff like, "'You're not even following the religion, you're not following the culture". I don't know, some weird stuff. 'Of course, football is not in my culture, no. But you know, I am here to break the stereotypes. Girls can play football, girls can do whatever they want. My religion is a part of me and I love it.' To JJ, being Muslim simply means 'being a good person, being modest and doing what makes you happy and I think I am doing all of that, but when people start mixing culture with religion, that's when it gets confusing because some cultures are super, super strict, and people mistake it for religion'. According to Islamic law, men and women shouldn't touch each other, so JJ wears gloves to shake hands with the footballers.
She hopes to encourage more girls and 'youth in general' to take part in football. She grew up playing football as a kid in Mogadishu, Somalia, and decided to pursue refereeing more seriously after studying for coaching badges as a teenager in the UK. A local girl's league was short of match officials and JJ volunteered. 'I asked to volunteer for a girls league, called Capital Girls League, and they were short of referees and they said, "JJ would you like to help out", and I was like, alright, and I haven't looked back. 'The support I received – all the positive feedback from parents and players – that kind of helped and pushed me towards the course.' Her parents decided to move their family to the UK from the war-torn country, settling in North West London. She explains: 'Literally no one was safe so the only choice was to leave, get on the next bus or coach, whatever and disappear.
'I remember being at Heathrow airport, that was so sick, literally. Our family walked out of those automatic doors and literally the first thing we did was [go] to some chicken and chip shop. It was such a night, I will not forget.' Football has provided her with a link between her two lives and JJ now referees for London and Middlesex country FAs, as well as for weekend amateur matches. Currently at level seven, JJ is aiming for a double promotion to level five. Her mentor, Alan Hill, believes that she has what it takes to get to level one.
'JJ is willing to learn. She has got the personality and she can communicate,' he says. 'She has that ambition. Now I can put her on the first steps of the ladder and it's down to her commitment if she wants to do it. She is a good referee.' So what's next for JJ?
'In ten years' time I would like to see myself as a professional referee, refereeing in top leagues: Premier League, Champions league: there is [sic] no limits, I want to go all the way to the top,' she says. 'Referees have the best seat in literally any game. They're in the centre, you get to see everything that is happening, we're in the best seat, and refereeing is so amazing. You get to make a decision on important things. 'As soon as I step onto any pitch and I'm refereeing, it's just pure happiness.' https://metro.co.uk/2018/05/18/meet-britains-first-female-muslim-football-referee-7556691/
--------
Iran: A Woman Becomes Press Photographer of The Year
18 May 2018
Yalda Mo'ayeri was chosen as the Iranian Press' Photographer of the Year for the picture she took of a young protesting woman amid tear gas and smoke during the Iran uprising in December 2017-January 2018.
Ms. Mo'ayeri's photo rapidly became viral and appeared in all the major international press and media. The image was circulated for months without bearing the name of the photographer and turned into a symbol of the Iran uprising.
Iran Photographers Guild Association evaluated the photo as worthy of receiving the award of the Photographer of the Year in the Iranian press for the Iranian year 1396 (March 2017-March 2018) during a ceremony held on May 13, 2018.
Ms. Mo'ayeri who started her career by taking pictures during the war in 2001 in Afghanistan spoke in an interview about the problems women photographers face in Iran regarding employment. She said, "Gender is the sole reason for this problem. The society views this as a man's job. They don't hire women at all and they say: 'we don't work with women'."
"95% of women in the business of news and documentary photography are either unemployed or on temporary and unfair contracts," said Ms. Mo'ayeri.
https://women.ncr-iran.org/iran-women-news/5083-iran-a-woman-becomes-press-photographer-of-the-year
--------
Saudi Arabia Detains Female Advocates Ahead Of Lifting Driving Ban: HRW
May 19, 2018
Saudi authorities have arrested seven prominent female activists who campaigned for women's right to drive, just weeks before the ultraconservative kingdom is to lift its decades-long ban on women driving.
The revelation was made by Human Rights Watch (HRW) on Saturday, with reports indicating that the reasons behind the arrests were not clear.
HRW said the activists notified the watchdog in September 2017 that "the royal court had called the country's prominent activists ... and warned them not to speak to the media."
"The calls were made the same day the authorities announced that they would lift the driving ban on women," HRW added.
The activists were taken into custody as Saudi Arabia prepares for the ban on women driving to come to an end on June 24.
This is while reforms pushed by Crown Prince Mohammed bin Salman have been accompanied by heavy-handed crackdown on dissent against Saudi critics, ranging from clerics to some of the very female activists who campaigned for years to end the ban.
"Crown Prince Mohammed bin Salman's 'reform campaign' has been a frenzy of fear for genuine Saudi reformers who dare to advocate publicly for human rights or women's empowerment," said Sarah Leah Whitson, Middle East director at HRW.
"It appears the only 'crime' these activists committed was wanting women to drive before Mohammed bin Salman did," she noted.
Speaking to Reuters on condition of anonymity for fear of reprisals, one of the rights activists said the latest arrests were tied to advocacy for women driving, arguing that the authorities detained them "because they do not want them to publicly claim success."
Saudi Arabia is the last country in the world to permit women to obtain driving licenses.
In September last year, Riyadh removed the driving ban on women as part of reforms to undo the damage the ultraconservative kingdom has suffered for decades of human rights violations both inside and outside of Saudi Arabia.
The move came shortly after women were also permitted access into a sports stadium, for the first time, to watch a concert.
In 2016, Saudi Arabia was ranked 141 out of 144 on the Global Gender Gap Index.
In recent years, the Al Saud regime has come under intense pressure by rights groups for mistreating women.
Saudi women banned from voting until 2015, when they were allowed to vote in local elections.
http://www.presstv.com/Detail/2018/05/19/562205/HRW-Saudi-Arabia-women-driving-Mohammed-bin-Salman
--------
Who Is Madhuri Gupta? 9 Facts about Former Indian Diplomat Who Fell for ISI's Honey Trap
May 19, 2018
Former diplomat Madhuri Gupta, who had served at the Indian High Commission in Islamabad, was today convicted by a Delhi court for passing on sensitive information to Pakistan's ISI and compromising national interest.
On January 7, she was charged under Section 3 and 5 of the Official Secrets Act for the lighter offences entailing maximum three years jail term, for allegedly supplying the country's information (not related to work of defence) to an ISI agent during her Islamabad posting.
While framing the charges, the court held the information leaked by Gupta did not fall under the category of work of defence, as opposed to the prosecution's case.
She was also charged with the breach of trust, criminal conspiracy and various other provisions of the Official Secrets Act.
In the style of classic spy novels written by Messrs Forysth or Le Carre, she was a lone wolf who was honey-trapped by ISI and passed off information to her Pakistani handlers. She
The court would hear arguments on the quantum of sentence to be handed down to Gupta tomorrow.
Gupta, who was the Second Secretary (Press & Information) at the Indian High Commission, was convicted under Sections 3 and 5 of the Official Secrets Act which attracts a maximum sentence of three years and fine or both.
She was arrested on April 22, 2010, by the special cell of the Delhi Police for allegedly passing on sensitive information to Pakistani officials and remaining in touch with two ISI officials, Mubshar Raza Rana and Jamshed.
Here are 9 facts about her:
1) She worked in the media section of India's high commission in Pakistan's capital. Reports suggest she was handsomely compensated for her services by ISI and had been lured in by a classic honey trap.
2) She had been described as 'brash and fearless' and was looking forward to a plum diplomatic posing in London or Washington.
3) She worked with the Ministry of External Affairs for 27 years where her colleagues praised her 'intellectual acuity' and she also showed a keen interest in Sufism. She had also begun doctoral work on the Persian Sufi poet Rumi but never completed her PhD.
4) Prior to Pakistan, she was posted in Iraq, Liberia, Malaysia and Croatia. Her knowledge of Urdu was one of the primary reasons she was picked for her assignment. Her main job was to scan Pakistani media and make two daily dossiers interpreting the developments.
5) She came under the scanner six months into her posting. When she joined the service, she was desperate for a posting in Moscow, but she didn't get her dream job.
6) She was seduced, it seems by one of her handlers was reportedly a man called Jim allegedly an alias for Jamshed. The chargesheet contains an email to that effect, which supposedly carries proof her of her romantic entanglement.
7) In fact, when New Delhi woke up to that the fact that she had 'turned', they false-fed her information. She was arrested when she returned to India, ostensibly to help prepare for a SAARC summit in Bhutan that year.
8) An investigatory officer told Caravan that Gupta 'willingly' disclosed details of her email account and allegedly even agreed that she passed information to Pakistan agents.
9) In an email, she wrote that she was bewafa (disloyal) that Jim had a 'strong objection' to her socialising with Pakistanis and wrote: "Till we are married and till I am in the present job I have to behave and live accordingly but Jim has strong objection to my socializing with any Pakistani. Why does he have such a poor opinion of his own people? In any job that I take up this attitude of Jim will be a big hurdle. I am not used to just sitting at home in purdah. After marriage he will neither socialize himself nor let me socialize with anyone."
http://www.dnaindia.com/india/report-who-is-madhuri-gupta-9-facts-about-former-indian-diplomat-who-fell-for-isi-s-honey-trap-2616589
--------
Islamic Marriage, English Divorce: For Growing Numbers of British Muslim Women, the Results Can Be Devastating
May 19, 2018
LONDON: Farida Miah was still reeling from the shock of learning that her husband had taken a second wife when she found out he had divorced her and ended their 18-year marriage.
Miah, a British citizen of Bangladeshi origin, contacted a UK civil court and learned that her husband had managed to bypass the dowry settlement due to her under the terms of their Islamic marriage, leaving her with nothing.
"He has all we owned," said Miah, who lives in London and whose name has been changed to protect her identity.
Her problems arose because — like many Muslim women in the UK — she had "an Islamic marriage, but an English divorce" via a British civil court. More than a decade later, she is still struggling to put her life back together after finding herself stuck between these conflicting cultural and legal codes.
"The UK courts say there is nothing they can do — there is no law to help. Everywhere I turned was blocked to me," she told Arab News.
Rising divorce rates among British Muslim communities have prompted questions over the status of Islamic marriage — known in Arabic as "nikah" — in the UK. Lacking formal legal recognition, it denies couples the protections available in civil unions if the relationship breaks down.
"The state only affords you rights through the institution of marriage, without that you have no access to support," said Samia Bano, a senior lecturer specializing in Muslim family law at SOAS University of London, a leading institution for Middle East studies. While the fallout can negatively affect both parties, women, in particular, are "often left in precarious situations," she said.
In 2017, a survey by UK TV station Channel 4 of 1,000 British Muslim women found that almost two-thirds had a nikah-only marriage and that more than a quarter did not realize this meant they would be denied rights and protections they would have had for a marriage union that was legally recognized.
For these women, the discovery can be "devastating," said Sarah Khan-Bashir, a lawyer specializing in sharia divorce. "They think they've got all the rights that husbands and wives should have, but they don't, and they find out when it's far too late."
One client faced losing her home after her husband of 23 years died as she was unable to produce proof that he had divorced his first wife. Khan-Bashir had to explain to her that she was effectively a cohabitee with a nikah, news that left the client shaking visibly.
Family lawyer Siddique Patel said that nikah-only marriage is becoming more popular. "Among the under-30s, a lot of Muslim men and women who were born and bred in the UK are coming to us with unregistered marriages."
Lack of awareness is a major factor, but sometimes the wealthier partner — usually the man — bypasses a civil ceremony to escape equal division of assets in a civil divorce. "They're scared 50:50 splits will happen," Patel said, adding that "women lose out more (often) than men."
Patel is part of the team behind the Register Our Marriage campaign, which is calling for compulsory registration of all marriages and the reform of the 1949 Marriage Act to cover all faiths. This 69-year-old law is no longer "fit for purpose" in a modern multicultural society, said Islamic law expert Aina Khan, who launched the campaign. The Act only recognizes religious ceremonies conducted in the Anglican, Quaker Christian and Jewish traditions.
Although people of all other religions are affected, others tend to register, while the campaign estimates that around 80 percent of newly married Muslims do not.
Dr. Ahmed Al-Dubayan, director general of the Islamic Cultural Center and the London Central Mosque, said UK Muslims need to have both ceremonies. "As British citizens, or people living in the UK, we make the civil marriage a condition because it's required by law," he said.
Some couples prefer the nikah-only marriage, which can be resolved without recourse to the courts if the relationship breaks down.
"The Islamic marriage is easy. We don't need an imam, we don't need a registry office, we don't need a specific building, it's simple," said Dr. Haitham Al-Haddad, a British Muslim scholar who sits on the board of the Islamic Sharia Council. "The civil relationship, if they want to end their marriage, is a nightmare for both sides," he added.
Couples seeking an Islamic divorce can arrange their affairs through sharia councils or local imams. Contrary to concerns that they provide a "parallel legal system," these bodies have no jurisdiction in the UK, but have significant sway among British Muslim communities.
Waiting outside Dr. Al-Haddad's office above the East London Mosque to discuss dissolving her 18-year marriage, Sumaiya Ali, whose name has also been changed to protect her identity, said this route is "a lot easier" and cheaper than going through the UK divorce courts. "It's good for me because I don't have to do that," said Ali.
In Islam, husbands can divorce their wives by saying the Arabic word "talaq" — meaning repudiation or divorce — three times, but wives are required to obtain consent from their husbands to end the marriage. Failing that, the sharia council is a woman's only recourse for pursuing "khula" — the Islamic procedure in which the wife initiates the divorce.
Based on personal experience, Dr. Al-Haddad estimated that 75 to 80 percent of cases heard by Islamic councils in the UK are granted, but in other European countries where sharia councils are not available, women are "really suffering because there are no bodies to end their marriages," he said.
With cuts to legal aid increasing the cost of civil divorce ceremonies, more British Muslim couples than ever are turning to sharia councils. In December 2016, the Casey Review on integration in UK communities suggested that the influence of sharia councils was growing and highlighted concerns over their "discriminatory practices against women."
Across the UK, "experiences of sharia courts vary vastly" and while some provide the support women seek, there are "undoubtedly instances" where women's rights are compromised, said Sajda Mughal, CEO of the JAN Trust, a non-profit organization supporting marginalized women.
Southall Black Sisters, a non-profit organization representing ethnic minority women in London, believes there should be one law for all marriages in England and Wales. It cites "incompetence", "maladministration" and "flagrant human rights abuses" among the problems faced by women who use religious forums and tribunals to resolve family disputes.
When Miah, 44, told her story to an east London sharia council, hoping it would help her retrieve the money due under the terms of her nikah marriage, she said the response was "appalling." She was advised her to go back to the husband as the divorce had been "English" rather than Islamic.
Having used Miah's documents to secure his right to remain in the UK and lived off her earnings during their marriage, her husband — a cousin on her father's side — began proceedings to bring a new wife over from Bangladesh.
"He invited a relative to the wedding — that's how I found out he had a second wife," said Miah. This was the last straw after being forced to marry a man 13 years her senior who she accused of marrying her to get a UK passport.
Feeling let down by the law in the land of her birth as well as representatives of the faith she grew up with, Miah suffered a series of health and psychological setbacks.
Working with counsellors at Southall Black Sisters helped her to find stability, but she still feels hurt that her parents forced her to marry at the age of 12 when she was "still a little girl playing with my dolls."
More than 13 years after the divorce came through on March 16, 2005 — Miah's birthday — she is still trying to put the past behind her. "When I see the date on the certificate, I think, that day I was born free and now on my birthday I am free again. I just look at it like that."
http://www.arabnews.com/node/1305516
--------
KSA Now Ready To Give Driving Licenses to Women Who Have Valid Overseas License
May 19, 2018
JEDDAH: With only weeks remaining before Saudi women take to the road, the Kingdom is preparing drivers for one of the most dramatic reforms in the country's history.
Driving schools for women have been opened, car advertisements and safety advice are being directed at both men and women, and new traffic signs are addressing women drivers.
Now the Kingdom has called on women with overseas licenses to have them replaced with a Saudi license.
On Saturday, the official Twitter account of the Saudi traffic department tweeted:
"We invite all citizens and residents of the Kingdom who wish to replace their valid driving licenses which they have obtained from other countries with a Saudi driving license through registering their information via the website of Saudi Driving License Portal (http://www.sdlp.sa) for completing the replacement procedures of the license on Monday, May 21."
The tweet included a video with advice on applying for a Saudi license by visiting www.sdlp.sa, registering the information required and booking an appointment at a traffic center.
Women drivers will undergo a driving test and be evaluated on their knowledge of the Kingdom's road rules. If successful, women drivers will be given their Saudi driving license on the same day.
Women in Saudi Arabia who have a foreign or international driving license recognized by the Kingdom will be exempted from the driving test for beginners.
Legislation to allow women to drive has opened new horizons for women's employment.
http://www.arabnews.com/node/1305501/saudi-arabia
--------
URL: https://www.newageislam.com/islam-women-feminism/un-slams-death-sentence-raped/d/115298
New Age Islam, Islam Online, Islamic Website, African Muslim News, Arab World News, South Asia News, Indian Muslim News, World Muslim News, Women in Islam, Islamic Feminism, Arab Women, Women In Arab, Islamophobia in America, Muslim Women in West, Islam Women and Feminism