New Age Islam News Bureau
7 March 2019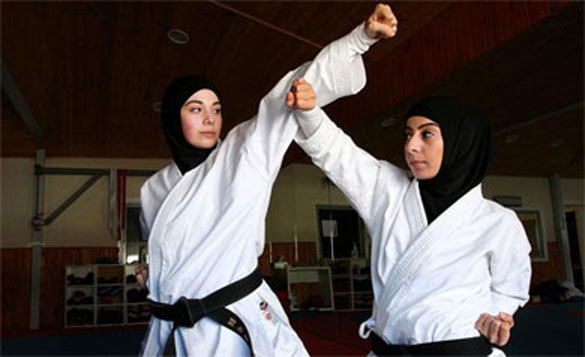 In an bid to encourage more Muslim women to take part in sports London's Brunel University announced the launch of their very own sports hijab in February.
-----
• Saudi Woman the First in the Middle East with a PhD in Artificial Intelligence
• How Best to Celebrate Muslim Women's Day?
• Saudi Women Taking Up Jobs At Justice Ministry
• Muslim Women Can Jump: Defying Stereotypes in Sports
• KSRelief Launches Pilot Project For Female Breadwinners In Yemen
• London Rally to Demand Freedom for Jailed Syrian Women
Compiled by New Age Islam News Bureau
URL: https://www.newageislam.com/islam-women-feminism/un-rights-chief-seeks-freedom/d/117951
--------
UN Rights Chief Seeks Freedom of Detained Saudi Women Activists
Mar 6, 2019
United Nations High Commissioner for Human Rights, Michelle Bachelet, has called on Saudi authorities to release a group of women's rights activists, whom were detained in last year's crackdown and are being held for nearly a year without charge.
"Today, allow me to voice my concern at the apparently arbitrary arrest and detention, and alleged ill-treatment or torture, of several women human rights defenders in Saudi Arabia," Bachelet said in a speech to the UN Human Rights Council on Wednesday.
"The persecution of peaceful activists would clearly contradict the spirit of the country's proclaimed new reforms," she added.
The state-run Saudi Press Agency (SPA) said on March 1 that the ultra-conservative kingdom's public prosecutor was preparing the trials of the detainees as it had concluded its investigation.
The prosecution office, however, did not specify the charges nor give a date for the court proceedings.
More than a dozen activists were arrested last May, and held on suspicion of harming the country's interests and offering support to hostile elements abroad.
At the time, international rights groups reported the detention of prominent female activists among the detainees, who had previously campaigned for the right to drive and an end to the kingdom's male guardianship system.
Some were later released, but activists have said several of the women were held in solitary confinement for months and faced torture and sexual harassment.
Among the jailed female rights activists are Aziza al-Yousef, a retired professor at Riyadh's King Saud University, and Loujain al-Hathloul, who was arrested and held for more than 70 days in custody back in 2014 after she attempted to drive from the neighboring United Arab Emirates (UAE) to Saudi Arabia.
Loujain was one of the activists who faced sexual harassment and torture during interrogation, according to her family and rights groups.
Following their arrest, regime-backed newspapers published front-page pictures of some of the activists with the word "traitor" stamped across them in red.
Saudi Arabia overturned the world's only ban on female motorists on June 24, 2018. The lifting of the prohibition followed a sweeping crackdown on prominent women's rights activists, who had staunchly advocated for the right to drive.
European countries will urge Saudi Arabia on Thursday to release activists and cooperate with a UN-led probe into the brutal murder of distinguished Saudi journalist Jamal Khashoggi.
"This initiative at the UN Human Rights Council offers a rare opportunity for states to take a strong public stand against the catalogue of human rights violations by the government of Saudi Arabia. States who stay silent risk abdicating responsibility at a crucial moment and sending a dangerous message that Saudi Arabia can continue to commit egregious abuses without being held to account," Heba Morayef, Amnesty International's Regional Director for the Middle East and North Africa, said.
She added, "States, including key allies of Saudi Arabia, must use the joint statement to demand the immediate and unconditional release of the group of detained women human rights defenders and all others who have been detained solely for their criticism of the government."
Khashoggi was murdered at the Saudi consulate in Istanbul, Turkey, by a group of Saudi agents on October 2 last year.
US intelligence agencies reportedly believe Saudi Crown Prince Mohammed bin Salman (MbS) ordered the murder – an assertion that Saudi officials fiercely deny.
Saudi Arabia has lately stepped up politically-motivated arrests, prosecution and conviction of peaceful dissident writers and human rights campaigners.
Saudi officials have also intensified security measures in the Shia-populated Eastern Province.
Eastern Province has been the scene of peaceful demonstrations since February 2011. Protesters have been demanding reforms, freedom of expression, the release of political prisoners, and an end to economic and religious discrimination against the oil-rich region.
The protests have been met with a heavy-handed crackdown by the regime, with security forces increasing security measures across the province.
Over the past years, Riyadh has also redefined its anti-terrorism laws to target activism.
In January 2016, Saudi authorities executed Shia cleric Sheikh Nimr Baqir al-Nimr, who was an outspoken critic of the Riyadh regime. Nimr had been arrested in Qatif, Eastern Province, in 2012.
https://www.presstv.com/Detail/2019/03/06/590324/UN-rights-chief-Saudi-women-activists
--------
Saudi Woman the First in the Middle East with a PhD in Artificial Intelligence
March 07, 2019
DUBAI: Dr. Fatmah Baothman is no ordinary Saudi woman. She embodies women's empowerment in the Kingdom, as the first woman in the Middle East with a PhD in Modern Artificial Intelligence (AI).
Her AI journey started when she was a student at the University of Arizona studying the English language. She was introduced to computer systems that help and assist non-native English speakers.
"I was fascinated by the level of machine communication and interaction," Dr Baothman explained. "Once I started studying programing and understanding more about the Turing Test, which is a test that's been designed to test the intelligence of machines, I became fascinated."
In 2003, she graduated from the School of Computing and Engineering at the University of Huddesfield in the UK, where she earned a PhD in "Phonology-Based Automatic Speech Recognition for Arabic." Her work was primarily focused on AI and she was exposed to forecasting, pattern recognition, phonology and phonetics, acoustics, machine learning and mathematics.
Such work can be used to connect humans to machines in speech, as well as machines to machines, and raising intelligence in robotics. "We worked with a robot and we were able to increase its intelligence from four to seven years," she noted. "Speech is a very important tool in different applications that could be used in smart cities, smart cars and smartphones — it's about connecting machines and people, and machines to machines, even if they don't speak our language, they find a way of communicating in which they can interact with each other."
Dr Baothman spoke of her fascination with machine communication. "I spent hours trying to figure out how it worked," she said. "Once I started studying it, I started realizing and building an emotional interest towards the topic. I always had a wish to be a part of the AI community and contribute to such an important discipline."
She became "emotionally attached" to AI, yearning to learn more. "It's a never-ending science," she added. "AI, generally speaking, is a growing science, and it could bring the best benefits to humanity by solving their complex problems, so it's of interest to me."
Her hope is to eventually tackle different fields with AI, such as the economy, by bringing new solutions that would help solve fluctuation issues, like crises and poverty. "I believe that, very soon, AI will play an important role in that," she noted. "I'm interested in it and I've already started forming a group to work on it."
She mentioned the financial sector in Saudi Arabia, which is slowly moving towards implementing AI at different levels. "It's very important," she said. "I hope to see a unified strategy for AI and I also hope to contribute to it."
Her determination is what made her reach her goals. "I was working day and night, hours on end," she said. "My thinking was how can I contribute and add to the community in AI, how can I transfer this technology and make use of it in my country and how can I assist the new graduates, make their path easier and their learning experience better and much more improved than what I had to go through."
The Jeddah-born woman started working as an advisor with MMG (MedLab Media Group), a Spanish technology start-up focused on improving daily clinical practice and decision-making, which signed an agreement a couple of weeks ago with Advanced AI LLC, a Saudi company specialized in AI technology and products.
"It makes me feel very excited to be the first woman with a PhD in Modern AI," she explained. "(We) are planning to establish an AI lab in Jeddah very soon to work in blockchain technology, AI projects and other areas, directed towards healthcare."
She has also been working at the King Abdulaziz University for more than 25 years as an assistant professor in computing and information technology. Although she started off her career at a managerial level, she eventually played a vital role in establishing the university's computer science department for women and became the first appointed teaching assistant in the department.
"It was very difficult at first and communication between men and women was hard," Dr. Baothman said. "The internet wasn't as it is now, and acquiring knowledge at that time was based on books only."
http://www.arabnews.com/node/1462756/saudi-arabia
--------
How Best to Celebrate Muslim Women's Day?
By Jeremy Egerer
March 7, 2019
I don't know exactly what we're supposed to do for Muslim Women's Day, but my guess is that we give them what Mohammed did. This means their testimony is worth only half a man's; that we may beat them if they speak out too loudly; that their husbands get off lightly for cheating; that the women get far worse for it; that we force all the ladies into hijabs; and that if any woman is happily married, we allow three other women to share her husband with her. Is this for or against them? It's difficult to say; but it's what they want, and we don't want to be accused of hating Muslims, so we do it — gladly.
In my opinion, the women of Islam deserve a day much less than the men do. For years, I'd been judging the Saudis without walking in their shoes. For instance, why do they lock their women up and not allow them out alone? Why did they not allow them to drive for so long? Why do they cover them head to toe and keep them from office and from speaking in public? Why don't the Iranians allow them into soccer games? Why are honor killings punished so lightly in Yemen? I stopped asking the moment Linda Sarsour got a bullhorn. It's possible the Muslim man isn't a bully, but a victim, and the safeguards he puts around such animals, it turns out, were only for the protection of himself and his country.
My case in point: The founder of Muslim Women's Day, Amani Al-Khatahtbeh, began her women's crusade as all Muslim women must: an act of mental failure based on a gross misconception of her identity. She was 13 at the time of 9/11 and living in New Jersey, probably the worst time and place to be an American Muslim, when her family decided, for obvious reasons, to move her back to Jordan. It was there that she gained an immense respect for herself as a second-class person, and when her mom got sick, she brought this respect back to the United States. She began to wear the hijab not out of religious duty, but as an act of defiance — as Catholic boys wear MAGA hats, but more socially acceptable to Democrats who believe in redefining marriage, in aborting your own kid, in dressing like a prostitute, in getting trashed on bad gin, and in having a woman wear the pants in the family, also being against beating girls silly or trading them as sex slaves. It has yet to be seen how anyone can love Islam and be against everything it stands for, but this is America, so we're giving it a shot.
Al-Khatahtbeh's website, MuslimGirl.com, is a testament to her failure to read or understand the Qur'an, or the Hadiths, or any serious imam. She seems like the worst American Christians to lack any ties to tradition or dogma or the founder of her sect, and she uses her religion to advance her own opinions instead of conforming her opinions to her religion — the true sign of a narcissist and a liar. On her site you'll find articles devoted to Rami Malek, a man recently made famous by his portrayal of Freddie Mercury, who sang about fat-bottomed girls and died by hairy-bottomed boys. Freddie would have been jailed or killed in any Muslim nation today or any other day, but this is apparently beside the point. Beside this there's an article on "The Millenial Muslims who Smoke Marijuana" and a tasteful essay called "How Islam Became My Safe Trans Space." She says Americans hate Muslims but spends her time championing things Muslims hate about Americans. To be completely honest, a quick look at her site made me like America less, too.
She says, "I think I've become very blatantly aware of the certain privileges ... that I have that other individuals don't, that other Muslim women in other parts of the world might not necessarily have access to." Why don't they have the privilege? Conveniently, no answer is given. She says, "Our theme for this year is 'Muslim women talk back to violence' so, whether it's gun violence or a #MeToo or #TimesUp movement, these are obviously themes that impact women from all backgrounds, across the board." Conveniently, no mention is made of Sura 4:34, which expressly permits wife-beating, or that the best places to be a woman, save maybe Japan, are all consistently in the white west, and the worst places, save maybe India and Hollywood, are all run by Islamists. Compared to the Egyptian, even the Italian is a eunuch. She says, speaking of the Muslim women she features from around the world, that "our philosophy is that nobody is voiceless, they're just voices that are more systematically silenced than others." Which system is silencing them? Again, not the slightest pretense of an answer. We wish someone would shut her up, but freedom means the freedom to be a moron — a bed we've made for ourselves, which we continue to lie on.
The counterpoint to all this is that most Muslim women are too well behaved to grab a bullhorn and nag us to death. As such, the 5% of rowdy, heretical, irrational half-wits are making themselves look like the whole; and the majority of Muslim women, who are probably good ladies getting way worse than they deserve, have to suffer double by being associated with these. If this is the case, they have my pity, and I beg these good women to 1) forgive me for lumping them in with the loudmouths who represent them and 2) please save themselves and leave Islam — not for feminism, or atheism, or even Americanism, but something more tasteful and dignified for a good woman. I mean in this case joining the Catholics, or the Mormons.
https://www.americanthinker.com/articles/2019/03/how_best_to_celebrate_muslim_womens_day.html
--------
Saudi Women Taking Up Jobs At Justice Ministry
2019-03-06
There has been a tremendous response from young Saudi women to take up jobs at the Ministry of Justice. There are 220 women working at the ministry after they were allowed to work in this vital sector in 2018 and creation of a separate department for women at the ministry last October. As many as 57 women got license to undertake attestation services, issuance and cancellation of power of attorney and other notary services. There has been a 240 percent increase in the number of licensed women lawyers. There are 418 female lawyers, in addition to 3,140 trainee lawyers. — SPA
http://saudigazette.com.sa/article/560576/SAUDI-ARABIA/Saudi-women-taking-up-jobs-at-Justice-Ministry
--------
Muslim Women Can Jump: Defying Stereotypes in Sports
6 March, 2019
In an bid to encourage more Muslim women to take part in sports London's Brunel University announced the launch of their very own sports hijab in February. But does wearing the hijab restrict women and girls from taking part in sports? Ten years ago I would have said 'yes', but the recent emergence of Muslim women taking the sporting world by storm (winning Olympic medals nonetheless) has meant that seeing the hijab in a stadium, or even the ring, is quickly becoming the norm.
In 2016, Muslim-born Ibtihaj Muhammad became the first hijabi athlete to represent the USA for fencing at the Rio Olympics and went on to win a bronze medal. Not only did Muhammad make history, she also defied the Western stereotype of the "oppressed Muslim woman" at a time when Donald Trump was using Islamophobia to push his own presidential agenda.
Muhammad's bronze medal win was even more significant because it proved something that the right-wing media outlets didn't want us to know - Muslim women CAN jump, quite high in fact.
You could even argue that Muhammad's groundbreaking win was a catalyst for what followed. Nike spotted a gap in the market and released a sport friendly hijab for Muslim women. Mattel also capitalised on this new trend by releasing their first ever hijab-clad Barbie, modelled after Muhammad herself.
Read also: A Barbie doll encountered Islamophobia and people aren't happy
At the age of 13, Muhammad began fencing as it was one of the only sports that was hijab-friendly at the time. Back then, Muslim women were not represented in sports. In a recent interview with Rolling Stones magazine Muhammad commented: "It's always difficult when you don't see someone excelling in something that you may have dreams or aspirations to participate in or excel at. It's hard to see yourself in that space".
In her memoir, Proud, Muhammad also writes about the challenges she faced and the racism and xenophobia she experienced while training and competing. Nevertheless she pushed through and paved the way for other young Muslim girls with aspirations of competing in international sports.
We still have a long way to go
Despite there being so much noise in the media about Muslim women in sport, statistics show that we still have a relatively long way to go.
The Sporting Equals Organisation states that only 26.1 percent of Asian women take part in the recommended levels of sport and physical activity (once a week) compared to 31.4 percent of white British women. Shockingly, another study by Sports England found that only 18 percent of Muslim women participate in regular sport, compared to 30 percent of the entire UK's female population.
And although there are a plethora of Muslim athletes coming through, many sports still don't cater to the specific needs of Muslim women and their dress code. For instance, the basketball governing body, FIBA, prohibits players from wearing the hijab for health and safety reasons.
The US weightlifting federation dress code is also designed in a way that makes it difficult for Muslim women to observe the hijab and compete. It states that athletes cannot wear long sleeves or long bottoms. However, Pakistani weightlifter Kulsoom Abdullah, who was told she could not compete at the national level unless she wore a weightlifting singlet, released a press release to overturn the rules.
Abdullah said: "I like to think that sports federations never considered women who might wear hijab and play the respective sport at the same time.
"It seems it is from fear or dislike of what they think that it represents (such as all of the negative stereotypes) or that it is going to take over the world, so to speak."
Some countries have also banned the hijab from being worn in the boxing ring. In fact, 16-year-old Amaiya Zafar was disqualified for defying 'safety rules' at the Sugar Bert Boxing National Championship. The controversy led to the ban on wearing religious headgear in the US being lifted a year later, but until international rules also change, Zafar will not be able to compete on a global scale, including the the Olympics.
"I was told I couldn't compete in my hijab, even though it gave me no competitive advantages" explains Zafar.
"Everyone supported my dreams because they knew that if I advocate and opened the door for myself, I would also be opening the door for millions of women in the boxing world, while honouring my relationship with God through what I wear. Women were not allowed to box in the United States until 1996 or compete in the Olympics until 2012 so I take my responsibility to advocate for equality in the sport very seriously.
"The International Boxing Association (AIBA) needs to understand that women are here to stay and that it is an honor to open the door for women of all faiths and nationalities to compete" adds Zafar. "Women like me, are being held back from achieving our full competitive potential because of the unequal treatment we receive at the hands of organisations like the AIBA."
Speaking about her future goals, Zafar added: "It's always been my dream to compete in the Olympics and I'm confident that, even though they kept me away from 2020 Olympics, they'll change the rules so I can compete in the 2024 Olympics."
German boxing champion Zeina Nassar also successfully managed to change the the boxing rules in her home country and is now fighting to see this change on an international level.
"My dream is to change international boxing rules to allow women of all backgrounds to fight," she said. "And you have to fight to make changes in society."
Nassar had to work twice as hard as other boxers to prove herself in the ring: "I don't want to be reduced to my looks, or my hijab. It really doesn't matter what religion I practice. In the end what matters to me is my sport."
Competing against adversity
Many Muslim athletes have faced some sort of adversity in their journey to becoming a professional competitor, but this couldn't be truer for those who are living as refugees.
Amid the chaos of the world's largest refugee settlement in Cox's Bazar, Bangladesh, there is a man who is determined to teach his daughters about sport. Rohingya refugee Mohammad Selim has been coaching his daughter, Nasima Akter, on Taekwondo.
Before fleeing from genocide in Myanmar, Rohingya, 18 months ago, Selim was a local taekwondo champion. Now, he hopes his daughter can follow in his footsteps.
In an interview with the Thomson Reuters Foundation, he said: "Our society is conservative and we prefer covering our women but in taekwondo you are covered so people can't question a girl participating. We practice inside to not get criticised but many people regret they cannot teach their daughters."
Hijab bans aren't the answer
While we celebrate the many wins and overturned bans that Muslim women have fought hard for, there are still some people who feel that the hijab does not belong in the world of sport.
French feminist group, the International League for Women's Rights, recently expressed concerns over Muslim women wearing the hijab and competing in the Paris 2024 Olympics. Their solution – overturn one ban by imposing another.
The group have called for a complete hijab ban at the 2024 Olympic games to allow women to compete without any religious 'restrictions'. This comes after Annie Sugier posted a blog on the website that claimed Islamic countries weren't allowing women to take part in sports that were incompatible with Islamic law.
"Banning the hijab to remove restrictions is oxymoronic" says Abdullah. "I am not sure what good it is going to do except reduce participation and inclusion."
What is the future for Muslim women in sport?
By banning the hijab from international sporting events there is a high risk that we will completely alienate Muslim women from competing in sports.
"We need more encouragement and role models" comments Abdullah. "It shouldn't have to be something that has to be pioneered or have barriers broken."
Independent charities such as the Muslim Women's Sports Foundation (MWSF) are also working hard to make sports more accessible to Muslim women. Their aim is to increase the involvement of Muslim women and girls in sport without compromising their religious or cultural values.
Trustee Ebba Qureshi says: "The aim is to help social and physical development of Muslim women. We want to change the narrative of Muslim women by introducing them into the sports industry and promoting equal opportunities."
But it seems that there's still a long way to go.
"Young girls are still not supported or encouraged at home to join in sports" says Qureshi. "It's still seen as a 'boys' game. There's also not enough push from schools to encourage parents to sign their daughters up to join a sport at school."
So what's the future for Muslim women in sport? Qureshi recommends starting with the home.
"We need lots more support from home and more incentives for women to join coaching, playing or just engaging in a sport. Schools should also promote more girl tournaments with other schools and clubs.
Finally we need to advocate for more role models to come forward and promote their journey and what sport has meant for them, highlight the life skills and the social and mental development in their wellbeing."
Zafar also agrees that seeing other Muslim take part in sport can encourage girls to get involved: "It's my hope that sharing my story will not only help young girls get involved in boxing, but also that it will encourage the adults in their lives to inspire them to try new things. Without the support I received from my parents and coaches I wouldn't be where I am today."
https://www.alaraby.co.uk/english/society/2019/3/6/muslim-women-can-jump-defying-stereotypes-in-sports
--------
KSRelief Launches Pilot Project For Female Breadwinners In Yemen
March 07, 2019
Riyadh : The King Salman Humanitarian Aid and Relief Center (KSRelief) has launched vocational training programs for female breadwinners in Aden and Lahij governorates as part of its continuous efforts to improve livelihoods in Yemen.
" As part of its mission to provide training and vocational rehabilitation and improving livelihoods in Yemen, the KSRelief has launched several pilot project management courses for female heads-of-household in the Aden region," a KSRelief spokesman
said on Tuesday.
Moreover, Asma Al Shaqri, Head of Training and Vocational Rehabilitation stressed that the "My Skills My Livelihood" program provides ongoing support for the female breadwinners throughout Yemen.
More than 50 trainees from Aden's Attawahi and Khormaksar districts learned how to market the products and services they provide using their skills in sewing, hairdressing, baking, incense production, first aid provision and mobile phone maintenance.
Helping these women to market and sell their products and services will in turn help them to improve their families' economic conditions, which also contributes to community development.
Furthermore, the KSRelief has also launched a series of courses for women in the Al Houta and Al Musaymir districts in Lahij governorate to provide them with training in mobile phone maintenance, dairy production and first aid, the center said.
These courses are part of the center's My Skills My Livelihood program, which was created to improve the livelihoods of at-risk Yemenis.
According to the Center 60 women participated in these courses, which included information about how to market their skills to create income for themselves and their families.
Earlier in October last year, the KSRelief launched a vocational training program for women in Shabwah governorate as part of its efforts to improve livelihoods in Yemen.
The program trained 100 women over two months in four vocations: hairdressing, sewing and embroidery, making pastries and sweets, and making perfume and incense.
http://www.arabnews.com/node/1462856/saudi-arabia
--------
London Rally to Demand Freedom for Jailed Syrian Women
Meryem Göktas
06.03.2019
An international rights group will hold a protest in the British capital on Friday to call on the global community to take urgent action to secure the release of women and children languishing in Syrian prisons.
The Conscience Movement will hold a protest in front of government offices at 10 Downing Street in London as part of its international action plan on March 8, International Women's Day.
The movement is an alliance of individuals, rights groups and organizations aiming to secure urgent action for the release of women and children in the prisons of Syria's Bashar al-Assad regime.
According to the movement, more than 13,500 women have been jailed since the Syrian conflict began in March 2011, while more than 7,000 women remain in detention, where they are subjected to torture, rape and sexual violence.
Under the slogan "Freedom for all" and "Because We are Human" the movement will start its rally at 11 a.m. local time.
The movement has planned various protests across the world on March 8 including in countries such as Turkey, Syria, Germany, South Africa, Malaysia, Chile, Belgium, Pakistan and Australia.
During question time at the House of Lords on Monday, Baroness Manzila Pola Uddin -- who is Britain's first female Muslim member of the parliament -- also called for the support of women and children imprisoned by the Assad regime.
The baroness said that the U.K. has "failed fundamentally" the women and children in Syria who remain unlawfully detained and exposed to torture and rape.
The Conscience Movement was founded last year after an all-woman international convoy made global headlines by raising awareness about the abuses suffered by women jailed by the Assad regime.
In March of last year, the 55-bus convoy made a three-day journey from Istanbul to Turkey's southern Hatay province near the Syrian border, where 10,000 women staged a massive rally marking International Women's Day.
On Feb. 20, the international initiative held a conference in Istanbul that drew participants from 45 countries, including Syria, Britain, South Africa, Ecuador, Qatar, Kenya, Ukraine, Bosnia and Herzegovina, Brazil, Greece, Pakistan, the Democratic Republic of Congo and Malaysia.
According to UN figures, hundreds of thousands of civilians have been killed or displaced in the conflict, mainly by regime airstrikes in opposition-held areas.
https://www.aa.com.tr/en/europe/london-rally-to-demand-freedom-for-jailed-syrian-women/1410778
--------
URL: https://www.newageislam.com/islam-women-feminism/un-rights-chief-seeks-freedom/d/117951
New Age Islam, Islam Online, Islamic Website, African Muslim News, Arab World News, South Asia News, Indian Muslim News, World Muslim News, Women in Islam, Islamic Feminism, Arab Women, Women In Arab, Islamophobia in America, Muslim Women in West, Islam Women and Feminism