New Age Islam News Bureau
9 Jun 2015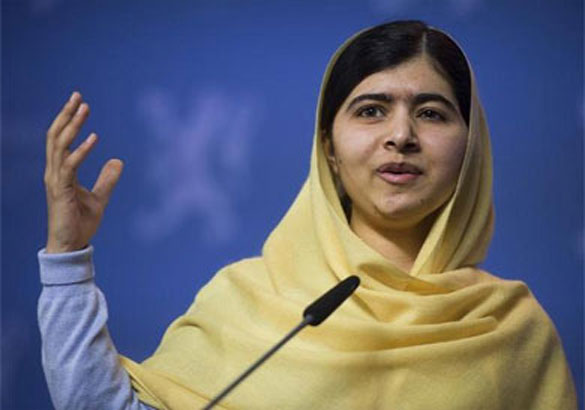 Nobel Peace Prize laureate Malala Yousafzai urges Myanmar to stop the persecution of Rohingya Muslims ©Odd Andersen (AFP/File)
-----------
• Washington Urged To Allow Women Raped By ISIS to Get US-Aided Abortions
• Iran Partially Opens Stadium Doors to Women
• Afghan Woman Puts the Pedal to the Metal for Women's Rights
• European Games 2015: Can Female Wrestlers Strike A Blow For Equality?
• Malala Yousafzai Calls On World Leaders to Save Rohingya Muslims
• Indonesian City, Banda Aceh, Imposes 11pm Curfew on Women
• Women Travelling Without Mahram under Study, in Saudi Arabia
• New Uniforms Score Points for Modesty for East African Muslim Girls
• Gini Reticker Chronicles Muslim Women's Fights for Social Justice in 'The Trials of Spring'
• House of Fraser Launches Sporty Hijabs
Compiled by New Age Islam News Bureau
URL: https://www.newageislam.com/islam,-women-and-feminism/new-age-islam-news-bureau/un-envoy-claims-jihadis-sell-girls-for--as-little-as-a-pack-of-cigarettes-/d/103408
---------
UN Envoy Claims Jihadis Sell Girls for 'As Little As a Pack of Cigarettes'
09 June, 2015
Girls abducted as slaves by Islamic State (Isis) fighters in Syria and Iraq are being sold "for as little as a pack of cigarettes," UN envoy Zainab Bangura said on 8 June.
The UN envoy on sexual violence visited the war-torn countries in the Middle East has been working on a plan to address the ongoing sexual violence to women, The Guardian reported. "This is a war that is being fought on the bodies of women," Bangura said.
According to The Guardian, Bangura spoke to women and girls who had escaped captivity from Isis fighters, visited refugees in Jordan, Lebanon and Turkey, and met with local political and religious leaders.
Isis has been known to kidnap girls and women during attacks and then sell them in barbaric slave markets. "They kidnap and abduct women when they take areas so they have — I don't want to call it a fresh supply — but they have new girls," she said.
The girls are then sold for "as little as a pack of cigarettes" or up to several thousand dollars, according to Bangura. Several reports of Isis kidnapping teenage girls, many among the Yazidi minority, have come to light.
"Some were taken, locked up in a room — over 100 of them in a small house — stripped naked and washed," the UN envoy said. The girls are then made to stand in front of men who get to decide "what you are worth".
In a May report by the Mirror, Bangura said girls were "categorised and shipped naked off to Dohuk or Mosul or other locations to be distributed among Isil [Isis] leadership and fighters."
She added that children born of rapes conducted by Isis fighters to the girls would become "a generation of stateless children" that could become a rich source of recruits.
Abduction of girls is a selling point for Isis
Bangura told The Guardian that the abduction of girls has become a selling point for Isis in the recruitment of foreign fighters. "This is how they attract young men: we have women waiting for you, virgins that you can marry," she said. "The foreign fighters are the backbone of the fighting."
A UN report cited by The Guardian claims that nearly 25,000 foreign fighters from over 100 nations are involved in conflicts worldwide, with the largest portion heading into Syria and Iraq.
The terrorist organisation has also used the systematic kidnapping, selling and raping of women to displace those living in conquered areas, humiliate them or torture them.
Bangura cited the story of a 15-year-old girl who was sold to a 50-something-year-old Isis leader who gave her the option to pick between a gun and a stick. "She said 'the gun' and he replied: 'I didn't buy you so that you could kill yourself'," before he raped her, she said.
http://www.ibtimes.co.uk/isis-slaves-un-envoy-claims-jihadis-sell-girls-little-pack-cigarettes-1505116
-----------
Washington Urged To Allow Women Raped By ISIS to Get US-Aided Abortions
09 June, 2015
Women raped by the Islamic State and other terror groups are not allowed access to US federal aid to get an abortion because of a decades-old law. Christian, Muslim and Jewish leaders are calling on President Obama to change the legislation.
It's the Helms amendment, which was drafted 42 years ago, that forbids US foreign aid money from funding abortion "as a method of family planning or to motivate or coerce any person to practice abortion."
But a group of prominent human rights and faith leaders, joined together by the Centre for Health and Gender Equality (CHANGE), argue that women who have been raped by terrorists aren't asking to end their pregnancies for "family planning purposes," The Washington Post reported.
On its website, CHANGE has accused the United States Agency for International Development (USAID) of consistently misinterpreting "the Helms language to exclude funding for abortion services where it is not used as a method of family planning such as in the case of rape."
CHANGE and the group of leaders have called on President Barack Obama to issue an executive order making government aid available for abortions in the case of rape and incest.
"President Obama has spoken compassionately about women and girls raped in war and conflict, but has failed to act on that compassion," the group said in a June 4 news conference.
Obama has indeed repeatedly spoken about woman and girls being raped in global conflicts. In a September 2014 address about Islamic State (formerly ISIS/ISIL), he said the group's fighters "enslave, rape, and force women into marriage."
One month later, during a speech at the United Nations, he said that "mothers, sisters, daughters have been subjected to rape as a weapon of war."
But Obama's critics maintain that the president has not acted on his words.
"We are asking for the president not to put politics ahead of women," CHANGE president Serra Sippel said.
The coalition of religious and human rights leaders met for a summit at St. John's Episcopal Church in Washington DC last week, just steps away from the White House.
In an effort to state the group's position before the event, one leader cited the kidnapping of hundreds of Nigerian girls by Boko Haram last year – many of whom were raped.
"People are horrified by the news about the girls who were kidnapped by Boko Haram," said Central Conference of American Rabbis President Denise Eger, who attended the summit.
"But we have the power of our nation to actually do something to save those girls and to provide the medical care they need, the health care they need, the reproductive care they need," Eger said.
However, some believe any change in the amendment should be debated by Congress, due to the controversial nature of abortion.
"I would urge these particular religious leaders who are calling for overseas abortions to be paid for by the American taxpayers to donate their own money," said Eric Scheidler, executive director of the Chicago-based Pro-Life Action League. He also urged them "not to look to abortion as an answer to the problem of rape."
Meanwhile, the White House has referred questions about the Helms amendment to USAID.
Benjamin Edwards, a spokesman for the agency, refused to respond directly to the issue of abortion funding, but said the administration takes the issue "extremely seriously," The New York Times reported.
This is not the first time the coalition has urged the Obama administration to make changes to the Helms amendment.
Last year, CHANGE and the Religious Coalition for Reproductive Choice helped send a letter to the president, which was signed by 33 religious leaders and women's advocates.
The letter stated that it is "unacceptable – and in fact immoral – for our nation to continue to apply the Helms Amendment incorrectly."
Sex atrocities committed by ISIS are a reality, their crimes exposed in a UN report last month. The report stated that fighters buy children as sex slaves and force them into marriage. Girls from Iraq and Syria told an official that they were stripped, sold and made to undergo more than a dozen virginity reparation surgeries.
An April report from Human Rights Watch told a similar story, providing the accounts of Yazidi women and girls who had been subjected to "systematic rape and other sexual violence" by ISIS. One of the girls mentioned was only 12 years old.
http://rt.com/usa/265801-isis-abortions-rape-ban/
-----------
Iran partially opens stadium doors to women
June 9, 2015
A senior Iranian official says a limited number of women will be allowed to attend Volleyball World League games in Tehran later this month as it lifts a ban on Iranian women attending male sporting events.
The ban came to worldwide attention last year over the detention of a British-Iranian woman trying to attend a men's match. While Iran's judiciary has said her case was linked to her work with the opposition, the FIVB, which oversees world volleyball, called for her release.
Vice President for Women and Family Affairs Shahindokht Molaverdi tells The Associated Press that the government seeks to avoid a showdown with hard-liners with its decision.
Women generally have been banned from games since Iran's 1979 Islamic Revolution, though foreign women can attend matches of their national teams.
http://indianexpress.com/article/world/middle-east-africa/iran-partially-opens-stadium-doors-to-women/
--------
Afghan woman puts the pedal to the metal for women's rights
June 9, 2015
BAMIAN: Zahra Hussaini, a university student, wasn't aware that she would go on to start a significant movement in Aghanistan's Bamian region simply by pushing a pedal.
But then again, she was never one for attention. In fact, she would disguise herself in men's athletic clothing when she first riding a bike.
Under the Taliban in the 1990s, women in Afghanistan were excluded from public life, banned from going to school or stepping outside their home without a male family member. Women's rights have improved since the hardline Islamist group was ousted in 2001, but observers worry that progress is at risk as gender-based violence persists and women remain under-represented.
Husseini was born in Iran and later moved to Herat province in Western Afghanistan. While in Iran, she taught herself to ride a bike out of interest, in Afghanistan she rides out of necessity.
Bamian is a relatively peaceful region of Afghanistan although it has no history of women driving cars or riding bikes. Husseini had her first fearful encounter on the road one morning in 2012, when she crashed into an old man.
"The road was slippery and I crashed my bike into an old man standing on the street," Hussaini said.
Not realising the rider was a young woman, the man said, "If you don't know how to ride, then don't bother." When Husseini became more comfortable riding a bike, she started dressing as herself.
While she was often subjected to mockery and scoffs, it didn't deter her from riding a bike. "No one ever outright insulted me and I just brushed their words off," she said.
Since their dorms are miles away from campus, many students at the central Afghan Bamian University face trouble and are forced to walk. Husseini took the opportunity to teach female students how to cycle. Five young women whom she trained made it to Afghanistan's national cycling team.
Hussaini eventually began giving lessons to men as well, including an official at her university who purchased bicycles for himself and his wife and daughter.
Hussaini continued to bike even after she got a job as a secretary to former provincial Governer Habiba sarabi. She rode her bike to work with the support of her boss and the head of Afghan Independent Human Rights Commission.
Hussaini continued her campaign called it, 'Randan Haq-e-mast,' meaning 'Biking is our right.'
She says that after more men and women took up cycling some of the religious backlash almost died down. "No one really ever came out in support," she said, "but they did stop bringing it up."
Combining her love for cycling with her passion for the historical sites of Bamian, Hussaini arranged Tour De Bamian, a 22-mile ride that drew a hundred participants; men and women and took cyclists on a route that includes 6th century Buddha statues destroyed by Taliban militants in 2001, the ancient citadel city of Gholghola and other landmarks.
"Bike riding is good for the environment and health," she said. "I, of course, want more women everywhere to join in." The article originally appeared on LA TIMES
http://tribune.com.pk/story/900470/aghan-woman-puts-the-pedal-to-the-metal-for-womens-rights/
--------
European Games 2015: Can female wrestlers strike a blow for equality?
09 June, 2015
(CNN)The hopes of the Azerbaijan nation will turn to its revered and feared wrestling team to strike gold at the inaugural European Games in Baku.
Azerbaijan is one of the leading nations in the ancient sport with Toghrul Asgarov and Sharif Sharifov winning gold medals at the 2012 London Olympics.
Traditionally, it's been a male-dominated activity, particularly in a conservative country where female competitive sport has been frowned on in the past, but all that could be changing as young Azeri women take to the mat in increasing numbers.
Their role model is Mariya Stadnyk, who was born in neighboring Ukraine, but took up Azerbaijan citizenship in 2007.
The 27-year-old Stadnyk has won bronze and silver medals at the Beijing and London Olympics and in 2014 topped the podium at the European championships.
Trailblazer
The diminutive Stadnyk, who fights in the freestyle 48k class, understands why she was effectively headhunted to represent Azerbaijan at major sporting events.
"In Azerbaijan, wrestling is famous for its men, women's wrestling is not that famous because this is a Muslim country and wrestling is not popular for women," she told CNN.
"They needed to find someone to be a female wrestler here. The Azerbaijani trainers saw me and invited me to be part of this growing discipline," she told CNN.
Until her arrival, women's wrestling had little of the backing given to the men and as Namiq Guliyev, the national junior coach admitted, its talent spotting came via an unusual route.
Orphanage training
"Our first junior wrestling girls teams started in orphanages. We gave all the orphanages two wrestling mats so that they could get interested in it.
"We hired specialist coaches to coach female wrestling. And then we began importing female wrestlers from other countries."
Stadnyk, who is mother to two young children, is grateful for the support she has received, not least to juggle the twin demands of family life and elite sports training.
She at least has an understanding partner as her husband Andriy Stadnyk won a wrestling silver medal in Beijing, representing the Ukraine.
Stadnyk wants to repay that faith and financial backing by claiming gold for her adopted country on home soil.
"It's really important for us because the European Games are happening for the first time ever here in Baku.
"Usually sportsmen travel to compete abroad but this time we can do it here in our own city and that's very important for me."
Proud Azeri
If determination and will to win were the only ingredients necessary to claim a medal at an international sporting event, it is likely Stadnyk's unheralded teammate Gozel Yutova would also claim gold.
At 27, she is the same age as Stadnyk but with the Azeri women's wrestling program still in development phase she lacks her international experience.
Sporting a black eye as a result of a training accident, Yutova comes from wrestling stock, with her father a former member of the Azerbaijan national team.
She is adamant that prejudice against women in sport has not held her back in her sporting career.
"We are European, we are Muslim, we have some girls who are religious and who do fencing and other sports but in wrestling...well...here it's not looked badly upon," she told CNN.
"They have supported us and they have done everything for us. That's why we have to make them proud."
Young hopeful
Also hoping to make his country proud in the future is 11-year-old Mammad Ahamadov, a two-time Azerbaijan champion in his age group and desperate to follow the likes of Asgarov and Sharifov in claiming gold medals.
"I would like to become Olympic champion and, of course, European and World champion," he told CNN.
But even at his tender age, he knows that dedication is required in an unforgiving sport in which there is no way to hide.
"I practice six days a week, Sunday is my only rest day," he said.
Maybe in the future he will share Olympic glory with his female counterparts?
"I have good friends who are in the women's team," he said.
"Women's wrestling is growing and I wish them all the best," added the youngster.
Male or female, they will be following in a proud tradition with wrestling acknowledged as Azerbaijan's national sport.
"Wrestling is passed down from our ancestors," said Yutova. "There are a lot of people supporting me that's why I don't want to disappoint them."
http://edition.cnn.com/2015/06/09/sport/european-games-azerbaijan-wrestling/index.html?eref=edition
-----------
Malala Yousafzai calls on world leaders to save Rohingya Muslims
09 June, 2015
London: Nobel Peace Prize winner and educational activist Malala Yousafzai on Monday spoke up for the rights of Rohingya Muslims, urging influential world leaders to take action against the persecution of the minority group.
"I stand with the Rohingyas, and I encourage people everywhere to do so," , Dawn reported quoted Malala as saying in a statement released by the Malala Fund.
"I call on the leaders of Myanmar and the world to take immediate action to halt the inhuman persecution of Burma`s Muslim minority Rohingya people," she said.
She stressed the right of Rohingyas to citizenship in their country of birth, saying they deserved equal rights and opportunities.
"The Rohingyas deserve citizenship in the country where they were born and have lived for generations. They deserve equal rights and opportunities," statement added.
The 17-year-old said Rohingya Muslims "deserve to be treated like we all deserve to be treated - with dignity and respect. Today and every day."
Malala is currently in the Britain completing her studies at the Edgbaston High School, a private school in an upmarket part of Birmingham. After being shot by the Taliban in October 2012, Malala was treated at a hospital in Birmingham. She started at her school in the city in March last year.
She became a leading education campaigner since surviving the assassination attempt, but has not returned to Pakistan since owing to security concerns.
Malala and her father, Ziauddin Yousafzai, set up the Malala Fund in 2013 to fight on behalf of 62 million girls around the world denied access to secondary education, and work in Pakistan, Nigeria, Jordan, Lebanon, Sierra Leone and Kenya.
Last year, she was awarded the Nobel Peace Prize for her education campaigning, jointly with Indian children`s rights activist Kailash Satyarthi.
In recent years, sectarian violence and a thicket of discriminatory laws against the Rohingya in Buddhist-majority Myanmar have sparked the region`s largest exodus of boat-people since the Vietnam War.
More than 25,000 people, including many Rohingya but also economic migrants from Bangladesh, made the dangerous sea journey south from the Bay of Bengal between January and March this year, the UN says.
http://zeenews.india.com/news/world/malala-yousafzai-calls-on-world-leaders-to-save-rohingya-muslims_1609787.html
-----------
Indonesian City, Banda Aceh, Imposes 11pm Curfew on Women
09 June, 2015
Activists have slammed the imposition of a curfew on women in the capital of Indonesia's Aceh province.
A new directive, dated June 4, prohibits Banda Aceh venues such as restaurants, sport centres, tourist attractions and Internet cafes from serving women after 11pm unless they are accompanied by their husbands or male family members.
The measure, ordered by Mayor Illiza Sa'aduddin Djamal, also prohibits women from working in such establishments after 11pm and children from being unaccompanied in public places after 10pm.
"We have studied the matter thoroughly and this is in line with the labour laws," Djamal was quoted as saying. "Our aim is to protect women employees, especially those working at entertainment spots."
"Women in Aceh are vulnerable to sexual harassment so we want to protect them from untoward incidents," she added.
Indonesia's central government granted Aceh, considered more devout than elsewhere in the Muslim-majority nation, the right to implement a version of Islamic Shariah law in 2006 as part of a peace deal to end a separatist war.
Ninik Rahayu from the Indonesian Institute for Empowerment of Women and Children said the directive is discriminatory.
Indonesia regularly draws sharp criticism from women's rights activists over its policies. Earlier this year President Joko Widodo's government came under pressure from human rights activists after a lawmaker said last week that all school girls would be required to take a virginity test in order to graduate.
Last year Human Rights Watch criticized Indonesia for subjecting female police recruits to a physical test to try and determine whether they are virgins.
Indonesia is a mostly Muslim nation that is many respects socially conservative. Patriarchal attitudes are common in civil service, government and security force circles.
Additional reporting from Associated Press
http://asiancorrespondent.com/133427/indonesian-city-imposes-11pm-curfew-on-women/
-----------
Women Travelling Without Mahram under Study, in Saudi Arabia
09 June, 2015
JEDDAH: The Passport Department is currently drafting regulations that would see women travel without the permission of their guardians.
Maj. Gen. Sulaiman Al-Yahya, director general of the department in Riyadh, said the rules would be based on the reasons for travel, not age. The procedures to allow women to travel without permission include the interior, justice and social affairs ministries, and other bodies, he said.
He added that the passport department complies with court decisions that allow women to travel abroad, or get passports issued and renewed without the approval of their parents or guardians. These were in line with laws in "advanced countries," he said.
Al-Yahya was speaking at a press conference to launch a two-month campaign entitled 'Your Passport Your Identity,' aimed at encouraging citizens to safeguard their passports.
Al-Yahya said the department is considering issuing a plastic card to accompany passports for identification purposes. He said that citizens can have the printing and photographs on their passports changed for free.
Meanwhile, Al-Yahya said the department was working with the Ministry of Labor to prevent expatriates who run away from their sponsors, from coming back, unless they agree to return to their employers. This would prevent the growth of the black market, he said.
http://www.arabnews.com/featured/news/759181
-----------
New Uniforms Score Points for Modesty for East African Muslim Girls
09 June, 2015
Running up and down the basketball court, eighth-grader Muna Mohamed couldn't shake the thought: Was her loosely wrapped Hijab going to fall off in front of her male coach?
Many Muslim females cover all but their faces in front of men in public, which can make running, jumping and other physical activities difficult. Headdresses routinely come undone, traditional clothing can rip, and girls often trip over their long dresses.
One solution for Mohamed and other Muslim girls in Minneapolis was to go to girls-only sessions at the gym of the Brian Coyle Community Centre in the Cedar-Riverside neighbourhood.
Every Wednesday and Sunday for the past several years, about 30 East African girls have piled into the gym, where they exchange their Hijabs for more comfortable gym clothes and play in what has become their exercise sanctuary. (To ensure their privacy and keep nosy boys at bay, they've sometimes stuffed their Hijabs into the crack between the gym's double doors.)
But demand for the gym is high and girls-only time is limited to five hours a week. That's why leaders of the gym program teamed with the University of Minnesota to produce culturally sensitive athletic apparel for Muslim girls.
The outfits will "allow the girls to go out to the YMCA and Life Time Fitness and outdoor basketball courts," said Mohamed, now a junior at nearby Augsburg College. "I think they're going to be a lot more comfortable wearing it."
Having an exercise uniform is the latest development in a years-long effort to encourage Muslim girls to be more physically fit.
For GIRLS only
In 2008, when Fatimah Hussein was in high school, she noticed that the only people using the gym at the Coyle Centre were boys and men. She founded Girls Initiative in Recreation and Leisurely Sports (GIRLS) and started girls-only gym time on Sunday afternoons.
The program immediately struck a chord — with girls, that is.
In the first few months, the girls heard the same thing every week: the bang! bang! bang! of boys pounding on the gym doors, asking to be let in so they could play, too.
"In the beginning that's how it was," Mohamed said. "Even now on Wednesdays, people sneak in and they don't understand it's an all-girls gym."
Seven years later, the program has gained widespread community support, although some traditionalists still frown on girls being active.
"There are some people who are close-minded still," Hussein said. "Even though some of the parents are very strong in their culture, we tell them that even in our religion physical activity is important."
To develop the uniforms, Hussein teamed up with professionals from the University of Minnesota, including Chelsey Thul, a lecturer for the university's School of Kinesiology, and Elizabeth Bye from the College of Design.
Bye worked closely with the girls on the design of the outfits, getting many suggestions for pink and sparkle patterns. They eventually came to a less flashy consensus, including one with a blue stripe on a black background. The clothing also features leggings and a knee-length tunic, which minimizes tripping.
"The reason they picked the outfit they did was that it met all the criteria," Bye said. "It was modest, but it was still fun."
Two blocks from the Coyle Center, Bye and graduate students set up workstations at Mosque Shafici to make the outfits. For four weeks in April the mosque served as the apparel's assembly line. Sporadic rattling from sewing machines, coupled with an Arabic voice announcing afternoon prayers over a loudspeaker, filled the room with noise.
Volunteers from the community also took part. Fosiyo Mohamud got involved once she recognized the GIRLS program's impact on her daughters. About a year after her oldest daughter, Samira, joined the program, Mohamud brought her to a pediatrician for a checkup.
"The doctor said, 'What are you doing differently?' " Mohamud said. "She wasn't obese anymore."
The new uniforms, including a red-and-white one designed for the traveling basketball team, will be celebrated in a community fashion show.
Mohamed coaches the team, which is called the Women Warriors. She does so, she said, to help expand the program that first gave her a comfortable place to exercise.
"We really want to make this a lifelong thing for the girls to be engaged in sport," said Jennifer Weber, a GIRLS coach.
Jack Satzinger is a University of Minnesota student reporter on assignment for the Star Tribune.
http://www.startribune.com/new-uniforms-score-points-for-modesty-for-muslim-girls/306538501/
-----------
Gini Reticker Chronicles Muslim Women's Fights for Social Justice in 'The Trials of Spring'
09 June, 2015
The brave efforts of nine women activists striving for a better world in Egypt, Tunisia, Libya, Syria, Bahrain and Yemen are documented in Gini Reticker's "The Trials of Spring."
Billed as a "cross-media event," "The Trials of Spring" is an unusual collection of works that encompasses a feature film, six shorts, and articles written by various journalists. It will focus on the central roles that women played in the Arab uprisings and their aftermaths.
The project boasts an atypical distribution model, too. The feature documentary will premiere at NYC's Human Rights Watch Film Festival (July 11-21, 2015), while the sextet of shorts will be available on the New York Times website, with a new installment debuting every day starting June 7.
Reticker was inspired by the change these women made -- and how little coverage their efforts got. "It was in almost every place we looked that, behind the stories… women were the instigators," she said. "These are stories that you don't know at all, and it's amazing."
Working on a previous film in the Middle East, she encountered frequent dismissals of women's experiences and social-justice ambitions. "I remember having journalists say to me, 'Oh I saw those women, but they were so pathetic-looking that I didn't write about them.' And that there was something far more sexy about a guy with a gun."
Reticker and producer Beth Levinson decided to partner with the NY Times to get these women's stories in front of as many eyeballs as possible. "We knew from the beginning that we wanted a web initiative that was super-focused and tight, not like a blog or huge campaign, but something that was focused and had a really strong reach," said Levison. "We also knew that we couldn't expect for people to come to our website for a new project. We had to bring the content to where the people already are."
Watch the first short of "The Trials of Spring," about the assassination of a female Libyan activist, on the New York Times' website.
http://blogs.indiewire.com/womenandhollywood/gini-reticker-chronicles-muslim-womens-fights-for-social-justice-in-the-trials-of-spring-20150608
--------
House of Fraser launches sporty hijabs
09 June, 2015
British retail giant House of Fraser has launched a new line of sporty hijabs and bathing costumes for Muslim women.
Designed by modest sportswear brand Shorso, the collection is aimed at making it easier and more comfortable for Muslim women to engage in sports and swimming.
"We are very proud of our achievements with House of Fraser and will be growing our product range within the next few months," said Shorso's Regional Commercial Director, Jessica Robinson.
"We inspire people to be active without compromise," she added.
The range includes differently coloured bodysuits and "light-weight" hijabs.
Because the products are made of 80 percent nylon and 20 percent spandex, they're considered lighter and more durable than normal ones.
Though some international sports events have previously banned the hijab, they are now allowing its use for religious reasons.
The surge of modest sportswear has encouraged Muslim women to participate in athletic activities that they would otherwise not be able to partake in.
Not long ago, Emirati figure skater Zahra Lari, who wears a hijab, revealed she's planning on participating in the 2018 Winter Olympics.
Nicknames the Ice Princess in the Hijab, Lari wants to prove that a covered Muslim woman can make it to the anticipated global happening.
"I'm very lucky and haven't found any difficulties due to my hijab. I have both Muslim and non-Muslim skating friends all over the world and they all support me and understand my hopes, dreams and goals. We all have a mutual respect for one another," she told Arabian Business.
http://www.arabianbusiness.com/house-of-fraser-launches-sporty-hijabs-595435.html
-----------
URL: https://www.newageislam.com/islam,-women-and-feminism/new-age-islam-news-bureau/un-envoy-claims-jihadis-sell-girls-for--as-little-as-a-pack-of-cigarettes-/d/103408