New Age Islam News Bureau

19 September 2020

• Najah Aqeel, Tennessee Muslim Teen Disqualified from Volleyball Match Because Of Her Hijab

• Arab Women Call for Global Ceasefire Amid COVID-19

• Saudi Woman Runs A Seamless Op to Meet Military Demands

• Muslim Woman Says in Lawsuit that Los Angeles Police Officers Arrested Her and Forcibly Removed Hijab

• Afghan Women Win Fight for Their Own Identity

• Shireen Mazari recommends Pakistani men change their mindset regarding women

• US Embassy in Afghanistan Warns Against Extremist Attacks Targeting Women

• This Muslim Beauty Blogger Styles Her Hijab with These Amazing Anime Looks

Compiled by New Age Islam News Bureau

URL : https://www.newageislam.com/islam-women-feminism/multi-grammy-winner-beyonce-actor/d/122893

--------

Multi-Grammy Winner Beyonce, Actor Don Cheadle and Nobel Peace Prize Laureate Malala Yousafzai Enlisted by United Nations for Film on World's Biggest Issues

19 Sep 2020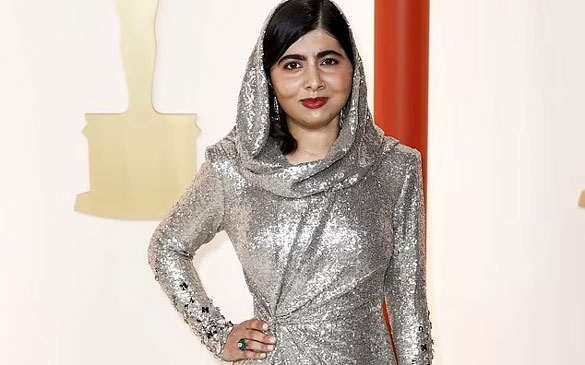 Nobel Peace Prize laureate Malala Yousafzai
-----
The United Nations (UN) has enlisted a slew of celebrities including multi-Grammy winner Beyoncé, actor Don Cheadle and Nobel Peace Prize laureate Malala Yousafzai for a film promoting actions to tackle the world's biggest issues from the COVID-19 pandemic to poverty and inequality.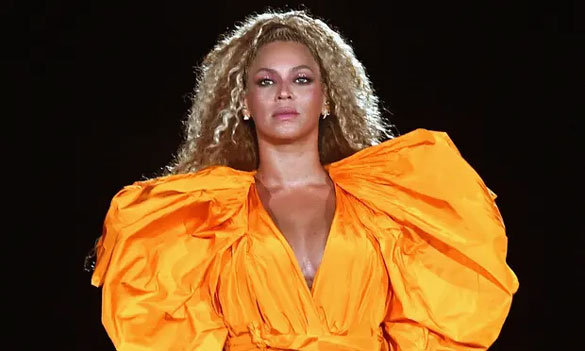 Multi-Grammy Winner Beyoncé
-----
The 30-minute film entitled "Nations United: Urgent Solutions for Urgent Times" is set for broadcast globally, and will premiere on the UN YouTube channel on Sept. 19 at 09:00 EDT (13:00 GMT), the U.N. announced Monday.
The U.N. said the film sets out the actions needed to build a better world as the coronavirus pandemic threatens global progress to end extreme poverty, achieve gender equality, promote human rights, tackle injustice and address climate change.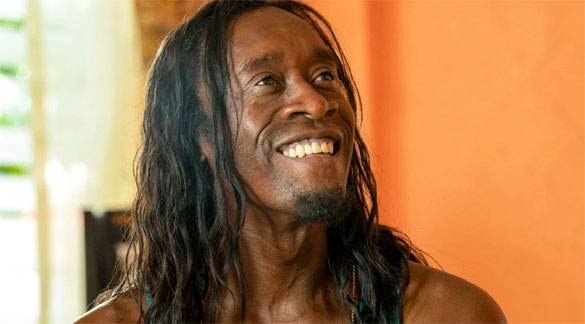 Actor Don Cheadle
-----
The film "will take audiences on a dynamic exploration of the times we live in, the multiple tipping points our planet faces, and the interventions that could transform our world over the next 10 years," the United Nations said.
It features a performance from Grammy-nominated singer Burna Boy, and a new version of a previous U.N. performance by Beyoncé as well as appearances by education campaigner and U.N. Messenger of Peace Malala Yousafzai, U.N. goodwill ambassadors Cheadle and actress Michelle Yeoh, and UNESCO special peace envoy Forest Whitaker.
U.N. Secretary-General António Guterres and Deputy Secretary-General Amina Mohammed also appear in the film. And the U.N. said Oscar-winning actress Julia Roberts will host a radio broadcast and podcast version of the show.
"Nations United: Urgent Solutions for Urgent Times" is produced by 72 Films and writer and director Richard Curtis. He is an advocate for U.N. global goals to combat poverty and inequality, preserve the environment and improve living conditions for all people by 2030.
https://images.dawn.com/news/1185797/un-enlists-malala-yousafzai-and-beyonce-for-film-on-global-issues
--------
Najah Aqeel, Tennessee Muslim Teen Disqualified from Volleyball Match Because Of Her Hijab
19 Sep 2020
By Rowaida Abdelaziz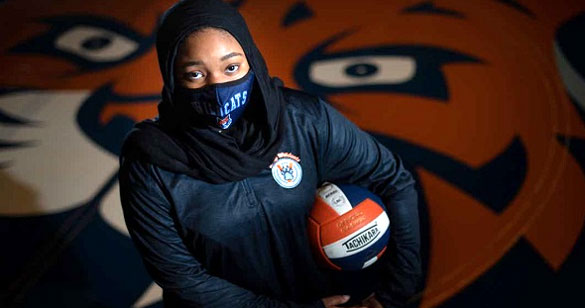 Najah Aqeel, who is a ninth grader at Valor Collegiate Academies, a public charter network based in Nashville, Tennessee,
------
A high school athlete was disqualified from playing at her school's volleyball game after a referee cited that her hijab violated the rules.
Najah Aqeel, who is a ninth grader at Valor Collegiate Academies, a public charter network based in Nashville, Tennessee, was due to play at an away game for the freshman volleyball team on Tuesday. Right before the start of the game, the referee told Najah and her assistant coach that her hijab violated the rules set by the National Federation of State High School Associations (NFHS), the national body that writes the rules for numerous sports for most high schools across the country, and that she required special permission to play.
Neither Najah nor her coaches knew anything about the requirement. She had already played games wearing the hijab. Angered by the lack of communication and the arbitrary enforcement of the rule, Najah began to cry.
"I was crying, not because I was hurt. I was crying because I was angry. I just thought it was unfair," Najah told HuffPost. Najah's mother, Aliya Aqeel, who was present to watch her daughter play, was devastated and tried to get answers.
"My baby's crying. She was upset and I am that mom that's like, 'No. You can't make her cry,'" said Aliya. "This was an injustice. It was because of her religion. It was because of her hijab."
Najah is not the first Muslim student-athlete to have been disqualified from a high school competition due to the hijab. In 2018, Muslim teen Noor Alexandria Abukaram was disqualified from her race in Ohio after completing her personal best time because officials said her hijab violated the uniform and she needed to have a waiver.
Beyond schools, Muslim athletes in professional leagues have also faced similar challenges due to their hijabs, and many said they felt forced to choose between their faith and their passion for sports. Advocates have since called on both athletic departments and international leagues alike to end singling out Muslims and update what they call antiqued rules that have particularly targeted Muslim women.
A spokesperson for Valor Collegiate Academies told HuffPost that it had no idea the policy existed until that game, and that its other hijab-wearing athletes at the school had never had an issue.
"As an athletic department, we are extremely disappointed that we were not aware of this rule or previously informed of this rule in our 3 years as a TSSAA [Tennessee Secondary School Athletic Association] member school. We are also frustrated that this rule has been selectively enforced as evidenced by the fact that student-athletes have previously competed while wearing hijabs," said Cameron Hill, the director of Athletics at Valor Collegiate Academies in a statement.
Although the school was able to get a waiver for Najah and future players, Hill called the rule "discriminatory" and "inequitable."
When asked about the headwear rule, TSSAA, the state-level member of NFHS, told HuffPost it was just following the rules set by the national organization.
"TSSAA has always granted exceptions to any student that wishes to participate with headwear, or other articles of clothing, due to religious reasons," said Bernard Childress, the executive director of the organization.
"The request in this situation was submitted to our office on Wednesday, September 16, and was approved immediately," he added. But for Najah, it was too late. She was forced to sit out Tuesday's game.
Neither the NHFS or the Middle Tennessee Volleyball Association — the administration that supplied the referee — responded to HuffPost's request for comment.
Policing Muslim Women's Dress In Sports
In 2017, the International Basketball Federation overturned its long-criticized ban on religious headwear, including the hijab, after much scrutiny. Following the suit, the International Boxing Association announced last year that Muslim women would also be allowed to compete in a hijab.
Big sports companies are jumping at those changes. That same year, Nike launched its Pro Hijab line. Companies like Adidas and Under Armour followed suit.
But those changes came at a cost. College basketball star Bilqis Abdul-Qaadir was on her way to playing international basketball when her dreams were halted. The International Basketball Federation or FIBA prohibited her from playing with her hijab. The Muslim woman who played for the University of Memphis was forced to give up her dream. She's since led the campaign for FIBA to change its policy. In 2017, the league finally lifted the ban.
When Abdul-Qaadir heard about Najah's incident, she was outraged. She said the incident brought back traumatic memories for her when she was confronted and humiliated by sports officials because of her hijab.
"The fact this is still going on and young girls have to still make this decision between faith and sport is ridiculous, and it's time to really put an end to it," said Abdul-Qaadir. "We need to take these rules out of the way so that more of us can play freely without having to answer to anybody."
Shireen Ahmed, a sportswriter who has extensively covered Muslim women in sports, said "policies that require athletes to provide waivers are extremely outdated" and that there was no significant evidence or research that demonstrates that wearing a hijab while playing sports is dangerous.
Schools and athletic associations need to ultimately support and advocate for their athletes against such policies, said Ahmed, adding that putting the onus on athletes like Najah or Noor in Ohio can be detrimental for the player.
"I don't think there is any need for this policy. It just others Muslim women athletes," said Ahmed. "High school athletic associations really need to revisit and reexamine what they expect athletes to do in order to compete. These policies don't reflect the communities they are supposed to represent and it's unfair to the athletes and to their teams."
Fighting For Change
In Ohio, Noor was able to successfully lobby for change. In June, the Ohio Senate passed a bill to allow student religious expression in extracurricular activities. Najah wants the same.
"We want the rule changes. We want the rule thrown out," Aliya said. "That's our biggest mission as a family and as a team. So no other girl, not just Muslims, but no other religious groups have to go through what we go through."
Najah is among approximately 65,000 Muslims in the state of Tennessee. If the rule doesn't change, advocates say it could discourage other Muslims from participating in sports.
"This just puts unnecessary barriers for people of all religions but for Muslim girls to participate fully in sports. Our state agency should be servicing all their student-athletes and make sure none of them feel discriminated against and there are no barriers to playing sports," said Sabina Mohyuddin, the executive director at the American Muslim Advisory Council, an advocacy organization that empowers Muslim Americans in Tennessee.
Najah is back on the court and has played twice since the incident. Still, she and her family feel like this is just the beginning over a larger issue for Muslim women in sports.
"We're not just fighting for Najah. We're not just fighting for Muslims. We're fighting for anyone that this rule impacts," said Aliya.
https://www.huffingtonpost.in/entry/muslim-teen-disqualified-from-volleyball-match-because-of-her-hijab_n_5f6520d6c5b6b9795b106265?ri18n=true
--------
Arab Women Call for Global Ceasefire Amid COVID-19
SEPTEMBER 19, 2020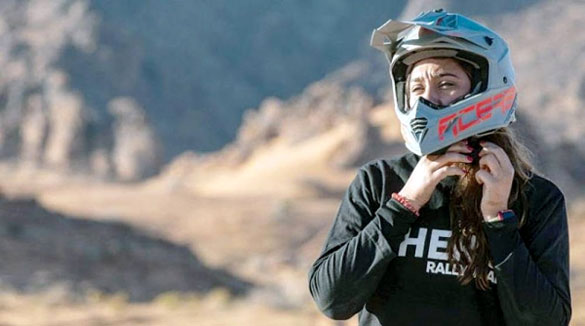 Active conflict is a reality in the Arab world, but it is also a reality that women are fighting to end.
------
SEATTLE, Washington — Active conflict is a reality in the Arab world, but it is also a reality that women are fighting to end. On May 2020, more than 90 women's organizations across the Arab world, from Iraq to Yemen, joined the U.N. in a statement calling for an immediate global ceasefire. The organizations called for parties in conflict to form a united front against the COVID-19 pandemic by ensuring access to humanitarian and medical assistance to communities affected, the joint statement said. The region has experienced conflicts and wars that have drained resources and exhausted many communities. Moreover, women's and girls' suffering is substantially worse because they are more likely to be subjected to discrimination and violence, such as sexual assault, terrorism and trafficking.
Women's Organizations in the Arab States Region Unite with the U.N.
Internal conflicts have destroyed infrastructure in the region, targeted health facilities and severed livelihoods, said the statement from women's organizations across Iraq, Libya, Palestine, Syria and Yemen. The COVID-19 pandemic is amplifying the current situation in the region. If the virus were to spread, it would ravage the entire Arab States Region despite national, ethnic, religious and political differences.
The spread of COVID-19 will undoubtedly exacerbate the effects of the ongoing conflict, but the organizations argued how an increase in conflict would also erode social fabrics. The women's organizations wrote that a ceasefire is the first and most essential move in the fight against COVID-19. They encouraged channeling money from wars to helping at-risk populations who suffered from years of armed conflict.
"Our drained countries do not need yet another call to fall on deaf ears. We have already missed many opportunities to usher in peace and unity," the statement said. "If heeded, our call would not only allow our communities to finally have rest from senseless fighting but would also show us that we can still put our differences aside and silence our guns in the interest of our collective safety and security."
To the 91 Arab women-led organizations, both men and women need to sit at a table and make peace a priority with a pandemic looming in the region.
COVID-19 in Conflict: How the Outbreak Further Complicates Women's Lives
According to the International Rescue Committee (IRC), the discrepancy between male and female confirmed COVID-19 cases is more extensive in countries where the IRC works. The average of male COVID-19 cases is 51%, a figure which appears higher in countries such as Somalia, Pakistan and Yemen, where about 70% of all reported cases are male.
The IRC report states that less than 30% of COVID-19 cases are female in Pakistan, Afghanistan, Somalia, Yemen, Chad and the Central African Republic. In developed countries, such as the U.S. and Germany, the percentage of confirmed female cases is closer to 50%.
While testing is already limited in developing countries, the IRC believes this discrepancy may be linked to women's lack of access to testing and health care services. Women already face gender discrimination and inequality, which transfer over to other sectors, such as education. With less access to the internet and information, they may unknowingly create misinformation and stigma surrounding the virus.
Moreover, women are also experiencing the pandemic's economic impacts as many usually hold insecure jobs, according to an April U.N. report. About 740 million women worldwide work in the informal economy, many of which are also in charge of caring for children and their homes.
Due to the pandemic, many women are also forced to lockdown in their homes, which increases gender-based violence, such as domestic abuse. In just the last year, the U.N. found that more than 243 million women aged 15 to 49 have been sexually or physically abused by an intimate partner. Furthermore, the U.N. projects that the number will only increase throughout the pandemic, citing how reports of domestic violence have already increased in France, Cyprus, Spain, Argentina and the U.S.
How Arab Women Are Fighting for Women's Rights
According to the U.N. Women's Chief Phumzile Mlambo-Ngcuka, women are essential to battling COVID-19 and are urging for peace and security. Arab women organizations, like the ones that signed the statement, are part of this push for change.
Kafa, with its name translating to "enough," is a Lebanese nonprofit organization working to eliminate all forms of gender-based violence since 2005. The group has advocated for law reform, influenced public opinion, conducted research and empowered victims of violence. Kafa has also established a phone line for domestic violence victims in need of social, legal and psychological support.
Another nonprofit working toward gender inequality is CAWTAR, also known as the Center of Arab Women for Training and Research. This Tunisian-based organization focuses on research and advocacy related to gender equality. The group has projects around the region, from focusing on the economic empowerment of Palestinian women to improving healthcare and legal services in Yemen, Sudan and Tunisia.
In a world changed by the COVID-19 pandemic, it is crucial to amplify and support the voices of Arab women now more than ever, especially in a call for a global ceasefire.
https://www.borgenmagazine.com/global-ceasefire/
--------
Saudi Woman Runs A Seamless Op to Meet Military Demands
MOHAMMED AL-SULAMI
September 19, 2020
RIYADH: Turfah bint Abdulrahman Al-Mutairi is the first Saudi woman to obtain a license from the General Authority for Military Industries (GAMI) for a military outfit factory.
The owner of Sondos Al-Dibaj factory, Al-Mutairi has a bachelor's degree in textile engineering and started working in the field after graduating. She is now specialized in military equipment, including clothing that can protect against weapons of mass destruction and biological weapons, as well as fire-resistant clothing.
"My company is among the first five companies to get licensed in the field of military industries by GAMI," Al-Mutairi told Arab News.
She said her factory works with international companies specialized in localizing production of military equipment.
These include a French company with which she has signed an agreement as a Saudi-French investment specializing in military uniforms. The clothing is designed to meet the needs of the Saudi military in the field.
"I started my career in design and textile as this was my major. Fashion and design depend on the concept more than on quantity," she said. "There are industries, however, that depend on quantity, and this is found in the military sectors."
She said her approach to working for the military sector was founded on two beliefs. The first is that, being a strategic sector, and from a security and political point of view, the industry should be local and domestic, and localizing it leads to self-sufficiency, Al-Mutairi said.
"The second reason is that my goal since graduation has been to be part of a cycle that seeks to create jobs for women. Textiles is one of the businesses in which women innovate, and opening production lines for this field has been my goal for over 20 years," she added.
She has worked on the project since the establishment of her first factory 12 years ago, and she was among the first to demand the domestic production of military clothing.
The idea of localizing military industries had yet to be discussed when she first started her factory. Many of Al-Mutairi's relatives work in the military field, which made her aware of the needs of the industry.
"I rang the bell at the AFED-2016 exhibition, which targeted the field of spare parts, not individual equipment. I spoke to Maj. Gen. Attia Al-Malki, head of the exhibition, and he was very understanding of my idea, so I took part in the exhibition," she said, adding: "Here comes the importance of having an official who understands the requirements of the stage and has the flexibility that enables him to make a decision."
The exhibition also gave Al-Mutairi the opportunity to work with international companies such as BAE Systems, which specializes in aircraft production. "I discussed with them their needs, and we began to fulfill their special requirements and supply them with spare parts for military aircraft, such as engine covers, and we have started to develop our capabilities to cover their delicate product requirements," she added.
Al-Mutairi said that spare parts are also a type of textile with unique specifications, which can demonstrate the ability of manufacturers.
"Experience begins with a small part and extends to include other parts. We have thankfully passed the stages of installation and reached the stages of creativity and innovation," she said. For centuries, Al-Mutairi said, fabric and textile production has been women's work, adding that military uniforms have special requirements that must help soldiers navigate in the field and surrounding terrain.
"We therefore take into account the military requirements in terms of design and material, and this is what we are trying to develop. We had experience in designing the uniforms for the staff of the National Center for Security Operations (911). Maj. Gen. Abdulrahman Al-Saleh, the center's director, supported us, and the uniform was approved by the Ministry of Interior," she said.
Her factory also took part in designing Public Security uniform. Al-Mutairi said there are some similarities between the military uniforms of Saudi armed forces and those of other countries. The most common uniform is the No. 4 camouflage, which is worn during deployment.
"They are meant to look like the surrounding area, whether it is a desert or a mountain. These are thought-out patterns, and developments are continuously made by following the latest technologies in textile engineering and color combinations," she said. "The process of changing them takes a long time and requires decisions by the military sector." With the comprehensive change in the Saudi economy, cutting-edge systems are encouraging investment, especially in the military industry, she said.
The country goal to localize 50 percent of the military industry. Regulations by GAMI, new systems, and employing purchasing and negotiating powers will help manufacturers achieve the ambitious target, she said.
She added that military technology has valued customers, and it is guaranteed that the products will be bought if they are of high quality.
Al-Mutairi said it is an excellent investment opportunity for Saudis and foreign investors in particular, given that the Kingdom ranks fourth globally in military expenditure, "and you can imagine that 50 percent of this huge spending goes to local factories."
She said that despite strong competition locally, her factory alone cannot cover market demands, and that the Kingdom needs more competition in the military sector.
"It also needs to localize, train and financially support talent, in addition to developing systems, such as a procurement system. We have also seen recent reforms such as arbitration in corporate cases, and this has become clear and fast, which encourages investment," she added.
Al-Mutairi said another step that made things easier for industry investment was the development in completing government transactions, which have moved online. "These procedures in the Kingdom only take a few minutes and the response is received electronically."
In the future, Al-Mutairi aims to build partnerships with international companies to develop the field, quoting Crown Prince Mohammed bin Salman, who said: "The sky is the limit."
She has had meetings with Chinese and Greek industrial companies, and said she will work with any company that wishes to enter the Saudi market.
While the military industry always relies on patents, Al-Mutairi said it is an advanced stage in the field, and her factory is working toward that goal and focusing on it. But patents only come after mastering a skill, establishing work and starting it, she added.
Military uniforms resistant to weapons of mass destruction are unique to Al-Mutairi's factory, as it is the only one in the Kingdom and the Gulf region to produce the clothing.
She added that the Sondos Paul Boye Company — a Saudi-French partnership — is the only company in the world to produce the uniform in two internationally known methods. "The first of which is using cellular textile, produced globally by one company, while the second uses spherical textile, produced by another specialized company." Sondos Paul Boye also manufactures fire-resistant uniforms.
Al-Mutairi said her company is also looking to export uniforms soon.
She employs 170 workers in her factory, while there will be 213 new employees as part of a new expansion.
Many of the workers are women, she added, "because Saudi women by all means have taken over the foreign workers' department as they complete their work very quickly and demand more tasks."
This, she said, has added pressure on other workers to keep up with the speed and achievements of the 49 Saudi women working on the factory production line.
https://www.arabnews.com/node/1736621/saudi-arabia
--------
Muslim Woman Says in Lawsuit that Los Angeles Police Officers Arrested Her and Forcibly Removed Hijab
19 Sep 2020
A Muslim woman is suing Los Angeles and its police department, claiming officers forcibly removed her headscarf while waiting to enter a city meeting.
According to The L.A. Times, Nusaiba Mubarak, 26, announced her lawsuit Thursday.
In it, Mubarak claims she was waiting to enter a Police Commission meeting last year when she was confronted and "aggressively manhandled by three police officers nearly twice [her] size, who without any warning" grabbed her and "pushed [her] to the wall, handcuffed [her], and shoved [her] into another room" where she was stripped of her hijab and subject to further humiliation.
Mubarak, who's represented by the Council on American-Islamic Relations, or CAIR, said law enforcement rushed the area she was standing in after another protester went over his allotted speaking time.
However, Mubarak says police gave no reason for her own detention.
Furthermore, Mubarak and her attorneys say law enforcement provided no justification for their decision to remove her headscarf.
Hijab—modest attire which typically includes a headscarf or other covering—is a widely-practiced form of dress for Muslim women. Interpretations of Islamic scripture, including the Quran and Hadith, typically forbid women from removing hijab save for when they are in the exclusive presence of close relatives.
Mubarak, adds the Times¸ was ultimately released from LAPD custody without charge. She said the ordeal left her "shocked and quite terrified."
Her lawsuit names the City of Los Angeles, the Los Angeles Police Department, LAPD Chief Michel Moore, Detective Corey Harmon, and four other, unnamed officers as defendants.
In her complaint, Mubarak explains that she decided to file a lawsuit "to challenge illegal LAPD behavior that callously humiliated her, stripped her of a religious garment in front of others, and erased her chance to publicly address the public body that oversees the very officers who violated her rights."
The Los Angeles Times notes Mubarak was attending a Police Commission meeting in September 2019 to protest the shooting of Albert Ramon Dorsey the year prior.
Dorsey was fatally shot by an LAPD officer after punching another officer in a gym locker room. While Chief Moore declared the shooting justified, the Police Commission's reported suggested that departmental policy had been breached when officers opened fire on Dorsey.
Lena Masri, Mubarak's CAIR-appointed counsel, said her client's experience is representative of how law enforcement treats religious and ethnic minorities.
"Muslim women across the country are having their hijabs senselessly removed by police officers, even during traffic stops for minor traffic violations, in court houses, in correctional facilities, and when having their booking photos taken," Masri said in a statement.
Masri framed Mubarak's experience as patently illegal, saying her constitutional rights were violated both by the unjust arrest and removal of Mubarak's headscarf.
"The callousness that the LAPD officers exhibited towards Nusaiba was a senseless attack on her religious liberty," Masri said.
https://www.legalreader.com/muslim-woman-lawsuit-los-angeles-police-officers-arrested-her-removed-hijab/
--------
Afghan Women Win Fight for Their Own Identity
Heather Barr
September 18, 2020
Afghanistan's president has signed a new law that will, for the first time, include mothers' names on their children's birth certificates and identification cards. The law is a major victory for Afghan women's rights activists, who for several years have campaigned for both parents to be named under the social media hashtag #WhereIsMyName.
The reform will have important real-life consequences, making it easier for women to obtain education, health care, and passports and other documentation for their children, and to travel with their children. It will be especially significant for women who are widowed, divorced, separated, or dealing with abusive partners.
It is also part of the important, if slow, cultural shift taking place in Afghanistan toward ending the erasure of women in Afghan society and overturning harmful ideas, like that women and girls should not be seen or spoken about. Denying women the right to be recognized on their children's identification essentially gave state backing to the idea that children are the property of the father, and that women should not exist in public life. Women in Afghanistan still face enormous barriers to equity, including discriminatory laws, failure to enforce laws that should protect them, and discriminatory barriers to education and employment. The Afghan government has often failed to respect women's rights, so government support for this law is encouraging.
This is also an important victory at a moment when Afghan women know that their rights could be sacrificed in the upcoming talks between the Afghan government and the Taliban, and that the 3 women on the 21-member government-backed negotiating team will be hard-pressed to ensure that a final agreement fully respects women's rights.
The struggle for women's rights in Afghanistan has been long and hard, and many Afghan women fear their rights could be rolled back in the negotiations. Despite changes since 2001 that have seen women gain more rights, discrimination against them remains severe and pervasive. This new law is a confidence boost and reminder of the many battles Afghan women's rights activists have fought – and won – since 2001. One of their hardest battles is ahead of them, at the negotiating table; the Afghan government owes them its support there too.
https://www.hrw.org/news/2020/09/18/afghan-women-win-fight-their-own-identity
--------
Shireen Mazari recommends Pakistani men change their mindset regarding women
19 Sep 2020
In the current climate, public discourse is centred around issues of violence and justice —violence faced by the women of this country and the inability of the justice system to be effective in countering that.
But what often goes unnoticed, or is deliberately ignored in such conversations, is the insidious and pervasive way discrimination against women plays out in our everyday lives, starting with stifling their voices and diversity of opinion.
Following public outrage over the heinous gang-rape incident on a major highway near Lahore, the National Assembly took up the issue of the tragedy through their call attention notice.
And while many—mostly men—gave impassioned speeches about the state of the country, society and its laws, there was only one woman who spoke straight from the shoulder.
Our Human Rights Minister, Dr Shireen Mazari, minced no words.
Addressing the speaker of the assembly, Dr Mazari said, "I have been listening to the debate, where politics and the police have been discussed in detail. But I want to speak as a woman."
She continued, "To say that a woman is someone's mother, someone's daughter first, is just not right. A woman is entitled to respect and regard not because she is related to someone, but because as a woman she deserves it. She is entitled to all the rights and privileges that a man has. I shouldn't only be respected because I am related to married [to a male], I should be respected because I am a woman, and more than that, an equal citizen of this country."
Speaking on the CCPO's controversial remarks, Dr Mazari said, "Nobody has the right to tell me [women] what kind of clothes to wear, where and how to travel, to be accompanied by a mehram (male relative), or ask me why I was travelling on the roads alone. Nobody has that right over me."
Amid desk-thumping which is equivalent to an ovation, she continued, "If a man can't keep his gaze lowered, if a man can't treat women with respect, then tell HIM to stay home, tell him to not come out on the roads."
While the speaker of the assembly, and many other male lawmakers, 'giggled' at the mere suggestion of keeping misogynistic men housebound, Dr Mazari went on to say, "You don't know the gravity of pain and anger that the women of this country feel on being told IF you had done this you would have been safe, if you had done that you'd be in danger."
"Sorry, this is completely unacceptable. And something like this should never even be tolerated. Basic freedom is my constitutional right as a Pakistani, as a woman."
She recommends implementing stricter laws around the crime, improving and sensitizing the police force, but first and foremost, to change the 'mindset' regarding women in this society—especially the kind exclusively held by men.
Addressing the leader of the opposition, Mian Shahbaz Sharif, who was heavily criticised for political point-scoring during the National Assembly debate, she urged him to stop referring to the motorway incident survivor as "Qaum ki Beti" (Daughter of the Nation) but to rightly call her "Qaum ki Aurat" (Woman of the Nation).
Not only did Dr Mazari school the national assembly on framing the issue in the right light, but she also won the support of women across the country.
https://images.dawn.com/news/1185787/shireen-mazari-recommends-pakistani-men-change-their-mindset-regarding-women
--------
US Embassy in Afghanistan Warns Against Extremist Attacks Targeting Women
18 September 2020
The US Embassy in Afghanistan is warning that extremists groups are planning attacks against a "variety of targets" but are taking particular aim at women.
The warning issued late Thursday doesn't specify the organizations plotting the attacks, but it comes as the Taliban and government-appointed negotiators are sitting together for the first time to try to find a peaceful end to decades of relentless war.
The "Taliban don't have any plans to carry out any such attacks," spokesman Zabihullah Mujahed told The Associated Press on Friday.
Peace negotiations underway in Qatar, where the Taliban maintain a political office, are in the initial stages with participants still hammering out what items on the agenda will be negotiated and when.
For all the latest headlines follow our Google News channel online or via the app.
Washington's peace envoy Zalmay Khalilzad said at the start of negotiations last weekend that spoilers existed on both sides. He said that some among Afghanistan's many leaders would be content to continue with the status quo rather than find a peaceful end to the war that might involve power sharing.
According to the embassy warning, "extremist organizations continue to plan attacks against a variety of targets in Afghanistan, including a heightened risk of attacks targeting female government and civilian workers, including teachers, human rights activists, office workers, and government employees."
The embassy did not provide specifics, including how imminent is the threat.
The Taliban have been harshly criticized for their treatment of women and girls during their five-year rule when the insurgent group denied girls access to school and women to work outside their home. The Taliban rule ended in 2001 when a US-led coalition ousted the hard-line regime for its part in sheltering al-Qaida, which was responsible for the 9/11 terrorist attacks on the United States.
One of the government-appointed peace negotiators, Fawzia Koofi, a strong, outspoken proponent of women's rights, was shot last month in Afghanistan, but escaped serious injuries and attended the opening of negotiations last weekend. The Taliban quickly denied responsibility and Khalilzad again warned of the dangers to the process.
The United States has said that perhaps one of the most dangerous extremist groups operating in Afghanistan is the Islamic State affiliate, headquartered in the country's east and held responsible for some of the most recent attacks. The IS affiliate has declared war on minority Shia Muslims and has claimed credit for horrific attacks targeting them.
The United Nations as well as Afghanistan's many international allies have stressed the need for any peace deal to protect the rights of women and minorities. Negotiations are expected to be difficult and protracted and will also include constitutional changes, disarming the tens of thousands of the Taliban as well as militias loyal to warlords, some of whom are allied with the government.
The advances for women made since 2001 have been important. Women are now members of parliament, girls have the right to education, women are in the workforce and their rights are enshrined in the constitution. Women are also seen on television, playing sports and winning science fairs.
But the gains are fragile, and their implementation has been erratic, largely unseen in rural areas where most Afghans still live.
The 2018 Women, Peace and Security Index rated Afghanistan as the second worst place in the world to be a woman, after Syria. Only 16 percent of the labor force are women, one of the lowest rates in the world, and half of Afghanistan's women have had four years or less of education, according to the report, which was compiled by the Georgetown Institute for Women, Peace and Security and the Peace Research Institute of Oslo. Only around half of school-aged girls go to school, and only 19 percent of girls under 15 are literate, according to the U.N. children's agency.
Nearly 60 percent of girls are married before they are 19, on average between 15 and 16 years old, to spouses selected by their parents, according to UNICEF.
Until now, parliament has been unable to ratify a bill on the protection of women.
There are also Islamic hard-liners among the politically powerful in Kabul, including Abdul Rasul Sayyaf, who is the inspiration behind the Philippine terrorist group Abu Sayyaf, and Gulbuddin Hekmatyar, a US-designated militant who made peace with President Ashraf Ghani's government in 2016.
https://english.alarabiya.net/en/News/world/2020/09/18/US-Embassy-in-Afghanistan-warns-against-extremist-attacks-targeting-women
--------
This Muslim Beauty Blogger Styles Her Hijab With These Amazing Anime Looks
By Anisah Vasta
September 18, 2020
It all started with some Disney princesses. It was 2015 and Birmingham based beauty blogger, Saima Chowdhury, was attempting to recreate Jasmine from Aladdin and Rapunzel from Tangled for a new video series on her YouTube channel.
She dressed up as some other characters from the Disney kingdom, too – everyone from Cinderella to Ariel – always making sure to shape her hijab to match their trademark princess looks. But it was Rapunzel – she of the long flowing hair – who got the biggest response.
Chowdhury had started her channel, saimasmileslike, in 2009 at the age of 16. What began as a comedy platform is now home to a range of brilliant videos from make-up routines and hijab tutorials to myth-busting period and sex ed chat. It found a loyal audience, including but not limited to other young South Asian Brits. Such is her following, she dropped out of Birmingham City University to pursue a full time career as a social media influencer.
"That was the closest I got to cosplay," says the 26-year-old of the Disney project that inspired her to venture deeper into the world of dressup.
As a photography student, she'd discovered the joys of Japanese anime culture in a big way. It soon became an obsession. "After watching [Japanese manga series] Demon Slayer I was so inspired to recreate these characters," she tells HuffPost UK. "Then one thing led to another."
Cosplay, the art of dressing up as a fictional character by meticulously matching their outfit, face and gestures, has a huge global community. But talking about what it means to her, Chowdhury says: "It's all about transforming yourself into a different character! There's no rules, it's all about having fun and showing your interpretation of the character you love!"
In the case of Demon Slayer, that's a young boy who becomes a demon slayer after his family are slaughtered and his sister who becomes, well, a demon. "I was really surprised by the response I got from everyone because it was a slow process getting over the initial fear to pull these looks off," says Chowdhury.
She was apprehensive before she started. "I have always been interested in cosplay, but it's one of those things where I question myself. I wear the hijab? How will I do it? It's not going to be accurate? Will I look stupid?"
She needn't have worried. Her YouTube channel has an impressive 95,000 subscribers, but the Instagram account where she posts her cosplay looks has already exceeded that, with more than 115,000 followers and counting.
Saima attended her first comic-con convention in 2017, but wasn't brave enough to go in full costume. When she went to her second, she bumped into one of her followers. "Her cosplay was amazing and made me wish I finished mine in time so we'd match," says Chowdhury, who'd ended up with a last-minute costume.
She credits their chance encounter with giving her the motivation to keep going. "It was incredible to see another Muslim woman wearing the hijab and cosplaying," she adds.
Chowdhury was planning on attending this year's comic-con in Birmingham, but it was cancelled due to Covid-19. During the coronavirus lockdown, she has spent a lot of her time experimenting with different face colours and makeup.
"Pre-pandemic, I did have some cosplayers ask me to cosplay and meet them at a comic-con event, but sadly this wasn't possible," she says, while noting there's an upside: "It's given me more time to practise and improve my skills."
Chowdhury's cosplay looks can take up to four or five hours to create, and despite their bold colours and styling, she uses regular makeup brands such as L'Oréal, Fenty and Mac Cosmetics to achieve them. Some even require complex techniques like blocking, erasing and carving her eyebrows to the exact shape of each cosplay character.
"When I first started off, I was doing makeup looks that were more 'inspired by' different characters. But as time has gone on, I now pick a character and try to match their exact look," she says.
"The hardest part of recreating these looks is styling my hijab and matching the hair. I would just sit in front of the mirror for hours deciding how to match it."
Chowdhury longs for greater visibility for people of colour in the UK scene. "One aspect I have found about the cosplay community is there are still a lot of people who gate-keep it," she says.
"Some people often say all the characters should be white, even-though they're Japanese. So when they see a person of colour in cosplay, it's seen as strange."
Connecting with more Muslim women who cosplay has made a real impact, she says. "In places like Malaysia, the cosplay community is quite big, so they do group photoshoots and are really accepted within the society. As time goes on, you find your community within a community. It took me some time to navigate around but I have found my own little space now."
She sees her identity as a British Bengali Muslim woman as very much "intertwined" with her cosplay – continuing to "maintain hijab" no matter the outfit, hair or makeup she is recreating. That's part of the creative challenge.
"People often have a perception of what Muslim women are, especially when they look into the media and become shocked. Muslim women are normal women. Some of them have engineering hobbies, some of them do archery, some watch anime."
Next on her to-do list is starting to making her own set of cosplay costumes and arranging more ambitious themed photoshoots, rather than her current selfies.
Alongside improving on her own looks, she'd also love to teach other Muslim women who wear the hijab how to cosplay.
"I hope people see the same excitement I feel," she tells HuffPost UK. "I'd love it if more girls who wear the hijab started cosplay, too, and show people that wearing the hijab doesn't limit you in what you do!"
https://www.huffingtonpost.co.uk/entry/saimasmileslike-muslim-beauty-blogger-cosplay_uk_5f4fb355c5b699772e2a5ab5?guccounter=1&guce_referrer=aHR0cHM6Ly93d3cuZ29vZ2xlLmNvbS8&guce_referrer_sig=AQAAAE4SVnVNyHgDw0VwmWGdIqnRPt_s63R3oN8EnaH6fim6IfdikpF-fU-vy_iTrHtis-smZ5-R52t5SunakfsJpzAdWlq3a_fG2LjsATrB9ohOnp6TZYLCIYmOtgsX8NLPyPKHotVHjKVaYT-d9ZurrKbF4rU22wU6Y0XWwnO3vyLk
--------
URL : https://www.newageislam.com/islam-women-feminism/multi-grammy-winner-beyonce-actor/d/122893
New Age Islam, Islam Online, Islamic Website, African Muslim News, Arab World News, South Asia News, Indian Muslim News, World Muslim News, Women in Islam, Islamic Feminism, Arab Women, Women In Arab, Islamophobia in America, Muslim Women in West, Islam Women and Feminism