New Age Islam News Bureau
17 Jan 2018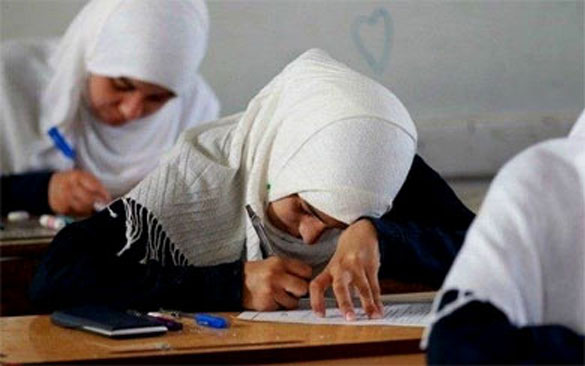 The UK's FCO will be specifically championing girl's education in Nigeria, South Sudan, Iraq, the Democratic Republic of Congo, Somalia, Libya, Syria, Burma and Afghanistan (File Photo)
------
• India Withdraws Hajj Subsidy to Use Funds for Muslim Girls' Education
• Muslim Women's Rights Must Be Protected, Says Noted Legal Scholar
• The Council of Muslim Organisations Advocates Hijab for Female Soldiers, Lawyers
• Iran: Women's Economic Participation Lags Behind Other Countries
Compiled by New Age Islam News Bureau
URL: https://www.newageislam.com/islam-women-feminism/uk-focus-womens-education-push/d/113967
--------
UK to focus on women's education in push for world peace
16 January 2018
LONDON: The UK is to put greater emphasis on women playing a central role in ensuring global peace and security.
The UK's Foreign & Commonwealth Office (FCO) will be specifically championing girls' education in Nigeria, South Sudan, Iraq, the Democratic Republic of Congo, Somalia, Libya, Syria, Burma and Afghanistan.
The initiative is part of the FCO's fourth National Action Plan (NAP) on Women, Peace and Security, launched on Tuesday, setting out the UK's stance on supporting women in conflict zones.
Minister of state for the FCO and the prime minister's special representative on preventing sexual violence in conflict, Lord Tariq Ahmad of Wimbledon, said: "Conflict affects whole communities, but women and children are often the worst affected.
"This year the foreign secretary and I will focus on ensuring that girls in the poorest countries in the world receive at least 12 years of quality education because this is the single most powerful spur to development and progress."
According to the FCO, the UK's Ministry of Defense has been training and mentoring thousands of African, Kurdish and Iraqi forces on combatting sexual violence in conflict situations.
The government body also said in a statement that UK aid for the Rohingya crisis in Bangladesh is helping provide access to female bathing cubicles and sanitary items for more than 35,000 girls and women, counselling and psychological support for over 10,000 women suffering from the trauma of war and for over 2,000 survivors of sexual violence, as well as medical help for over 50,000 pregnant women to give birth safely.
International Development Secretary Penny Mordaunt said: "From Somalia to Syria, and from Burma and Afghanistan, women have been instrumental in the development of the UK's National Action Plan on Women, Peace and Security.
"It's a sad truth that women suffer disproportionately all around the world during times of crisis. It's essential to harness the huge potential of the next generation to work toward a more secure, more prosperous future. We know that women can be agents of change which is why the Department for International Development is placing women at the very heart of its peace, security, education, and humanitarian programs."
http://www.arabnews.com/node/1227196/world
--------
India withdraws Hajj subsidy to use funds for Muslim girls' education
January 16, 2018
The subsidy took the form of discounted fares on the ailing state-owned Air India
Indian government on Tuesday withdrew its subsidy for Hajj pilgrims. Union Minister for Minority Affairs Mukhtar Abbas Naqvi said the decision was in line with the government's agenda to empower minority communities "with dignity and without appeasement," The Times of India reported.
"The funds spent on the Hajj subsidy will be used for educational empowerment of girls and women of the minority community," Naqvi said.
The subsidy took the form of discounted fares on the ailing state-owned Air India.
The move comes a little over two months after Naqvi said the government could phase out the subsidy as early as 2018. He had made the announcement after meeting officials of the Hajj Committee of India and the ministries of minority affairs, civil aviation and external affairs.
He said that this year, 175,000 pilgrims will go for Hajj without a subsidy, higher than the 125,000 pilgrims who went for the annual pilgrimage in 2017, CNN-News18 reported.
The six-member Hajj Committee of India was constituted in January 2017 to chalk out a plan to scrap the subsidy – which is valued at around $101 million a year – in accordance with the Supreme Court's order from May 2012. The top court had asked the government to gradually phase out the subsidy and abolish it by 2022.
"Subsidy is only one aspect of the government's responsibility with regard to Hajj," the minority affairs minister had said. "We are committed to a more transparent and open system to send pilgrims and their safety and security while they perform the pilgrimage."
In January 2017, Saudi Arabia had increased India's annual quota for Hajj pilgrims from 136,020 to 170,520.
The news comes about a week after Saudi Arabia approved India's plan to allow Hajj pilgrims from the country to head to Jeddah by sea in a few years. In its proposal for a New Hajj Policy for 2018-'22, an panel appointed by the Indian government had said in October 2017 that the Saudi Arabian government should be consulted on the matter as travelling by ship was cheaper than air travel.
https://www.dhakatribune.com/world/south-asia/2018/01/16/india-withdraws-hajj-subsidy-use-funds-muslim-girls-education/
--------
Muslim Women's Rights Must Be Protected, Says Noted Legal Scholar
JANUARY 16, 2018
Noted legal scholar Flavia Agnes on Tuesday said Muslim women's rights should be protected under both gender and minority categories.
She was speaking at an international seminar on 'Understanding Equal Opportunity- Concepts and Practice' at Maulana Azad National Urdu University on Tuesday. She said inclusion and exclusion established under the law for Muslim women must be carried out carefully to ensures fairness.
Later, during a panel discussion, Nazia Erum, author of Mothering A Muslim, spoke of how Muslim students in 'elite' schools were bullied as they were called 'terrorist', 'Baghdadi', 'Bangaldeshi' or 'Pakistani'. "How did we, as a nation, miss this?" she wondered.
While on one hand she underscored how bullying affects children, and on the other she said the problem of 'rabid Islamisation' too should be addressed. She opined that what constitutes a religious practice in the Arabia peninsula, need not necessarily be so in India.
Touching upon the backwardness of the Muslim community, Commissioner of Inquiry chairperson G. Sudhir said the representation of Muslim boys and girls in education continues to be low as the dropout rate was high. This, he opined, was on account of 'economic factors'.
On Muslim representation in employment, he said, "Muslims in government jobs are 7.3% while their population is 12.8%. There is a need to bridge this gap," he said.
A panelist, Sangeeta Kamat, from the University of Massachusetts spoke of the difference between equity and equality.
"To ensure equal opportunity, we must first understand equity and equality. Equality aims at promoting fairness, but it can only work if everyone starts from the same place and gets the same help. Equity appears unfair, but it actively moves everyone closer to success by levelling the playing field," she said.
Meera Shenoy, founder of Youth4Jobs, pointed out the importance of linking vulnerable youth to jobs. She said her organisation has trained as many as 11,900 youth with disabilities.
Others who spoke include professor Abu Saleh Shariff, Assam-Meghalaya cade IPS officer G.H.P. Raju and MANUU Pro-Vice Chancellor Shakeel Ahmad.
http://www.thehindu.com/news/cities/Hyderabad/muslim-womens-rights-must-be-protected-says-flavia-agnes/article22452094.ece
--------
The Council of Muslim Organisations Advocates Hijab for Female Soldiers, Lawyers
January 17, 2018
The Council of Muslim Organisations (CMO) yesterday advocated the inclusion of freedom of female Muslims in the Code of Conduct book of the Nigerian Defence Academy, Nigerian Law School as well as other paramilitary and national agencies based on the provisions of Section 38 of the Nigerian Constitution to wear Hijab.
Besides, the body at a press conference in Ilorin, the Kwara State capital, also stood against the abolition of female circumcision, saying the practice, while different from Female Genital Mutilation, is a religious injunction that all Muslim faithful must observe.
The briefing, which was addressed by former Grand Khadi of Sharia Court of Appeal, Justice Idirs Haroon, was attended by Islamic leaders across the state.
The group, quoting from several pronouncements of the courts, demanded that Miss Firdaus Amasa, who was denied induction by the Nigerian Law School be called to bar without further delay.
The religious body described as illegal, the decision of the Nigerian Law School barring the Muslim law graduate from being inducted merely for wearing hijab.
Haroon, who is the Coordinator of the body, said: "Hijab is a living component of the dress code of Muslim lady and woman. Hijab dignifies her status and distinguishes her from commoners, protects her and elevates her. It is her religious identity. Allah orders her to wear the hijab. So, it is a divine instruction (Qur'an 24:31)
"Bound by all times honoured principle of judicial precedents, High Courts, and in particular, the Court of Appeal, have consistently upheld and unanimously affirmed the decision on the use of the Islamic prescribed head cover (the Hijab) by the female Muslim students. The judgements should be respected and held sacrosanct by the Nigerian Law School and Council of Legal Education in Nigeria. The Body of Benchers should stop harassing female Muslim law graduates on account of wearing hijab.
"The CMO demands that Firdaus Amasa be immediately called to Bar and based on Section 38 of the Nigerian Constitution, the provision to wear Hijab must be inserted in the Code of conduct book of the Nigerian Law School, the Nigerian Defence Academy, all para-military formations and other national agencies which deny female Muslims from wearing Hijab.
On the raging issue of female circumcision and female genital mutilation in the state, the group said that female circumcision is a religious practice endorsed by Prophet Muhammad, adding that it should be differentiated from female genital mutilation.
"Since female circumcision is a religious practice sanctioned by Islam, the CMO considers it a divine responsibility to educate the anti-female circumcision crusaders and enlighten the general public on the Islamic perspective on female circumcision and the difference between female circumcision and Female Genital Mutilation," he said.
https://newtelegraphonline.com/2018/01/muslim-body-advocates-hijab-female-soldiers-lawyers/
--------
Iran: Women's economic participation lags behind other countries
15 January 2018
One of the officials of the presidential directorate on women and family affairs declared that Iran ranks 140th among 144 countries in 2017 Gender Gap report.
In an interview with the state-run ISNA news agency on Saturday, January 13, 2018, Leila Falahati, international director of the directorate on women and family affairs, said the reason Saudi Arabia ranks 138th in women's economic participation is because it has a larger number of women in the parliament.
Women's economic participation rate is 22.5 per cent in Saudi Arabia while it is 17 per cent in Iran, Leila Falahati said.
Despite the large number of educated women in Iran, unemployment index for educated women is twice as much as men's.
Hassan Ta'ii, job market advisor to the Minister of Labor, Cooperation and Social Welfare, said in September 2017, that working women receive 77% of men's wage for equal work, and as such they lag 10 years behind their male colleagues.
Women's economic participation is much lower than men's. According to the estimates of the International Labor Organization (ILO) and the World's Bank, women's economic participation in Iran is only 22 per cent compared to men's. This leaves Iran way behind other economic powers in the Middle East region. Women's economic participation is 42.5% in Turkey, 33.6% in Lebanon, and 30.1% in Egypt.
Attempting to justify the low rate of economic participation in Iran, Falahati took advantage of women's traditional roles in the villages and in their family businesses, and said, rural women have a "high economic participation" as they are engaged in agricultural activities, production of handicraft, carpet weaving, etc., but they present themselves as housewives.
She added, if such activities had been registered, Iranian women's economic participation would have increased to 30%. (The state-run ISNA news agency, January 13, 2018)
Previously, Rouhani had claimed that he had created 307,000 new jobs for women, while considering peddling in the streets as a job created by the government. This is while municipality agents round up peddlers every day on the streets and confiscate their belongings, and women engage in this job only as a last resort to earn the living of their families.
http://women.ncr-iran.org/iran-women-news/4677-iran-women-s-economic-participation-lags-behind-other-countries
--------
URL: https://www.newageislam.com/islam-women-feminism/uk-focus-womens-education-push/d/113967
New Age Islam, Islam Online, Islamic Website, African Muslim News, Arab World News, South Asia News, Indian Muslim News, World Muslim News, Women in Islam, Islamic Feminism, Arab Women, Women In Arab, Islamophobia in America, Muslim Women in West, Islam Women and Feminism