New Age Islam News Bureau
5 Jun 2019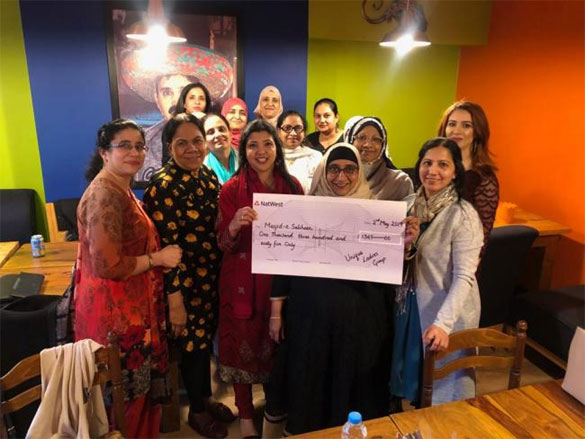 The Unique Ladies Group recently raised £1,350 for the Mosque's extension project.
-------
• UK Mosque Encourages More Women to Use Facilities
• Ramadan And Male Centralism: The Ordeals That Women Go Through
• Danish Party Ad Slammed for Actress Playing 'Well-Integrated Muslim Woman'
• Two American women, six children repatriated to US from Syria: Kurdish-led authority
Compiled by New Age Islam News Bureau
URL: https://www.newageislam.com/islam-women-feminism/uk-mosque-encourages-more-women/d/118800
-----------
UK Mosque Encourages More Women to Use Facilities
By Asian Image reporter
The Unique Ladies Group recently raised £1,350 for the Mosque's extension project.
The Unique Ladies Group recently raised £1,350 for the Mosque's extension project.
A mosque is looking to encourage more women to come forward to use the facility and help run activities.
The mosque admitted there was a significant gender-bias in many mosques in the UK, resulting in the lack of space or participation of women in those organisations.
This was also deemed to be a serious issue that is limiting the growth and development of Muslim communities in the UK, aside from being an injustice to female worshippers, compared to male worshippers who can access the services provided by those mosques.
The management at Masjid-e-Saliheen in Blackburn are now looking at changing this and are currently building an extension which will be used in the evening for the Madrassa as well as allowing women to use this space openly.
This news was welcomed by organisation Unique Ladies Group who recently raised £1,350 for the Mosque's extension project.
Community Engagement Lead from the management said: "The gender bias within mosques in the UK is a problem and we as a management would like to see a change in this.
"It is something we have recognised for a while, we are grateful for the likes of the Unique Ladies Group and we are encouraging more women to come forward to use the facility and to run projects which will benefit the community."
The fundraising target has reached 80 per cent which means there is still a further 20 per cent (£30,000) still outstanding.
The management is urging the community to donate what they can to help the cause.
This can be done by visiting www.saliheen.co.uk
https://www.asianimage.co.uk/news/17683997.mosque-encourages-more-women-to-use-facilities/
----------
Ramadan And Male Centralism: The Ordeals That Women Go Through
By AlbeenaAlvi -June 5, 20194860
The holy month of Ramadan has come to an end and so have the numerous toils that women go through during these thirty days. Fasting during Ramadan is one of the five pillars of Islam, meant to teach the importance of patience to Muslims, yet on the other hand, it also reflects the constant shaming imposed on women within the household. Despite the exemptions from fasting clearly stated in the Hadith regarding menstruation, pregnancy, breastfeeding and even post childbirth state, many male members in the family remain ignorant to these rules and often criticise women for their lack in faith. As a result, women often have to put up a pretence of fasting in order to escape the critical male gaze.
A normal biological cycle like menstruation, which has traditionally quite a lot of stereotypes of impurity attached to it, remains to be completely unacknowledged during Ramadan. I have a distinct memory of disguising my inability to fast during Ramadan because of periods. My mother would say to me "There is no need to let the men in the house know about this" or she would say to my father "She is not fasting due to poor health". When caught eating secretly I often had to face the brunt of being unfaithful towards my religion. Ironically there is a necessity to put up a façade rather than openly discussing something written in the Hadith.
Sabika Syed, a college student pursuing Journalism honours from University of Delhi, has the following opinion on this issue "It is so absurd that we have to manoeuvre around the house to hide our meals. There have been so many times when I have just gone without eating because I didn't want to add stress to my anyway miserable six days". The constant fear of keeping the secrecy of the menstrual cycle is a very misogynistic aspect as women have to curb their ways in order to adhere to the needs of men. The refusal to accept that women go through periods and playing ignorant to rules in Hadith brings about the immense hypocrisy in the society which lays its basis of Ramadan in these very traditional rules.
THE REFUSAL TO ACCEPT THAT WOMEN GO THROUGH PERIODS AND PLAYING IGNORANT TO RULES IN HADITH BRINGS ABOUT THE IMMENSE HYPOCRISY IN THE SOCIETY.
Apart from menstruation, the amount of pressure and work on women in the house is doubled to an extent. The entire month I observed my mother frantically preparing food after returning from office. Having a parched throat and weakness from fasting the entire day in blistering heat, being the first one to get up in the morning to prepare Sehri and being the last one to break the fast in Iftaari, brings about the immense gendered roles during Ramadan.
I have always observed the males in my house losing their temper during fasting, complaining about the food during Iftaari and not assisting females in any way. The sexist roles within my household have always been there, but I believe that these roles take a higher toll during Ramadan where women and the preparations they make is always kept under a critical lens. It is quite common for men to go for iftaari parties whereas women are often confined to the domestic sphere where they are supposed to be involved in cooking and handling household chores.
I have faced some restrictions during Ramadan ranging from where I can go and what I can wear. The amount of societal norms I am supposed to adhere to occur every day, but the month of Ramadan becomes further restrictive as girls carry a heavier burden of honour. I have experienced cancelling numerous plans after my exams because of Ramadan as I was often asked to fast forcibly by my parents. Moreover, I have observed my female cousins forced to wear full sleeves clothing against their will in the blistering heat, in order to portray themselves as pious Muslim women as they are constantly under surveillance. These restrictions are often enforced as means to put on display the 'modesty' of young women.
As opposed to this, my male cousins hardly experienced any restrictions over mobility and neither their clothing during Ramadan. Fasting not being offered as a choice especially to women becomes an instrument of suppression as it is more tasking for women to strike a balance between fasting and the gendered roles that they have to play in the household.
GENDER NORMATIVE ROLES BECOME THE CRUX OF RAMADAN AS IT IS COMMON TO OBSERVE THE DIFFERENCE BETWEEN THE AMOUNT OF WORK AND DEDICATION INVOLVED.
Furthermore, there is an extreme sense of shame and guilt attached with not being able to fast. I have observed women internalise the notion that being unable to fast because of pregnancy or menstruation they have failed as Muslims. This self-loathing leads not only to low self-esteem but also can be seen as yielding to the patriarchal norms. Moreover, this guilt and shame are further burdened by constant anxiety of paying atonement, that is, fasting later on after Ramadan, especially due to pregnancy or menstruation. I believe this adds more of a mental pressure accompanied by the pressure of fulfilling the role of cooking delicacies for an entire month.
The experiences mentioned are subjective but at the same time, they are quite prevalent. Gender normative roles become the crux of Ramadan as it is common to observe the difference between the amount of work and dedication involved. The refusal to accept a normal biological cycle, burdening preparations of fasting over women and also constantly shaming the person indicates that the rules of fasting introduced to provide relief to women render useless because of male centralism. The holy month of Ramadan is meant to be the one where extreme morality and piety is observed but this is negated if restrictions and burdens heavily weigh on a particular gender.
A story was reported in Livewire by Aishwarya Srivastava, a freelance journalist who came across an all-women iftaari party in a slum in Bhopal where women who were always restricted within their households were coming together and claiming public spaces by breaking their fast outside. Such an effort shatters the structured norms and makes Ramadan an occasion of delight and merriment which is not specifically restricted to men. I believe that there should an equal involvement during the preparations and the exemptions provided to women should be carried out smoothly without any hesitation or judgement.
https://feminisminindia.com/2019/06/05/ramadan-male-centralism/
-------
Danish Party Ad Slammed for Actress Playing 'Well-Integrated Muslim Woman'
05.06.2019
"Amira", the "ambitious, responsible, hard-working" and seemingly well-integrated Muslim woman from the The Liberal Youth's ad, has turned out to be Klara, who doesn't wear the Islamic veil and is not even a Muslim.
The Liberal Youth (VU), the junior wing of Denmark's ruling Venstre party, have sparked criticism with their recent election ad that highlights Muslims' successful integration into Danish society.
The ad, which sparked a lot of controversy, features "Amira" a free and seemingly well-integrated Muslim woman, who is shown jogging, bathing, studying, enjoying a romantic relationship and finally removing her hijab. "Amira" is described as "ambitious, responsible and hard-working". As VU themselves put it, she "wants Denmark".
The only problem is that "Amira" doesn't exist and is a fake persona. The fictitious "Amira" is in fact played by Klara-Maria Rønnebro, a Danish actress, who has never been Muslim.
"Of course, one must take into account that it is an ad. I'm an actress. Everything is staged," 22-year-old Klare-Maria Rønnebro told the daily newspaper Berlingske.
"Meet Klara. She is not a Muslim and does not wear a headscarf," a user said, mocking the Liberal Youth's "message of diversity".
"Next week we shall present her sister Fatah Morgana," another user quipped.
"VU has effectively proven that the integration of devout Muslims is impossible. Thanks for the effort, VU!" a user named Curiositorious tweeted.
"So what do you say, VU? Impossible to find a truly liberal Muslim, huh?" another user scoffed.
While many assumed that the type VU conjured didn't exist in real life, Liberal Youth chairman JakobSabroe insisted that examples of well-integrated Danish Muslims are indeed numerous. According to him, an actress was preferred to a real person for fear of retaliation, as strict interpretation of Islam doesn't allow women to take off the headscarf as they please, let alone being filmed naked.
"If we had found a person from the Muslim environment, we would fear the consequences it could have for her," Sabroe told Radio24syv.
According to Sabroe, the video was intended to "piss off people in both camps", from sympathisers of hardline Islam to Danish nationalists.
Venstre is a major Danish liberal-conservative party that has produced many prime ministers, including former NATO Secretary General Anders Fogh Rasmussen. In the 2015 general election, it garnered 19.5 percent of the vote, forming a coalition government.
Islam in Denmark is the country's largest minority religion. According to a 2018 estimate, over 300.000 people or 5.3 percent of the Danish population are Muslim.
https://sputniknews.com/europe/201906051075638607-danish-party-integration-ad-criticism/
-------
Two American women, six children repatriated to US from Syria: Kurdish-led authority
2 MIN READ
Abdulkarim Omar, head of the foreign relations commission in the autonomous administration speaks during a news conference in Qamishli, Syria September 20, 2018. REUTERS/Rodi Said/Files
BEIRUT (Reuters) - Two U.S. women with Islamic State ties and six children were repatriated from northeast Syria, Kurdish-led authorities told Reuters on Wednesday, saying their return came at the request of the U.S. government.
The eight Americans are among thousands of wives and children of foreign jihadists detained by U.S.-backed forces who defeated the last Islamic State foothold in eastern Syria in March. The Kurdish-led forces are holding the women and children in already overflowing camps, on top of hundreds of foreign fighters in prisons.
Kurdish leaders say they cannot hold the foreigners forever and warn that the prisoners pose a threat in northeast Syria.
But few countries want to take back their citizens, who may be hard to prosecute, and the prospect has sparked fierce debate in their home countries where there is little public sympathy for the families of jihadists.
Abdulkarim Omar, co-chair of foreign relations in the Kurdish-led region, said foreign governments now appeared more willing to repatriate citizens but "only humanitarian causes". He told Reuters he expected more foreign women and children to be sent home from Syria in the near future.
Omar said the eight Americans were due to arrive in the United States on Wednesday.
The Kurdish-led administration, which controls swathes of north and east Syria, said it had helped repatriate them based on their "free and voluntary desire to return to their country."
https://in.reuters.com/article/syria-security-islamicstate/two-american-women-six-children-repatriated-to-us-from-syria-kurdish-led-authority-idINKCN1T60X4?rpc=401&
URL: https://www.newageislam.com/islam-women-feminism/uk-mosque-encourages-more-women/d/118800