New Age Islam News Bureau
14 Feb 2019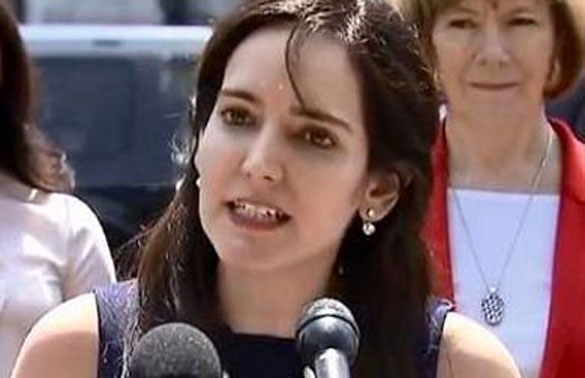 Yasmine Taeb, a Northern Virginia human rights lawyer and a member of the Democratic National Committee, announced Thursday that she's launching a primary challenge to the most powerful Democrat in the Virginia Senate.
------
• Keep an Eye on Democratic Politician Yasmine Taeb
• British IS Schoolgirl 'Wants to Return Home'
• Bangladesh Gets First Female Christian MP
• Scholarships Help Afghan Women Pursue Higher Education
• Iranian Arrested For Hijab Protest In Tehran Says She Did It For Daughter
• Valentine's Day: The Country Guy Who Converted To Islam for the Girl of His Dreams
• Stop Muslim Women Being Trapped In Marriages, Charity Pleads
• Arab and African Businesswomen Gather in Marrakech
• U.S. Lawmakers Call on Saudi Arabia to Free Imprisoned Women's Rights Activists
• UAE Committed To Protect Children and Women in War Zones
Compiled by New Age Islam News Bureau
URL: https://www.newageislam.com/islam-women-feminism/uk-madrasa-ousted-secondary-school/d/117747
--------
UK Madrasa Ousted From Secondary School Following Lesson Telling Muslim Girls To Have Children, Not Careers
Camilla Tominey
13 FEBRUARY 2019
A madrasa that gave a lesson suggesting Muslim girls should have children rather than careers has been ousted from a secondary school amid safeguarding concerns.
Langley Academy has terminated its contract with the Al-Miftah Institute, which provided 'IslamHood' Sunday school classes from its campus in Slough.
It followed complaints by a member of the public and the National Secular Society that IslamHood had hosted speakers with controversial views about homosexuality. Another speaker complained about women in hijabs making social media videos and described non-Muslims as "pigs".
A recording also emerged of an IslamHood class showing a lesson by Shaykh Shams Ad-Duha Muhammad on why Muslim girls should have children instead of careers.
In the video, which was recently deleted from IslamHood's You Tube page, showing girls in the audience, he said: "Smart career women give it up to have children."
Speaking at Slough and Eton School in January 2015, he said career women should "say sorry because you're not a mum, because you're delaying that one thing that you would actually take fulfilment from."
The complainants also raised concerns that Islamhood was segregating children by gender after images in its prospectus showed girls inside the Langley Academy standing at the back of the class behind boys.
A spokesperson for Langley Academy said: "We fully support the government's Prevent Strategy. Therefore we take any allegations that extremist views or ideology might be being promoted on our premises extremely seriously. We were deeply concerned when a complaint was first raised with the Trust about Islamhood's Weekend School in December.
"We have carried out an in-depth investigation and the lettings agreement with Islamhood has been terminated with immediate effect."
IslamHood has hosted speakers including Yusuf Chambers, who in an interview in 2013 described homosexuality as a "sin" and said Muslims "ponder that issue with the gay gene".
He spoke at an Islamhood event in 2015 alongside Imran Ibn Mansur. Better known as Dawah Man, he appeared in a video posted on Facebook in 2017 saying that You Tubers who were hijabs were "sinful" and referring to non-Muslims as "kuffar" and "infidels" and "pigs".
Shams Ad-Duha Muhammad, who also spoke at the event, described homosexuality as "a vice among vices" in 2013, adding that the spread of HIV and AIDS were down to "general moral decline".
IslamHood's 2018 Spring Conference featured Dr Uthman Lateef, who was dropped from a public meeting entitled "Are Muslims empowered by knowledge?" – organised by Education Aid for Palestinians (EAP) and sponsored by the Association of Muslim Lawyers in 2013 amid concerns over his views on homosexuality.
Dr Paul Stott of the Henry Jackson Society said: "IslamHood's teaching on the role of women is sexist and risks girls never achieving their full potential. Langley Academy should have conducted due diligence at the outset. This type of response needs to become the norm across the public sector."
Mohsin Ashraf, founder of Al-Miftah Institute and IslamHood said the organisation "by and large" supported freedom of speech and criticised Langley Academy for not fully investigating "the circumstances surrounding how the speakers in question were invited" and questioned the extent of their investigation.
"A number of inconsistent and malicious claims have been made against the speakers invited by IslamHood and by extension, against IslamHood itself," he said.
"Aside from single statements sensationally pulled out of context, we ensure a balanced viewpoint is always presented to our audience.
"These comments are years old, some were made over a decade ago, and there have been consistent clarifications throughout the years."
On gender segregation he added: "We do not have any physical partitioning between the two genders, they sit in open class room although the females and males are more comfortable sitting amongst themselves. Importantly in breaktime they all play in a communal area."
Admitting they had taken down some videos, he added: "IslamHood prides itself on upholding the fundamental British values of democracy, the rule of law, individual liberty, mutual respect and tolerance of those with different faiths and beliefs in all our endeavours."
https://www.telegraph.co.uk/news/2019/02/13/madrassa-ousted-secondary-school-following-lesson-telling-muslim/
--------
Keep an Eye on Democratic Politician Yasmine Taeb
February 13, 2019
Yasmine Taeb is a name on the political scene to keep an eye on. Taeb, a lawyer, is running in the primary against Virginia Senate Minority Leader Dick Saslaw, who currently represents Northern Virginia's 35th district.
As documented by Trevor Loudon in The Epoch Times, Taeb has worked with the Council on American-Islamic Relations (CAIR), the Arab American Institute and has participated in activities with the National Iranian American Council, which has been called the Iranian regime's lobby in the U.S. She is also a member of one of the country's largest Marxist organizations, the Democratic Socialists of America.
Taeb has been active in the Virginia Democratic Party and in "progressive" causes in Virginia for more than a decade. She worked for the party's think tank, Center for American Progress, and visited the White House a number of times to lobby for "progressive" and Muslim causes.
In 2016, Taeb became the first Muslim woman ever elected to the Democratic National Committee (DNC). She is most likely being groomed by the Democratic Party for high office.
So far, she has been endorsed by
National leaders of MoveOn.org
Indivisible
Progressive Change Campaign Committee
Demand Progress
Falls Church, Virginia branch of Our Revolution
Saslaw, a Democrat, is 78 years old and has held his seat since 1980. Although he usually wins with over 70 percent of the vote, such victories cannot be taken for granted anymore in the Democratic party.
"[Taeb] is seeking the endorsement of a group she formally joined last fall: the country's largest Marxist organization, the Democratic Socialists of America (DSA)," writes Loudon. "DSA activists from Northern Virginia and Washington pulled off a major upset in November 2017 when their comrade in the DSA, Lee J. Carter (another socialist running as a Democrat), unseated Republican House of Delegates Majority Whip Jackson Miller in the 50th District."
Loudon notes how the DSA was able to mobilize grassroots volunteers for Carter (some of whom lived out of state) who persistently went door-to-door and manned phone banks.
He also notes how Larry Cohen, who is president of the DSA-controlled organization Our Revolution (which was a major factor in Carter's shock victory in 2017), supported Taeb in her successful bid to gain a seat on the DNC.
In that race, she was endorsed by a number of well-known Virginia politicians, progressive members of Congress and organization, including:
John Conyers (D-MI)
Jan Schakowsky (D-IL)
Raul Grijalva (D-AZ)
Andre Carson (D-IN)
Former Rep. Mike Honda (D-CA)
Minnesota Attorney General and former Rep. Keith Ellison
Virginia Attorney General Mark Herring
https://clarionproject.org/keep-on-eye-on-democratic-politician-yasmine-taeb/
--------
British IS Schoolgirl 'Wants to Return Home'
14 FEBRUARY 2019
Damascus, Feb 14 One of three schoolgirls who left London in 2015 to join the Islamic State has said she has no regrets despite seeing "beheaded heads" in bins, but wishes to return to her UK home, media reports said.
In an interview with the Times, Shamima Begum, 19, who was nine months pregnant, talked about the horrible sights she witnessed adding that they "did not faze her", however, wanted to come home for her baby, the BBC reported.
Speaking from a refugee camp in Syria, she said she had had two other children who both died over the last four years.
She also described how one of her two school friends had left the UK with her has died in a bombing. The fate of the third girl was unclear.
Bethnal Green Academy pupils Begum and Amira Abase, were both 15, while Kadiza Sultana was 16, when they left the UK in February 2015.
They flew from Gatwick Airport to Turkey after telling their parents they were going out for the day. Later crossed the border into Syria.
After arriving in Raqqa, she stayed at a house with other newly arrived brides-to-be, she told the Times.
"I applied to marry an English-speaking fighter between 20 and 25 years old," she said. Ten days later she married a 27-year-old Dutch man who had converted to Islam.
She has been with him since then, and the couple escaped from Baghuz - the terror group's last territory in eastern Syria - two weeks ago.
Her husband surrendered to a group of Syrian fighters as they left, and she is now one of 39,000 people in a refugee camp in northern Syria.
Asked whether her experiences of living in the one-time IS stronghold of Raqqa had lived up to her aspirations, Begum said: "Yes, it did. It was like a normal life. The life that they show on the propaganda videos -- it's a normal life.
"Every now and then there are bombs and stuff. But other than that..."
She said that seeing her first "severed head" in a bin did not faze her out. "It was from a captured fighter seized on the battlefield, an enemy of Islam. I thought only of what he would have done to a Muslim woman if he had the chance," she said.
"I'm not the same silly little 15-year-old schoolgirl who ran away from Bethnal Green four years ago," she told Times. "I don't regret coming here."
She always thought she would die along with her husband, who is in a prison.
"I don't have high hopes. They are just getting smaller and smaller," she said. "And there is so much oppression and corruption going on that I don't really think they deserve victory," she added.
https://www.outlookindia.com/newsscroll/british-is-schoolgirl-wants-to-return-home/1478604
--------
Bangladesh Gets First Female Christian MP
February 13, 2019
A Catholic lawyer has become the country's first female Christian member of parliament in Muslim-majority Bangladesh.
Gloria Jharna Sarker, a mother of two, will represent the ruling Awami League party in Bangladesh's Lower House.
The Awami League retained power by winning national elections on Dec. 30 by a landslide.
"I thank God for this blessing, and I am grateful to many women and my Christian community who supported and prayed for me all these days. This is a victory for all," Sarker told ucanews.com.
She said she wants to work for the empowerment of women and the rights of minority Christians.
"I hail from a southern coastal region [Khulna], where women are mostly poor, powerless and voiceless. I would like to contribute to their development and give them a voice. Also as a Christian I will do whatever is necessary for the empowerment and protection of rights of the community," she said.
The Awami League was allotted 43 places for 50 seats reserved for women in the Jatiya Sangsad (National Assembly) and submitted its list to the Election Commission on Feb. 12.
The commission validated the list on Feb. 13 and selection should be finalized by March 4.
Sarker is the third Christian parliamentarian since Bangladesh gained independence from Pakistan in 1971.
Nirmol Rozario, president of Bangladesh Christian Association says he expects her to work for the advancement of the Christian community's rights.
"For years Christians have been pressing for 10 demands from the government, which includes a public holiday on Easter Sunday, an end to the grabbing of Christian lands by Muslims, the protection of minorities and a ministry for minorities," said Rozario. "We expect her to support our cause for greater welfare for the Christian community and minorities," he told ucanews.com.
"The Christian community truly welcomes Sarker's selection for parliament. We hope she would make us proud, add value to our community and society, and become an inspiration for more women in this country," the Catholic added.
Sarker is well known amongst the Christian community thanks to her involvement and activities with various social and development groups including the Young Women's Christian Association, the Bangladesh Christian Association and the Bangladesh Hindu Buddhist Christian Unity Council.
She has been involved with the Awami League for years and recently became a member of the party's sub-committee on legal affairs.
The lawyer was among 10 Christian leaders who sought nomination from various political parties before the polls, but she was the only one selected.
Sarker joins Jewel Areng, an ethnic Garo Catholic who was directly elected to parliament for the second time in the Dec. 30 election.
Areng is the son of Promod Mankin, the country's first Christian parliamentarian and a government minister who was elected four times.
Mankin died in 2016.
Muslims make up about 90 percent of Bangladesh's more than 160 million population. Hindus number about eight percent and the rest belong to other faiths including Christianity and Buddhism.
Christians, the majority of them Catholics, account for less than half a percent or about 600,000 people.
https://www.ucanews.com/news/bangladesh-gets-first-female-christian-mp/84504
--------
Scholarships Help Afghan Women Pursue Higher Education
February 13, 2019
By Razia Stanikzai and Jose Ramos
Women are seriously underrepresented in public life in Afghanistan, a situation that is intimately linked to their low levels of education.
According to the government's 2017 Afghanistan Living Conditions Survey, the national literacy rate is 34.8 percent overall, meaning that there are about 9.9 million illiterate people age 15 or older in Afghanistan, 6 million of whom are women. But literacy and basic education will not be enough for Afghan women to overcome disadvantages accumulated over generations or to achieve positions of authority and leadership. In order for women to make inroads into public life—and especially to hold positions of authority—they need to get a higher education.
In a society where gender segregation is both commonplace and profound, women can generally reach other women more effectively than men can. Afghanistan needs female mentors and role models—teachers, health professionals, and community mobilizers—who can help women learn to exercise their most basic rights. But before this can happen, again, women must have a higher education. In 2016 there were 182,344 students in 36 government (public) universities across the country, of which 41,041—just 22.5 percent—were women. These numbers reveal the serious underrepresentation of women at Afghanistan's universities, both public and private.
The situation at public universities is dire, since access to public higher education is very competitive and the rules are highly restrictive. Students must take the public university entrance exam, the Kankor. Preparatory courses for the exam, focusing on mathematics and science, are not free and are often costly, and they are generally conducted outside of the schools. Under the conservative cultural norms that restrict women's mobility in Afghanistan, female students usually cannot attend these courses, and Afghan families often prefer to invest in the education of their sons, leaving daughters without the resources to pursue an education.
With a vision of a more egalitarian society, The Asia Foundation, with funds from USAID, provides a continuum of support to women and girls in Afghanistan. Through the USAID-funded Promote scholarship program for women, the Foundations helps eligible young women with academic potential from economically challenged families pursue higher education at national universities in Afghanistan and international universities in India. The scholarship program takes a holistic approach to women's education, supporting girls from high school onwards with preparatory trainings, academic activities, and financial assistance.
As part of the Kankor preparation, the Foundation provides girls in grades 10–12 with Kankor guides, practice tests, and tablets on which they can take practice exams and identify areas for improvement. Local teachers are trained to work with the students. The Foundation currently provides support to 300 girls' schools across Afghanistan, and Kankor test-prep activities and materials have so far reached over 70,000 female students. The activities are seamlessly integrated into daily classes and take place right in the schools, mitigating parents' unwillingness to send daughters to private courses.
Because science and mathematics are heavily weighted in the Kankor examination, the Foundation offers additional training to science and mathematics teachers and provides equipment to school science laboratories. To promote general interest in science and math, the Foundation also helps organize regular science fairs with participation from parents and the community. These activities provide a more supportive environment for girls' education and help motivate them to pursue a higher degree.
Currently, the Foundation also provides scholarships to 720 female students at 38 private universities across Afghanistan. These women scholars are now in the second and third years of bachelor's programs in 23 provinces. The Foundation supplements their education with English-language and computer-literacy courses. Other aspects of the program include leadership training and internships so that scholars learn to set career goals and can enter the job market upon graduation.
For women to influence public policy and decision-making, however—to have a true voice in the important decisions of the country—they need to hold positions of leadership. Afghanistan needs a critical mass of women with international master's degrees to challenge entrenched patriarchal norms and take on leadership roles. Mindful of this, in August 2018 the Foundation awarded graduate scholarships to 150 women to pursue master's degrees in India. The scholarship recipients are currently enrolled at 13 "A-grade" accredited universities and are pursuing a wide array of graduate programs including international relations, journalism, public administration, technology, education, agriculture, psychology, business administration, economics, and many others. An education in a multicultural and multireligious society like India will broaden these scholars' horizons and expand their vision of a peaceful and harmonious society. Upon their return, the Foundation hopes they will eventually become leaders and change agents, contributing to greater gender equality and women's empowerment in Afghanistan.
Through the Promote scholarships, the Foundation continues its work to improve the lives of women in Afghanistan. At a recent ceremony at the Ministry of Higher Education in Kabul, scholarship recipients from every corner of the country attested to the life-changing support and opportunities afforded to them by USAID and the Foundation. According to Khalidah, a bachelor's student from Takhar province, "scholarships for women and access to higher education will help reduce gender-based discrimination in Afghanistan." Hasina, from Kandahar, said that her Promote scholarship "enabled me to overcome the despair of not having the opportunity or the financial means to pursue higher education." And for Walia, an economics student from Kunduz province, the Promote program has "turned the dreams of many Afghan women into realities."
Razia Stanikzai is deputy director of education programs and Jose Ramos is a program development specialist for The Asia Foundation in Afghanistan. They can be reached at razia.stanikzai@asiafoundation.org and jose.ramos@asiafoundation.org, respectively. The views and opinions expressed here are those of the author, not those of The Asia Foundation.
https://asiafoundation.org/2019/02/13/scholarships-help-afghan-women-pursue-higher-education/
--------
Iranian Arrested For Hijab Protest In Tehran Says She Did It For Daughter
14 February 2019
Azam Jangravi's heart was pounding when she climbed atop an electricity transformer box on Tehran's busy Revolution Street a year ago. She raised her headscarf in the air and waved it above her head.
A crowd formed. People shouted at her to come down. She knew all along she was going to be arrested. But she did it anyway, she says, to change the country for her eight-year-old daughter.
"I was telling myself: 'Viana should not grow up in the same conditions in this country that you grew up in'," Jangavi recalled this week in an interview in an apartment in an undisclosed location outside Iran, where she now awaits news on an application for asylum.
"I kept telling myself: 'You can do this, you can do this'," she said. "I was feeling a very special kind of power. It was as if I was not the secondary gender anymore."
After her protest she was arrested, fired from her job at a research institute and sentenced to three years in prison for promoting indecency and willfully breaking Islamic law.
The court threatened to take her daughter away, but she managed to escape Iran - with Viana - before her jail term began: "I found a human smuggler with a lot of difficulty. It all happened very quickly, I left my life, my house, my car behind," she said. As she spoke, Viana sketched pictures. They showed her mother waving the white hijab in the air.
Since Iran's Islamic Revolution 40 years ago this week, women have been ordered to cover their hair for the sake of modesty. Violators are publicly admonished, fined or arrested.
Jangravi was one of at least 39 women arrested last year in connection with hijab protests, according to Amnesty International, which says another 55 people were detained for their work on women's rights, including women who tried to enter football stadiums illegally and lawyers advocating for women.
Authorities go to "extreme and absurd lengths to stop their campaign", said Amnesty's Iran researcher Mansoureh Mills. "Like searching people's homes for pin badges that have 'I am against forced hijab' written on them."
The badges are part of continued efforts to highlight the hijab issue, along with a campaign for women to wear white headscarves on Wednesdays.
Jangravi recalls stories her mother told her about life before the revolution: "She told me that the revolution caused a great deal of sexism and they separated men and women." She was inspired to act after two other women were arrested for similar protests on the same street.
"Of course we don't expect everyone to climb up the platform in Revolution Street," she said. "But this made our voices heard by the entire world. What we girls did made this movement into something that continues."
https://english.alarabiya.net/en/features/2019/02/14/Iranian-arrested-for-headscarf-protest-in-Tehran-says-she-did-it-for-daughter.html
--------
Valentine's Day: The Country Guy Who Converted To Islam for the Girl of His Dreams
By Isaac Nowroozi
When Bogart Lamprey told his family that he converted to Islam, they were "definitely not excited".
"They thought I was going to go and join ISIS," Mr Lamprey said.
"They were not happy."
But while his "very Australian, Vegemite-on-toast" family were hesitant, the reason behind the 32-year-old's conversion was remarkable: despite vastly different cultures and family values, he had found love.
Mr Lamprey's wife-to-be, Noora Al Matori, was born in Iraq but grew up in Australia.
She and Mr Lamprey met in Wagga Wagga, and her parents were similarly concerned; they had always thought she would end up with someone who "understood" their way of life.
But Mr Lamprey was on already a mission to expand his horizons, and as he fell in love Ms Al Matori, he fell in love with her culture as well.
The love story of a lifetime
When Mr Lamprey, 32, first saw Ms Al Matori, 31, in a Wagga Wagga cafe, he was instantly smitten.
His brother kidded that he might end up marrying her, but for Mr Lamprey it was not a joke.
He spent the next six months visiting the cafe with the hope that he would run into Ms Al Matori, and this time speak to her.
"Every time I was in the shop I asked the elderly lady working there about Noora," Mr Lamprey said.
He would eventually get a hold of Ms Al Matori and meet her for coffee, but for Ms Al Matori the relationship was strictly platonic.
"I kept it as friends. I grew up around Australian guys and had plenty of friends, so there was no problem with that," Ms Al Matori said.
"I could never see myself marrying somebody who was not Middle Eastern."
But during the preceding years of friendship, Mr Lamprey was immersing himself in her world. He realised that if he wanted to be with Noora he would have to do things the traditional way.
"I got to know and understand the culture, I embraced it, I studied the Koran every night and converted to Islam," he said.
"Then I asked Noora to ask her dad for a meeting to ask permission for her hand in marriage, and hopefully she would [then] consider marrying me."
Mr Lamprey had already met Ms Al Matori's family, but only as a friend. This time the dynamic would be quite different.
"He wanted to see if Bo was going to stay around or turn around and go."
Mr Lamprey stuck around, and spent time building a rapport with other members of Ms Al Matori's family.
He returned for another meeting with Ms Al Matori's father, and this time he brought his family along with him. After finally getting her dad's blessing, Ms Al Matori said yes.
Embracing new family customs
As the wedding drew closer, both families warmed to the idea of embracing new family customs and traditions.
"It was either you come with us, or you don't have to and we respect that, but we're moving forward with our lives," Mr Lamprey said.
"For me it was important for my family to respect Bo as much as they respected me," Ms Al Matori said.
The families decided to not only move forward, but make the effort to immerse themselves in the other's culture. They all get together to celebrate Christmas, as well as Muslim holidays like Eid.
"Bo's mum always makes the effort for our festivals," Ms Al Matori said.
"We have Christmas lunch with them and there's no harm, it's a mature and respectful relationship."
"The way they treat me is just so good, it's amazing."
A family of their own
Mr Lamprey and Ms Al Matori have been happily married for almost four years and now live in Canberra.
They have a girl, Jamila, who is three years old. She will be raised a Muslim, but they want to raise her in both cultures.
Jamila is learning to speak Arabic as well as English, and will get the chance to become her own person, rather than be forced down a specific path.
"If she wants to cover up when she is older she can, if she doesn't she doesn't have to."
"I just want her to grow up and value herself the way we value her," Mr Lamprey said.
"If she turns out half as good as Noora, in terms of respecting herself as a human being, I'll be the happiest man in the world."
https://www.abc.net.au/news/2019-02-14/valentines-day-man-converted-to-islam-for-girl-of-his-dreams/10809404
--------
Stop Muslim Women Being Trapped In Marriages, Charity Pleads
February 14 2019
A leading Islamic charity is calling on the government to make it easier for Muslim women to divorce their husbands (Kaya Burgess writes).
The Muslim Women's Network (MWN) claimed that sharia councils, which have been found to discriminate against women, could become redundant with a minor amendment to an existing law that allows Jewish women trapped in marriages to demand an instant divorce. Campaigners say that an extension to include Muslim women would mean they had no need to apply to sharia councils.
The charity said that a second change, to oblige all those who provide Islamic weddings to ensure the marriages are also registered under civil law, would give Muslim women recourse to the courts when seeking a divorce.
https://www.thetimes.co.uk/article/stop-muslim-women-being-trapped-in-marriages-charity-pleads-bxvwfv9qp
--------
Arab and African Businesswomen Gather in Marrakech
Feb 13, 2019
By Amal El Attaq
Rabat – The Moroccan Agency for the Development of Investments and Exports (AMDIE) is hosting the second "Arab- African Conference for Businesswomen" in Marrakech on Wednesday and Thursday.
The conference is meeting under the theme of "Achieving Sustainable Development Goals through Supporting Women Entrepreneurs."
AMDIE, in partnership with the Arab Union for Industrial Exports Development (AUIED), has scheduled several issues to discuss during the event.
The conference will focus on Arab and African government support to strengthen women entrepreneurship, best practices, use of innovation in improving women entrepreneurs' role in economic development, women's participation in business, and financial constraints in entrepreneurship.
The event's goal is to raise awareness of women's entrepreneurship and enable women to become more visible in every sector of the economy.
It also aims to give women entrepreneurs the opportunity to create, discuss, and gain modern ideas so as "to forge mutually beneficial partnerships with other entrepreneurs in general and with women entrepreneurs in Morocco and Arab-African countries in particular."
Additionally, the conference will address prospects "for cooperation between Arab and African business women through partnerships and collaboration."
The conference will also shed light on the successful experiences of Arab and African countries in the field of women's economic empowerment, and businesswomen will have the opportunity to share their entrepreneurial experiences.
At the end, the conference will publicize a manifesto to formalize all their commitments to achieve sustainable development goals.
Moroccan and foreign ministers, 200 businesswomen and men, investors, representatives of international institutions, governments, universities, and NGOs will also attend the conference.
Launched on December 20, 2017, AMDIE aims to implement the government's strategy to promote and encourage domestic and foreign investments and exports of goods and services, as well as supporting economic actors.
https://www.moroccoworldnews.com/2019/02/265696/arab-and-african-businesswomen-gather-in-marrakech/
--------
U.S. Lawmakers Call on Saudi Arabia to Free Imprisoned Women's Rights Activists
By Kareem Fahim
February 13, 2019
A bipartisan group of U.S. lawmakers introduced a resolution Wednesday calling on Saudi Arabia to "immediately and unconditionally" release women's rights advocates imprisoned there, as Congress intensifies its criticism of the kingdom's human rights record after the death of journalist Jamal Khashoggi.
The House resolution, introduced by Rep. Lois Frankel (D-Fla.), is separate from pending legislation aimed at cutting off U.S. support for the Saudi-led military intervention in Yemen and holding Crown Prince Mohammed bin Salman responsible for the killing of Khashoggi.
It focuses more narrowly on the plight of the women's rights advocates, notably on allegations that at least 10 of the women have been severely abused while in custody. The resolution calls on the U.S. government to "continue publicly and privately demanding the release of individuals wrongfully detained."
The Saudi government has been forced to reckon with intense scrutiny of its human rights practices in the months since Saudi agents killed Khashoggi in the Saudi Consulate in Istanbul on Oct. 2. His death followed a harsh crackdown on the government's perceived enemies that included the arrests of clerics, business executives, royal family members and political dissidents inside the kingdom.
Beginning in May, authorities began rounding up activists who had advocated for women's rights. Their causes included the lifting of a female driving ban, which the crown prince repealed last year. Saudi authorities accused the women of having improper contacts with unnamed foreign governments.
Human rights groups dismissed the accusations as baseless and said that by arresting the women, the Saudi leadership was trying to send a message about the futility of grass-roots activism.
At midnight on June 24, 2018, a woman is interviewed in Jiddah, Saudi Arabia, on the day Saudi authorities lifted a ban on women driving. (Iman Al-Dabbagh/For The Washington Post)
During a visit to Washington last week, Adel al-Jubeir, the Saudi minister of state for foreign affairs, repeated the government's accusations that the women had contacted unidentified "hostile" foreign powers and said the detention of the women "had to do with national security, not activism." Saudi officials have also denied allegations of torture.
The women have yet to be formally indicted, and there has been a marked contrast between the slow pace of their prosecution and the Saudi government's speedy handling of the Khashoggi case: Within seven weeks of Khashoggi's death, charges were brought against 11 suspects.
The House resolution identified several of the detained women, including Hatoon al-Fassi, a Saudi scholar and writer, and Aziza al-Yousef, a U.S. resident who had helped lead a campaign against rules requiring Saudi women to seek approval from a male guardian to travel or to work.
Another detainee, Loujain al-Hathloul, "was reportedly beaten, waterboarded, given electric shocks, sexually harassed, and threatened with rape and murder," the resolution said.
Karoun Demirjian and Karen DeYoung contributed to this report.
https://www.washingtonpost.com/world/middle_east/us-lawmakers-call-on-saudi-arabia-to-free-imprisoned-womens-rights-activists/2019/02/13/11ad9e00-2fab-11e9-ac6c-14eea99d5e24_story.html?utm_term=.3cec17dd5db2
--------
UAE Committed To Protect Children and Women in War Zones
February 13, 2019
Samir Salama
Abu Dhabi: The UAE honours its obligations under the International Humanitarian Law to protect civilians, particularly children and women, in armed conflicts, senior officials said on Wednesday.
"The UAE has sustained efforts and will continue to do more to implement rules of the International Humanitarian Law to protect civilians, particularly children and women in armed conflicts in Syria and Yemen," said Ahmad Abdul Rahman Al Jarman, Assistant Foreign Minister for Human Rights and International Law.
Al Jarman, also head of the UAE National Committee for International Humanitarian Law, said the UAE was one of the first countries to respond to the growing humanitarian crisis in Syria, working with local and international partners to alleviate the suffering of the Syrian people.
"The UAE's efforts include significant measures to help Syrian refugees, including funding the Marajeeb Al Fhood refugee camp in Jordan, which is operated by the Emirates Red Crescent Society and serves more than 4,000 Syrian refugees, as well as supporting camps across Turkey, Jordan, Lebanon and Iraq," Al Jarman said as he reviewed the 2019-2020 action plan of the National Commission on International Humanitarian Law.
Al Jarman added as part of the legacy of the Founding Father Shaikh Zayed, the UAE responds immediately to people suffering in disaster situations and help refugees requiring assistance.
"Help was extended to the world's needy regardless of race, religion or colour, to alleviate the suffering of those affected by conflicts and natural disasters and to provide them with a decent living," Al Jarman said.
Al Jarman said the UAE continues to promote teaching of and respect for International Humanitarian Law and has introduced it in military training and programmes of colleges of law, political sciences and mass communications.
"The UAE has brought education of the International humanitarian Law to courses of the UAE University and military and security colleges since the academic year 2014-15," Al Jarman said.
The UAE is signatory to the 1949 Geneva Convention and its additional protocols on the International Humanitarian Law, which require states to disseminate the content of the humanitarian treaty as widely as possible in their respective countries.
Al Jarman added the UAE promotes knowledge of humanitarian law among those whom it is intended to protect — the civilian population and casualties of armed conflicts — as well as among those who have to apply it — public officials of various ministries as well as different local and federal departments, starting with diplomats and those working in the educational, cultural, health and relief sectors.
Dr Mohammad Mahmoud Al Kamali, Vice-President of the International Humanitarian Fact-Finding Commission — an international body that investigates possible breaches of the International Humanitarian Law — said since its inception in 2004, the National Committee for International Humanitarian Law had undertaken spreading the culture of protection of civilians during armed conflict, through a series of conferences, workshops and changing laws and school curricula.
"The plan provides for introducing simple concepts of Humanitarian Law in the curricula of preparatory and secondary schools while more extensive and analytical content is taught in universities," said Al Kamali, also director general of the Judicial Training Institute.
Al Kamali added all National Service recruits will be given a training course on the International Humanitarian Law. 'Judges, prosecutors and members of the Federal national Council are also trained on the law," he said.
The UAE Foreign Ministry's Emirates Institute of Diplomacy has been selected as a regional centre for training on International Humanitarian Law by the Arab countries. The institute trains Arab diplomats and local agencies on the law.
International humanitarian law is part of international law, which is the body of rules governing relations between states. International law is contained in agreements between states, in customary rules and in general principles. It applies to armed conflicts.
The action plan also include training courses for the trainers on the provisions of the International Humanitarian Law and Arab diplomats as well as holding the conference on International Humanitarian Law.
The UAE National Commission for International Humanitarian Law was established in 2004. It consists of three committees: Legislations, Training and Education, and Media and Publication.
https://gulfnews.com/uae/government/uae-committed-to-protect-children-and-women-in-war-zones-1.62048310
--------
URL: https://www.newageislam.com/islam-women-feminism/uk-madrasa-ousted-secondary-school/d/117747
New Age Islam, Islam Online, Islamic Website, African Muslim News, Arab World News, South Asia News, Indian Muslim News, World Muslim News, Women in Islam, Islamic Feminism, Arab Women, Women In Arab, Islamophobia in America, Muslim Women in West, Islam Women and Feminism