New Age Islam News Bureau
11 March 2015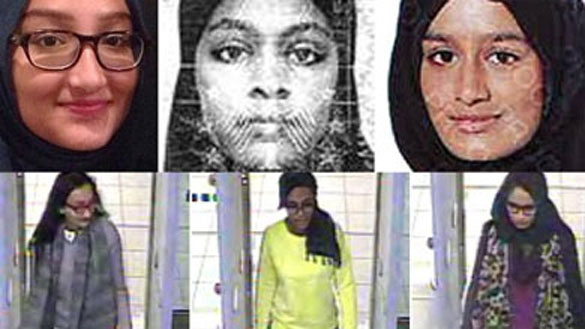 Britain's top police officer said UK Girls Lured By ISIS 'Won't Face Terror Charges'
----------
• Egypt Flag-Wearing Belly Dancer Faces Jail
• Saudi Women Confident Of Success despite Challenges
• Second Pakistan Province, Punjab, Cracks Down On Child Marriage
• Saudi Girls Can Now Take Gym Class, a Move That Is Opposed By Some Hard-Liners
• Harper calls Muslim face-covering veil 'anti-women'
• Police: London Schoolgirls 'Stole Jewellery' To Fund Syria Flight
• Muslim Woman to Sue for Humiliation at French Airport
• Erdogan Urges Muhtars to Protect Women from Violence
• Hip Hop Hijabis: Meet the Muslim Women Who Rap In Headscarves
• Helping Saudi Women into Work Is Big Business for One Man
• KAEC Empowers Saudi Female Workers
• Interest-Free Loans Benefit Female Saudi Entrepreneurs
• Ivory Coast's Ex-First Lady Jailed Over Poll Violence
• Raising Up Women in Pakistan
Compiled by New Age Islam News Bureau
URL: https://www.newageislam.com/islam,-women-and-feminism/new-age-islam-news-bureau/uk-girls-lured-by-isis-'won't-face-terror-charges'/d/101908
-----------
UK Girls Lured By ISIS 'Won't Face Terror Charges'
11 March 2015
Britain's top police officer said Tuesday that the three British school girls suspected to have travelled to join the Islamic State of Iraq and Syria (ISIS) will not face terrorism charges if they decide to come back to their country, The Guardian reported Tuesday.
Bernard Hogan-Howe, commissioner of the Metropolitan police, said that Shamima Begum, 15, Kadiza Sultana, 16, and Amira Abase, 15, could return home to their families during an address in front of MPs on the home affairs committee.
During his address, Hogan-Howe was accompanied by his head of counter-terrorism, Mark Rowley.
Mark Rowley. (AP)
Commenting on the incident, Rowley said: "We have no evidence in this case that these three girls are responsible for any terrorist offences.
"They have no reason to fear, if nothing else comes to light, that we will be treating them as terrorists."
Rowley also said that the trio was in a different position than someone "running around in northern Iraq and Syria with Kalashnikovs."
Both Rowley and Hogan-Howe agreed that the girls would be "returning to their families" if they decided to come back.
Earlier this week, reports surfaced that the three teenagers have arrived in ISIS territory in Syria.
The girls reportedly boarded a flight to Istanbul from Gatwick last month, sparking an international police investigation that sought to bring them back to their families safely.
http://english.alarabiya.net/en/News/middle-east/2015/03/11/UK-schoolgirls-lured-by-ISIS-won-t-face-terror-charges-police.html
-----------
Egypt flag-wearing belly dancer faces jail
11 March 2015
A Cairo-based celebrity belly dancer was referred to the misdemeanor court Tuesday for defaming Egypt with a red, white and black costume, depicting the colors of the country's flag, Egyptian daily Al Ahram reported.
Safinaz, who is well-known for her provocative video clips, was summoned in August by prosecutors over the outfit she wore during a party in a Red Sea resort.
Earlier in March, the Armenian dancer, popular in Egypt, was arrested for questioning over the incident. She was released the same day after paying $2,620 bail.
(Twitter)
A law passed in June 2014 imposes jail terms and fines on anyone who "insults" the Egyptian flag.
If convicted, Safinaz faces a jail term of up to a year and a fine of up to $4,000, the daily reported.
(Twitter)
Commenting on the costume, Safinaz said that wearing the colors of the Egyptian flag was a "letter of love" for Egypt, adding that she does not intend to leave the country.
Safinaz has been an immediate success since her arrival in Egypt over two years ago, with appearances in several Egyptian movies as well as performances at high-end weddings.
http://english.alarabiya.net/en/variety/2015/03/11/Egypt-flag-wearing-belly-dancer-faces-jail.html
-----------
Saudi women confident of success despite challenges
11 March 2015
Deputy minister for girls' education, Dr. Haya Al-Awad, recently stated that Saudi women are able to compete with their male counterparts all over the world, as they are ambitious and highly confident to achieve more success.
Dr. Al-Awad made these remarks on the occasion of the International Women's Day, when she praised their role in Saudi society. "Saudi women have achieved local and international scientific and cultural achievements that clearly show their latent energies despite all challenges they have faced," she stated.
Thanks to globalization, the official concurred, Saudi women are now more ambitions than ever before, and have become an influential figure in the advancement of the female struggle, especially in their community.
"One of the main obstacles faced by Saudi women is the lack of knowledge about how to advance, change, and succeed," the undersecretary said.
"Therefore, the Education Ministry has developed the educational curricula and programs to prepare women to prove themselves and serve their country. Students received awards and took advanced positions in international and domestic competitions, which enables a lot of them to join global top universities," Dr. Al-Awad stated.
According to the official, the ministry is developing the human resources' department responsible for the girl's education, allowing them to complete graduate studies, receive training programs, and represent them in all global and local events.
"The International Women's Day should be an opportunity to raise community awareness about women's role in society's development and progress, highlight their role in building communities, and celebrate their achievements in all fields," Al-Awad added.
http://www.arabnews.com/saudi-arabia/news/716736
-----------
Second Pakistan Province, Punjab, Cracks Down On Child Marriage
By Waqar Mustafa
11 March 2015
LAHORE (Thomson Reuters Foundation) - Clerics in Pakistan's most populous province of Punjab will be punished if they allow underage marriages along with the parents of the youngsters under tougher penalties imposed by the second Pakistan province to act to curb child marriage.
The Punjab Child Marriage Restraint Act increases the possible jail term for breaking the law to six months from one month and raised the potential fine to Rs50,000 (US$490) from Rs1,000 (US$10) for both parents and clerics.
It is the first time that clerics will face penalties for officiating at underage marriages with the move coming as Pakistan authorities try to crack down on children marriage.
Over 40 percent of Pakistani brides are under 18 while eight percent of adolescent married women are already mothers between the ages of 15 and 19, according to Save the Children figures.
"The Act has been enacted to curb the menace of child marriages prevalent in the country and to save the women from exploitation," Punjab Law Minister Mujtaba Shujaur Rehman told local media.
Khawar Mumtaz, chair of the National Commission on the Status of Women (NCSW), a statutory body established in 2000, said child marriage destroys the life of a girl.
"It deprives her of education, right to development and growth and exposes her to health risks and gender-based violence," she said.
Currently women can legally marry at 16 in Pakistan and men at 18 but marrying younger forces many out of education. Women marrying before puberty are also deemed at risk from pregnancies that could endanger their health and even lives.
There are no reliable statistics on the number of child marriages in Pakistan as few cases are reported to the police and the government does not track the issue.
But a non-governmental organization, Sahil, in its annual report 'The Cruel Number 2013' recorded 96 cases of child marriages in the country of 182 million people, an increase of 21 percent from 2012.
However a Pakistani helpline for women and children, the Madadgar Helpline, recorded 42 cases of early and forced marriages in the first four months of 2014.
Of the cases recorded by Sahil, 43 percent were in southern Sindh province, 30 percent in Khyber Pakhtunkhwa and 25 percent cases in Punjab. No cases of early child marriage were reported in Pakistan's fourth province, Balochistan.
The Sindh Assembly was last year the first provincial assembly to amend legislation dating back over 80 years to criminalize underage marriage, passing a law that imposes fines and jail terms for brides and grooms aged under 18 as well as for their parents.
(Reporting by Waqar Mustafa, Editing by Lisa Anderson and Belinda Goldsmith)
https://ca.news.yahoo.com/pakistani-province-cracks-down-child-marriage-124557291.html
-----------
Harper Calls Muslim Face-Covering Veil 'Anti-Women'
March 10, 2015
OTTAWA -- Stephen Harper doubled down Tuesday on his aversion to face-covering veils worn by some Muslim women, calling them the product of a culture that is "anti-women."
The prime minister ratcheted up the rhetoric against the niqab even as Liberal Leader Justin Trudeau accused him and his ministers of stoking prejudice against Muslims.
Among other things, Trudeau pointed to Immigration Minister Chris Alexander calling the hijab -- a head scarf worn by some Muslim women -- a perversion of Canadian values, and New Brunswick MP John Williamson, a former Harper communications director, referring last weekend to "whities" and "brown people."
Harper ignored those examples and returned instead to his assertion last month that it's "offensive" for someone to wear a face-covering niqab while taking the oath of Canadian citizenship.
"The leader of the Liberal party continues to bring up his position on the niqab," Harper told the House of Commons, although Trudeau had not actually mentioned it.
He said Trudeau doesn't seem to understand "why almost all Canadians oppose the wearing of face coverings during citizenship ceremonies."
"It's very easy to understand," Harper added. "Why would Canadians, contrary to our own values, embrace a practice at that time that is not transparent, that is not open and, frankly, is rooted in a culture that is anti-women?"
Harper's response shows the Conservatives are "indeed doubling down on the politics of fear," Trudeau said later.
Repeatedly talking about niqabs and hijabs as though they were the same thing shows the government "is willing to confuse and conflate the issues in ways that encourages ignorance ... and quite frankly stokes fears and anxieties at a time where people are worried about terrorism and extremism," he added.
"This is the crassest kind of politics."
NDP ethics critic Charlie Angus accused Harper of characterizing "an entire religion" as anti-women.
"If I was a Muslim Canadian, I would be very, very, very concerned about where our prime minister's going with this kind of hot-button, race rhetoric," Angus said.
But Trudeau faced his own accusations of fear-mongering after giving a speech Monday evening in which he warned that the Harper government is employing the same kind of rhetoric that led to some of Canada's most shameful displays of racism in the past, including the "none is too many" policy towards Jewish immigration in the 1930s and 40s.
The Centre for Israel and Jewish Affairs took issue with the comparison to former restrictions on Jewish immigration, which centre CEO Shimon Koffler Fogel noted was the product of "extensive social and institutional discrimination" faced by Jews at that time.
Jewish Canadians then faced quotas for university admission, were barred from social clubs, corporations and even some public parks, Fogel said, arguing that the bigotry Muslims and other minorities face today simply can't compare.
In his speech Monday, Trudeau said Canadians, presumably including Harper, are free to believe the niqab is "a symbol of oppression." But using the state's power to compel Muslim women to give it up indulges "the very same repressive impulse."
"It is a cruel joke to claim you are liberating people from oppression by dictating in law what they can and cannot wear."
Harper has vowed to appeal a court ruling which struck down the ban on wearing a face-covering veil during the citizenship ceremony.
http://www.cp24.com/news/harper-calls-muslim-face-covering-veil-anti-women-1.2273511
-----------
Police: London Schoolgirls 'Stole Jewellery' To Fund Syria Flight
11 March 2015
Three London schoolgirls who fled to Syria are believed to have stolen family jewellery to fund their travel; police said Tuesday as the trio's relatives expressed disbelief at their actions.
Schoolfriends Kadiza Sultana, 16, and 15-year-olds Shamima Begum and Amira Abase, left their homes last month and flew to Istanbul, from where they are believed to have joined Islamic State of Iraq and Syria (ISIS) militants in Syria.
Giving evidence before parliament's home affairs committee, Britain's national police lead on counter-terrorism, Mark Rowley, said the girls paid a travel agent more than £1,000 for their flights.
Asked where they found the money, he said: "We think it's linked to theft from families. We think it's linked to taking jewelry from one of their family members."
The girls are among 26 British young women who have gone to join ISIS fighters in Syria, according to Rowley, who is assistant commissioner of London's Metropolitan Police.
But he said that so far "we have no evidence to suggest they are involved in terrorism," and they could return home to Britain without facing charges.
Earlier, Abase's father Hussen Abase told the committee that his daughter was a victim - adding that he believed she had been "terrified" by police attention following the flight of another school friend to Syria in December.
Police spoke with Sultana, Begum and Abase and four other girls from the same London school after the 15-year-old girl went missing in December, and gave them a letter requesting further permission from their parents to talk to them.
None of the trio passed on the letters, and their relatives have complained that they could have acted to stop the girls going to Syria if they had known the situation.
Abase said of his daughter: "She is the kind of girl who, if it (is) sunset, will call me to pick her up. So how on Earth (can) she travel to abroad and to join ISIS? The letter terrified my daughter."
He added that the family was "mentally disabled" by her loss, saying: "We focus on our children to come back home, not in prison, because they are victims."
In her evidence to the committee, Begum's older sister Sahima also said there was no indication that the younger girl had been radicalized.
"My sister was into normal teenage things. She used to watch 'Keeping Up With The Kardashians'," she told lawmakers.
Metropolitan Police Commissioner Bernard Hogan-Howe said he was sorry if the families felt let down by the police, and acknowledged officers had failed to get the letters through to the parents that could have alerted them to the risk.
But he told the committee: "I don't think we would go as far as saying therefore that caused the girls to go. There was nothing more we could have done to prevent that."
http://english.alarabiya.net/en/News/middle-east/2015/03/11/London-schoolgirls-stole-jewelry-to-fund-Syria-flight.html
-----------
Muslim woman to sue for humiliation at French airport
March 11, 2015
Justice and Development (AK) Party's deputy representative in Brussels, Asiye Bilgin, has threatened to file a lawsuit after she says she was forced to take off her jacket at a security checkpoint in a French airport.
At Strasbourg Airport, Asiye Bilgin explained, security personnel asked her to take off her jacket even though she informed them that she was wearing a sleeveless shirt underneath.
"I have been living in Europe for 31 years," she said. "Although I faced many types of discrimination I was never humiliated this much."
After her first refusal to take off her jacket, a male security officer then asked her to take it off, loudly this time, she said. Bilgin replied that, as a Muslim woman, she could not take off her jacket in public and requested a private cabin.
She said she told the security officer: "What you are doing is against religious freedom and human rights?" To which another officer reportedly yelled: "This is Strasbourg and there is no cabin here, you have to take off your jacket."
After another failed attempt at requesting a suitable place to take off her jacket, Bilgin said she eventually took it off to go through security.
She also said she will file a lawsuit in order for a cabin to be built in Strasbourg Airport.
Bilgin also said that the incident had taken place in front of several parliamentarians, without specifying which. She added that the fact that none of them had intervened was sad.
"All the Muslim women, especially the ones wearing hijab, can face inhumane treatment despite the universal values," she said. "And this treatment took place in front of the ones who attempt to lecture Turkey on so-called humanity and freedom."
"European Muslims are treated as second-class citizens in Europe," she added. "The treatment that Blacks face in the U.S. is experienced by Muslims in Europe."
http://www.dailysabah.com/politics/2015/03/11/muslim-woman-to-sue-for-humiliation-at-french-airport
-----------
Erdogan urges muhtars to protect women from violence
March 11, 2015
President Recep Tayyip Erdogan has stated that a unit to monitor developments in cases of violence against women in Turkish society would be formed under the presidency, while charging elected village chiefs (muhtars) with the task of looking out for women subjected to violence in their constituencies.
"I am having a unit established at the presidency … We will track all the news about violence against women across Turkey. We will therefore find the possibility to intervene in issues when they are happening," said Erdogan, speaking at the 4th muhtars meeting at the presidential mansion on March 10.
Erdogan tasked muhtars with the fight for victims of violence against women, as women are "a part their own family" and "entrusted to all of humanity by God."
"Women are entrusted to all of humanity by God. This is a value beyond equality," he said.
Erdogan also asked for personal political support from muhtars and requested that they tell people in their local community about the "benefits of the executive presidential system."
He said Turkey was passing through a critical period and needed to "re-structure" in accordance with its growth.
"Turkey cannot complete this transition, cannot reach its targets, if it holds onto its old habits, old laws and institutions," Erdogan said.
The country needs "a rooted change" and the June 7 elections could be an opportunity for this change, he said.
The debate on the executive presidential system is not new for Turkey, Erdogan added, stating that the issue had been discussed since the days of Mustafa Kemal Atatürk – the founder of the Turkish Republic - and during the terms of former presidents Turgut Özal and Süleyman Demirel.
Erdogan said he clearly underlined the need for a presidential system in Turkey during his presidential campaign last August and added that receiving 52 percent of the voters' support was a "pre-condition" of a presidential system, denying that the presidential system is just his personal ambition.
"Today, I am expressing my demand is not an intervention in daily politics. It doesn't mean integration with any political party," he said, while repeating his demand for "400 deputies" to support him.
http://www.hurriyetdailynews.com/erdogan-urges-muhtars-to-protect-women-from-violence-.aspx?pageID=238&nID=79480&NewsCatID=338
-----------
Hip hop hijabis: Meet the Muslim women who rap in headscarves
11 Mar 2015
By Radhika Sanghani
Muneera Williams and Sukina Owen-Douglas are rappers. They combine spoken word, hip hop and poetry for their music and - in their own words - they "rap hard."
But they're also Muslim women who pray five times a day, don't drink, and always wear hijabs.
The women are the first to admit this makes their chosen career rather unusual – in fact they're widely known as one of the first well-known female Muslim hip hop duos.
"There's this dichotomy," says Owen-Douglas, 33. "Some days I'd walk down the street in my hijab with my headphones on listening to the Wu-Tang Clan. I'd catch a glimpse of myself in the mirror and laugh. Someone would see me and probably think I can't speak English properly, but I'm actually listening to rap."
She's not the only one who's surprised by her music passions - she explains that most people look at the pair of them and never assume they'll rap. "They think we'll do some poetry, or sing, or be really soft. But I used to rap really hard, and I think it was because of these stereotypes.
"I wasn't overcompensating, but we were trying to be like, we can rap just as hard as the guys. We're not these kind of fragile, petalled flowers."
The fast-talking duo do not come across like "flowers". They've been rapping ever since they left their home town of Bristol to study at the University of London more than 10 years ago. Back then they formed their two-person group Poetic Pilgrimage, and now it has thousands of fans across the world.
It's pretty impressive stuff, but of course, they also have their critics.
"It's really because we're women, or we're doing music," says Williams, 34. "There's this idea [in Islam that] our voices are beauty, and we shouldn't show our beauty." She says that at gigs in the Muslim community the women have been asked to sit down throughout their performance and not move, or even perform behind a screen.
'People want us to be Muslim poster girls'
At a Muslim speed dating event, one man even told her "I'll pray for you sister" when she told him about her hip hop. The women laugh over the story, and Owen-Douglas says that even though she's happily married to a Muslim who supports her, people often tell him he shouldn't let his wife show off her voice on a stage.
She says his response sums up their thoughts: "He's always like, have you heard my wife rap? That's not beautification – she's scaring people."
Having asked the women to rap for me, I see what he means (they go for it hard in The Telegraph offices). But it's also easy to see why they're so popular. They're passionate, powerful and, quite frankly, good.
It's no wonder that they don't just get criticism from the Muslim community – some people often try and mould them into ambassadors for the religion. "We get expectations of what we should be," says Williams. "People are always like, you should write a song about the Qu'ran. They want us to be their poster girl and not say anything against [Muslims]."
This is not what the women want to do. They're both from Caribbean backgrounds and actually converted to Islam exactly 10 years ago. Their songs do have messages about Islam – such as being your own person and doing what's right for you – but they're also about social/political issues, their heritage and female empowerment.
My national dress? H&M
It all sums up their own experiences. Though they're now devout Muslims after being inspired by Malcolm X's story, they're both still keen to keep their Caribbean roots in their music - as well as their British ones.
"My national dress isn't a Shalwar Kameez – it's H&M," says Owen-Douglas. "Some people think the West is jaded. And the west and Islam can't meet. But we can't ever have that stance because that's who we are."
Fashion has also been a big part of their identity exploration: "A big thing is how we express ourselves through our clothing. Before we converted, [Williams] had a bright red Mohican. I had long dreadlocks, one half was bleached blond and the other was black.
"Then you come to Islam and you're trying to figure it out you know. We went through a stage of being like, we're black we need to represent ourselves. We wore these big mama African dresses. Then we were like, we're MCs so it was trainers, Adidas everything."
So how do they find wearing a hijab after so many years of expressing themselves through their hair? "People say the hijab is oppressive," says Williams. "But in lots of cultures covering your head has always been ennobling. It showed you can't mess with this woman, she's of a higher status."
"I would never cover my face," adds Owen-Douglas, talking about wearing a niqab – a headscarf that shows only the eyes. "Because then how could I engage? And we're all about engaging."
She sees their missions as trying to show the world that Muslim women aren't quiet, oppressed and isolated: "We represent everything that is difficult. We're black Muslim women.
"When people see us dressed colourfully as Muslim women, white women smile at us. Maybe they're not used to it and want to interact with us. But either way, people look at us and confront the prejudices they have. They think if they can be Muslim women and be fun and enjoy what they want, then I can be whatever I want."
http://www.telegraph.co.uk/women/womens-life/11454455/Muslim-women-who-rap-in-headscarves-Meet-the-hip-hop-hijabis.html
-----------
Helping Saudi women into work is big business for one man
11 March 2015
Al Arabiya News is marking International Women's Day, and the 20th anniversary of the Beijing Declaration on gender equality, with a special series profiling leading women and women's rights champions around the world, among them startup company founder Khalid al-Khudairi.
Four years ago, against the advice of his family and friends, Khalid Alkhudair quit his executive post to set up Glowork, a website aimed at helping Saudi women into work.
He faced an uphill struggle when he first started, the kingdom was still dominated by a vocal group of conservatives opposed to the expansion of women's rights - despite changes in attitude from as high as the late King Abdullah bin Abdulaziz al-Saud.
In his own words Alkhudair said: "It wasn't an easy ride," there were still conservative people who believed it was wrong for women to work, especially in environments where they would encounter men.
He said his family and friends were concerned that he was quitting his job as chief operations officer at KPMG for Saudi Arabia, Kuwait and Jordan – a "good job in a safe environment"- to help get women into work. It was after all, he said, "a crazy decision."
Concerns and cultures
At the start he received threatening phone calls and emails but he said "it eventually worked out" as people began to realize that he was working in a way that respected the concerns and cultures of women and their families.
Women in the kingdom make up 45 percent of the 28 million-strong population. And of those approximately 57 percent have a university degree, according to Oxford Strategic Consulting.
According to official statistics, there are approximately 3.4 million people unemployed in the kingdom - the majority of whom are women.
While it might not have been to everyone's approval - the Saudi Ministry of Labor, under the rule of the late King Abdullah, approached Alkhudair asking him to help encourage women into work in an effort to reduce the 2.4 billion Saudi riyal ($640 million) unemployment benefits bill.
The ministry also gave Glowork access to all its unemployment data, including 1.6 million CVs, 1.2 million of which were from women.
How it works
Glowork receive a fee for every candidate they help into work. That figure currently stands at 20 women every day, according to Alkhudair.
In the last four years the number of Saudi women working in the private sector in the kingdom has grown by more than 600 percent, according to Alkhudair, climbing by 605 percent from 68,000 to 480,000.
Alkhudair said he hopes that Glowork had - in part - aided this growth by changing people's attitudes towards the concept of women working.
He said: "People are seeing that it makes economic sense for women to work. We have hired a lot of women working from home and they [the men] are seeing that their wives, sisters, or daughters are working with men, they're communicating with men, sending emails, speaking on the phone and see that there is no issue, that nothing has gone wrong.
"And they see the value of the money, the income that is coming into the household. And we have seen stories that these men are now encouraging the women to go out and start working. It's making sense, there is not issue for them."
He said that a lot of families were now realizing that the additional income was giving them spending power they did not have before, enabling them get married, buy homes and build a family.
He said: "We are showing the positives. The extra income is enabling them to buy a house, to build a family together, enabling them to get married. The more we share these stories the more we are finding that we are getting acceptance.
"We have a shortage in home ownership in the kingdom. In my opinion this is down to the lack of women working and the extra income the household requires, because it does allow people to build up their own homes and their own families. It does allow people to have that purchasing power in their own household that many don't have or did not have in the last decade or so."
Broadening operations
Alkhudair initially set up Glowork as a recruitment website four years ago to help women find work after seeing the difficulties his sister had.
Now he has created a mini empire which continues to grow. For example, Glowork now also has a head hunting operation.
He explained: "We have an employer engagement team. Their job is to go out and find as many jobs for women as possible. When they find the jobs they get the job descriptions, then we filter and screen candidates from a database we have."
He said it is a "huge database" made up of Saudi women jobseekers, women staying at home and women currently in work.
The initial screening process is carried out by a team of 25 women who work from home in Al-Asher in the eastern province of the kingdom.
Every day, they schedule 120 women for interviews first on the phone and then face-to-face in Riyadh.
With the phenomena of Saudi women in the workplace still in its infancy, there are still a lot of issues to be dealt with - not least educating company bosses on how to behave around their new employees.
Glowork also screen the working environment, ensuring that it is safe for the women.
Alkhudair said they ensure the "employer is trained on how to communicate with women, because for the majority of them this is the first time they have hired women."
He added: "We make sure they get an understanding of what women expect their first week and their first month to be like at the work place in order to ensure that retention is high.
"It's the first time for a lot of men and women in the kingdom that they [women] are communicating outside of the household. Saudi Arabia is living through a social experiment right now and we are all experiencing different things, there's so much positive [things] going on. People are opening up their minds and accepting and respecting women working side-by-side."
He said that new laws required men and women to be paid equal wages and women who believe they are not are encouraged to report their employers. If an investigation finds they are being treated unfairly, the company will be fined.
For the last three years, Glowork has held a recruitment fair attended by some of the world's largest companies - including KPMG – that are looking to hire Saudi women to work in the kingdom.
The number of exhibitors has more than trebled in the three years, growing from 45 companies in 2013, to 91 in 2014, and 170 so far this year.
The organization continues to grow – a women only gym under the brand Glowfit has been launched in Riyadh this month and plans are afoot to launch a car service much like Uber for Saudi women called Glowcar.
http://english.alarabiya.net/en/business/economy/2015/03/11/Helping-Saudi-women-into-work-is-big-business-for-one-man.html
-----------
KAEC empowers Saudi female workers
11 March 2015
Several Saudi female employees at a number of projects in King Abdullah Economic City talked about their rich experiences and the growing opportunities for women in the Economic City.
The comments focused on the work environment that suits the values of the society on one side and motivates women on the other.
That is in terms of the quality of jobs and the nature of the work performances that are considerate of the Saudi women's privacy, and do not deprive them of their chance to accomplish or participate in building their country since they are an essential partner in the rise and development of the Kingdom.
Numerous Saudi female employees at the control-room in the container terminal of King Abdullah Port (KAP) have addressed the privacy of their experience and the work environment that respects the society values, since the quality of the jobs and the extensive training create huge room for creativity.
Mashaiel Al-Nifay has assured the necessity of providing a safe work environment and of paving the way for women by developing senior managerial positions that are suitable for their work nature. Concerning her own work experience in King Abdullah Economic City, she attests to its success since the environment in a new institution like KAEC provides a perfectly safe atmosphere where each female employee makes her way to a brighter future. She also said: "I work at the Port Developing Company "PDC" as a civil engineer, and I am a graduate of that field from Pittsburgh University, Pennsylvania. I also have a master degree in civil engineering."
Noura Al-Harbi was not at all worried to speak of her experience that she is very proud of. "Working at King Abdullah Port has given me the chance to employ my skills and professional experience in such a vital project that serves the country, and is characterized by an environment that considers our values and traditions without hindering our professional growth. For me, every day spent in King Abdullah Economic City is a long-term investment in my career."
Reem Hamdan, Commercial and Industrial Manager at the Economic Cities Authority (ECA), added that King Abdullah Economic City is one of the most enabling workplaces for Saudi women, offering them job opportunities in many different fields to enable their personal development.
http://english.alarabiya.net/en/business/economy/2015/03/11/KAEC-empowers-Saudi-female-workers.html
-----------
Interest-free loans benefit female Saudi entrepreneurs
11 March 2015
Women wanting to start their own business in various fields such as industry, commerce and services are being given a chance to obtain interest-free loans for their startups thanks to a charity.
Branches Manager for the Jannah Support Center for Productive Families Khayriyah Daiboush said her organization believes in women and their potential for success.
"Aside from our financial support, we also offer mutual support by following up with our applicants and marketing their products in our platforms," said Daiboush.
Ruqaiyah Al-Saeed, who sells Safif products (traditional crafts using palm tree leaves), said she started her passion from the age of eight.
She said: "There wasn't a great demand on my product when I first started. But I am very passionate about preserving my culture.
"I learned my trade from my mother and I have been producing Safif products for 18 years now."
She added that the loan she received from Jannah Center helped her participate in bazaars and festivals where she was able to showcase her work.
"I encourage all women to find their own in providing their own income.
"They won't have to rely on anyone if they find their trade."
Qumasha Ibrahim, a tailor for traditional dresses, said she has been practicing her trade for 15 years.
"My trade has been my financial capital for a long time. I never had to be unemployed or seeking a job. I was able to provide for myself and my daughter.
"Because of my income, my daughter was able to receive a better education."
She said she sells traditional dresses in a modern design for the 21st Century Saudi woman.
Umm Nada, who sells accessories and clothes, said she was still studying at university.
She said: "I still have a year and a half before I graduate but I'm not worried about my future career. My loan from Jannah Center enabled me to buy my products and sell them in bazaars and festivals.
"The profit I gained helped me in paying off my life and academic expenses."
Umm Ramiz, a shepherdess, said she was a graduate.
She said: "My loan from Jannah Center gave me the support I needed to open my own business.
Umm Fahd, food business owner, said she left her day job and began making the Qassim dessert Klaija. She said: "I started by selling my dessert to family members and relatives and now I sell across provinces. "Having your own business as a woman is very important. It gives us confidence and pride in our success."
This article was first published in the Saudi Gazette on Wednesday, March 11, 2015.
http://english.alarabiya.net/en/business/economy/2015/03/11/Interest-free-loans-benefit-female-Saudi-entrepreneurs.html
-----------
Ivory Coast's ex-first lady jailed over poll violence
10 Mar 2015
A court in Ivory Coast has sentenced former first lady Simone Gbagbo to 20 years in prison for her role in a 2011 post-election crisis in which around 3,000 people were killed, her lawyer has said.
The verdict against the wife of former President Laurent Gbagbo was announced in the early hours of Tuesday after around nine hours of deliberations by the jury, according to her lawyer Rodrigue Dadje.
The former president's son, Michel Gbagbo, was also convicted and sentenced to five years in prison.
The ruling by the six-member jury was longer than the 10 years requested by the state prosecutor.
Gbagbo, who is also wanted by the International Criminal Court, was tried alongside 82 other allies of the former president in a case that reopened divisions in a nation still recovering from years of political turmoil and conflict.
General Bruno Dogbo Ble, who headed the elite Republican Guard, and former navy chief Admiral Vagba Faussignaux were both jailed for 20 years, according to their lawyer, while others including the ex-president's son got shorter sentences.
One-sided justice
Supporters of Laurent Gbagbo, whose refusal to acknowledge his defeat by Alassane Ouattara in elections in 2010 sparked a brief civil war, claimed the trial was politically motivated.
The former first lady's civil rights will also be suspended for 10 years, according to her lawyer.
The former president Gbagbo is awaiting trial at the ICC accused of crimes against humanity.
Ivory Coast refused to transfer Simone Gbagbo to The Hague to face similar charges, arguing that she could receive a fair trial in a domestic court.
As the trial drew to a close on Monday, Simone Gbagbo said prosecutors had insulted and humiliated her while failing to prove her guilt.
Though praised for his stewardship of Ivory Coast's post-war recovery, Ouattara has been accused by human rights groups of pursuing one-sided justice against his former rivals while ignoring abuses committed by his own supporters.
http://www.aljazeera.com/news/2015/03/ivory-coast-lady-jailed-poll-violence-150310142230919.html
-----------
Raising Up Women in Pakistan
10 March 2015
St. Stephen's Episcopal Church will be host of "A Day with a Christian Pakistani Woman" on Saturday, March 14, from 2 p.m. to 4 p.m. The event, to be held in the church's North Hall, is open to the public.
Special guest will be Alice Garrick (pictured), executive director of the Women Development & Service Society (WDSS) of the Diocese of Raiwind in Pakistan. Ms. Garrick, who is in the U.S. to attend the United Nations Global Conference on Women, will tell the story of the role WDSS plays in the transformation of exploited women from poverty to financial independence.
"The status and human rights for women in Pakistan are matters of great concern for the Christian community," said Alice Garrick. "The education of girls and helping women to earn an income can break the cycle of isolation and exploitation, as well as help to raise women and their children out of poverty."
Earning Hands, a WDSS program, helps women who are sexually exploited to develop skills that will enable them to earn an income. Items created by Pakistani women in the Earning Hands sewing and embroidery workshop – including scarves, stoles, handbags, jewelry – will be on display and available for purchase by cash or check.
Admission is free, and offerings, which will benefit WDSS, will be accepted. For more information or to RSVP (by March 12), contact: Annette Robertson, annetterobertson11@gmail.com (telephone, 203-438-8373), or Jean Jaykus, mjaykus@comcast.net (telephone 203-438-6604).
http://news.hamlethub.com/ridgefield/places/46915-raising-up-women-in-pakistan
-----------
URL: https://www.newageislam.com/islam,-women-and-feminism/new-age-islam-news-bureau/uk-girls-lured-by-isis-'won't-face-terror-charges'/d/101908