New Age Islam News Bureau
11 Sept 2013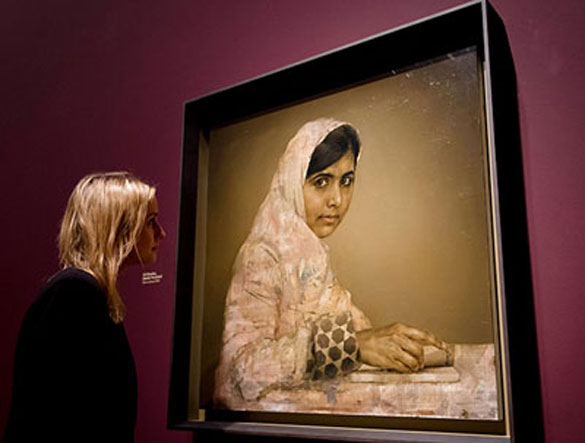 Portrait of Malala Yousafzai by Jonathan Yeo at the National Portrait Gallery in central London on September 10, 2013 -Photo by AFP
------
• 7 Sisters Fled Riot Mob, 'Father Didn't Make It'
• Girl Arrested In Tehran for Wearing Union Jack Nail Polish
• Quebec: Ban religious headwear in government jobs
• Malala painting unveiled at London's National Portrait Gallery
• I love Bali: Miss World: The off switch is there for a reason
• Dubai Municipality Opens Nursery for Staff Members
• The Local Women inside a Refugee Camp Making the Media Their Own
• Ex-Iran Hostage Crisis Spokeswoman Named As VP
• 64pc victims of child marriage in Bangladesh: Study
• Hizb-ut Tawhid female activists held in Bangladesh
• Defying hearing and speech impairment, Asha remains a hope
Compiled by New Age Islam News Bureau
URL: https://newageislam.com/islam-women-feminism/uk-college-bans-muslim-students/d/13460
---------
UK College Bans Muslim Students from Wearing Veils
September 11, 2013
Birmingham: Muslim students have been banned from wearing religious veils into a college because of fears regarding security.
Teenagers at Birmingham Metropolitan College have been told to remove any items of clothing covering their faces so they are 'easily identifiable at all times'. But while some students welcomed the move, arguing it keeps them safer, others called it 'disgusting'. The ban of the Niqab has caused some female students enrol at different college. News of the policy, which also requires students to remove hats and hoodies, was broken to those who were starting at the college last week.
Student Imaani Ali, 17, said her 'freedom had been breached' by the rule. 'Me and another friend who wears the veil were only told we wouldn't be allowed inside the college after we had enrolled,' she said.
'They haven't provided us with another alternative. We said we would happily show the men at security our faces so they could check them against our IDs, but they won't let us. 't's a breach of my freedom and I feel discriminated against. This is my religion; it is what I believe in. I don't really want to go to a place that doesn't accept me but I have no choice now.'
Another 17-year-old girl, who did not want to be named, was so upset at the policy that has she decided to look for another college place in the city.
She said: 'It's disgusting. It is a personal choice and I find it absolutely shocking that this has been brought in at a college in Birmingham city centre when the city is so multicultural and so many of the students are Muslim.
'It upsets me that we are being discriminated against. I don't think my Niqab prevents me from studying or communicating with anyone. I've never had any problems in the city before.'
Suleman Hussain, 17, is taking A-level science at the college and strongly disagreed with the guidelines. He said: 'They're not going to bring a bomb to college. They have come here to learn.'
The strict policy was announced days after the issue of wearing religious dress was brought up in parliament.
Kettering MP Philip Hollobone, who refuses to see constituents who will not lift their veils, raised the issue in a Private Member's Bill, saying it 'goes against the basic part of the British way of life'.
Principal and chief executive of the college. Dame Christine Braddock, defended the policy, saying it had been in place for some time and had been developed to keep students safe.
She said: 'We have a very robust Equality, Diversity & Inclusion Policy at Birmingham Metropolitan College but we are committed to ensuring that students are provided with a safe and welcoming learning environment whilst studying with us.
'To ensure that safeguarding is a priority, we have developed our policy alongside student views to ensure we keep them safe. This needs individuals to be easily identifiable at all times when they are on college premises and this includes the removal of hoodies, hats, caps and veils so that faces are visible.
'All prospective and progressing students, as well as staff, have been advised of the policy, which will mean everyone allowed on the premises can understand and know each other in a safe environment.'
President of the Muslim Association of Britain, Omer El-Hamdoon, said the women at the college should accept the policy and abide by the rules. 'Some feel it is part of their religion but they need to be practical,' he said.
'If you go to a bank riding a motorbike, you are required to take your helmet off and identify yourself. And when it comes to sitting exams there is also an issue surrounding identification, because the college needs to know who is sitting the paper. Some feel it goes against their freedom of expression, but they should abide by the rules that are part of society.'
Other students at the college, which has several campuses across the West Midlands, said the ban makes them feel safer.
Chante Young, 17, who is studying business, said: 'You don't know who is underneath it. 'You can't see any of their face - only their eyes.'
Anna Dorj, 18, who is studying business, said: 'I believe it is good for security. You can't see their face and it is hard to communicate with them.'
Ozayr Mir, 17, also studies business. He said: 'The rule is alright if it is for security reasons. They aren't being asked to show off their body parts.'
Two weeks ago, a judge told a Muslim woman she had to remove her burkha in court before she could enter a plea.
The 21-year-old woman refused to reveal her face because there were men in the room and it was against her religious beliefs. Judge Peter Murphy said the principle of open justice overrode her beliefs, and warned there was a risk a different person could go into the dock pretending to be her.
http://www.nation.com.pk/pakistan-news-newspaper-daily-english-online/international/11-Sep-2013/uk-college-bans-muslim-students-from-wearing-veils
----------
7 Sisters Fled Riot Mob, 'Father Didn't Make It'
Manu Pubby
Sep 11 2013
Basikala : 'We were locked inside... couldn't see what was happening to him'.
Barely a hundred yards from the ground where eight graves are being dug in this village is a madrasa that houses dozens who were witness to the final moments of the victims of the clashes. This Muslim-dominated village has become the focal point for the minority population in the region — several hundred have taken shelter since Saturday and most are determined not to leave anytime soon.
Several sheltered here have not only lost family members but have seen other families torn apart by the mob violence that enveloped the region. Among them is Reshma, 18, one of the seven daughters of Mohammed Fayyaz whose house in neighbouring Kutba village was burnt down Sunday morning.
"After we heard the slogans and mobs moving around, we all went to a house near the mosque for shelter. Our father could not make it. The men locked us in and we couldn't see what was happening to him," the teenager recalls, holding the hand of a younger sister who seems not to have realised the loss.
The man who saw Fayyaz's last moments was a neighbour, Mohamed Yakub. "He was lynched, his house was burnt down and his body chopped. All we could do was try and protect with bricks and stones the house we were in," he says.
A labourer, Fayyaz was the sole breadwinner of the family and would travel outside the village for work at least six months in a year. "Now the family's house is burnt, the breadwinner gone," says Yakub, who is gathering clothes and food from locals to sustain the family.
Shaquat Shafi of Kutba recalls the slogans that first warned them trouble was coming. "We heard things like 'You are not welcome here'. It was after the morning prayers at the mosque that the trouble started," he says.
The eyewitness accounts are of brutal murders with knives, swords and sticks. Even children were not spared. The Army rescued a six-year-old boy who was being beaten with sticks on a rooftop in Kutba, but by then four had already been killed. "The house we were in had been surrounded from all sides. As three people ran for cover to our side, the killing started. One woman was first slashed by a sword and then shot in the head. Others were beaten to death," Shafi says.
At Basikala, Arshad Khan was at a cycle shop when a mob armed with swords took a swipe at him. "They tried to slash me across the chest but I put my hand out. Two fingers were cut but I survived," says Khan, who has helping out at the madrasa.
"After attacking me, they moved to the other end of the street where a woman was on a rickshaw. They stabbed her, leading to death on the spot. What was most hurtful was the slogans they were using," says Khan, who runs a small garment business in Delhi but was visiting his home when the violence started.
More than 700 Muslims are taking shelter in this village, with no indication when they can return home. "They are all very, very scared here. Most say that they never want to go back again. They have seen killing with their own eyes. This area has never witnessed anything like this in at least four decades as far as I know," says Haji Mursalin, the Basikala village pradhan.
http://www.indianexpress.com/news/7-sisters-fled-mob--father-didn-t-make-it-/1167394/
----------
Girl Arrested In Tehran for Wearing Union Jack Nail Polish
Hugh Tomlinson
September 11 2013
A girl in Iran has been arrested for wearing Union Jack nail polish as young Iranians report a fresh crackdown by the authorities on inappropriate dress and behaviour.
The wave of arrests has dented hopes of a relaxation in Iran's strict social guidelines under Hassan Rowhani. the country's new President.
In a speech before his landslide election victory in June, the moderate cleric pledged: "I will not allow a patrol officer to question the clothing of our girls, daughters themselves are guardians of Chastity."
http://www.thetimes.co.uk/tto/news/world/middleeast/article3865504.ece
----------
Quebec: Ban religious headwear in government jobs
AP | Sep 11, 2013
MONTREAL: Quebec is proposing a law that would forbid government workers from wearing religious headwear such as hijabs, turbans, and kippas.
The separatist Parti Quebecois government said on Tuesday the so-called "values charter" will be introduced for debate later this year.
The plan has revived a debate in Quebec over religious accommodation and has been widely criticized in the rest of Canada.
Bernard Drainville, the minister responsible for the proposal, says the goal is to ensure the complete neutrality of the state on religion.
The ban would apply to every public worker, including teachers and police. It would not apply to elected officials because people have a right to choose their representative, Drainville said. Smaller religious symbols, such as a Christian cross on a necklace or the Star of David on a ring, will be allowed.
The federal government has said it will seek the advice of the Department of Justice and suggested it could go to court if the proposal violates fundamental rights.
Kathy Malas, a Montreal speech-language pathologist who wears a headscarf, said she has no plans to stop working or take it off if the charter becomes law.
"I would fight it, for sure,'' she said. "For a government to dictate how people get dressed, it's unreasonable to me."
Jean-Francois Gaudreault-DesBiens, a University of Montreal law professor, said it would be subject to a legal challenge on constitutional grounds. Forcing a daycare worker who wears a hijab to choose between her religion and her job, for example, would be a violation of the Canadian Charters of Rights and Freedoms, Gaudreault-DesBiens said.
"It's clear that under Canadian jurisprudence those people can contest the law," he said.
If it does end up becoming law, the values charter will likely be much more modest and limited in scope than under its current form, said Pierre Martin, a political science professor at the University of Montreal.
The minority Parti Quebecois government cannot pass legislation without support from one other party, and it has said it will seek to build consensus. Asked whether officials and witnesses would still swear an oath on the Bible, Drainville appeared caught off-guard.
"Oh, my God,'' he said. ``We'll get back to you."
http://timesofindia.indiatimes.com/world/rest-of-world/Quebec-Ban-religious-headwear-in-government-jobs/articleshow/22473479.cms
---------
Malala painting unveiled at London's National Portrait Gallery
September 11, 2013
LONDON: The first painted portrait of Malala Yousafzai, the Pakistani schoolgirl shot by the Taliban for campaigning for girls' education, goes on show at the National Portrait Gallery in London on Wednesday.
The one-metre height picture by Jonathan Yeo, one of Britain's leading portrait painters, shows the 16-year-old doing her homework.
It will be on display until January, when it will be sold to raise money for Malala's campaign for the right to girls to go to school, the gallery said.
Yeo painted Malala in Britain where she has settled since the attack in her home town in Swat in October, and he said it had been a "privilege".
"Given how much she has already been through and all that she represents to the world, it took a while to adjust to the fact that she is still a very fragile teenager," he said.
"Hopefully the painting reflects the slight paradox of representing someone with enormous power and wisdom yet vulnerability and youth at the same time."
http://www.dawn.com/news/1042125/malala-painting-unveiled-at-londons-national-portrait-gallery
---------
I love Bali: Miss World: The off switch is there for a reason
BY CHRIS O'CONNOR
September 11, 2013
As the Miss World 2013 hopefuls relaxed in Nusa Dua, the news filtered through that the final, scheduled to be held in Sentul, West Java, later this month, had been cancelled by the government, seemingly bowing to hard-line demands.
The news, announced on the eve of the opening ceremony, was made by Coordinating People's Welfare Minister Agung Laksono, who said that all of the pageant events would now be held in Bali.
Originally only the first two weeks would have been on the island, before moving en masse to Jakarta for a further fortnight, climaxing with the final on Sept. 28. The government seems not care about the logistics or the financial impact, and has shown no concern about the thousands of tourists who will suffer severe disruptions as a consequence, or the hotels in Jakarta losing business.
The event has seen protests from some Muslim groups and the Indonesian Ulema Council (MUI) weighed in with what some suggest is misplaced support for the radicals' position. The televised protests have appeared small suggesting little support, hence the organizers' shock. Perhaps the protestors were confident that at the final hour the government would again buckle?
The National Police chief, Gen. Timur Pradopo, and Tourism and Creative Economy Deputy Minister Sapta Nirwandar have stressed repeatedly this was not another capitulation to the Islam Defenders Front (FPI). Sapta, in an animated interview, said that, "There is no way that the government is afraid of any hard-liners." It is however quite difficult to see it any other way.
The basic premise for cancellation seems to be that it is against Indonesian norms, being immoral and not in line with Islamic teachings. I cannot comment on Islamic teachings but I can comment on norms and morality.
Travel through Indonesia and see a huge variance of social and cultural attributes; the diversity is unrivalled. There are places like Banda Aceh with an Arabic flavor, while in contrast many cosmopolitan areas seem almost Western. In places such as Kalimantan, Bali or Madura, the diversity takes yet another turn; so whose norm are we referring to?
Possibly the most contradictory aspect is in relation to Indonesian traditional female dress. The Javanese kebaya, as an example, tends to be figure hugging and often worn with scraped hair and heavy make-up; it is a picture of sensuality.
Regarding immorality, I feel there is a serious gap between the projected image and the reality. Indonesia has a huge issue with "sexploitation", including the trafficking of children, a fact noted by President Susilo Bambang Yudhoyono at the April ASEAN conference in Manila.
Indonesia is the sixth highest consumer of online pornography, despite less than one third of the nation having internet access. It also inflicts terrible abuses, including the chaining up of the mentally ill, and corruption seems a way of life. Yet the self-appointed guardians who see Miss World as a threat to morality seem largely silent on these points.
In addition, if shows like this are against the nation's constitution, as the MUI have claimed, why do we have a long history of similar events? All the provinces enter Miss Indonesia, and the nation hosted Miss ASEAN in 2012. Why is this different?
It is clear the norms argument is a red herring, while the duplicitous standards regarding morality are on clear display and often involve the politicians who have taken an anti-Miss World stance. And if, as the minister says, the cancellation is not due to pressure from Islamic groups, then what is the real reason?
Flawed logic and denials aside, the focus will be on groups like the FPI, who are emboldened by their success. Will future events like Miss Indonesia, compulsive TV viewing for years, be the next target? And where will that lead?
Returning to norms, the government's norm seems to be a position of inaction and capitulation where the radicals are concerned and it is tearing at the fabric of Indonesian society. The charade is getting international coverage and it is undoubtedly damaging the nation's moderate image and attractiveness to investors.
While it was the investors' darling, it could easily absorb any bad press but today the investment climate is very different. Already seen as weak, unwilling to tackle extremism or protect minorities, the government's action coincides with plummeting investor confidence and weakening state finances.
On balance, for a country pressing its democratic and moderate credentials and one in the midst of a mini financial crisis, I must conclude that the decision seems draconian and counterproductive.
If people are genuinely concerned about the damage to the children's morality, then can I be so bold to suggest the off switch on the TV is there for a reason.
http://www.thejakartapost.com/bali-daily/2013-09-11/i-love-bali-miss-world-the-switch-there-a-reason.html
---------
Dubai Municipality Opens Nursery for Staff Members
Staff Reporter / 11 September 2013
Learn, play and workout when mom is at work next door. That will be the kind of life that a bunch of kids, whose mothers are employed by the Dubai Municipality, will enjoy from now on, thanks to a new nursery at the municipality's headquarters.
The civic body collaborated with British Orchard Nursery to open a branch of the nursery group on its premises on Tuesday.
The move primarily seeks to help female officials have proximity to their children while they are at work, but male employees can also enrol their little ones at the nursery.
Dubai Municipality Director-General Hussain Nasser Lootah and founder and CEO of British Orchard Nursery Vandana Gandhi inaugurated the nursery by cutting the commemorative ribbon in the presence of senior officials from the municipality.
Speaking after the ceremony, Lootah said: "Dubai Municipality is keen on facilitating employees especially working mothers. The concept of nursery comes as part of it. It offers the flexibility to the mothers to have their children in the trusted (hands of) care within the same premises…proximity to their little ones helps them concentrate on their work while increasing the productivity."
According to Gandhi, the nursery's corporate philosophy is to reach out and provide quality pre-school education and day care services to children of working mothers by taking such facilities to their doorstep.
"British Orchard Nursery has pioneered the concept of corporate franchising by forming partnerships with many Government institutions in the UAE which include RTA, Dubai Electricity and Water Authority, Dubai Women's College and now Dubai Municipality," she said.
"It's our endeavour to serve the society and create confident learners while ensuring young ones develop appropriate social and imaginative skills, preparing them for a smooth transition to big school. It's very assuring for both child and the mother to be in close proximity in the early years and our concept seeks to serve the need and fill that gap."
She thanked Dubai Municipality for acknowledging the necessity and giving the opportunity to contribute to the Emirati working women community.
The nursery has incorporated Arabic language, Islamic studies, UAE culture and concepts plus social values as an integral part of the curriculum along with providing well-researched teaching methods and a British curriculum.
Apart from Arabic lessons, the school offers ballet, and gym lessons as well as computer classes.
The facilities include comprehensive creative spaces that offer role play and develops children's social and imaginative skills, soft play, swimming pools, construction area where children recreate real life events and situations, a library, a water play area where they can develop understanding of challenging concepts in a 'hands on capacity', sand area to explore scientific and mathematical concepts, messy play or painting area to develop creativity, grass area for outdoor play as well as 'GymJuniorz' which offers a children's gym and fitness centre. -sajila@khaleejtimes.com
http://www.khaleejtimes.com/kt-article-display-1.asp?xfile=data/nationgeneral/2013/September/nationgeneral_September60.xml&section=nationgeneral
----------
The Local Women inside a Refugee Camp Making the Media Their Own
Alice Su
11September 2013
Sally Ahmed Zarir works in a newsroom inside a refugee camp. Zarqa, Jordan's industrial centre 12 miles northeast of Amman, is home to over 50 per cent of Jordanian's factories, a 15.9 per cent unemployment rate, and the country's oldest Palestinian refugee camp.
24 year-old Zarir is one of fifteen women who report and produce Hona Zarqa, a biweekly newspaper and weekly radio program based in the United Nations Refugee Works Agency (UNRWA) camp.
Originally set up in 1949, the camp now hosts more than 20,000 refugees and a women's center teaching life skills, computer training and offering psychological counseling. Since January, the center has also become headquarters for a group of local women reporters. They range from 18 to 40 years old. Most are Palestinian; all were born and raised in Zarqa.
At 11:30 a.m on a Monday, Zarir rushes into the broadcast studio of Radio al-Balad, the Amman-based station that plays Hona Zarqa every week. She wears carefully applied eyeliner and a checkered scarf wrapped tight around her face. Zarir smooth's her dress, making sure each gold button is in place before leaning toward the microphone.
Imad al-Momani, Zarqa's new mayor elected just a few days ago, is their call-in guest this week. Zarir stammers at first, but picks up confidence as she continues the interview.
"Sir, official reports cite 823 cases of bribery in the last mayor's term. How do you plan to deal with this corruption?"
As al-Momani answers, another reporter comes into the broadcast room, writes down a few quotes and runs back out to tweet them. Zarir takes calls about the latest stories, new sanitation policy, care for orphans and protests for refugee's rights. She banters with listeners on air until three, two, one, cut - a jingle plays. Zarir takes off her headset and smiles.
Zarqa has no regular local news coverage. It shows up in Jordan's mainstream outlets when the Prime Minister makes a visit and draws international attention to rare events; the current influx of Syrian refugees, for example, or the Salafist clash that happened in Zarqa two years ago.
Jordan's main political opposition, the Muslim Brotherhood, has long found its strongest support in Zarqa. The overcrowded city is also a stronghold of Salafist jihadis, many of whom have crossed the Syrian border to fight Islamist rebel factions against the Assad regime.
But even as global media turns to the region and buzzes with talk of Syrian war, Hona Zarqa's women have other topics on their mind, a lack of childcare, election bribery, rising homelessness and garbage burning in Zarqa's streets, to name a few.
"The women have editorial control," says Etaf Roudan, Hona Zarqa's project coordinator, "They tell news that no one else has talked about before."
The Hona Zarqa team is exclusively female, which bucks the trend of traditional Jordanian women's employment. Some people in the conservative Zarqa community find this inappropriate, Zarir said.
"They think women should only work in nursing or teaching," Zarir said. "Even my brother thinks this is bad for girls. But my parents encouraged me, and I still find people to interview."
The bigger obstacle to Hona Zarqa's work is people's unfamiliarity with a media that asks their opinion. Some self-censorship exists, as sources request anonymity and shy away from photos, afraid that the government will follow up on what they have said.
"It's the first time they've ever seen media face-to-face," Roudan said. "Before, the formal agencies would only speak to officials. Now we ask normal citizens what they think."
The Community Media Network (CMN), an independent Jordanian media organization, funded Hona Zarqa. CMN also runs Radio al-Balad, the online news site AmmanNet, and citizen journalism programs with Syrian refugees and rural youth in the Jordan Valley, as well as across the Middle East. The network opened six community radio stations last week, four in the West Bank and two in Gaza.
Daoud Kuttab, director of CMN, says his goal is to "give people a voice."
"Mainstream media reflects the government's line almost exclusively," Kuttab says. International media skims Jordanian news for headline material, but overlooks the problems of an ignored population. Unemployment, inflation and trash-filled streets affect not just Palestinian refugees, but all of Zarqa's residents.
Zarir is proud of the public's response to her reporting.
"We wrote about a water system problem, and then the municipality fixed it," she says. When Hona Zarqa posted a picture of a flaming dumpster on their Facebook page, the new mayor himself wrote a reply.
"I will soon be working on the unpaved roads, infrastructure and janitorial systems," al-Momani posted. "This will take some time, but they are priorities on our agenda."
This is success for Hona Zarqa's women - not fame, but clean streets, responsible officials, and never having to smell burning garbage again.
Zarir points to the mayor's comment and writes a response, reading out loud as she types. "Yes, this is what the people of Zarqa hope."
http://www.middleeastmonitor.com/blogs/lifestyle/7311-hona-zarqa-the-local-women-making-the-media-their-own#sthash.3wX4Cs4n.dpuf
----------
Ex-Iran Hostage Crisis Spokeswoman Named As VP
11September 2013
TEHRAN — Iranian President Hasan Rohani has given a vice-presidency post to an environmental expert who once served as a spokeswoman for the hostage-takers at the US Embassy after the 1979 revolution, an adviser said.
The selection of Masoomeh Ebtekar as vice president for environmental affairs marks the second woman named to Rohani's panel of vice presidents.
Ebtekar was also vice president under reformist president Mohammad Khatami from 1997-2005.
Ebteker, who is fluent in English, was a main spokeswoman during the 444-day hostage standoff. She later served on the Tehran Municipal Council and became a respected scholar in environmental studies.
The official IRNA news agency also said Rouhani on Tuesday named a former defense minister, Adm. Ali Shamkhani, to lead the Supreme National Security Council.
http://www.saudigazette.com.sa/index.cfm?method=home.regcon&contentid=20130911180036
----------
64pc victims of child marriage in Bangladesh: Study
September 11, 2013
Around 64 percent of all women aged between 20 and 24 in Bangladesh were the victims of child marriage, shows a nationwide survey.
The occurrence of child marriage is higher in rural areas than in urban areas, and education significantly contributes to the elimination of this curse, says the report, which was launched at a hotel in the capital yesterday.
Plan International Bangladesh and International Centre for Diarrhoeal Diseases Research, Bangladesh (ICDDR,B) jointly carried out the survey between July and August last year, when 5,367 married women were interviewed across the country.
Around 86 percent women of this age group who did not go to school were married off at early age and the wish of the parents or family was the reason for their marriage, said Dr Quamrun Nahar, associate scientist of ICDDR,B, while presenting the findings.Based on the report, she placed a series of recommendations to end child marriage. These include strict enforcement of existing laws, implementation of online birth registration, and improvement of girls' safety.
The other recommendations are increasing awareness of families and communities, fostering children's agency in preventing child marriage, involving men and boys as key agents to stop child marriage, investing in girls' education and adolescents' sexual and reproductive health.
Addressing the function as chief guest, Meher Afroze Chumki, state minister for women and children affairs, said lack of awareness and poverty were the key reasons for child marriage. She emphasised awareness building and training of community leaders to eliminate child marriage and dowry system.
Canadian High Commi-ssioner in Bangladesh Heather Cruden, Plan International's Regional Director for Asia Mark Pierce, Plan's Interim Country Director Elena Ahmed, UNFPA Representative in Bangladesh Argentina Pinto Matavel Piccin and representatives of different organisations and academicians, among others, also spoke on the occasion.
At the function, the UN's Youth Courage Award for Education was handed over to Keshob Roy, the only Bangladeshi among seven youths, who got the award announced on Malala Day, July 12.
Besides, several other children and youths were awarded crests for their role in preventing child marriage.
http://www.thedailystar.net/beta2/news/64pc-victims-of-child-marriage-study/
---------
Hizb-ut Tawhid female activists held in Bangladesh
September 11, 2013
Police arrested two suspected female activists of Islamist outfit Hizb-ut Tawhid in Uttarpara area under Gangni upazila town of Meherpur district yesterday.
The law enforcers also seized 10 books on jihad and 50 leaflets from their possession.
The arrestees are Zulia Khatun, 21, and Sharmin Khatun, 22, of the area.
Police said, a team arrested the duo while they were distributing the books and leaflets at about 2:00pm.
http://www.thedailystar.net/beta2/news/hizb-ut-tawhid-activists-held/
---------
Defying hearing and speech impairment, Asha remains a hope
September 11, 2013
Alpana Aktar Asha, 16, an intermediate first year student of Kahaloo Women's Degree College, continues her study defying hearing and speech impairment.
Eldest of three children of Shah Alam, a small trader of Nalgharia village in Kahaloo upazila under Bogra district, Asha passed the SSC examinations in 2013 with GPA-3.44 (B grade) from Panchpir Girls' High School in the same upazila.
She can learn fast by reading the lessons in her books and write the answers well although she cannot hear instructions in the class, said her classmates, teachers and parents.
Shahnaj Sharmin, English teacher of the college, said, "I have found Asha good at learning. She can write after reading a lesson although she can neither speak nor hear the instructions in the class."
"My daughter is regular in study and homework and she can be taught to do different works through instructions with signals," said her mother Salma Begum.
"A few days after she was born, she showed some problematic symptoms, often crying long hours. Three months later, she received treatment from a doctor of a private clinic in Bogra town and got cured.
"A local health worker detected Asha's hearing and speech impairment when she was one and a half years old. She was treated in Bogra and Naogaon towns where doctors suggested us to arrange her treatment in the capital. But we could not do it due to financial problem," she said.
Salma urged the affluent and benevolent people of the society to help for early treatment of her daughter.
Dr Rafiqul Islam, assistant professor of child department of Shaheed Ziaur Rahman Medical College and Hospital, suggested consulting with an ENT (ear, nose and throat) specialist soon for diagnosis and treatment of Asha.
http://www.thedailystar.net/beta2/news/defying-all-impedimentsasha-remains-a-hope/
----------
URL: https://newageislam.com/islam-women-feminism/uk-college-bans-muslim-students/d/13460