New Age Islam News Bureau
8 Jun 2018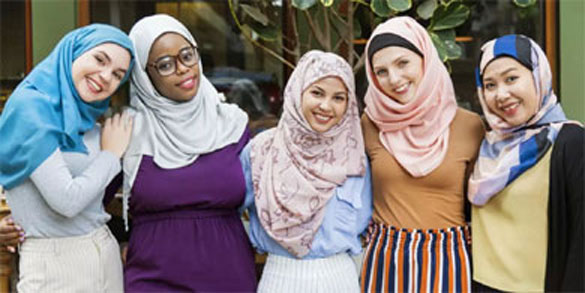 Picture: ISTOCK, Non-Muslim women across the world are wearing the hijab for 30 days as part of the Ramadan Hijab challenge.
-----
• Saudi Woman Engineer Breaks New Barriers
• Domestic Helps Enjoy Special Iftar in UAE
• Sedigheh Dolat-Abadi, Leading Women's Rights Activist in Iran
• Scores Naturalized In Lebanon Where Women Still Lack Rights
• 'We Want To Pray In Mosques Too'' Says a Group of Muslim Women
• Muslim Woman Sues Former Employer, A Hanover Care Facility, She Said Told Her To Remove Her Hijab
Compiled by New Age Islam News Bureau
URL: https://www.newageislam.com/islam-women-feminism/uk-christian-women-don-hijab/d/115487
--------
UK Christian Women Don Hijab in Solidarity with Muslims
07 June 2018
Many Christian women across the world have started wearing the hijab as part of the Ramadan Hijab Challenge to show solidarity with Muslim women during the Islamic holy month.
The initiative, created by the World Hijab Day organization, encourages non-Muslim women to wear the hijab and fast for during Ramadan.
"This event is for those who want to experience the hijab for more than just one day in order to better understand what Muslim women go through on a daily basis" Nazma Khan, the founder of WHD, told Al Jazeera.
One participant, Ellie Lloyd -- a Christian woman living in Qatar with her daughter, said: "I am a Christian woman taking on the 30-day Ramadan Hijab Challenge" and that the reasons for participating in the challenge are "to help raise awareness and experience first hand what it is like to wear the hijab".
"The intention is to help fight Islamophobia worldwide and make this world a more accepting and peaceful place to live in," she added.
The World Hijab Day organization was founded in February 2013 by Nazma Khan with the aim of spreading awareness and understanding of the Hijab and Muslim women.
The World Hijab Day is held annually on Feb. 1. The Ramadan Hijab Challenge is a new initiative aimed at recognizing the challenges Muslim women face in the holy month.
"For many people, the hijab is a symbol of oppression and segregation. By opening up new pathways to understanding, Nazma hopes to counteract some of the controversies surrounding why Muslim women choose to wear the hijab," a statement said on their website.
http://www.worldbulletin.net/news/202887/uk-christian-women-don-hijab-in-solidarity-with-muslims
--------
Domestic Helps Enjoy Special Iftar in UAE
June 7, 2018
Around 50 female domestic helpers enjoyed a day out in Abu Dhabi along with a special Iftar on May 4, thanks to the Indian Ladies Association (ILA).
The association treated the domestic helps with a free Iftar at the Emirates Bowling Village, followed by a game of bowling and gifts.
The maids were from countries like the Philippines, India, Nepal, Sri Lanka and Ethiopia.
Margarita, a Filipina housemaid who has been working in the UAE for the last 20 years, said she was happy to have joined her friends to enjoy a good game of bowling. "It is a rare opportunity and we had good fun. I am thankful to ILA for organising this event."
Kona, a cleaner from Bangladesh, said it was an enjoyable break from her regular work. "We rarely have time to go out. Bowling was a new experience to me. I am happy that people appreciate our contribution to the society."
Annu Chouraria, president of ILA, said the association was resonating Sheikh Zayed's philanthropy and humanitarian approach that transcended religion and nationalities.
"We appreciate the happiness spread amongst these women who are living away from their homeland, working hard to support their families," Chouraria added.
The deputy chief of mission at the Indian Embassy, Smita Pant, was the guest of honour at the event. "I am happy to learn that ILA is organising many activities for the welfare of women in the holy month of Ramadan," she said.
The association also conducted free medical checkups and distributed gift boxes to maids on Wednesday.
https://www.khaleejtimes.com/ramadan/domestic-helps-enjoy-special-iftar-in-uae
--------
Sedigheh Dolat-Abadi, Leading Women's Rights Activist in Iran
June 8, 2018
Sedigheh Dola-Abadi was a freedom loving woman and one of the first advocates of women's rights in Iran.
She was born to a religious family in Isfahan in 1882.
Her father was Mirza Hadi Dolat-Abadi, a progressive clergy living during the Qajar dynasty. She died at age 80 in 1962 and was buried next to her brother, Yahya Dolat-Abadi, in Emamzadeh-Esmail cemetery in Tehran. Yahya Dolat-Abadi was one of the leaders of the Constitutional Movement and a leading cultural figure.
Dolat-Abadi family were strong supporters of the Constitutional Revolution. She had learned patriotism and devotion to country from her family. In one of her letters she wrote, "I am able to work anywhere in the world, but as long as my country's women need me I will not be going anywhere. I will devote my time and skills to the [Iranian] women. I will not exchange the soil and girls of my country for a better life elsewhere."
Sedigheh Dolat-Abadi completed her elementary school studies in Tehran and attended Dar-ol Fonoun High School for post-elementary studies. The Dar-ol Fonoun was founded by Amir Kabir also known by the titles of Atabak and Amir-e Nezam, chief minister to Naser al-Din Shah. Amir Kabir was known as one of the most capable and innovative figures in that period.
In 1906, during the Constitutional Revolution which brought relative freedoms to Iran, Sedigheh Dolat-Abadi and a number of her female friends established the Association of Homeland Junks to fight against the reactionary and misogynist fundamentalists led by Sheikh Fazlollah Nouri.
Sedigheh Dolat-Abadi strongly opposed the 1907 agreement between the Russians and the British wherein the two powers divided Iran into virtual northern and southern areas of influence. She showed her opposition by boycotting Russian and British goods and engaging in activism against the two.
In 1917, when she was 35 years old, Sedigheh Dolat-Abadi founded a girls' school named Maktab-e Shariat in Isfahan. Two years later, she published a new bi-monthly magazine named Women's Language to educate and familiarize women with their education and social rights and economic independence. Because of Dolat-Abadi's activism and opposition to the government policies and mandates, her magazine was banned and her life was threatened. She moved from Isfahan to Tehran in 1921 and re-started Women's Language as a 32-page monthly magazine. She also established a new school for girls from low-income families and founded a center named "Women's Challenge."
Dolat-Abadi represented Iran's women at the International Congress for Women in Berlin in 1921. She was the first Iranian woman to give a speech at an international gathering.
In 1922, Dolat-Abadi traveled to Germany for medical treatment and from there traveled to France.
In France, she studied French and attended a women's college for three years. Dolat-Abadi then attended Sorbonne to earn a degree in education.
Dolat-Abadi represented Iranian women at the 10th International Congress for Women's Right to Vote in Paris in 1926 and once again gave a strong speech there.
With the support from the government in 1935, Dolat-Abadi founded "The Women's Society" and served as its president. The Society provided elementary and high school education as well as courses on sewing, playwriting, music, and athletics for adult women. https://women.ncr-iran.org/famous-women/5236-sedigheh-dolat-abadi-leading-women-s-rights-activist-in-iran
--------
Scores Naturalized In Lebanon Where Women Still Lack Rights
June 8, 2018
BEIRUT (AP) — A Lebanese presidential decree to naturalize hundreds of foreigners, including Iraqi Vice President Iyad Allawi and other regional elites, has ignited a row over who deserves citizenship in this tiny Mediterranean country, where one in four people is a refugee and women married to foreigners cannot pass on their citizenship to their children.
News of the decree, which was signed in secret in mid-May but leaked to the public two weeks later, has fueled the perception that citizenship, like so many other liberties in this country, is a privilege reserved for the wealthy.
Meanwhile, Lebanese women married to foreigners don't have the right to pass on their nationality to their children. And more than a million Syrian and Palestinian refugees toil away in vital but back-breaking labor, without any legal protections against abuse, wage theft, arbitrary arrest and deportation.
"This decree should rattle our conscience," said May Elian, a Lebanese woman married to a foreigner and an activist with the campaign "My Nationality is My Right and My Family's Right."
But Prime Minister Saad Hariri has defended the decree, saying it is the president's constitutional right to grant citizenship to whomever he pleases.
Customarily Lebanon's presidents have waited until the end of their terms to issue a naturalization decree. In this case, President Michel Aoun signed an order less than two years into his six-year term, and without disclosing it to the public, raising suspicions of malfeasance in this corruption-ridden country.
Hariri and Interior Minister Nouhad Machnouk, who co-signed the decree, challenged opponents to make their claims in court that some of the recipients were less than deserving.
"People who have evidence should present it," said Machnouk.
As opposition to the decree gained steam, the General Security intelligence agency took the unusual step of calling on citizens to call or email with any information they had about the people set to be naturalized.
Some politicians have alleged that the beneficiaries include businessmen linked to the government in neighboring Syria, though this was not immediately clear from the published list.
Legislator Wael Abu Faour, a harsh critic of Syrian President Bashar Assad's government, said "it is not acceptable that Lebanese citizenship becomes a commodity sold to killers and their assistants."
Such claims come at a delicate time when Lebanese politicians are still sharply divided over relations with Assad's government as it has become clear he has emerged victorious after seven years of civil war.
Meanwhile, the leading parties are pressuring refugees to return to Syria, while the United Nations and international donors say the war-torn country is still not ready.
Aoun's party, the Free Patriotic Movement, made repatriation a ballot box issue in elections on May 6, insinuating the overwhelmingly Muslim Syrian refugees were a threat to Lebanon's Christian community.
Many struggling Syrians are quietly bitter that Lebanon is welcoming elites while turning its back on the laborers and menial workers who work long hours for little pay in Lebanon's grossly unequal economy.
"The big people get citizenship, and the little guys, nobody looks after them," said Mohammad Naasan, a 40-year-old Syrian hairdresser in Beirut.
The decree has also galled campaigners who have pushed hard to have Lebanon reform its discriminatory personal status laws, which grant men wide-ranging rights over women, including the right to pass on their nationality to their children, while mothers cannot.
"Lebanese women work, they pay taxes — is there anything the Lebanese woman does not do? Why this injustice against her?" said Elian, whose husband is Egyptian.
Elian says she sometimes gets asked with derision if she met her husband at a gas station, reflecting the stereotype that Egyptians staff the stations in Lebanon. Her husband is a top U.N. regional official coordinating the humanitarian response for Syria.
Lebanon's political class since the 1950s has historically refrained from naturalizing foreigners and refugees en masse on the grounds that it would upset Lebanon's delicate sectarian balance. Many fear such steps could re-ignite the country's explosive mix of Christian and Muslim sects that left 150,000 people dead during the 1975-90 civil war.
Although Christians make up a third of the country's 4.5 million people, parliament and Cabinet seats are equally divided between Christians and Muslins.
The exception was a sweeping decree in 1994 that granted citizenship to more than 100,000 residents, which is still talked about today.
But Lebanon is struggling to jump-start its sputtering economy and the country is sorely in need of capital to finance its voracious appetite for credit. Lebanon has one of the highest debt ratios in the world, standing at 150 percent of the gross domestic product.
Prime Minister Hariri said those named in the decree include business leaders who have invested in Lebanon.
"What are we trying to tell the world? We brought some people who deserve the citizenship and then we tell them no?" he said.
Among those named in the decree are the children of Syria's former Minister of Higher Education, Hani Murtada, who has considerable business interests in Syria, and Jordan's May Talal Abu Ghazaleh, daughter of the one of the most prominent businessmen in the Arab world who started out in life as a Palestinian refugee after Israel was created in 1948 and eventually became a global personality.
There were 407 individuals named on the list, including Palestinians, Syrians, Iraqis and Europeans and Americans apparently of Arab origin.
https://www.stltoday.com/news/world/scores-naturalized-in-lebanon-where-women-still-lack-rights/article_5946ebb7-e408-5545-9105-104e1aff6d86.html
--------
'We Want To Pray In Mosques Too'' Says a Group of Muslim Women
06 June 2018
The inequality at many Johannesburg and Durban mosques has outraged some Muslim women' who say that not only is there a culture of patriarchy and sexism in the mosques but the conduct is against the teachings of the Qur'an.
A video that emerged showing a man trying to stop women from getting close to listening to the Qur'an being recited at the Gold Mosque in Ormonde' Johannesburg' has sparked debate about why women are not allowed to worship in many mosques.
Nabeelah Khan' a follower of the religion' said that during Ramadhan women usually went to mosques on a daily basis to perform the Taraweeh prayer while the Qur'an is being recited.
"At every mosque there are separate sections for female and males. The women went to the female facilities first and there wasn't a speaker' so they wouldn't have been able to hear the Qur'an being recited.
"They wouldn't have been able to perform their Salaah (prayer) properly. So they went into the mosque and didn't go into the male section' they went to a room outside there and decided they were going to pray there'" Khan said.
Khan said women have been battling with the inequality for a long time. "Why should we not be able to do something to be closer to our Creator just so that men will not be distracted? That's a place of prayer' why are you even looking at a woman in a lustful manner? They now take Qur'an verses and twist it to suit their own agenda.
"It doesn't say that we can't go to the mosque; it says we don't have to [but] it's compulsory for men. In the time of our holy prophet women prayed in the mosques alongside men'" Khan said.
Two women' Noorjan Allie and Shameelah Khan' have started a campaign called Women of Waqf' which seeks to create an inclusive space for women in the mosque. For the past month they have been sharing their experiences on their Facebook page.
"According to the teaching or the Qur'an and teachings of the beloved prophet' women can in no way be prevented from attending the mosque even though it is better for them to pray at home.
"During the month of Ramadan it is common practise for men and women around the world to pray the evening prayers in congregation with the exception of certain mosques in Johannesburg and Durban which belong are part of the IndoPak diaspora'" the Women of Waqf group said.
They want all mosques in Durban and Johannesburg to open their doors to women while still adhering to the etiquette of the space. Woman should be able to attend prayers and lectures during those times' and should be allowed to pray in congregation' they said.
"It's ridiculous really. There is no Islamic basis for restricting access of women. What we are seeing is Indian men who are imposing their patriarchal culture on women without any basis. This culture is so entrenched in the community that it seems like its Islamic law.
"We don't see this in other Muslim communities. We don't see it in the Black Muslim community or in the Malay Muslim community'" said Nelisiwe Msomi' a Muslim woman activist.
Msomi said not only does this oppress them spiritually; it so does emotionally and physically.
"The mosque is the centre of the Muslim community' and by excluding women' you are essentially ignoring our existence within the community'" she said.
Part of the reasons why women are separated from men is to encourage both sexes to focus while in the presence of worship. These women say they are tired of how patriarchal Islam has become.
"It's about not sexualising women in a holy space. As if our presence as women in the mosque is to turn men on. Rather than men focusing on their purpose of being at the mosque. They believe that women are better off praying at home. It's men who believe that a woman's place is at home. She shouldn't be working or socialising'" Msomi said.
Referring to the Qur'an 7:31 scripture - which she quoted as saying' "Children of Adam' take your pleasantness to every Mosque" - Msomi said that "children" was "inclusive of all genders".
TimesLIVE has made contact with the Muslim Judicial Council of South Africa and the Jamiatul Ulama South Africa. Neither had commented by Tuesday evening. This story will be updated should they reply.
https://www.timeslive.co.za/news/south-africa/2018-06-06-we-want-to-pray-in-mosques-too-says-a-group-of-muslim-women/
--------
Muslim Woman Sues Former Employer, A Hanover Care Facility, She Said Told Her To Remove Her Hijab
June 8, 2018
A practicing Muslim who says her former employer ordered her to remove a religious head covering is alleging in a federal civil rights lawsuit that the Hanover health facility made her choose between her job and her faith.
Lawyers with the Council on American-Islamic relations filed the complaint in Eastern District Court last month on behalf of Keseanda Brooks, who worked at Hanover Health & Rehabilitation Center in Mechanicsville in January 2017, when the incident occurred.
Brooks alleges managers at Hanover Health, owned by Roanoke-based Medical Facilities of America, told her they were concerned about safety implications stemming from her choice to wear a hijab, a cloth head covering worn by some Muslim women.
Brooks says in court filings she was told then that the garment could be grabbed or pulled – and that she would have to remove her hijab or be fired.
"This wasn't a fashion statement," Ahmed Mohamed, a lawyer with the Council on American-Islamic relations who represents Brooks, said in an interview. "No employer should force any female to remove any article of clothing, especially religious clothing."
Medical Facilities of America, which has more than 40 locations in Virginia and North Carolina, disputed Brooks' allegations in a statement saying she was later told she could wear the garment.
"Hanover Health & Rehabilitation Center is committed to respecting the religious and cultural differences among our employees and residents," the statement reads. "When Ms. Brooks' concerns were brought to our attention we quickly contacted her and advised that she was welcome to wear her hijab in the workplace. It was our understanding that she would continue to work at our facility."
Mohamed responded: "If she was welcome to come back they wouldn't have forced her to take off her hijab and they wouldn't have fired her."
He said Brooks contacted CAIR, a 24-year-old civil rights organization dedicated to battling religious discrimination, shortly after she was fired.
The decision came after Brooks, who'd been employed as a certified nursing assistant at the facility for about 10 months, was summoned to a meeting with Hanover Health's director of nursing and registered nurse unit manager on Jan. 4, 2017, the lawsuit states.
She had converted to Islam and begun wearing the hijab five months earlier, which she continues to do when in the presence of men who are not members of her immediate family.
Brooks says she tried to work with the supervisors to find a solution – maybe pulling the head covering more tightly around her head and neck – but was rebuffed and fired for refusing to comply, the lawsuit states.
Brooks initially brought her concerns to the Equal Employment Opportunity Commission. Her complaint was dismissed and she was given a notice of her right to sue. A copy of the dismissal was not immediately available Thursday.
Mohamed said the notice is not a determination of whether or not someone has a legitimate claim and cannot be used to argue the case in federal court.
"This is part of a national pattern that goes a little bit beyond Virginia," Mohamed said. "I think that individuals are becoming emboldened to some degree to act on some of the prejudices they are holding."
A 2018 civil rights report from CAIR states there was a 17 percent increase in anti-Muslim bias incidents nationwide in 2017, and a 15 percent increase in hate crimes targeting American Muslims.
Brooks is seeking a jury trial, compensation for back pay, punitive damages and legal fees, among others, from Medical Facilities of America, which she alleges violated two aspects of the Civil Rights Act of 1964, which prohibits employers from discriminating against workers based on sex, race, color, national origin, and religion.
Brooks now works at another health and rehabilitation center in the Richmond area as a certified nursing assistant where she is allowed to wear her hijab.
https://www.fredericksburg.com/news/va_md_dc/muslim-woman-sues-former-employer-a-hanover-care-facility-she/article_0e393667-da70-5ab5-829f-30852f35685a.html
--------
URL: https://www.newageislam.com/islam-women-feminism/uk-christian-women-don-hijab/d/115487
New Age Islam, Islam Online, Islamic Website, African Muslim News, Arab World News, South Asia News, Indian Muslim News, World Muslim News, Women in Islam, Islamic Feminism, Arab Women, Women In Arab, Islamophobia in America, Muslim Women in West, Islam Women and Feminism