New Age Islam News Bureau
10 October 2021
• UK Approves Visas For Young Afghanistan Female Footballers Who Had Fled To Pakistan After Their Country Fell To The Taliban
• New Phone Service, App To Provide UK Women Extended Safety
• Arab-Israeli Men Speak Out On Domestic Violence And Masculinity
• Prestigious Women In Leadership Award Honours Sterling Pakistan Women In 21 Categories
• Amun Mustafiz Joins BAT Bangladesh As First Ever Bangladeshi Female Finance Director
• How International Organisations Are Failing Afghan Women
Compiled by New Age Islam News Bureau
URL: https://www.newageislam.com/islam-women-feminism/afghan-female-footballers-uk-/d/125547
--------
UK Approves Visas For Young Afghanistan Female Footballers Who Had Fled To Pakistan After Their Country Fell To The Taliban
10 October 2021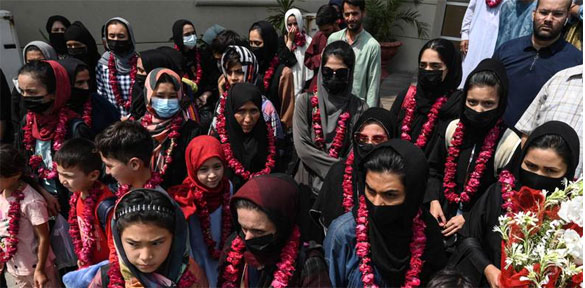 Young Afghan footballers were given floral garlands after arriving in Lahore, Pakistan, a month after the Taliban took power in Afghanistan. AFP
------
The girls had fled to Pakistan after their country fell to the Taliban in August, and it was from there that they had told Sky News that they were desperate to find safety in the UK.
At the time, they had a little over a week left on their Pakistani visas and were fearful of what might happen to them if they were forced to return to Afghanistan, where the Taliban has banned girls from playing football.
Asked if she had a message for the UK government, the teenager had added: "If you can accept us we would be really happy that we can live in UK and have the UK as a host country for us.
"The only thing we want from your government and your humanitarian institutions is to find a host country for us in order to help us to be happy again and be alive again, to make a new life and be good football players in the future."
Pedestrians walk on the High Street, amid the spread of the coronavirus disease (COVID-19), in Croydon, south London, Britain, September 27, 2020. REUTERS/Simon Dawson
"Especially to the efforts from our new British friend Siu-Anne Marie Gill from the ROKIT Foundation for keeping us all inspired - it was very hard - to keep believing that UK will fight for saving our lives."
Ms Gill said: "We learned on Friday that the UK government has granted authority for the Afghan National Women's Junior Football Team to come to the UK.
"This is fantastic news, and we are most grateful to Prime Minister Boris Johnson and Home Secretary Priti Patel for this life-saving decision.
"It has been a long journey enabled by the Prime Minster of Pakistan, Imran Khan, the Pakistan Football Federation, Jonathan Kendrick's ROKiT Group, Football for Peace, Leeds United Football Club and former Afghan Women's Football Captain Khalida Popal.
"These young sportswomen and their families are so thrilled to have been given a second chance in life, here in the home of football.
"The next step is to settle them into their new home. We will do all we can to support them in this process, and the communities that welcome them."
Source: News.Sky
https://news.sky.com/story/uk-approves-visas-for-young-female-footballers-from-afghanistan-12430364
----------
New phone service, app to provide UK women extended safety
Ahmet Gürhan Kartal
09.10.2021
A new telephone service and application proposed by British Telecom will aim to provide protection to women in the UK, according to local reports.
The proposal by the telecommunication giant has already received support from Home Secretary Priti Patel, The Daily Mail reported on Saturday.
A person can call or text 888 or enter their destination into the phone app along with their predicted time of arrival before a journey, which the GPS system will monitor via text message.
Emergency services including the police will be notified if the person does not respond to a message sent by the system checking for their safe arrival.
The Daily Mail said the BT's chief executive, Philip Jansen, wrote to Patel and that the helpline would cost around £50 million ($68 million).
"This new phone line is exactly the kind of innovative scheme which would be good to get going as soon as we can. I'm now looking at it with my team and liaising with BT," Patel told the Mail.
Jansen told the tabloid that the idea of such an app came after the abduction, rape, and murder of Sarah Everard by police officer Wayne Couzens.
Everard's kidnap and murder sent shockwaves across the country in March, with women's safety on the streets since becoming a hot topic.
In September, Sabina Ness, a 28-year-old primary school teacher, was attacked and killed in London as she was taking a five-minute walk from her home to meet friends.
Her body was found near the One Space Community Center at Kidbrooke Park Road in Greenwich nearly 24 hours after the murder, according to the Metropolitan Police.
Nessa was a teacher at Rushey Green Primary School in Catford, southeast London.
Source: AA.Com
https://www.aa.com.tr/en/europe/new-phone-service-app-to-provide-uk-women-extended-safety/2387637
-----------
Arab-Israeli men speak out on domestic violence and masculinity
By JERUSALEM POST STAFF
October 10, 2021
For the first time, Arab-Israeli men are publicly breaking the silence on the taboo subject of gender-based violence in their communities by expressing an open and honest opinion on the topic, as well as the topic of masculinity in their society.
Tamer Nafar, a Palestinian rapper, screenwriter, and social activist, is spearheading a unique video campaign entitled "'Men' Talk," giving voice to Arab men living in Israel to speak out against the gender-based violence in their communities.
The goal of the campaign is to bring awareness to and discourage violence against women. So far, in 2021 alone, Israel has seen about 100 murders in the Arab sector. A third of them were women.
The video features Nafar alongside social worker and therapist Ibrahim Agbaria and social activist Fadi Elobra. The trio share their own perspectives on masculinity, patriarchy, and violence, and what they believe should be done to prevent violence against women in Palestinian society on a political, social, and interpersonal level.
"The important thing is it doesn't remain secret, hidden inside the home or when the police get involved, unfortunately," says Agbaria. "But sometimes, prison is a chance for positive change."
The campaign was produced by Itach-Ma-aki, Women Lawyers for Social Justice, and released on October 6.
Source: JERUSALEM POST
https://www.jpost.com/israel-news/arab-israeli-men-speak-out-on-domestic-violence-and-masculinity-681537
---------
Prestigious Women In Leadership Award Honours Sterling Pakistan Women In 21 Categories
Tribune Desk
October 9th, 2021
The highly acclaimed and prestigious Women in Leadership (WIL) has honoured the most inspiring female professionals of the country at the 6th edition of the 'Inspiring Women Award'.
The 6th Inspiring Women Award recognized - the leaders of tomorrow, inspiring female professionals, and changemakers of Bangladesh. In doing so, the accolade seeks to inspire women of Bangladesh to take charge and unlock their potential.
Speaking on the occasion, the President of WIL, Nazia Andaleeb Preema said: "Inspiring Women Award helps women in the fight of leadership- both inside and outside the professional world. It is not easy to be a woman, but it is easy to be an inspiring one."
During the welcoming speech, Shariful Islam, founder and managing director of Bangladesh Brand Forum mentioned: "As men no matter how much, we try to understand a woman's journey it is really difficult to comprehend, especially in Bangladesh as one of the most underutilized resources in Bangladesh is indeed women's participation".
This year, the esteemed accolade received an overwhelming number of nominations from across the country. A total of 350+ entries were received from 125+ organizations under 21 categories. Three jury panels, consisting of experts and renowned professionals selected the winners and awarded them in two levels – Honorable Mentions and Winners.
While explaining the rigorous jury process of Inspiring Women Awards, one of the prominent jurors from the jury panel, M Zulfiquar Hussain, CEO and lead consultant at Grow n Excel, said: "As jurors, we scrutinized each and every application through the comprehensive review system. It's disappointing that in the entry levels we still see women are still underrepresented in almost all job sectors although we all have a talent to build a sustainable Bangladesh."
The Inspiring Women Award was first given in the year 2014 and since then the underlying message of the Inspiring Women's Award is to officially recognize women's efforts in the growth of the country; to empower women professionals and create role models in society (at both individual and the organizational levels).
The Strategic partners were Bangladesh Creative Forum (BCF) and Colours FM 101.6, Technology partner – Aamra, PR partner – Backpage PR and Web solution partner – Exsentra, Concept by Preema Arte Foundation. The event was organized by Bangladesh Brand Forum.
Source: Dhaka Tribune
https://www.dhakatribune.com/business/2021/10/09/the-6th-inspiring-women-award-honours-sterling-women-in-21-catergories
---------
Amun Mustafiz joins BAT Bangladesh as first ever Bangladeshi female finance director
10 October, 2021
Amun Mustafiz has joined BAT Bangladesh Leadership team as finance director, making her the first-ever Bangladeshi female in that position in the company's history.
During her 16 years' career at BAT, she has served in various management and leadership roles in Bangladesh, Japan & Sri Lanka.
Most recently, she completed a successful stint as Head of Finance, Global Travel Retail, based in Hong Kong, said a press release.
Amun completed her Bachelor of Business Administration (BBA) degree from the Institute of Business Administration (IBA), University of Dhaka. She is an active member of the Association of Chartered Certified Accountants (ACCA) in the United Kingdom.
Amun stated in a message "I am delighted to be a part of BAT Bangladesh's Leadership Team. For me, contributing to society is as important as enhancing shareholder value to build a better tomorrow for BAT."
While most comments will be posted if they are on-topic and not abusive, moderation decisions are subjective. Published comments are readers' own views and The Business Standard does not endorse any of the readers' comments.
Source: TB News
https://www.tbsnews.net/economy/corporates/amun-mustafiz-joins-bat-bangladesh-first-ever-bangladeshi-female-finance-director
----------
How international organisations are failing Afghan women
Se-Woong Koo
9 Oct 2021
On August 30, just one day before the American deadline for withdrawal from Afghanistan, I messaged Parwana (not her real name) on WhatsApp to see how she was doing.
"No help for now … but we are good so far. I can at least move around with a proper hijab and a mahram [a male family member as a chaperone]," she replied with a hint of resignation.
Parwana had been due to leave on a plane out of Kabul airport in the last days of Western evacuation efforts, but a last-minute glitch prevented her departure. Young, educated and employed by a high-profile international organisation, she was not alone in her situation. I was receiving hundreds of messages from Afghan women like her, all fearing for their future and desperately seeking to escape Taliban-controlled Afghanistan.
Since the Taliban entered Kabul on August 15, I have been leading a volunteer initiative consisting of more than 200 members to help young Afghan women and their families. The idea emerged after a few other former faculty members of the Asian University for Women (AUW) in Bangladesh, where many Afghan women have graduated, and I decided to attempt to assist some 180 Afghan students and alumnae who wanted to flee. Since we launched the effort, I have been in contact with other Afghans desperate to leave as well.
Before the August 31 deadline, Western governments flew out a significant number of Afghans and foreign nationals – more than 114,000 in fact.
But even now, numerous people from various backgrounds are continuing private efforts to evacuate more, out of frustration that the official "West" has failed in its duty to rescue those who deserve to leave Afghanistan. Many of the unlucky are Afghan women who write countless emails and WhatsApp messages to Western governments and organisations that tout how keen they are to help Afghan women. The answer, though, is often silence. Despair reigns among the forgotten.
Typical is the situation of Farzana (she asked me not to use her last name), who, like many Afghans, is in limbo. An employee of the large German NGO Welthungerhilfe (WHH), she reached out to me through her sister who knows me. Afraid for her life, Farzana said she had asked Welthungerhilfe for evacuation in mid-August and received no update for two weeks.
On September 1, I felt compelled to write an urgent message to the WHH human resources office on her behalf and received a reply one week later, on September 7, asking for a document that "proves [Farzana's] employment" at WHH, as if they had no record of who was working for them in Afghanistan. Germany had announced on August 16 that it was evacuating 500 Afghan employees of "NGOs like Welthungerhilfe" but obviously WHH never got the message across to people like Farzana.
After my email request, WHH referred her to the German government for special visa approval, but without any instruction as to how she might reach the nearest German diplomatic mission that would stamp her passport. Despite the grand claim by German foreign minister Heiko Maas on August 30 that Uzbekistan will allow entry to Afghans bound for Germany, Farzana told me the German embassy in Qatar replied to her email on September 13 that Berlin is, in fact, still only "endeavouring to make arrangements with Afghanistan's neighbouring countries". She remains in Kabul, unable to decide what to do next.
This kind of slow bureaucratic hell without end is killing many Afghans who have had close connections to the West, not physically as the Taliban might, but slowly with anxiety from within. They live each day in agony as they struggle to accept the hard reality: that it might be better to make other plans than to keep on waiting for the promised help that never comes.
The official escape options for the remaining Afghans have been tragically flawed, bordering on the absurd. In mid-August, both the United Kingdom and Canada heralded resettlement schemes for Afghans to much fanfare. John, a British volunteer with our group, however, spent a day and a half trying to get through the UK government's special hotline for Afghan refugees, only to reach a pre-recorded message that the phone number was not actually intended for Afghan refugees. One media report about the same hotline claimed that some callers were even redirected to a washing machine company.
As for Canada, a government source told us a week after the much-publicised announcement about taking in 20,000 "vulnerable Afghans" that the press release preceded actual planning so there were no clear details to be shared at all.
On August 17, India also made a big deal of offering a special "e-Emergency X-Misc Visa" to Afghans. That sounded lovely, except not a single Afghan I know has received it after applying. In fact, Indian outlet The Wire reported that the number of Afghans who have succeeded in getting this special visa was "none to negligible".
The US also announced a special immigrant visa (SIV) or priority designations as refugees for Afghans, but it seems only those who have already escaped the country would benefit immediately. Even back in June 2020, an internal report of the US State Department estimated the average wait time for an SIV application from an Afghan as "480 days". And the processing for one of these "priority designations" does not actually start until the applicant is outside Afghanistan.
Zahra (not her real name) was lucky to be in India with her husband on medical visit visas before Kabul fell and to be able to stay through the ongoing turmoil. She qualifies for a Priority 2 refugee designation from the US State Department but needs a referral from her US-based NGO employer, which so far has been stonewalling her request (they even told her outright to stop contacting them). She asked me not to name this employer for fear that they might punish her with an even longer delay if she goes public.
Not that it seems to make a difference if one keeps quiet: plenty of Afghan women contact me to say their email requests to Western employers for help are routinely being ignored.
The usual self-aggrandising mission statements in the international development sector about helping people build better lives or shaping a better world do not seem to apply with any urgency when it comes to the situation of local Afghan employees. One can hardly believe these organisations actually help anyone when they cannot even help their own workers.
The United Nations, whose mission is to respond on the ground to such crises, has not been that effective, either. Families we were in contact with who crossed into Pakistan's Balochistan province in late August told us that they discovered the local UN Refugee Agency (UNHCR) office in Quetta closed for an unspecified reason. Quetta is the first major city on the route into Pakistan from the Spin Boldak-Chaman crossing and it makes little sense that this Afghan refugee hotspot has no functioning UNHCR office to do refugee registration, but several other Afghans also reported early in September that they could not access UNHCR's Quetta office services.
A local contact told me that the UN likely caved in to "political pressure" from the Pakistani government, which is wary of too many Afghans arriving and which has already started deporting Afghans that it deems had entered the country "illegally".
This, though, does not stop UNHCR or other UN branches for that matter from using the Afghan crisis for fundraising. "UNHCR is on the ground to provide lifesaving care and protection to families in need of help." Maybe it does, but not so eagerly in Quetta, it seems. I ranted about the situation to a longtime UN employee friend, and she did not sound the least bit surprised. "That's why I say, do not give money to the UN. It is worse than wasting it," she sighed.
I am not arguing here that the West needs to save anyone and everyone who wants to leave Afghanistan, but only that it should do right by those who meet its own criteria for urgent help, not least educated women.
Although 148 of its Afghan students and alumnae managed to leave Kabul on two of the last American evacuation flights, the university's boastful assertion about the rescue makes no mention of the fact that some two dozen are still in Afghanistan and yet more are in surrounding countries. They all face a myriad of dangers for reasons ranging from having a woman's rights activist as a mother to being without a stable legal status, and they do not want the world to forget them, even if the university seems to have done so already.
Among them, Somaya Ahmady was spending her dwindling funds on a hotel stay in Kabul before moving into a rented room at our suggestion to save on expenses. Her home is in the faraway city of Herat, and she told me a distant relative who joined the Taliban was forcing her to marry him so she ran away with her mother's blessing.
"I worked hard to reach my goals through higher education. Now I have no hope to continue. The only plan is to find a way to run away from Afghanistan so I can [stay] alive," she said.
AUW, whose chancellor is former UK prime minister Tony Blair's wife Cherie Blair, gave them no formal update for almost a month and did not answer their emails, the group in Afghanistan told me. Finally, on September 24, the university held a Zoom meeting with them, only to say they should wait "a couple of months", offering no exact timeline. That is to be expected. It is just another international institution that is failing to look out for all the Afghan women in its care.
Source: Al Jazeera
https://www.aljazeera.com/opinions/2021/10/9/how-international-organisations-are-failing-afghan-women
----------
URL: https://www.newageislam.com/islam-women-feminism/afghan-female-footballers-uk-/d/125547
New Age Islam, Islam Online, Islamic Website, African Muslim News, Arab World News, South Asia News, Indian Muslim News, World Muslim News, Women in Islam, Islamic Feminism, Arab Women, Women In Arab, Islamophobia in America, Muslim Women in West, Islam Women and Feminism