New Age Islam News Bureau
10 Aug 2018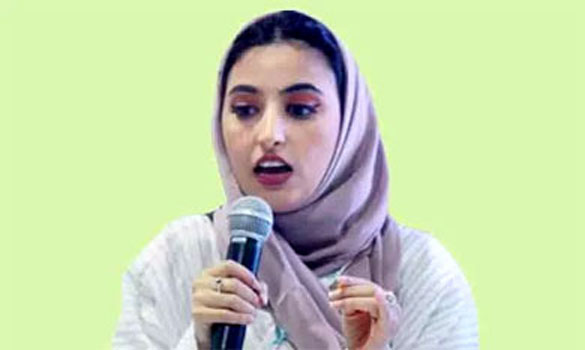 At the Google Community Space in San Francisco, two companies joined forces on Tuesday to encourage women-led start-ups from Saudi Arabia to Silicon Valley.
-----
• Girl Tops Afghan's Varsity Entry Test Results, Vows to Fight for Gender Equity
• Mumbai: NGO Seeks Hostel for Muslim Girls
• Silicon Valley Sets Out a Path for Saudi Women High-Flyers
• Instant Triple Talaq Outlawed But Triple Talaq Still Valid, Here Is the Difference
• Nida Khan, Farhat Naqvi Are Filing Fake Cases of Talaq and Halala, Using Muslim Women for Political Gains
• Anti-Triple Talaq Crusader Nida Khan to Join BJP
• Syrian Women Face Heat, Harassment While Picking Jordan's Crops
Compiled by New Age Islam News Bureau
URL: https://www.newageislam.com/islam-women-feminism/uk-100-muslim-women-seek/d/116095
--------
UK: 100 Muslim Women Seek Johnson's Ouster from Tories
09 Aug 2018
By Muhammad Mussa I Anadolu
LONDON: 100 Muslim women who wear the niqab or burqa have written to Brandon Lewis, chairman of the Conservative Party, demanding that Boris Johnson be kicked out of the party.
The letter, revealed by Sky News, says that an apology by the former foreign secretary would be insufficient and that more should be done to prevent others in the party from following suit.
"We speak as free women who are able to speak for ourselves and make our own choices," the signers said.
"Our decision to wear the niqab or burqa is not an easy one, especially given the hate that many of us experience on a regular basis. Nevertheless we do so because we believe it is a means to get closer to God," it added.
The women also stressed that "contrary to what you may have been told by sections of the media and columnists who profess to know what is best for us," Muslim women are not forced to wear the niqab or burqa, nor are they oppressed.
The letter also said that Johnson's choice of Islamophobic words was deliberate and "was made to inflame tensions in a way that makes it easier for bigots to justify hate crime against us," adding further support to Tory peer Lord Sheik's request that Johnson lose the party whip, meaning he would no longer represent the party.
The women said that although their rights as "equal citizens" may be debated in society, the vile language used by Johnson has lasting consequences and is never acceptable.
The letter mentioned the women's willingness to speak to members of parliament to share their experiences of what it is like for a Muslim woman to wear the niqab or burqa and debunk the lies that have been spread about them.
Johnson came under fire after writing a newspaper op-ed comparing Muslim women who wear the niqab to bank robbers and letterboxes.
He now faces an investigation by an independent panel that his comments breached the Tory party's code of conduct.
Senior figures such as Chairman Lewis and Prime Minister Theresa May have called on Johnson to apologize, and Muslim advocacy groups such as the Muslim Council of Britain have called for more action to be taken against Islamophobia in the Conservative Party.
https://thepeninsulaqatar.com/article/09/08/2018/UK-100-Muslim-women-seek-Johnson-s-ouster-from-Tories
--------
Girl Tops Afghan's Varsity Entry Test Results, Vows to Fight for Gender Equity
2018-08-09
KABUL, Aug. 9 (Xinhua) -- "No doubt, achieving success for a woman in a patriarchal society is difficult but not impossible. I believe in the goal of gender equity and I am sure that the hard work of talented girls would ensure achieving this goal one day in Afghanistan," Tahmina Payenda told Xinhua.
The talented girl from Kabul, Tahmina Payenda, who secured the first position from among the 158,000 students at the university entrance exam this year, said proudly, "Girls can be more talented than boys and securing the high score by me at the varsity entrance test is proof of this fact."
A total of 165,698 hopeful Afghans had registered to pass the university entry test early this year and out of the 158,589 who took the exam a couple of months ago, more than 60,000 hopefuls qualified to enroll in state-run universities and higher education institutions.
Feeling a great sense of achievement, Tahmina, who graduated from Afghan-Turk High School, a private educational center, early this year, said "her hard work combined with the support of her parents" paved the way for her success to top all the contesters at the varsity entry test this year.
Wearing a scarf to show her respect to Islamic values and Afghan traditions, and believing in gender equity, Payenda said softly that she never regards women as second-class citizens in the patriarchal Afghan society where misogyny is common.
"I have never believed that the girls have less intelligence than boys," said the brave girl.
"The girls can become more talented than the boys if the environment allows them to get an education," she added.
In the insurgency-plagued Afghanistan many parents believe in old traditions that are against women's education and don't send their girls to school.
Nevertheless, Payenda's achievement in the Afghan varsity's entry exam has been widely welcomed and appreciated by her fellow Afghans.
Afghan Minister for Higher Education Najibullah Khawja Omari, while announcing the varsity entry test results on Wednesday, said "I declare with pride that a girl Tahmina Payenda by securing 353 out of 360 marks has topped all students" this year.
Congratulating Payenda over her success and commending her talent for securing first position at the varsity entrance exam to enroll in the Kabul medical academy, Omari also called upon other girls to follow suit.
Omari praised Payenda's success as a stride towards enhancing women's education in the male-dominated country where many families especially in the countryside oppose education for girls, and wished a bright future for Payenda and her fellow girls by extending his congratulations.
"Tahmina Payenda's success today, is the result of her hard work in the past. Besides congratulating her, I wish her more success in the future and hope she can play a proactive role for ensuring gender equity in future," Payenda's classmate Hadia told Xinhua.
Supporting education for girls, Payenda's father Abdul Sabour who is an engineer by profession commended his daughter for her hard work and advocated for girls' education, stressing that all barriers should be removed to facilitate girls going to school.
"In my opinion all boys and girls are equally talented and therefore gender discrimination should be removed in Afghanistan to ensure equity," Payenda said.
http://www.xinhuanet.com/english/2018-08/09/c_137379259.htm
--------
Mumbai: NGO Seeks Hostel for Muslim Girls
Aug 10, 2018
MUMBAI: Days after a Muslim group demanded a plot on Waqf land for an Islamic Culture Centre in the city, another Muslim NGO has written to the collector demanding a hostel for Muslim girls.
In his letter to Mumbai collector Shivaji Jandhale, the All India Milli Council (Maharashtra) general secretary M A Khalid has said many talented Muslim girl students are unable to compete in competitive exams like NEET, AIIMS and the civil services because they don't have a proper place to stay.
In a report on July 31 (Fewer girls pursuing MBBS. Blame NEET), TOI had highlighted the gender gap in medical colleges across the state this year.
The report attributed it to the rigorous training required for NEET and the reluctance of parents to send their girls coaching hubs away from their homes at the reason.
"Many talented Muslim girl students in Maharashtra want to come to Mumbai, join coaching institutes and prepare for entrance exams for IIT, NEET (Medical) and other professional courses, but are discouraged by the lack of accomodation. Most parents are reluctant to send their daughters to private residential coaching centres as they cannot afford the high fees," reads Khalid's letter.
Khalid and former MLA Sohail Lokhandwala who also met the collector suggested a vacant government plot at Agripada where the Urdu Bhavan is proposed to be built. "The plot is big enough to accommodate both the Urdu Bhavan and girls' hostel," said Lokhandwala. "The collector has promised to look into it," said Khalid.
https://timesofindia.indiatimes.com/city/mumbai/mumbai-ngo-seeks-hostel-for-muslim-girls/articleshow/65346192.cms
--------
Silicon Valley sets out a path for Saudi women high-flyers
August 09, 2018
JEDDAH: At the Google Community Space in San Francisco, two companies joined forces on Tuesday to encourage women-led start-ups from Saudi Arabia to Silicon Valley.
Invested, a women and business empowerment event to inspire and equip the next generation of female leaders, was co-organized by Spark, the Bay Area's largest community of young philanthropists working for gender equality, and Blossom, the first Jeddah-based accelerator to focus on women-led technology startups in Saudi Arabia
"Female founders received only 2 percent of venture capital (VC) dollars in 2017, and only 9 percent of US VCs are women" said Amanda Brock, Spark's executive director.
Invested set out to give Saudi students across California access to the tools, networks and resources that would help them succeed with their big ideas.
"I remember one of the first and best ways I learned about entrepreneurship was through an event in California. It was the best event of my life. It changed everything for me." said Emon Shakoor, CEO and founder of Blossom.
Students at Invested met and heard directly from women who have been changing entrepreneurship globally.
"Invested had dynamic, educational and confidence-boosting TED-style talks, mentorship from leaders in the field, and strategic networking activities with founders, funders, tech giants, leading accelerators and incubators from Silicon Valley and the Arab world," Shakoor said.
Speakers included Caitlin Crosby, founder and CEO of the Giving Keys; Shannon Spanhake, founder and CEO of Cleo; Brittany Davis, director of Deal Flow at Backstage Capital; Abdulrahman Al-Turjuman, section head of marketing at Sedco Holding; and Tasneem Sabri, co-founder of Vela and senior program manager at TechWadi.
"What I wanted every Saudi student studying abroad to know is that working hard and studying in college is not enough," Shakoor said. "Your network is your empire. Invest in your mind because no one can take that away from you."
Blossom also launched a promotional campaign for the event with dozens of women interviewed across Saudi Arabia sharing their stories of success and encouraging other Saudi women to push for job creation in the Kingdom.
Sponsors for the event included Silicon Valley Bank, Nour Nouf, Sedco Holding's Rowad Riyali, Beauti, Saudis in USA and Destination Jeddah.
"Today, 70 percent of Saudi Arabia's population is under the age of 34. There are more Saudi women graduating from college, more Saudi women starting businesses, and research shows that the most successful companies have at least one woman founder on the team," Shakoor said.
"So this year Saudi women are not only driving cars, they are also driving economies and paving the way for Saudi Arabia's future.
"As one of the youngest Saudi entrepreneurs in the Kingdom, my advice to the youth is to start now, start young."
http://www.arabnews.com/node/1353746/saudi-arabia
--------
Instant Triple Talaq Outlawed But Triple Talaq Still Valid, Here Is the Difference
Prabhash K Dutta
August 10, 2018
The Supreme Court in August 2017 declared Talaq-e-Biddat unconstitutional and not an essential part of Islam. But triple Talaq was not banned. It is still legal and valid. The Muslim Women Protection of Rights on Marriage Bill is a follow up by the government of the Supreme Court judgment.
So, what is the difference?
Instant triple talaq is supposed to have been pronounced by a Muslim man upon his wife if he spells out the word 'talaq' (meaning divorce) three times in one instance. The pronouncement has to come in one sitting. It was in practice for long in India. With the advent of telecom technology, many Muslim men took advantage and uttered talaq three times in one go over phone to divorce their wives.
When mobile phones came in, some went a step further and simply typed word 'talaq' three times, sent the text message to their wives and claimed to have divorced the women they had been married to.
Emails, Skype, Facebook and WhatsApp messages also became the media for willing Muslim men to divorce their wives without facing them.
The practice of instant triple talaq got justification from some Islamic clerics and jurists, who declared it as a valid form of divorce with immediate effect. They called it irrevocable.
These Islamic jurists made instant triple talaq so rigid that even if a man regretted uttering the word 'talaq' three times in one go and wished to go back to his wife, he was not allowed to do so. They insisted on going through nikah halala.
Nikah halaka translates into the woman first marrying another man, consummate the marriage and then secure divorce from her husband. Her new husband has to be agreeable.
After securing divorce from her new husband, the woman is required to wait for a period of three months, called iddat. Only after expiry of the period of iddat can woman become "pure" and thus eligible for remarriage.
However, many other Islamic jurists have condemned instant triple talaq saying that the practice does not have sanction of Quran and Hadith (sayings of Prophet Mohammad). Instant triple is banned in a number of Islamic countries.
What is triple talaq then?
Triple talaq is called talaq-ul sunnat under Islamic law. It has the sanction of Islam and is more accepted non-statutory form of divorce among Muslims.
A valid divorce through triple talaq follows an elaborate process of separation of man and wife under Islam. The word 'talaq' is uttered three times but not in one sitting. If a man willing to divorce his wife spells talaq once, he cannot spell it again to his wife until the next lunar cycle starts.
The woman has, meanwhile, to prepare herself for the three-month 'iddat' period - technically three menstrual cycles or roughly three months.
During this period of iddat, the man has the right to change his mind or reconciliate with his wife. At the expiry of the period of iddat the man pronounces the word talaq third time and divorce is complete.
Divorce is considered complete even if the man does not spell the word 'talaq' for the third time provided he does not revoke talaq after iddat expressly or by consummation. Now duly pronounced triple talaq is final and irrevocable.
Women too can divorce their husbands.
Another difference between instant triple talaq and triple talaq lies in the right available to women. As per the illegal practice of instant triple talaq, a Muslim woman does not have the right to divorce her husband.
But as per valid laws of divorce under Islam, a woman has the option of asking for khula.
A woman is allowed to ask for 'khula' if she feels that the marriage has broken beyond redemption. Using this option, she can divorce her husband by returning the mehr (dower) that she received from her husband.
The Supreme Court order was hailed by many to have restored the originality of divorce law as sanctioned under Islam. The amended Muslim Women Protection of Rights on Marriage Bill has flowed from the same Supreme Court judgment.
The Bill is the second attempt of the government to legislate upon the Supreme Court ruling on triple talaq. It had brought the Bill in the Lok Sabha in December last year. It has enjoyed majority in the Lok Sabha and got the Bill passed in the house.
The Rajya Sabha, then dominated by Congress-led Opposition, proved to be too big a stumbling block to jump over. Under Opposition's demand, the government relented and brought three key amendments. Now, the Bill is likely to become law making instant triple talaq a criminal offence.
https://www.indiatoday.in/india/story/talaq-e-biddat-triple-talaq-1310626-2018-08-10
--------
Nida Khan, Farhat Naqvi Are Filing Fake Cases of Talaq and Halala, Using Muslim Women for Political Gains
August 10, 2018
Bareilly: President Sab Ka Haq Foundation Rafia Shabnam organised a press conference and said that Nida Khan and Farhat Naqvi are filing fake cases of talaq and halala for political gains. They are moving to the officers with false cases.
Rafia told that there are not more than 10 pc talaq cases in Muslim society. In other words, 90 pc of Muslim women are not divorced and those 90 pc are happy in their houses with shariah.
Referring to Nida Khan and Farhat Naqvi, Rafia Shabnam said, such women can go to any extent for cheap publicity. Rafia Shabnam appealed to Muslim women to keep a distance from such women. If they are victimized they can take help of police or court instead of getting prey to such people who use them for political gain, suggested Shabnam.
The press conference was also attended by Ravindra Sahara, Sartaj Alvi, Jagpal Singh Yadav, Rina Khan, Asia, Patel etc.
https://www.siasat.com/news/nida-khan-farhat-naqvi-are-using-muslim-women-political-gains-1390499/
--------
Anti-Triple Talaq Crusader Nida Khan to Join BJP
Aug 9, 2018
BAREILLY: Putting speculations to rest, Nida Khan on Thursday said that she will join the BJP to seek justice for victims of triple talaq, nikah halala and polygamy. Twenty four-year-old Khan grabbed national headlines recently after a cleric associated with the influential Dargah Aala Hazrat issued a fatwa to socially boycott her. A triple talaq victim herself, Khan has been running an NGO for women who have been given instant divorce or made to undergo nikah halala.
"I have been fighting against triple talaq, nikah halala and polygamy at the district level and realised that every second family has a victim. After joining the BJP, I will be able to raise these issues at the national level and fight to get justice for victims like me. The party is yet to inform me when and where my joining would take place," she told TOI. The feisty woman had met Uttarakhand women and child welfare minister Rekha Arya in Dehradun on Tuesday. Her meeting had fuelled speculations about her joining the saffron party.
"I decided to join the BJP after a few leaders approached me. I will request the government to give compensation to women victims so that they are able to raise their children and fight legal battles in the court," she further said.
Uttarakhand minister Rekha Arya said, "My in-laws live in Bareilly and I am aware about her fight against triple talaq and nikah halala. She had come to Dehradun and met Uttarakhand BJP chief Ajay Bhatt and me. Khan wants to become part of BJP's campaign to help victims of instant divorce and seek justice for them. The party high command will decide whether her joining will take place in New Delhi, Uttarakhand or in Uttar Pradesh."
Khan was given triple talaq by Sheeran Raza, who belongs to the family of the head of Aala Hazrat, in 2016. She had contested it in the civil court, which had declared the instant divorce invalid. She had also alleged that she suffered a miscarriage after being allegedly assaulted by her husband in 2015.
https://timesofindia.indiatimes.com/city/bareilly/bareilly-anti-triple-talaq-crusader-nida-khan-to-join-bjp/articleshow/65345226.cms
--------
Syrian women face heat, harassment while picking Jordan's crops
Daniela Sala
August 9, 2018
MAFRAQ, Jordan — When her 12-year-old daughter Uala started bleeding, Siam thought it was her period. But after 45 days, it was clear something was wrong with her. It was August 2017, and Siam and her daughter were working in a greenhouse in one of the hundreds of farms in the Mafraq area of northern Jordan. In summer, temperatures reach 35 or 40 degrees Celsius (95 to 104 degrees Fahrenheit), usually 10 more inside the greenhouse.
Siam is from Aleppo. Five years ago she had no choice but to join her husband, who had already been working in Mafraq since 2005. Over the past few years, Syrian women picking tomatoes or cucumbers have become a common sight in the fields of Badia Shmali, as this area is called.
The pay for Syrians is the same anywhere: 1 Jordanian dinar ($1.41) per hour, pushing entire families, children included, to work 10 to 12 hours a day, depending on the weather.
"At first it was very hard. My husband and I cried when we had to send our 11-year-old daughter to work," Siam told Al-Monitor. But going back to Syria was not an option. Siam ended up marrying off her eldest daughter last year when she turned 15 so that she could stop working in the fields. It was Uala's turn to replace her, at least until last year.
After 45 days of bleeding, Siam took her daughter Uala to the hospital in Mafraq. The doctor told her she had probably gotten sick due to the heat in the greenhouse. But Siam could not afford the tests the doctor recommended, so they still do not know what's wrong. Siam lives with her family in a tent 10 minutes from the farm where she works with her daughters and relatives. Fearing for her health, she decided not to send Uala back to work this summer. She had no choice but to send her younger sister, who is turning 12 this year, instead.
Every day at dawn, a car picks them all up from the makeshift camp where they live and take them to Abu Hamza's farm. Their faces covered in scarves as protection from the dust, the group of women aged 15 to 50 works bare-handed or in ripped rubber gloves, hunched over in the sun.
Every summer, Abu Hamza employs around 100 workers. "All of them are Syrian, and 70% of them are women. I prefer working with women because they complain less and make less trouble," he told Al-Monitor while supervising a group of workers weeding a tomato field.
Syrian workers are also cheaper than Egyptians, he said. When Jordan's Labor Ministry began to grant Syrian refugees work permits at the end of 2016, it also tightened restrictions on Egyptian workers that made it more convenient for farmers to hire Syrians.
As a result of the 2016 agreement between the European Union and Jordan – known as the Jordan Compact — the Labor Ministry made it easier also for agricultural workers to get permits. But despite those efforts, all the women Al-Monitor spoke to were working without permits. Most of them claimed to have a good relationship with their employer, but if problems arise they are unlikely to file a complaint for fear of retaliation.
Little official data is available. The International Labor Organization (ILO) estimates that around 4%-5% of the Syrians working in Jordan are employed in agriculture. "Compared to construction or other sectors, it is not so many, but conditions are particularly tough and concerning," Maha Katta, ILO's coordinator for response to the Syrian refugee crisis, told Al-Monitor.
Director of the Jordanian nongovernmental organization Tamkeen Linda al-Kalash told Al-Monitor that around 20,000 Syrians, mainly women, work between Mafraq and the Jordan Valley. The estimate falls far short of the 31,074 work permits issued so far by the Ministry of Labor to Syrians in the agriculture sector. The reason is simple: "Syrians got the agriculture permit because it was the easiest to get, but then they work in different sectors," Katta said.
ILO recently conducted a survey among 1,400 Syrian agricultural workers, Katta said. "Our main concern is child labor. Most of the families work as a group, 60% of them live in tents and most of the children do not go to school."
According to Katta, the situation is a vicious cycle: The war in Syria and turmoil in Iraq have made exporting produce uncertain, hitting farmers hard. At the moment the sector attracts mainly unskilled workers. But it has a great potential. "Investments are needed to make it more efficient and profitable, and to preserve water. The problem is that international donors are not willing to invest in a sector where labor exploitation is such a severe concern," Katta said.
Gender-based violence is also a problem. Jordan has the highest rate of female participation in agriculture in the MENA region, according to the UN's Food and Agriculture Organization. Tamkeen puts it around 75% and says it is likely to increase.
Recently, Tamkeen has been conducting focus groups with Syrians working in agriculture. But women very rarely speak up. "During awareness sessions, sometimes women noted, though vaguely, unwanted verbal attention or touching from the owner or co-workers," Hanan, a Syrian community facilitator working with Tamkeen in Jerash, told Al-Monitor. But most of the time, they say nothing for fear of shame or worse: honor killing, added Bader, a Jordanian facilitator.
When asked if she was worried by men's behavior toward her 13-year-old daughter, Siam lowered her voice and said that yes she is, because her daughter is so young. She had heard things elsewhere, she said, but believes there is no problem on the farm where they work. Anyway, they have no choice.
https://www.al-monitor.com/pulse/originals/2018/08/jordan-syrian-refugees-women-agriculture.html
--------
URL: https://www.newageislam.com/islam-women-feminism/uk-100-muslim-women-seek/d/116095
New Age Islam, Islam Online, Islamic Website, African Muslim News, Arab World News, South Asia News, Indian Muslim News, World Muslim News, Women in Islam, Islamic Feminism, Arab Women, Women In Arab, Islamophobia in America, Muslim Women in West, Islam Women and Feminism