New Age Islam News Bureau
05 October 2021
• More Saudi Women Bypassing Legal Guardian Approval for Marriage
• Defying Taliban, Kabul Women Return To Work, School and the Streets
• Protests Get Harder For Afghan Women Amid Risks, Red Tape
• In A First after 2 Years, Iran Allows Female Fans to Enter Stadium for Match
• A Fourth-Grade Girl Moves Peshawar HC against Expulsion by Private School after Severe Corporal Punishment and Humiliation
• COVID-19 Left Women Delaying Vital Breast Cancer Screening, Treatment: UAE Experts
• Canada Was Warned By Afghan Women of Taliban Atrocities in June
• Indonesian Women in Australia Hold On To Faith, Community amid COVID-19
Compiled by New Age Islam News Bureau
URL: https://www.newageislam.com/islam-women-feminism/uber-saudi-women-drivers-female/d/125516
--------
Uber Reports A 50 Percent Year-On-Year Increase in Female Drivers in Saudi Arabia
October 04, 2021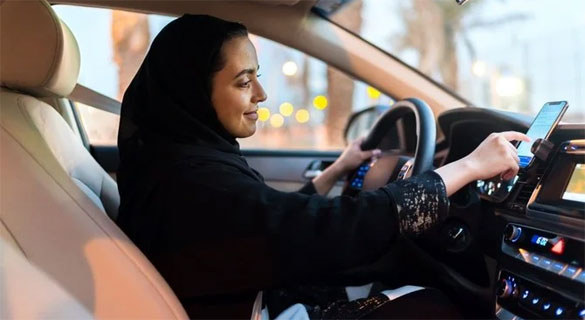 The company's 'Women Preferred View' means female drivers in the country are able to select women-only riders. Supplied
-------
RIYADH: Uber has revealed a 50 percent year-on-year increase in female drivers in Saudi Arabia working for the ride-hailing company.
The global firm has introduced country-specific policies to the Kingdom to encourage Saudi female drivers and female passengers to use the platform.
The company's "Women Preferred View" means female drivers in the country are able to select women-only riders.
The initiative, rolled out in 2020, not only saw a rise in women drivers, but also sparked a 79 percent year-on-year increase in the average weekly female trips taken in the Kingdom.
Mohammed Gazzaz, Uber's general manager in Saudi Arabia, hailed the success of the policy, and said: "We invested in months of research and focus groups to establish what really mattered to women in relation to transport and driving with confidence, and to help devise initiatives that would make a substantial difference to women's lives."
He added: "We support the goal of increasing female participation in the workforce by providing flexible economic opportunities and offering women affordable transport solutions to get to their places of work."
The company also launched another initiative, Masaruky, to support the ongoing government drive to empower Saudi women and help them contribute toward the development of the national economy.
Masaruky was launched with a SR1 million ($266,667) pledge, in partnership with Al-Nahda Foundation and the Saudi Driving School, to support women who wanted to obtain their driver's license but who lacked the means.
The program aims to increase female participation in the workforce through access to affordable transportation, in addition to increasing women's access to flexible economic opportunities through Uber technology, which more than 200,000 Saudis currently benefit from.
The main findings from an Uber-commissioned Ipsos poll found that 31 percent of those surveyed were interested in driving as an earnings opportunity, while 74 percent said they only wanted to carry women riders.
Source: Arab News
https://www.arabnews.com/node/1941251/business-economy
--------
More Saudi Women Bypassing Legal Guardian Approval for Marriage
Nada AlTaher
Oct 5, 2021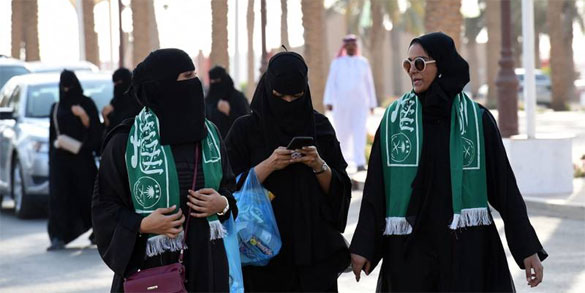 Saudi families arrive outside a stadium to attend an event in the capital Riyadh for national day celebrations, Saudi Arabia. AFP
-----
Automatic legal services are allowing hundreds of women in Saudi Arabia to file, argue and win court proceedings that grant them a judge's approval to bypass their guardian's consent for marriage.
"This is a transformation in what was a previously gruelling and stressful task for women whose fathers or brothers had unjustly objected to a potential spouse," Saudi lawyer Hazim Al Madani told The National.
"The court's new e-filing system allows women to make their case and get a ruling in a matter of months and sometimes a few days."
Although the Ministry of Justice does not publish exact figures on the number of cases involving bypassing guardian consent for a woman to marry, Mr Al Madani estimates hundreds of cases were filed electronically in the past year.
"Cases like these caused a great deal of psychological pressure on the women involved along the way because in the old system, it was up to them to inform a brother, father or legal guardian of the legal action being taken against them."
With new automation measures that notify defendants of summons or rulings, women no longer have to deliver the news, he said.
Saudi paper Okaz reported that nine cases were filed in courts across Jeddah, Makkah, Al Taif and Al Laith in the past 60 days.
Of those, three cases were settled and six were referred to court, taking an average of one or two sessions before a ruling was issued.
The coronavirus pandemic has also prompted hearings to be conducted virtually, allowing defendants and plaintiffs to make their legal arguments from home, without the need to be physically present at court.
Mr Al Madani says that while guardianship approval is a prerequisite for women's marriage in Islam, some guardians abuse the powers granted to them by the law.
"I had a 40-year-old Saudi client who wanted to get married to a non-Saudi dentist," he said. "Her family did not consent to that marriage simply because of the suitor's nationality. The religious text in this matter is clear in that the requirements for a good suitor should be based on religiosity and morals, no more."
In 2018, Saudi Arabia granted women the ability to work without getting permission from a legal guardian. This has given them the freedom to keep personal issues protected from scrutiny and abuse.
"Some fathers, brothers and even husbands demanded a portion or all the wages earned by the working women in their households and used that to maintain leverage over the women in their lives," Mr Al Madani said.
"Now that women are free to take decisions of employment into their own hands, they do not feel as obligated to divulge how much they earn or other details about their lives which could be held against them."
Under previous guardianship restrictions, a woman could find herself redundant because her guardian no longer approved of her employment.
"Imagine a surgeon or a professor being told she can no longer perform her duties because her father or brother informed the company that he does not want her working there anymore," Mr Al Madani said.
Increasingly, cases where a guardianship is stripped or bypassed for the unlawful obstruction of marriage have been making headlines in Saudi press.
Mr Al Madani said the select number of court proceedings published by the ministry on its website encourage women in similar situations to tackle their own issues through the legal system.
Source: The National News
https://www.thenationalnews.com/gulf-news/saudi-arabia/2021/10/05/more-saudi-women-bypassing-legal-guardian-approval-for-marriage/
--------
Defying Taliban, Kabul women return to work, school and the streets
October 05, 2021
KABUL -- A terrorist attack didn't stop Atifa Watanyar from teaching, but she worries the Taliban will.
A CNN field report says even before the militant group marched into Kabul, the English teacher felt intense uncertainty and heartache.
In early May, she was at the entrance of the Sayed Al-Shuhada school on the outskirts of the capital and saw an explosion in front of the main gate. As her students rushed past her, trying to escape onto the dusty yard below, a second and then a third bomb detonated, killing at least 85 people -- many of them teenage girls.
Just months later, Watanyar is standing at the very same entrance before her lesson begins. Young female students pour into the hallway, their voices echoing off a wall painted with a mural claiming "the future is brighter."
"What should we say? Every day I see Taliban in the streets. I'm afraid. I fear from these people a lot," she said.
In August, weeks after the school reopened, the Taliban swept to power and once again claimed Afghanistan as their Islamic Emirate.
A month later, the group effectively banned female students from secondary education, by ordering high schools to re-open only for boys. The group said it needed to set up a "secure transportation system," before girls grades six through twelve could return. But the Taliban gave a similar excuse when it came to power in 1996. Female students never went back to class during its five-year rule.
No longer able to teach her older students, Watanyar now focuses on the younger girls, making sure inside her classroom at least, there is still room to dream.
"What should we do, what should we do? It's just the thing that we can do for our children, for our daughters, for our girls," she said.
Sanam Bahnia, 16, who was injured in the terror attack, was brave enough to return to class.
"One of my classmates, who was killed, was someone who really worked hard in her studies -- when I heard that she was martyred, I felt that I must go back and study, for the peace of her soul, I must study and build my country, so that I can make their wishes and dreams come true," she said.
But Bahnia's ability to fulfill that pledge is in serious doubt. Now, prevented from attending school by the Taliban, she reads her textbook in the corner of her home. Her favorite subject is biology, but she says she no longer lets herself dream of becoming a dentist.
Her defiance in the face of multiple attacks on her future is taking its toll.
Her voice wavers as she begins to cry, saying: "The Taliban are the reason for my current state. My spirit is gone, my dreams are buried."
The Taliban's continued assault on women is visible across this city. Militants have in some instances ordered women to leave their workplaces, and when a group of women protested the announcement of the all-male government in Kabul, Taliban fighters beat them with whips and sticks.
On the streets of the Khair Khana neighborhood, in northwest Kabul, the consequences of a recent women's protest remain. At almost every beauty salon, images of women's faces have been defaced. Some were quickly spray painted black, others whitewashed completely.
Inside one of the salons, the women are too afraid to give their names. They say that the Taliban drove away the protesters, before telling them to remove the images of women, put on burqas and stay home.
Still, despite remarkable odds, Kabul's female activists continue to organize and demonstrate.
Last Thursday, just a handful of female protestors were met by an entire Taliban unit. Right as the women held up signs declaring, "Education is human identity" and "Do not burn our books, do not close our schools," military pickup trucks descended on their protest corner.
Taliban fighters ripped the signs out of their hands, as a mounted machine gun fired off a warning burst that sent spectators and journalists running.
The Taliban's head of intelligence services in Kabul, Mawlavi Nasratullah, said that the women didn't have permission to protest.
When asked by CNN's Clarissa Ward why a small group of women asking for their rights to be educated threatened him so much, Nasratullah responded: "I respect women, I respect women's rights. If I didn't support women's rights, you wouldn't be standing here."
But the violence repeated at other protests tells a different story.
"When you leave your house for a struggle, you consider everything," protest leader Sahar Sahil Nabizada said, adding that she's been threatened repeatedly but refuses to leave the country or stop organizing.
"It's possible that I die, it's possible I get wounded, and it's also possible I return home alive. However, if I, or two or three other women die or get injured, basically we accept risks in order to pave way for the generations to come, at least they will be proud of us," Nabizada said.
Most acts of daily defiance are smaller and less public, but just as important, activists say. More and more women are returning to Kabul's public spaces after staying inside during the initial first few uncertain weeks of Taliban rule.
Arzo Khaliqyar is one of those women who went back to work. The mother of five says she was forced to become a taxi driver when her husband was murdered a year ago. She says he left behind his white Toyota Corolla, a common car in Kabul, but little else.
But in the weeks since the Taliban came to power, driving has become increasingly difficult and she says she is routinely threatened. She's adapted by sticking to neighborhoods she knows and picking up mostly women and families.
"I know [the risks] very clearly but I have no other option," she said. "I have no other way. In some places where I see Taliban checkpoints, I will change my route. But I've accepted this risk for the sake of my children."
Source: Saudi Gazette
https://saudigazette.com.sa/article/611779/World/Asia/Defying-Taliban-Kabul-women-return-to-work-school-and-the-streets
--------
Protests Get Harder For Afghan Women Amid Risks, Red Tape
October 04, 2021
Women in Afghanistan who object to what the Taliban have said and done since returning to power are finding it harder to protest, now that impromptu demonstrations have been banned and previous rallies were broken up by gunfire and beatings.
Resistance within families and concerns over sharing information over social media that could identify people involved are also acting as deterrents, according to six female protesters Reuters spoke to across the country.
Sporadic demonstrations by women demanding that the Taliban respect their civil freedoms have been captured on social media, as have the sometimes violent responses, drawing the world's attention to issues of equality and human rights.
The last time the Taliban ruled in the 1990s, they banned women from work and girls from school, allowed women to leave their homes only when accompanied by a male relative and insisted that women wore all-enveloping burqas.
Those who broke the rules were sometimes whipped in public by the Islamist terrorists ' "moral police".
This time the Taliban are promising greater freedom for women, including in education and employment, in accordance with their interpretation of Islamic law.
Yet older girls are still not back at school, there are no women in senior positions in the new government, the Women's Ministry in Kabul has been shut and the Taliban have said women will only be allowed to work in a small number of jobs.
Women wanting to express their anger publicly are struggling to do so. Six who took part in demonstrations after the Taliban stormed to power on Aug. 15 said they had not done so since early September.
"We have a lot of plans to stage more protests, but unfortunately due to security concerns, we are not going out much right now," said Nasima Bakhtiary, a former commerce ministry worker in Kabul.
"We have seen so much harassment ... regarding our protests ... we have to be careful."
Earlier this month, the Taliban said protests were not banned, but that those wanting to hold demonstrations needed to seek prior permission and provide details of place, timings and slogans that would be chanted.
Taliban spokespeople did not respond to requests for comment for this story.
PROTESTS FADE
Based on interviews with organisers, social media posts and advocacy groups, Reuters counted seven significant women-led protests between Aug. 15, when the Taliban came to power, and Sept 8. when they made permission necessary.
Since Sept. 8, Reuters has counted one, on Sept. 19 outside the women's ministry building in Kabul after it was shut down. The sign outside has been switched to that of the Ministry for Promotion of Virtue and Prevention of Vice - the moral police.
Maryam Sadat, a 23-year-old law student and protest organiser in Kabul, said she and a small number of others had tried to stage a demonstration on Sept. 30, but it was dispersed by members of the Taliban.
Women have also been involved in broader protests, some of which have involved hundreds of people. Several people have been killed, some demonstrators have been beaten and the Taliban have fired warning shots in the air to disperse crowds.
The UN High Commissioner for Human Rights last month condemned the violence against protesters, including women.
"As Afghan women and men take to the streets during this time of great uncertainty in their country to press peacefully for their human rights to be respected ... it is crucial that those in power listen to their voices," it said.
Women like Taranom Seyedi said they were scared to continue to demonstrate.
The 34-year-old women's rights activist in Kabul who helped organise some of the protests there said she had received letters saying the Taliban had made a list of all the women who protested and would conduct house searches for them.
She does not know who sent the letters, but has erased protest-related content from her social media accounts as a precaution, and said others had done so too.
Sadat went further.
"Since my participation in the protest, I've had to relocate twice ... My family is terrified, and even my neighbours are concerned and urging me not to join."
Others spoke of pushback from those close to them, including Zulaikha Akrami, a 24-year-old international relations graduate who worked at a foreign non-profit organisation in the northeastern province of Badakhshan.
"My mother tried to threaten me not to go and said if you go, don't call me mother," said Akrami, referring to a demonstration she attended in Badakhshan on Sept. 8.
She said she recalled her younger brother telling her: "If they beat you to death, I won't be there to pick up your body off the street."
Source: ND TV
https://www.ndtv.com/world-news/protests-get-harder-for-afghan-women-amid-risks-red-tape-2563582
--------
In a first after 2 years, Iran allows female fans to enter stadium for match
Oct 04, 2021
Iran has permitted its women nationals to enter a stadium for the first time in two years to watch the national football team take on South Korea in a World Cup 2022 qualifier. "The presence of women has been authorized for the match between the national football teams of Iran and South Korea," AFP reported on Monday, citing the state-TV-linked Young Journalists Club. The match will be held at Azadi stadium on October 12.
The last time Iranian women were allowed to attend a football match was in 2019 when Iran won a match against Cambodia with a score of 14-0. As many as 3,500 women were able to watch the match in 2019 in the 80,000-seat Azadi stadium.
There has been a year-long prohibition on supporters' attendance at stadiums regardless of gender due to the ongoing coronavirus pandemic (Covid-19). However, female audiences have always been capped by the country's government, AFP reported.
In 2019 when Iranian women took to the Azadi stadium as supporters, it was a scene of exuberance with visuals showing elated fans cheering for their national team.
The ban on women supporters was imposed in 1979 after Iran's Islamic revolution wherein Muslim clerics stated that women must be protected from masculine environment, inappropriate male behaviour and images of semi-robed men. However, it is not written into law or regulations, according to FP.
On the road to the FIFA World Cup 2022 in Qatar – the first time the event is being held in an Arab nation, FIFA has reportedly come down heavily on Iran for its hardline conservative views. This was presumably the reason behind the country allowing female fans to attend the Iran versus Cambodia match in 2019, although the Iran government dismissed the report. The government had instead stated that the decision was triggered due to "internal social demands and government's support of those demands," AFP had reported.
Source: Hindustan Times
https://www.hindustantimes.com/world-news/in-a-first-after-2-years-iran-allows-female-fans-to-enter-stadium-for-match-101633361098115.html
--------
A Fourth-Grade Girl Moves Peshawar HC against Expulsion by Private School after Severe Corporal Punishment and Humiliation
October 5, 2021
PESHAWAR: A fourth-grade girl has moved the Peshawar High Court against her expulsion by a private school in Mardan district after allegedly subjecting her to severe corporal punishment and humiliation by a senior teacher there.
The petition filed on behalf of schoolgirl Ansa Khan by her mother, Seema Gul, requested the court to declare her expulsion by the Mardan Model School and College illegal and order her re-enrolment.
The petitioner said her daughter, an orphan, shouldn'tbe victimised.
She also requested the court to grant the girl the interim relief of re-enrolment in that school until the disposal of the petition.
Also complains about corporal punishment
The respondents in the petition are the principal of the Mardan Model School and College, its coordinator and senior teacher Sobia, provincial education secretary, and managing director of the Khyber Pakhtunkhwa Private Schools Regulatory Authority.
The petition filed through lawyer Salim Shah Hoti said the girl was enrolled in fourth gradeat the said school and her notebooks weren't checked for several days, so her mother requested senior teacher Sobia first on Sept 17, 2021, and later on Sept 21 for the checking of the notebooks, but to no avail.
The petitioner said that the senior teacher got so infuriated over the requests that when her daughter went to the school on Sept 24, she was slapped, pulled by hair, and dragged across the floor, and was not even allowed to sit in the class.
She said that she visited the school next morning to complain about the incident, but the senior teacher, instead of repenting her act, began shouting at her, and misbehaved.
The petitioner said that the teacher pulled her daughter by hair and dragged her yet again.
She added that the teacher also called the principal and both of them misbehaved in front of staff members, both men and women.
The woman claimed that she had deposited her daughter's tuition fee for the month of Sept but even then, the latter was verbally informed by the administration about her expulsion from the school.
She said that she and her daughter were driven out of the school by a guard and weren't allowed to enter the campus afterwards.
The petitioner contended that corporal punishment had been banned by the government in educational institutions, but even then, the senior teacher and principal of the private school subjected her daughter to it.
She contended that getting education was the fundamental right of the people in line with the Constitution, so her daughter should not be deprived of that right.
Source: Dawn
https://www.dawn.com/news/1650139/girl-moves-phc-against-expulsion-by-private-school
--------
COVID-19 left women delaying vital breast cancer screening, treatment: UAE experts
05 October ,2021
Women across the United Arab Emirates delayed vital breast cancer screening during the COVID-19 pandemic in a "concerning phenomenon" that led to a spike in cases across the country, doctors have said.
October marks the start of Breast Cancer Awareness Month and experts are reminding that early detection brings a higher chance of recovery.
Breast cancer has four stages and catching it at the first stage means the chance of survival is between 95 and 100 percent.
However, doctors in the UAE said screening is well below pre-pandemic levels as women missed routine appointments and avoided health settings over the fear of COVID-19 meaning they missed vital lifesaving treatment.
Prof. Humaid al-Shamsi, a consultant in oncology and medical oncology director at VPS Healthcare, has noticed an increase in breast cancer cases across the UAE as a result.
"October, also known as Pink Month, is the month to increase awareness about breast cancer, which is one of the most common cancers worldwide," he told Al Arabiya English.
"Since the pandemic, we are noticing an increase in the number of patients presenting with breast cancer. This means they are delaying their visit to the doctor over fears about COVID-19.
"We are very concerned about this phenomenon."
The doctor said he wants to highlight the importance of being aware of any symptoms like new lumps in the breast, changes to the nipples, and pain in the breast area.
Signs, symptoms
"All women should be aware of these symptoms. It is also important to note that breast cancer can affect around one percent of males, especially those who are advanced in age. If you have any symptoms, like lumps or masses, please go to the doctor and get it checked. "
According to the World Health Organization, close to 2.3 million women were diagnosed with breast cancer and over 685,000 died worldwide in 2020.
Dr. Mehdi Afrit, a medical oncologist specialist at Burjeel Specialty Hospital in Sharjah, said breast cancer is a frequent and serious form of cancer.
Early screening
"While prevention is difficult, we have reliable and efficient screening methods like mammography and breast ultrasonography."
"Screening programs and population-based awareness programs together with treatment contribute to mortality reduction in breast cancer patients."
Screening campaigns aim to sensitize, inform, and educate women about breast cancer and techniques like breast self-exams, he said.
"Women need to do breast self-examinations regularly. Breast awareness may help you understand the changes that your breasts undergo and identify any unusual symptoms. If you find any such symptom, do meet a specialist in breast diseases or an oncologist. COVID-19 caused screening delays
Dr. Ghodratollah Nowrasteh, a consultant in general surgery at Medcare Hospital in Al Safa, also noticed women delaying vital breast cancer screening over the past 18 months.
"The COVID-19 pandemic has resulted in many elective procedures being put on hold, and this has led to a substantial decline in cancer screening," the doctor told Al Arabiya English. "The COVID-19 pandemic affects mortality and morbidity, with disruptions expected to continue for some time, with access to timely cancer-related services a concern. For breast cancer, early detection and treatment is key to improved survival and longer-term quality of life."
"Health services generally have been strained and in many settings with population breast mammography screening, efforts to diagnose and treat breast cancers earlier have been paused or have had reduced capacity. The resulting delays to diagnosis and treatment may lead to more intensive treatment requirements and, potentially, increased mortality."
Dr Nowrasteh said the goal of screening is to detect cancers in very early stage.
"Early-stage detected and diagnosed cancers have very good prognosis and higher survival rate. In other words, routine screening can reduce mortality and the intensity of treatment required."
Most common cancer among women
Breast cancer is the most common cancer in women worldwide.
In the UAE, breast cancer is the most frequent malignancy among women, accounting for approximately one-third of all cancers.
"For screening purposes, a woman is considered to be at average risk if she doesn't have a personal history of breast cancer, a strong family history of breast cancer, or a genetic mutation known to increase risk of breast cancer (such as in a BRCA gene), and has not had chest radiation therapy before the age of 30," said Dr Nowrasteh.
"Women between 40 and 44 have the option to start screening with a mammogram every year."
"Screening should continue as long as a woman is in good health and is expected to live at least 10 more years. For high-risk populations, screening starts earlier."
Research shows that lifestyle changes can decrease the risk of breast cancer, even in women at high risk, including maintaining a healthy weight and being physically active.
Dr Sokiyna Alameer, a breast surgeon at NMC Royal Khalifa City A, also spoke to Al Arabiya English about the importance of screening.
"Early detection of breast cancer is important as it is associated with an increased number of available treatment options, increased survival, and improved quality of life.
"While there is no definitive method of preventing breast cancer, early detection provides the best chance of effective treatment and help improve outcomes especially in women with a strong family history of breast cancer."
Dr Alameer said she too noticed that COVID-19 significantly impacted health services for other diseases such as in patients with cancer.
"Service disruptions are widespread, reassignment of staff and postponing of diagnostics and screening. Also, patients are apprehensive to go to health facilities for the fear of getting COVID19 infection."
Dr Sader al-Rawi, head of oncology services at VPS Healthcare, said surgery is an important part of breast cancer treatment.
"These days, resection is not the only procedure that is performed. The standard of care is oncoplastic breast surgery, through which the breast can be reshaped."
"There are other modalities of breast surgery including nipple-sparing and skin-sparing, which are done to add an implant or tissue expander after surgery. Finally, there is the reconstruction that includes muscle or tissue transfer."
"It is very important to be meticulous with breast surgery to avoid any complications including infection, lymphedema, and recurrence of the tumor."
Source: Al Arabiya
https://english.alarabiya.net/News/gulf/2021/10/05/COVID-19-left-women-delaying-vital-breast-cancer-screening-treatment-UAE-experts
--------
Canada was warned by Afghan women of Taliban atrocities in June
By Marie Woolf
Afghan women ministers made pleas to Canadian politicians for help — and shared warnings about atrocities and the erosion of women's rights — two months before the Taliban took control of Kabul.
In June, female Afghan ministers begged Canada to "do something for us" as the Taliban advanced, says a Canadian senator who took part in a videoconference between Canadian and Afghan politicians.
The desperate request was made during a Zoom meeting of the Canada-Afghanistan Parliamentary Friendship Group, attended by Canadian ministers, MPs and senators.
In July, Afghanistan's ambassador to Canada briefed the group about brutalities, including targeted killings and moves to oppress women, as the Taliban took over more of the country.
Ambassador Hassan Soroosh gave a graphic account of the Taliban as it advanced, killing women and clerics who did not agree with their interpretation of Islam, said Sen. Salma Ataullahjan, co-chair of the parliamentary friendship group.
Ataullahjan said Soroosh also told of how the Taliban issued statements ordering local religious leaders to draw up lists of unmarried girls over the age of 15 and widows under 45, so they could be wed to Taliban leaders.
Ataullahjan, who attended both meetings, described how Afghan female ministers "kept telling us: 'do something for us.'"
She said the June meeting — where Canadian cabinet ministers were present — rang alarm bells, and she argued that Canada should have acted sooner to evacuate vulnerable Afghans.
The senator said she plans to make a statement in Parliament when it returns and press the Liberal government to explain why it did not taken more urgent steps.
She says although the Taliban's actions were not a surprise, the meetings showed the "urgency" of the situation.
"The June one was the most significant because the women (ministers) were very concerned — you could see. There was an urgency. We were hearing that they were worried they would lose everything — all this progress (on women's rights). They said 'do something for us.' There was that sense of desperation. I was really, really concerned," the senator said.
"At the meeting with the ambassador in July we got a very, very comprehensive brief. The ambassador outlined the executions that were taking place, of (people) being targeted," she added.
The ambassador was unavailable for comment.
By June, the Taliban were in control of almost one-third of Afghanistan and advancing swiftly. It seized control of Kabul, the capital, on Aug. 15. U.S. forces withdrew from Afghanistan, after two decades, on Aug. 30.
Canada has been criticized for not doing enough to assist Afghans, and Canadians based in the country, who wanted to leave.
In July, Canada drew up plans to evacuate interpreters who assisted Canadian Forces. In all, the Canadian military helped remove than 3,700 people from Kabul over a period of weeks before pulling out at the end of August. The Liberal government has also pledged to resettle 40,000 Afghan refugees.
Ataullahjan, a Pashtun who was brought up in Pakistan but used to visit Kabul as a girl, said more should have been done after the warnings were heard.
The June 14 meeting of the friendship group was also attended by Maryam Monsef, then minister for women, and Deborah Schulte, minister of seniors at the time, as well as MPs and senators, according to Ataullahjan and her parliamentary assistant, Ayah Stretch.
At the July 29 meeting — just weeks before the Taliban took Kabul — Afghanistan's ambassador gave "horrific reports of what was happening" as the Taliban advanced, according to Stretch. She provided The Canadian Press with her notes of the July meeting, and said the June meeting demonstrated just how serious the situation was becoming for Afghans.
"Afghan women ministers in our Zoom call were telling us a crisis was going to happen," she said in an interview.
"They were telling us how bad the situation was. That was the red flag. We knew back then that we needed to act quickly. We knew what the Taliban were doing years ago — it was disappointing to hear they were doing this again."
Global Affairs Canada spokesman John Babcock said Ottawa "remains committed to Afghanistan and the Afghan people and we will continue to do all that we can to support them."
Canada has no plans to recognize the Taliban as the government of Afghanistan, he added.
"The Taliban remain a listed terrorist entity under Canadian law. If the Taliban choose to ignore fundamental human rights — the rights of women, girls and minority groups — they should expect international isolation.
"We recognize that Afghan women have fought hard to realize their rights, and that they deserve the international community's ongoing support."
This report by The Canadian Press was first published Oct. 4, 2021.
Source: National Observer
https://www.nationalobserver.com/2021/10/04/news/afghan-women-ministers-warned-canada-taliban-atrocities-june-senator
--------
Indonesian women in Australia hold on to faith, community amid COVID-19
SHAYMA ABDELLATIF
October 5, 2021
Indah is an Indonesian nurse who relocated with her husband from Sydney to Melbourne, Australia, at the beginning of the COVID-19 pandemic. Going through her first pregnancy under a series of lockdowns was challenging, as none of her family or friends lived in Melbourne.
On top of that, COVID-19 had hit her family hard back in Jakarta. Soon after her mother contracted COVID-19, her father also tested positive, and her mother's condition deteriorated as hospitals remained beyond capacity. Indah relied on the assistance of a young relative who was able to tend to her mother and deliver supplies while wearing full protective gear.
"It was very difficult. I broke down a lot. I felt very helpless not knowing what to do from here," she said.
She was able to obtain oxygen tanks – sold for five times the usual price – thanks to her cousins and uncle, who did not hesitate to scour pharmacies in search of the tanks.
"I felt grateful that we still had access to [oxygen] and could afford it," said Indah.
Daily video calls were important for the family throughout the ordeal, especially during the three weeks her mother was eventually hospitalized.
"The only thing that would cheer her up was seeing my son, her grandson," she said.
Melbourne has been under six lockdowns over the past 18 months, and more than 24,000 people have tested positive for the virus in the state of Victoria since January 2020.
Indah felt isolated and often helpless in her new city, as she was not able to build friendships or connect with the Indonesian community. She said faith was her refuge, providing the comfort and confidence that she needed to overcome the isolation and distance from her family.
"We just had to be patient and pray because, without that, I would have been a mess," said Indah.
Indah is not the only Indonesian in Australia who has struggled during COVID-19. Many others have had similar experiences, relying on online shopping or networks of family and friends in Indonesia to support their families struggling with COVID-19 throughout the archipelago. WhatsApp was a principal source of updates, as breaths were held with each notification for fear of unwanted news.
Like Indah, a group of Indonesian women in Sydney's diverse western suburbs have turned to faith during the crisis, something they say gives them purpose and comfort. What began as a weekly religion class eventually became a safe space for a group of Indonesian women to offer support to each other and to connect with Indonesia.
The sisters in faith often lent a helping hand to people less fortunate than them in Indonesia. Their initiatives provided relief for many families and for some of the members of the group. After this initial success, the group formed a more organized charity to bolster fundraising and outreach.
Majlis Indonesian Sisters Sydney (MISS), the organization they founded, aims to reduce poverty and promote education in Indonesia. Funi Suhrani, known as Ustadha Funi, the founder of MISS and the group's Islamic studies teacher, said the Indonesian community in Australia was at the core of the charity's operations.
"We feel like a family, not like an organization, and we all know each other. They're also not hesitant to say, 'In my area it's like this. Can you start a fundraiser for us?" she said.
MISS relies heavily on volunteers from the local community in Sydney and went from 20 volunteers to more than 60 after the organization was formalized last year. Tasks are distributed among volunteers, who utilize their social networks in Indonesia to reach families in need.
While their donations are mainly directed toward projects such as building wells and sponsoring orphanages, the gravity of the COVID-19 crisis has called for immediate action.
Through MISS, the women have been able to support more than 300 families in different parts of Indonesia since June 2020. The group's COVID-19 aid packages consist of essential food items and monetary support.
Efhila Gabriela Melisa, who is responsible for COVID-19 aid distribution in West Sumatra, said the support had been welcomed by families, especially knowing it was from their Indonesian sisters in Australia.
She added that most people in her village, located next to Bukittinggi, had lost their livelihoods during the crisis, as most worked in the informal sector, mainly as street vendors or drivers. With the spread of COVID-19 and the imposition of mobility restrictions severely reducing the number of people in public spaces, the families have struggled.
According to the International Labor Organization (ILO), more than half of Indonesia's workforce is in the informal sector, meaning they work without contractual employment arrangements, which excludes them from employment benefits such as pensions and sick leave.
Far from home
COVID-19 has postponed many travel plans, and for many Indonesians living in Australia, this meant annual trips to visit family back home were not possible. Many were left in distress as they endured repeated lockdowns in major Australian cities, in addition to worrying about the safety of their families in Indonesia.
Before the pandemic, Ustadha Funi and her family looked forward to visiting Indonesia at least once or twice a year. The uncertainties of the changing situation and border closures have left her distraught after losing her mother last year.
"When my mother passed away, I couldn't see her or even see her grave," said Funi.
For one of Ustadha Funi's students, Faradilah Bahweres Muhammad, the MISS community has provided a way to cope with the anxiety of being separated from family and of lockdowns in Sydney.
"I haven't seen my mum for more than two years. I usually go to Indonesia every year. I am worried that if something happens to her and I can't see her… I don't even want to imagine that," she said.
Most of her family in Surabaya contracted COVID-19, some winning their battles with the virus and others departing from their loved ones. Although the situation has improved, Faradilah recalled receiving up to ten messages of condolence every day in family and friend WhatsApp groups.
After relocating to Australia five years ago, Faradilah stumbled upon the group of women that would later form MISS during her search for an Indonesian community in her new home.
"It means a lot to me, this community. We're not there only to learn about Islam, we're also there as family and friends, and we help each other," she said.
Connection in separation
Although the women's weekly lessons have moved to video calls, they are determined keep going because it helps ease the stress of lockdowns. Sydney has been under lockdown since June, with the daily COVID-19 case count surpassing 1,000 and breaking new records. The weekly virtual gatherings are important to the women as they find reassurance in faith and community.
Source: The Jakarta Post
https://www.thejakartapost.com/life/2021/10/05/indonesian-women-in-australia-hold-on-to-faith-community-amid-covid-19.html
--------
URL: https://www.newageislam.com/islam-women-feminism/uber-saudi-women-drivers-female/d/125516
New ge Islam, Islam Online, Islamic Website, African Muslim News, Arab World News, South Asia News, Indian Muslim News, World Muslim News, Women in Islam, Islamic Feminism, Arab Women, Women In Arab, Islamophobia in America, Muslim Women in West, Islam Women and Feminism