New Age Islam News Bureau
18 Jan 2017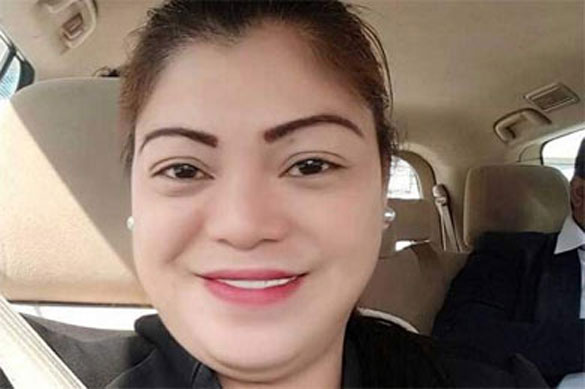 The driver Fritzie Castro, 43, a Filipina, has been in Dubai for seven years. (Supplied photo)
-----
• After Azmi, Kolkata's Shahi Imam Advises Girls To Wear Decent Clothes To Avoid Rape
• An Australia Day Billboard Featuring Muslim Girls Celebrating Is Set To Return After Threats Saw It Removed
• Aamir Khan, Mohammad Kaif, Gautam Gambhir Come Out To Bat For 'Dangal' Girl Zaira Wasim
• Kerala Muslim Girl Who Married A Hindu Boy Alleges Threat To Her Life From Islamist Outfit
• Nigerian Govt Confirms Negotiation With Boko Haram To Free Chibok Girls
• WIT To Mark World Hijab Day With Cultural Event
Compiled by New Age Islam News Bureau
URL: https://newageislam.com/islam-women-feminism/uber-dubai-gets-its-first/d/109767
-------
Uber Dubai gets its first female limo driver
Nivriti Butalia /Dubai
Filed on January 18, 2017
Castro, a licensed limo driver for the Road and Transport Authority (RTA), started ferrying passengers on Tuesday.
Joining the ranks of women cabbies in pink scarves you see at Dubai airport, Uber Dubai got its first female limo driver yesterday.
The driver Fritzie Castro, 43, a Filipina, has been in Dubai for seven years. She works the 4am-4pm shift, waking up six days a week at 2 am, setting out and waiting in the car for passengers to ping.
Castro, a licensed limo driver for the Road and Transport Authority (RTA), started ferrying passengers on Tuesday. She drives the Land Cruiser allocated to her that remains parked outside her home in Satwa.
Despite a slow start to the early mornings, Castro is now the first female limousine driver in the ridesharing industry in Dubai. The mother of three (her eldest is 21) says she gets at least seven-eight passengers on any given day, and is looking forward to meeting more people now that she's linked to Uber.
Fritzie used to be with the Emirates Transport fleet before moving on to Duin Luxury Cars, working for seven months as their transport coordinator for major hotel chains in the city. Doing the rounds of hotels, she heard about Uber through visitors and hotel guests requesting the service.
She says: "I hope this will encourage more of my female colleagues to join." Echoing her sentiment, Chris Free, GM of Uber UAE said: "We believe this will be just the beginning - and anticipate adding more female drivers to the limo fleet this year."
Earlier in the week, Uber and RTA signed an agreement that enabled more than 14,000 Dubai taxis and limousines to be booked via Uber - 14,541 public vehicles, including 9,841 taxis and 4,700 limousines.
http://www.khaleejtimes.com/news/transport/uber-dubai-gets-its-first-female-limo-driver
-------
After Azmi, Kolkata's Shahi Imam Advises Girls To Wear Decent Clothes To Avoid Rape
8th January 2017
KOLKATA: In what can spark a fresh controversy, Shahi Imam of Tipu Sultan Masjid in Kolkata, Syed Mohammad Nurur R Barkati has said that girls should avoid wearing short clothes if they want to protect themselves from getting raped or murdered.
Asserting that boys get excited on seeing girls in short dresses, he added that girls should dress up decently to save themselves from the lust of men.
"Girls these days wear too short dresses and very revealing shirts. We are not stopping them from wearing dresses but, they should avoid wearing short clothes to save themselves from the lust of men," Barkati told ANI.
He also said that short dresses result into rape and murder.
Earlier on January 13, he had dictated dress code for women, saying Hindu or Muslim, Indian women should veil themselves, ascribing to 'Hindustani culture'.
Barkati's remark comes days after Samajwadi Party leader Abu Azmi drew huge flak for his obnoxious statement on girls' dressing style.
Azmi had said that nudity has become a new fashion in India, adding that women need to be cautious and should take care of their own security.
http://www.newindianexpress.com/nation/2017/jan/18/after-azmi-kolkatas-shahi-imam-advises-girls-to-wear-decent-clothes-to-avoid-rape-1560845.html
-------
An Australia Day billboard featuring Muslim girls celebrating is set to return after threats saw it removed
JANUARY 18, 2017
A CONTROVERSIAL Melbourne billboard depicting two Muslim girls celebrating Australia Day that was taken down due to threats from far right groups, is set to be resurrected in every capital city across the country.
Yesterday Victorian Multicultural Affairs Minister Robin Scott revealed the image would be removed after the company behind the advertisement, QMS, received threats.
But advertising guru Dee Madigan has struck back in launching a crowd funding appeal to have the billboard brought back and she has received a stunning response.
Within two hours today the GoFundMe appeal had raised $11,500, forcing Ms Madigan, who is Executive Creative Director with Campaign Edge and who was a regular panellist on ABC's Gruen Transfer to revise her target of $20,000 upwards to $50,000.
She hopes to have the advertisement featured in newspapers, street posters and billboards around the country.
"People are just really against this, it just does not make sense," Ms Madigan told News Corp.
"It is just a really nice photo of two young, pretty Australian girls celebrating Australia Day."
"The response has been fantastic. We are already in talks with media buyers and hopefully we will have billboards in every capital city for Australia Day."
The billboard sat beside a Melbourne freeway and advertised an official flag-raising ceremony in Docklands and an Australia Day Parade in the Kings Domain Gardens.
The decision to take the billboard down was celebrated by far-right groups on social media.
"I am not surprised people complained about it, but this was particularly stupid," said Ms Madigan, whose life has been the subject of ABC TV's One Plus One program.
"They complain Muslims don't assimilate, then they complain about a photo and a billboard like this. It highlights the fact it is just plain racism. And it shows that Muslims are damned if they do and damned if they don't.
"We just want to see these two Australian girls put back up on a billboard about Australia Day."
Ms Madigan said the widespread support for her campaign was illustrated by a $1500 donation by Sydney-based Tiyce Lawyers. The firm's principal Michael Tiyce is president of the East Sydney Liberal branch, she added.
Ms Madigan said she hadn't spoken to the girls in the picture, who have not been named.
"I'm not sure how they are but I imagine it is pretty awful when people think a photo of you is pretty awful," she said.
Any money left over from the campaign will be donated to the Asylum Seeker Resource Centre.
http://www.news.com.au/national/an-australia-day-billboard-featuring-muslim-girls-celebrating-is-set-to-return-after-threats-saw-it-removed/news-story/39a4bd2721350a311effaaeea4e7ef9f
-------
Aamir Khan, Mohammad Kaif, Gautam Gambhir come out to bat for 'Dangal' girl Zaira Wasim
Jan 18, 2017
NEW DELHI: In a strong push-back against the online separatist moral brigade that shamed Kashmiri teenager Zaira Wasim for acting in biopic 'Dangal', several Bollywood stars and sports celebrities on Tuesday came out in her support.
The 16-year-old Srinagar girl who played the role of young Geeta Phogat, an Olympian wrestler, in Aamir Khan's Dangal on Monday apologised for her success, following public pressure from Kashmir that is still reeling under the effects of the summer 2016 unrest in which over 90 people were killed.
Both Jammu and Kashmir chief minister Mehbooba Mufti and Zaira were subjected to sexist abuse and called "Indian agents" by Kashmiri separatists and religious radicals on social media.
On Tuesday, Aamir took to Twitter saying that he could "understand and imagine what lead her to make the statement." Lending his support to Zaira, he wrote, "Zaira, I want you to know that we are all with you. The beauty is that bright, young, talented hardworking, respectful, caring and courageous kids like you are a role model for kids not only in India, but across the world." "You certainly are a role model for me!" he tweeted while asking Zaira's critics to leave her alone.
After Aamir's statement, several cricket stars came forward to register their support for the teenager. Gautam Gambhir who seemed upset over the treatment meted out to Zaira tweeted, "Calling @zairawasim "unislamic" for acting in Dangal or meeting @MehboobaMufti is naked suppression. Ashamed dat she had 2 apologise. To me whole @zairawasim episode smells of sexual bias. Can someone say d same thing 2 @aamir_khan @BeingSalmanKhan @iamsrk?"
"Men will be men. Insecure 2 see a girl like @zairawasim get wings. Sadly we think "Maahri Choriyan AAJ B Choron se kum hain. (Our girls are still inferior to boys.)" Gambhir wrote tersely.
Mohammad Kaif called Zaira a "superkid" and said it was a shame that she had to apologise. "What wrong did she do?" he tweeted.
Actor Swara Bhaskar posted, "To those demanding #Azadi in #Kashmir. U seem fundamentally undemocratic, bigoted n incapable of respecting any1 else's freedom." In a similar vein, singer Sonu Nigam tweeted, "May God give Sanity to this World. And a Bigger Perspective of Humanity beyond Religion and Patriotism."
http://timesofindia.indiatimes.com/india/aamir-khan-kaif-gambhir-come-out-to-bat-for-dangal-girl-zaira-wasim/articleshow/56635221.cms
-------
Kerala Muslim Girl Who Married A Hindu Boy Alleges Threat To Her Life From Islamist Outfit
BOBINS ABRAHAM
JANUARY 17, 2017
Jasmi Ismail, a Muslim girl from Kerala has calimed that her life is in danger after she married a Hindu boy.
In a Facebook post, Jasmi said
"I am not sure how long I will be alive. I am sure that the same person who charged at me with an iron rod when he came to know about my love will now come for my life. The police are also complicit in this. Please let me live, this is a request."
In a complaint to the police, Jasmi has named four people, who will be responsible if something happens to her.
Jasmi had married a Hindu boy last week has named activists of Social Democratic Party of India (SDPI) of intimidating her and her husband.
"Why are you behind our lives? Do you want our lives. I too want to live on this earth. Please don't come after me or the person I love", she adds in a separate post.
http://www.indiatimes.com/news/india/kerala-muslim-girl-who-married-a-hindu-boy-alleges-threat-to-her-life-from-islamist-outfit-269697.html
-------
Nigerian govt confirms negotiation with Boko Haram to free Chibok girls
January 17, 2017
The Minister of Information and Culture, Lai Mohammed, on Tuesday reassured that the negotiations for the release of other Chibok girls in captivity were ongoing.
The minister disclosed this at the Air Force Base in Yola in a briefing to conclude a day and night rounds of search sortie of the missing girls to Sambisa.
The News Agency of Nigeria reports that Mr. Mohammed; the Minister of Defence, Mansur Dan-Alli; the convener of the Bring Back Our Girls (BBOG) group, Obiageli Ezekwesili; as well as selected local and foreign journalists participated in the search mission.
Mr. Mohammed said that the success recorded by the military in the theatre of war was helping the negotiation because of the carrot and stick approach of government to ending insurgency.
He recalled that a meeting was recently held which was a near success and added that the government would not rest on its oars in ensuring a safe return of all the missing girls and others in captivity.
"The negotiations are still on, but unfortunately unlike the search operations, we cannot take you along to the negotiation table.
"I want to assure you that these negotiations are going on but they are very complicated and delicate and shift from time to time," he said.
The minister commended the military for the victories recorded in various operations at decimating the insurgents particularly in Sambisa.
He noted that the capture of Camp Zairo in Sambisa, which is the headquarters and stronghold of the insurgents was very crucial to defeating the terrorists.
The minister stressed that the proportion of the camp to the size of the forest notwithstanding, "the capture is a big victory for the military
"Camp Zairo might occupy probably one kilometre out of 60,000 kilometres expanse of Sambisa, but it is so crucial to us in this war.
"It is like imagining that there is a war and the Villa is captured. That is the essence of camp zairo.
"It is not the extent of physical expanse but that we struck at the very heart of insurgency and it does not mean the end of the campaign in Sambisa forest,'' he said.
Mr. Mohammed commended the Air Force for their professionalism and for deployment of modern technology in their operations.
The minister also commended the Chief of Air Staff, Sadique Abubakar for initiating the search mission.
He added that it served its objective of participating and better understanding of the efforts of the military in fighting insurgency.
Speaking on casualty figure of his men, Mr. Abubakar said they were very lucky in terms of suffering casualties on their air operations.
"First and foremost, the enemy does not have air assets and we take training very seriously.
"We do everything possible to ensure capacity development of our pilots and we make judicious use of the personnel that are on ground," he said.
He thanked the minister, the BBOG delegation, the journalists and others that participated in the exercise.
http://www.premiumtimesng.com/news/headlines/220788-nigerian-govt-confirms-negotiation-boko-haram-free-chibok-girls.html
-------
WIT to mark World Hijab Day with cultural event
January 18, 2017
The Religious Studies and Theology Group at WIT have organised a cultural event to mark World Hijab Day on Wednesday, February 1.
There will be an assortment of hijabs on display, and the Muslim women will be happy to show anyone how to wear a hijab and the different styles available.
WIT student union president, Michelle Byrne, will be among the women invited to visit the stall and try on a headscarf.
READ NEXT Cork County Council seeks windfarm guidelines
World Hijab Day, an annual world event, was established by American Nazma Khan in 2013 to fight prejudice and discrimination against Muslim women.
WIT lecturer in world religions, Colette Colfer, said some students will wear the hijab for the day.
"With increasing anti-immigrant sentiment around the world, it is really important to have an event like this," she said.
Ms Colfer is not a Muslim but has conducted a lot of research on Islam in Ireland.
"Muslim women are far more likely to experience discrimination and prejudice if they are wearing the hijab. I know Irish women who have been told to go back to 'their own country' when they have been wearing a hijab," said Ms Colfer.
"Their abusers were shocked when they responded in an Irish accent."
Muslim women choose to wear the hijab for a variety of reasons, including modesty, but most agree it is a woman's choice whether or not she wears it.
Ms Colfer said some Muslim women believe that although the principles of modesty are clearly outlined in the Quran, they perceive the wearing of the headscarf as a cultural interpretation of the scriptures.
"They would interpret what is said in the Quran as meaning that they should cover and they should be modest."
Speakers in the main auditorium on the day will include Muslim feminist and academic, Dr Rachel Woodlock; local Muslim convert Brigid Aylward; and Muslim businesswoman and photographer, Bara Alich.
Dr Woodlock, originally from Australia, is a convert to Islam from the Baha'i faith. She now lives near Clonmel with her Tipperary husband and their daughter.
Ms Aylward is from Mullinavat, Co Kilkenny. She converted to Islam from Catholicism about eight years ago and after two years decided to wear the hijab.
She works as a nurse in the Paediatric Department in Waterford Regional Hospital. Last year she was awarded a master's degree in nursing from WIT.
Ms Alich, originally from the Czech Republic, converted to Islam eight years ago. She will speak about being a Muslim businesswoman who wears the hijab and some of the challenges she has faced over the years.
http://www.irishexaminer.com/ireland/wit-to-mark-world-hijab-day-with-cultural-event-439591.html
-------
URL: https://newageislam.com/islam-women-feminism/uber-dubai-gets-its-first/d/109767
New Age Islam, Islam Online, Islamic Website, African Muslim News, Arab World News, South Asia News, Indian Muslim News, World Muslim News, Womens in Islam, Islamic Feminism, Arab Women, Womens In Arab, Islamphobia in America, Muslim Women in West, Islam Women and Feminism, Moderate Islam, Moderate Muslims, Progressive Islam, Progressive Muslims, Liberal Islam