New Age Islam News Bureau
6 Apr 2013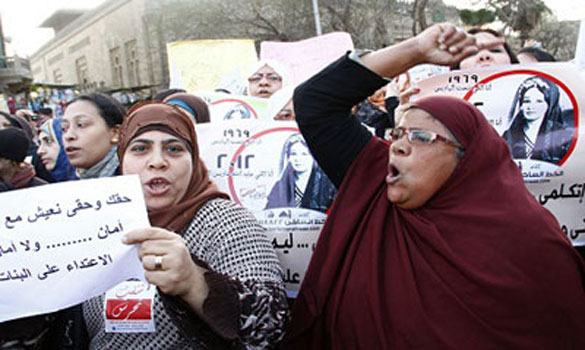 Photo: Women recently protest against sexual harassment in Egypt (Photo: Mai Shaheen)
------------
• Uganda Proposes Ban on Miniskirts in Move against Women's Rights
• The Unending Honour Crimes in Pakistan
• Schoolgirl among Six Held over Drugs in Malaysia
• Egyptian Women's Group Proposes New Sexual Harassment Law
• Saudis rally in support of jailed female protesters
• Woman Tortured For Not Giving Permission to Take a Second Wife
• Savita Halappanavar Case: Irish Doctors Rejects Motion on Regulation of Abortion
• Sky's The Limit for Emirati Women in Aviation Sector
• Maternity Centre That Closes Door to a Mother, in Bangladesh
• Women More At Risk of Suicide: Psychologists
• Expanding Women's Education, Healthcare Integral for Stable, Prosperous Societies: Clinton
• Egypt: Activist Ziada, Sad To Say Things Better Under Mubarak
Compiled by New Age Islam News Bureau
URL: https://newageislam.com/islam,-women-and-feminism/new-age-islam-news-bureau/uae-nightclub-to-host-us-glamour-girl,-baywatch-actress,-carmen-electra/d/11039
---------------
UAE Nightclub to Host U.S. Glamour Girl, Baywatch Actress, Carmen Electra
6 April 2013
Former Playboy model and Baywatch actress, Carmen Electra, will be making a special appearance at a Dubai night club, a local Emirati newspaper has reported.
The 41-year-old American glamour girl is heading from Los Angeles to the UAE to be a guest at Dubai's Cavalli Club, Restaurant and Lounge on Sunday night, The National reported.
Electra is due on the red carpet at 10.15pm before heading inside for a sumptuous four-course meal and dancing until the early hours of the morning. She's also expected to give a brief press conference and reveal her upcoming television and movie projects, following up on Britain's Got Talent last year.
Born as Tara Leigh Patrick in 1972, Carmen Electra has been in several hollywood hits such as "Scary Movie" and "Meet the Spartans" and she won an MTV Award for "best kiss" in her role in the remake of renowned TV series "Starsky and Hutch".
http://english.alarabiya.net/en/life-style/2013/04/06/Carmen-Electra-to-make-an-appearance-at-Dubai-club.html
---------------
Uganda Proposes Ban on Miniskirts in Move against Women's Rights
Anti-pornography bill would outlaw 'provocative' clothing on women, censor film and TV and restrict personal internet use
David Smith
5 April 2013
Uganda is considering extraordinary measures against women's rights that would lead to arrests for those wearing skirts above the knee in public.
The proposed law would mark a return to the era of Dictator Idi Amin, who banned short skirts by decree. Many Ugandans are opposed to the idea and it has spawned a Twitter hashtag, #SaveMiniSkirt.
The government-backed bill would also see many films and TV dramas banned and personal internet use closely monitored by officials.
Simon Lokodo, Uganda's ethics and integrity minister, defended the plans. "It's outlawing any indecent dressing including miniskirts," he said.
"Any attire which exposes intimate parts of the human body, especially areas that are of erotic function, are outlawed. Anything above the knee is outlawed. If a woman wears a miniskirt, we will arrest her."
Lokodo, a former Catholic priest, suggested that victims of sexual violence invited trouble. "One can wear what one wants, but please do not be provocative," he said. "We know people who are indecently dressed: they do it provocatively and sometimes they are attacked. An onlooker is moved to attack her and we want to avoid those areas. He is a criminal but he was also provoked and enticed." Asked if men would be banned from wearing shorts, the minister replied: "Men are normally not the object of attraction; they are the ones who are provoked. They can go bare-chested on the beach, but would you allow your daughter to go bare-chested?"
The anti-pornography bill contends that there has been an "increase in pornographic materials in the Ugandan mass media and nude dancing in the entertainment world". It proposes that anyone found guilty of abetting pornography faces a 10m shillings (£2,515) fine or a maximum of 10 years in jail, or both.
The likes of Beyoncé and Madonna will be banned from television, Lokodo added. "We are saying anything that exposes private parts of the human body is pornography and anything obscene will be outlawed. Television should not broadcast a sexy person. "Certain intimate parts of the body cannot be opened except for a spouse in a private place.
"A lot of photos, television, films will be outlawed. Even on the internet, we're going to put a monitoring system so we know who has watched which website and we know who has watched pornographic material."
Lokodo expressed confidence that the bill would be passed. But according to Uganda's Daily Monitor newspaper, it has run into difficulty in the parliamentary committee stage after some members expressed concern about its implications for constitutional freedoms. MPs also warned that some traditional cultural practices could be labelled as pornographic, the paper added.
Lokodo has previously courted controversy by announcing a ban on 38 non-governmental organisations he accused of undermining the national culture by promoting homosexuality. Parliament is still pondering a bill that would impose harsher penalties for gay people.
Sam Akaki, international envoy of Uganda's opposition Forum for Democratic Change, said: "This law will create an apartheid system by stealth. Whereas the former apartheid system in South Africa discriminated [against] people on the basis or race, this one will discriminate people on the basis of gender. Any law that discriminates people in any way is a bad law.
"If Lokodo or anyone in Uganda is serious about fighting immorality, they should fight corruption."
http://www.guardian.co.uk/world/2013/apr/05/uganda-ban-miniskirts-womens-right
---------------
The Unending Honour Crimes in Pakistan
April 06 2013
Increase in honour killings reflects continuation of primitive attitudes
Eleven honour killings made their way into media reports in the first five days of the week. The reports came from regions as diverse as Abbotabad, Nawabshah, Mirpurkhas, Larkana and Peshawar. The story is the usual. Man and woman fall in love with each other, family disapproves and kills one or both claiming that it was a matter of "preserving family honour." 'Man kills daughter, paramour,' 'Man kills wife' and 'Man kills handicapped sister' are the remorseless headlines that garnish the left out borders of the daily news pages. With 4,000 such honour killings reported between 1998 and 2004, it is as if honour killings no longer matter enough to require detailed investigation before reporting. One in eight of the cases did not even make it to the courts. Four lines are enough in most cases and newspapers are not sensitive enough to use pseudonyms for 'honour crime' victims.
If the Human Rights Commission of Pakistan (HRCP) reports are to be taken as a baseline indicator, then at least 943 women were killed in the name of honour in 2011. The HRCP itself warns that actual numbers were higher. Of these, the purported reasons offered were illicit relations in 595 cases and demanding to marry of own choice in 219 cases. Brothers were the murderers in 180 of the cases while husbands committed the murders in 226 cases. Only 20 women of the women attacked were reported to have been provided medical aid before they died.
The fact that such a primitive and barbaric crime continues to be committed as a duty across Pakistan suggests that the culture on the ground is not changing despite the outcry of various human rights organizations. Controlling women, curbing choice appears to be the diktat that society at large continues to wish to favour despite a law against honour killings having been passed in the year 2004, which made honour killings a crime against the State. On the ground, police officials continue to act as mediators between families and apply Diyat and Qisaas provisions to let the criminals off. In the cases that reach the courts, studies reveal courts are prone to using the "grave and sudden provocation" excuse to let the accused off. It is a known fact that the real motive behind many so-called honour crimes are disputes over property or taking revenge for an enmity but that has not changed the fact honour killings are on the rise. On the one side, this is reflective of a greater exercise of choice on the part of the new generation. On the other, it reflects the rise of extremist attitudes within society. Official discourse still only sanctions 'rightful marriage' as that arranged by families and the garb of Islam still shrouds the question of women's rights in the legal statutes and Constitution of the Islamic Republic of Pakistan. Both law and society need a radical reform for honour killings to be curbed. It is hoped that the government is listening.
http://www.pakistantoday.com.pk/2013/04/06/comment/editorials/the-unending-honour-crimes/
---------------
Schoolgirl among Six Held over Drugs in Malaysia
April 06 2013
Malaysia — The police have detained four men, a woman and a teenage schoolgirl in connection with the seizure of a pistol and 631 grams of drugs worth about RM65, 000 in Taman Medan here last Wednesday.
The drugs comprised heroin, Eremin 5 pills and syabu.
The suspects have been remanded until Monday to facilitate investigations.
Petaling Jaya police Chief ACP Arjunaidi Mohamed said the police got their break when they nabbed a 24-year-old suspected drug distributer while he was in a car in Taman Medan Baru about 10pm.
A pistol, five bullets and a plastic packet containing heroin were seized from the vehicle, he told a press conference here today.
He said the suspect had six previous records for armed robbery, adding that in a follow-up operation, three other men, a woman and the schoolgirl were picked up at a shop in Taman Medan Baru.
The shop, where Eramin 5 pills and syabu were seized, was believed to be a drug distribution centre, he added. – Bernama
http://www.themalaysianinsider.com/malaysia/article/police-arrested-6-suspects-including-schoolgirl/
---------------
Egyptian Women's Group Proposes New Sexual Harassment Law
Proposed law contains broader definition of sexual harassment with stiff sentences for repeat offenders and those convicted of offences in the workplace
5 Apr 2013
Egypt's National Council for Women (NCW) has proposed a new law against sexual harassment containing a minimum sentence of one-year imprisonment for first-time offenders.
Under the proposed law, sexual harassment would include following and chasing, obscene gestures, and spoken or written comments of a sexual or pornographic nature in public or in private.
A person convicted under the law would receive a minimum one-year jail term and/or a minimum fine of LE10, 000.
If a person commits another harassment offence within one year of being released from prison he would receive a three to five-year prison sentence and a minimum fine of LE5000.
Sexual harassment in the workplace would result in a minimum three-year prison sentence and a minimum fine of LE10,000.
The NCW submitted the law to the cabinet last week but only published its details on Friday.
According to a 2008 survey by the Egyptian Centre for Women's Rights (ECWR), 83 per cent of Egyptian women say they have experienced sexual harassment.
The most common form of harassment was inappropriate touching, followed by verbal harassment. Thirty percent of respondents said they experienced harassment on a daily basis.
http://english.ahram.org.eg/NewsContent/1/64/68515/Egypt/Politics-/Egyptian-womens-group-proposes-new-sexual-harassme.aspx
---------------
Saudis rally in support of jailed female protesters
Mar 8, 2013
Saudis have staged anti-regime demonstrations in the capital, Riyadh, and the eastern city of Qatif to express support for jailed female protesters.
The demonstrators called for the immediate release of a group of women who were arrested in the central city of Buraidah last week.
Activists say Saudi security forces arrested over 300 protesters, including scores of women and children, on March 1, after hundreds of Saudis gathered outside the investigation and prosecution bureau in Buraidah to demand the release of political prisoners.
Full report at:
http://www.presstv.ir/detail/2013/03/08/292548/saudis-urge-release-of-female-protesters/
-----------
Woman Tortured For Not Giving Permission to Take a Second Wife
6 April 2013
A woman, who was allegedly tortured by her husband for not giving permission to take a second wife, is undergoing treatment at Dhaka Medical College Hospital (DMCH).
The victim, Abeda Khatun, 36, wife of Babul Hossain of Chatar Nayapara village in Joydevpur, Gazipur, was admitted to the DMCH with injuries in different part of her body yesterday.
Abeda told The Daily Star that she got married to bus driver Babul 22 years ago. He started putting pressure in various ways to get the permission five years back.
"Since then, he started torturing physically, and at one stage of the torture he uprooted my three teeth," she said.
Abeda said she cannot even walk since last six months.
A general diary (GD) was filed with Joydevpur Police Station.
http://www.thedailystar.net/beta2/news/woman-tortured-for-not-giving-permission/
---------------
Savita Halappanavar case: Irish doctors rejects motion on regulation of abortion
PTI | Apr 6, 2013
LONDON: The Irish Medical Organisation (IMO) has rejected a motion supporting regulation of abortion where there is a real and substantial risk to the life of a pregnant woman as in the case of Indian dentist Savita Halappanavar who died as a result of miscarriage.
The motion was defeated by 42 votes to 32 at the IMO's annual conference in Killarney.
In the heated debate, doctors also voted against a motion calling for legislation to allow abortion in Ireland in cases of rape or incest.
Full report at:
http://timesofindia.indiatimes.com/world/uk/Savita-Halappanavar-case-Irish-doctors-rejects-motion-on-regulation-of-abortion/articleshow/19411081.cms
---------------
Sky's the limit for Emirati women in aviation sector
6 April 2013
When Eng Mariam Al Balooshi started working as the environment studies manager at the General Civil Aviation Authority,
few would have thought that her career
But she is not the only one that has inspired Emirati women to seek careers in traditionally male-dominated sectors. Capt Aysha Al Hamili was the UAE's first woman pilot and has been the UAE's Permanent Representative on the International Civil Aviation Organisation since October 2009.
Both the talented and energetic Al Balooshi and Al Hamili have gone on to accomplish their dreams in aviation industry, a field where there are still relatively few women but many fast career growth opportunities. "The sky is the limit for women in building their careers in the aviation industry in the UAE. There is a general shortage of Emirati women for engineering and other highly technical fields, especially in the aviation industry," said Al Balooshi, who is now the first UAE specialist in aviation environment, the chair of the regional aviation environment committee for Arab Civil Aviation Commission.
Full report at:
http://www.khaleejtimes.com/biz/inside.asp?xfile=/data/uaebusiness/2013/April/uaebusiness_April104.xml&section=uaebusiness
---------------
Maternity Centre That Closes Door to a Mother, in Bangladesh
6 April 2013
A woman gave birth under the open sky on the premises of Panchagarh Auditorium on Tuesday night, after failing to get service at Panchagarh Ma O Shishu Kalyan Kendra (maternity).
The same night, locals besieged the maternity demanding punishment of the on-duty doctors and nurses.
As Pervin Akhter, of Bodapara village in Panchagarh Sadar upazila felt labour pain, her husband Russel, a van puller, brought her to Panchagarh maternity centre at about 8:00pm, said witnesses and police.
Finding the gate under lock and key, they kept waiting on the maternity compound and Pervin's mother-in-law made failed attempts to get help from the health visitors who stayed on the same compound.
Full report at:
http://www.thedailystar.net/beta2/news/maternity-centre-that-closes-door-to-a-mother/
---------------
Women more at risk of suicide: Psychologists
April 06, 2013
MAKKAH — More women than men have attempted to commit suicide in the Makkah province, according to psychologists.
Women use less violent means to end their life such as overdosing on pills while men tend to kill themselves with knives and guns or by jumping from high places.
The psychologists noted that even high-class and educated members of society made attempts on their own lives. Data on suicide attempts that have been committed over the past few years revealed that different age groups were just as likely as each other to try and commit suicide.
Full report at:
http://www.saudigazette.com.sa/index.cfm?method=home.regcon&contentid=20130406160104
---------------
Expanding Women's Education, Healthcare Integral For Stable, Prosperous Societies: Clinton
April 5, 2013
NEW YORK: Former US secretary of state called women's rights on Friday the "unfinished business of the 21st century."
Clinton got a standing ovation from the mostly female audience at the Women in the World conference in New York on Friday. She devoted her speech to what she called "the great unfinished business of the 21st century: the advancing of rights of women and girls."
"Too many women are treated, at best, as second class citizens; at worst as some kind of subhuman species," she said.
Clinton cited local outrage over the shooting of Malala by the Taliban and the gang rape of an Indian woman as evidence of a potential sea change in which social media tools have greatly empowered activists.
Full report at:
http://tribune.com.pk/story/531578/expanding-womens-education-healthcare-integral-for-stable-prosperous-societies-clinton/
---------------
Egypt: activist Ziada, sad to say things better under Mubarak
April 06 2013
MARSEILLE - Women are 'an integral part of Egyptian society' though they are suffering the most from the economic crisis which is getting worse every day in Egypt, said in an interview with ANSAmed Dalia Ziada, a human rights activist, blogger and the director of the Ibn Khaldum Center for Democratic Studies. Ziada is in Marseille to attend the Forum promoted by the Anna Lindh Foundation.
'Over 30% of women are 'caring women' like widows or divorcees who are working to support their families', said the activist. 'They work at a time when men are having a hard time finding a proper job'.
Full report at:
http://www.ansamed.info/ansamed/en/news/sections/politics/2013/04/05/Egypt-activist-Ziada-sad-say-things-better-Mubarak_8504662.html
---------------
URL: https://newageislam.com/islam,-women-and-feminism/new-age-islam-news-bureau/uae-nightclub-to-host-us-glamour-girl,-baywatch-actress,-carmen-electra/d/11039