New Age Islam News Bureau
11 Nov 2019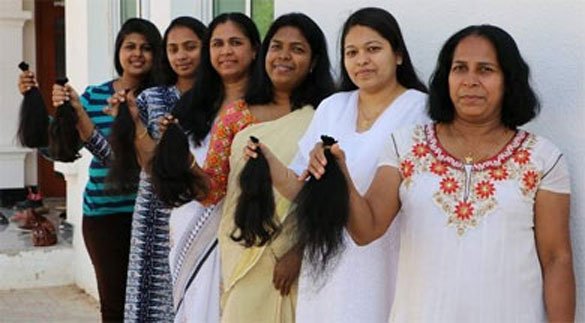 Students and support staff at at Our Own English High School, Al Qouz, Dubai, donating hair for cancer patients to mark both Pink Month and UAE National Day' on 10th November 2019.
Image Credit: Ahmed Ramzan/ Gulf News
-----
•48 Girls, Women Donate Hair at Indian School in Dubai
• Germany Spoil the Party for England Women at the Wembley
• Extending the Maternity Leave for the Private Sector Is an Essential Step to Achieving Social Justice: Sheikha Bodour
• British Newspaper Independent under Fire for Downplaying China's Sexual Abuse Of Uighur Women
• Sharjah: Former Indian Woman Faces Pakistani 'Identity Crisis'
• One Of Egypt's Richest Men, Naguib Sawiris: 'If God Wanted Women To Be Veiled, He Would Have Created Them With A Veil'
• Can Faith And Women's Rights Be Reconciled In The Middle East?
Compiled by New Age Islam News Bureau
URL: https://www.newageislam.com/islam-women-feminism/uae-cabinet-approved-policy-prevent/d/120234
--------
UAE Cabinet Approved Policy to Prevent Woman and Child Abuse
November 11, 2019
Abu Dhabi: The UAE Cabinet approved today a Family Protection Policy to protect families and children against any abuse.
During Monday's meeting chaired by His Highness Sheikh Mohammed Bin Rashid Al Maktoum, Vice-President and Prime Minister of the UAE and Ruler of Dubai, the Cabinet also approved protection and intervention mechanisms for all types of domestic violence.
"The UAE will have zero-tolerance towards any abuse against children, old people or women," Shaikh Mohammad said on twitter.
In a series of tweets, Sheikh Mohammed said: "Today I chaired a cabinet meeting, during which we welcomed the Riyadh agreement signed between the Yemeni government and the Southern Transitional Council. Saudi Arabia's efforts made to unify the Yemeni people are highly appreciated and will be continuously supported by the UAE".
Sheikh Mohammed added: "We also endorsed the executive regulation for voluntary work in the UAE and a decision to restructure Emirates Post's board of directors as well as a number of international agreements".
https://gulfnews.com/uae/government/uae-cabinet-approved-policy-to-prevent-woman-and-child-abuse-1.1573468203520
--------
48 Girls, Women Donate Hair at Indian School in Dubai
November 10, 2019
Sonia Shah
Today, we are observing the Pink Day and also dedicating this deed in celebration of the 48th UAE National Day with 48 donors. We have also received hair from four more donors who had already cut and saved it for donation. All donations will be handed over to FOCP."
https://gulfnews.com/videos/news/48-girls-women-donate-hair-at-indian-school-in-dubais-al-qouz-1.1573387260550
--------
Germany Spoil the Party for England Women at the Wembley
November 10, 2019
London: Klara Buhl's late goal gave Germany a 2-1 friendly win over World Cup semi-finalists England on Saturday to send home a record crowd for a Lionesses' home match disappointed.
Buhl struck with less than a minute remaining on the clock in front of an attendance of 77,768.
That smashed the previous best for an England fixture, but fell short of the best-ever crowd for a women's match in the United Kingdom — when 80,000 saw the USA beat Japan to win gold at the 2012 Olympics.
Organisers had billed the game as a sell-out with 86,000 tickets off-loaded, but a dreary and wet day in London may well have put off the less hardy and devoted supporters.
Alexandra Popp had given Germany the lead inside three minutes, with Phil Neville's side failing to level when Nikita Parris missed a penalty.
However, the hosts got back on level terms when Ellen White tucked away the ball before half-time.
"It's a dream come true to play at Wembley for your country and score," said Manchester City striker White.
"It's unbelievable — the support, the noise, the atmosphere — we are really sorry we couldn't get the result."
Buhl's late strike means England have lost five of their last seven matches, dating back to their heartbreaking World Cup semi-final defeat by the USA. "It a was killer blow late on," said Neville.
"The results are not good enough — there's no hiding away but there's a long-term plan that we have. We have to take the criticisms that come our way and stick together.
"I have been in football long enough and I know I need to take responsibilities, I need to make sure I improve as a manager and the players improve too."
https://gulfnews.com/sport/football/germany-spoil-the-party-for-england-women-at-the-wembley-1.67733812
--------
Extending the Maternity Leave for the Private Sector Is an Essential Step to Achieving Social Justice: Sheikha Bodour
November 10, 2019
Extending the maternity leave for the private sector is an essential step to achieving social justice.
Mothers working in the UAE's private sector must be granted longer maternity leave, said Sheikha Bodour bint Sultan Al Qasimi, chairperson of Sharjah Baby Friendly Office (SBFO), joining the world in marking the 100th anniversary of international labour standards on maternity protection.
"There is no doubt that many private sector companies are fully committed to providing a supportive work environment for working mothers, yet there remains a need to expand and continue these efforts to keep up with new challenges that women face in the workplace," Sheikha Bodour said.
"Extending the maternity leave for the private sector is an essential step to achieving social justice and true women's empowerment. For many women, motherhood is an essential element of life. We cannot truly empower women if we fail to protect maternity."
Under the UAE's Labour Law, women in private firms are entitled to 45 days of full pay for maternity leave and dedicated breastfeeding hours for 18 months post-delivery.
Those working in government departments, however, are granted three months.
"More than five years ago, under the directives of His Highness Sheikh Dr Sultan bin Muhammad Al Qasimi, Member of the Supreme Council and Ruler of Sharjah, our emirate became the first in the UAE to grant a 90-day maternity leave to all mothers working in Sharjah's government departments. It is because family systems are at the core of Sharjah's vision of human-centric development," Sheikha Bodour said.
The decision was linked to the emirate's baby-friendly project, which was launched in 2011 with an aim to establish a healthy life for children and mothers, the SBFO chairperson explained.
"Sharjah's concerted efforts bore fruit when the emirate was named the world's first Baby-Friendly City in 2015 by the World Health Organisation and Unicef."
Protecting mothers since 1919
Women's right to paid leave with childbirth was officially recognised worldwide in 1919 at the Maternity Protection Convention, which was held during the first International Labour Conference (ILC), according to the International Labour Organisation (ILO).
"Today, as the world celebrates 100 years since women won the right to paid leave relating to child birth ... we salute the women who made this possible with their strong advocacy for women's rights," Sheikha Bodour said.
Over the course of its history, the ILO's member-states have adopted three conventions on maternity protection (1919; 1952; 2000).
These conventions have progressively expanded the scope and entitlements of maternity protection at work and provided detailed guidance orienting national policy and action.
So far, 72 ILO member-states have ratified at least one of the maternity Conventions.
https://www.khaleejtimes.com/uae/sharjah/calls-for-longer-maternity-leave-for-women-in-uae-private-sector
--------
British Newspaper Independent under Fire for Downplaying China's Sexual Abuse Of Uighur Women
10.11.2019
The British newspaper Independent was criticized on social media for downplaying the sexual harassment of Uighur Muslim women in the Xinjiang region by Chinese government officials.
The report published by the Independent on Tuesday said that Uighur women, whose husbands are being kept in Chinese concentration camps, are being forced to share beds with male state officials for monitoring purposes.
Chinese government sources claim that officials are not sexually abusing the women but rather Muslim Uighur women and the Chinese men with whom they are forced to sleep in the same bed "develop feelings for one another."
The widely-shared Independent report quickly came under fire for downplaying the sexual harassment the Uighur women are subjected to and refraining from describing it as "rape."
Talking to Radio Free Asia, one Chinese Communist Party official said that Chinese government officials are staying at the homes of Uighur families for days under a doctrinal program named "Pair Up and Become Family."
Human Rights Watch previously described these visits as "deeply invasive forced assimilation practices" and said Uighur families have no option but to accept them or else they risk being branded as extremists.
China's Xinjiang region is home to around 10 million Uighurs. The Turkic Muslim group, which makes up around 45% of Xinjiang's population, has long accused China's authorities of cultural, religious and economic discrimination.
Up to 1 million people, or about 7% of the Muslim population in Xinjiang, have been incarcerated in an expanding network of "political re-education" camps, according to U.S. officials and U.N. experts.
According to a 117-page report by Human Rights Watch, the Chinese government conducted "mass arbitrary detention, torture and mistreatment" of Uighur Turks in the region.
https://www.dailysabah.com/asia/2019/11/10/independent-under-fire-for-downplaying-chinas-sexual-abuse-of-uighur-women
--------
Sharjah: Former Indian Woman Faces Pakistani 'Identity Crisis'
November 10, 2019
Ashfaq Ahmed
Dubai: A former Indian citizen who changed her name, religion and nationality to marry a Pakistani man some 19 years ago, is now facing 'identity crisis' as she is facing problems in renewing her Pakistani national identity card.
Sharjah-based Kajal Rasheed Khan applied to renew her Pakistani Identity Card more than three months ago on July 31. She is still waiting for her new card as authorities in Pakistan say that her documents are now "being verified".
Normally, it takes only seven to 10 days to get an ID card renewed.
"I have been exchanging emails with NADRA [National Database and Registration Authority] for the last three months and have already providing them all the 'extra' documents they asked me to submit, but there has been no progress," Kajal's husband Mohammad Rasheed Khan, a Pakistani, told Gulf News.
He said he tried everything and that no one was listening to him.
The last email which he got from the NADRA on November 4 reads: " Dear complainant, your provided documents/information sent for further verification. You are requested to keep patient till clearance of your record. Your patience and cooperation will be highly appreciated in this regards. Thank you."
Accounts frozen
But Rasheed is running out of patience because her wife's bank accounts are now frozen in Karachi, Pakistan.
"My wife owns property in Karachi and she also gets rental income. Now she cannot withdraw money or operate her account because she does not have new smart ID card which is now [a] mandatory requirement by the bank," said Rasheed.
https://gulfnews.com/uae/sharjah-former-indian-woman-faces-pakistani-identity-crisis-1.67735095
--------
One Of Egypt's Richest Men, Naguib Sawiris: 'If God Wanted Women To Be Veiled, He Would Have Created Them With A Veil'
11 Nov 2019
One of Egypt's richest men Naguib Sawiris has argued against the Hijab – the veil some Muslim women use to cover their hair in the presence of men who are outside their immediate family.
Speaking to Arabian Business, the executive chairman and CEO of investment conglomerate Orascom Investment Holding (OIH) said: "Women are beautiful. If God didn't want them to be beautiful, he would not have created them like that. If God would have wanted them to be veiled, he would have created them with a veil. God is beautiful and loves beauty. God knows what he is doing. Who are we to argue?"
Sawiris is part of Egypt's Christian minority but is a champion of secularism, having co-founded the liberal political party the Free Egyptians Party. He has often spoken against the rise of Islamic fundamentalism in the country, highlighting the rising number of women wearing niqab, a face-covering veil.
The businessman is credited with changing the face of telecoms across the MENA region through Orascom Telecoms, and is now supporting his brother Samih's annual El Gouna Film Festival in the Red Sea resort town built in the 1990s through Orascom Development Holding.
While the festival attracted over 200 movies stars and filmmakers including Hollywood stars Sylvestor Stallone, Patrick Dempsey and Owen Wilson, and led to a surge in tourism to the resort town, it was also met with criticism from hardliners and religious conservatives.
"We have problems with [The Censorship Authority]. They delay many movies, we have problems with religion, people are still thinking in a very close-minded [way]," he said.
Last year, the Cairo International Film Festival saw Egyptian actress Rania Youssef forced to apologise for a black see-through gown she wore to the red carpet after three lawyers filed a lawsuit against her for "inciting debauchery".
Sawiris said the Arab world is "plagued" by Islamic fundamentalists, and that the festival does not cater to them, adding that actresses attending El Gouna Film Festival will not be confined to a dress code.
"Unfortunately in Egypt, there is a tendency to look at women and say, 'They are dressed half-naked'. I am not from that school [of thought]… The Arab world is plagued by these symptoms… When [Arabs] travel abroad and women are going [around] freely, it's okay, but when it's in our society, it becomes [unacceptable].
"I can't understand the minds of people who reduce everything to a sexual angle, which is sick. This doesn't exist anywhere in the world except in our society. When I see a woman, I don't necessarily think of her in that [sexual] way. We are not catering to these kind of people and we really don't care about [them]… We will continue to do what we do. We will still tell artists to wear what they like… Every year we push the barrier one step further. We're very difficult to stop - in all modesty," he said.
Egypt is home to the largest Christian community in the Middle East, making up around 10 percent of the population, but Christians in the country faced unprecedented persecution in recent years, with 128 killed and more than 200 driven out of their home due to their religion, according to a report by Open Doors. The research said this was partly due to "the overspill of Islamic terrorists driven out of Iraq and Syria".
Survival of the film festivals
While a series of film festivals have been scrapped across the Middle East, with Dubai having "moved on" from the Dubai International Film Festival (DIFF), according to Dubai Film and TV Commission CEO Jamal Al Sharif, and the postponed Gulf Film Festival having never returned - Sawiris said the Arab world needs "a liberator" like cinema.
"It's a shame that [DIFF] was [discontinued] because it was a big success when it started and we really need this in our area because cinema is a liberator. When you go to the cinema and you watch a good movie, after the movie, you go out with a lot of sensation, emotions, thoughts about life," he said.
https://www.arabianbusiness.com/culture-society/432946-naguib-sawiris-if-god-wanted-women-to-be-veiled-he-would-have-created-them-with-veil
--------
Can Faith And Women's Rights Be Reconciled In The Middle East?
11 Nov 2019
Palestinian-American humanitarian Manal Omar has spent two decades cultivating her personal power within the arenas of global NGOs and the US government. Now she is determined to teach women in the region how to access their own internal power for a better society.
Omar founded Across Red Lines (ARL) in 2017, a series of three-day retreats that work to empower women through Islam and personal transformation coaching.
"After many years of seeing how the same awful humanitarian situations were preventable, I realised that my skills would be best used in prevention," Omar tells CEO.
"So I stepped back from the highest level of government meetings and I really started to think about what prevention would really mean... I realised that nurturing truly evolved women is a step towards creating a world with purpose and a region without conflict," she says.
Omar has worked with the World Bank, Oxfam, Women for Women International and the United States Institute of Peace. It was working with these organisations, focusing on programmes in the MENA region that inspired her to launch ARL.
"For women to lead, they need to be integrated into their own power and their own leadership style," she says.
"Since the beginning of time, religion has told women stories of how they must sacrifice or suppress their character. Let's face it, women have been hung, stoned, drowned and burned across the ages in the name of religion."
According to Omar, women who love their faith also want to be empowered.
"Women aren't sure they want a secular personal leadership model because it's too detached from their faith. But they also don't want to have to choose between leadership, their full potential and their faith," she explains.
Omar's ARL retreats are designed to empower women to "create a more peaceful world" by enabling them to tap into their true self. An intimate group of eight to 12 women come together and work through a curriculum crafted by Omar. Topics range from Reiki and facing the true self, to negotiating conflict, management skills and mediation, to Islamic tradition, in group sessions and workshops.
"I use a lot of my conflict and negotiation skills to teach women to ask for what they want," she says. "I try to bring joy and happiness as a form of transformative energy.
"What would happen if women actually stepped into their own joy? That's my theory of wider change."
The workshops provided by ARL are developed to challenge women to become leaders in their own lives, their communities and the world.
"It has been communicated through the years and politics that have particularly targeted women, especially Muslim women, that somehow they are not worthy of personal pleasure," says the company's literature. "ARL has found that not only is Islam and women's rights to pleasure in line with one another, but Islam provides a framework to personal freedom, pleasure and expression of power."
By teaching women to access their own personal power, they will no longer be defined by their external circumstances, Omar says. "Even in the midst of war, we still need to be able to find that oasis of peace and stability.
Our retreats teach women that your world can be found inside you, not externally. That lends enormous power."
Much of the course's power lies in reengaging with and becoming conscious of the body. There are verses in the Quran that say 'the body will testify', but Omar teaches women that the 'body is testifying every day'.
"This isn't about the day of judgment – it's about here and now. Our body is always guiding us. Women are taught to over-ride our body's natural release mechanisms, but it's important to release emotions to clear our traumas.
"It's not just about releasing trauma, it's about creating space for inspiration. Releasing all your grudges helps you find inspiration."
Omar, who is a trained Reiki practitioner, says women have become so obsessed with beautification rituals that they have forgotten the rituals of spirit and pleasure. She also says that women have forgotten to look out for one another.
"At ARL retreats, we are in the desert, we cook together and stay overnight. It is a bonding ritual threaded with pure learning.
Each woman indirectly has a message for another woman. Half of them are non-Muslim females and it's an amazing exchange – it's interesting to see the perceptions they have."
"Women uplift women naturally but we are trained to do the opposite. I think a lot of the state of the world comes from that lack of support and connection."
She believes that women often tend to try to align to values that are more inherently masculine, especially in corporate environments, instead of connecting with their own energy.
"A shaman once told me that if you're only exhibiting masculine energy you're in a desert and if you're surrounded by feminine energy, you're in a swamp; neither of them can produce life. That really struck a chord with me."
Omar says the ARL retreats are a mere "sliver" of her life's work, nevertheless she spent four years building the curriculum to help women find their personal fulfillment.
"Before I really stepped out with the curriculum, I wanted to make sure it was valid. I needed to make sure it was protected before I rolled it out and now I'm hoping to roll it out to effect policy." She adds with a smile: "If you'd told me 5 years ago I'd be doing this I'd be like 'No I'm in line to be an ambassador'."
The bigger picture
Omar says she has spent her life until now running her own "R&D" department.
"I research all the global laws that are traditionally used against women and then I take my negotiation skills and talk with religious leaders. I believe that law should be a fluid, growing system."
Omar says only 3 per cent of the world's negotiators are women. "I can't tell you how many times I'm the only woman in the room. It's really outstanding to me that we ignore it."
She says the global activist network is made up of two types of people: 'fire fighters' and 'architects'.
"I was spending too much of my time being a fire fighter, now I want to be an architect. I'm trying to build a new way of being – something that we can be proud of and something that is within the bounds of our religion."
Whatever change Omar enacts, through the ripples of her retreats or otherwise, the veteran activist insists that all progress must be 'authentic'.
"There are a lot of people looking from the outside in at the progress of women's rights in the region and they are frustrated because progress is slow. But many programmes that are implemented too quickly are too artificial; it takes times for mindsets to change. It has to be real."
https://www.arabianbusiness.com/business/432777-can-faith-womens-rights-be-reconciled-in-the-middle-east
--------
URL: https://www.newageislam.com/islam-women-feminism/uae-cabinet-approved-policy-prevent/d/120234
New Age Islam, Islam Online, Islamic Website, African Muslim News, Arab World News, South Asia News, Indian Muslim News, World Muslim News, Women in Islam, Islamic Feminism, Arab Women, Women In Arab, Islamophobia in America, Muslim Women in West, Islam Women and Feminism