New Age Islam News Bureau
21 Apr 2013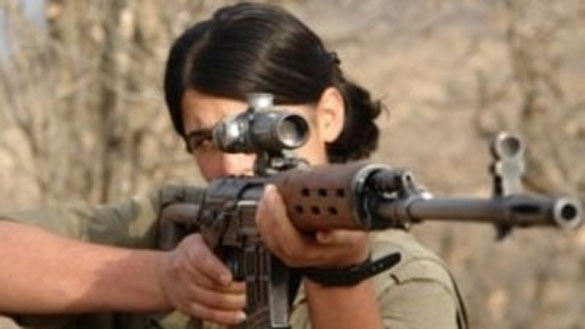 Kurdish women fighting in Syria (AFP)
--------
• Women of Swat Say They Will Vote, Come What May
• Saudi Girls Ignore Social Taboo, Take Up Horseback Riding
• Over 60 School Girls Poisoned In Takhar Province of Afghanistan
• Kurdish Women Warriors' Battle in Syria
• With Flight of Skilled Labour from Saudia, Women's Workshops Suffer
• Eritrean Female Pilot Seeks Political Asylum in the Saudi Kingdom
• Woman Defiantly Smokes On Lebanese Airline
• Yemen Women Divided Over Rights Fight
• Moroccan adoption law change leaves foreigners in limbo
• Pakistani Poetess Talks about Her Life Poetry and Family
• 100 Years after Rights Pioneer, Women Still Lack Rights in Indonesia
Compiled by New Age Islam News Bureau
URL: https://newageislam.com/islam,-women-and-feminism/new-age-islam-news-bureau/uae-beauties-compete-to-take-part-in-global-modelling-contest/d/11233
--------------
UAE Beauties Compete To Take Part in Global Modelling Contest
21 April 2013
The UAE is in search for its next top model to participate in the global Elite Model Look Competition, with more than 270 young hopefuls dreaming to win the title, Gulf News reported on Saturday.
The contestants, who have to be over 172cm tall, lined up at a Dubai mall on Friday for the country's first participation in the global competition.
The second casting will take place in Abu Dhabi on May 3.
Elite Model Look Competition has produced world renowned models the likes of Cindy Crawford and Diane Kruger.
The competition is open to women, aged 14-22, and men up to 28 years old. The winner chosen by the five-member jury will go to the global Elite contest in the Far East at the end of the year.
http://english.alarabiya.net/en/life-style/2013/04/21/UAE-beauties-compete-to-take-part-in-global-modeling-contest.html
--------------
Women of Swat Say They Will Vote, Come What May
April 21, 2013
SWAT: In an act of defiance, women voters in Swat have vowed to cast their vote according to their own wishes and not at the dictates of male family members.
Unofficial surveys conducted by the Swat Scouts Open Group in Kabal, Varikot, Matta and Mingora Tehsils revealed that women from all backgrounds will actively participate in the election process and are determined to show up at polling stations, no matter .
Though women make up more than half of Swat's population, the female literacy rates hovers at "only 24%, substantially less than that of males, which averages at about 65%," said District Education officer Dilshad Begum.
The people of Swat are considered to be somewhat more moderate and educated compared to those that live along the Pakhtun belt, but religious beliefs and cultural norms tend to cast a shadow over gender equality.
For instance, during the 2008 general elections, political parties working in Swat decided to restrict women voters from casting their ballots.
"Only 15% of the polling stations designated for women were functional in 2008. The rest of the polling stations were either closed or deserted. This was because contestants from all political parties had jointly decided to not allow women to cast votes," said Seema Shah, a social activist in Mingora.
Back then, the women of Swat did not resist their disenfranchisement. This time, they are determined to fight for their rights.
"Denying women the right to vote is like denying their very existence," said 25-year-old Sanam, a resident of Mingora. "Polling is of supreme importance for creating a democratic society, and though our right to vote was taken from us in the past, this time, we'll make sure every effort to keep us away from the polls is defeated."
Tabassum, a social worker who is also determined to vote, is even more vocal. "Who has given men the right to stop women from casting their votes? This is our constitutional right and we are entitled to our opinion and to elect our representatives according to our own wishes." She also has a warning for those who stand in her way. "If men try to stop us this time, we will come out on the streets and protest," she said, adding that women will then also prevent men from voting.
Pakistan Tehreek-e-Insaf's provincial women's wing general secretary Nadia Sher Khan said her party will make sure that women show up at polling stations on Election Day.
Nadia hails from Bandai village in Tehsil Kabal, which was once a Taliban stronghold and home to Mullah Fazlullah. "We believe in the equal participation of women in civil life as they comprise half of the population. We take female participation in elections very seriously and will help women to cast votes in our area. We will never allow anyone to stop women from voting," she said.
Advocate Saima Anwar, the first female lawyer in Swat, said that any decision to bar women from voting will be challenged in court.
The Election Commission of Pakistan has placed a minimum of 10% female voter turnout condition for results to be valid at every polling station across K-P and the Federally Administered Tribal Areas. If they condition is not met, the results will be considered null and void.
However, the district election commission official, speaking on condition of anonymity, said that they have not received any official word from Islamabad yet.
http://tribune.com.pk/story/538441/fighting-back-women-of-swat-say-they-will-vote-come-what-may/
--------------
Saudi Girls Ignore Social Taboo, Take Up Horseback Riding
April 21, 2013
JEDDAH — Ignoring social taboos on horseback riding, an increasing number of Saudi girls are taking up the hobby despite many challenges and difficulties.
Okaz/Saudi Gazette met some of the girls who have been practicing this sport and spoke to them about their experiences.
Latifah Al-Yousif, 13, said she fell in love with horseback riding after watching Saudi equestrian Dalma Malhas perform.
Al-Yousif said she told her father she wanted to take up horse riding and he agreed and even encouraged her to excel and participate in competitions.
"My dad loves to come with me and watches me in action. I wish one day I will be like the great Dalma Malhas. She is my role model when it comes to horseback riding."
Joud Fahmi, 19, said she fell in love with horses when she was a child.
Growing up, she became a member of an equestrian club and took horseback riding lessons. Fahmi said her mother encouraged and supported her from the beginning.
"I owe it to her that I can today ride horses just like professionals," said Fahmi who wants to represent the Kingdom and take part in global tournaments. She one day hopes to buy her own horse.
Many girls said they do not want to compete professionally and simply took up horseback riding to enjoy the sport. Taleen Al-Ghatis said she loves horses and took horseback riding lessons because she finds the sport to be relaxing.
According to experts, horseback riding boosts one's self-confidence and physical efficacy and is an overall great form of exercise.
http://www.saudigazette.com.sa/index.cfm?method=home.regcon&contentid=20130421162296
--------------
Over 60 School Girls Poisoned In Takhar Province of Afghanistan
By SADAF SHINWARI
21 Apr 2013
According to local authorities in north-eastern Takhar province of Afghanistan, at least 48 school girls were poisoned due to unknown reasons in the capital city of Takhar province on Sunday.
The officials further added, the incident took place in Bibi Maryam girl's high school early Sunday morning and were taken to hospital for treatment purposes.
Provincial public health Chief Dr. Hafizullah Safi confirming the report said the main reason behind the poisoning of the school girls is still unknown.
Mr. Safi further added that majority of the students were discharged from the hospital and medical tests did not confirm the specific reason behind the poisoning of the girls.
On Thursday, a total of 17 students were hospitalized after a similar incident in a girl high school in the same city, some 245 km north of Kabul.
Several dozen of gas attacks against girl schools have been reported across Afghanistan over the past couple of years.
No group or individual has claimed the responsibility for the incidents so far. Radical Islamic groups and anti-government militants had in the past been blamed for such gas attacks.
http://www.khaama.com/over-60-school-girls-poisoned-in-takhar-province-of-afghanistan-1621
--------------
Kurdish Women Warriors' Battle in Syria
21 April 2013
Unveiled and barking orders at fierce-looking Kurdish men nearly twice her size, commander Engizek is a shocking sight within Syria's male-dominated rebel ranks.
A short, diminutive woman flanked by gun-toting loyalists, Engizek leads dozens of Kurdish combatants in Aleppo city's embattled district of Sheikh Maqsud, large parts of which were seized late last month from regime fighters.
"Women can shoot machineguns, Kalashnikovs and even tanks -- just as well as men," said Engizek, 28, wearing trousers and a sleeveless beige jacket, her dark hair bound tightly behind her head.
Full report at:
http://english.alarabiya.net/en/perspective/2013/04/21/Kurdish-women-warriors-battle-in-Syria-.html
--------------
With Flight of Skilled Labour from Saudia, Women's Workshops Suffer
21 April 2013
Costs in women's workshops in the Eastern Province have jumped dramatically by as much as 50 percent due in part to salary increase demands by new workers replacing older employees who lost their jobs recently due to the Labour Ministry's campaign to oust illegal workers.
The campaign by the ministries of Interior and Labour against workers in violation of their status had reduced the number of women workers in these workshops. The campaign had a ripple effect on prices of material and health licenses among other costs. The campaign increased the number of other workers entering these workshops who saw an opportunity to demand a raise in their monthly salary. This reflected on the price of the services.
Full report at:
http://www.arabnews.com/news/448854
--------------
Eritrean Female Pilot Seeks Political Asylum in the Saudi Kingdom
April 21, 2013
JAZAN — An Eritrean female flight lieutenant, who entered the Kingdom two weeks ago to fly back a military Eritrean airplane that landed earlier in the Kingdom, told Saudi authorities that she did not want to go back to Eritrea, according Jazan Emir's Office spokesman Ali Zala, Al-Hayat daily reported.
Zala said the lady is a staff member of the Eritrean air forces and was sent by her government to fly back the airplane which an Eritrean pilot flew to the Kingdom earlier and landed at King Abdullah Regional Airport. The pilot and his co-pilot wanted the Kingdom to give them political asylum and authorities took necessary measures at the time.
"When the lady entered Jazan, she immediately expressed her desire to seek political asylum in the Kingdom or facilitate the procedures of her moving to the country where her father lives."
Her request is being considered by authorities, Zala added.
http://www.saudigazette.com.sa/index.cfm?method=home.regcon&contentid=20130421162344
--------------
Woman Defiantly Smokes On Lebanese Airline
Sunday, 21 April 2013
A video of a defiant woman smoking on a Lebanese airline has gone viral by making the rounds on Facebook and Twitter on Saturday.
The video, which has been viewed over 75,000 times by Saturday evening, shows a woman puffing on a cigarette on a Middle East Airlines (MEA) flight when a cabin attendant approaches her demanding she put it out.
Full report at:
http://english.alarabiya.net/en/life-style/variety/2013/04/21/Caught-on-tape-Woman-defiantly-smokes-on-Lebanese-airline.html
--------------
Yemen women divided over rights fight
Women in Aden are torn between the national dialogue and fighting for secession as the best path for winning freedoms.
Rebecca Murray
20 Apr 2013
Aden, Yemen - Before Yemen's unification and the bloody civil war that followed, women in the southern port city of Aden say they were educated professionals with rights not experienced by those in the conservative north.
Yemen's unification in 1990 curbed those rights. Southern women were laid off from their jobs en masse, and gender discrimination took firm hold when former President Ali Abdullah Saleh's victorious regime rolled into Aden four years later.
Full report at:
http://www.aljazeera.com/indepth/features/2013/04/201341772410286960.html
--------------
Moroccan adoption law change leaves foreigners in limbo
21 April 2013
For more than a year Yassamane and Eric have been waiting to adopt a child in Morocco. But a decision to tighten the adoption law has thrown the whole process into doubt, leaving dozens of hopeful foreign couples in limbo.
Kafala as it is known in Morocco, or "custody" in Arabic, allows Muslims -- including converts to Islam -- to assume the guardianship of orphans in the North African nation.
The same conditions apply in most Muslim countries, where religion is a determining factor in the adoption process.
But last September, Morocco's government amended the law and barred foreigners from adopting, in order to better protect the children's interests and identity, according to Justice Minister Mustapha Ramid.
Full report at:
http://english.alarabiya.net/en/perspective/2013/04/21/Moroccan-adoption-law-change-leaves-foreigners-in-limbo-.html
--------------
Pakistani Poetess Talks about Her Life Poetry and Family
April 21, 2013
JEDDAH — Mukhtarunnisa, or popularly known as Gulnar Afreen, is a common man's poetess, although her diction and style also appeal to intellectuals. Born on August 15, 1947 in Tonk, Rajasthan, Afreen's family migrated to Karachi, Pakistan in 1951.
Like her father Sahebzadah Mateenullah Khan Wasiq Tonki, Afreen instead of siding with the feudal fought for the rights of the underprivileged.
Her poetry also largely talks about love, sympathy, hate and human fear.
In Indian literary circles she was called a rebel poetess for her eloquent expressions when painting the painful conditions of the distressed.
Full report at:
http://www.saudigazette.com.sa/index.cfm?method=home.regcon&contentid=20130421162249
--------------
100 Years after Rights Pioneer, Women Still Lack Rights in Indonesia
Johannes Nugroho | April 21, 2013
"Religion must guard us against committing sins, but more often, sins are committed in the name of religion," wrote early 20th century Indonesian women's rights pioneer Raden Ajeng Kartini. In her correspondence with Estella Zeehandelaar, she also expressed her profound opposition to polygamy, a common practice among members of the Javanese nobility of her day, sanctioned by religion. And yet the great Kartini herself in the end had to bow to customs and religion when her father married her off as the fourth wife of the Regent of Rembang.
Full report at:
http://www.thejakartaglobe.com/opinion/100-years-after-kartini-women-still-lack-rights-in-indonesia/587052
--------------
URL: https://newageislam.com/islam,-women-and-feminism/new-age-islam-news-bureau/uae-beauties-compete-to-take-part-in-global-modelling-contest/d/11233