New Age Islam News Bureau
25 Jun 2018
• Saudi Woman Drives Formula One Car To Mark End Of Ban
• World Applauds As Saudi Women Take the Wheel
• Saudi Insurance Stocks Soar As Female Drivers Take To the Road
• Car Rental Firms to Offer Jobs to Saudi Women
• Women Participated In Protests In Tehran, Bushehr, Iranshahr
• Egyptian Women Look To Boost Presence In Police Force
• Organization of Islamic Cooperation to Hold Workshop on Women's Issues
• Saudi Women Shine as Sales Clerks
Compiled by New Age Islam News Bureau
URL: https://www.newageislam.com/islam-women-feminism/two-muslim-women-up-divorce/d/115636
--------
Two Muslim Women In UP Divorce Husbands under Talaq-e-Tafweez
Jun 24, 2018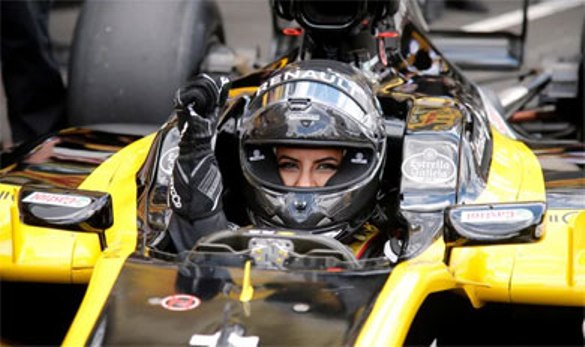 Saudi Arabian Woman Marks End Of Driving Ban By Getting Behind The Wheel Of Formula One Car, Aseel-Al-Hamad (Reuters)
--------
Even as the Muslim Women (Protection of Rights on Marriage) Bill 2017 is yet to be passed by the Rajya Sabha, two Muslim women in Uttar Pradesh have divorced their husbands using their rights under 'Talaq-e-Tafweez.
Yasmeen and Nisha have divorced their husbands in Bareilly district in the presence of two witnesses. Yasmeen married Arbaz in 2014 while Nisha was married to Jawed Ansari 13 years ago in 2005.
One of the witnesses, Qazi Zuber Ahmad confirmed the divorce under the Islamic laws.
The All-India Muslim Personal Law Board (AIMPLB) Secretary Jafrayab Jilani said that the model Nikahnama provides a clause giving women divorce rights (Talaq-e-Tafweez) but it is filled only on mutual agreement.
The AIMPLB Secretary said that though the Board has not yet come across any such case it is to be seen if the marriage was solemnized after signing the model Nikahnama and both the parties had agreed on that clause which delegates divorce rights to women too.
Jilani clarified that the divorce rights to Muslim women are conditional in Islam and the AIMPLB-approved Model Nikahnama has provided a provision for it depending upon agreement between both the parties.
It is usually exercised on cruelty to wife, not making physical relations for over three months or not taking care of her.
Qazi Zuber Ahmad, who is also an advocate, told media that in both the cases husbands were treating their wives badly and denying them their rights under the Islamic laws which forced them to use their rights under Talaq-e-Tafweez.
http://www.dnaindia.com/india/report-two-muslim-women-in-up-divorce-husbands-under-talaq-e-tafweez-2628810
--------
Saudi Woman Drives Formula One Car To Mark End Of Ban
24 Jun 2018
Aseel Al Hamad made a further breakthrough for Saudi Arabian women by driving a Formula One car ahead of the French Grand Prix.
The lap of the Le Castellet circuit came on on women driving on the Gulf kingdom's roads.
Hamad drove a 2012 Renault car as part of a parade of the French manufacturer's vehicles to mark the return of the race . The same Lotus Renault E20 car took Finland's 2007 world champion, Kimi Raikkonen, to in 2012.
"I believe today is not just celebrating the new era of women starting to drive, it's also the birth of women in motor sport in Saudi Arabia," Hamad told Reuters.
"The most important thing I am looking forward to is to start seeing the next generation, young girls, trying [motor sport]. I want to watch them training and taking the sport very seriously as a career. This is going to be really my biggest achievement." Hamad is the first female member of the Saudi Arabian Motorsport Federation and on the Women in Motorsport Commission (WMC) set up by Formula One's governing body, the International Automobile Federation (FIA).
She first drove the E20 on a training day on 5 June at the circuit.
"I have loved racing and motor sport from a very young age and to drive a Formula One car goes even beyond my dreams and what I thought was possible," she said. "I hope doing so on the day when women can drive on the roads in the kingdom of Saudi Arabia shows what you can do if you have the passion and spirit to dream."
Michèle Mouton, a former rally driver and president of the WMC, said she hoped Hamad's example would help pave the way for more women to embrace careers in motor sport.
Women in Saudi Arabia were able to take to the roads at midnight on Saturday, ending the world's last ban on female drivers, long seen as an emblem of women's repression in the deeply conservative Muslim kingdom.
The lifting of the ban, ordered last September by King Salman, is part of sweeping reforms pushed by his powerful young son, Crown Prince Mohammed bin Salman, in a bid to transform the economy of the world's top oil exporter and open up its cloistered society.
https://www.theguardian.com/world/2018/jun/24/saudi-arabia-aseel-al-hamad-formula-one-car-le-castellet
--------
World Applauds As Saudi Women Take the Wheel
June 25, 2018
JEDDAH: The world awoke on Sunday to images and video footage many thought they would never see — newly empowered Saudi women taking the wheel and driving their cars.
As the de facto ban on women driving ended after more than 60 years, women across the Kingdom flooded social media with videos of their first car trips, while some police officers among the large number out on the streets distributed roses to the first-time drivers.
The celebrations even reached as far as France, where Aseel Al-Hamad, the first female member of the Saudi national motorsport federation, drove a Formula 1 racing car in a special parade before the French Grand Prix at Le Castellet.
"I hope doing so on the day when women can drive on the roads in the Kingdom of Saudi Arabia shows what you can do if you have the passion and the spirit to dream," she said.
In a tribute to Saudi female drivers, the Lebanese soprano Hiba Tawaji released a special video of a song she performed live in Riyadh at a concert last December "Today women in Saudi Arabia can legally drive their cars," she said. "Congratulations on this achievement, this one's for you!"
Back home in Saudi Arabia, the atmosphere was euphoric. "It's a beautiful day," businesswoman Samah Algosaibi said as she cruised around the city of Alkhobar.
"Today we are here," she said from the driver's seat. "Yesterday we sat there," she said, pointing to the back.
"I feel proud, I feel dignified and I feel liberated," said Saudi Shoura Council member Lina Almaeena, one of the first women to drive in the Kingdom.
She told Arab News that the event was changing her life by "facilitating it, making it more comfortable, making it more pleasant, and making it more stress-free."
Almaeena urged all drivers to follow the traffic and road safety rules. "What's making me anxious is the misconduct of a lot of the drivers, the male drivers. Unfortunately they're not as disciplined as they should be. Simple things such as changing lanes and using your signals — this is making me anxious.
"But I'm confident: I've driven all around the world when I travel, especially when I'm familiar with the area. It's really mainly how to be a defensive driver because you have to be."
http://www.arabnews.com/node/1327396/saudi-arabia
--------
Saudi Insurance Stocks Soar As Female Drivers Take To the Road
June 25, 2018
LONDON: Saudi insurance stocks surged on Sunday, with investors expecting the sector to reap significant dividends following the lifting of the ban on female drivers.
Insurance stocks — one of the worst performing sectors on the Saudi bourse for the year to date — outperformed other classifications on Sunday, ending 2.4 percent higher, compared with a 1.8 percent rise for the Kingdom's headline index.
Amana Insurance and AlRajhi Takaful were the best performers of the day, gaining 9.9 percent each. Tawuniya, the Kingdom's largest insurer, ended Sunday 1.1 percent higher, with only one of the country's 33 listed insurance providers closing lower for the day.
The lifting of restrictions on female drivers — which came into effect on Sunday after first being announced in September — is part of a series of wide-ranging reforms introduced as part of Saudi Arabia's Vision 2030 economic transformation program, designed to diversify the economy away from a reliance on oil revenues.
The advent of women drivers is forecast to benefit the economy by significantly increase female participation in the workforce, and stimulating financial, insurance and retail sectors among others.
The insurance sector is set to draw particular benefit from the move, but may remain under pressure, according to rating agency S&P.
"We anticipate that efforts of the local authorities to tackle the large number of uninsured drivers, combined with the arrival of women drivers … and the introduction of additional benefits under the unified medical policy from July 1, will support further premium growth in the industry in the medium term," said S&P in a research note in April.
"However, these factors may be offset by the large number of foreign workers that have already left or will be leaving the Kingdom in 2018."
In spite of yesterday's price surge, insurance stocks are 8.4 percent lower for the year to date. Tadawul as a whole is up 15.6 percent so far this year, making the bourse one of the world's best performers for 2018.
Investor sentiment on Sunday was also boosted by investor optimism after index provider MSCI announced last week that it would upgrade Saudi stocks to its Emerging Markets Index from next year.
The widely anticipated upgrade — which puts Saudi equities on an index tracked by around $2 trillion worth of global assets — is expected to attract up to $40 billion of international funds, Tadawul CEO Khalid Al-Hussan told Arab News last week.
MSCI's upgrade came after a similar move by fellow index provider FTSE Russell in February, which is also scheduled to come into effect from next year.
Banks were among the other bright performers on Tadawul on Sunday. Arab National Bank led gains, closing up 4.2 percent, while blue-chip names NCB and AlRajhi rose 1.6 percent and 2.3 percent respectively.
Some petrochemical companies also added value, Reuters reported, following a rise in oil prices after OPEC decided on only modest increases in crude production last week.
Outside Saudi Arabia, Gulf markets posted minor gains. In Dubai, where the index was flat, Air Arabia was unchanged. Shares in the airline have declined by more than 10 percent since early last week, when the company said it had hired experts to protect its business interests in private equity firm Abraaj, which has filed for provisional liquidation. The airline said its exposure was around $336 million.
Last week, the UAE's securities regulator asked listed companies to declare their exposure to Abraaj.
http://www.arabnews.com/node/1327391/business-economy
--------
Car Rental Firms to Offer Jobs to Saudi Women
June 25, 2018
JEDDAH: Women drivers will bring about a huge economic recovery and bring down unemployment among Saudi women, as new jobs will be created that were not previously available to women — in the traffic department and car rental offices, for example.
The most significant change in the car rental market is that new company branches will be opened in universities, government departments and institutions. This will accordingly help to reduce the number of drivers in the Kingdom.
When Arab News toured car rental offices in Jeddah, many of them said they would have a training program to enable male and female Saudis to work in this field.
Salaries in car rental companies start at SR4,500 ($1,200). Nawaf Alghahtani, 25, a Saudi worker in car rental, said he started his job in a rental office three months ago and earned about SR5,000.
Fahad Taher, a customer services employee at another rental outlet, told Arab News: "Allowing women to rent cars will not change our pricing policies as we try to keep the prices the same, even during holidays and on special occasions."
Khalid Zahid, CEO of Budget Saudi Arabia, said there are no restrictions on women availing the services of car rental companies.
He said the only requirement to rent a car in the Kingdom is to have a valid Iqama or national ID and a valid Saudi driver's license in case of a resident or national. However, valid GCC driver's licenses are also acceptable.
In Saudi Arabia, you must be over 21 to rent affordable car brands and over 23 and above for luxurious brands. The same thing goes for women drivers, said Hattan Madani, a Budget customer service employee.
He also told Arab News that training for employees before they start work in this sector is not limited to men. "Training does not differentiate between male or female. They are both eligible to take the courses, which include video and scenarios showcasing all the steps and ways to deal with the job."
There is an e-training program called Doroob which one can use to get trained any time and from anywhere. It offers accredited certificates that are officially recognized by top employers in the Kingdom. These certificates also give their holders priority when applying for a job.
It is an integrated program sponsored by the Human Resources Development Fund.
The CEO of Budget Saudi Arabia is optimistic about the effect women drivers will have in the Kingdom's car industry.
"Today almost half the population consists of women. Let's say 5 percent starts driving. Some of them will buy and some will rent cars. In the end, the outcome will be positive, and this will be better reflected in 2019," he explained.
Zahid believes there will be a positive effect on Saudi households and the business sector. "When a company wants to rent cars for their sales employees, they rent them in large quantities. These cars are used for staff transportation," said the Budget CEO, adding that women drivers will increase the request for these cars.
Budget has women working in various locations, mostly hotels around the Kingdom. Zahid said although hotels have pleasant environments they are bombarded by people of different attitudes and backgrounds, so it is truly a test for their female staff.
"We are also starting to inject our car sales showrooms and various parts of our operations with women across the Kingdom. This will help a lot, especially when women enter showrooms to buy cars or rent them," said Zahid, because this will result in smoother transactions.
The Budget CEO believes that women driving in the Kingdom will also increase demand for their "At your doorstep" service where customers can order a car and it will be delivered to their door in three hours.
He said he truly believes that women obtaining a driving license will help economically. He explained that the income of the household would stay within the household. Income spent on transportation for drivers and taxis will go back into the household, and the money will stay within the economy. Women will be able to buy and rent cars.
This step will also benefit by creating more jobs for women within the car industry, such as working as taxi drivers and in car showrooms. "So it is not just about women driving but rather how the economy will benefit from it," the Budget CEO concluded.
http://www.arabnews.com/node/1327376/saudi-arabia
--------
Women Participated In Protests In Tehran, Bushehr, Iranshahr
24 June 2018
Women participated in protests actively on various occasions in recent days. They took part in protests in Tehran, Bushehr and Iranshahr against housing and water shortages, the heavy sentences handed down for the protesters arrested in December and January, and violence against women.
On Saturday, June 23, 2018, in the Province of Bushehr, women participated in an act of protest against 55 days of water cut-off in Dashtestan. The protesters blocked the road at Vahdatieh T-junction. One of the women participating in this protest said, "We have no drinking water, and we have no water for bathing and laundry."
Bushehr Province is located in southern Iran and lies along the Persian Gulf coast. It is the country's 17th largest province. The people of Dashtestan have been suffering from lack of water despite hot summer weather.
On the same day, young women and men studying at Tehran's Allameh Tabatabii University held a protest against the heavy sentences issued for the students who have been arrested and detained since December and January during the Iranian people's uprising. The students signed a petition in solidarity with the arrested students and activists. They held placards which read, "Your honor, we are innumerable."
The students of Social Sciences at Tehran University have already held five days of protest against heavy sentences issued for their fellow student activists. Young women have been remarkably active in these student protests.
In another development on Friday, June 22, 2018, women participated in protests by housing applicants against the government-backed Maskan-e Mehr Contractor.
After six years, when they paid to buy an apartment, their housing has not been granted and they have been left without any place to live. The applicants for Maskan-e Mehr housing paid their money during Ahmadinejad's presidency but have not received any response since then. Now, they have set up tents outside the site where their promised housing is supposed to be located.
Also on Friday, June 22, 2018, a group of Iranian teachers and activists, many of them women, held a protest in Laleh Park in downtown Tehran and demanded freedom of imprisoned teachers.
In yet another act of protest in solidarity with and protest to the gang rape of 41 young women and girls in Iranshahr, some 30 prisoners of conscience incarcerated in Gohardasht Prison of Karaj announced that they will go on hunger strike for three days. At the same, a group of women and girls in Iranshahr, southeastern Iran, held a protest outside the Noor Mosque in this city, demanding justice for the perpetrators of the gang rape of 41 young women and girls which has been tied to the Revolutionary Guard Corps (IRGC) and its affiliated paramilitary Bassij Force.
https://women.ncr-iran.org/iran-women-news/5278-women-participated-in-protests-in-tehran-bushehr-iranshahr
--------
Egyptian Women Look To Boost Presence In Police Force
N.A. Hussein
June 24, 2018
CAIRO — From June 15-17, Egypt's Ministry of Interior deployed the largest number of female police cadres it had ever dispatched on Egyptian streets as well as around cinemas and parks in a bid to provide security for the Eid al-Fitr holiday celebrations. The task of these female police members was to ward off harassment of and violence against women, which are common during holidays and public events.
The beefed up and organized presence of trained female police officers drew the attention of several local and regional Arabic- and English-language newspapers — some even went so far as to praise the role of women at the Ministry of Interior.
Young women were first allowed to join the Egyptian Police College in 1984. Not many joined in the beginning, as many Egyptians believed that police work was not suitable for women. After female participation remained low for four consecutive years, the college stopped accepting young women in 1990.
However, the Faculty of Specialized Officers at the Police College opened its doors to female university graduates to join the Interior Ministry upon completion of four years of study in required disciplines such as medicine, public relations, social services and languages. This would allow women to work as specialized officers in the fields of medicine and public relations and as supervisors at prisons, penal institutions and airports.
Although non-specialized young women have not been admitted to the Police College since 1990, the Ministry of Interior began to increasingly deploy female officers around churches and schools in 2014.
Schools were used as polling stations in both the 2014 and 2017 presidential elections and the House of Representatives' 2015 elections. Women also worked on securing public parks and cinemas, where crimes of harassment tend to be common. Also, in 2014, the Ministry of Interior established a special department for female police tasked with supervising the training offered to female officers who showed interest and had the necessary skills in the fields of self-defense, security and combating violence against women.
Alaa Abdul Majeed, a former general and former police science professor at the Police College, told Al-Monitor, "The presence of female police members within the Ministry of Interior has significantly contributed to the achievement of great successes. The presence of women has become indispensable to ward off crimes of harassment. There are many figures and statistics that prove this. For instance, there has been a decline in harassment crimes during the holidays of Eid al-Fitr, Eid Al-Adha and Sham al-Nassim since 2014. What's more, an Egyptian female police officer was martyred while on duty during the attack on the Alexandria Church in April 2017."
He added, "Women's work in the police is still partly frowned upon. Some people believe that security and police work is the preserve of men and that women's participation in such fields is dangerous. However, the unfortunate terrorist events that have been taking place in Egypt since 2013 … made everyone feel that no one is safe and that there is no difference between men and women. This led more Egyptian families and young women to join the police, and I think the successes achieved by women police will serve as a source of motivation for more young women to join."
Hamdi al-Batran, a retired general and a member of the Honest Officers Coalition, told Al-Monitor that he was satisfied with women's experience in the police in Egypt, and while he hoped the experience would last, he did not seem optimistic.
"The predominance of male officers in power centers at the Ministry of Interior and the deliberate marginalization of women contribute to the rampant corruption in the ministry, so I do not expect women's roles to expand. Female officers will only be securing celebrations and combating violence against women, which will decrease motivation in women and lead them to refrain from joining the police," he said. He said many veteran leaders reject women's empowerment and believe that females aren't efficient when it comes to this work.
Batran said that if the power centers predominated by men at the Ministry of Interior allow women to grow in their positions, then some women cadres could become security directors or assistants to the minister of interior, and this "would cause controversy at the ministry."
While he pointed out that women's status has improved under pressure from President Abdel Fattah al-Sisi, he ruled out that the Ministry of Interior would start relying on women as a general policy.
Hoda Badran, the head of the Egyptian Feminist Union, largely concurred, telling Al-Monitor, "Following the success of women's police in securing celebrations, churches and combating violence against women, it would only be natural for the Ministry of Interior to increase its reliance on women and allow them to carry out greater tasks, even if such an expansion included a limited number of female police cadres at first."
She noted that failing to do so at a time when women are proving successful at the Ministry of Interior will only lead to decrease motivation in other young women.
Al-Monitor contacted a 19-year-old Egyptian woman, M. Khaled, through the Facebook group "Police Academy and Military College for Women" — an unofficial page that advises females who want to join the academy or the college. Khaled said, "I wanted to join the Police Academy or the Military College. It was my life dream, but I faced many obstacles after finishing secondary school — starting with my family who rejected my choice, considering it a risky field. The obstacles continued with an unpleasant surprise that both the academy and the college accept only men with secondary certificates. They accept only females who have graduated from certain colleges determined by the Ministry of Interior."
But the Ministry of Interior has begun to increase its reliance on female police officers. In May, there were reports that the Ministry of Interior established its first women's special forces unit. Female officers in this unit received the same training received by male special forces. However, there haven't been any reports about special operations carried out by female special forces.
Ahlam Hanafi, a member of the National Council for Women, told Al-Monitor that increasing the reliance on women in all fields — be it inside or outside the Ministry of Interior — has become an official trend that all officials are aware of. This trend cannot be hindered by male officers who are in control of power centers within and outside the Ministry of Interior. This has been evidenced by the increase in the number of female ministers in the new Cabinet to eight, the number of female bank managers and the increasing number of female deputies at the Central Bank, among others.
Hanafi expects new Minister of Interior Mahmoud Tawfiq to take quick steps toward finishing what was started by former Minister of Interior Majdi Abdel Ghaffar in terms of empowering women at the Ministry of Interior.
This, she added, would prove that Egypt is a state of institutions that adopts a unified policy in empowering women regardless of the people in power.
https://www.al-monitor.com/pulse/originals/2018/06/egypt-women-police-force-obstacles.html
--------
Organization of Islamic Cooperation to Hold Workshop on Women's Issues
June 25, 2018
RIYADH: The Organization of Islamic Cooperation (OIC) will hold a two-day workshop on June 28 and 29 to prepare for the seventh ministerial conference on women's role in the development of member countries in Burkina Faso's capital Ouagadougou.
The workshop will discuss several initiatives including efforts of the organization's agencies and institutions in empowering women, enrich the Family Bank's draft sponsored by the Islamic Chamber of Commerce, Industry and Agriculture (ICCIA), and the concept paper about the OIC's prize for women's achievement, as per the Council of Foreign Ministers' request during its 45th session in Dhaka 2018.
http://www.arabnews.com/node/1327421/saudi-arabia
--------
Saudi Women Shine as Sales Clerks
June 25, 2018
DARB – Many Saudi women engage in small-scale trading activities to earn a living and support their families. Some of them double as sales clerks at shopping centers or at shops located along major roads in order to offset their economic problems.
"We face some issues; the most common among them is exploitation by shoppers who tend to pay the lowest price. This greatly affects our earnings," said one female trader while speaking to Al-Watan Arabic daily.
Um Ramzi, who works in a shop that sells readymade garments for women and children in Darb, said: "The shop was previously divided into two sections; one for males and the other for families. After the feminization drive the partition was removed."
She added: "The main problem faced by female traders and salespersons is the exploitation of shoppers who lower prices, even after getting a 40 percent discount."
Um Ramzi urged all shoppers to support saleswomen at shops to help them earn a living.
"I receive a monthly salary of SR2,700 after a SR300 deduction for the General Organization for Social Insurance (GOSI) subscription," she said.
Um Ahmed, who has been working for the last seven months in a perfume shop, said she received a good number of customers. Her salary is SR2,800 after a SR200 insurance deduction. "I also receive a commission on the monthly sales," Um Ahmed explained.
Amina who sells home-made products said: "I keep products of productive families in shop shelves and sell them to customers. The manufacturers will come in the evening to collect their take. Each productive family receives an average of SR1,200 weekly from their sales."
Ebtisam Daifallah, who runs a garments shop along the international road in Darb, said she has appointed a Saudi woman as a salesperson to sell women's garments.
Amal Abujameela said she received support from business pioneers to open a showroom for children's garments, adding that she has appointed a Saudi saleswoman.
Nasser Issa Qassim Ameen, owner of a shop for selling goods of productive families, said he allocated 50 corners to sell their products after charging a monthly rent of SR250.
Saleha Aael, who works as a salesperson at a shop for perfumes and cosmetics, said she and other Saudi women were working in two shifts inside the shopping complex. "We feel secure due to the presence of security guards," she told Al-Watan.
Meead Abdullah said female shoppers find it comfortable to deal with women sales clerks.
"I receive a monthly salary of SR2,000 and I am not registered with GOSI," Um Abdullah, who works in a perfume shop. She said she received her salary of SR2,000 at least 10 days before the end of every month.
Businessman Mahdi Ibrahim Al-Hamoud, owner of a shopping center in Darb, said he considered employment of Saudi women as a national duty and provided them with every support to ensure their safety and security. Women workers are happy with the presence of prayer halls, recreation facilities and security guards under the same roof.
"We support Saudi women to enjoy employment stability. We support women to start small business ventures as well by offering them three-month rent holiday," said Al-Hamoud.
http://saudigazette.com.sa/article/537519/SAUDI-ARABIA/Saudi-women-shine-as-sales-clerks
--------
URL: https://www.newageislam.com/islam-women-feminism/two-muslim-women-up-divorce/d/115636
New Age Islam, Islam Online, Islamic Website, African Muslim News, Arab World News, South Asia News, Indian Muslim News, World Muslim News, Women in Islam, Islamic Feminism, Arab Women, Women In Arab, Islamophobia in America, Muslim Women in West, Islam Women and Feminism