New Age Islam News Bureau
12 Jan 2015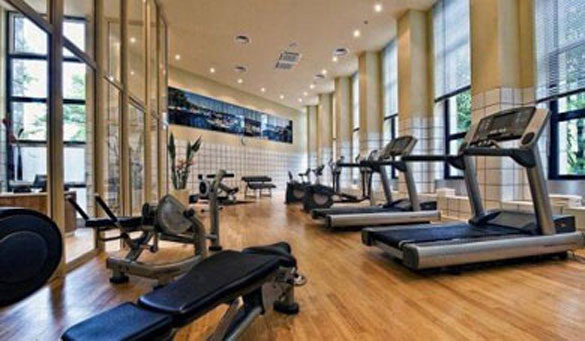 Fitness Center: Most health clubs are located either in a small room in women's salons or in big expensive hotels
------------
• All Systems Go For 1st Civic Vote With Saudi Women's Participation
• Gyms for Women, Saudi Coaches Demanded
• 9 Muslim Women Reverts Honoured In Jeddah
• Saudi Private Schools Cleared Of Gender Mixing Charges
• Quetta Women's Convention: Maternal Mortality Rate Is Embarrassing
• VHP Claims 200 'Love Jihad' Cases, But Police Says Only Six
• Austria Detains Teen Girls Who Wanted To Marry ISIS Fighters
• Tudung-Clad Malay Girls Went Onstage Willingly
• Global: The Changing Face of Afghan Women
• Why Women Are Willing To Become Sex Slaves to Jihadists
• Integrating 3D Printing Education into a Curriculum for Girls in Africa
• Battered Women Being Trapped By The Housing Crisis: Women's Aid
Compiled by New Age Islam News Bureau
URL: https://newageislam.com/islam-women-feminism/two-more-girl-suicide-bombers/d/100976
----------
Two More Girl Suicide Bombers Hit North Nigeria Town
By Reuters
12 Jan 2015
Two suspected child suicide bombers blew themselves up in a market in north-east Nigeria on Sunday, witnesses said, killing three people in the second apparent attack in two days using young girls strapped with explosives.
The blasts struck around mid-afternoon at an open market selling mobile phones in the town of Potiskum in Yobe state, which has frequently been attacked by the jihadist group Boko Haram.
A trader at the market, Sani Abdu Potiskum, said the bombers were about 10 years old. "I saw their dead bodies. They are two young girls of about 10 years of age ... you only see the plaited hair and part of the upper torso," the trader said.
A source at the Potiskum general hospital said three people had been killed, excluding the bombers, while 46 were injured.
The town was hit by a suicide bomber in November when at least 48 people, mainly students, were killed during a school assembly. On Saturday, a bomb exploded at a police station in Potiskum.
Sunday's explosions came a day after a bomb strapped to a girl aged about 10 years old exploded in a busy market place in the Nigerian city of Maiduguri, killing at least 16 people and injuring more than 20, security sources said.
Boko Haram has been waging a five year insurgency to establish an Islamic state in the north-east of the country and the army's inability to quash the movement is a headache for President Goodluck Jonathan, who is seeking re-election in February.
Last year more than 10,000 people died in the violence, according to an estimate by the Council on Foreign Relations
The military lost ground in worst-hit Borno state last weekend after insurgents took over the town of Baga and nearby army base, killing over 100 people and forcing thousands to flee. The defence headquarters said on Saturday that the army was regrouping to retake the area.
In all, the jihadist group controls about 20,000 square miles of territory - an area the size of Belgium - which it runs as a mini Islamic state.
In the city of Jos in Plateau state, Mr Jonathan's campaign team was hit by two days of violence.
The driver of a campaign vehicle was killed on Sunday by youths who also set fire to a police station, said Abu Sunday Emmanuel, police spokesman. On Saturday, two other campaign vehicles were burnt.
http://www.telegraph.co.uk/news/worldnews/africaandindianocean/nigeria/11339067/Two-more-girl-suicide-bombers-hit-north-Nigeria-town.html
----------
All Systems Go For 1st Civic Vote with Saudi Women's Participation
January 12, 2015
Preparations have been stepped up for the upcoming municipal council elections, which will see, for the first time, women participating in the polls as voters and candidates.
Municipal and Rural Affairs Minister Prince Mansour bin Miteb has set up a high-level committee, including three leading women, to oversee the election.
"The committee will supervise the election process in all regions of the Kingdom and implement election strategies," he said.
Last July, the Council of Ministers passed a law on women's participation in municipal elections. The law allows councils to approve and implement municipal plans and projects and oversee maintenance works and investment projects.
According to the law, the minister of municipal and rural affairs would determine the size and make-up of the councils. They should not exceed 30 members, with two-thirds elected and a third appointed by the minister.
The law gives men and women the right to stand as candidates, vote and nominate others. It grants independent, nongovernmental and nonprofit establishments and charities the right to observe election procedures.
Prince Mansour said the general committee would finalize the election programs and models. He advised all departments to provide the committee with necessary information.
He also set up an executive committee under the chairmanship of Jedaie bin Nahar Al-Qahtani, director general of municipal council affairs. "The executive committee will support the general committee in managing the elections," he said.
This will be the third municipal elections in the Kingdom. Custodian of the Two Holy Mosques King Abdullah announced in 2011 that women would be allowed to vote and contest municipal elections in 2015.
"We refuse to marginalize women in all roles that comply with Shariah," the king told the Shoura Council's annual session. King Abdullah appointed 30 women to the consultative body in a major political and social reform.
The first municipal elections took place in 2005 in three phases. There are now 285 municipal councils across the Kingdom. Half of their members were elected while the second half were appointed by the minister.
Informed sources said women would have separate polling booths. Women municipal councilors will have separate offices. The ministry has given instructions to all local municipalities to make preparations for women's participation in the elections.
http://www.arabnews.com/featured/news/688306
----------
Gyms for Women, Saudi Coaches Demanded
January 12, 2015
Women in the Eastern Province are calling for the establishment of health clubs and gyms that provide high quality services, modern equipment and professional Saudi female coaches.
Speaking on the need for health clubs, one woman, Noha Abdul Rahman, said that "Women need to take care of their fitness. Health clubs in the province do not meet the required level that women need, and most clubs are either located in a small room in women's salons or in major expensive hotels".
Sharing her thoughts on the matter, Suhailah Hassan said that large cities such as Dammam and Alkhobar have no specialized clubs.
"I hereby ask officials and interested businesswomen and men to establish specialized centers that serve women and meet their needs. Regarding trainers, too, it is rare that women who exercise in the Kingdom receive training by a qualified person who can create an exercise regime that is appropriate for the women's physical needs, and that is not simply a bunch of random exercises," Suhailah said.
Mariam Khaled added: "Saudi women have a particular interest in fitness, and I call on businesswomen to establish such female gyms, which would be a successful and profitable bussiness."
Radiah Bogdan, director of Leen Health Center at Princess Jawaher Mashael Al Khair Center, indicated that women today are now more aware than ever before of the benefits and importance of sports in their daily lives. She said: "There are some gyms competing to provide the best and finest service for Saudi women here, which is a great encouragement."
Radiah added that there are few Saudi women coaches in gyms due to the lack of training institutes and centers. "Centres cannot provide professional training because they are not qualified nor equipped with coaches, but only for trainees," she concluded.
http://www.arabnews.com/saudi-arabia/news/688281
----------
9 Muslim Women Reverts Honoured In Jeddah
January 12, 2015
Nine new Muslim reverts of different nationalities were honoured at a reception at the Maulana Hifzur Rehman Seoharvi Academy, an organization that aims to spread Islam.
One of the reverts hailed from India, and the other eight from the Philippines, while the two guests of honor, Mariam Sani (formerly known as Pauttine Thomas) and Mariya Attarji (Lisa Quiroga), were born in the UK and the US respectively.
Some of the women reverted recently, while others entered the faith over a year ago. During the ceremony, in which they were showered with gifts, the women recounted their journey into Islam and the obstacles they faced.
"I must say that it was my destiny to choose the right path," Nureman, one of new Muslim women, told the audience at the ceremony. "Finding a job here in Saudi Arabia was the first step of my journey toward Islam, since it was here where I started reading books about the religion without actually really thinking of converting. But the more I read, the more interested I was, and now I am properly studying Islam at a Dawa centre."
Sheikh Fatima, another new revert, explained that she was born into a Christian family. When her brother and his friend came to Saudi Arabia, they reverted to Islam and tried to convince her to do so as well upon their return to India.
"My brother told me that if I wanted to come here I had to accept Islam which I did, thinking that in order to come to Saudi Arabia it was a requirement. At first, I didn't accept Islam in my heart," she said.
But a traumatic experience related to her one-year-old daughter made her change her mind about the religion.
"Since then I have accepted Islam from the bottom of my heart and I practice it every day, even my family back in India knows that I am Muslim now," she said.
Other new reverts also shared stories about their religious journey, and how their families turned their back on them after accepting Islam.
Mariam Sani, the British convert, said that it was Allah's will that she turned from being a Christian missionary to a Muslim convert. She wanted to spread Christianity's teachings around the world but found out she was spreading the wrong religion after learning about other faiths.
"My first books were Mohammed in the Bible and Jesus in the Qur'an, and after that I was researching more about Islam. While doing so, I unintentionally got closer to Islam, and one day I found myself accepting the faith," she said.
Umme Fakeha Zinjani, in charge of the academy's women's wing, presented the vote of thanks.
http://www.arabnews.com/saudi-arabia/news/688251
----------
Saudi Private Schools Cleared Of Gender Mixing Charges
January 12, 2015
RIYADH — There is no mixing between boys and girls in international schools owned by Saudi citizens in the Kingdom, the Senior Scholars Commission and Ifta Council was assured on Sunday.
After receiving reports that boys and girls were being taught together, the Commission called the head of the committee on international schools at the Council of Saudi Chambers in Riyadh for questioning, Makkah daily reported.
Mansour Al-Khinaizan said he held three meetings with three of the Commission's prominent members and was able to convince them that the allegations were false.
He said the Commission asked if the international schools were a real threat to Islamic identity and were propagating gender mixing.
Khinaizan said the three meetings were held with Grand Mufti Sheikh Abdulaziz Al-Asheikh, Sheikh Saleh Al-Fouzan and Sheikh Abdullah Al-Mutlaq. "Through documents and official papers we were able to prove to the Commission that the accusations were not true and that the Ministry of Education is closely monitoring the international schools for any violations," he said.
Khinaizan explained there are two types of international schools, consisting of those owned by citizens and others belonging to embassies. "The international schools owned by citizens teach Islamic subjects, Arabic language and the Kingdom's geography and history at all stages," he said.
http://www.saudigazette.com.sa/index.cfm?method=home.regcon&contentid=20150112230277
----------
Quetta Women's Convention: Maternal Mortality Rate Is Embarrassing
January 12, 2015
QUETTA: Balochistan Chief Minister Dr Abdul Malik Baloch said on Saturday that both school enrolment and maternal mortality figures in the province were highly inadequate and embarrassingly low.
More than 1.8 million children are out of school in Balochistan while maternal mortality rate is the highest among the four provinces.
Dr Malik was addressing the National Women Conference organised by the ruling National Party's Women Wing in Quetta. Women leaders and workers of the party from across Balochistan attended the conference.
"There are different statistics regarding the children who do not go to school in Balochistan. It is the responsibility of the National Party (NP) workers to join hands with the government to improve the enrolment," he said.
The CM announced that his government would soon launch a campaign to increase the enrolment of children in schools.
The government will launch a "School Bharo Campaign" during the month of March 2015. "It is the responsibility of every member of the party to make sure that teachers in their respective districts attend schools, "if not, just tell me," he said adding, "There will be zero tolerance towards phantom teachers and doctors."
The Balochistan government has already launched Education Management and Information System (EMIS) website. EMIS is designed to contain data about all educational institutes in Balochistan, the chief minister said.
The main benefit of EMIS website is that it will help in identifying ghost schools and absent teachers. "The website is effectively monitoring the situation in Quetta while it will soon be extended to across the province," he said.
Alarming figure
The top executive of the province said it was deplorable that so many women die during child birth and even a greater number of children die from preventable diseases.
"The maternal mortality rate is higher and alarming in Balochistan. This is quite embarrassing for us in the world," he said. "The children are dying from preventable diseases like measles. We have a thousand vaccinators. We can save the lives of children, if all the vaccinators perform their duties," he said.
According to the provincial health department, as many as 785 out of 100,000 mothers lose their lives during pregnancy in Balochistan as compared with 272 in the rest of the country.
He lauded the efforts of women workers of the party. "The women in our party have played a more important role than men during the election campaign," the NP chief said.
Women leaders from Sohbatpur, Nasirabad, Jaffarabad and Sibi districts in their speech criticised the health department for being ignorant to mother and child health issues.
At least 80 per cent people in Nasirabad and Sibi division are suffering from hepatitis B and C. Women are dying during the pregnancy, they said.
Women activists said that teachers have been drawing salaries without attending classes in Naushki, Chagai and Panjgur. "Female doctors are not available at Gynaecology Wards of the district headquarter hospitals of in Naushki, Chagai and Panjgur. Women in these areas are facing immense trouble and hardship," said activist Shazia Noor.
Women activists submitted reports of 28 districts of Balochistan regarding the party performance and problems. Around 400 women attended the conference.
Women leaders of the party demanded equal status in decision making set-up of the National Party.
http://tribune.com.pk/story/819976/quetta-womens-convention-maternal-mortality-rate-is-embarrassing-says-dr-malik/
----------
VHP Claims 200 'Love Jihad' Cases, But Police Says Only Six
Tribune News Service
January 12, 2015
Despite the claims made by the Vishwa Hindu Parishad (VHP) that a large number of forcible conversions of Hindu girls under 'love jihad' were taking place in Himachal, the police figures of such cases in the past five years indicates that there were just six such cases, out of which two were with girls' consent.
Interestingly, the number of cases registered against Hindu boys for allegedly kidnapping Muslim girls is also five.
Out of this, four cases of alleged kidnapping have been registered in Kangra district and one in Kullu.
It was earlier this week that Rajni Thukral, North Zone Sanyojika of Durga Vahini, the women's wing of the VHP, had alleged that there were more than 200 cases in Himachal, where Hindu girls had been enticed by Muslim youth and in some cases kidnapped and dumped later.
The VHP's claims of over 200 such cases, yet to be substantiated by the right wing organisation, have, however, sown the seeds of a 'love jihad' debate in a state which has never had any history of communal tension.
"Considering social stigma attached with such forcible marriages, followed by conversion, neither parents nor families like reporting it to the police. Efforts are made at personal level to sort out the mess and bring back the girl," said Aman Puri, vice-president of Himachal VHP.
He said there were almost 15 cases which had come to his notice in the past one year, where Hindu girls had been enticed and later forced into converting.
State BJP president Satpal Singh Satti was very candid in admitting that no such case of forcible marriage or conversion had come to his notice, while stating that marriage was a very personal affair provided it was not done forcefully.
"There are total six such cases registered in the districts of Mandi, Chamba, Kangra, Kullu and Sirmaur. In two cases in Sirmour and Chamba, girls had made a statement that they had married out of choice and there was no pressure on them," Sanjay Kundu, Additional Director General of Police (ADGP), Law and Order said.
He said there was no report of any Bangladesh national residing in Himachal.
Kundu said the police had constituted a special investigation team to trace a girl from Jogindernagar in Mandi, who had called up home to inform that she had been kidnapped by a Muslim youth and was residing in Rajasthan, though the boy hailed from Poonch.
In another case, a Hindu girl from Paonta Sahib had approached the Punjab and Haryana court seeking protection from her family as she had married a Muslim youth from Yamunanagar.
Puri said the VHP was not against such marriages, but against forcible conversion.
The VHP, however, maintained that it would provide the exact details of such alleged enticement and kidnapping cases of Hindu girls, which were on the rise in HP.
http://www.tribuneindia.com/news/himachal/vhp-claims-200-love-jihad-cases-but-police-says-only-six/28834.html
----------
Austria Detains Teen Girls Who Wanted To Marry ISIS Fighters
January 12, 2015
VIENNA: Austria has detained two teenage girls after they tried to travel to Syria to marry fighters from ISIS, a spokesman for the prosecution said Sunday.
The girls, aged 16 and 17, had been sent back to Austria from Romania, where they were picked up by authorities on a train on Dec. 30 as they tried to make their way to Syria to marry ISIS fighters there.
Around 170 people, many from Eastern Europe, have travelled to the Middle East from Austria to join Islamist militant groups, according to the Interior Ministry.
The parents of the girls had handed over the phone of the 16-year-old to Austrian authorities when she went missing in December.
Data taken from a Russian chat application on the phone showed conversations about the girls' plans, a spokesman for the prosecutors in Salzburg said.
The girls were detained in their homes in Salzburg and the province of Upper Austria after they returned from Romania.
The girls had Bosnian and Chechen family backgrounds, according to APA news agency.
Also Sunday, German federal prosecutors said police there arrested a suspected supporter of ISIS who was recently in Syria and raided his apartment in the state of North Rhine-Westphalia, federal prosecutors said Sunday.
The 24-year-old suspect, who has German citizenship, was suspected of having joined ISIS during a stay in Syria from October 2013 until November 2014, a spokeswoman of the federal prosecutor general said.
There were no indications, however, that the man identified as Nils D. had concrete plans for an attack and there was also no connection to the Jan. 7-9 Islamist militant attacks in Paris in which 17 people were killed, she said.
The arrest took place Saturday in the city of Dinslaken.
http://www.dailystar.com.lb/News/Middle-East/2015/Jan-12/283778-austria-detains-teen-girls-who-wanted-to-marry-isis-fighters.ashx#sthash.tFdyKJmp.dpuf
----------
Tudung-Clad Malay Girls Went Onstage Willingly
January 12, 2015
KUALA LUMPUR - The organiser of a K-Pop concert issued an apology after a viral video depicting B1A4 band members from South Korea touching, hugging and kissing tudung-clad Malay girls on the stage surfaced on social media.
Ina statement today, TGM Events clarified that the fans went on stage willingly.
"We apologise in all sincerity for the problems caused to the artistes and their fans caused by these reports.
"In future events, we will take into consideration the cultural and religious implications of the interaction between fans and artistes."
However, according to TGM Events, as a company run primarily by women, it did not and would never condone molestation or sexual harassment, as alleged by a particular media outlet, which it did not identify.
"The terminology used was taken out of context and it is extremely disappointing to us to witness an act of such irresponsible journalism."
In explaining circumstances behind the events, the company said that during the concert, the fans who appeared on stage were selected at random, based on questions that they posted on a message board with only their first name.
"The artistes, artiste management and us did not know who the selected fans were until they were brought on stage."
The company said that while it was not a standard protocol for K-POP artistes to get up close and personal with fans, this was a special meet-the-fan event and the programme was tailored towards fan engagement and interaction.
"Before the event in question took place, the MC (announcer) instructed the fans to not touch or get too close to the members of the group.
"Upon revealing the parody clip to be acted out, the group members asked and clarified with the selected fans if they were uncomfortable with the activity."
TGMEvents stressed that as it did not discriminate against any fan based on their race and religion, its programme was tailored to the preferences of the general target audience.
It was not within their authority or jurisdiction, it stressed, to restrict fans from activities that they willingly partook in.
In view of the threats against the said fans, the company also announced that it would not be releasing any information on them as it did not condone online harassment.
A three-minute 20 second video uploaded by Sukan Star TV, titled "Malay girls molested on stage by K-Pop artist yesterday", saw a K-Pop star hugging one girl from behind across the chest. When the girl turned around to face the star, she hugged him again voluntarily briefly.
After the artiste hugged the other girls who came on stage, they responded and hugged them back.
In the video, the girls on stage looked nervous yet excited to be in the presence of these musicians, triggering fierce backlash among netizens, with some The Rakyat Post readers asking them to remove their headscarves or to just remove all their clothes as it made no difference after their actions.
Another reader blamed the event organiser, saying: "The organisers need to explain to any artistes coming to Malaysia about the rules and what they should and shouldn't do in this country.
"Not all of these K-Pop singers know that they cannot touch a Muslim woman.
"I'm sure if you make it clear to them, this issue could have been avoided."
http://www.malaysia-chronicle.com/index.php?option=com_k2&view=item&id=439152:we-dont-condone-molest-tudung-clad-malay-girls-went-onstage-willingly-k-pop-organizers-slam-online-hecklers&Itemid=2#ixzz3OeXwIBvO
----------
Global: The changing face of Afghan women
12 Jan 2015
Afghanistan has been the land of conflict for many decades now. Dr Sima Samar, 57, renowned human rights campaigner and a vocal proponent of women's identity and freedom in the strife-ridden country, looks back with pain on all those years of turmoil which began with the Soviet invasion in December 1979. The ensuing war ended with the Soviet troops finally withdrawing in 1989 but this was immediately followed by Taliban rule, which was marked by extreme discrimination against women and austerity. From 1994 to 2001, women in particular saw their liberty and mobility greatly compromised. Those were the dark years when they were forced to remain shrouded in a burqa (veil) and could be beaten up if they so much as expressed a wish to study, work or play. "We became the only country in the world to ban women's education, that was how bad things had become," remarks the committed activist.
Like many women in her country Samar, too, had lived her entire life under the shadow of violence. What set her apart was the fact that despite these challenges she managed to create an independent identity for herself. After her husband was arrested by the communist government in 1979, she fled to Pakistan with her small son to begin life anew as a refugee. She never saw or got any news of her husband again. Putting aside her acute sense of loss and grief, Samar then got down to the tough task of building a career in Pakistan. She used her medical training from Kabul University to work at the Mission Hospital's refugee branch in Quetta, Pakistan. At the same time, she set an extraordinary example by becoming the first woman from her minority Hazara community to graduate as a medical doctor in 1982 from Kabul University.
During her years spent as a refugee, she observed the lack of health and educational facilities for women and decided to set up her own non-government organisation, Shuhada, in 1989, with the idea of addressing this issue. Shuhada started working in the core areas of health, education, human rights and the democratic processes and today continues to pursue its objective of shaping a modern, progressive society in partnership with numerous Afghan agencies, government departments and international bodies.
Even as she served her people while living in Pakistan, she continued to follow developments across the border as well. When the Allied Forces led by the United States attacked Afghanistan in retaliation for the September 11, 2001 bombing of the World Trade Centre in New York, she knew it was time for her to go back home. The US attacks resulted in the Taliban leaders fleeing to neighbouring regions and saw the installation of Hamid Karzai as Afghanistan's president, backed by the West. Samar returned only to be inducted into the interim Karzai government, first as Deputy President and later as the Minister for Women's Affairs.
While she was thrilled to have an opportunity to make a difference, politics turned out to be a different ball game altogether - one with which the good doctor was not all that comfortable. Ultimately, Samar was forced to quit in the wake of threats after her reported questioning of the Sharia in an interview that she gave to a Persian paper in Canada. In fact, ever since then she has been careful about expressing her views on religious laws.
However, her views are quite apparent. Remarking that "President Karzai is not very supportive of women's rights", she asserts, "we have to take our rights." Then, after another significant pause, she asks, "Which religion is supportive of women? They all control. A country in turmoil for the past 35 years has the men trying to protect women by putting them behind walls."
But times are rapidly changing for Afghanistan's women and Samar is hopeful of the future, "Women in Afghanistan are better off these days. They are coming out without the burqa. They are running NGOs, businesses, construction firms and doing different kinds of work. They are into sports as well - around 2,400 girls are playing cricket. We have a female cricket and a football team." Yet, Samar recognises the limits to women's mobility, "Now, a million girls go to school and there are female health workers, but I think women only exercise basic freedom, not full freedom."
Doing her bit to hasten the process of change, Samar has chosen to train her energies on creating a strong civil society that aggressively promotes human rights, children's issues, health and education. After stepping down from the government she has pursued many different activities in the area of rights activism. From August 2005 to June 2009, she was the United Nations' Special Rapporteur on Human Rights in Sudan and is now the Chairperson of the Afghanistan Independent Human Rights Commission (AIHRC), which is affiliated to the Office of the Human Rights Commission in Geneva.
Many laurels have come her way, including the Ramon Magsaysay Award for Community Leadership in 1994 and the Right Livelihood Award in 2012 - to name two. She was also nominated for the 2009 Nobel Peace Prize - a recognition that eventually went to US President Barack Obama.
For Samar, Afghanistan and its people remain her top priorities. Will she once again consider taking an active part in politics? "I'll see how effective I will be - as an independent or as part of the government. But one thing is sure, we are looking at positive transformations ahead," she says.
This optimism extends to the troop withdrawal as well, "I don't think their leaving will leave the field open for the resurgence of obscurantist elements. The Taliban will not be able to come back to power," she states with certainty. She cites three important reasons for saying this. One, the Afghan people had experienced Taliban's aggression and did not trust them. Two, the media had become vocal and the country has come some way from the days when television was banned. Today, there were more than 300 publications in Afghanistan and over 60 TV channels, with many women journalists in the field doing great work. Three, there is a new generation that has benefited from education that is emerging, and which will not give up its rights or freedom.
That does not mean, of course, that Afghanistan's problems have disappeared. Samar's overriding concern is creating an inclusive society that was transparent and where women have their rights and dignity. She recalls that while, at the 2002 Loya Jirga (tribal assembly), the emphasis had been on "Muslim brothers",more recently when her organisation had invited all the candidates participating in the April 2014 elections to speak on elections and human rights, the words "Muslim sisters" also figured in the speeches.
Samar is convinced that fundamentalism has no place in the new century and now it is up to women to push for change. She concludes, "Afghan women are fighting for power and position. We have a long way to go and we have to join hands. We know we won't be given our rights as a gift."
—(Women's Feature Service)
http://www.kashmirtimes.com/newsdet.aspx?q=40287
---------
Why Women Are Willing To Become Sex Slaves to Jihadists
12 Jan 2015
HAYAT Boumeddiene is currently the world's most wanted woman.
But the mysterious alleged accomplice of a man connected with a hostage siege and police killing in France is just one in a growing number of females becoming involved in shocking extremist terrorist groups.
Boumeddiene, 26, is on the run from police after being named as the partner of Amedy Coulibaly, 32, who was killed during a siege at a Kosher grocery store in Porte de Vincennes earlier today.
But she's not the first woman to fall for the charms of an extremist.
She's the latest in a growing list including Colleen Renee LaRose — also known as Jihad Jane —, Shannon Maureen Conley and Samantha Lewthwaite, dubbed the White Widow.
Retail Terrorism: Why it's a war we'll never win
Hollande: A "terrifying anti-Semitic act"
Like gender, age does not appear to be a factor in why these women are drawn to this dark existence.
A 15-year-old girl blew herself up in Nigeria last year, one of four attacks in the region carried out by young women.
The Atlantic reported last year that women in Syria were wandering the streets waving firearms and enforcing the jihadist code of conduct, all in the name of al-Khansaa — an all-female brigade linked to ISIS.
We take a look at the most notable female terrorists in recent memory.
Colleen Renee LaRose (Jihad Jane)
Self-titled 'Jihad Jane', 51-year-old Colleen Renee LaRose was sentenced to 10 years in prison last January for her role in a failed attempt to kill a Swedish artist who had depicted the head of the Muslim Prophet Mohammad on a dog.
She travelled to Europe in 2009 to take part in a plot to shoot Lars Vilks but returned to Philadelphia without the task completed.
She was arrested upon her return.
The judge who sentenced LaRose to a decade behind bars said her crimes were "gravely serious".
LaRose's lawyer Mark Wilson said immediately after the verdict that the sentence was reasonable.
"Ten years is about what we were hoping for all along".
Samantha Lewthwaite (White Widow)
Samantha Lewthwaite, 30, is the wife of Germaine Lindsay who was responsible for the July 2005 bombings in central London that killed 52 people.
The White Widow, as she was known, joined the Islamic State last year and became one of Britain's most wanted people.
Her rumoured death at the hands of a Russian sniper in November last could not be confirmed.
Lewthwaite, a former soldier's daughter, joined IS and became one of the most powerful women in the network, the Daily Mail reported last year.
She was born in Northern Ireland and schooled in Aylesbury and was suspected of involvement in the training of a special team of female suicide bombers in Syria.
Shannon Maureen Conley, 19, was arrested attempting to board a plane to join IS last year. Source: Supplied
Shannon Maureen Conley
Shannon Maureen Conley is expected to be sentenced later this month after pleading guilty in September last year to a plan to join ISIS and serve as a nurse at a jihadist camp.
Convey was 19 at the time.
She was arrested in at Denver International Airport in April preparing to board a flight to Germany and cross the border to Turkey after meeting an IS member on the internet, CNN reported.
Convey was a certified nurse aid and faces a maximum penalty of five years in federal prison.
http://www.malaysia-chronicle.com/index.php?option=com_k2&view=item&id=438702:lure-of-islamic-extremism-why-women-are-willing-to-become-sex-slaves-to-jihadists&Itemid=4#ixzz3OedNIgd0
-----------
Integrating 3D Printing Education into a Curriculum for Girls in Africa
12 Jan 2015
The Youth for Technology Foundation (YTF) is a global not-for-profit created in 2000. The goal of its creation is to partner with low-income communities in the US as well as rural areas in developing countries to, "create rich learning environments for youth and women to identify problems, learn about the causes, and apply appropriate technology as they solve critical problems in their home communities.
We have seen the interest in connecting women and girls with advanced technologies before and it's an initiative that bears repeating as a powerful way for women to raise themselves up in today's world. In many places, it's not enough to simply provide girls physical access to 3D printing technologies. Instead cultural access has to be created as well. YTF provides examples of the types of cultural barriers that might prevent girls from participating in the STEM education programs that they work so hard to provide:
"Rita, one of YTF's star students in Nigeria wasn't allowed to go to school until this year, as her parents would rather invest in their son's education. Thirteen-year-old Margaret is influenced by her parents' thinking that engineering makes a girl less feminine. She thinks pursuing STEM-related subjects in school will make her unfavorable marriage material. With 3D Africa, we're passionately making progress to close the STEM gender gap in Africa."
To help them help girls like Rita and Margaret, YTF turned to Indiegogo to begin a crowd-funded campaign to boost access in a variety of ways. They are seeking $10,000 in funding for this particular stage of their initiative, which they will use to expand the efforts that were made possible when they received a seed grant from WeTech. The money raised through this campaign would be used to buy not only equipment and software but also to provide transportation and to host a series of family outreach days designed to address the cultural barriers described above.
Their approach is one that tries to blend traditional feminine activities with STEM education. This type of feminine pedagogy has been demonstrated to be a successful way to begin to bridge the gap between male and female students. It comes with a barrel of critiques regarding the failure to address the conceived nature of femininity, but that critique can be critiqued…and so forth until it is realized that sometimes it is better to be at least trying to do something rather than to be paralyzed by the impossibilities of perfection.
The campaign, which began on December 30th has until February 10th to reach the $10,000 goal. Let us know if you have contributed to this initiative. Discuss in the 3D Printing in Africa forum thread on 3DPB.com. Check out the Indiegogo pitch video below:
http://3dprint.com/34904/3d-printing-african-girls/
----------
Battered women being trapped by the housing crisis: Women's Aid
12 Jan 2015
Christmas 2014 was the worst on record for domestic violence against women, with the current housing crisis putting their lives in even greater danger, according to Women's Aid.
The holiday has always been a dangerous time for women in abusive relationships.
Abusive partners use the festive season to ramp up fear, intimidation and intentional cruelty and violence, according to Women's Aid director, Margaret Martin.
But the level of violence and abuse reported to the domestic violence support agency's helpline over the Christmas period this year was unprecedented, she said.
"What really worries us is the level of physical abuse which was very high this year. We were getting reports of women being choked and strangled to the point of losing consciousness," she told the Sunday Independent.
Unlike previous years, excessive alcohol consumption by abusers was not a common or prevalent factor, she added.
At the same time, the lack of affordable and social housing, coupled with the dearth of affordable rental properties in the greater Dublin area, led to a surge of calls to the helpline in the days before Christmas and over the holidays.
It meant some women in abusive relationships were forced to sleep in cars. Others, sometimes with children, found themselves on the floors or sofas at the homes of family and friends as they sought sanctuary from violence, said Ms Martin.
"The housing crisis is even more serious for victims of domestic violence because the women are unable to leave the family home for financial or other reasons. If they cannot move, they face the real prospect of being harmed," she said.
"They're being forced to make a choice between hospitalisation or homelessness," she added
There are currently 90,000 people on the waiting list for social housing, with at least 170 "rough sleepers" in the capital alone, according to Dublin Simon Community figures.
Jacinta Carey, chair of Safe Ireland, which runs a national network of more than 40 services for victims of domestic violence, said its 21 emergency shelters are full to capacity due to the lack of housing available for women fleeing domestic violence.
"It's almost the perfect storm," she said.
"The 141 family units for short-term emergency accommodation at Safe Ireland's 21 refuges is a third of the recommended minimum number in other EU States. Women are being forced to stay in them for the medium and long-term because there is nowhere else for them to go," she said.
Just over 2,000 women and 2,700 children spent between three days to seven months at the refuge centres in 2013, the last year for which statistics were available.
But there were close to 4,000 requests made by women seeking emergency shelter the same year, meaning that hundreds of women, who were turned away, were potentially placed in danger by being forced to remain in their homes with abusive partners, Ms Carey said.
Turning to the courts for protection from an abusive partner that would allow an abuse victim to remain in the family home is also not a short-term solution because it could take up to four months for the local district court to issue a barring order.
The best a victim can hope for is securing an interim protection order in which a perpetrator can be arrested if he breaches any of the conditions.
A recent report from the Garda Inspectorate found widespread inconsistency in how gardai respond to domestic violence incidents.
http://www.independent.ie/irish-news/battered-women-being-trapped-by-the-housing-crisis-30897894.html
----------
URL: https://newageislam.com/islam-women-feminism/two-more-girl-suicide-bombers/d/100976