New Age Islam News Bureau
27 September 2021
• Afghan Saffron Boss Shafiqeh Attai, Says Taliban Will Not Silence Her
• Israel Releases Palestinian MP Khalida Jarrar after Two Years In Prison
• Women Enslaved By ISIS Say They Did Not Consent To A Film About Them
• Work for the Agency for Women's Scientific, Intellectual and Guidance Affairs
• Muslim Woman Attacked In Austria for Wearing Hijab
• Noura Al-Brahim Looks toward a Winning Future with Saudi Women's Futsal Team
• Modon Inaugurates Specialized Centre to Train Saudi Women to Work In Industrial Cities
• Saudi-Govt Kafalah Grants $115 Million in Loans To Women-Led Enterprises
Compiled by New Age Islam News Bureau
URL: https://www.newageislam.com/islam-women-feminism/holy-mosques-female-employee-scientific-/d/125449
--------
Two Holy Mosques Management Trains 600 Female Employees, Around 200 Work for the Agency for Women's Scientific, Intellectual and Guidance Affairs
September 25, 2021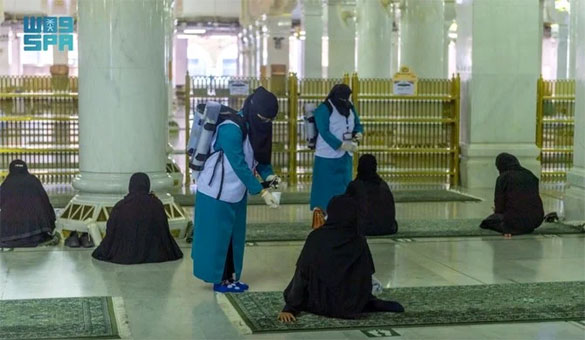 In line with the Kingdom's women empowerment program, the General Presidency for the Affairs of the Two Holy Mosques has started training and employing more women. (SPA)
-----
MAKKAH: The General Presidency for the Affairs of the Two Holy Mosques announced on Friday that it has so far trained around 600 female employees of its agencies or assisting agencies.
The Women's Development Affairs Agency, led by Al-Anoud Al-Aboud, deputy president for women's development affairs, employs 310 of those women.
Around 200 women work for the Agency for Women's Scientific, Intellectual and Guidance Affairs, led by Noura Al-Thuwaibi.
The rest of the trained women work at the Agency for Women's Administrative and Service Affairs, under the leadership of Kamelia Al-Daadi, the general presidency said in a statement.
Source: Arab News
https://www.arabnews.com/node/1935121/saudi-arabia
--------
Afghan Saffron Boss Shafiqeh Attai, Says Taliban Will Not Silence Her
Sep 27, 2021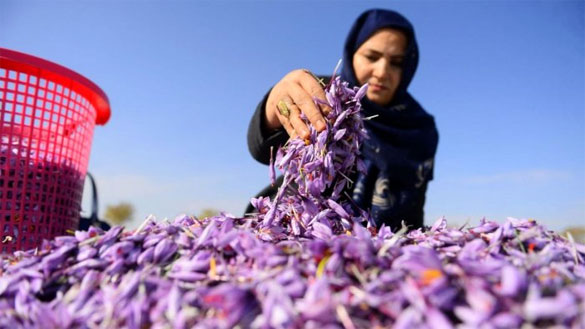 An Afghan worker sorts harvested saffron flowers in a field on the outskirts of Herat. Credit: AFP File Photo
-----
HERAT: An Afghan business leader who employs hundreds of women on her saffron fields has vowed to speak up for the rights of her workers, and "not remain silent" under Taliban rule.
The hardliners have increasingly excluded women from public life since sweeping to power in mid-August, pushing many female entrepreneurs to flee the country or go into hiding.
Many fear a return to their brutally oppressive rule from 1996 to 2001 when women were effectively banned from going to school or work, and only allowed to leave the house with a male relative.
"We will raise our voice so that it reaches their ears," said Shafiqeh Attai, who started her saffron company in the western city of Herat in 2007.
"No matter what happens we won't just sit at home, because we have worked very hard."
Attai's business, the Pashton Zarghon Saffron Women's Company, produces, processes, packages and exports the world's most expensive spice with an almost exclusively female workforce.
More than 1,000 women pick the brightly coloured crocuses across the company's 25 hectares (60 acres) of land in the Pashton Zarghon district of Herat Province, which borders Iran.
Another 55 hectares are independently owned and operate under the collective that Attai set up for women saffron pickers, who are represented by union leaders.
Employing women allows them to be breadwinners for their families, Attai said, enabling them to send their children to school, and to buy them clothing and other essentials.
"I worked hard to establish my business," the 40-year-old said. "We don't want to sit quietly and be ignored. Even if they ignore us, we will not remain silent."
The ousted, Western-backed government encouraged farmers to grow the spice -- used in dishes from biryani to paella -- in a bid to wean them away from Afghanistan's huge and problematic poppy industry.
Still, the country remains by far the world's biggest producer of opium and heroin, supplying between 80 and 90 percent of global output.
During their previous stint in power, the Taliban -- who used the sale of opium to fund their insurgency -- destroyed much of the crop ostensibly to eradicate it, though critics said it was to drive up the value of their huge stockpiles.
The cultivation of poppies has again surged in recent years, as poverty and instability increased. Afghanistan's production area is now roughly four times larger now than in 2002, according to the United Nations.
Herat Province produces the vast majority of Afghanistan's saffron.
At more than $5,000 per kilogram (2.2 pounds), saffron is the world's most expensive spice, and Attai's company produces between 200 and 500 kilos each year.
The pistil of the flower has for centuries been used around the world in cooking, perfumes, medicines, tea and even as an aphrodisiac -- and because of its high price has been dubbed "red gold" by those who rely on its cultivation.
Best grown in the baking hot sun, the bright purple saffron flowers are harvested in October and November by armies of workers, many of them women in their fifties and sixties, who start picking at dawn before the plants wilt later in the day.
Labourers then prise apart the delicate lilac leaves, vivid red stigmas and pale yellow stamens -- painstaking work that demands concentration and skill.
Attai is concerned not just about the future of her business, but also for women across Afghanistan who are living in limbo, uncertain about jobs, education and representation in government.
"Now that the government of the Islamic Emirate is here we are very worried that they will block our work," she said.
"They haven't given girls the permission to go back to school and university, and they haven't given any women posts in the government -- I am worried about what will happen," she added.
"I'm not just thinking about myself, I'm thinking about all those that this business supports to run their homes," she said, noting that some of her employees are the sole breadwinners in their families.
"I am worried that 20 years of hard work by these women will go to waste."
In the 20 years between the US-led ouster of the Taliban in 2001 and the Islamists' return, many women became business leaders, particularly in cities like Herat.
Long a key commercial hub near Iran and Turkmenistan's borders, the city has in recent months suffered from the flight of many businesswomen.
Younes Qazizadeh, head of the city's chamber of commerce, told AFP that he hoped the Taliban would make an official announcement to indicate that "women could come back and do business under this government as well".
For now, the fate of businesses like Attai's hangs on a thread.
"It is our hope to start women's businesses again in our country," Qazizadeh added.
Attai said that for now, she is staying in her homeland because she has "some hope" that her business can survive.
Ahead of the US pullout, a mammoth airlift saw 124,000 people evacuated from Kabul airport.
"I could have left as well. But I didn't leave because all the hard work and effort that we put in should not be ignored," Attai said.
"I don't think they will block our work," she added, referring to the Taliban.
"We are a company which is completely run by women and employs women -- not a single man is brave enough to stop that. A woman who has shovelled her fields day and night cannot be ignored."
Source: Times of India
https://timesofindia.indiatimes.com/world/south-asia/afghan-saffron-boss-says-taliban-will-not-silence-her/articleshow/86549905.cms
--------
Israel Releases Palestinian MP Khalida Jarrar after Two Years In Prison
26 September, 2021
Israeli authorities on Sunday released from jail Palestinian lawmaker Khalida Jarrar after two years in detention.
Jarrar, 58, was sentenced to two years in March 2021 for belonging to the Popular Front for the Liberation of Palestine (PFLP), which Israel and the United States label a "terrorist" organization.
But the Israeli military did not find evidence Jarrar had taken part in violent acts.
She had been detained without charge since 2019 when she was arrested along with several other Palestinian figures following an attack that killed an Israeli teenager. Israel blamed the attack on the PFLP.
Jarrar was elected to the Palestinian Legislative Council, or parliament, as part of the PFLP.
On Sunday the group congratulated Jarrar on her release, describing her as a "comrade in arms" known for her "patience and tenacity."
After leaving jail Jarrar visited the tomb of her daughter Suha who died in July, an AFP correspondent said.
At the time, Israeli prison authorities refused to allow Jarrar to attend the funeral.
Jarrar has been arrested and jailed many times and often held without charge in what Israelis call administrative detention.
Israeli administrative detention orders allow suspects to be held without charge for renewable six-month periods.
Israel says the procedure is intended to allow authorities to hold suspects while continuing to gather evidence, with the aim of preventing crimes in the meantime.
But the system has been criticized by Palestinians, human rights groups and members of the international community, who say Israel abuses it.
Source: Al Arabiya
https://english.alarabiya.net/News/middle-east/2021/09/26/Israel-releases-Palestinian-MP-Khalida-Jarrar-after-two-years-in-prison
--------
Women enslaved by ISIS say they did not consent to a film about them
September 27, 2021
Written by Jane Arraf and Sangar Khaleel
In a critically acclaimed documentary on the rescue of women and girls sexually enslaved by the Islamic State group, tension-filled scenes play out in a Syrian detention camp and later in a safe house, where victims are faced with agonizing choices.
The film, "Sabaya," from Sweden, won the prestigious Sundance Film Festival award for best director of a foreign documentary this year and opened the Human Rights Film Festival this month in Berlin. Critics gave it glowing reviews; its real-life scenes of car chases and rescue attempts are as dramatic as any fictional thriller.
But the film has upset some of the very people it was intended to celebrate: women from Iraq's Yazidi religious minority who were sexually enslaved by the Islamic State terrorist group for years and who are the main subjects. They and their advocates say it violated the rights of women, who had already been denied virtually all control over their lives, to decide whether they want images used.
Three of the Yazidi women in the documentary told The New York Times that they did not understand what the film's director, Hogir Hirori, planned to do with the footage or were told that the film would not be accessible in Iraq or Syria. A fourth said she knew he was making a film but told him she did not want to be in it. A Kurdish Swedish doctor who helped Yazidi women also made clear that she did not want to appear in the documentary.
"I told them I do not want to be filmed," said one of the Yazidi women. "It's not good for me. It's dangerous."
Their objections have raised issues about what constitutes informed consent by traumatized survivors and about the different standards applied to documentary subjects in Western countries.
Hirori, a Swedish citizen and former Iraqi Kurdish refugee, spent almost two years making the film in 2019 and 2020 and took several trips to Syria and Iraq. He said he had gotten verbal, written or filmed consent from all the women identifiable in the documentary.
Hirori, an experienced filmmaker, told the Times that he had initially recorded verbal consent from the women in the days after they were rescued in 2019 and while he was staying at the same safe house in Syria as some of them. He said his intention was to have them sign written releases on a subsequent trip to the region, but it was delayed because of the coronavirus pandemic, so he "physically mailed" the forms.
The women said they received consent forms, but electronically in English, a language they do not understand. The forms came almost two years after he filmed them and after the film had been screened.
The forms seen by the Times named Hirori and the producer, Antonio Russo Merenda, and were dated after the film debuted at Sundance in January. They asked for consent retroactively.
In cases where women did not give written consent, Hirori said, he used footage of them with their faces blurred. However, the lightly blurred features of some of the women are still recognizable in the film.
"Some people changed their minds," he said about the consent issue, speaking in Swedish through an interpreter.
The film unfolds in the aftermath of the ISIS takeover of parts of Syria and Iraq and its campaign of genocide against the Yazidis in 2014. The fighters killed an estimated 3,000 Yazidis and captured about 6,000 more, including many girls and women who were sexually enslaved.
The documentary depicts efforts to rescue Yazidi women by two Yazidi community leaders and guards at the chaotic and dangerous Al Hol detention camp in northeastern Syria.
After the fall of the Islamic State in 2019, some 60,000 women and children from territories that had been under the terrorist group's control were crammed into the teeming camp. They included hundreds of Yazidi women who were forced to continue living with the families of the fighters who had enslaved them, even though most of those fighters had been killed in battle by that time.
"These are people who were kidnapped at a very young age and who were held as slaves and sexually abused for five years," said Peter Galbraith, a former US ambassador who helped reunite more than a dozen Yazidi women with their young children who had been taken away from them. The Yazidi community in Iraq does not allow women to bring back children fathered by Islamic State fighters.
"I don't see how, in those circumstances, they have given informed consent," Galbraith added, saying even if they had, they most likely did not understand the full repercussions of it.
One scene in the film shows Dr Nemam Ghafouri, a Swedish doctor who helped Yazidi women for years. She died in March after contracting COVID-19 while reuniting Yazidi mothers with their young children fathered by Islamic State fighters.
One of her sisters, Dr Nazdar Ghafouri, said there were text exchanges with Hirori still on her sister's phone reminding him, after she found out that the documentary had been screened with her face showing, that she had not wanted to be in it. The filmmaker replied that there were no close-ups of her, according to the texts that her sister showed to the Times.
The film touches on the highly charged topic of separation of Yazidi women from their children fathered by Islamic State fighters.
Some women willingly gave up the children. But some are still hiding in Al Hol camp and other places because they know they will be forced to give up their young children if they want to return to their families and community in Iraq.
Some scenes in the film show a distraught young woman forced by Yazidi leaders to leave her 1-year-old son behind in Syria so she could return to Iraq.
"I saw him filming but did not know what it was for," said the woman. She said she was not asked to sign a consent release by the filmmakers at any time after that.
All of the Yazidi women interviewed requested anonymity. Some still fear the Islamic State group, while others are afraid of the repercussions within their own conservative community.
The women rescued in the film are still in camps for displaced Iraqis, in safe houses or in other countries. Nazdar Ghafouri said she believed the film could put some of them at risk and prevent them from moving on with their lives.
Another Yazidi woman who appeared in the documentary said Hirori told her he was filming for his own personal use. And another said she told Hirori from the start that she did not want to be in it because community leaders depicted as heroes had lied to some of the women and taken their children away from them.
One of the women said she was pressured by Yazidi officials to sign the consent form even though she did not understand what it said. The consent gives the filmmakers wide-ranging rights in perpetuity over the stories, images, voices and even the names of the women.
Human Rights Watch considered "Sabaya" for its own film festival but decided against it over concerns about the subjects.
"The film raises a number of red flags for us relating to concerns that it could be victimizing victims," said Letta Tayler, an associate director of the group's crisis and conflict division. "How can women who are being held in a safe house with no easy way out provide consent?"
She said she was particularly concerned about close-ups of a 7-year-old girl shown being rescued in the film. Hirori said he obtained consent from the girl's guardian, whom he would not name. But her legal guardian told the Times he was never contacted for consent.
The handling of consent for "Sabaya" is in stark contrast to common practices in Europe or the United States, where films generally provide proof that releases have been obtained to secure insurance protecting against privacy claims.
The Swedish Film Institute, the documentary's main funder, said that it was up to the film's producer to obtain consent and that it believed the filmmakers had done that.
"Just because they are far away, it doesn't make it right that we can eat popcorn and watch a movie about a horrific scene somewhere," said Nazdar Ghafouri. "This is not fiction. This is what happened to these girls."
Source: Indian Express
https://indianexpress.com/article/world/yazidi-women-isis-consent-sabaya-hirori-film-7537012/
--------
Work for the Agency for Women's Scientific, Intellectual and Guidance Affairs
September 27, 2021
In a significant stride towards women empowerment, around 600 Saudi Arabian women have undergone training and are now employed in various roles at the two grand mosques, the Tribune reported.
According to the report, the General Presidency for the Affairs of the Two Holy Mosques said it has so far trained around 600 women employees of its agencies or assisting agencies.
The Women's Development Affairs Agency, led by Al-Anoud Al-Aboud, deputy president for women's development affairs, employs 310 of those women.
Around 200 women work for the Agency for Women's Scientific, Intellectual and Guidance Affairs, while the rest work at the Agency for Women's Administrative and Service Affairs, under the leadership of Kamelia Al-Daadi, stated the report.
Earlier this year, Saudi women soldiers were appointed to stand guard in Mecca and Medina, the holiest site of Islam. As women dressed in military khaki uniforms monitored the security situation in the Grand Mosque in Mecca for the very first time, the move was hailed the world over.
Hundreds of women were also employed to serve female pilgrims and visitors to the Grand Mosque -- Khana-e-Kaaba -- in Mecca.
As part of the Vision 2030 plans being implemented in the country under the leadership of Saudi Crown Prince Mohammed bin Salman, many new areas have been opened up for women.
Earlier, the Saudi Ministry of Defence had announced that both men and women could apply for various military positions. In December last year alone, the Iruharam office recruited about 1,500 women to various sections of the Masjid-ul-Haram.
Source: India Today
https://www.indiatoday.in/world/story/saudi-arabia-hires-trains-women-jobs-grand-mosques-1857554-2021-09-27
--------
Muslim woman attacked in Austria for wearing hijab
Askin Kiyagan
26.09.2021
A Muslim woman living in the Austrian capital Vienna was physically harmed as she was subjected to a racist attack for wearing hijab.
"This was truly upsetting for me, I did not really know how to react for it was the first time I found myself in such situation," Baraa Bolat said in an interview with Anadolu Agency.
Noting that the attack took place in a city bus, Bolat said: "A woman approached, and told me to go back to Turkey with prejudice as I was wearing hijab, even though I am not from Turkey."
Bolat went on to say that she ignored the racist attack and moved toward the front of the bus, however, the assailant did not leave her alone and continued with insulting and racist remarks.
"I ignored her until she spat on me, which, during the epidemic, who knows, maybe she was carrying the disease. I thereupon got off, she followed me and attacked my hijab, pulling it very hard. The pulling caused needle attached to my hijab under my chin to wound me. I yelled at her but she did not stop until I took out my mobile phone and started taking pictures (of her), she then crossed to other side of street," she said.
Bolat also shared the incident on social media.
"I thought I had to take a stance against this incident, and everyone should learn about it. Regardless of wearing hijab or not, skin color or ethnicity, nobody should go through an incident of this sort, and this should not be ignored in any way," she said.
Muslim woman attacked in Austria for wearing hijab
Legal process initiated
Many people contacted Bolat following her post on social media, wishing her well and standing in solidarity, according to the Muslim woman, who said she filed a report to local police authorities and a legal process was launched.
She went on to say that the racist assailant was notorious for such acts and had previously targeted several others the same way.
"I am not the first person attacked, spat on by this person; many women wearing hijab were unfortunately been subjected to similar attacks by the same individual. So, she has to pay the price. If she has been psychologically disturbed, then she should be hospitalized or another solution must be found. It is unacceptable that the person is somehow outside and harms other people," she added.
In addition, she regretted to note that no other passenger on the bus opted to help her but instead stood as mere spectators, adding there should be more efforts for sake of awareness that would make people help others in need regardless of their different backgrounds.
Source: Anadolu Agency
https://www.aa.com.tr/en/world/muslim-woman-attacked-in-austria-for-wearing-hijab/2375507
--------
Noura Al-Brahim looks toward a winning future with Saudi women's futsal team
September 26, 2021
Noura Abdulmohsen Al-Brahim of Al-Yamamah Club in Riyadh has revealed her pride in representing her country after joining the Saudi women's futsal team in the training camp with Croatia.
"I am full of enthusiasm and desire to win and raise the name of the Kingdom of Saudi Arabia high and to be the best possible representative for my country," she told Arabic sports daily Arriyadiyah.
Al-Brahim pointed out that the Women's Football Department at the Saudi Arabian Football Federation has continued to provide strong moral support to all players ahead of their coming commitments in the Gulf and Asian championships.
On being part of the Saudi squad at the Croatian training camp, she called her experience "special and exceptional," adding: "I've learned many things about the game that are new to me. This trip also allowed me to learn about different cultures and learn about new ideas and ways to play football."
Speaking about her ambitions, Al-Brahim that her goal is to be Saudi's best player and help the national women's team become a force on the international stage.
As part of the camp that will run until Sept. 28, the Saudi women's team beat Serbian team ZFK Zemun 7-5 on Thursday and dedicated the victory to the nation's 91st National Day.
Source: Arab News
https://www.arabnews.com/node/1935776/sport
--------
Modon Inaugurates Specialized Centre to Train Saudi Women to Work In Industrial Cities
September 12, 2021
RIYADH — Saudi Authority for Industrial Cities and Technology Zones (Modon), in cooperation with Kafo Charity for Employing and Training, has inaugurated a specialized training center at the second industrial city in Riyadh, which aims at empowering women in the industrial sector.
Modon CEO Eng. Khalid Bin Mohammad Al-Salem noted that the strategic partnership between the two sides targets developing the role of Saudi women in the national economy under Modon's strategy to empower industry and contribute to increasing the local content according to the initiatives assigned to it under National Industrial Development and Logistics Program (NIDLP) in accordance with the Saudi Vision 2030.
He stressed that the new center was established in the second industrial city in Riyadh to design and offer women training programs that accord with the requirements of the labor market in the industrial sector.
He added that cooperation between Modon and Kafo enhances the role of the non-profit sector in industrial cities under the Saudi Vision 2030 that aims at increasing the contribution of this sector to the GDP to 5%.
The CEO also pointed out that Modon invests in the potential and capabilities of Saudi women through providing a model environment that keeps pace with their ambitions as employees or investors in the industrial sector, noting that Modon succeeded in increasing the number of Saudi women in industrial cities by 120% over the past five years to around 17,000 employees up from 7,860.
He said that the services and products provided by Modon to empower Saudi women include industrial oasis that includes kindergartens, cars waiting areas and medical and entertainment centers, with ready-built factories to encourage female business entrepreneurs and small and medium sized enterprises with areas of 1,500 square meters and 700 square meters, which are equipped for clean industries, such as medical and food industries, rubber industries and high-tech industries.
The CEO noted that Modon, in December 2020, organized a specialized conference to discuss investment opportunities for women and ways to address challenges and remove obstacles that hinder the work of women in the industrial sector, while the Authority is currently working on launching the small ready-built factory product with an area of 200 square meters for the first time in the Kingdom of Saudi Arabia in the first industrial city in Dammam. — SPA
Source: Saudi Gazette
https://saudigazette.com.sa/article/610826
--------
Saudi-govt Kafalah grants $115 million in loans to women-led enterprises
27TH SEP, 2021
RIYADH: The Small and Medium Enterprises Loan Guarantee Programme (Kafalah), a government initiative to finance small and medium enterprises, granted SR432 million ($115 million) of loans to 456 businesses led by women in the first-half of 2021, Arab News reported.
Businesses in the central region of Riyadh got the lion's share, as they received the highest Kafalah support, with 151 establishments accounting for 33 per cent of the total, taking SR178 million in financing. This was followed closely by the Makkah region with 115 establishments, or 25 per cent, receiving SR97 million.
The Eastern province came third, with 102 establishments, or 22 per cent, receiving SR99 million.
The Kafalah programme spans several business sectors, including wholesale commerce, catering and hotels, manufacturing industries, and administrative and support services.
Source: BOL NEWS
https://www.bolnews.com/latest/2021/09/saudi-govt-kafalah-grants-115-million-in-loans-to-women-led-enterprises/
--------
URL: https://www.newageislam.com/islam-women-feminism/holy-mosques-female-employee-scientific-/d/125449
New Age Islam, Islam Online, Islamic Website, African Muslim News, Arab World News, South Asia News, Indian Muslim News, World Muslim News, Women in Islam, Islamic Feminism, Arab Women, Women In Arab, Islamophobia in America, Muslim Women in West, Islam Women and Feminism