New Age Islam News Bureau
11 Sept 2018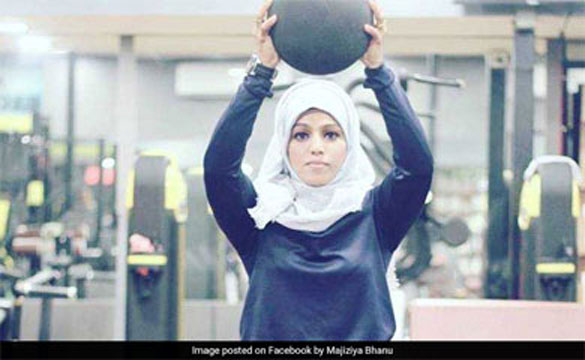 When 23-year-old Majiziya Bhanu took to the stage to compete in the women's segment of the Mr. Kerala competition in Kochi earlier this year, all eyes were on her
------
• Hijab-Wearing Majiziya Breaks Stereotypes in India
• 3 Women Named Directors of Health Centres in Makkah
• Women Should Take Top Jobs in Iraq's New Gov't: UNAMI Chief
• KSA Arrests Man over Breakfast Video with Woman
• Thakurgaon Woman's Life-Changing Handicrafts Venture
• For Lebanese Women, This 'Ladies Beach' Is Less Luxury and More Utility
Compiled by New Age Islam News Bureau
URL: https://www.newageislam.com/islam-women-feminism/two-holy-mosques-appoint-41/d/116346
--------
Two Holy Mosques Appoint 41 Women in Leadership Positions
10 September 2018
The President of the General Presidency for the Affairs of the Two Holy Mosques, Sheikh Dr. Abdulrahman al-Sudais, has appointed 41 women in leadership positions.
The Presidency said in a statement on Monday that the appointments came from al-Sudais' "keenness to keep up with the 2030 vision of our country and to work on its implementation and benefit from it and because Muslim women are an important message and a fundamental pillar in achieving this vision and in view of what is required by the public interest".
Al-Sudais also stressed that the presidency works to ensure that Muslim women are a constructive and active factor in the development of the services offered in the Two Holy Mosques by providing wider practical areas and opening wider horizons that would achieve progress, development and prosperity in accordance with the Sharia regulations.
https://english.alarabiya.net/en/News/gulf/2018/09/10/Two-Holy-Mosques-appoint-41-women-in-leadership-positions.html
--------
Hijab-Wearing Majiziya Breaks Stereotypes in India
September 11, 2018
Vadakara: When 23-year-old Majiziya Bhanu took to the stage to compete in the women's segment of the Mr. Kerala competition in Kochi earlier this year, all eyes were on her — never before had a bodybuilder wearing a hijab (Muslim headscarf) participated in the event. Proving that hijab is no hurdle for her or any other woman, she went on to win the competition.
Bhanu believes that the hijab is never an obstacle for a woman with burning passion, and if a woman is free to show her body, she should be free to cover it as well. While Bhanu is not the only Muslim woman in the world of arm-wrestling and powerlifting, she is yet to see another woman in the field who performs in a hijab.
"It is only after their names are announced that one realizes that the contestant is a Muslim," she said.
"I feel proud to wear the hijab, which is a part of my identity. It does not limit me in any way but gives me dignity and strength."
"I felt special and unique when I was on stage wearing one. If a woman is free to show her body, why should she not be free to cover it? I want to let the world know that the hijab is never an obstacle for a woman who wants to achieve the impossible. It's not just a piece of cloth, it offers strength and dignity," Majiziya says.
It took Bhanu just about two years to transform from being an ordinary dental student to a local celebrity, not just in her sleepy village here, but across Kerala. She has been selected three times as the strongest woman of the state by the Kerala State Powerlifting Association.
In the two years since she began her career, she has already won national medals in powerlifting and arm-wrestling, while also continuing her dental training. And be it in practice or in competitions, she always wears her hijab.
"In the initial days, men used to stare at me as I had my hijab on. But soon they realized that I was as serious as them in my workouts. Then all the eyes disappeared," Bhanu told IANS.
While she was always interested in sports, there were hardly any facilities available in her village. But that did not stop her. Every day after her dental classes, she used to travel 60 km by train to Kozhikode to a gymnasium.
"I used to return around 9 pm. Initially, it was tough, but I slowly gained the confidence to travel alone and, eventually, it became a part of my routine," said the final year dental student
Bhanu said that, but for her parents' strong support, she would not have been able to achieve what she did. "I hail from a very orthodox village here and my parents agreed to let me pursue my passion of bodybuilding."
Today, Bhanu is an inspiration in her village for many other girls like her. After her success, the village has now got its own gym, which is frequented by women just as much as men.
"Many young girls and women have started coming to me to seek advice on what needs to be done as they also want to do what I am doing. Now there is a gym in my village itself," she said, adding that now she goes to Kozhikode only three to four times a month.
Bhanu today is extremely busy as she is getting ready to participate in the World Arm Wrestling Championship 2018 in Turkey next month.
"I never knew I could make it as funds were needed for the trip. I did knock on quite a few doors and finally managed — a few well-wishers have sponsored my trip. At times, when I went scouting for sponsors, I felt that some did not wish to sponsor me as I was a Muslim woman," said Bhanu.
And of her future plans, she said her first goal is to finish her studies as it was her parents' dream to make her a medical professional.
"Once I finish it, then I will pursue my dream of setting up an academy which will be a multi-disciplinary one, including martial arts, powerlifting, arm-wrestling and bodybuilding. It would give special importance to girls. I am sure I will be able to pursue my passion and wish to empower women," Bhanu added with confidence.
https://www.siasat.com/news/hijab-wearing-majiziya-breaks-stereotypes-india-1404965/
--------
3 Women Named Directors of Health Centres in Makkah
September 11, 2018
MAKKAH – Three Saudi women have recently been appointed as directors of health centers in Makkah.
Speaking to Okaz/Saudi Gazette, these officials maintained that they will strictly adopt the policy of prevention of diseases. "Prevention and creating an creating awareness are the most important goals of primary healthcare," they said.
These, they said, their appointment is in conformity with Kingdom's Vision 2030 that supports empowering Saudi women and showing confidence in their abilities.
The director of primary healthcare center in Hindawiyah, Dr. Shahad Muhammad Rummani, said: "I will overcome all the challenges with the help of all my colleagues at the center. Non-acceptance of women may constitute the most important challenge I may face. I am open to all reactions and will accept criticism with an open mind and heart.
"All that concerns me is that the employee should be disciplined, punctual, effective and productive," she said.
Director of primary healthcare center in Al-Dhiyafa District, Nahla Haddad, said: "The beginning can be difficult and challenging, but with determination, resolve and others' cooperation, all hardships can be overcome."
Director of primary healthcare center in Al-Iskan District, Hatoon Bint Abdullah, said: "I will facilitate procedures for patients to get integrated and comprehensive healthcare of the highest world standards."
http://saudigazette.com.sa/article/543154/SAUDI-ARABIA/3-women-named-directors-of-health-centers-in-Makkah
--------
Women Should Take Top Jobs in Iraq's New Gov't: UNAMI Chief
September 11, 2018
ERBIL, Kurdistan Region – Women should hold key ministerial posts in Iraq's next government, outgoing UNAMI chief Jan Kubis said Sunday.
Kubis, who will soon step down as head of the United Nations Assistance Mission for Iraq (UNAMI), pressed the importance of including more women in government formation talks.
"The meaningful participation of women in the political process means the success of democracy in Iraq and the realization of a truly inclusive and representative government that serves the needs and interests of its people," Kubis said in a UNAMI statement on Sunday.
Kubis called on Iraq's political leaders to "consider nominating women for senior policy and decision-making posts, including for the Speakership and Deputies' roles in the new Council of Representatives."
Kubis also said the legal framework for nominating women to government positions should be respected – particularly the Gender Parity Bill which states at least 25 percent of elected representatives must be women.
This figure is not represented in high-level posts among ministers, the judiciary, and other institutions.
Women should also be considered to sit upon and chair parliamentary committees, Kubis added.
In the run-up to the May 12 election, female candidates across the country were targeted by smear campaigns. There were several cases of 'sexual shaming' on the campaign trail, particularly on social media, designed to undermine female candidates and put off others intending to stand.
UNAMI is sponsoring efforts to create a women's caucus within the Iraqi parliament.
Months after Iraq's May 12 election, the country is still without a new government.
Sayirun leader Muqtada al-Sadr and incumbent Iraqi PM Haider al-Abadi met on Sunday to affirm their parliamentary bloc remains united amid rumors that Sadr has started talks with the opposing bloc.
The meeting followed a toxic parliamentary session on Saturday where an increasingly isolated Abadi was urged to resign by Sayirun's spokesman and officials from the pro-Iran Fatih (Conquest) alliance of Hadi al-Amiri.
Abadi has been criticized by rivals and allies for his handling of the violent protests taking place in the oil-rich southern province of Basra.
Parliament is scheduled to meet on September 15 to elect a new Speaker. The session was postponed on September 3 amid an ongoing deadlock between Iraq's main Shiite lists.
Kubis, a Slovak former foreign minister who took the UNAMI helm in February 2015, will soon hand over to Jeanine Hennis-Plasschaert, a Dutch former defence minister.
http://www.rudaw.net/english/middleeast/iraq/100920185
--------
KSA Arrests Man over Breakfast Video with Woman
September 11, 2018
RIYADH:- Saudi authorities have arrested an Egyptian hotel worker who appeared in what officials described as an "offensive" video eating breakfast with a female co-worker. The footage, which sparked outrage on social media in the ultra-conservative kingdom, showed the pair sharing a meal at a desk. The woman, draped head-to-toe in niqab, is seen waving to the camera and feeding the man - who was filming - with her hand. "The labour ministry arrested an expatriate in Jeddah after he appeared in an offensive video," the ministry said in a statement on Sunday.–AFP
Local media has identified the man as an Egyptian national.
The ministry said the hotel owner had also been summoned for failing to adhere to government regulations that stipulate a gender-segregated workplace.
As the video sparked a torrent of criticism from arch-conservatives, the public prosecution urged expats in the kingdom to respect "values and traditions of Saudi society".
https://nation.com.pk/11-Sep-2018/ksa-arrests-man-over-breakfast-video-with-woman
--------
Thakurgaon Woman's Life-Changing Handicrafts Venture
September 11th, 2018
Mokseda has become a symbol of women's struggle for success
Mokseda Begum, owner of a garment shop in Thakurgaon, has become a model for the country's grassroots women entrepreneurs.
At the heart of the district town's Howlader Market, the shop named 'Ononna' is her life's work. She has endured an arduous journey to reach this stage.
Mokseda was a teenage bride, and after 10 years of marriage she lost her husband. She became the sole responsible for her son and daughter. Mokseda started working at an NGO but her nominal salary was insufficient to cover her expenses.
Mokseda began to dream that one day she would run a business. However, she lacked both capital and a technical education to do so. After six-months of sewing training, she took out a loan of Tk50,000, from the Department of Youth Development, to train 10 women in her area.
Mokseda founded a small sewing factory named Ononna Hostoshilpa, in 2000, with meager capital and manpower. Initially they started making: nokshi kantha, pillow cushions, women's bags, bed sheets, hats, mobile phone bags, and other products for different handicrafts fairs in Dhaka.
However, it was not smooth sailing for Mokseda. As she wipes her tears and continues her story. "Society is not keen on the idea of a woman running a business—especially, in a village."
She received no help from her family and her husband had not left her any assets at the time of his death. Earning a livelihood was a huge obstacle.
"Currently 200 women are working for this project. Now, we supply products as a wholesaler to different showrooms in Dhaka—as well as fairs. Apart from this, my products are sold to Bangladesh Border Guard (BGB) or in army shops. Additionally, we have a showroom in Thakurgaon town."
As demand rises for Ononna products, she seeks to transform the cottage-industry business and expand it on a large scale.
Mokseda Begum thinks that the biggest barrier to the marginalization of women in Bangladesh is a lack of money and proper guidance.
She recommends that women take loans from government organizations, rather than private organizations, to benefit from low interest rates.
Mokseda has bagged a number of accolades over the years in recognition of her hard work.
In 2011, she received a national award in handicrafts from the prime minister and in 2013, the Association of Grassroots Women Entrepreneurs gave her the Best Grassroots Woman Entrepreneur award.
Apart from this, Mokseda received the Joyeeta award from her district.
She changed her position but also dreamt of changing the lives of other helpless women.
"I have struggled to reach this position and will continue the struggle the rest of my life."
Currently her son Moksedul Islam is looking after her shop.
Thakurgaon-Panchagarh Reserved Women's Constituency MP Selina Jahan Lita and former sadar upazila vice chairman Tahmina Molla said that Mokseda has become a symbol of women's struggle for success.
https://www.dhakatribune.com/bangladesh/nation/2018/09/11/thakurgaon-woman-s-life-changing-handicrafts-venture
--------
For Lebanese Women, This 'Ladies Beach' Is Less Luxury and More Utility
September 11, 2018
They call it the ladies' beach. The name is demure; the scene, not so much — at least not once they pass the parking lot, the man checking tickets at the front gate and the dim corridor at whose far end blazes a rectangle of bronze sand and sea.
Hijabs are unwound from heads, veils tugged from faces. Jeans and abayas evaporate, divulging string bikinis, tankinis and swim shorts. Under spindly cabanas by azure waves, two women lie chest down on lounge chairs, their bare backs implying bare fronts. All around them, gallons of tanning oil glisten on acres of copper skin.
When a man on a Jet Ski buzzes past, a female lifeguard warns him off with a staccato of whistle blasts.
"Men," said Nada, a school bus supervisor from Beirut who was treading the Mediterranean just offshore, "are suffocating."
In Lebanon, a sliver of a country on the Mediterranean coast where summer sticks to your skin like moist Saran wrap, the beach is less a luxury than a utility. It is hard to imagine going without.
Public and pay-by-the-day beaches line the coast from Tyre in the south to Tripoli in the north, and every other billboard on the highways out of Beirut seems to display a bikini model promoting a tanning aid. (SPF, evidently, is not in style.)
But many observant Muslim women consider it "haram" — forbidden — to expose their bodies in front of men who are not their husbands or, in some cases, close relatives. Other women may cover themselves in deference to conservative families and communities. For them, a mixed-gender beach is to be avoided; those who go with their families roast in the sun fully clothed in hijabs and long-sleeved shirts and pants or abayas, the full-length caftans popular among devout Lebanese Muslim women.
Hence the emergence of ladies' beaches like this one, the Bellevue Beach Club in the seaside town of Jiyeh — a salt-tinged hiatus from the male gaze for $18 (around Rs 1300) a day, just 20 minutes down a trash-perfumed highway from Beirut.
It is a dedicated patch of sand for conservative women amid the cultural mélange of Lebanon, which, with its 18 recognized religious sects and vigorous all-night party scene, tends to be more socially liberal than other Arab countries.
At the Bellevue, there seemed to be as many different degrees of scanty cladding as there were women. For some women, religious scruples argued for more coverage. For others, style considerations, and the heat, argued for less. Each woman had made her own peace with the proportions.
"Here, I'm free to be me," said Rabab Amhaz, 35, a housewife from the inland Bekaa Valley. She gestured to her tankini, bright with a teal floral pattern, and shimmied in the water.
Seeking a second opinion on her beach visit, she had consulted her brother, a Hezbollah fighter. He had not only given her his blessing but shown her a YouTube video of a Muslim cleric explaining that swimwear was acceptable among women, so long as the women covered their lower bodies.
Nada, who began wearing the veil when she married at age 14, dismissed this assessment: You could find a cleric to say anything you wanted, she said.
Following her own strong conviction that all the skin on display around her was forbidden — who knew who might be watching from one of the boats that periodically splashed by, or from behind the walls of the resort? — she had looked at herself in the mirror that morning and changed into a more modest bottom. She also declined to reveal her last name to a reporter, preferring to avoid the prospect of disapproval at home.
But a swimsuit was a swimsuit — in this case, a black-and-white patterned swim tank with black shorts.
"When you see me on Facebook, I look completely different," she said, her hair loose and ropy in the water. "You wouldn't recognize me."
After next year, when she planned to make the hajj, the pilgrimage to Mecca that every Muslim who can afford it is supposed to undertake at least once, she said she would avoid even the ladies' beach; she, like many women who have completed the hajj, would adopt more modest attire.
And she frowned on the women who had brought their young sons, who are allowed up to age 8 on the beach. She did not want her sons or grandsons to get used to seeing women's bodies.
But still. "I love to swim," she said, smiling and shrugging, "so I have no other choice."
Nada and Amhaz agreed on one point: absolutely no beach selfies, not even to share with their husbands.
"No, no!" they exclaimed, high-fiving.
"My husband doesn't need pictures," Amhaz said. "He sees everything anyway."
Cameras are banned, the better to protect the beachgoers' modesty and privacy, though cellphones are not. But visits to several other Lebanese resorts, undertaken purely for journalistic purposes, suggested few other differences between women-only beaches and mixed ones beyond the obvious.
No matter the setting, gossip and hookah pipes scent the air. Snacks, water and shade are at a premium. People-watching is frequently rewarding.
Several ladies' beaches fringe the coastline south of Beirut, their names redolent of sandy glamour around the world (the Laguna; the Bondi). The Bellevue Beach Club began offering women-only days in the mid-1990s after veiled women began asking for privacy.
Business was good — better than on mixed days, even. It soon went all women, all the time.
A man collects tickets, but no other males are allowed. Women staff the restrooms and the pool. The staff includes the Australian and Filipino wives of the brothers who run the Bellevue, who go to mixed beaches together.
There is a female DJ for the thatch-roofed poolside cabana where beachgoers undulate, hips exuberantly swaying, to Egyptian singer Sherine Abdel Wahab and Lebanese singer Maya Yazbek.
Lebanon, where people from different sects share offices, neighborhoods and businesses, and crop tops can outnumber hijabs in some Beirut neighborhoods, might seem like a natural inventor of the ladies' beach. But women-only hours at the pool or the beach are common in other parts of the Middle East, too, including the United Arab Emirates and Bahrain, where dress codes for local women are more uniformly conservative.
At the Bellevue, there were no religious strictures on swim attire but each woman's own.
Nada's 21-year-old daughter wears modest gym clothing when she goes to mixed beaches with her husband; at the Bellevue, she wore a bikini top with a short swim skirt. She had brought a Syrian friend who, taken aback at the way the other beachgoers dressed, kept a tank top on.
Then there was Rana Ghalayini, a nurse from Beirut who had first put on the veil when she was 12, only to remove it because her family thought she was too young. When she married at 23, she and her husband agreed that she should be veiled. But she had resolved to keep her three young daughters unveiled until they, too, were 23.
"Religion is broad," she said. "It's a personal choice."
Her reasons for wearing a one-piece swimsuit to the Bellevue were more earthly.
"If I were skinny," she said, "I'd wear a bikini."
https://indianexpress.com/article/world/lebanese-women-ladies-beach-5350126/
--------
URL: https://www.newageislam.com/islam-women-feminism/two-holy-mosques-appoint-41/d/116346
New Age Islam, Islam Online, Islamic Website, African Muslim News, Arab World News, South Asia News, Indian Muslim News, World Muslim News, Women in Islam, Islamic Feminism, Arab Women, Women In Arab, Islamophobia in America, Muslim Women in West, Islam Women and Feminism