New Age Islam News Bureau
23 Jun 2020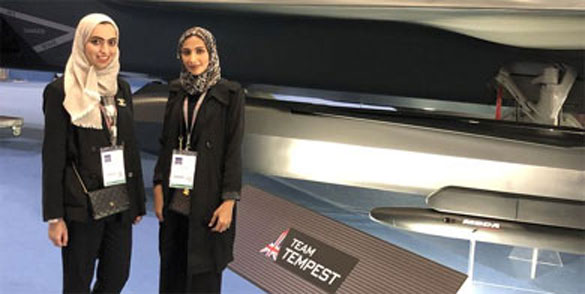 Emirati interns Ashwaq Saleh and Maryam Al Nuaimi
Image Credit: Supplied
-----
• Italy Thanks UAE's Sheikha Fatima Bint Mubarak For Help Fight Against COVID-19
• Two Women Board Members in Riyadh Chamber for First Time
• Black Arab Women Tackle Racist Beauty Ideals and Stereotypes
• Karachi Women Accuse Men of Harassment, Assault in EssaNagri
• New Johor PKR Women's Chief Says Wing Now Stronger Without 'Traitors'
• Egypt's Min. Of Social Solidarity Honours Egyptian Stars Yousra, Mohamed Samy
• Israeli Forces Arrest Palestinian Young Women at Al-Aqsa Mosque in Jerusalem
• Coronavirus Reveals Tunisia's Revolutionary Gains for Women Only Exist on Paper
• Women's Productive Invisibility from Economic Domain
Compiled by New Age Islam News Bureau
URL: https://www.newageislam.com/islam-women-feminism/two-emirati-women-set-boost/d/122194
--------
Two Emirati Women Set to Boost UAE Space Sector Following UK Internship
June 23, 2020
Angel Tesorero
Abu Dhabi: Two Emirati women, Ashwaq Saleh and Maryam Al Nuaimi, are set to help boost the UAE's Space Sector, after returning from their internship at BAE Systems, the British multinational defence, security and aerospace company.
"The two women spent six months from September 2019 to March 2020 at BAE Systems' Applied Intelligence (AI) Labs facility in Chelmsford, Essex – the city where radio was first invented – and have returned to the UAE and are ready to embark upon careers in the burgeoning space sector," a statement from Mubadala Investment Company said.
"Ashwaq and Maryam's return to the UAE coincides with International Women's Engineering Day, which this year focuses on ways in which women engineers have helped to shape the world and make the planet a better, safer, more innovative and an exciting place to be," the company added.
During the inaugural space internship programme, Ashwaq and Maryam worked alongside AI Labs' senior space engineers, conducting cutting-edge research and supporting the development of world-leading technology.
Saleh's main project focused on the design of a Switch Matrix Unit for the Tracking, Telemetry and Command Processor (TTCP).
The TTCP is a flexible high precision system for near-earth and deep space communication. It is the highest performance processor in the space industry and has been used to support European Space Agency missions such as Gaia, Solar Orbiter and Exomars.
Saleh commented: "I was fortunate to work closely with senior engineers and mentors at AI Labs, from whom I learnt a great deal. I also had my own case study work to complete, meaning I was 100 per cent accountable and showed me the real importance of professional responsibility."
Al Nuaimi's project, meanwhile, focused on writing a data splitter programme and required learning about an entirely new operating system. She also worked on running BAE Systems' special RLAS (Radio Link Analysis System) tools that were designed for post-processing of TTCP data.
Using data from the European Rosetta space mission, Maryam worked to identify discrepancies in the results generated by different tools to ensure correct processing of data.
Al Nuaimi said: "It was incredible to work so closely with BAE Systems' experts and to have access to the European Space Agency Rosetta mission, for which BAE Systems provided the inter-planetary communication system.
"The internship was an amazing launchpad for me to start my career in the space industry and I'm excited to see just how far I can go now. Certainly, I will be following the UAE's Mission to Mars programme and hope that I will be able to be part of it," she added.
To mark the completion of the internship programme a special presentation was held at the Applied Intelligence office in central London, attended by BAE Systems representatives from Group Business Development and Electronic Systems, as well as a delegation from the UAE Embassy in the UK including the Cultural Attaché, Mr Abdulla Alkaabi.
Fatima Al Marzouqi, head of Emiratisation at Mubadala, said: "Mubadala is delighted to have partnered with BAE Systems and provide this unique opportunity for Ashwaq and Maryam to learn about the space industry. Their transformation during the internship has been incredible to see and the depth of work they have completed has been extremely impressive."
Andy Crisp, BAE Systems' UAE Country Director, added: "There is a great sense of anticipation at the moment in the UAE space sector – with the first Arab space Mission to Mars only weeks away – so Ashwaq and Maryam's return from BAE Systems couldn't have been timed better."
https://gulfnews.com/uae/two-emirati-women-set-to-boost-uae-space-sector-following-uk-internship-1.72200162
--------
Italy Thanks UAE's Sheikha Fatima Bint Mubarak For Help Fight Against COVID-19
June 22, 2020
ROME: The UAE's Sheikha Fatima bint Mubarak has been lauded in Italy for a donation toward helping elderly people in the country infected with the coronavirus disease (COVID-19).
Italian daily newspaper Il Mattino said that during the health crisis Sheikha Fatima, who is president of the Supreme Council for Motherhood and Childhood in the UAE and honorary president of the Emirates Red Crescent (ERC), had supported thousands of families affected by the pandemic in the cities of Naples, Assisi and Rome.
Humanitarian and charitable institutions in Italy have also expressed their gratitude for her backing during the pandemic, which has hit the Italian economy hard.
In conjunction with Zayed Humanitarian Day, which falls on the 19th day of Ramadan every year and aims to improve living conditions for the needy, Sheikha Fatima made a donation to elderly COVID-19 patients receiving treatment from charitable foundation FondazioneMontedomini, in Florence.
"We are grateful for Sheikha Fatima's support for our foundation's efforts to tackle the COVID-19 pandemic," the charity said in a statement.
Omar Obaid Al-Shamsi, the UAE's ambassador to Italy, said the charitable initiative was in line with the founding principles of his country's policy to support people around the world during difficult times.
"Since the beginning of the health crisis in Italy, last March, the United Arab Emirates has been among the first nations to express full solidarity with those suffering from this adversity, in particular the elderly, children and women.
"The UAE contributed in a concrete way to the international efforts so that the infection could be stopped," Al-Shamsi added.
Italian catholic charity, the Comunita di Saint Egidio, in Naples, the capital of the Campania region which is one of the poorest areas of Italy, has received substantial financial support from the UAE to help thousands of families experiencing financial difficulties due to the pandemic.
A Saint Egidio spokesman expressed "thanks and appreciation" to Sheikha Fatima for her humanitarian initiatives and care for needy families.
StefaniaProietti, the mayor of Assisi, received Al-Shamsi at Santa Maria DegliAngeli municipality and during their meeting extended her thanks to Sheikha Fatima for her generous donation.
Proietti praised the UAE's solidarity with Italy in helping to combat the pandemic and said: "This act of generosity reflects the strong bonds of friendship between Italy and the UAE."
Al-Shamsi also met with the mayor of Rome, Virginia Raggi, and presented her with 200 electronic tablets donated by Sheikha Fatima, who is also chairwoman of the General Women's Union, and supreme chairwoman of the Family Development Foundation.
"The devices will be a great help for our educational institutions in Italy, allowing children from poor families which cannot afford to buy such electronic devices to follow online lectures," said Raggi.
With schools in Italy having been closed since March due to the COVID-19 outbreak, e-learning has been the only way for students to receive an education.
https://www.arabnews.com/node/1693911/world
--------
Two women board members in Riyadh Chamber for first time
June 22, 2020
RIYADH — Minister of Commerce Dr.Majed Al-Qasabi has appointed two women members to the 18th session of the Board of Directors of the Riyadh Chamber of Commerce and Industry. They are Khuloud Al-Dakheel and Lateefa Al-Waalan. Both of them have contributed immensely to promoting commercial and economic activities through their memberships in many organizations and bodies and wide-ranging activities. This was for the first time women members were chosen to the board in the 60-year history of the Riyadh Chamber.
The move is part of the efforts to promote women in all fields with the utmost keenness and support of Custodian of the Two Holy Mosques King Salman and Crown Prince Muhammad Bin Salman. Over the past years, the government has taken several decisions to empower and support women in all walks of life, including political and diplomatic arenas, such as the appointment of the first woman ambassador. Several Saudi women are now holding key leadership positions in both the government and private sectors.
Al-Khuloud holds a Master of Business Administration degree in finance from the American University, Washington D.C., and a bachelor's degree in finance and international trade as well as specialization in Arab political and economic studies from Georgetown University, Washington D.C. She is a partner, founder, and managing director of Al-Dakheel Financial Group.
Al-Khuloud is a member of the Association of Accredited Residents of Economic Establishments and an accredited financial analyst. She holds several certificates in securities and dealings and has memberships in various committees and councils. She has attended several national and international conferences and events.
As for Lateefa, she holds a bachelor's degree in computer and information sciences from King Saud University, Riyadh and an MBA in technology management from the University of Washington.
She is the founder and co-founder of several companies, winner of awards for entrepreneurship and patents. She co-founded CellA+ Network in 2012 as a platform for professional women joined by more than 3,000 women and she held the position of its president in 2015. Lateefa currently holds the position of CEO of Saudi Endeavor, a non-profit organization, specialized in supporting high-impact entrepreneurs.
https://www.saudigazette.com.sa/article/594590/SAUDI-ARABIA/Two-women-board-members-in-Riyadh-Chamber-for-first-time
--------
Black Arab women tackle racist beauty ideals and stereotypes
June 23, 2020
AMMAN (Thomson Reuters Foundation) — Black Arab women are drawing inspiration from global anti-racism protests to fight back against long-standing discrimination and Middle Eastern beauty standards that favor light skin and straight hair.
Black Arabs in the Middle East and North Africa, who descend from sub-Saharan Africans, suffer social marginalization and unequal job prospects, and are often subjected to racist abuse and derogatory portrayals in the media.
Black women, some of whom are African migrants, suffer a double discrimination, activists say.
"The standard of beauty in our society is to be white," said KhawlaKsiksi, a feminist and anti-racism activist who co-founded the Voices of Black Tunisian Women group.
"Black women are pressured to straighten their hair, get rid of their curls and to whiten their skin in order to be accepted by society and fit in by its standards," Ksiksi told the Thomson Reuters Foundation.
Emboldened by the global Black Lives Matter movement, she said Black Arab women wanted to highlight the day-to-day racial prejudice and abuse they face in a region where there is widespread denial about the issue.
Somali-Yemeni activist Amna Ali founded the Black Arabs Collective this month, an Instagram platform that aims to raise awareness about race and racism in the region.
She recalled watching adverts for whitening cream on TV showing women growing happier as their complexion gradually became lighter.
"It's so damaging to brown and Black girls that watch that and think my skin color is bad and if it's lighter, it's better," she said by phone from Dubai.
Whitening creams
A surge of global criticism about whitening creams has forced brands to react, however.
Johnson & Johnson said on Friday it would stop selling its range of such products in Asia and the Middle East.
In Tunisia, leading sanitary pad brand Nana caused outrage on social media after sharing a post on June 9 meant to celebrate diversity that featured a white, blue-eyed model painted in different skin-tone shades.
Nana Arabia, which swiftly replaced the controversial post, did not respond to requests for comment.
"The use of blackface for me further indicates that Black women are perceived as not beautiful," Ksiksi said. "[Brands] would rather use the image of a white woman and paint her face."
Besides racist beauty standards, she said Black Arab women are frequently taunted over stereotypes that they have high sex drives.
In Tunisia, as elsewhere in North Africa and the Middle East, they are also disproportionately poor and suffer worse job prospects as well as increased sexual harassment at the hand of employers, or while out in the street.
"Economically and socially Black women are at the bottom of the pyramid. So if someone harasses a Black woman, he knows she has no connections […] and this makes it easier for her to be harassed," Ksiksi said.
Tunisia became the first Arab country in October 2018 to criminalize racial discrimination, with the first conviction under the law taking place in February 2019.
'Proud of my color'
But from Egypt to the Palestinian territories, deep-rooted racist views are coming under attack.
Earlier this month, Egyptian actor and singer Mohamed Ramadan called out a woman who commented on a photo of his son to say it was unfortunate the boy turned out Black like his father instead of inheriting his mother's lighter skin.
"I'm proud of my color […] and I'm happy my children will grow up to be anti-racism," Ramadan wrote on his Facebook page.
In a viral Instagram video, Palestinian actress Maryam Abu Khaled said she hoped future generations would not endure the anti-Black comments she grew up hearing, such as parents warning their children to avoid the sun so they would not look like her.
For Ali, who was often told she was "pretty for a black girl", the protests sparked by last month's killing of Black American George Floyd by a white Minneapolis police officer had triggered some long-overdue soul searching closer to home.
"People are starting to understand that 'okay, maybe now I should be more socially aware of my anti-Blackness'," she said.
"This is a huge change from the race conversation completely not existing in the Arab world to people now calling each other out."
https://egyptindependent.com/black-arab-women-tackle-racist-beauty-ideals-and-stereotypes/
--------
Karachi women accuse men of harassment, assault in EssaNagri
Jun 23, 2020
A number of men were arrested in Karachi's EssaNagri Tuesday afternoon for allegedly harassing a woman and her sister in their neighbourhood, according to the police.
According to a video message recorded by one of the women, the men had been harassing them for more than two years. "They used to threaten me and my sister to become friends with them and often stopped us while we were going to our coaching classes," she said, adding that two days ago while they were coming back home, one of the men slapped her sister.
"After this attack, I lodged a complaint with the Federal Investigation Agency," she said. The perpetrators also attacked my father after the complaint was lodged, she added.
The police took action after the video went viral on social media and arrested the accused harassers. They are currently in police custody and are being investigated.
According to the police, the parents of the women have recorded their statement but have refused to file a case against them. They said that the men should be warned and released, a police officer said.
Governor Imran Ismail has taken notice of the incident and has instructed the inspector-general of Sindh to immediately investigate the case.
He added that it is the responsibility of the police to protect residents from such incidents.
https://www.samaa.tv/news/pakistan/2020/06/karachi-women-accuse-men-of-harassment-assault-in-essa-nagri/
--------
New Johor PKR women's chief says wing now stronger without 'traitors'
23 Jun 2020
BY BEN TAN
JOHOR BARU, June 23 — The exodus of as many as 50 women from Johor PKR last Sunday will not dent the party, state wing chief NapsiahKhamis said today.
Instead, Napsiah who was made the new chief on May 3 asserted in a statement that the state chapter of Wanita PKR is now stronger and "have become a role model for all women in Malaysia."
She said the departure of Nor Ashidah Ibrahim who led dozens of others into quitting the Johor Wanita PKR was also a joke. According to Napsiah, Nor Asidah was removed as the vice-chief of Johor Wanita PKR much earlier, on March 12.
"Her dismissal has already been processed. It is funny to announce her departure several times, but this is the attitude of the traitors.
"The dissatisfaction with the central leadership is just a plain excuse when it comes to expressing their close support to (Datuk Seri) Azmin Ali and ZuraidaKamaruddin," said Napsiah, in reference to the reason given by Nor Ashidah and former PKR members when they left to support the PerikatanNasional (PN) government.
"They themselves do not know what they are doing. How to look after the people if they cannot be taken care of," she added.
Napsiah challenged Nor Ashidah to name all the branch women chiefs who are alleged to have also quit PKR.
"She needs to list all the names to prove the validity of her announcement and make it easier for us to issue letters of dismissal," she said.
Last Sunday, 50 Johor PKR women leaders, including those from the national, state and divisions, quit the party.
They claim to have made the decision willingly and without pressure after being disgruntled with the party's leadership, and are now supporting PN.
It is understood that a majority of them were part of the "Cartel" faction in PKR who were in support of former party deputy Azmin.
Those who exited have also pledged to focus fully on supporting the non-governmental organisations such as PenggerakKomuniti Negara and Nation of Women.
The two NGOs mentioned above are linked to Azmin and Zuraida's camp.
Johor PKR chief Syed Ibrahim Noh in an immediate comment said that such matters were normal in politics and the state PKR members were free to make their own choices.
https://www.malaymail.com/news/malaysia/2020/06/23/new-johor-pkr-womens-chief-says-wing-now-stronger-without-traitors/1878167
--------
Egypt's Min. Of Social Solidarity Honours Egyptian Stars Yousra, Mohamed Samy
Jun. 22, 2020
CAIRO – 22 June 2020: Egypt's Minister of Social Solidarity NevineKabbagehonored Egyptian star Yousra and famed Egyptian director Mohamed Samy on their last Ramadan series '' KheyanetAhd'' ( Ahd Betrayal) and '' El Brince'' respectively.
" Yousra is an Egyptian actress, singer, United Nations good will ambassador and an internationally acclaimed artistic icon.
She is one of the most prominent actresses not only in Egypt but in the Arab region.
Yousra was born on March 10, 1951 as Sevin Hafez Nesim. In 1980, she debuted in the film "Athkiya' LakenAghbiya" (Smart yet Stupid).
Yousra performed in numerous movies such as "KasrFelHawaa" (Castle in the Air), "Fatah Tabhath Ann al-Hob" (A Girl Looking for Love), "Alf BossaWaBossa" (A Thousand and One Kisses), and "EbtessamaWahedaTakfi" (One Smile is Enough).
Yousra formed a successful duo with superstar Adel Emam, the matter that resulted in a number of successful films that enriched the Egyptian cinema such as "ShababYarkossFawk al-Nar" (Youth Dancing on Fire) , "Al-EnsanYaeesh Mara Waheda" (Man Only Lives Once) , "Ala Bab al-Wazeer" (At the Door of the Minister) , "Al-Avocato" (The Lawyer) , "Al-Ins Wal-Gen" ( The Human and the Goblin) , "KarakounFelShareih" ( A Police Station in the Street), "Al-Mansi" (The Forgotten), "Al-IrhabWalKabab" (Terrorism and Kebab), "Toyour Al-Zalam" (Birds of Darkness), and "Bobos" among others.
Yousra was included by Arabian Business among The World's 100 Most Powerful Arab Women and by The Middle East among the 50 Most Influential Arabs.
In 2015, she was awarded the Achievement in Cinema Award at the Arab Women of the Year ceremony in London.
Throughout her artistic career, Yousra was granted more than 60 local, regional and international awards, most prominently at Cannes Film Festival and Venice Film Festival.
Yousra's cooperation with the internationally acclaimed director Youssef Chahine greatly influenced her career.
Among her important movies with Chahine are "HaddutaMasreya" (An Egyptian Tale), "Iskendereya Kaman we Kaman" (Alexandria More and More), and "Al-Mohager" (The Immigrant).
After a long career, including 85 films and 20 television series, Yousra started to dedicate some of her efforts to social issues, particularly human trafficking.
She engages in humanitarian and advocacy work for women and children.
Yousra participated in the World Economic Forum's sessions in Switzerland, Jordan and Egypt because of her humanitarian work.
She is currently a goodwill ambassador for many United Nations institutions, including the United Nations Development Programme, UNAIDS and the joinwt United Nations program on HIV/AIDS.
She was the honorary president of Cairo International Film festival in 2017.
In honor of Yousra's rich artistic career, one of El-Gouna city streets was named after the Egyptian superstar.
On 2019, Yousra, famed producer and head of Cairo International Film Festival Mohamed Hefzy and acclaimed director AmrSalama were chosen as members to the Academy of Motion Pictures Arts and Sciences.
Yousra was the first Egyptian and Arab female filmmaker to attend Oscar ceremony and walk on its red carpet.
https://www.egypttoday.com/Article/4/88863/Egypt%E2%80%99s-Min-of-Social-Solidarity-honors-Egyptian-stars-Yousra-Mohamed
--------
Israeli Forces Arrest Palestinian Young Women at Al-Aqsa Mosque in Jerusalem
June 23, 2020
Israeli police assaulted and arrested five Palestinian young women, and an Al-Aqsa guard, on Sunday, inside the Al-Aqsa Mosque, located in the southern occupied West Bank city of Jerusalem, Quds Press reported.
The WadiHilweh Information Center (Silwanic) said in a brief statement, "The occupation forces arrested five girls and a guard at the Al-Aqsa Mosque from the Bab Al-Rahma area."
Eyewitnesses identified the abducted young women as; Shifa Abu Ghalia, Ayat Abu Nab, AyatMaatouk, Maram Al Natsheh, and Mayar Al Natsheh.
The Islamic Endowments and Affairs condemned the actions of the occupation police in assaulting the worshipers inside the sacred mosque, as well as the arrest of the Al-Aqsa Mosque guard, Abdel Karim Qaoud, for objecting to the assault on the five young ladies.
https://imemc.org/article/israeli-forces-arrest-palestinian-young-women-at-al-aqsa-mosque-in-jerusalem/?utm_source=rss&utm_medium=rss&utm_campaign=israeli-forces-arrest-palestinian-young-women-at-al-aqsa-mosque-in-jerusalem
--------
Coronavirus Reveals Tunisia's Revolutionary Gains for Women Only Exist on Paper
Sarah Yerkes and Maro Youssef
22 June, 2020
While Tunisia has fared relatively well during the Covid-19 pandemic with 49 deaths and 1,093 cases, one overlooked consequence is the increase in incidents of gender-based violence (GBV).
GBV cases have spiked globally, and in Tunisia, the Covid-19 pandemic saw a five-fold increase in reported incidents of GBV in three months. Tunisia is committed to gender equality and passed remarkable legislation combating GBV in 2017. But with much of the 2017 law yet to be implemented, Tunisian women today are particularly vulnerable, making it difficult for victims to find justice.
While the pandemic has serious health and economic consequences for the population at large, failing to adequately address GBV could lead Tunisia into further instability.
Following the 2010-2011 revolution, women saw many of their rights enshrined in legislation due in part to the work of the hundreds of new women's civil society organisations. While there was some pushback on women's rights from certain sectors of society, the transitional government expressed a clear commitment to women's empowerment.
Nevertheless, nearly a decade after the revolution, much of the crucial legislation designed to protect women exists on paper alone - with significant work remaining to implement the laws.
Gender-Based Violence: A national pandemic
GBV is a global pandemic, and Tunisia is no exception. GBV in Tunisia affected at least 47 percent of women ages 18-64 prior to the revolution. Tunisian feminist pioneers from the Tunisian Association of Democratic Women (ATFD) and the Association of Tunisian Women for Research and Development (AFTURD) mobilised around violence against women as early as the 1980s.
They conducted studies, signed petitions, formed coalitions, and set up hotlines and call centers in the 1990s to address the problem. But GBV cases continued to increase following the revolution. In 2012, rights activists condemned the state's inaction, after two policemen raped Meriem Ben Mohamed. In 2014, they organised an annual 16-day campaign to protest GBV and state inaction. GBV case reporting continued to increase with 70 percent of women reporting having experienced GBV in 2017.
In 2017, parliament unanimously passed Organic Law No. 58, a comprehensive GBV law that protects against all types of gender-based violence - including political violence and marital rape; a revolutionary step in the Arab world.
But cases continue to climb, due in large part to the lack of the law's implementation and or increased public awareness. For example, between 2016 and 2018, marital rape increased from 7,869 cases to 40,000 cases annually. It is no surprise that violence against women would worsen during a national lockdown, if the phenomenon was already a pandemic before Covid-19.
Gender-Based Violence and Covid-19
On March 23, the Tunisian government swiftly implemented a severe lockdown. Tunisia closed mosques, restaurants, land and air borders, and implemented a 12-hour daily curfew in response to Covid-19. While these measures were largely effective in keeping Tunisia's Covid-19 cases to a minimum, violence against women increased five-fold during the lockdown.
According to UN Women, there were 40 reported acts of violence in the span of one week in March 2020, compared to seven during the same period the previous year. Between March and May, government GBV hotlines received over 7,000 complaints, 1,425 of which occurred during the first month of the lockdown.
ATFD's Tunis domestic violence shelter received 350 women weekly during the lockdown, a four-fold increase compared to before the lockdown. Finally, access to birth control is essential during a lockdown in a country where at least 14 percent of women experience intimate partner violence, but women lost access to birth control during Covid-19 since hospitals prioritised Covid-19 concerns.
Despite these trends, the prime minister and president have both been silent on violence against women during the pandemic. Activists vocally criticised the Tunisian government for refusing to take GBV seriously and for ignoring the UN's urge to protect women during Covid-19.
ATFD claims the Ministry of Interior and the police refuse to take women's complaints seriously, and pressure them to return home when they file a domestic violence complaint. ATFD and LET condemn the Ministry of Justice's halting prosecution and review of GBV court cases during the pandemic. Finally, feminists are critical of the Ministry of Health's inability to provide survivors with birth control or access to 24-hour shelters.
The state has taken some positive steps to address GBV challenges. In April, the Ministry of Women opened a new GBV shelter, with the assistance of the UN Population Fund. The High Judicial Council urged family judges to take all necessary measures to protect victims, guarantee their access to justice and tackle violence against women and children, as two extremely vulnerable populations during pandemics.
The way forward
While Tunisia stands out in the region for its progress on gender equality, there is still work to be done. Donors who are supporting Tunisia's Covid-19 efforts should include financial support for the prevention and eradication of GBV as part of their aid packages. This can include financial support to local civil society groups fighting GBV, as well as technical training for the Tunisian government (parliament, police, courts) and religious leaders to support education and implementation of the GBV law.
While many donors have shifted their focus from development to humanitarian assistance, donors should understand that combating GBV is a humanitarian challenge that goes hand-in-hand with fighting Covid-19. Thus, the international community should continue to empower impressive women's rights associations such as ATFD, AFTURD, Tounissiet, Beity, and Ligue des ElectricesTunisiennes (LET), all of whom are already known to major donors like the United States and European Union.
They should prioritise working with the Ministry of Interior to implement the 2017 GBV law by adopting gender-sensitive training on reporting abuse, following up with victims, and increasing the hiring of women within the Ministry of Interior and police force. The 2017 law requires a female present in all police stations, something the Tunisian government has failed to implement.
Finally, Tunisian civil society actors and donors should pressure President Saied and Prime Minister Fakhfakh to take gender issues seriously. The small number of women in government at the national level sends a bad message that the gender equality Tunisians fought so hard for in the past few decades is not a priority. Specifically, the Ministry of Justice should expedite GBV cases so as to move women to safety as quickly as possible. Civil society groups like Tounissiet, can work with religious clerics on speaking out about the importance of combating GBV during Friday sermons.
The uptick in GBV during the pandemic could have long lasting effects on women's rights and safety in Tunisia. Because of the Tunisian government's inability to protect women facing GBV, the country is likely to see a further deterioration of public trust of the government, particularly among women.
People who were already disappointed in the new government's gender (im)balance and lack of interest in advancing women's rights, may further withdraw support for the largely male national government as well as local officials who have failed to serve them. This could then contribute to a decrease in women's participation in public life, further exacerbating the gender divide.
It is critical for the Tunisian government to work with civil society groups and donors to address the current GBV crisis and install measures to make sure the safety of vulnerable women is a priority going forward.
GBV spikes often occur during holidays when women are forced to spend more time with their partners, and hospitals, domestic violence shelters and police stations either close early or operate at low capacity. Thus, Tunisia is likely to see further spikes in the future. Implementing reform now would both address Covid-19-related GBV issues and possibly prevent future GBV spikes.
Sarah Yerkes is a senior fellow in Carnegie's Middle East Programme, where her research focuses on Tunisia's political, economic, and security developments as well as state-society relations in the Middle East and North Africa. Follow her on Twitter: @SarahEYerkes
Maro Youssef is a doctoral candidate in sociology at the University of Texas at Austin. Her research focuses on women's rights, democracy, and social movements in the Middle East and North Africa. Follow her on Twitter: @Maraux
https://english.alaraby.co.uk/english/comment/2020/6/22/coronavirus-reveals-tunisias-revolutionary-gains-only-exist-on-paper
--------
Women's productive invisibility from economic domain
Mr Saddam Hussein
June 22, 2020
Women make up almost half of the world's population, but their contribution to the measured economic activity, growth, and well-being is far below its actual potential, with grave macroeconomic repercussions. Despite the substantial progression in recent decades, labor markets throughout the world remain divided along gender lines, and progress toward gender equality appears to be very slow, if not hindered.
Evidence shows that female labor force participation has remained lower than male participation. Women account for most unpaid work; when women are employed in paid work, they are over-represented in the informal sector. They also face noteworthy wage differentials in comparison to their male counterparts. In many countries, distortions and discrimination in the labor market limit women's options for paid work, and female representation in senior positions and entrepreneurship consequently remains low.
It is now a known fact that the challenges of growth, creating employment opportunities, and inclusiveness are closely intertwined. Nonetheless, growth and stability are essential to give women the opportunities they need; in contrast women's participation in the labor market is also a part of the growth and stability equation. To be specific, in rapidly aging economies, higher female labor force participation can enhance growth by addressing the impact of a shrinking workforce. Better opportunities for women can also contribute to broader economic development in developing economies, for instance through higher levels of school enrollment for girls.
If we look into the social fabric of developing and least developed countries, we will find women among the vulnerable segments of society, calling for their political and economic empowerment. However, women's political empowerment is not a goal in itself, but it is an instrument in stimulating the society for political and social empowerment on the aggregate level, which would further stimulate the overall development of society.
In this context, the concept of 'gender equality' has over time acquired central character in social sciences, as it is considered a fundamental and strategic principle in any development policy. These policies stress the need to ensure equal opportunity in the progressions of human development as a fundamental element for realizing equitable and sustainable development, and growth for all. Gender equality refers to the equal rights, responsibilities and opportunities for women and men, girls and boys. Equality does not mean that women and men will become the same but that women's and men's rights, responsibilities and opportunities will not depend on their gender orientation. It implies that the interests, needs and priorities of both women and men are taken into consideration. Gender equality is not a women's issue but should concern and fully engage men too, alongside women. Equality between women and men is a precondition for, and indicator of, sustainable and inclusive development.
In order to realize gender equality, women empowerment naturally comes into play. The question arises what the women empowerment actually means? The United Nations (UN) defines women's empowerment in terms of five components: women's sense of self-worth; their right to have and determine choices; their right to have access to opportunities and resources; their right to have the power to control their own lives, both within and outside the home; and their ability to influence the direction of social change to create a more just social and economic order, nationally and internationally. All the factors are inter-linked, but the most important of these or the deriving factor is women's right to have access to opportunities and resources.
Now, why the women empowerment is so necessary, can be understood better by AmartyaSen's (a famous Development Economist from India) 'Capability Approach'. Basically, in this approach, Sen makes a clear distinction between 'achievement' and 'freedom' and outlines freedom as more significant than achievement. He opines that between 'freedom to choose' and bringing about the 'achievements'; one has 'reason to value' in the former, and in the latter approach a person realizes one's own goals and values and opt for 'the reason to pursue'. He also explains the idea of well-being in the same pattern. According to Senwell-being is not the quality of the life an individual is living based on the interrelated beings and doings one realizes, but the freedom to achieve the beings and doings that are constitutive of one's well-being. The implicit message this approach sketches is that control over resources is more important than access to resources. In other words, 'control freedom' - the ability to achieve objectives by making influential decisions and directly controlling the levers of change, is the most robust form of freedom.
For example, a woman who lives in a nice house with plenty to eat and nice clothes to wear may not be free to choose how to dress, or to invite others to her home for a meal. She may even be denied access to these resources upon the death of her husband. Such a woman has (some) access to resources, but not control over them. The concept can also be explained in terms of 'ability to function'. Sen argues that having a bicycle may be important, but knowing how to ride a bicycle is much more important. Bottom line is that women get lesser chances for the conversion of resources into capabilities in order to function effectively.
Hence, the connection between women's economic empowerment has been proven to be critical to economic growth and stability, but the share of women in the labor force has stagnated for two decades and significant structural and cultural barriers continue to inhibit women's participation in the economy. The issue was on the policy radar for long, but the governments started to become more interested in this issue until recently, only when the characterization of women's labor force participation started to be rightly portrayed as a driver of growth.
However, in Pakistan, where women are almost half the population, women inclusion in the economic domain is still a challenge. The sixth Population and Housing Census held in 2017 reveals Pakistan's population has increased by 57 per cent, from 132.3 million in 1998 to 207.7 million. The Census also shows that women make up 49 per cent of the total population.
The country has also adopted a number of key international commitments to gender equality and women's human rights – the Universal Declaration of Human Rights, Beijing Platform for Action, the Convention on the Elimination of all forms of Discrimination Against Women, and the Sustainable Development Goals. Despite these commitments, Pakistan's ranking for gender equality remains one of the lowest in the world.
According to the World Bank data for 2019, only 24% of Pakistani women above the age of 15 are actively involved in the labour force. In contrast, the figure for men in Pakistan stands at 81%. Even those who are part of the labour force are largely in the informal sector, receiving low pay and with few legal protections.
Globally, Pakistan is ahead of only 15 countries in terms of female labour force participation rate. The deeper underlying causes of this phenomenon can be attributed to our cultural norms that we do not challenge on a daily basis. Although, women bear the brunt of these norms in their daily lives and accept them, it is hard to quantify their real cost to our society.
Given the circumstances and the road-blocks due to structural issues and exogenous factors for economic revival, we need to think of innovative ideas for economic stimulation. The easiest one seems putting half of the population – the women – to work and increase productivity factor. This would result in real economic growth instead of a bubble economy. The road ahead is bumpy, though we have to start somewhere.
https://nation.com.pk/22-Jun-2020/women-s-productive-invisibility-from-economic-domain
--------
URL: https://www.newageislam.com/islam-women-feminism/two-emirati-women-set-boost/d/122194
New Age Islam, Islam Online, Islamic Website, African Muslim News, Arab World News, South Asia News, Indian Muslim News, World Muslim News, Women in Islam, Islamic Feminism, Arab Women, Women In Arab, Islamophobia in America, Muslim Women in West, Islam Women and Feminism