New Age Islam News Bureau
01 November 2021
• Mona Al-Khurais , Saudi Weapons Trainer Breaks Mould In Male-Dominated Field
• Iran Football Body Proposes Bill to Allow Women into Stadiums
• UK Barrister Rescues Afghan Female Judges in Airlift Operation
• For Woman Artist Sana Muhsin, Painting Is About More Than Just Art
• Bangladesh 152nd Out Of 170 Countries In Terms Of Women's Safety
• Kuwait Ranks Last In GCC On Women, Peace And Security
• Afghan Girl Sent Water From Kabul River For PM Modi, Will Offer It At Ayodhya, Says Adityanath
Compiled by New Age Islam News Bureau
URL: https://www.newageislam.com/islam-women-feminism/burqa-jeans-muslim-modesty/d/125691
--------
Twenty-two Years old Muslim Woman Abused, Manhandled for Wearing Jeans And Not Burqa, in Assam
NOVEMBER 01, 2021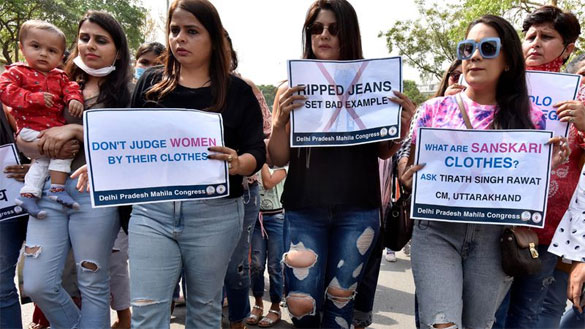 Women in India have marched over their right to choose what kind of clothes they wear. (Representational Phot)
------
A shopkeeper in Assam allegedly hurled verbal abuses at a 22-year-old woman and also manhandled her for wearing jeans instead of a burqa. The man allegedly told her that she should be wearing "decent" clothes as she was a Muslim. Police have detained the man and his son, who allegedly beat up the woman's father for questioning the shop owner for abusing his daughter.
The incident took place on October 25, when the woman went to buy headphones in Assam's Biswanath Charali. The accused, identified as Nurul Amin, runs an electronic accessories shop in Biswanath and kept a stock of items stored at his residence as well.
According to police, the woman went to buy a pair of headphones from him at his residence, where Amin verbally abused and manhandled her for wearing jeans and not a burqa. He told her that she should be wearing "decent" clothes as she a Muslim, police added.
Police said the woman went home in tears and related the incident to her father. Infuriated, her father questioned Amin about his conduct towards his daughter, police added.
Later, however, Amin's son Rafikul beat up the woman's father in public for questioning his father, police said.
Following this, the woman's family lodged a complaint at Biswanath Charali police station. An FIR was registered on the basis of the complaint, under IPC sections pertaining to punishment for wrongful restraint, obscene acts and voluntarily causing hurt.
Police said the woman was a computer science graduate from Biswanath college. Other women have also complained of similar encounters with the accused, where he has harassed them for not wearing burqa, police added.
Source: News18
https://www.news18.com/news/india/assam-shopkeeper-verbally-abuses-manhandles-22-year-old-muslim-woman-for-wearing-jeans-instead-of-burqa-4389002.html
--------
Mona Al-Khurais , Saudi Weapons Trainer Breaks Mould In Male-Dominated Field
November 1, 2021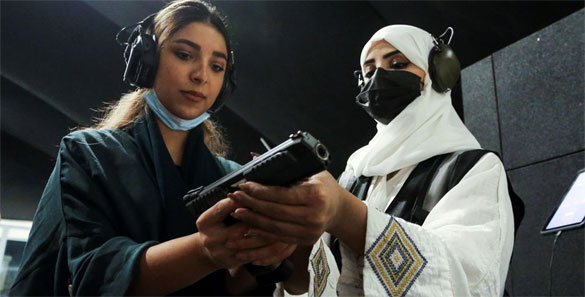 Saudi female firearm trainer Mona Al Khurais teaches a Saudi woman on safe usage of weapons at the Top-Gun shooting range in Riyadh, Saudi Arabia, October 28, 2021. REUTERS/Ahmed Yosri
-----
RIYADH, Nov 1 (Reuters) - Mona Al-Khurais has loved guns ever since as a young girl her father took her on hunting trips in Saudi Arabia and taught her how to shoot.
Five years ago, she turned that passion into her profession, receiving coaching in Saudi and abroad to become a licensed firearms trainer.
The 36-year-old now teaches shooting at Top Gun firing range in Riyadh, with more and more women joining her classes.
"I am so happy to practise my passion and my hobby as a coach and a range safety officer," Khurais said.
"Hopefully, I can share my experience with Saudi girls, to encourage them to enter this difficult field that was previously reserved for men."
Khurais was one of the exhibitors at the Saudi Falconry and Hunting show, an annual exhibition in Riyadh showcasing manufacturers specialising in hunting weapons.
Exhibitors displayed pistols, sniper rifles, hunting rifles and semi-automatic weapons as well as hunting paraphernalia. Visitors with gun licences can buy the weapons on show.
Attitudes towards women have been changing in the conservative kingdom, with women making steady gains in the work force by taking up jobs in a range of professions.
Khurais, however, initially faced problems working in a male-dominated environment.
"The difficulties that I faced were the criticisms from women, which was surprising to me as I was expecting it from men," she said.
As more girls and women learn to handle guns, Khurais hopes their attitudes will change and that she can inspire them.
"My goal is one day to participate in the Olympics," she said.
Source: Reuters
https://www.reuters.com/world/middle-east/saudi-weapons-trainer-breaks-mould-male-dominated-field-2021-11-01/
--------
Iran Football Body Proposes Bill To Allow Women Into Stadiums
October 29, 2021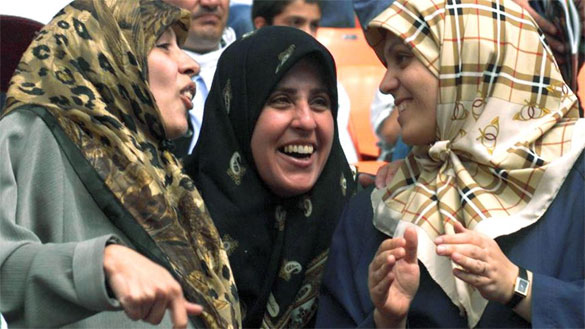 Women were refused access to stadiums after the 1979 revolution in Iran. (Reuters)
-----
The Iranian football federation has requested parliament adopt a law that would overturn a ban on women attending matches in stadiums, according to the body's secretary general. "A bill has been proposed to the Islamic national assembly by the Iranian football federation. Once it has been approved, the presence of women will be allowed," Hassan Kamrani Far said late Thursday, quoted by the Tasnim news agency.
Iran's parliament is largely dominated by ultraconservatives and religious dignitaries who remain opposed to women attending matches.
Women were refused access to stadiums after Iran's 1979 Islamic revolution, officially to protect them from inappropriate male behaviour, but exceptions have been made in recent times for international games.
World football's governing body FIFA has exerted pressure to allow women into international qualifiers.
Women were able to watch a game at the 80,000-seat Azadi stadium in October 2019, when Iran thrashed Cambodia 14-0.
Listen to the latest songs, only on JioSaavn.com
Iranian women were then to be allowed to watch the national team in a World Cup 2022 qualifier against South Korea earlier this month, the state television-linked Young Journalists Club reported before that game.
The match went ahead behind closed doors.
Source: ND TV
https://sports.ndtv.com/football/iran-football-body-proposes-bill-to-allow-women-into-stadiums-2592954
--------
UK barrister rescues Afghan female judges in airlift operation
October 31, 2021
LONDON: A veteran UK barrister has raised more than $1.3 million to help hundreds of at-risk female judges in Afghanistan flee to Europe with their families.
Baroness Kennedy is working with a team of pro-bono lawyers, and has booked and organized evacuation flights from Kabul to Athens, where many of the evacuees are residing in temporary accommodation.
The first plane chartered by Kennedy three weeks ago transported 26 female judges and their family members, with the next two flights carrying 375 people, including 77 women judges.
Katerina Sakellaropoulou, the Greek president and a former judge, was persuaded by Kennedy to accept the families. The Georgian government also permitted their transit.
"These women were in mortal danger. They were running courts on things like domestic violence and child marriage, and many of them locked up Taliban," said Kennedy.
"As soon as the Taliban came back, they had to flee. We had encouraged these women (to pursue law) and now they were in danger. If every country with a conscience could take 10 families that would be great."
Monasa Naseri, 33, who arrived with her husband, also a judge, and other family members, said: "There wasn't a person on the plane who wasn't crying. We had been moving from place to place for two months and were in terror. My father was so depressed that I thought he would die."
Two orphaned brothers, Wali, 18, and Wahab, 19, were also on the flight. Their mother Qadria Yasini, one of Afghanistan's first female Supreme Court judges, was murdered in January.
Kennedy is the director of human rights for the International Bar Association, which trained female lawyers and judges in Afghanistan.
As part of the evacuation process, she also oversaw the creation of safe houses in Kabul and the city of Mazar-i-Sharif.
Kennedy warned that another 100 female judges remain trapped in Afghanistan, and due to insurance costs it will take a further $1.3 million to evacuate them safely.
Source: Arab News
https://www.arabnews.com/node/1958576/world
--------
For woman artist Sana Muhsin, painting is about more than just art
30/10/2021
MOGADISHU, Somalia— Among the once-taboo professions emerging from Somalia's decades of conflict and Islamic extremism is the world of arts, and a 21-year-old female painter has faced more opposition than most.
A rare woman artist in the highly conservative Horn of Africa nation, Sana Ashraf Sharif Muhsin lives and works amid the rubble of her uncle's building that was partially destroyed in Mogadishu's years of war.
Despite the challenges that include the belief by some ultraorthodox Muslims that Islam bars all representations of people, and the search for brushes and other materials for her work, she is optimistic.
"I love my work and believe that I can contribute to the rebuilding and pacifying of my country," she said.
Sana stands out for breaking the gender barrier to enter a male-dominated profession, according to Abdi Mohamed Shu'ayb, a professor of arts at Somali National University. She is just one of two female artists he knows of in Somalia, with the other in the breakaway region of Somaliland.
And yet Sana is unique "because her artworks capture contemporary life in a positive way and seek to build reconciliation," he said, calling her a national hero.
Sana, a civil engineering student, began drawing at the age of 8, following in the footsteps of her maternal uncle, Abdikarim Osman Addow, a well-known artist.
"I would use charcoal on all the walls of the house, drawing my vision of the world," Sana said, laughing. More formal instruction followed, and she eventually assembled a book from her sketches of household items like a shoe or a jug of water.
But as her work brought her more public attention over the years, some tensions followed.
"I fear for myself sometimes," she said, and recalled a confrontation during a recent exhibition at the City University of Mogadishu. A male student began shouting "This is wrong!" and professors tried to calm him, explaining that art is an important part of the world.
Many people in Somalia don't understand the arts, Sana said, and some even criticise them as disgusting. At exhibitions, she tries to make people understand that art is useful and "a weapon that can be used for many things."
A teacher once challenged her skills by asking questions and requiring answers in the form of a drawing, she said.
"Everything that's made is first drawn, and what we're making is not the dress but something that changes your internal emotions," Sana said. "Our paintings talk to the people."
Her work at times explores the social issues roiling Somalia, including a painting of a soldier looking at the ruins of the country's first parliament building. It reflects the current political clash between the federal government and opposition, she said, as national elections are delayed.
Another painting reflects abuses against vulnerable young women "which they cannot even express." A third shows a woman in the bare-shouldered dress popular in Somalia decades ago before a stricter interpretation of Islam took hold and scholars urged women to wear the hijab.
But Sana also strives for beauty in her work, aware that "we have passed through 30 years of destruction, and the people only see bad things, having in their mind blood and destruction and explosions. … If you Google Somalia, we don't have beautiful pictures there, but ugly ones, so I'd like to change all that using my paintings."
Sana said she hopes to gain further confidence in her work by exhibiting it more widely, beyond events in Somalia and neighboring Kenya.
But finding role models at home for her profession doesn't come easily.
Sana named several Somali artists whose work she admires, but she knows of no other female ones like herself.
Source: The Arab Weekly
https://thearabweekly.com/woman-artist-sana-muhsin-painting-about-more-just-art
--------
Bangladesh 152nd out of 170 countries in terms of women's safety
Oct 31, 2021
Bangladesh has ranked 152 out of 170 (with an index value of 0.594) on the Women, Peace, and Security Index 2021.
The report on women's safety was published by the Georgetown Institute for Women, Peace and Security (GIWPS).
In terms of women's employment, Bangladesh scored 35.2 out of 100; for mean years of schooling 6 out of 15; and 35.8 out of 100 on women's financial inclusion, according to the index.
The index also included the following parameters: percentage of women's cellphone use, the share of parliament seats, discriminatory norms, bias towards the male child, perception of community safety, current intimate partner violence and organised violence.
In South Asia, India, Nepal, Sri Lanka and Bhutan ranked above Bangladesh at 148th, 95th, 105th and 129th positions, respectively.
Pakistan and Afghanistan fared worst on the index in the region -- at 167th and 170th positions, respectively.
Afghanistan scored worst globally, falling in relative and absolute terms since 2017. The collapse of the Afghan government and the rise of the Taliban in August 2021 seemingly jeopardised past progress for the Afghan women and threatened reversals in access to rights and justice, said the study.
Between 2017 and 2021, Pakistan regressed on two measures of inclusion -- women's mean years of schooling and rates of paid employment.
The bottom five countries on the index include Pakistan, Afghanistan and Iraq, Yemen, Syria -- at 166th, 168th and 169th positions respectively.
The highest-ranked counties on this year's index are: Norway, Finland, Iceland, Denmark and Luxembourg at first, second, third, fourth and fifth positions, respectively.
Source: The Daily Star
https://www.thedailystar.net/news/bangladesh/news/bangladesh-152nd-out-170-countries-terms-womens-safety-2210751
--------
Kuwait ranks last in GCC on Women, Peace and Security
31 OCTOBER 2021
KUWAIT CITY, Oct 31: Kuwait ranked 123 in the world and last among the Gulf Cooperation Council countries on the 'Women, Peace and Security' index, prepared by Georgetown University, based on changing patterns around women's empowerment around the world, reports Al-Qabas daily. The UAE ranked first in the Gulf region (24 globally) on the index, Bahrain and Qatar shared the third place in the Gulf (97 globally), then Saudi Arabia (102 globally), followed by Oman (110 globally). Saudi Arabia jumped 18 places to 102 in 2021. Researchers attributed this to improved access to female education and legal reforms that eased restrictions on hiring women.
Source: Arab Times
https://www.arabtimesonline.com/news/kuwait-ranks-last-in-gcc-on-women-peace-and-security/
--------
Afghan girl sent water from Kabul river for PM Modi, will offer it at Ayodhya, says Adityanath
October 31, 2021
Uttar Pradesh Chief Minister Yogi Adityanath on Sunday said that a girl from Afghanistan has sent water from Kabul river to Prime Minister Narendra Modi, to be offered at Shri Ram Janmabhoomi site in Ayodhya. Adityanath further added that he will go to Ayodhya and offer the water to Lord Ram.
In a video shared by news agency ANI, the UP CM, while addressing the gathering, showed a small bottle and said, "This is the water from a river in Kabul that was sent to PM Modi by a girl from Afghanistan to be offered at Shri Ram Janmabhoomi in Ayodhya. Today I am taking the initiative of going and offering this water along with the emotions of the girl, her family and all women over there, to Lord Ram".
Adityanath further said that despite Taliban rule in Afghanistan, the girl's respect for India, Indianness and Indian soil are intact within her.
"It is matter of pride for all of us that, removing the hurdles and struggles of the past, the works at Shri Ram Janmabhoomi are going on at a good pace. Along with Ganga jal, this water will also be offered there. This is about the emotions of the country and the world. Given the situation in Afghanistan, not worrying about oneself, a girl from Kabul sends water from a river there to be offered at the Ram Janmabhoomi, I respect those emotions and I will pray to Lord Rama for their happy lives," Adityanath added.
Source: Indian Express
https://indianexpress.com/article/cities/lucknow/kabul-river-water-afghanistan-girl-pm-modi-ayodhya-up-cm-yogi-adityanath-7600208/
--------
URL: https://www.newageislam.com/islam-women-feminism/burqa-jeans-muslim-modesty/d/125691
New Age Islam, Islam Online, Islamic Website, African Muslim News, Arab World News, South Asia News, Indian Muslim News, World Muslim News, Women in Islam, Islamic Feminism, Arab Women, Women In Arab, Islamophobia in America, Muslim Women in West, Islam Women and Feminism