New Age Islam News Bureau
8 Jul 2013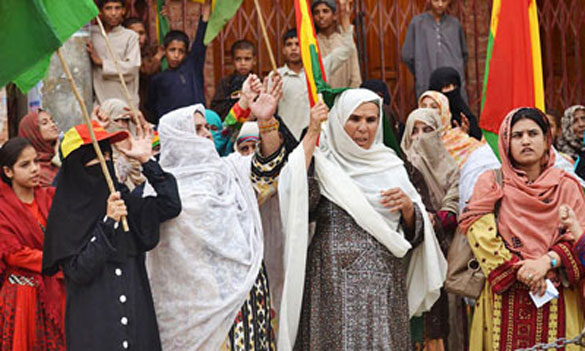 Activists of Balochistan National Party women wing stage a protest in support of their demands outside Quetta Press Club.— Online Photo by Ahmad Kakar.
--------
• Religious Fundamentalism, Conservative Thinking Impacting Women: Maldives N.P
• BNP-M Women Protest against Poor Law, Order In Wadh, Pakistan
• UN Women to Launch Social Reconstruction Plan in Pakistan
• 101 women farmers write letters in blood to Gujarat CM
• Disabled Woman Attempts Suicide as Father Rejects Suitors
• A Forgotten Egyptian Princess Remembered
• UAE's Desaleyn Is Fastest Woman As She Picks Up a Second Gold AAC Held in India
• In Western Sahara, Women Play Large Role in Forgotten Struggle for Independence
• Bangsamoro Women: Reverting To ARMM Is Not an Alternative
Compiled by New Age Islam News Bureau
URL: https://www.newageislam.com/islam,-women-and-feminism/new-age-islam-news-bureau/twenty-percent-rise-in-drug-addiction-among-saudi-women/d/12490
-----------
Twenty Percent Rise in Drug Addiction among Saudi Women
8 July 2013
Saudis form 54 percent of drug users in the Kingdom and drug addiction among women increased 20 percent during the past few years, Tahani Al-Kaukabi, head of World Anti-Drug Day activities, was quoted as saying in the local media.
Al-Kaukabi said the number has increased by 320 cases and that 55 percent of drug addicts are aged between 19 and 30 years.
She said around 200 million people around the world use drugs once a year, 25 million of them are addicts, while about 200,000 die from diseases associated with drugs.
She pointed out that three million people, who take drugs through injection around the globe, suffer from AIDS.
Dr. Mahdi Al-Anzi of the Riyadh Health Department commended efforts exerted in devising therapeutic and prevention programs at the sections of the psychological and social service in hospitals.
Meanwhile, Suhaila Zainul Abedeen of the National Society for Human Rights stressed the rights of patients to have due treatment and follow-up, and their efforts to prevent young people from falling into the scourge of drugs.
The event was supported by Director-General of Health Affairs in Riyadh Adnan bin Sulaiman Al-Abdulkarim, with participation of Al-Amal Hospital.
The General Directorate for Drug Control warned the Kingdom's young men and women against the use of a new drug called "Cloud 9," indicating that this is ten times more harmful than natural drugs.
Col. Ahmed Al-Faris said his department has addressed the competent authorities for the need to prohibit and criminalise the use of such drugs that lead to hallucinations and induces criminal behavior.
There is growing use of such drugs, which are manufactured in a number of Western countries, and the Kingdom should guard against their entry, he was quoted by a local newspaper as saying.
http://arabnews.com/news/457382
-----------
Religious Fundamentalism, Conservative Thinking Impacting Women: Maldives N.P
By Leah Malone | July 7th, 2013
Progress toward achieving gender equality has not kept pace with other development achievements in the Maldives, as reflected by the 12 percent of women who have suffered sexual abuse before the age of 15 while one in three have been the victim of violence, a Department of National Planning study has found.
The study examined how much human development progress has been achieved in the Maldives in terms of population and development, reproductive health and rights, gender equity, equality and empowerment of women as well as education during the period 1994 – 2012.
The "Maldives Operational Review for the ICPD Beyond 2014" study was conducted under the supervision of the Department of National Planning (DNP), in collaboration with the United Nations Population Fund (UNFPA), to determine whether the Maldives has met the 1994 Cairo International Conference on Population and Development (ICPD) thematic Programme of Action (PoA) goals.
The study found that "Despite impressive advancements in all development areas, the progress towards achieving gender equality and equity and the empowerment of women have not been the same."
"Even though, the Maldivian Constitution guarantees equal rights and freedom for all Maldivians without any discrimination, prevailing traditions and socio-cultural norms have limited women's participation in the workforce and in the community," the study determined.
"The increasing level of religious fundamentalism and conservative thinking has worsened the situation," it added.
Although the Domestic Violence Act 3/2012 was "a historical milestone for women in the country," domestic violence and violence against women remains a "major concern" in the Maldives.
"One out of three females aged between 15-49 years has experienced some form of violence within their lifetime. Further, 12 percent of women reported having experienced sexual abuse before their 15th birthday," the report stated. "Most of the time, the perpetrators are a close family member or intimate partner and the incidence goes unreported and undocumented."
Victims to not receive appropriate and timely support, since domestic and sexual violence are perceived as a private matter and often go unreported, the study found.
Additionally, "Women continue to be stereotyped and underrepresented at professional decision making levels," noted the report.
The low level of women being represented in senior level positions is partly due to the "high domestic burden on females," with women heading 47 percent of households in the Maldives, one of the highest rates in the world, the study determined.
Although women are represented in the workforce, they are "mostly represented in stereotypical roles" such as education (72 percent), health (68 percent), manufacturing (65 percent) and agriculture (64 percent), said the report.
Meanwhile, 40 percent of young women remain unemployed, with 10.5 of the overall youth population being neither employed nor seeking to further their studies, the report added. Employment opportunities for many have been obstructed primarily due to inadequate employment opportunities as well as the mismatch between skills and job requirements.
The report also found that the number of women continuing their studies beyond secondary education is low compared to men. This disparity is the result of "limited access to educational institutions at the island level, domestic responsibilities and hesitance to allow females to study on another island."
"Special affirmative actions are needed to create more employment and livelihood opportunities for women and to increase the number of women in public and political life," stated the report.
Despite the Maldives achieving the Millennium Development Goal target to eradicate extreme poverty and hunger, malnutrition and anemia are still limiting women's equality, equity and empowerment, noted the study.
"Poor nutritional status and anemia are significantly high among pregnant women and women of reproductive age, [which] puts them in high risk for maternal mortality," the report found. "Malnutrition among women puts them in high risk during pregnancy and hinders their full participation in education, employment and social activities."
Women – and young women's – health is also at risk due to the lack of access to quality services, particularly in regard to sexual and reproductive health.
"With regard to reproductive rights, men often control decisions regarding women's reproductive health, often based on religious and cultural grounds," the report noted.
"[Furthermore,] the sudden growth of religious fundamentalism and conservative thinking is an emerging challenge, particularly for women and young girls," the study stated. "There have been increase towards certain trends such as preference for home schooling and refusing vaccination and other medical services for women based on religious beliefs."
Violence against women
Despite the extensive provisions in the Domestic Violence act, it has done little to curb the abuse of women, minors and other vulnerable people; the police, the judiciary and wider Maldivian society have made minimal progress addressing domestic violence and abuse, former Gender Minister and Chairperson the Hope for Women NGO, Aneesa Ahmed, recently told Minivan News.
Meanwhile, support for women's equality has experienced a "significant drop" despite overall progress in improving the human rights situation nationally, a Human Rights Commission of the Maldives (HRCM) second baseline survey recently concluded.
"Despite the freedoms that the constitution has provided for women, attitudes towards women's empowerment show a negative trend," stated Andrew Cox, the former UN Resident Coordinator and UNDP representative in the Maldives.
"Alarmingly, the study also suggests that there has been a regression in people's sensitivity towards domestic violence and gender based violence," he added.
Male attitudes have become "more conservative" regarding women's rights issues, whereas female views have become more supportive of rights in some areas, the report stated.
In a reversal from the 2005 human rights study, more women than men now consider it inappropriate for men to hit their wives. However, significant numbers of respondents stated where there was a "substantive justification" – as opposed to something trivial – "violence against wives was justified," the report determined.
Both genders in the Maldives were also found to believe that in the husband/wife relationship, women should play a "subordinate role".
In spite of this culturally conservative shift regarding women's rights, an "overwhelming" 92 percent ofMaldivians believe that laws and systems to protect women from sexual assault should be reformed, according to the results of a survey conducted by Asia Research Partners and social activism website Avaaz.org.
Of those polled, 62 percent supported an outright moratorium on the practice of flogging, while 73 percent declared existing punishments for sexual crimes were unfair to women.
The international community has echoed this sentiment, particularly in regard to the recent
case in which a 15 year-old rape victim was sentenced to 100 lashes and eight months' house arrest for a separate offence of fornication garnered substantial international attention and condemnation.
In March, an Avaaz petition calling for the repeal of the sentence and a moratorium on flogging in the Maldives collected more than two million signatures – a figure more than double the number of tourists who visit the country annually.
Currently, British couples are being asked to avoid the Maldives as a honeymoon destination to force the country's government to overturn the conviction of the girl, who was given the draconian sentence after being raped by her stepfather, while UK Prime Minister David Cameron has been asked to intervene in the case, writes Jane Merrick for the UK's Independent newspaper.
Maldivian Democratic Party (MDP) MP Eva Abdulla explained the current context of women's rights in the Maldives to the publication.
"Consider the statistics on flogging: that 90 per cent of the cases are women. Consider the statistics on rape charges: 0 per cent success rate of prosecution, with the latest being the release of four men accused of raping a 16-year-old, on the grounds that there wasn't enough evidence," said Abdulla.
"The increasing religious fundamentalism followed by the attempts to subjugate women, both politically and otherwise, should be cause for alarm. This is a country of traditionally very strong women.
"However, increasingly, the Adhaalath Party, a self-claimed religious party which is in alliance with the current government, uses the religious card to scare off women. We women MPs are often threatened whenever we speak against the party," she added.
http://minivannews.com/society/rising-religious-fundamentalism-conservative-thinking-impacting-women-department-of-national-planning-60859
-----------
BNP-M Women Protest against Poor Law, Order In Wadh, Pakistan
8 July 2013
QUETTA: The women wing of Balochistan National Party-Mengal (BNP-M) held a demonstration here on Sunday in protest against the law and order situation in Khuzdar district, particularly Wadh area.
Shouting slogans against the provincial government and intelligence agencies, the protesters demanded action against the elements creating the law and order problem in Wadh.
BNP-M leader Jamila Baloch accused the intelligence agencies and personnel of Frontier Corps of supporting and protecting the elements who were creating disturbances in Wadh. She said the agencies wanted to pressurise BNP-M chief Sardar Akhtar Mengal to compromise on the resources of Balochistan and keep him away from politics.
Jamila Baloch said conspiracies were being hatched to create a Dera Bugti-like situation in Wadh in an attempt to open a new front against the BNP-M leadership.
She said the tussle between the establishment and Baloch nationalists was on the utilisation of the resources of the province and the management of the Gwadar port. She said that Baloch nationalists would prefer to sacrifice their lives, but would never comprise on the resources of their province.
http://dawn.com/news/1023621/bnp-m-women-protest-against-poor-law-order-in-wadh
-----------
UN Women To Launch Social Reconstruction Plan In Pakistan
July 8, 2013
LAHORE: UN Women is set to launch a five-year programme on social stabilisation and reconstruction.
Talking to The Express Tribune, Programme Specialist Fehmida Iqbal said that the plan was aimed at ensuring institutional accountability and facilitating women by giving them a forum to voice their demands.
Iqbal said first steps in stabilisation efforts would include access to justice and accountability, physical and economic security, active citizenship and social cohesion. She said this would strengthen institutions for disaster risk management and disaster risk reduction. She said it would also naturally pave the way for women empowerment within communities.
She said that the programme would take a human rights-based approach and improve institutional responses to challenges faced by women and girls in emergencies through strategic partnerships and innovative initiatives. She said the programme was based on a government initiative which included Post Crisis Needs Assessment (PCNA) for Khyber Pakhtunkhwa (KP) and the Federally Administered Tribal Areas (FATA). She was confident that the new plan would result in better social cohesion and provide better stabilisation processes.
Iqbal said, "The plan will be implemented in all provinces and will expand geographically from the 42 districts targeted initially under the Women, Peace and Security programme. It envisages the replication of tested concepts and models and distribution of previously developed resource materials. This five-year plan is designed to have two main aspects; those asking for their fundamental rights and those duty-bound to assist them in times of crisis. Both aspects are grounded in a human rights-based approach adapted to Pakistan's context. "
She said the plan would increase support for a Peoples' Plan of Action through the continued dialogue between advocates, office bearers and citizens. She said the plan would extend support ministries and departments in their efforts to curb violence against women and girls during disasters and emergencies.
"We are hope that women's rights, including physical and economic security, will be enhanced and protected as a result of the programme," she said.
http://tribune.com.pk/story/573881/human-rights-un-women-to-launch-social-reconstruction-plan/
-----------
101 women farmers write letters in blood to Modi
Jul 08 2013
Rajkot : Women farmers of Junagadh protesting a bypass road project wrote 101 letters with their blood to Chief Minister Narendra Modi in Vadhavi village near Junagadh, seeking his intervention in the matter, on Sunday. The bypass is part of the NH 8D which connects Jetpur in Rajkot district with Somnath in Junagadh. The National Highway Authority of India is building the new bypass as the existing bypass is "too close to Junagadh city limits".
Women from 10 villages affected by the new bypass gathered at Vadhavi village at 10 am on Sunday, where they wrote the letters in blood to the CM. "Modi used to tell women at public rallies to write him a 50-paisa postcard whenever they were in trouble. Through these postcards, we have sought to convey to the Chief Minister that we are in trouble," said Jayna Donga, one of the women who wrote the letters.
"Bhai Shri Narendrabhai, vira, tari bahen dukhi chhe Junagadh bypass muddey (My brother Narendrabhai, your sister is in trouble over the Junagadh bypass issue)" the women wrote behind the postcards, which also carried blood-soaked thumb impressions. Donga's father, Kuman Donga, stands to lose eight bighas of land along the route of the new bypass. "I shall be ruined if my land is taken away. I hope Modi listens to us and saves farmers from losing their means of subsistence," Rama Makwana (65), a farmer-widow from Koyali village, said.
"We demand Modi should spare some time to listen to our grievance. We shall continue our agitation and hold a rally in coming days," said Kalu Zhala, president of Khedut Heet Rakshak Samiti, an informal organisation of the affected farmers. The farmers demand that instead of building the new bypass from Vadal village to Shapur, the existing bypass should be widened.
http://www.indianexpress.com/news/101-women-farmers-write-letters-in-blood-to-modi/1138910/
---------
Disabled Woman Attempts Suicide as Father Rejects Suitors
8 July 2013
JEDDAH — A disabled woman has attempted suicide more than once because her father kept rejecting anyone who comes asking for her hand in marriage.
The young woman finally wrote a letter to Prince Fahd Bin Sultan, Emir of Tabuk, entreating him to step in so that she could get married, Al-Madinah daily reported on Sunday.
The suffering and torture at the hands of her father made the woman jump from the third-floor window of her house in an attempt to kill herself but she survived. She has been bound to a wheelchair ever since.
She told Al-Madinah that her father has been treating her brutally since she was three years old.
Her mother divorced her father when she was three. However, her father lied and told her that her mother had died and she believed it. When she was 17 years old, she discovered that her mother was still alive and lived in Tabuk.
They met without the father's knowledge and she learned that her mother was issued with a legal document from a court allowing her to visit her daughter once a month. However, the father did not allow the mother the visitation right. Then he asked the mother to relinquish her right to the deferred amount of alimony and he would let her see her daughter. The mother refused.
Full report at:
http://www.saudigazette.com.sa/index.cfm?method=home.regcon&contentid=20130708172700
-----------
A forgotten Egyptian Princess remembered
Rym Ghazal
Jul 8, 2013
She was only 17. The beautiful Egyptian Princess Fawzia captured the hearts of her people as she stood in her wedding dress on the terrace of Cairo's Abdeen Palace with her handsome 20-year-old Iranian prince at her side.
And so, on March 16, 1939, with the world on the brink of war, the Middle East rejoiced at a wedding of empires.
It was a union heavy with political significance, with Britain playing the part of matchmaker, to strengthen the links between Iran and Egypt. Educated in Switzerland, Princess Fawzia first met Mohammad Reza Pahlavi, who two years later became Shah of Iran, on their wedding day and only after the marriage contact had been drawn.
"The blessed royal marriage" as it was called by local newspapers, received saturation coverage in the media, down to the gifts brought over by the groom, three precious pearl necklaces, a diamond ring, a mirror, and a beautifully hand-printed Quran photographed for the public to see.
Full report at:
http://www.thenational.ae/news/world/a-forgotten-egyptian-princess-remembered#ixzz2YV1mmBvY
-----------
UAE's Desaleyn Is Fastest Woman As She Picks Up a Second Gold AAC Held in India
Ahmed Rizvi
Jul 7, 2013
Bethlem Desaleyn capped off a brilliant Asian Athletics Championships for the UAE's women by storming to the 5,000-metre title in India on Sunday to claim her second gold medal.
Trailing the lead pack for the best part of the race, Desaleyn switched gears in the final two laps and took the tape in 15 minutes, 12.84 seconds – the fastest 5,000m time by any woman on Indian soil.
The Emirati's late burst left Bahrain's Shitaye Eshete, who had taken the 10,000m gold on the opening day of the competition in Pune, unable to respond as she eventually finished second.
Desaleyn, 21, had won the 1,500m earlier in the championships ahead of Bahrain's Mimi Belete and Ayoko Jinnouchi of Japan.
Full report at:
http://www.thenational.ae/sport/other-sport/uaes-desaleyn-is-fastest-woman-in-india-as-she-picks-up-a-second-gold#ixzz2YV30GvmT
-----------
In Western Sahara, Women Play Large Role in Forgotten Struggle for Independence
By Loveday Morris, E-mail the writer
July 8 2013
LAAYOUNE, Western Sahara — As dusk enveloped the salmon-pink houses of this capital city, the brightly colored robes of women stood out in a mass of protesters chanting for independence from Moroccan rule.
While other colonies in Africa threw off occupiers one by one, this rocky desert expanse on the continent's northwestern coast remains a disputed territory controlled primarily by next-door Morocco and locked in a nearly 40-year-old forgotten struggle for the right to choose its fate. And in a Muslim-majority region where women are often marginalized from politics, women have taken an unusually prominent role in Western Sahara's independence movement.
Full report at:
http://www.washingtonpost.com/world/africa/in-western-sahara-women-play-large-role-in-forgotten-struggle-for-independence/2013/07/07/f46f23ec-dd06-11e2-85de-c03ca84cb4ef_story.html
-----------
Bangsamoro Women: Reverting To ARMM Is Not an Alternative
July 8 2013
DAVAO CITY (MindaNews/08 July) – Bangsamoro women gathered at the plaza of Cotabato City on Monday morning to call on both government (GPH) and the Moro Islamic Liberation Front (MILF) to make progress in their roadmap to the Bangsamoro, the new autonomous political entity that would replace the Autonomous Region in Muslim Mindanao (ARMM) by June 30, 2016.
In a statement titled "We are women united for just and durable peace," the United Youth of the Philippines-Women (UnYPhil-Women), organizer of the women's rally said, they recognize the importance of "proper and sufficient transition period" before the May 2016 elections "and reverting to ARMM is not even an alternative if it is a failed experiment."
As the Bangsamoro women gathered in Cotabato City, the GPH and MILF peace panels resumed talks in Kuala Lumpur, three months after the last round of talks.
Full report at:
http://www.mindanews.com/peace-process/2013/07/08/bangsamoro-women-reverting-to-armm-is-not-an-alternative/
-----------
URL: https://www.newageislam.com/islam,-women-and-feminism/new-age-islam-news-bureau/twenty-percent-rise-in-drug-addiction-among-saudi-women/d/12490