New Age Islam News Bureau
15 November 2020
• Twenty-Five Suspected Female Activists of Bangladesh Jamaat-e-Islami Arrested
• Amani Al-Khatahtbeh, Who Once Ran For Congress Was Removed From An American Airlines
• Kamala Harris To Transform US Politics By Leading Record Number Of Elected Women
• Katie Taylor Outclasses Miriam Gutierrez To Defend Four Women's Lightweight Titles
• Mother Fears PKK Will Use Child As Suicide Bomber
• Winterport Women's Club Holds 5th Annual Turkey Drive
Compiled By New Age Islam News Bureau
URL: https://www.newageislam.com/islam-women-feminism/twenty-five-suspected-female-activists/d/123473
-------
Twenty-Five Suspected Female Activists of Bangladesh Jamaat-e-Islami Arrested
Al Mamun Sagar
November 15th, 2020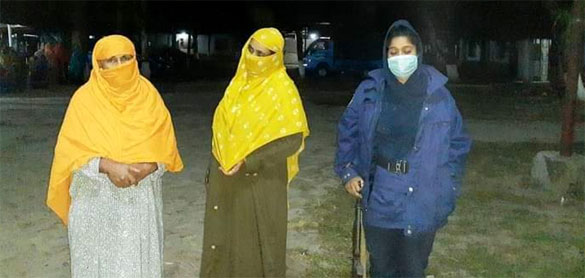 Two among the 25 suspected female Jamaat-e-Islami activist held in Kushtia on Saturday, November 14, 2020 | Dhaka Tribune
----
Police on Saturday night arrested 25 women -- all of whom are suspected activists of Bangladesh Jamaat-e-Islami -- from Jhaudia Bazar in Kushtia Sadar upazila on Saturday night.
Acting on a tip off, police conducted a drive in the area and arrested them while they were in a clandestine meeting, said Mostafizur Rahman Ratan, officer-in-charge (OC) of Islamic University (IU) police station in Kushtia.
Shajeda Begum, the union unit Ameer of women's section of Jamaat-e-Islami, and Suraiya Begum, wife of Jhaudia Mosque's Imam Mokarrom Hossain are among the 25 arrested.
A case has been filed against the 25 women with IU police station on the charge of planning acts of sabotage, OC Mostafizur added.
https://www.dhakatribune.com/bangladesh/nation/2020/11/15/25-suspected-female-jamaat-e-islami-activists-arrested
---------
Amani Al-Khatahtbeh, Who Once Ran For Congress Was Removed From An American Airlines
By Dana Kennedy
November 14, 2020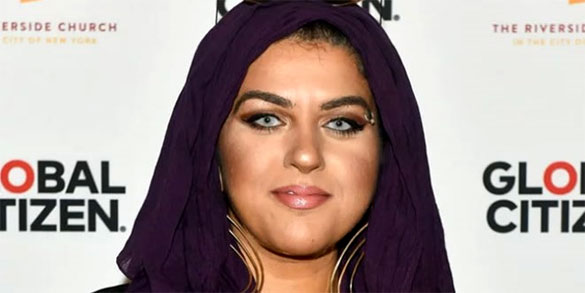 Amani Al-Khatahtbeh, a writer, media figure and the first Muslim woman to run for Congress in New Jersey, was arrested Saturday after boarding a flight at Newark Liberty International Airport. She claimed she was unfairly singled out in the incident due to her religion.
-----
A Muslim woman from New Jersey who once ran for Congress was removed from an American Airlines flight Saturday and arrested after an argument with a male passenger, she claimed on social media.
Amani Al-Khatahtbeh, an activist and blogger who ran unsuccessfully for Congress this year, recounted the incident on Twitter and in a 15-minute Facebook video she took before she was taken off the Charlotte, North Carolina-bound flight.
"The last 6 hours of my life have been draining & traumatizing. Today I got arrested for the first time because a man that insisted he was 'first class' felt entitled to blow past me at TSA security, then have me removed from our @AmericanAir flight bc he 'felt uncomfortable,'" she tweeted Saturday evening.
Had to get off my flight because a man asked a Muslim woman to get off the plane. @AmericanAir employees followed his request and gave the woman no explanation pic.twitter.com/ASZYA9Yx7d
The problem, which forced everyone onboard to disembark at some point, apparently began at a Transportation Security Administration checkpoint at Newark Liberty International Airport as Al-Khatahtbeh was trying to remove her shoes.
"I had the craziest experience in TSA this morning. An entitled white man behind me insisted on cutting me in line because I was 'still taking my shoes off'," Al-Khatahtbeh tweeted at 9:18 a.m., not long before her scheduled 9:55 a.m. flight. "When I said he could wait like everyone else, he started going off about how he's 'pre check' and 'first class'."
She followed up with another tweet: "Guys he made a complaint about me and @AmericanAir is attempting to remove me from the flight." She then posted a long video to Facebook from the airplane in which a police officer tells her she is under arrest.
"Literally they called the cops on me," she said in the clip. "This man in first class made a complaint about me because he cut me in line at TSA and now they literally have police coming to escort me off this flight right now, for no reason, literally taking this man's word over mine."
"He made me feel uncomfortable, this man sitting in first class. I'm a veiled Muslim woman on this flight and they're taking his word for it."
Al-Khatahtbeh, who did not return to emails from The Post, claimed the man who apparently complained was not removed from the flight.
Port Authority confirmed a person was removed from a flight and taken into police custody, while American Airlines told The Guardian it was "working to understand what occurred."
The TSA claimed no complaints were made about any passengers at the checkpoint, and deferred any situation on the aircraft itself as an "airline matter."
https://nypost.com/2020/11/14/muslim-activist-says-she-was-wrongfully-pulled-off-american-airlines-flight/
----------
Kamala Harris To Transform US Politics By Leading Record Number Of Elected Women
15th November 2020
By Bhavya Sukheja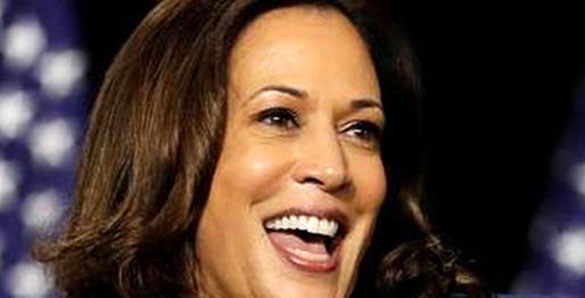 Kamala Harris
-----
Amid the US election chaos, while Kamala Harris is poised to become the first female vice president of the nation, it was noted that a record number of women are also elected to Congress, including more Republicans than ever. Born of a mother from India and father from Jamaica, Harris will become the first woman, first Indian American, first Black, first South Asian American and the first Asian ever elected as the vice president. While taking to Twitter, the 56-year-old echoed a speech which Hillary Clinton delivered in 2016 in recognising her defeat by Donald Trump and said, "We showed girls what's possible".
Back in 2016, Clinton said, "I know we have still not shattered that highest and hardest glass ceiling, but someday someone will, and hopefully sooner than we might think". She then also directed the words of encouragement to the country's "little girls" and said, "Never doubt that you are valuable and powerful and deserving of every chance and opportunity in the world to pursue and achieve your own dreams".
Over the years, women have transformed the face of American politics, both in Congress and in White House. Now, several US media outlets have reported that analyst expects President-elect Biden to appoint either progressive Senator Elizabeth Warren or Federal Reserve official Lael Brainard, who is a former Treasury undersecretary, to head the Treasury, which is a position never filled by a woman. The United States might also see its first woman secretary of defence under the Biden administration.
Meanwhile, currently, there are only two women in the Trump cabinet - Transportation Secretary Elaine Chao and the education secretary Betsy DeVos. However, several women have served Trump as senior advisors or as White House spokesperson.
Back in 2018, the US had elected a record number of women, but on November 3, the country broke that record. While some results of the election are not yet final, at least 140 women will be taking seats in Congress when it returns on January 3. According to the Rutgers University's Center for American Women and Politics (CAWP), there are currently 127 women in Congress or 23.7 per cent of the 435 seats in the House of Representatives and the 100 in the Senate.
As per reports, the Democratic women will claim 105 seats in Congress and the Republican, for their part, will occupy 35 seats, which is considerably fewer than their Democratic counterparts but still big increase from the current 22. When asked about the record number of Republican women elected, House Speaker Nancy Pelosi on Friday had said that she would congratulate and welcome each and every one of them. She, however, also added that her party was doing better by women.
https://www.republicworld.com/world-news/us-news/kamala-harris-to-transform-us-politics-by-leading-record-number-of-elected-women.html
----------
Katie Taylor outclasses Miriam Gutierrez to defend four women's lightweight titles
By Luke Reddy
15-11-2020
Katie Taylor served up a ruthless display to dominate against Miriam Gutierrez and defend her four world lightweight titles with a points win.
She floored Gutierrez at the end of round four with a sublime right-left combination and each time she thrust into an attack a stoppage looked close.
Promoter Eddie Hearn dubbed Taylor "the greatest to ever do it in women's boxing" moments after a masterclass where she blitzed 37-year-old Gutierrez.
"I thought it was a great win," Taylor, 34, told BBC Radio 5 Live. "I wanted to stamp my authority early. I thought I hurt her in the first. She was very heavy handed and tough, it was a great 10 rounds and I am very happy.
Taylor emerged from her dressing room to the sound of 'Sirius' - the tune the Chicago Bulls made their own during their run of six NBA Championships between 1991 and 1998.
Ireland's fighting hero - a 2012 Olympic champion - looked untouchable at Wembley Arena. Every gap Spain's Gutierrez left in her defence was found in a show of creativity, speed and accuracy as the champion - a 1-28 betting favourite for the bout - lived up to her billing as the star who is taking women's boxing to new levels.
Rarely did she throw a single shot, instead opting for flurries to overwhelm an opponent who looked to be drowning in a sea of punches for the entire 20 minutes.
A rapid attack in the third - built from a left hook to body and head - looked like it could be decisive but was followed by a slick combination to floor her rival in the fourth, where an extra few seconds may have offered time for a stoppage.
Names including Britons Natasha Jonas and Chantelle Cameron - a world champion a division higher - are being mentioned, as is an eye-catching contest against Mixed Martial Arts star Cris Cyborg.
"She does want to push the boundaries," added Hearn. "She won't duck one of them. I just think there is no fight she wouldn't take."
Taylor now boasts 17 wins from 17 bouts. Her obsession over her craft will undoubtedly see her wonder how she was unable to find just a seventh stoppage of her career.
But on a night where women's boxing was showcased in the top three slots on the fight card, she dazzled and those watching got to see the best in the business in full flow.
BBC Sport boxing correspondent Mike Costello: It feels like a pivotal moment in women's boxing, with Katie Taylor at the forefront. There is a sense of momentum around the sport, but there is a lack of depth.
BBC Radio Live boxing analyst Steve Bunce: She did not lose a second of that fight. She tried to make sure it didn't last any longer than it needed to. I've never seen as wide a smile as when Gutierrez heard the bell.
https://www.bbc.co.uk/sport/boxing/54947699
---------
Mother fears PKK will use child as suicide bomber
Ali Murat Alhas
15.11.2020
As families continued their protest sit-in against the PKK terror group continues in Turkey's eastern Diyarbakir province, one teary-eyed mother damned the group for abducting her mentally-challenged child for potential use as a suicide bomber.
Esmer Koc said her daughter Zubeyde was abducted in 2013 at the age of 15 and she has not heard from her child since then. She is worried because her daughter suffers mental challenges along with a hearing issue.
"My daughter was mentally handicapped," said Koc, who fears her daughter could be manipulated into being used as a suicide bomber – a treacherous method used by the PKK terror group to target Turkey.
"I have had no news from my daughter since she left. I do not even know whether she is alive or not," she said. "I am afraid the [PKK] would make her a suicide bomber."
Koc said she worked day and night for better standards for her children but the PKK "stole her future" when she learned Zubeyde was forcibly taken to join the ranks of the terror group.
"Our peace at home has left us since she disappeared; I do not even want to eat or drink […] I want my children brought back," she said, noting that kidnapping children was a strategy used by the terror group to brainwash.

Zubeyde's brother, Dogan, 16, said his family was devastated when she was abducted and it turned upside down the lives of the entire family.
"My mother does not want to eat or sleep, this incident has significantly affected our family. My brothers always get upset. My family does not let me go anywhere without permission for fear [of the PKK]," he said.
Through tears, he said he wanted to be a member of law enforcement and fight the PKK terror group so mothers would not be left without children.
"I joined this protest along with my mother in an effort to help and support the protesting families," he said. "The enemy [PKK] will lose this fight, the families are determined and will not go anywhere before getting their children back. I will have my sister back as well, I hope."
Those who played a role in Zubeyde's abduction were given prison time, according to her mother, who firmly believes her daughter will return soon.
Launched on Sept. 3, 2019, mothers whose children were forcibly recruited by the terror group, have staged a sit-in demonstration that has grown daily outside the office of the Peoples' Democratic Party (HDP). Turkey has accused the party of having links to the YPG/PKK terror group.
In its more than 30-year terror campaign against Turkey, the PKK – listed as a terrorist organization by Turkey, the US, and EU – has been responsible for the deaths of some 40,000 people, including women, children and infants. The YPG is its Syrian offshoot.
Offenders in Turkey linked to terror groups who lay down their weapons and surrender to security forces are eligible for possible sentence reductions under a repentance law.
https://www.aa.com.tr/en/diyarbakir-mothers-on-children-watch/mother-fears-pkk-will-use-child-as-suicide-bomber/2044192
----------
Winterport Women's Club holds 5th annual turkey drive
By Ryan Mains
Nov. 14, 2020
WINTERPORT, Maine (WABI) - The Winterport Women's Club was out collecting for a good cause Saturday morning.
It was their fifth annual Turkey Drive, and they had people at both the Tea Mainea and outside the Mobile On the Run collecting donations.
While the preferred donation was a turkey, people were encouraged to either give a gift card to a local supermarket or a check, with all proceeds being donated to the Neighbors Cupboard food pantry.
"We really focus on stamping out food insecurity in our community, it's a very dire need always, but this year especially," explained WWC President Gloria Aurelio.
And if you missed the drive, but would like to lend a helping hand, you can find them on Facebook and set up a donation through their page.
https://www.wabi.tv/2020/11/14/winterport-womens-club-holds-5th-annual-turkey-drive/
---------
URL: https://www.newageislam.com/islam-women-feminism/twenty-five-suspected-female-activists/d/123473
New Age Islam, Islam Online, Islamic Website, African Muslim News, Arab World News, South Asia News, Indian Muslim News, World Muslim News, Women in Islam, Islamic Feminism, Arab Women, Women In Arab, Islamophobia in America, Muslim Women in West, Islam Women and Feminism