New Age Islam News Bureau
4 Feb 2013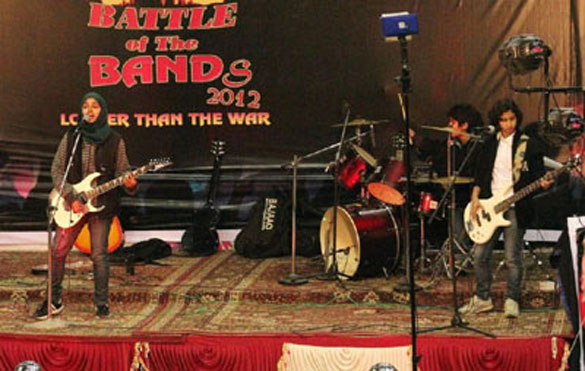 • Gender Shock, Sexism, Misogyny and Prostitution in Jakarta
• Saudi Blood Money Ruling For the Rapist and Murderer of his Daughter Angers Activists
• Dubai Woman Accused of Beating Ethopian Maid to Death Arrested
• "Iranian Mothers for Peace" Alert the World on Sanctions and Shortage of Medicines
• Women Ghazal Sufi Ensemble from Iran, For the First Time, Perform Before Men
• After Grand Mufti's Fatwa, Kashmir's All-Girls Band Calls It Quits
• Saudi Women to Be Allowed To Work in Pharmacies
• A Vocal Campaign against Assault on Nigerian Women
• Malala Yousufzai Shot by the Taliban Is Progressing after Successful Operations
• Saudi Woman Writer Wins Online Defamation Complaint Case
• Defaming HR Campaigner Asma Jehangir: Media Mogul Promises To Take Action
• Leading Pakistani journalist Ayesha Haroon dies
• Turkish Authorities Seek Killer of Tourist From S.I.
Compiled by New Age Islam News Bureau
Photo: After Grand Mufti's Fatwa, Kashmir's All-Girls Band Calls It Quits
URL: https://www.newageislam.com/islam,-women-and-feminism/new-age-islam-news-bureau/tv-and-social-media-adds-to-body-dissatisfaction-among-girls/d/10262
---------------
TV and Social Media Adds to Body Dissatisfaction among Girls
4 FEBRUARY 2013
Peers play a role in one's life and a significant one. In a study, it has been revealed that the body image of the girls can leave an impression in the minds of children according to the environment provided by the peers.
Media has a stronghold on the body image, life satisfaction, and symptoms of eating disorders in teenage girls. A lot of debate has already happened over the body dissatisfaction getting influenced by media and thus, leading to eating disorders.
Contrast of peers and media on girl's eating habits and dissatisfaction has been part of the study done by Christopher J. Ferguson and colleagues from Texas A and M International University.
To observe this, researchers questioned 237 young Hispanic girls, aged 10 to 17 years, to name their three favourite TV shows and then give marks on basis of attractiveness of the female actresses in these shows. Then, the girls were also interrogated about how they felt about their bodies.
In the end, it was seen that TV exposure and social media played a significant role on parameters controlling body dissatisfaction.
http://topnews.ae/content/214496-tv-and-social-media-adds-body-dissatisfaction-among-girls
--------------
Gender Shock, Sexism, Misogyny and Prostitution in Jakarta
Jennie S. Bev, Jakarta
February 03 2013
During the past three weeks that I have been in Jakarta, I have been experiencing "gender shock". In this city that never sleeps, I feel old, disrespected and disposable as a childless woman in my early 40s. In addition to my "Caucasian" body frame of 172.5 centimetres in height or 181.5 cm in heels, it is hard for me to "blend in" among Indonesians whose average height is 150- to around 160 cm.
In the US, I felt so alive. Yes, "life begins at 40" and 40-something women in my home state of California are no less physically or intellectually attractive when compared to their 20 to 30-year-old sisters. Also, though your experiences do matter, age is not a hindrance when applying for a job as the law protects you.
Drop-dead gorgeous women in their 40s in Hollywood include actresses Lucy Liu, Jennifer Aniston, Julianne Moore, Halle Berry and Salma Hayek. Drop-dead intelligent women over 40 include top-notch authors and intellectuals Amy Chua, Lisa See, Naomi Wolf, Arianna Huffington, Naomi Klein and the late Iris Chang.
Many women in the US have just started having babies in their 40s, thanks to technology that has reduced risks, and a longer lifespan, which have made the excuse, "If I have a baby when I'm 40, I'll be dead when he or she goes to high school" obsolete.
Actress and wife of John Travolta, Kelly Preston, for instance had her last baby when she was 47 years old. Many Indonesian women of the same age consider themselves "grandmotherly". Both Berry and Hayek also had their first child in their 40s. After all, being gorgeous inside and out is a choice.
As a childless woman in my early 40s, cynical comments were expressed as soon as I introduced myself to a new acquaintance. They usually asked, "How many kids do you have?" My answer was, "No, I don't have kids." "Why?"
Such rude and insensitive remarks are astonishing. During my 15 years of residing in the US, not even a very close friend of mine had asked why my husband and I did not have kids. And most Americans know that it is probably a choice.
"Having no kids is a choice?" said my surprised Indonesian acquaintance.
It is since Obgyn technology is so advanced that "infertile" men or women have several options. Depending on the fertility issues experienced by every individual, options available include using own sperm, own egg and own uterus or using donor sperm, donor egg and donor uterus. The manner of conception can be natural, through insemination, or through IVF.
Thus, if your sperm is no good but your wife's egg and uterus are good, then there is alternative way to conceive. If your sperm is good and your lady's egg is good, but her uterus is not, then you can "rent" a uterus through a surrogate.
If both of you have superb sperm, egg and uterus but have been experiencing difficulties due to blocked fallopian tubes, which can be because of endometriosis or other issues, you can conceive outside the uterus, on the petri dish — the IVF way. With so many permutations, it is almost impossible to not have kids despite any fertility issues.
However, the "common" response expressed to a childless woman is that she is the cause of the childlessness, which I had often experienced. Some told me to drink such-and-such jamu (herbal medicine) or to receive a special urut (massage) on the abdomen.
Jamu and urut can have adverse effects depending on the issues. For instance, those with endometriosis or polycystic must take good care of their abdomen, as any pressure on cysts may create complications. Those with hormonal issues must know exactly what she is taking orally.
In Indonesia, sexist jokes about women and sexual acts are often expressed by men who have a distinct position in society. It is a form of verbal oppression and gives patriarchy a bad name. In the US, expressing such jokes may result in job loss or a sexual harassment lawsuit, if it occurs in a corporate environment.
Pornography and prostitution are extreme forms of misogyny, for they involve the darker side of a human's psyche, a stronger form of disrespect with a hint of violence.
"A man has biological needs," a friend once told me when I confronted him that he should put an end to using the services of "bad girls", the term he uses. He did not realize that he was exercising the "dirty part" of patriarchy, misogyny it is, for he did not care whether the prostitutes were victims of trafficking or drugged to perform.
Despite all of this, I am blessed for choosing to be a gorgeous woman inside and out.
The writer is an award-winning author and columnist based in California. She is working on a memoir about dual Diaspora.
http://www.thejakartapost.com/news/2013/02/03/view-point-gender-shock-sexism-misogyny-and-prostitution.html
---------------
Saudi Blood Money Ruling For the Rapist and Murderer of his Daughter Angers Activists
04 Feb 2013
A Saudi man who raped his five-year-old daughter and tortured her to death has been sentenced to pay "blood money" to the mother after having served a short jail term, according to activists.
The man, said to be a religious scholar who is also a regular guest on Islamic television networks, confessed to having used cables and a cane to inflict the injuries, activists from the group Women to Drive said in a statement on Saturday.
Lamia was admitted to hospital on December 25, 2011, with multiple injuries, including a crushed skull, broken ribs and left arm, extensive bruising and burns, the activists said.
They said the father had doubted his daughter Lama's virginity and had her checked up by a medic.
She died last October.
Randa al-Kaleeb, a social worker from the hospital where Lama was admitted, said the girl's back was broken and that she had been raped "everywhere", according to the group.
According to the victim's mother, hospital staff told her that her "child's rectum had been torn open and the abuser had attempted to burn it closed".
The activists said that the judge had ruled the prosecution could only seek "blood money and the time the defendant had served in prison since Lama's death suffices as punishment".
Three Saudi activists, including Manal al-Sharif, who in 2011 challenged Saudi laws that prevent women from driving, have raised objections to the ruling.
The ruling is based on national laws that a father cannot be executed for murdering his children, nor can husbands be executed for murdering their wives, activists said.
http://www.aljazeera.com/news/middleeast/2013/02/201323223618362435.html
---------------
Dubai Woman Accused of Beating Ethopian Maid to Death Arrested
By Bassma Al Jandaly
February 3, 2013
Dubai: A woman accused of beating her housemaid to death has been arrested, Dubai Police said on Sunday.
Police said that the 45-year-old Emirati woman, who works for a government department, was arrested for beating her Ethiopian housemaid to death while the woman's Emirati husband and another Emirati woman, who is a close friend of the family, were arrested for covering up the crime.
Police said that the young housemaid died after being tortured by the woman.
The incident happened late last month when the ambulance centre reported to police that a housemaid was in a critical condition in a villa in Al Rashidiya, said Colonel Yousuf Al Adeedi, Deputy Director of Al Rashidiya police station, while talking to journalists on Sunday.
Colonel Al Adeedi said this was the first murder that had taken place in Al Rashidiya this year.
"When we reached the crime scene, the housemaid was fighting for her life but she died before the ambulance reached there," he said.
He said that there were deep wounds and cuts on her hands, legs and face.
"The housewife, who is the mother of several children, claimed that the housemaid fell down from the stairs and she died," he said.
The forensic expert, who checked on the body of the housemaid found she had been severely beaten and had suffered from severe wounds and cuts for more than week and that she had been left without treatment, he added.
He added that the housemaid had been beaten with metal bars and it seems that she had also been lashed.
"There was another two Asian housemaids who work for the same family and they were also beaten up by the woman," he said.
"One of the housemaids had her jaw broken and the other also had wound marks on her body," he said.
He said one of the housemaid told police that the housewife used to beat them and that she was the one who killed the Ethiopian housemaid.
"The other housemaid was scared and she said she did not know anything, then she admitted to police that the housewife said to her that she would give her Dh50,000 if she did not tell police anything about the death of the Ethiopian housemaid.
"The father is accused of aiding his wife in her crimes but he is on bail because they have many children and they need someone to take care of them," he said.
Colonel Al Adeedi said the friend was also released on bail by the public prosecution.
"The friend said she tried to advise her friend not to beat the housemaid but the woman is facing the charges of covering up crime," he said.
He said the case had been transferred to the public prosecution for investigation.
http://gulfnews.com/news/gulf/uae/crime/woman-accused-of-beating-maid-to-death-arrested-1.1141469
---------------
"Iranian Mothers for Peace" Alert the World on Sanctions and Shortage of Medicines
By Farid Marjai & Mehrnaz Shahabi
03 February, 2013
Monthly Review
"Iranian Mothers for Peace," in an open letter of January 2013 to Mr. Ban Ki-moon, the UN Secretary General, and Dr. Margaret Chan, the Director General of the World Heath Organization, have alerted the responsible world bodies and human rights organizations to the critical shortage of vital medication due to the US/EU-led sanctions on Iran and their deadly impact on the lives and health of the Iranian population.
Full report at:
http://www.countercurrents.org/shahabi030213.htm
---------------
Women Ghazal Sufi Ensemble from Iran, For the First Time, Perform Before Men
ANANYA DUTTA
Feb 04 2013
When the six members of the all-woman Ghazal Sufi Ensemble stepped on stage to perform in Kolkata over the weekend, it was the first time that men were a part of their audience. Their performance at home in Iran has been only in front of an all-female audience, in accordance with the country's rules on women musicians.
The group's concert at the ongoing festival of Sufi and traditional music, Sufi Sutra, was their first international performance, although its members have individually performed abroad on earlier occasions.
Full report at:
http://www.thehindu.com/news/states/other-states/for-the-first-time-women-musicians-from-iran-perform-before-men/article4375808.ece
--------
After Grand Mufti's fatwa, Kashmir's all-girls band Pragash calls it quits
Feb 04 2013
Srinagar: Kashmir today lost its only all-girls rock-band Pragash as its three teenage members decided to call it quits, a day after the Grand Mufti issued a fatwa terming singing as un-Islamic and asked them to abandon it.
Although the girls have maintained silence over the issue, sources close to them said, they have decided to quit singing and music.
Full report at:
http://www.indianexpress.com/news/after-grand-muftis-fatwa-kashmirs-allgirls-band-pragash-calls-it-quits/1069090/
----------
Saudi women to be allowed to work in pharmacies
February 4, 2013
Riyadh: Saudi Labour Minister Adel Faqih announced on the weekend that women will soon be allowed to work in pharmacies, a job held only by men so far, media reports said.
Faqih said at a private business event that his ministry was working to prepare a "safe and proper" environment that guarantees the employment of women in pharmacies.
Full report at:
http://gulfnews.com/news/gulf/saudi-arabia/saudi-women-to-be-allowed-to-work-in-pharmacies-1.1141577
------------
A Vocal Campaign against Assault on Nigerian Women
BY NURUDEEN OYEWOLE
3 FEBRUARY 2013
Lagos — An international report on violence against women said one in every three Nigerian women and girls aged 15-24 have been victims of violence. The unfortunate trend is what some Nigerian artistes and actors vowed to reverse at a recent event held in Lagos in conjunction with Heinrich Boell Foundation, a German Non Governmental Organisation in Nigeria. Sunday Trust was there.
Full report at:
http://allafrica.com/stories/201302030205.html?viewall=1
--------------
Malala Yousufzai Shot by the Taliban Is Progressing after Successful Operations
2013/02/04
LONDON (AP) — A Pakistani schoolgirl who was shot in the head by the Taliban is in stable condition after undergoing two successful operations to reconstruct her skull and restore her hearing, the British hospital treating her said Sunday.
Doctors tending to the girl, Malala Yousufzai, who was attacked for advocating education for girls in Pakistan, said they were "very pleased" with her progress after five hours of skull reconstruction and ear surgery on Saturday at Queen Elizabeth Hospital in Birmingham.
Full report at:
http://www.nytimes.com/2013/02/04/world/asia/pakistani-girl-shot-by-taliban-is-stable-
---------------
Saudi Woman Writer Wins Online Defamation Complaint Case
4 February 2013
Novelist and journalist Samar Al-Muqren has won a ruling after filing a complaint against a writer and website owners for online defamation, and is now awaiting the outcome of a second case of cyber bullying.
In the first case, she filed a complaint with the Ministry of Interior against the writer and owners of various websites.
Full report at:
http://www.arabnews.com/saudi-arabia/saudi-woman-writer-wins-online-defamation-complaint-case
---------------
Defaming HR Campaigner Asma Jehangir: Media Mogul Promises To Take Action
February 4, 2013
ISLAMABAD: The publisher of a leading media house has responded positively to noted rights activist and legal expert Asma Jehangir's complaint against two columnists who allegedly carried out a 'character assassination' on her in their respective write ups early last month.
The publisher has promised to take action against the two writers, who were also the employees of the organisation, Jehangir told The Express Tribune.
Full report at:
http://tribune.com.pk/story/502224/defaming-hr-campaigner-media-mogul-promises-to-take-action/
---------------
Leading Pakistani journalist Ayesha Haroon dies
February 03, 2013
Leading Pakistani journalist Ayesha Haroon has died in New York after a four-year battle with cancer at the age of 46, her family said on Sunday.
Haroon's husband Faisal Bari, her brothers and her mother were by her side when she died on Saturday. Her body will be flown to Lahore on Wednesday and she will be buried the next day, her family said.
Full report at:
http://www.hindustantimes.com/world-news/pakistan/Leading-Pakistani-journalist-Ayesha-Haroon-dies/Article1-1005900.aspx
----------
Turkish Authorities Seek Killer of Tourist From S.I.
By SEBNEM ARSU and J. DAVID GOODMAN
February 04, 2013
ISTANBUL — It was her first trip overseas, but in many ways Sarai Sierra was the epitome of a modern young tourist — alone yet constantly connected.
She struck out for Turkey from New York last month, trailed by a digital horde of hundreds, who followed her online postings, and by her family, who spoke to her regularly by Skype on her iPad. She went online to rent the room where she stayed — in a rundown area of Istanbul not known to attract casual visitors.
Full report at:
http://www.nytimes.com/2013/02/04/nyregion/turkish-authorities-seek-killer-of-tourist-from-si.html?ref=europe&_r=0
----------
URL: https://www.newageislam.com/islam,-women-and-feminism/new-age-islam-news-bureau/tv-and-social-media-adds-to-body-dissatisfaction-among-girls/d/10262