New Age Islam News Bureau
13 December 2022
• Saudi Artist, Tagreed Al-Bagshi, Depicts Strength, Perseverance of Saudi Women through Her Paintings
• Women's Art Exhibit Focusing On the Closing of Schools for Girls Opens in Kabul
• Women's Rights Activist, Zarifa Yaqoubi, Released After over 5 Weeks of Detention in Kabul
• Taibah University Crowned Women's University Basketball Champions
• Iranian Footballer, Amir Nasr-Azadani, Faces Execution for Supporting Women's Rights: Report
Compiled by New Age Islam News Bureau
URL: https://newageislam.com/islam-women-feminism/turkish-woman-elif-güveyler-kuwait-pilot/d/128621
--------
Turkish Woman, Elif Güveyler, Becomes Kuwait's First Female Captain Pilot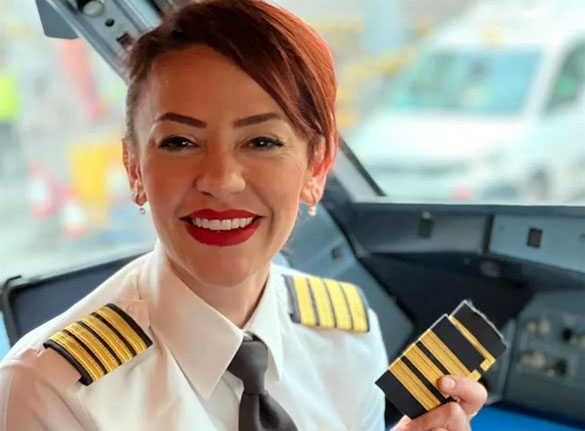 Elif Güveyler, Pilot Captain
----
December 13 2022
A Turkish woman who has been working for Kuwait-based Jazeera Airways for three years has become Kuwait's first female captain pilot after completing her training.
Graduating from the English Language and Literature Department, Elif Güveyler began to work at the airport.
Güveyler, who had the chance to observe people from several professions during her service at the airport, discovered that her dream job and passion was piloting.
After deciding to become a pilot in 2010, she quit her job and started to receive pilot training.
The 39-year-old woman obtained her pilot's license after a two-year training period.
With the completion her training, Güveyler announced that she became the first female captain pilot of the airline company she worked for in Kuwait and the country.
"I have been wanting to tell you this news for a long time. I would like to share with you the pride of being the first female captain pilot of the company and the country [Kuwait] after many years of hard work, effort and proving myself," Güveyler stated while sharing her photos wearing a pilot uniform.
Perceived as a male-dominated profession, there has been an intense demand from women for piloting in recent years.
Accordingly, one out of every four pilots will be women in the future, stated Osman Koç, a faculty member from Turkish Aeronautical Association (THK) University.
The number of female students who chose the pilotage department of the university increased significantly over the last two to three years, he pointed out.
Source: Hurriyet Daily News
https://www.hurriyetdailynews.com/turkish-woman-becomes-kuwaits-first-female-captain-pilot-179278
--------
Saudi Artist, Tagreed Al-Bagshi, Depicts Strength, Perseverance of Saudi Women through Her Paintings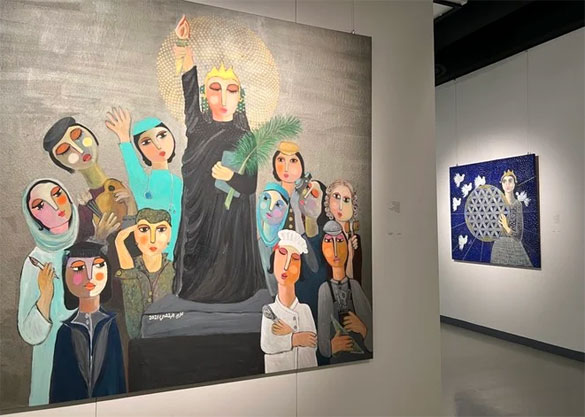 "Rings of Light" is a solo exhibition featuring 33 artworks by visual artist Tagreed Al-Bagshi and is being held at the L'Art Pur Foundation in Riyadh. (Lama Alhamawi)
------
Lama Alhamawi
December 12, 2022
RIYADH: "Rings of Light" is a solo exhibition featuring 33 artworks by visual artist Tagreed Al-Bagshi and is being held at the L'Art Pur Foundation in Riyadh under Misk Art Week's sixth edition.
"It is about the empowerment of Saudi women," Al-Bagshi told Arab News, speaking about her exhibition, which documents what the artist describes as the rapid development of Saudi women.
In "Rings of Light," each subject in the paintings reflects an inner glow related to personal experience and growth, some representing the challenges during the COVID-19 pandemic and others capturing the past and present milestones achieved by Saudi women.
"One of the topics I worked on was the beginning of the COVID-19 pandemic," the artist explained, detailing how she sought to explore lockdowns and solitude in her art.
Many parts of Al-Bagshi's works deal with Saudi women in relation to the Kingdom's reforms.
"The empowerment that has taken place is not insignificant; the powers and abilities that have been given to women, as well as their achievements and honors for the homeland, are very great," Al-Bagshi said.
"Indeed, in the recent period, the Saudi woman has shown us that she is an honorable face of the homeland. At the same time, we see her able to be a mother, a wife and a worker," she added.
Al-Bagshi explained how she seeks to depict the Saudi woman's strength, success and perseverance in all of her art pieces through the symbol of a lion. One of her paintings, "Gold Shine," shows a lion with wings, ready to soar and explore life's challenges, while another — "Soft Power" — shows seven women, dressed in black, with lions posing in front of them.
According to the artist, women have always had a lion within them, waiting for an opportunity to reveal itself and show its power.
The exhibition was curated by Khariya Refaat, and as visitors walk through the gallery, they can hear a voice over the speakers reading a text written by Al-Bagshi that explains the meaning behind the paintings.
The artist, who began drawing as a young child, has worked with the Misk Art Institute in the past and believes that art plays a major role in delivering messages and emotions that remain with visitors.
"The importance of art and the large audiences that attend art events have a great role in developing cultural awareness," she said.
Al-Bagshi is originally from Al-Ahsa, in eastern Saudi Arabia, and has been holding solo art exhibitions within and outside of the Kingdom since 2001. "Rings of Light" marks her 19th exhibition.
"Rings of Light" was launched on Dec. 6 and will run until Jan. 5.
Source: Arab News
https://www.arabnews.com/node/2214956/saudi-arabia
--------
Women's Art Exhibit Focusing On the Closing of Schools for Girls Opens in Kabul
By Asma Saayin
An exhibition of women's paintings opened in Kabul and more than 60 pieces of art were displayed.
The exhibition is aimed at drawing attention to the closing of schools for girls above grade six.
The organizers said the pieces speak about the story of Afghan women.
"We wanted to pave the way for further engagement of women and their social activities by holding this exhibition," said Sayed Mohammad Naseer Hosseini, an organizer of the exhibition.
"We wanted to display these pictures today and to display the talents of the women," said Hakim Hekmatyar, an organizer.
Many girls with art being displayed in the exhibition are prevented from going to school.
"We aimed to draw the suffering and pain of the people of Afghanistan, particularly women and girls, who cannot go to school and must do other activities because of the restrictions," said Huma, an artist.
"It has been a year since the schools have been closed to us. We cannot go to school and thus we turn to the arts so we can explain the pain of our hearts through painting," said Fatima, an artist.
Visitors expressed happiness over the exhibition.
"We came here and visited the artistic pieces. I think such an exhibition be held in the future as well," said Khatera, a visitor.
Source: Tolo News
https://tolonews.com/index.php/afghanistan-181156
--------
Women's Rights Activist, Zarifa Yaqoubi, Released After over 5 Weeks of Detention in Kabul
By Saqalain Eqbal
December 12, 2022
Women's rights activist, Zarifa Yaqoubi, who was previously detained along with her four colleagues in western Kabul, has been released after over 5 weeks of detention.
Fawzia Koofi, a former member of the Afghan parliament, and the chief of the Movement of Change for Afghanistan political party wrote a note on her Twitter handle on Zarifa's release.
Zarifa was tagged in a post by Koofi that said, "Welcome dear, your fight and that of your companions is an exemplar of freedom fighters."
"Prison makes you mature and your determination more serious, the fight continues."
Zarifa Yaqoubi is a member of the executive council of the Movement of Change for Afghanistan, the country's first political party led by a woman, Fawzia Koofi.
At least three other protesting women who participated in the same demonstration as Zarifa Yaqoubi confirmed her release in a conversation with Khaama Press.
Although Yaqoubi's release has been confirmed, no information is available regarding the fate of her fellow protesters Farhat Popalzi and Humaira Yousuf, who are said to still be in custody.
Zarifa Yaqoubi was detained in early November, in western Kabul, from a press conference as she and her team were set to launch the Afghan Women's Movement for Equality.
She and her male colleagues were arbitrarily detained by the gun-wielding forces, which included female police officers, at a press conference for women held in the Hazara area of Dasht-e-Barchi in west Kabul.
Her release follows numerous disregarded calls from political figures and rights organizations demanding her immediate release.
Source: Khaama Press
https://www.khaama.com/womens-rights-activist-zarifa-yaqoubi-released-after-over-5-weeks-of-detention-46753/
--------
Taibah University crowned women's university basketball champions
RIYADH: Taibah University women's basketball team on Saturday were crowned champions of the 2022 Saudi Universities Sports Federation (SUSF) title.
The Madinah-based Taibah University side was victorious against King Abdulaziz University on a four-point difference in the final match with a 46-42 score.
The tournament matches took place over the course of three days, and were hosted by the University of Business and Technology and Effat University in Jeddah.
The Taibah University side were handed their winner's medals by Dr. Muzna Al-Marzouqi, advisor to SUSF; Dr. Amani Ghandoura, dean of student affairs at Effat University; and Lina Al-Maeena, adviser to University of Business and Technology sports affairs.
The 16 participating universities competed in four groups. The first included Effat University, Imam Abdulrahman bin Faisal University, Dar Al-Hekma University and Jeddah International College.
Heading the second group was Taibah University, as well as University of Prince Mugrin, University of Hail and University of Tabuk.
The third group featured King Saud University, Umm Al-Qura University, University of Jeddah and Yanbu University College, while the fourth group saw competitions between the University of Business and Technology, King Abdulaziz University, Princess Noura University and Al-Faisal University.
Al-Maeena praised the level of skill at the tournament held under the SUSF, stressing that the competition revealed Saudi talent capable of representing the country in upcoming events.
She added that the event's popularity and enthusiasm of the players will encourage more women university students to take up sports.
Al-Maeena welcomed cooperation between the SUSF and the Saudi Basketball Federation, stressing the University of Business and Technology's readiness to host tournaments using its women's sports infrastructure. She also highlighted the university's desire to achieve Saudi national goals in providing women with the opportunity to represent their country at national, regional and global events.
SUSF Secretary-General Dr. Abdulelah Al-Salali congratulated the winning team and the runners-up for their performances and thanked all 16 universities for their presence. He hailed the efforts by the University of Business and Technology to host the tournament and the event's success in providing an ideal atmosphere for sports competition between the universities.
Source: Arab News
https://www.arabnews.com/node/2182101/sport
--------
Iranian Footballer, Amir Nasr-Azadani, Faces Execution for Supporting Women's Rights: Report
13 Dec 2022
Amir Nasr-Azadani, a 26-year-old Iranian professional footballer, is facing execution after campaigning for women's rights, according to various reports. The player has been arrested for committing 'moharabeh,' the Persian term roughly translating to 'waging war against God.'
Who is Amir Nasr-Azadani?
Nasr-Azadani is a professional footballer hailing from Isfahan, a city in central Iran. Playing as a defender, he started his professional career at Sepahan, before switching allegiance to Rah Ahan back in 2015.
After a year, Nasr-Azadani moved to Tractor where he spent a couple of seasons before sustaining an injury. Following his recovery, the player has represented Gol-e Reyhan, Sepahan Novin and Iranjavan FC.
What Are the Allegations Against Amir Nasr-Azadani?
The allegations against the footballer are two-fold.
Firstly, Nasr-Azadani has been actively campaigning for women's rights and freedom amid the ongoing turbulence in Iran.
Iran has been facing countrywide protests since the death of Mahsa Amini – a 22-year-old who was detained by the police for allegedly not adhering to the rules regarding wearing a hijab.
During the ongoing FIFA World Cup 2022, the Iranian national team players also protested against the regime by not singing the national anthem.
Reports in Iranwire, however, suggest that the regime has arrested Nasr-Azadani for the alleged murder of Colonel Esmaeil Cheraghi, and two members of Iran's voluntary paramilitary service, known as Basij.
The Islamic Revolutionary Guards Corps (IRGC) have detained three individuals from Isfahan for the murder of Colonel Cheraghi, and footballer Nasr-Azadani is reported to be among the trio.
How Has the International Football Fraternity Reacted?
The news of a professional footballer facing execution has left the international football community stunned. FIFPRO, the global representative body for footballers, issued a statement where they said there are 'shocked and sickened; by the developments.
"FIFPRO is shocked and sickened by reports that professional footballer Amir Nasr-Azadani faces execution in Iran after campaigning for women's rights and basic freedom in his country. We stand in solidarity with Amir and call for the immediate removal of his punishment," FIFPRO's statement read.
Have the Iranian footballers reacted?
Barring the international community, Iran's football fraternity has also voiced its support for Nasr-Azadani. Mehdi Mahdavikia, a former Iran national team player with over 100 appearances, claimed that he saw the 26-year-old during the youth team's camp in Germany and expressed his concern over any possible trial.
Ali Karimi, Masoud Shojaei, Mohammed Reza Akhbari and Siamak Nemati are among the other prominent Iranian footballers who have requested suspension of the execution charges.
The current national team players, however, are yet to explicitly speak out on the incident. Goalkeeper Alireza Beiranvand did upload an Instagram status where he opposed all executions, but his account has since been removed from the platform.
Source: The Quint
https://www.thequint.com/what-we-know/iran-footballer-amir-nasr-azadani-execution-womens-rights#read-more
--------
URL: https://newageislam.com/islam-women-feminism/turkish-woman-elif-güveyler-kuwait-pilot/d/128621
New Age Islam, Islam Online, Islamic Website, African Muslim News, Arab World News, South Asia News, Indian Muslim News, World Muslim News, Women in Islam, Islamic Feminism, Arab Women, Women In Arab, Islamophobia in America, Muslim Women in West, Islam Women and Feminism