New Age Islam News Bureau
27 August 2022
• Nadia Khan, British-Pakistani Footballer, Glad to Represent Pakistan in the SAFF Women Cup
• Emirati, Roqayah Husain Ali Ramadan, Female Paramedic Says Saving Lives Is Her Biggest Reward
• Taliban Restricts Female Students to Leave Kabul for Studies in another Atrocious Move
• Muslim Countries Must Be Leading Voices on Afghan Women's Rights, US Envoy Says
• Emirati Women's Day: Abu Dhabi Firm To Host Workshop In Rwanda For Young Female Professionals
• Pakistani City's Decision to Close Women's Park Following Islamist Protests Sparks Uproar
• French Tourists Refuse to 'Share' Pool with Woman in Burkini in Morocco
• Emirati Women Now Comprise 95 Per Cent of Female Employees at Al Ain Zoo
Compiled by New Age Islam News Bureau
URL: https://newageislam.com/islam-women-feminism/turkish-pop-star-gulsen-hatred-religious/d/127816
--------
Turkish Pop Star Gulsen Colakoglu Jailed Over Joke about Religious Schools on Charges Of "Inciting Hatred And Enmity"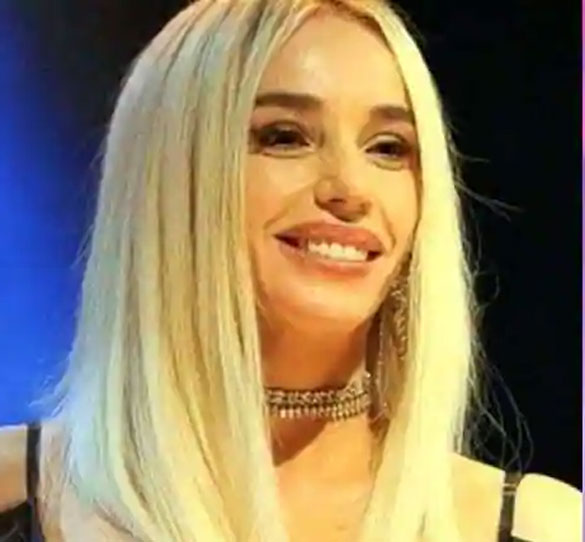 Gulsen has previously been targeted by Turkish conservative groups for her revealing stage outfits and support for the LGBTQ community.
-----
Aug 26, 2022
ANKARA: Turkish pop star Gulsen has been arrested on charges of "inciting hatred and enmity" over a joke she made about Turkey's religious schools, the country's state-run news agency reported. The 46-year-old singer and songwriter, whose full name is Gulsen Colakoglu, was taken away for questioning from her home in Istanbul and was formally arrested late on Thursday before being taken to a prison pending her trial.
The arrest sparked outrage on social media. Government critics said the move was an effort by President Recep Tayyip Erdogan to consolidate his religious and conservative support base ahead of elections in 10 months' time.
The charges were based on a joke Gulsen made during a concert in Istanbul back in April when she quipped that one of her musicians' "perversion" stemmed from the fact that he went to a religious school.
A video of the singer making the comments began circulating on social media recently, with a hashtag calling for her arrest.
Gulsen - who had already been the target of Islamic circles for her revealing stage outfits - issued an apology for the offense caused but said her comments were seized on by those wanting to deepen polarisation in the country.
During her questioning, Gulsen rejected accusations that she incited hatred and enmity, telling court authorities that she had "endless respect for the values and sensitivities of my country", the state-run Anadolu Agency reported.
A request that she be released from custody pending the outcome of a trial was rejected.
Kemal Kilicdaroglu, leader of Turkey's main opposition party called on Turkey's judges and prosecutors to release Gulsen.
"Don't betray the law and justice; release the artist now!" he wrote on Twitter.
The spokesman for Erdogan ruling party, Omer Celik, appeared however, to defend the decision to arrest the singer, saying "inciting hatred is not an art form".
"Targeting a segment of society with the allegation of perversion and trying to polarise Turkey is a hate crime and a disgrace to humanity," Celik tweeted.
Erdogan and many members of his Islam-based ruling party are graduates of religious schools, which were originally established to train imams.
The number of religious schools has increased under Erdogan, who has promised to raise a "pious generation".
Source: Times Of India
https://timesofindia.indiatimes.com/world/middle-east/turkish-pop-star-jailed-over-joke-about-religious-schools/articleshow/93803012.cms
--------
Nadia Khan, British-Pakistani Footballer, Glad To Represent Pakistan In The SAFF Women Cup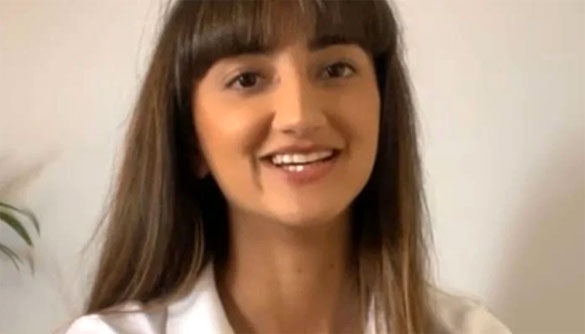 Nadia Khan, the British-Pakistani footballer. Photo provided by reporter.
-----
Aug 27 2022
Faizan Lakhani
KARACHI: Nadia Khan, the British-Pakistani footballer who is selected for Pakistan's women football team to play in the SAFF Women Cup, said she feels proud to represent Pakistan and can't wait to be with her teammates.
Nadia is based in Leeds, UK, and plays for Doncaster Rovers Belles. She was named by the Pakistan Football Federation in the 23-member squad for the SAFF championship to be played in Nepal from 6th September.
The 21-year-old midfielder will soon fly to Kathmandu where she'll join the squad led by Maria Khan for her debut international event in Pakistan colours.
In an exclusive interview with Geo News, Nadia spoke about her journey, her thoughts on being picked for Pakistan and her aims for the future.
"My family and I are so proud for me to represent Pakistan in the upcoming tournament and I'm so excited and can't wait to be with my teammates and have a great time. It's a whole different experience. I can't wait to be over there playing and representing Pakistan," she added.
"I think playing at an international level like that, will help attract British South Asian girls to join football and play, any sports even. But I'm so happy and so proud to be representing Pakistan," Nadia highlighted.
Nadia Khan began her football career at the Leeds United regional talent centre and was signed by Doncaster Rovers in 2017 when she joined the development side.
In 2018, she joined her teammates in moving to the first team to compete in the FA Women's Northern Premier Division.
However, she has set her eyes on playing in the Women Super League.
"My ambitions have always been high in football. And, I believe that one day I will be playing for a team InshaAllah in the WSL. I hope to continue playing at international level and for Pakistan, and see where the future takes me and what the future holds," Khan said.
Khan said she fell in love with football when she was 11 or 12, watching Neymar and Ronaldo attracted her to play the game herself.
She also highlighted how her family, originally from Pakistan, helped her in her football career.
Nadia became eligible to play for Pakistan due to her parents' heritage.
"I probably fell in love with football at the age of around 11 or 12, when my older brother taught me how to play football in the garden, and then watching on YouTube, the likes of Neymar, Ronaldo watching how they played football, the fantasy side of football and their different skills and tricks. I think that helped me gain interest into that side and attracted me to play football myself," she recalled when asked about how she started playing Football.
"My family have always been supportive of me playing football at this level. I think it's clear to see when my dad takes me to every single training session, and my mom takes me to every single match. And that support has helped me to fall in love with football even more. And I'm grateful and blessed to have my family supporting me, and proud of my achievements academically and in sports," she concluded.
Source: Geo TV
https://www.geo.tv/latest/436296-nadia-khan-british-pakistani-footballer-glad-to-represent-pakistan
--------
Emirati, Roqayah Husain Ali Ramadan, Female Paramedic Says Saving Lives Is Her Biggest Reward
August 26, 2022
Abu Dhabi: Emirati Roqayah Husain Ali Ramadan has been working as an emergency medical paramedic for the past four years. She said it has always been both fulfilling and rewarding to safely transport patients to the hospital.
Roqayah joined the UAE Paramedic Programme and graduated with a specialisation in first aid. After completing her initial training period, she went on to serve as an Emergency Medical Paramedic at the Civil Defence Authority.
Her work requires her to remain on standby and always be ready to receive and attend to emergency reports. She is also tasked to assess the situation and take into consideration all risks related to any incident.
Service to country
She believes her work as an emergency medical paramedic is her prime duty to serve her beloved country, the UAE.
She said: "It is fulfilling and rewarding to safely transport patients to the hospital. It is a wonderful feeling when you save a life or when we are met with prayers from the patients' family at the hospital."
Roqayah added: "Being an Emirati woman and working in such a profession is seen as a huge challenge. As an Emirati woman I am proud of myself for overcoming this challenge and serving in this field."
She also noted the UAE leadership's support to Emirati women has always played a key role in her success, affirming that their endless support and trust have enabled her to achieve her current position within the Abu Dhabi Civil Defence Authority.
Source: Gulf News
https://gulfnews.com/uae/emirati-female-paramedic-says-saving-lives-is-her-biggest-reward-1.90138054
--------
Taliban restricts female students to leave Kabul for studies in another atrocious move
Aug 27, 2022
KABUL: The Taliban (under UN sanctions for terrorism) has refused to allow female students to leave the Afghan capital to go to study in Kazakhstan and Qatar, reported Sputnik citing sources.
Both female and male students were planning to leave Kabul, but only male students were permitted to fly out of Afghanistan for studies, the sources said on Friday.
After the withdrawal of US troops from the country and the collapse of the US-backed government, an interim Afghan government led by the Taliban came to power in September 2021.
The Taliban has banned Afghan women from working outside their homes and has introduced gender-based segregation in schools. Girls are not allowed to receive education beyond sixth grade.
Moreover, the Taliban has forced all women to cover their faces while in public and women are not allowed to participate in entertainment activities and visit parks at the same time as men.
After the Taliban took over Afghanistan in August 2021 and imposed policies severely restricting basic rights--particularly those of women and girls. Taliban decrees prohibit women from travelling unless accompanied by a male relative and require women's faces to be covered in public--including women TV newscasters.
Moreover, the Taliban dismantled the system to respond to gender-based violence, created new barriers to women accessing health care, blocked women's aid workers from doing their jobs, and attacked women's rights protesters.
Since they took control of the country in August 2021, the Taliban have violated women's and girls' rights to education, work and free movement and decimated the system of protection and support for those fleeing domestic violence. The group has also detained women and girls for minor violations of discriminatory rules and contributed to a surge in the rates of child, early and forced marriage in Afghanistan.
Several rights groups have called out the Taliban to implement major policy changes and measures to uphold the rights of women and girls. The Taliban had previously promised of an inclusive society and equality during their first press conference after the takeover of Afghanistan, however, their actions reflect a different picture.
There are restrictions on movement, education and freedom of expression of women posing a threat to their survival.
According to locals, the Taliban has prevented women from using smartphones, and the Women's Affairs Ministry often extorts money for providing essential protection.
Around 80 per cent of women working in the media have lost their jobs, it said adding that almost 18 million women in the country are struggling for health, education and social rights.
Source: Times Of India
https://timesofindia.indiatimes.com/world/south-asia/taliban-restricts-female-students-to-leave-kabul-for-studies-in-another-atrocious-move/articleshow/93811658.cms
--------
Muslim countries must be leading voices on Afghan women's rights, US envoy says
August 26, 2022
By Anas Alyusuf
JEDDAH — Rina Amiri, the US Special Envoy for Afghan Women, Girls, and Human Rights called on Muslim majority countries to be the loudest voices on women's rights and human rights in Afghanistan.
In an interview with Okaz/Saudi Gazette, Amiri said it is important for Saudi Arabia to be a leading voice in countering the Taliban narrative, as the Kingdom is the country that the Muslim world overall looks to.
"I am Muslim. I know from my own experience and from history that Islam is the first religion that gave women their rights. I look to Muslim countries to engage with the Taliban, to challenge that narrative, to engage Afghans, and to say no."
She said: "Islam is a religion very much aligned with human rights and with women's rights."
Also, institutions like the GCC and the OIC can show Afghans that they are not abandoned and that their brothers and sisters in the Muslim world stand with them and defend their rights within the framework of Islam.
The US envoy lauded Saudi Arabia's contribution of $30 million to the Afghanistan Humanitarian Trust Fund that the OIC and Islamic Development Bank have established. "We are very grateful for all the projects that are in place right now. This is the work that we all must do together. We must give the Afghan population support in terms of meeting basic needs."
A year after the Taliban takeover, she described the human rights situation in Afghanistan as "a great tragedy".
"We saw that 20 years of effort and engagement in Afghanistan had resulted in a population, particularly the women of the country, that were leaders at every level of society, senior levels of the government, in the parliament, at the forefront of civil society as activists, and in every profession from judges to doctors to engineers. Overnight, the Taliban took over and the population was stripped of every single right. It has been a real struggle because there is such a sense of frustration for what is happening to 40 million Afghans and a desire to help them all at the same time because of the measures that the Taliban themselves have taken."
The US special envoy said the situation has only gotten worse. "Since March 23, there have been at least 16 decrees restricting women's and girls' rights, everything from preventing them to work in many sectors, to effectively banning them from secondary education, to introducing increasingly regressive measures in terms of the way they dress and stripping them of just about every level of freedom, even their right to mobility," she said.
Amiri added: "Women feel that they have been put in prison. They have lost any sense of hope that they may be given agency in their own futures and their capacity to help their own country."
She ruled out the idea that women's rights were imposed on Afghan women from outside. "I witnessed Afghan women themselves negotiating their rights with their communities for twenty years. They reached out to religious authorities. They reached out to the elder community," the envoy said.
"As a result of that, we have data. We have seen statistics from the last two decades. We have seen polls. We have seen communities come out over and over again and large percentages – over 70, 80 percent – note what they want, particularly on education. There is no discrepancy in terms of what women and men are saying about education. Girls and women should have the right to education, the right to work, and the right to public participation.
"If you look at the information, this is not just anecdotal; there are polls that reflect this. Yes, those rights that women struggled for, the changes that were put in place, they are embedded in the people."
Amiri said that the Taliban do not respect the voices of the Afghan people. "If the Taliban continue in the direction that they are going now, where they deny women and girls their rights, deny families a say in allowing their daughters and wives to go to school and work, it will lead to massive migration flows out of the country and to refugee flow. It will lead to a more impoverished country. Ultimately, it will lead to more instability in the country. A country stripped of its women is a country that will be radicalized. It will be a poor country. It will be a country without hope. That is going to be not only an enormous security risk inside of Afghanistan but a risk for the region and the world. This is where terrorism comes from. Terrorism comes from lack of hope and from societies that are radicalized through extreme ideologies.
"We do see that there are Talibs that express a different perspective. Talibs that have a more pragmatic perspective. I do not see the Taliban as black and white but the Taliban policies do not reflect that diversity of thinking. They are not even open to allowing Talibs that hold a different view to reflect that in their policy," she added.
"The policies are largely not different from [those of] the 1990s. There might have been some progress in allowing girls to attend primary school. Beyond that, the population that lived under the Taliban in 1990s, the people that I speak to, what they tell me is that it is the Taliban the way it has changed in one way is that they are strategic. But, what they note is 'we are Afghanistan 2.0, and they are Taliban 1.0'."
Regarding the US sanctions on Taliban, she said, "It is not just the US that put the sanctions in place against Taliban. The UN also has sanctions in place. The sanctions are triggered by the Taliban's own actions, the decisions that the Taliban have made and continue to make. The decisions that are not moving Afghanistan toward a more inclusive government that will ultimately lead to sustainable peace, an Afghanistan that respects the rights of its population. An Afghanistan that does not once again become a sanctuary of terrorism.
"We want the Taliban to take the steps to deliver on the commitments they have made in the Doha agreement. While those sanctions are in place, we are invested in making sure that it does not inject further suffering on the 40 million Afghan people."
The US envoy asked the Taliban to respect the rights of the Afghan people. "We are asking them to deliver on the commitments that they made to the Afghan people. For the last three years, the Taliban have been reassuring Afghans and the world that they are different than the 1990s, that they recognize that Afghanistan is a different country, that they recognize that education is a fundamental right in Islam. They have said that women should have the right to work in almost every sector. They have said that they respect pluralism and ethnic diversity in Afghanistan. Yet their policies completely contradict all their commitments," Amiri said.
"The Afghan issue must be a priority because this is not just about an act of charity. This is not just coming from a position of humanity. This is of strategic interest. An Afghanistan where women's rights are stripped away is an Afghanistan that is left impoverished because 50 percent of its population cannot work. It is an Afghanistan that will be radicalized. It is an Afghanistan that will be a security threat. It will be a migration headache for the rest of the world.
"It will amplify the problems that the world is already wrapped in with. What we need to do now is prevent the situation from going in that direction," Amiri said.
She said Afghanistan remains a priority for the same reason that it has been a priority for the last four decades. "The problems of Afghanistan will not go away. Afghanistan will not just bleed inward. It will bleed outward and there will be ramifications for all of us," she said.
Amiri admitted that certainly there are differences in the way we talk about human rights, even on issues that we prioritize. "But, by and large, human rights are fundamental to what each of us strive for in society. We want to protect our children. We want to have the capacity of choice for a better future. We want the authorities who are governing a country to respect our capacity to make our own choices about our lives. We want to have a reason to hope and clarity and reassurances that our families and communities have a set of rights that are going to be respected and that will be protected. That is very basic to every society."
"Human rights are not about education. Human rights are not about being of a bigger and higher status in society. Human rights are fundamental. People make calls on different things. They may speak different languages. But wanting your children to have an education is a right. I traveled all over Afghanistan and even illiterate villagers feel that it is important. They know the value of education. They know it is the way to be lifted out of poverty."
She added: "We should not make this distinction that human rights are a western concept for the educated. Human rights are even more fundamental for poor people who are the most vulnerable."
Source: Saudi Gazette
https://saudigazette.com.sa/article/624298/SAUDI-ARABIA/Muslim-countries-must-be-leading-voices-on-Afghan-womens-rights-US-envoy-says
--------
Emirati Women's Day: Abu Dhabi firm to host workshop in Rwanda for young female professionals
by Ismail Sebugwaawo
26 Aug 2022
Abu Dhabi's future energy company – WiSER is hosting a six-day field-based workshop in Rwanda's Gatsibo District for young women professionals as part of initiatives to mark the Emirati Women's Day.
The workshop, titled 'Rural Energy Access: Designing and Implementing Inclusive Community Energy Systems,' has 14 participants who are interested in renewable energy and energy access.
Through a combination of short lectures, hands-on projects, and community interactions, the participants will learn how to design off-grid renewable energy systems to support and facilitate community development.
The workshop, which will conclude on August 28, is being delivered in partnership with the capacity-building organization Energy Action Partners.
Dr. Lamya Fawwaz, Masdar's Executive Director of Brand and Strategic Initiatives, and WiSER Programme Director, said: "Our upcoming Rural Energy Access Course is just one of many initiatives on offer to Emirati women, to inspire them to play an active role in addressing global sustainability challenges."
This workshop ensures young women have hands-on xperience in rural energy access, which can improve their understanding of the complexity of the challenges in this critical work.
Efforts like this workshop are intended to increase women's active participation in the energy sector, which has knock-on effects. Studies have shown that increased women's engagement expands the talent pool for the clean energy sector and engaging women as active agents in deploying off-grid renewable energy solutions is known to improve sustainability and gender outcomes.
Source: Khaleej Times
https://www.khaleejtimes.com/uae/emirati-womens-day-abu-dhabi-firm-to-host-workshop-in-rwanda-for-young-female-professionals
--------
Pakistani City's Decision To Close Women's Park Following Islamist Protests Sparks Uproar
August 26, 2022
By Abubakar Siddique
The Jinnah Family Park was a rare recreational area reserved for women and girls in Pakistan's conservative northwestern city of Bannu.
But following protests by Islamists and religious leaders, who alleged the park was "spreading obscenity and vulgarity," authorities in the city of around 1 million people have closed off the area.
The decision has triggered an uproar among women, who say the move is illegal and are calling on the authorities to fend off pressure from hard-line clerics.
Observers say the move is part of a broader push by Islamists for Talibanization, a term denoting growing Islamic fundamentalism in Muslim-majority Pakistan inspired by the Taliban's extremist rule in neighboring Afghanistan.
"This is an inhuman and unconstitutional act," Natasha Suman, a local activist and lawyer, told RFE/RL's Radio Mashaal.
"No one can restrict our movement," added Suman, noting that the Pakistani Constitution allows freedom of movement for all citizens.
Female activists say only women, girls, and young children entered the park. Boys over the age of 12 were not permitted. Activists also say that all female visitors observed the hijab or all-encompassing burqa, in line with conservative Islamic traditions.
Authorities closed the park on August 23, two days after Islamic leaders and clerics held protests in the city. Thousands of demonstrators flooded the streets, paralyzing parts of the city. The protests were led by Maulana Abdul Ghaffar, a local religious leader.
The protests came a week after photos emerged on social media of burqa-clad women lining outside the packed Jinnah Family Park to celebrate Independence Day on August 14, drawing the ire of conservatives.
Soon after, Ghaffar formed a 32-member committee made up of clerics and members of Jamiat Ulema-e Islam (JUI), an Islamist political party, to lobby authorities to permanently close the park. The mayor of Bannu, Irfanullah Durrani, is a member of the JUI.
Military authorities in Bannu closed the park following talks with the committee on August 23.
The Jinnah Family Park is located in an army cantonment, a part of the city that is administered by the military. The park was opened to the public several years ago.
The move has appalled female politicians and activists.
"We don't want to allow anyone to take away our rights by accusing women of spreading obscenity," says Syeda Yasmin Safdar, a member of the secular Pakistan Peoples Party in Bannu.
Safdar says the Jinnah Family Park was a much-needed public space for women in the densely populated city. The park is ringed by high concrete walls topped by barbed wire, hiding female visitors from public view.
Sadfar says if clerics had concerns over intruders entering the premises or women at the park being visible to the public then authorities should have addressed those issues instead of closing off the area.
Ihtesham Afghan, a political activist in Bannu, says the campaign to close the women's park is part of a concerted effort by Islamists to emulate the Taliban's harsh policies in Afghanistan.
Since seizing power in August 2021, the Afghan Taliban has severely curtailed women's rights, barring teenage girls from school, barring most women from work, and imposing restrictions on their freedom of movement.
"Whatever happens in Afghanistan directly impacts Khyber Pakhtunkhwa," said Afghan, referring to the northwestern Pakistani province that borders Afghanistan. "We are afraid that Bannu is now in the crosshairs of Talibanization."
The park closure comes as fighters belonging to the Tehrik-e Taliban Pakistan (TTP) militant group return to Khyber Pakhtunkhwa, which includes Bannu, amid peace talks with Islamabad. Parts of the province are former TTP strongholds.
The TTP, which has close ideological and organizational ties to the Afghan Taliban, has been waging a deadly insurgency against the Pakistani state since 2007 that has killed tens of thousands of people.
The TTP once controlled large swaths of the mountainous areas bordering Afghanistan. During its brutal rule, the militants imposed their extremist version of Islam on the local population, severely curbing freedoms and rights, including those of women.
A major Pakistani military offensive drove the militants across the border to Afghanistan in 2014.
Residents of Khyber Pakhtunkhwa have staged a series of protests in recent weeks to voice their opposition to the return of TTP fighters and urge the authorities to prevent the growing Talibanization in the province.
Source: Gandhara
https://gandhara.rferl.org/a/pakistan-bannu-womens-park-islamist-protests/32005868.html
--------
French Tourists Refuse to 'Share' Pool with Woman in Burkini in Morocco
Sara Zouiten
Aug. 26, 2022
Rabat - A Moroccan woman residing abroad has denounced the discrimination she faced for wearing a burkini in a pool in Morocco. The Moroccan Residing Abroad (MRE), named Salma, took to TikTok last week to vent her frustration, saying that three French tourists - two men and a woman - took offense to her wearing a burkini at the pool.
The caption of the TikTok video reads: "You leave Europe and go to Morocco, a Muslim country, to spend your holidays and feel free to wear whatever you want … White French people calling security because they feel uncomfortable by us wearing a burkini in the pool." According to Salma, the incident took place in the "Club Evasion Mirleft" in the city of Mirleft, 130 kilometers south of Agadir.
While Salma and her family were enjoying their time by the pool, their joy to visit Morocco quickly shifted to bitterness after three French tourists visited the pool and started "staring" at them and "complaining" to the lifeguard, she said.
The lifeguard then approached Salma and her family, "politely" asking them to leave the pool and come back another time, she added. Stunned by the guard's request, Salma refused to leave.
According to Salma, the three tourists then started screaming and making a scene at the pool. As the MRE asked them to leave, they started taking pictures of them and insulting them, she added.
"I told them that if they didn't like this, they shouldn't come to a Muslim country in the first place and impose their mentality in our country," Salma indicated.
"Disappointed" with how the hotel staff handled the incident, Salma said that the "security didn't do much about that except for trying to calm them [the French tourists] down." While security "didn't completely side with them, they didn't want to speak against them either," she explained.
"After seeing that we didn't want to go out, they just put their clothes on and left the pool, because they didn't want to 'share the pool' with us," Salma concluded.
Morocco World News (MWN) contacted the hotel for comments. A receptionist at the hotel told MWN that he had no idea about the incident, but stressed that "it is nobody's business" what the woman in question wears, "whether they are a foreign tourist or a local one."
He added that the people asking the woman to exit the pool for wearing a burkini "are the ones that need to leave, not her," defending people's right to wear as they please.
The Burkini, a head-to-toe swimsuit intended for Muslim women, was banned in several French cities over the past years. Despite being home to the largest Muslim population in Europe, France was the first European country to ban burkinis in 2011.
French authorities have strictly enforced the ban, which was extended to anyone wearing more clothes that the country deems necessary. France's highest court, which suspended the wearing of burkinis in public pools, claims that the attire goes against the country's "principles of secularism and neutrality of public services."
Source: Morocco World News
https://www.moroccoworldnews.com/2022/08/350984/french-tourists-refuse-to-share-pool-with-woman-in-burkini-in-morocco
--------
Emirati women now comprise 95 per cent of female employees at Al Ain Zoo
August 26, 2022
Al Ain: With 95 per cent of its female staff being UAE nationals, Al Ain Zoo has been one of the leading government institutions in encouraging women to take an active role in unique fields that were rarely occupied by women in the Arab world in previous years.
The zoo hired the first female Emirati birds of prey trainer, animal keepers, veterinarians, veterinary nurses, animal nutritionists, gardeners, laboratory and anatomy technicians, tour guides, Safari guides, as well as administrative and supervisory positions connected to wildlife preservation and animal care, which adds up to an impressive 204 female Emirati professionals in total.
Ghanim Mubarak Al Hajeri, Director-General of the Zoo & Aquarium Public Institution in Al Ain, said: "Celebrating Emirati Women's Day under the theme 'Inspiring Reality… Sustainable Future' is a true reflection of what Emirati women have presented since the inception of our beloved country."
She added: "Emirati women have always been contributing in all areas of national development, as they took an equal part in upholding the UAE's status and continuous efforts to reach the highest levels of success, sustainability and advancement, under the auspices of the President His Highness Sheikh Mohamed bin Zayed Al Nahyan and Her Highness Sheikha Fatima bint Mubarak, the Mother of the Nation, which set the scene for Emirati women to reach their dreams and ambitions in becoming a source of efficiency, success and creativity throughout the past decades."
Source: Gulf News
https://gulfnews.com/uae/emirati-women-now-comprise-95-per-cent-of-female-employees-at-al-ain-zoo-1.90138929
--------
URL: https://newageislam.com/islam-women-feminism/turkish-pop-star-gulsen-hatred-religious/d/127816
New Age Islam, Islam Online, Islamic Website, African Muslim News, Arab World News, South Asia News, Indian Muslim News, World Muslim News, Women in Islam, Islamic Feminism, Arab Women, Women In Arab, Islamophobia in America, Muslim Women in West, Islam Women and Feminism