New Age Islam News Bureau
04 December 2020
• Violence Against Women In The Arab Region Increases By 55 Percent During Coronavirus Crisis
• Calls Flood In After Dhaka Police Launch Women's Cyber Support
• Pakistan's First Woman Referee Saman Zulfiqar Officiates At National T20 Women Championship
• Gov't Determined To Protect Women And Family: Erdoğan
• 2 Women Charged With Train Terror Near Canadian Border
Compiled by New Age Islam News Bureau
URL: https://www.newageislam.com/islam-women-feminism/turkish-parliament-sees-highest-number/d/123664
--------
Turkish Parliament Sees Highest Number Of Female Mps
December 04 2020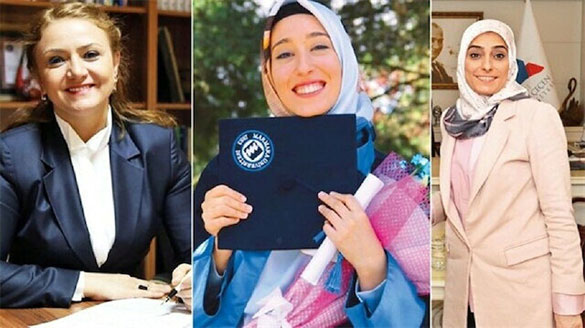 File photo
Since women were given the right to elect and be elected in Turkey, women representatives in the current Turkish parliament is at its highest.
-----
Since women were given the right to elect and be elected in Turkey, women representatives in the current Turkish parliament is at its highest.
After the Dec. 5, 1934 amendment on the Constitution and Election Law granted women the right to elect and be elected, 17 female deputies entered the Turkish parliament for the first time as a result of the elections held on Feb. 8, 1935.
Following this date, the ratio of women's representation in the assembly remained between 0.7% and 4.6%.
That ratio could not be surpassed till the 23rd term in 2007.
In the parliament, where 550 deputies work in total, the female representation rate became 9.1% in 2007; 14.3% in 2011, 17.6% on June 7, 2015 election, and 14.7% on Nov. 1, 2015.
As of the last election held, the figure has risen to the highest level to date since 1934's legal regulation.
In the 27th term parliament, which has 600 MPs, 104 female deputies entered the elections on June 24, 2018, pushed the female representation rate to 17.1%.
The proportion of female MPs represented in the 25th term *Parliament, which had 550 MPs, was 17.6% in the election on June 7, 2015.
According to the last distribution of seats, 54 out of 289 deputies in the ruling AKP are women, as well as 17 female deputies of 138 in the opposition Republican People's Party (CHP), 23 of 56 in the People's Democratic Party (HDP), 4 of 48 in the Nationalist Movement Party (MHP), 2 of 36 in the Good Party (İYİ Party) are located.
HDP has the highest female deputy ratio among the parties in the assembly.
27th term parliament, which currently has 584 deputies due to losses for various reasons, 101 of them are female. This brings the proportion of women represented in the assembly to 17.29%.
The youngest MPs of the 27th term parliament consist of female ones.
https://www.hurriyetdailynews.com/turkish-parliament-sees-highest-number-of-female-mps-160587
--------
Violence against women in the Arab region increases by 55 percent during coronavirus crisis
2020-12-02
A UN Women report launched Wednesday showed an increase in cases of violence against women in the Arab region in the wake of the coronavirus crisis by 55 percent.
The report was based on a survey which examined the impact of the pandemic on violence against women and girls in 15 Arab countries including Jordan between May and November.
Civil society organizations attributed increased violence to increased stress due to financial difficulties, staying in enclosed spaces for long periods due to total lockdowns, the suspension of services and support systems for women, and the exploitation of perpetrators of violence on the internet due to social distancing and the prohibition of gatherings.
The results of the study showed that refugee and migrant women and women with disabilities have been exposed to higher rates of violence, increased food insecurity, and the loss of their livelihoods, and in some cases, they have lost support mechanisms such as health and social services.
https://en.royanews.tv/news/23885/Violence-against-women-in-the-Arab-region-increases-by-55-percent-during-coronavirus-crisis
--------
Calls flood in after Dhaka police launch women's cyber support
November 19, 2020
DHAKA: Two days after launching an all-female team to combat online abuse targeting women, Bangladeshi police say they have received almost 1,000 complaints of cyber harassment.
"The phones are ringing constantly. We are receiving calls from women all over the country," Nasrin Akter, assistant superintendent of the police cyber support for women (PCSW) unit, told Arab News.
"Since launching the service, we have registered around 1,000 phone calls," she added.
The cyber support unit was initiated by Bangladeshi police chief Benazir Ahmed following growing public concern at a rise in gender-based violence and cybercrimes against women.
"Around 68 percent of women in the cyberspace have been victims of cybercrimes. Of these, 73 percent have been subjected to cyberbullying or harassment," Ahmed said this week.
Police hope the unit will encourage women to report digital abuse, including "revenge porn," misuse of social media content and blackmail, since complainants will share their personal details with an all-women team instead of men.
"Although we had several specialist units to deal with cybercrimes, there was none to help women and children exclusively," Sohel Rana, assistant inspector-general of police, told Arab News.
According to the Bangladesh Telecommunications Regulatory Commission, there are more than 100 million active internet users in the country. Mobile internet use is believed to be limited to 33 percent of men and 16 percent of women.
Rana said that with a steady increase in internet use, it was important to create an "exclusive" space where women could voice issues related to cybercrime.
"A lot of the complaints are about harassment. We register the complaints and provide necessary legal advice," he said.
The unit employs 12 police officers who provide support to victims from 9 a.m. to 10 p.m., seven days a week.
"We receive complaints through the hotline and our Facebook page. In some cases, we provide instant solutions. But if the case requires further investigation, we refer them to the nearest police station to file an official complaint," Akter said.
In all cases, the "identity of the complainant is kept confidential."
The launch of the women's cyber-support unit follows legislation to introduce the death penalty for convicted rapists.
Bangladesh was hit by nationwide protests after two gang-rapes in the country's Noakhali and Sylhet districts.
However, activists say that neither the death penalty nor the launch of the cyber unit will "change the reality," citing a spike in rape cases in the past month.
According to one media outlet, 183 rape incidents were reported in the country in the four weeks to Nov. 13 — a 58 percent increase on the previous month.
Women and gender experts welcome the police initiative, but are calling for an "integrated campaign" to limit violence against women and children.
"Many women don't know the proper uses of social media platforms. They don't have any idea how to protect themselves from abuse," Prof. Tania Haque, of Dhaka University, told Arab News.
"We need to focus on eliminating this sort of crime through a massive awareness campaign," she added.
https://www.arabnews.com/node/1765156/world
--------
Pakistan's first woman referee Saman Zulfiqar officiates at National T20 Women Championship
Sohail Imran
Nov 27 2020
Saman Zulfiqar, Pakistan's first and only female cricket match referee started performing her duties on Friday in the ongoing National Triangular Women's T20 Championship.
Talking to a Geo correspondent, Saman said that she is very happy to be working as the first female match referee in the country.
The Sheikhupura-born official was the only female match referee in Pakistan Cricket Board's (PCB) development panel for the domestic cricket season 2020-21 announced earlier in September.
Content with her assignments, Saman said, "I am very happy to supervise the matches. I was so proud when PCB selected me in the panel but now that I have started working, I consider it a huge honour."
The newly appointed official was very keen to learn and said she wants to gain as much experience as possible. She appreciated PCB's effort in supporting her and urged women to join the field.
"My message for girls is to pursue this field. PCB has provided me a good platform. The girls should also consider umpiring as a field," she added.
https://www.geo.tv/latest/320967-pakistans-first-ever-female-cricket-match-referee-saman-zulfiqar-officiates-her-first-match
--------
Gov't determined to protect women and family: Erdoğan
December 03 2020
The Turkish government is determined to protect the rights of women and strengthen the structure of families, President Recep Tayyip Erdoğan has said, stressing that women's rights in Turkey saw most progress during the tenure of his ruling Justice and Development Party (AKP).
"We are determined to achieve goals to strengthen the family and women's rights," he said on Dec. 3, speaking at an event marking the 86th anniversary of Turkish women's suffrage.
"We consider every attack and threat made to the family directly as an attack on our existence," Erdoğan said, stressing that the government is sensitive about preventing violence against women.
"We say that our nation is not a patriarchal or matriarchal nation, but a 'family-ruled' nation," he stated.
In Turkey, there is a group of people that constantly comment on and criticize issues such as the environment, women, children and the disabled, he said. "They do not have the smallest acquis on these very issues they exploit. While we put forth all our efforts, we always face a disgraceful picture. In this respect, the CHP is a complete disaster."
[HH] Erdoğan sues CHP chair over comments on Sledgehammer, Ergenekon cases
President Recep Tayyip Erdoğan has filed a lawsuit against main opposition Republican People's Party (CHP) leader Kemal Kılıçdaroğlu for his comments claiming the government backed FETÖ when they launched Sledgehammer and Ergenekon cases against military officials more than a decade ago.
Erdoğan has demanded that Kılıçdaroğlu pay 500,000 Liras for his remarks in a group parliament meeting on Dec. 1.
"Weren't you prime minister when the chief of General Staff of this country was jailed on charges of terrorism?" Kılıçdaroğlu had asked, referring to former top soldier İlker Başbuğ who was imprisoned for 26 months in 2013. Başbuğ was released only after a verdict by the Constitutional Court.
It was later proven that Başbuğ and many other senior military officials were prosecuted and jailed as a result of judicial plots orchestrated by FETÖ, a terror organization which attempted to overthrow the AKP government in mid-2016.
Kılıçdaroğlu claimed that Erdoğan was in cooperation with FETÖ in attempts to jail the military brass through the Sledgehammer and Ergenekon cases in the early years of the AKP rule.
https://www.hurriyetdailynews.com/govt-determined-to-protect-women-and-family-erdogan-160572
--------
2 Women Charged With Train Terror Near Canadian Border
By Christine Hauser
Dec. 2, 2020
Two Washington State women have been charged with terror attacks after they were captured on camera tampering with train tracks in such a way as to risk a derailment, the federal authorities announced this week.
The authorities, who have been investigating dozens of similar cases this year, believe the actions are intended to express solidarity with Indigenous people in Canada who oppose the construction of an oil pipeline, according to the criminal complaint.
The women, Ellen Brennan Reiche, 23, and Samantha Frances Brooks, 27, were arrested on Saturday in Bellingham, Wash., and charged with one count of terrorist attacks and violence against railroad carriers, the U.S. Attorney's Office for the Western District of Washington said in a statement. They appeared in the Federal District Court in Seattle on Monday and were released until their next court appearance, on Dec. 14, the office said.
The F.B.I.'s Joint Terrorism Task Force has been investigating the placement of shunts — devices consisting of wires and magnets that interfere with the signals indicating the presence of a train — on tracks in the region since Jan. 19, the complaint said. Some shunts were hidden under rocks, it said.
Since January, there have been 41 cases of shunts placed on the BNSF Railway tracks in Whatcom and Skagit Counties, near the border with Canada, causing crossing guard malfunctions, braking system interference and, in one case, the near derailment of tanks carrying hazardous chemicals, according to U.S. Attorney Brian T. Moran.
"These crimes endanger our community," Mr. Moran said in the statement.
On 10 occasions, shunts were placed in areas where tracks and streets crossed, which could put vehicles at risk of an oncoming train, the statement said. On Oct. 11, shunts were planted in three locations in the two counties, setting off a braking system on a train that was transporting hazardous and combustible material, it said.
The emergency braking caused a portion of the train to separate from the engine, according to the statement. "Decoupling has the potential to cause a derailment — in this case — of tanker cars of flammable gas in a residential area," it said.
Shortly after the first shunt was discovered, a claim of responsibility was posted on an anarchist website, prosecutors said. The site, a "digital community center" for anarchist, antifascist and anticapitalist movements called It's Going Down, posted an article on Jan. 22 saying that the action was "in solidarity with Native American tribes in Canada seeking to prevent the construction of an oil pipeline across British Columbia, and with the express goal of disrupting BNSF operations and supplies for the pipeline," according to the complaint.
The complaint appears to refer to an anonymous article saying, in part, that "we disrupted the high-volume railway that moves resources from the active ports of Everett, Edmonds, Seattle and further south to the Blaine border crossing into Canada."
The website, which says it doesn't take responsibility for the content it publishes, says it does "not condone or promote illegal, violent, and unlawful behavior or actions, or acts of intimidation against individuals or groups."
The criminal complaint gave no further details about the Indigenous groups and the pipeline. But a broader movement of opposition to Canada's fossil fuel ambitions has prompted some groups to assert their sovereignty over the land and try to stall oil and gas projects.
Jesse Cantor, the public defender representing Ms. Reiche, said the case was at a very early stage. "Ms. Reiche is presumed innocent and she was released from custody on an appearance bond on Monday," he said in an email on Wednesday.
A lawyer for Ms. Brooks and a spokesman from BNSF, which serves the western two-thirds of the United States and three Canadian provinces, were not immediately available to comment on Wednesday.
The arrests of the two women took place on Saturday, when Deputy Chief Tyler Nies of the BNSF Railroad Police received a motion alert from a game camera installed on a stretch of the network in Bellingham, the complaint said. He reviewed the photograph, saw a "trespasser" and another object or person nearby, and contacted the Whatcom County Sheriff's Office, it said.
Chief Nies then opened his laptop and noticed that track signals were disrupted in the same area; he then called a member of the task force, it said.
When the officer, Lucas Shulman, arrived on the scene, Ms. Reiche told him and a sheriff's deputy that she and Ms. Brooks were looking for the keys to her car, which was parked nearby. The car had a bumper sticker with the words Indigenous Land overlaid on a map of the United States, the complaint said.
The two were detained for trespassing, and the authorities later found Ms. Reiche had a bag with rubber gloves, copper wire and a drill with a wire brush attachment that was believed to have been used to scuff the track to improve its contact with the shunt, the complaint said.
The authorities also found a shunt at the place where the women were discovered kneeling, it said.
https://www.nytimes.com/2020/12/02/us/train-shunt-washington.html?utm_source=iterable&utm_medium=email&utm_campaign=1779351_
--------
URL: https://www.newageislam.com/islam-women-feminism/turkish-parliament-sees-highest-number/d/123664
New Age Islam, Islam Online, Islamic Website, African Muslim News, Arab World News, South Asia News, Indian Muslim News, World Muslim News, Women in Islam, Islamic Feminism, Arab Women, Women In Arab, Islamophobia in America, Muslim Women in West, Islam Women and Feminism