New Age Islam News Bureau
18 Dec 2013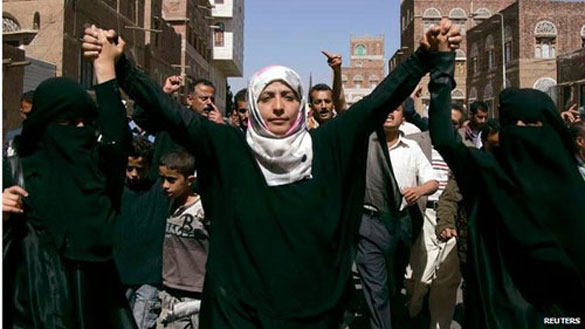 Women played a prominent role in the demonstrations which helped force Ali Abdullah Saleh from power
-------------
• Yemen's Women Struggle To Reap Benefits of Arab Spring
• Pakistani Teacher 'Thrashes' Girl after Argument on Veil
• Nigeria: Women's Associations Appeals to Schools over Hijab
• 38 Arrested In Tanzania for Female Genital Mutilation: Mayor
• Resolution of Domestic Abuse Cases Raises Rights Concerns in Saudi Arabia
• Shops Can't Find Saudi Women Dressmakers
• Expatriate Female Teachers in Dilemma over Iqama Transfer Issue
• First Saudi Woman to Earn PhD from KAUST
Compiled by New Age Islam News Bureau
URL: https://newageislam.com/islam-women-feminism/turkish-female-deputies-protest-use/d/34898
--------------
Turkish Female Deputies Protest Use of 'Obscene' Language in Parliament
December 18, 2013
The common use of profane language in Parliament recently has prompted a group of female deputies to appeal to the Parliamentary Speaker to display their disapproval with a symbolic protest.
A group of female deputies led by Deputy Parliament Speaker Ayse Nur Bahçekapili of the ruling Justice and Development Party (AKP), including Peace and Democracy Party's (BDP) deputy parliamentary group chair Pervin Buldan, held a meeting with Parliamentary Speaker Cemil Çiçek on Dec. 16 in order to voice their unease with the use of obscene language.
Following a half-hour long meeting that was closed to the press, Çiçek briefly said he had earlier expressed his conviction over the issue.
"These actions, those of a few of our colleagues, are neither acceptable nor appropriate, and the whole of the Parliament needs to be held responsible for such acts, manners and statements. We don't deserve it; Parliament does not deserve it. I hope everybody will learn from what has happened so that such actions will not occur again," Çiçek told reporters on Dec. 12 at a ceremony in Parliament.
His comments on the matter came after a budget debate at Parliament descended into a bad-tempered slanging match between ruling and opposition party deputies on Dec. 11.
The female deputies who had met Çiçek wore red scarfs at a General Assembly meeting later that day, calling on male deputies to wear red ties in show of support for them.
"We reject all disrespectful behaviors and all swearwords used inside the Parliament and in General Assembly. We express that we find these very ugly," the statement presented to Çiçek says.
"We ask you as women and as representatives of the people: Please don't use brute force; please don't swear; please don't use women in your swearwords; please be sensitive about these issues while using social media as well," the statement continued.
The female lawmakers also vowed to sustain their fight against profane attitudes among lawmakers, saying they would meet with the chairmen of all the political parties represented in the Parliament.
The Republican People's Party (CHP) and the Nationalist Movement Party (MHP) deputies were not represented during the visit or in the statement as none of their deputies were present among the group visiting Çiçek and they didn't sign the statement.
"We don't find a suppliant attitude, which doesn't consider any sanctions, as right," CHP Bursa deputy Sena Kaleli told Anadolu Agency explaining the reason for her party's absence.
Adding the party still supported establishing a common reaction; Kaleli said the issue should be approached in a comprehensive way with the participation of all male and female deputies.
MHP Deputy Chairman and Eskisehir Deputy Ruhsar Demirel, meanwhile, said "As men are cursing, they should be the ones to declare their will [to stop the usage of profane language.]"
Demirel also stressed the source of the problem was partially that some previous rude remarks had been left unpunished.
http://www.hurriyetdailynews.com/turkish-female-deputies-protest-use-of-obscene-language.aspx?pageID=238&nID=59690&NewsCatID=338
--------------
Yemen's women struggle to reap benefits of Arab Spring
By Shaimaa Khalil
BBC News, Sanaa
December 18, 2013
The first thing you notice about the Yemeni capital, Sanaa, is how much has not changed.
There are buildings that date back to the 9th Century still buzzing with people and markets all around them.
I was told the market in the old city is called "the moving museum". There is a real sense of history here and it is evident everywhere you go.
Yemen is a very conservative society governed by tribal traditions.
For years, women were almost invisible and had no say in what went on in their country.
'Turning point'
When you take a walk in the streets of Sanaa, the women you see are covered in black from head-to-toe.
That is why the whole world took notice when Yemeni women were at the forefront of the demonstrations that eventually ousted long-time president, Ali Abdullah Saleh, and brought in a new government.
"It was a turning point in my life," says Fayza al-Suleimani.
At first glance it is easy to stereotype Ms Suleimani, who was completely covered except for her eyes.
But, in fact, it was her and thousands of others like her who took to the streets and demanded change.
She did it behind her family's back and had to face their rage when they found out that she was in the streets demonstrating.
"I was also beaten by the security forces in the street," she says.
"This really surprised me. In our culture men don't hit women in public. So when that happened I was shocked.
"The man who got in my car and beat me said: 'Fayza, you'd better stop what you are doing.' But I was more determined than ever."
Gender gap
As I walked with her in Sanaa's Taghyir (Change) Square, which was at the heart of the uprising against Mr Salih, she pointed out where she and other women and men had gathered back in 2011.
There was pride in her voice when she spoke to me about those days, but also an obvious sense of disappointment.
"We came here and we were full of hope. We made many sacrifices," she says.
"We lost a lot of people. Personally, I lost six friends who died - they were dreaming of a good future for Yemen, for their children and their family and that's not what happened. Nothing has changed," she says.
In fact, things got worse for Yemen after the 2011 uprising.
Unemployment among young people in Yemen is as high as 40%, according to the World Bank.
The IMF says nearly half of Yemen's population lives below the poverty line and roughly one-in-two children suffers from malnutrition.
"Life is difficult in Yemen as it is. During transition, life is harder," says Nadia Sakkaf, editor of the Yemen Times newspaper.
Conditions are particularly tough for women.
Yemen is the worst country in the world in terms of gender equality, according to a World Economic Forum survey.
The majority of women are illiterate and more than half get married before the age of 18.
Child brides
Child marriage is one of Yemen's most controversial issues.
"Many girls get married at the age of nine, 10 and 11, when they are very young and can't bear the responsibility of marriage," Horia Mashhour, Yemen's human rights minister, tells me.
"When they are 14 or 15 they can get pregnant and sometimes they die during childbirth."
Activists said there had been many reports of young girls dying on their wedding night from internal bleeding after intercourse with their husbands. In September, an eight year old allegedly died on the night she wed a man five times her age.
These girls normally come from very poor families. Marrying them off at a young age helps the family financially.
"I don't want to get married. I want to finish school and become a doctor. I don't want to suffer like my sisters," Neema Abdullah tells me.
I went to see her and her mother, Um Amna, in their tiny home in a very poor district of Sanaa.
Neema is 14 years old and recently married. She is one of three girls in her family, all married before their 14th birthday. All have been pulled out of school.
Her mother, who has 10 children in total, sat next to her and was very assertive when I asked her why she married off her daughters when they were still so young.
"We needed the money!" she explained. "We had to marry her off to repay our debts. We are very poor and my husband is sick. What do you want him to do? Beg on the street?"
Neema, the youngest, was married off to her cousin because the family owed a rich uncle $250 (£150).
Her other two sisters, 19-year-old Amna and 17-year-old Saada, were also married to settle family debts. Both her sisters are now divorced and came back home after being abused by their husbands.
I asked Neema if she was angry at her parents. She nodded.
"I didn't want to get married and they made me do it anyway.
"They shouldn't have given us away when they knew what would happen to us; that we would suffer," Neema says emphatically.
"Those people who come to marry me or my sisters, they know we are poor. And they know that my parents will not do anything to stop it. And we end up being damaged."
Political will
Part of the reason why women took to the streets in 2011 was to help those like Neema and her sisters; voiceless women who live in poverty and have no access to education.
But in this deeply traditional and tribal country progress is slow.
"This problem could have been solved quite easily had there been a political will," says Ms Mashhour.
In 2009, Yemen's parliament passed legislation raising the minimum age of marriage to 17. But conservative MPs argued the bill violated Islamic law, and it was never signed.
"There is a very conservative and even extremist group of MPs who make such legislation difficult. It's a small group but they are influential," the minister explains.
These deeply conservative groups are reluctant to see any change in the role of women whether in private or public life in Yemen.
"One time, a member of parliament, who belongs to an Islamist conservative party here, told me: 'Your place is in the house, cooking lunch. That is your role'," Ms Suleimani says. "But I refused. I won't stop."
Ms Suleimani was the first one in her family to finish her education and get a job.
Because of her, many girls in the family have now gone to university and are hoping to work.
"We have to continue fighting to build a future for ourselves in the country," Ms Suleimani insists.
http://www.bbc.co.uk/news/world-middle-east-25347428
--------------
Pakistani Teacher 'Thrashes' Girl after Argument on Veil
2013-12-18
PESHAWAR: A girl student of Khyber Medical College, Peshawar accused a male teacher of roughing her up after a heated argument over veiling herself in classroom.
Misbah Syed, a first-year student of MBBS, told reporters here that she had been covering face with a veil since she got admission to the college.
She said female classmates recently elected her as representative and soon after election, Professor Rahim Bangash asked her not to veil herself in the classroom from the next morning.
The student alleged the teacher also criticised women covering face with a veil saying he would not even allow his wife and daughter veil themselves.
"He (teacher) also made derogatory remarks about the veil to my embarrassment in front of colleagues. I strongly reacted to the remarks and told him that it's a student's right whether or not to veil herself and that no one can force her into doing so. After that, he slapped and kicked me," she said.
Ms Misbah also accused the teacher of harassing her.
She alleged that students veiling themselves and sporting beard were discriminated against by some teachers during oral examination.
The student, a Canadian national of Pakistani origin, said she had visited more than a dozen countries, including the US and the UK, but no one there had objected to her veiling herself.
"I got admission to Khyber Medical College only because my parents wanted me to be familiar with Pakhtun culture after spending years abroad," she said.
Ms Misbah demanded strict action against Professor Rahim and others discouraging students to veil themselves on campus. "The action against the teacher, whose conduct is highly unbecoming, will help students get education in a harassment-free environment," she said.
The student said she would continue struggle for justice.
On Friday, the KMC students blocked the busy University Road for around an hour to protest the roughing up of their colleagues.
After learning about the protest, provincial Information Minister Shah Farman turned up and pacified students by promising punitive action against the teacher in question.
The protesters later dispersed peacefully.
http://www.dawn.com/news/1074784/teacher-thrashes-girl-after-argument-on-veil/print
--------------
Nigeria: Women's Associations Appeals to Schools over Hijab
December 18, 2013
Ilorin — Following the controversy over the Hijab (Islamic veil) worn by Muslim females in some secondary schools especially in the south, the Federation of Muslim Women's Associations in Nigeria (FOMWAN) has appealed to school authorities to allow them wear it in accordance with their religious demands in the spirit of peaceful co-existence and their fundamental rights.
The association said in a communiqué presented at the end of its national executive committee (NEC) meeting at the weekend that the issue of Hijab is a national one and FOMWAN demands that in the spirit of the protection of human rights and peaceful co-existence, Muslim women and girls should be allowed to practice their religion without intimidation. The association urged the federal government to abide by the provisions of Section 38 of the 1999 constitution.
It also expressed concern on the rampant rape cases and urged victims to speak out, adding, that offenders in rape cases should be seriously dealt with. It further warned against linking religion to the insecurity problem facing the country.
http://allafrica.com/stories/201312171040.html
--------------
38 arrested in Tanzania for female genital mutilation: Mayor
December 18, 2013
Police in Tanzania have arrested 38 women for carrying out illegal genital mutilation on a group of girls, a local mayor said.
The women were arrested on Sunday as they performed a traditional dance around a house where police found 21 girls, aged from 3 to 15, who had recently undergone excision.
"As soon as I heard about it I sent the police round," Herman Kapufi, mayor of Same district in northern Tanzania, told national television.
Kapufi said some of the girls were still bleeding while others had wounds that were healing.
Female genital mutilation is still performed in some parts of Tanzania, despite having been outlawed officially in 1998.
Studies estimate that 15 percent of women and girls have undergone genital mutilation -- removal of the clitoris in the vast majority of cases.
The practice, generally carried out with a knife or a razor blade without anaesthesia and in non-sterile conditions, attracts a maximum sentence of 15 years in prison.
In some communities in Tanzania, women who have not undergone excision are victims of social exclusion.
Observers also cite a widespread belief that a woman who has been "cut" is more faithful to her husband.
Given the conditions in which the excision is done, girls often die from their injuries or from resulting infections
http://english.ahram.org.eg/NewsContent/2/9/89260/World/International/-arrested-in-Tanzania-for-female-genital-mutilatio.aspx
--------------
Resolution of Domestic Abuse Cases Raises Rights Concerns in Saudi Arabia
December 18, 2013
The National Human Rights Commission criticized the weak professional response to domestic violence notifications on the phone line 1919, which is affiliated to the Social Protection Committee (SPC), in the Ministry of Social Affairs.
It was reported earlier that the SPC doesn't respond to any calls after 10 o'clock in the evening. Minister of Social Affairs Yousuf Al-Othaimeen had promised to extend the period for taking calls 24 hours a day but this hasn't happened yet.
The commission monitored a number of claims about the arbitrary practices of those in power. It confirmed that some abuse their authority while others followed practices which may weaken the family institution and even destroy it as an entity.
The commission said that some guardians had gone too far in abusing their authority to deprive their dependents of certain legal rights like education and work; preventing women from marrying or marrying off under-aged girls in addition to beating them and other inhumane practices.
The commission said denying divorced women and their children alimony, and sometimes shelter, was among the most reported abuse. The commission also received complaints about guardians not adding their children to the family register, which prevented them from enjoying basic rights, such as education and medical care. The commission criticized certain governmental procedures, like the obligation of obtaining the guardian's consent for women who wish to work, go to university or enroll in higher educational programs, or even have a surgical operation, despite their being responsible adults. The commission pointed to a number of administrational procedures and practices adopted by some government agencies, which led to exacerbating the problem. These included the presence and consent of guardians in a majority of government dealings, which exposed women to abuse and exploitation. It also criticized the need to have the presence of a male guardian to introduce the woman in government departments, even though they are in possession of a national ID, in addition to the number of documents and evidence for women to prove their complaints, such as police reports, medical examinations, and proof of prosecution for an assault and its consequences.
Authorities also ask for other reports from the victims of domestic violence such as sterilization or addiction, in addition to presenting an eyewitness for the assault. The commission called for establishing female departments in government sectors, such as the police and courts, as well as providing special entry points for women. The commission stated that corridors and offices that are crowded with men embarrass and confuse women. The commission criticized the long litigation process, and the late verdicts in personal status cases, which might lead to denial of alimony and visitation for children, not to mention violence and blackmail.
The commission also called for the establishment of a personal status code, because of the variance in rulings from one judge to the next. This code will speed up rulings in urgent cases, like alimony, custody and child visitations.
http://www.arabnews.com/news/493441
--------------
Shops can't find Saudi women dressmakers
December 18, 2013
Many owners of the Eastern Province's 4,000 women's dressmaking shops are fearful that government will crack down on them after they failed to meet the required 10 percent Saudization quota under the Nitaqat system.
The Ministry of Labor ordered these shops to hire Saudi women two years ago. These businesses largely employ men because of the scarcity of Saudi seamstresses. Many of the owners now fear they may have to close their shops.
A Saudi woman working at a dressmaking shop said female citizens do not want to work for these businesses because there is no job security and a lack of institutes providing training. "Some women investors tried to establish training facilities but faced many difficulties getting licenses," she said.
Shuaa Al-Dhailan, chairperson of the Women Dressmaking Shops Organization in the Eastern Province, said regular dressmaking businesses have been able to meet the 10 percent Saudization quota and hire legal expatriates following the Labor Ministry's raids.
"All the regular dressmaking shops are meeting the nationalization percentage because they will be penalized if they don't. Inspectors from the labor office conduct regular raids on these shops to ensure their compliance with the law." She said some beauty parlors that have not been able to hire trained women have instead opted to employ them in management positions.
Al-Dhailan said some shops are training and hiring Saudi women. "These shops hire the women after providing training. However, some women then seek positions elsewhere or decide to work independently from home." She confirmed that many shops cannot find experienced Saudi women for these positions.
Izzat Nora Al-Otaibi, the owner of a sewing shop, said Saudi women are reluctant to work for these shops because the salaries are low, ranging between SR2,000 and SR3,500 a month, even for administrative jobs.
http://www.arabnews.com/news/493941
--------------
Expatriate female teachers in dilemma over iqama transfer issue
December 18, 2013
Expatriate female teachers in the Kingdom have been at the receiving end of the intensive crackdown on illegal workers in private schools.
Several schools have received the new orders which call for existing teachers to transfer their iqamas to their employers.
"We have received a circular from the Ministry of Education that it is compulsory to transfer our iqama to the school's sponsorship," said Sofia K., head of an International school. Negotiations with the Education Ministry had been underway to mitigate this rule for some months now and teachers were hoping that there would be some flexibility in this regard. "But we are now back to square one," she said.
Schools have started to convince their teachers to transfer their sponsorships otherwise they would have to go through the lengthy process of hiring new teachers to fill the positions. Sarah Rehman has been teaching for nearly five years and is under her father's sponsorship. She had received a one-year work permit in line with the earlier decision of the Labor Ministry. But she is now being asked by the school's administration to transfer her sponsorship to comply with the new labor laws.
"What worries us is that if we resign from our jobs, will we be able to return to our original sponsors as dependents? We want to be sure about this before we transfer our iqamas," she said.
Rehman said that the Education Ministry should have had clear guidelines on the iqama transfer issue. "Their fluctuating decisions have caused a lot of problems for teachers in private schools," she said.
Amena, a teacher at the Little Flower School, said one of the reasons why the teachers are indecisive about transferring their iqamas is because of the low salary structure and absence of any benefits.
Teachers in private schools earn flat salaries ranging between SR2500 to SR4000 with no additional perks.
Suleiman Ahmed has two sons studying in one of the private schools in Jeddah. He said, "If the school has insufficient teachers, they will struggle to hire new staff which will need time to understand the curriculum, which will in turn affect the students."
Experts say if the school agrees to hire teachers on higher remunerations it will upset the school budget on the one hand and lead to increased tuition fees on the other. This will reflect in the higher fees that parents will have to pay.
http://www.arabnews.com/news/493961
--------------
First Saudi Woman to Earn PhD from KAUST
December 18, 2013
JEDDAH — A woman will go down in history as the first Saudi female to be awarded a doctorate by King Abdullah University of Science and Technology (KAUST).
Mai Majed Al-Qurashi, who specialized in biochemistry, told Okaz/Saudi Gazette that her next ambition is to be a Nobel laureate.
"I can't describe how proud I feel being the first Saudi female student ever to attain such an achievement from this great university," Al-Qurashi said.
Her dissertation dealt with how certain substances that exist in all living beings can stimulate or suppress proteins and how they can control some diseases. She said she spent countless sleepless nights working on her thesis.
Looking at Al-Qurashi's family background, it is obvious why this student, who presented two pieces of research in global conferences and even co-authored a chemistry book, became so serious and passionate about scientific research.
Her mother is a college dean who has always pushed to her to excel while her father is a news editor at Jeddah Radio who encouraged her at an early age to conduct research.
Her brothers and sisters were also raised to love reading books.
Their grandfather played an important role in nourishing this love.
He used to have a huge library and gave his grandchildren, including Mai, SR3,000 every month to buy books.
She said: "I will always be indebted to my family members for this accomplishment."
http://www.saudigazette.com.sa/index.cfm?method=home.regcon&contentid=20131217189783
--------------
URL: https://newageislam.com/islam-women-feminism/turkish-female-deputies-protest-use/d/34898