New Age Islam News Bureau
23 Feb 2017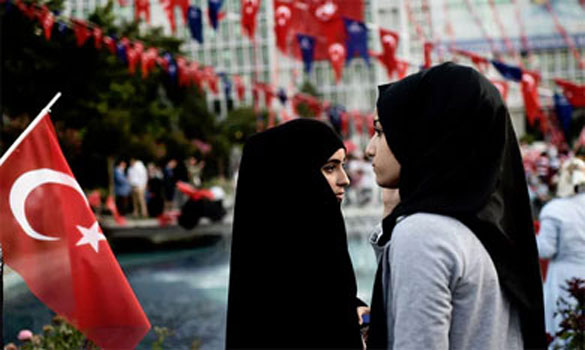 Women wearing headscarves at a pro-government demonstration last July outside city hall in Istanbul. Photograph: Aris Messinis/AFP/Getty Images
----
• Turkey Lifts Military Ban On Islamic Headscarf
• Australian Muslim Leader Says Violence against Women a 'Last Resort' For Men
• Bollywood Superstar's Mum Donates Dh55, 000 for Overweight Egyptian Woman, Eman
• Can These Jewish And Muslim Women Cook Their Way To Understanding?
Compiled by New Age Islam News Bureau
URL: https://www.newageislam.com/islam,-women-and-feminism/new-age-islam-news-bureau/turkey-lifts-military-ban-on-islamic-headscarf/d/110182
-------
Turkey lifts military ban on Islamic headscarf
22 February 2017
Turkey will lift a ban on female officers wearing the Islamic headscarf in the officially secular country's armed forces, according to state media.
The military was the final Turkish institution where women were prohibited from wearing the headscarf, after reforms by the Islamic-rooted government under Recep Tayyip Erdoğan that have allowed it to be worn in education, politics and the police.
The move, ordered by the defence ministry, applies to female officers working in the general staff and command headquarters and branches, the state-run Anadolu news agency said on Wednesday.
Women may wear the headscarf underneath their cap or beret as long as it is the same colour as their uniform and does not cover their faces.
The reform will come into force once it is published in the official gazette. It will also apply to female cadets, but it was not immediately clear if it applied to women on combat missions.
The ruling Justice and Development party (AKP), co-founded by Erdoğan, has long pressed for the removal of restrictions on women wearing the headscarf.
Speaking to Turkish reporters at his offices in Ankara, Binali Yıldırım, the prime minister, said he believed the removal of the ban was "very positive", the pro-government daily Yeni Safak said.
The military has traditionally been seen as the strongest bastion of secular Turkey and had been hostile to any perceived Islamisation of state institutions.
But its political power has ebbed since the government increased control over the armed forces after the failed military coup in July, blamed on followers of the US-based Islamic preacher Fethullah Gülen.
Turkey lifted a ban on the wearing of the headscarf on university campuses in 2010. It allowed female students to wear it in state institutions from 2013 and in high school in 2014.
Headscarves have been seen in parliament since October 2013, when four female AKP MPs wore them in a session. In 1999, a headscarf-wearing MP from the now-defunct Virtue party had been heckled out of the chamber.
And in the latest key reform before the army's move, in August Turkey allowed female police officers to wear the headscarf as part of their uniform.
At the time of the controversy over lifting the ban in the police forces, pro-government media pointed out that several western states had already granted female officers permission to wear the garment.
The military was until now seen as the last holdout on the issue, although civilians employed by the armed forces have been able to wear the hijab since 2016.
There had been signs that the landmark reform was in the offing when press reports said that a woman, Merve Gurbuz, was undergoing training that could make her Turkey's first hijab-wearing fighter pilot.
Erdoğan's critics have long accused the president of eating away at the secular pillars of modern Turkey set up by its founder, Mustafa Kemal Atatürk, when he established the Turkish republic in 1923.
The government rejects the suggestions, saying it allows freedom of worship for all Turkish citizens whatever their beliefs.
https://www.theguardian.com/world/2017/feb/22/turkey-lifts-military-ban-on-islamic-headscarf
-------
Australian Muslim Leader Says Violence against Women a 'Last Resort' For Men
FEBRUARY 23, 2017
A SENIOR Muslim leader has said using violence against women is a "last resort" for men.
President of the Australian Federation of Islamic Councils Keysar Trad described beating women as "step three" in a process of dealing with issues in relationships, after counselling and buying chocolates or "taking her out on a dinner".
The outspoken author and commentator made the remarks on conservative commentator Andrew Bolt's Sky News program.
Asking how Islam could be considered a "feminist religion", Mr Bolt quoted a modern interpretation of the Koran.
"It is permissible for him to beat her lightly with his hands, avoiding her face and other sensitive areas," he read. "Which is better than nothing, but mate, that's a modern interpretation?"
Mr Trad responded saying he had studied the verse in detail, and said it was all about "human psychology".
"What that verse is really putting as a scenario is if you come home and you're really, really angry — we've seen many men act violently towards their women — what this verse is saying really is playing on the psychology of the man saying violence is a last resort," he said.
"The first thing you must do is counselling ... Before you even consider using your hand, before you consider an act of violence, have you checked box number one, which is counselling, have you checked boxed number two?
"So what does counselling entail? Maybe next time you should bring her a bunch of flowers, maybe next time you should bring her a box of chocolates, maybe next time you should take her out to dinner."
Mr Bolt interjected: "And then beat her. If you still don't see sense, beat her. That's what that says. I'm reading the Koran."
Mr Trad argued that what the text was saying was that "a good person would never get to that step because the first step would eliminate the problem".
He added: "When you sit down and talk about it and say I've become angry about something, I go to my wife and say what happens, I say I'm sorry I was wrong, I made the wrong assumption, so you never get to step three," he said. "This is the psychology."
Mr Bolt said he hoped his guest's interpretation of the verse "catches on".
After widespread outrage over his comments on Sky News, Mr Trad appeared on Channel 10 morning show Studio 10 this morning to defend himself. "It's a last resort as mentioned in the verse that you actually never get to," he said. "You're never ever meant to get to that resort. Some people who take it literally say that the hit that is referred to is a light touch, or just maybe even — I don't even believe that you should do that. I believe that the first resort, which is the counselling, the communication, talking to each other, that is the resort that determines whether the relationship should continue or not continue."
He said the topic had not been the focus of his interview with Bolt and "perhaps more time could have been spent to elaborate on it," noting that the Prophet Muhammad never hit his wives and told people not to do so.
"I do denounce violence unequivocally," he insisted. "But when you're asked to explain a verse
that has certain words in it, you have to explain what that verse is.
"Maybe I did not choose my words very carefully ... what the verse is saying to you, resolve it amicably, if you can't, leave each other. Do not get to step number three. You never get to step number three.
"I have been defending women's rights as far as I can from my position as a member of a minority. I have a sermon tomorrow and that will be part of my sermon, to clearly and categorically condemn violence. We are a peaceful religion."
The Sky News discussion was following on from the stance taken by ABC identity Yassmin during her recent controversial Q&A appearance, claiming Islam was the "most feminist religion" citing the fact that Muslim women do not take their husband's last names.
The Sudanese-Australian engineer, author, and television presenter's comments have led to calls for her sacking, which the ABC has said it will disregard.
Mr Trad has previously come under scrutiny for advocating polygamy, saying he would like to have a second wife, permissible under sharia law, and that his current wife would be OK with it.
But he said on Studio 10 today: "I have been married to the one woman for more than 30 years now, we have a family, children, we love each other very much. And I would never consider even remotely, either emotionally or any other way, bringing any grief to my wife."
Mr Trad has previously advocated for the legal recognition of aspects of sharia in Australia.
http://www.news.com.au/entertainment/tv/muslim-leader-says-violence-against-women-a-last-resort-for-men/news-story/c45b0b7ec96a203d34936daaecabbf8b
-------
Bollywood Superstar's Mum Donates Dh55, 000 for Overweight Egyptian Woman, Eman
February 22, 2017
They did it quietly and not even her husband was aware.
Filmmaker Rakesh Roshan says his wife Pinky donated Rs1, 000,000 for the bariatric surgery to be performed on 36-year-old Egyptian woman Eman Ahmed Abdelaty, very quietly, and he is proud of her for it.
"I was not aware of this (the donation). My wife Pinky did it on her own. I got to know of what she had done when journalists began inquiring about it. I was as surprised as anyone else. I called up Pinky and she confirmed the news," Rakesh said.
Rakesh, who has been married to Pinky for 46 years, is filled with pride at his wife's gesture.
"That she gave the money to help that distressed girl is fine. But what really touched me is that Pinky did it so quietly, without letting anyone know about. Not even me. The gesture was leaked from the hospital and that's how the media got to know about it," he added.
So does Rakesh feel that it's the duty of the privileged to help the needy?
"I can't comment on what others do or don't do. But yes, if it is within our means, we always like to come forward in any way possible to help in a genuine cause. My wife Pinky, my daughter Sunaina and my son Hrithik are always there to support genuine charitable causes."
Hrithik added: "It's not nice to speak about small gestures. If some of us have the means to assuage others' pain, why not? I wonder why people only help others when something impacts them personally. Having means to help, and then not coming forward to help, is a sign of an insecure soul."
Eman reached Mumbai earlier this month -- thereby stepping out of her home first time in over 25 years. Considered the heaviest living human in the world, she is here for weight loss.
http://www.khaleejtimes.com/international/india/bollywood-superstars-mum-donates-dh55000-to-help-overweight-egyptian-woman
-------
Can these Jewish and Muslim women cook their way to understanding?
FEBRUARY 23, 2017
It turns out there's more common ground than you'd think between Jewish and Islamic customs.
For one, tzedakah, the Jewish concept of charitable giving, has a counterpart, sadaqah, in Islamic tradition. For another, there is crossover between kosher and halal: Both ban pork and require special slaughterhouse protocols.
And then there's that interfaith universal: the five-second rule.
Fatmata Sillah, 42, a nursing assistant from Collingdale, called it —then scooped up a slippery strip of lasagna that had escaped to the linoleum floor, rinsed it, and returned her attention to a pot of boiling pasta.
Cooking and community go hand in hand for this Philadelphia-area chapter of Sisterhood of Salaam Shalom — a movement to bring together groups of Muslim and Jewish women around the country.
"The idea is that you can't hate what you love," said Meredith Barber, a Penn Valley psychologist who is the Jewish cochairwoman of the chapter. "The idea is about Jewish women and Muslim women getting to know one another and becoming friends and changing the world that way, through relationships."
The chapter is nearly two years old, but since the election there has been an explosion of interest. Barber and her collaborators are trying to channel that into the creation of new chapters across the region.
Each chapter operates a little differently. Barber's includes 14 members, who participate in monthly meetings, plus quarterly marathon cooking sessions that produce dozens of kosher and halal meals to serve at soup kitchens and to stock the freezer at the Philadelphia Interfaith Hospitality Network.
"After we were meeting for a year or so, the women said, 'We'd like to do something together,' " Barber said. "We had a discussion about what we wanted to do, and we wanted to feed homeless people and we wanted to cook together."
So, on a recent Sunday afternoon, five of them gathered in Barber's kitchen to make six large pans of kosher vegetarian lasagna.
Teresa Hadjali, 52, of Upper Darby, was chopping a heaping pile of onions. A principal at an Islamic school, she said the sisterhood is a place where she finds acceptance and solidarity. "It is, first of all, a very healing and encouraging support group." Sally Selim, 43, of Malvern, the chapter's Muslim cochairwoman, said that, in most settings, "we tend to focus more on what is different instead of what we have in common." Here, the opposite is true.
She began to explain — then someone's mobile phone began to chime an alarm, a digital call to prayer. She and the other Muslim women in the group excused themselves, asked Barber to point them eastward, and retreated into another room to pray.
When Selim returned, she began mixing vegetables and ricotta in a large bowl and pondering how the current political climate has transformed the meaning of the Sisterhood to her. She recalled the relief of attending her first meeting following the presidential election in November.
"I felt I could talk openly. All the fears and anxiety and anger and disappointment, I felt I could finally get that out in the open," she said.
Kathy Roberts, 52, of Gulph Mills, agreed: "When you get down about politics, you get together with these women and you feel like there is still humanity left."
Still, some topics are verboten – or, to borrow an Islamic term, haram.
Sheryl Olitzky and Atiya Aftab, the two New Jersey women who founded the Sisterhood of Salaam Shalom in 2010, developed guidelines. Among them, said Barber, "we're not allowed to talk about the Middle East unless we've been together for something like two years, and even then only with a trained facilitator."
Her group has steered clear of the subject. She feels there's plenty of less-treacherous ground to cover first. And, she's currently focused on helping form new chapters. About 120 women in and around Philadelphia have expressed interest – but only about 25 of those are Muslim. So, many more Muslim women are needed to launch new groups.
For now, said Rachel Falkove, of the Philadelphia Interfaith Hospitality Network, the meals – dropped off in stacks of plastic containers with custom-printed labels – are making a small but vital difference.
"We get a lot of people walking in who are hungry," she said. "We have families who run out of food stamps and need something to feed their kids. We get working poor coming in who don't have food stamps, but they're just not making it. And not everyone has cooking ability in their homes: They may not have utilities. They may not have a working stove. They may not have a refrigerator."
Sillah said she hopes these small gestures can result in a cumulative impact.
"I think at this time we needed something like this," she said. "Women are the ones that make things happen. We might not be at the forefront, but we make things happen."
http://www.philly.com/philly/food/Jewish-muslim-kosher-halal-sisterhood-salaam-shalom.html
-------
URL: https://www.newageislam.com/islam,-women-and-feminism/new-age-islam-news-bureau/turkey-lifts-military-ban-on-islamic-headscarf/d/110182
New Age Islam, Islam Online, Islamic Website, African Muslim News, Arab World News, South Asia News, Indian Muslim News, World Muslim News, Women in Islam, Islamic Feminism, Arab Women, Women In Arab, Islamophobia in America, Muslim Women in West, Islam Women and Feminism