New Age Islam News Bureau
14 Sept 2017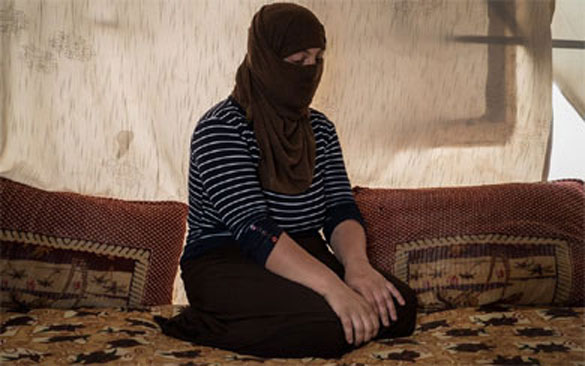 To rejoin their own community, after forced conversion and emotional and physical ---abuse, the women must first undergo a form of rebirth ritual.
----
• Girl Strapped With Bomb Kills Five in Cameroon Mosque
• What Attracts Japanese Women To 'Islamic State'?
• Yazidi Women Undergo A Rebirth Ceremony After Islamic State Enslavement
• Pakistani Girl Subjected To Acid Attack
• Pak Cops Held As Woman-Torture Video Goes Viral
• Liberia: Women Initiative for Self Help Ends Workshop on Gender Base Violence
• The British Female Thai-Boxing Champion - Who Kept Her Training Secret from Her Strict Muslim Family
Compiled by New Age Islam News Bureau
URL: https://www.newageislam.com/islam-women-feminism/tunisian-women-rights-plan-rattles/d/112524
--------
Tunisian Women's Rights Plan Rattles Muslim Traditionalists
2017-09-14
Tunis - Some denounce it as a violation of Islamic law, others embrace it as revolutionary: An initiative by Tunisia's president to make inheritance and marriage rules fairer to women is reverberating around the Muslim world, and risks dividing his country.
The 90-year-old president, Beji Caid Essebsi, argues that Tunisia needs to fight discrimination and modernize. He's gambling that he could shepherd through such changes because his secular party is in a coalition with an Islamist one, and because his overwhelmingly Muslim country has a history of relatively progressive views toward women.
In a speech last month, Essebsi proposed allowing women the same inheritance rights as men, instead of the current system based on Islamic Shariah law that generally grants daughters only half the inheritance given to sons.
The president also suggested allowing Muslim women to marry non-Muslims; currently Muslim men are allowed to marry non-Muslims but not the other way around. He announced the creation of a commission led by a woman lawyer and rights activist aimed at drafting revised rules.
Just raising the call for changes is a dramatic move. Mainstream Muslim clerics almost universally see the inheritance rules as enshrined in the Quran, Islam's holy book, and consider the rules on marriage to be equally unquestionable in Shariah. Most Muslim-majority countries in the Mideast and Asia enforce the rules since they use Shariah as the basis for personal status and family law. Some worry that such changes could stir up extremist anger in a country that has already suffered deadly attacks.
The president argues that existing practice violates Tunisia's constitution, adopted in 2014 in the wake of the Arab Spring revolution, and that he wants Tunisia to reach "total, actual equality between men and women citizens in a progressive way," as called for in the charter.
He said wants to fight discrimination in a country where half of engineers are women, as are a majority of medical, agricultural and textile workers and those with higher education.
The first president of independent Tunisia, Habib Bourguiba, championed a landmark social code in 1956 that set a standard for the region by banning polygamy and granting new rights to women unheard of in the Arab world at the time. But even he didn't dare push for equal inheritance.
The chief editor of daily Le Maghreb, Zied Krichene, expressed hope that Essebsi's initiative would bring a "second revolution."
But in Egypt, the world's foremost seat of religious learning for Sunni Muslims, Al-Azhar, swiftly rejected the proposals.
"Calls for the equality of men and women in inheritance do an injustice to women, don't do women any good and clash with Shariah," Abbas Shoman, Al-Azhar's second most senior cleric, said in a statement.
In defense of the ban on non-Muslim men marrying Muslim women, Shoman said that while Muslim men were likely to respect the beliefs of their non-Muslim spouses and freedom to worship, non-Muslim men were unlikely to do the same for their non-Muslim wives. But the proposals sparked a heated debate on social media networks among Egyptians. Supporters of Essebsi's initiative said Al-Azhar was showing its true colours as a bastion of religious militancy.
Muslim parents who see the inheritance laws as unjust often resort to putting assets in their daughters' names during their lifetimes. In Lebanon, some Sunni men convert to Shiism to take advantage of what they see as the minority sect's more equal treatment of women when it comes to inheritance. Tunisia is overwhelmingly Sunni.
Moroccan academic Nouzha Guessous welcomed the Tunisian proposal as "a beautiful bright spot in the grim political and social skies in Morocco and elsewhere in the Muslim world." Writing in the Moroccan magazine L'Economiste, she said the Tunisian president could "go down in history ... as an enlightened Muslim leader characterized by a political conscience and attuned to the changes in society."
She expressed hope Tunisia could set a precedent across the Muslim world.
"As a proud, full-fledged Moroccan woman, I must admit that today, yes, I would have liked to be Tunisian," she wrote.
There are some Muslim theologians who argue that the one-half inheritance for women is not absolute in the Quran and that it is open for reinterpretation to fit the Quran's requirements for justice and equality.
Still, the mainstream view is deeply entrenched. In Tunisia, the country's leading imams and theologians issued a statement denouncing the president's proposals as a "flagrant violation of the precepts" of Islam.
Tunisia's Islamist party Ennahdha hasn't taken an official line yet, but party No. 2 and former Prime Minister Hamadi Jebali warned against anything that would "threaten social peace" and said the president's ideas aren't taking into consideration the feelings of all Tunisians, just a liberal segment of the population.
"Either the chief of state doesn't know that a text codified by the Quran cannot be subject to interpretation, or it is a political calculation," he said on his Facebook page.
Several analysts suggest the president is trying to win back support from women who supported him widely in 2014 elections for his modernizing program, but then grew disillusioned after he allied with the Islamist party.
Tunisian professor Mohamed Hédi Zaiem said the proposals give a new impetus to moderate Islam.
"The only moderate Islam is that which recognizes the need and the right not only to interpretation but also to evolution," he said, calling the battle for renewing religious discourse "the mother of all battles."
http://www.news24.com/Africa/News/tunisian-womens-rights-plan-rattles-muslim-traditionalists-20170913
--------
Girl Strapped With Bomb Kills Five in Cameroon Mosque
Sep 14, 2017
A girl with a bomb strapped to her walked into a mosque in northern Cameroon where it exploded, killing five worshippers in an attack bearing the hallmarks of Islamist militant group Boko Haram, authorities said.
The girl of 12 or 13 years old arrived at the Sanda-Wadjiri mosque in remote Kolofata at the first call to prayer at between five and six a.m., the governor of Cameroon's Far North region Midjiyawa Bakary told Reuters by telephone.
"The men were bowed in prayer when she came," Bakary said. "Five of the worshippers were killed and the bomber also."
He did not name any suspects, but Boko Haram has repeatedly used suicide bombers as well as strapping children with explosives to strike at civilian and military targets.
The Nigerian jihadist group, which is now split into at least two factions, has been fighting for almost a decade to revive a medieval Islamic caliphate in the Lake Chad region, where Nigeria, Cameroon, Niger and Chad meet.
Allied forces from the four countries have routed it in much of the territory it once controlled, but the group has responded by scattering and stepping up attacks on civilians.
Amnesty International said last week that Boko Haram had killed 381 civilians in Nigeria and Cameroon since the beginning of April, more than double that for the preceding five months.
Of those, 158 of the deaths were in Cameroon, which the rights group linked to a rise in suicide bombings, the deadliest of which killed 16 people in Waza in July.
http://nation.com.pk/international/13-Sep-2017/girl-strapped-with-bomb-kills-five-in-cameroon-mosque
--------
What attracts Japanese women to 'Islamic State'?
13.09.2017
Japan has been shocked by reports that a handful of Japanese women have been detained in Iraq, apparently after travelling to the region to marry fighters for the so-called "Islamic State" (IS) - although there seems to be little sympathy for their plight.
Media reports from Iraq specify that more than 1,330 foreign women and children are currently being held at a camp for displaced people in northern Iraq. The foreign nationals, who according to the Associated Press were families of "IS" fighters, surrendered to Kurdish forces in late August after the "IS" stronghold in Tal Afar near Mosul was captured. The foreign nationals are believed to be from 14 countries, with Japan's Shukan Bunshun news magazine reporting that five are Japanese citizens.
No additional information has been provided by the Japanese authorities, such as the names, genders or ages of the five people. There is speculation, however, that at least one of the women travelled to Iraq to marry an Islamic State fighter. It is also possible that children may be among the five detainees.
The reports have stunned Japan, where the only previous suggestion that anyone was attempting to join IS came when a student from a university in Hokkaido was detained after claiming he was planning to join the revolution.
Japanese just as susceptible to 'IS'
The reports of Japanese women travelling to live with IS fighters is a similar story told many times in Europe, where cases of young women travelling to Iraq to marry IS insurgents have drawn a lot of attention.
The narrative centers on how impressionable young women were groomed through social media and convinced to leave a peaceful and stable life to live in a war zone.
Makoto Watanabe, an associate professor of communications and media at Hokkaido Bunkyo University, told DW that a similar approach would have been used on Japanese women, and that they would have been just as susceptible.
Read more: German teenage runaway suspected of joining IS found in Iraq
"Young people in Japan have become deeply disconnected from society as a result of the Internet and social media," he said, adding that youth have a network of friends on social media, yet remain absent from a large part of society and are isolated and disconnected.
"These people are lonely and often trying to find an identity for themselves," said Watanabe. "This is why they often believe everything they are told when they come into direct contact with, for example, someone from Islamic State on a chat site or some other internet page."
"They have become distant from society and have questions," Watanabe added. "Those questions can include religion and god and the answers they get online can be quite appealing."
There has also been a minor boom in interest among some young Japanese in Middle Eastern culture, arts, history, cuisine and religion, with a number of young people - primarily women - being sufficiently interested to take part in events at the mosque in Tokyo's Shibuya district.
A spokesman for The Japan Muslim Association said he was unaware of reports of Japanese women heading to Iraq to join IS and declined to comment on their possible reasons.
Parallels with Aum cult
Watanabe believes there may be parallels between people joining IS and those who joined Aum Shinrikyo, the apocalyptic Japanese cult that planned to overthrow the government and set up its own state. Its aims were thwarted after some of its followers released sarin nerve gas on Tokyo's subway system in 1995, killing 12 people and injuring a further 4,000.
"The people who joined that cult were trying to find a place and meaning to their lives and were attracted by an organization with a strong creed that eventually grew into Aum, so there are definite similarities with young Japanese who feel an affiliation with Islamic State," he said.
Whatever their motivations, the women who have married Islamic State fighters they have only met online cannot expect a warm welcome when they return to Japan, even though the authorities are unlikely to prosecute them.
Ignored in Japanese media
"This has not been talked about in society or the media at all until now, as far as I can tell," said Watanabe, who believes that domestic media have ignored previous reports that Japanese women were heading to the Middle East to marry Islamic State fighters. He added that this may be because they self-censored their reporting on the grounds that it reflected badly on Japan.
This approach contrasts dramatically with media coverage in Europe, where cases of young women going to the Middle East to join IS insurgents they met online have been widely reported.
An alternative explanation, Watanabe suggested, would be that the Japanese media is far more interested in local scandals involving a Japanese politician or TV star, adding that there is also a strong possibility that the government intervened and ordered media companies not to broadcast the news.
http://www.dw.com/en/what-attracts-japanese-women-to-islamic-state/a-40483895
--------
Yazidi women undergo a rebirth ceremony after Islamic State enslavement
SEP 14, 2017
Their religious community suffered an attempted genocide at the hands of the Islamic State group.
Though many escaped, thousands of the Yazidi minority group were killed when IS stormed across northern Iraq in 2014. It was the human catastrophe that the United States said led it to relaunch its bombing campaign in Iraq.
But the militants also captured and kept alive thousands of Yazidis. IS forced them to convert to their extremist version of Islam. Many of the captive boys were made to fight for the militants. Women and girls were frequently traded as sex slaves.
Now, with IS losing ground, some Yazidis are free from captivity and dealing with the trauma. Some are speaking out about their ordeal.
But to rejoin their own community, after forced conversion and emotional and physical abuse, the women must first undergo a form of rebirth ritual.
Traditionally, the ceremony is used for young boys and girls. Now, Yazidis say the extent of the militants' assault on them is a special case — it's required them to extend the ritual to adult women.
In June, GlobalPost had among the first outside reporting teams the community allowed to attend and document a Yazidi reintegration ceremony at their holy site of Lalish, according to Yazda, a Yazidi aid group operating in Iraq.
One of the oldest minorities in Iraq, the Yazidis have been persecuted and targeted for extermination throughout history. In recent times, their villages were razed under Saddam Hussein's dictatorship.
Today, extremists continue to call them "devil worshipers" and attempt to wipe them out.
Turkia Hussein, a 25-year-old Yazidi mother of two, recalls the moment in August 2014 when IS — which she calls by its Arabic name, Daesh — invaded the town of Sinjar. Her husband was a member of the Kurdish peshmerga army.
"Daesh arrived in the village and told the families that they would not hurt them and that they would not be killed," Hussein says. "They said they were against the government of Iraq, unlike the Kurdish pershmergas [army]. They said they were trying to protect families."
But they soon became vicious.
Many Yazidis were shot, beheaded or burned alive, and others died of starvation, dehydration or injury.
Those who survived were forced to fight alongside the militants. Younger women were taken as sex slaves and older women were put to domestic work.
Hussein tried to escape with her family. They got in a car and sped down a road leading to the semi-autonomous region of Iraqi Kurdistan. But on the way, IS militants intercepted them and took them captive.
Hussein was separated from her family and taken to Syria, where she was made to study and memorize the Koran. After converting her to Islam, the militants took her back to Iraq. In her two years of captivity, she says, they sold her as a sex slave 13 times.
Hussein says the Yazidi community understands she and other survivors were converted by force. The ceremony is meant to purge them of the their forcibly adopted religion and the harm they experienced.
"The community is helping us a lot. They respect our situation and respect us," she says.
http://www.post-gazette.com/news/world/2017/09/13/Yazidi-women-undergo-a-rebirth-ceremony-after-Islamic-State-enslavement/stories/201709130119
--------
Pakistani Girl Subjected To Acid Attack
September 14, 2017
LAHORE: A young girl suffered burns on her face in an acid attack in Defence area here on Wednesday.
According to police the girl was subjected to acid attack after she refused to marry her fiancé.
According to the initial police inquiry, the girl, 'B', was working as a sales manager at a pharmacy in K Block market in Defence.
She left her workplace after duty hours and was waiting for a bus at a stop near the market where her fiance Azmat arrived on a motorbike. He allegedly threw acid on her face and fled the scene, the police said. The girl suffered burns on 90 percent of her face and 20pc of her body, the police said, adding that she was immediately rushed to hospital where she was said to be in a serious condition.
The police teams conducted raids to arrest the suspect but could not trace him so far.
A case has been lodged against the suspect at the Defence A police station.
https://www.dawn.com/news/1357522/girl-subjected-to-acid-attack
--------
Pak Cops Held As Woman-Torture Video Goes Viral
September 14, 2017
SIALKOT-ASI Sarwar Ali and two constables were arrested as the video of police torture on a woman went viral on social media as a case was also registered against the female victim instead of the policemen who allegedly tortured her the other day.
The video shows the policemen beating up Ruqaiya Bibi, slapping her and dragging her publically. The video went viral on social media and was also aired on different news channels.
Taking serious notice of this nasty episode, Sialkot District Police Officer (DPO) Abid Khan sent the accused ASI Sarwar Ali and two police constables Muhammad Luqman and Muhammad Shehbaz behind bars for beating the woman on the premises of New Judicial Complex Daska last Monday. The DPO has also ordered a strict departmental probe against these policemen.
Meanwhile, Civil Judge Muhammad Waqas Hashmi granted bail to police the torture victim and ordered her release on bail in the case.
The Daska City police produced accused Ruqaiya Bibi before the court amid tight security and police sought physical remand of the accused. On the occasion, the court granted bail to her.
On Tuesday, the police had arrested Ruqaiya Bibi after registering a case against her for beating the police assistant sub inspector in the premises of new judicial complex Daska.
The Daska City police registered a case (No. 777/2017) under sections 186, 353, 337-A(i) and 337-F(i) PPC on the report of Assistant Sub Inspector Sarwar Ali deputed. The FIR revealed that the accused woman attacked the ASI. He added in the FIR that the accused woman also tried to snatch Saania Akhtar, her daughter-in-law, from police custody, as the police did not allow both the women to meet each other.
The FIR narrated that the accused woman was guilty as she beat the ASI badly, thrashed him there tearing his official uniform during this ambush in the premises of new judicial complex in Daska.
SCCI CONCERNS: The Sialkot exporters have expressed grave concern over the inordinate delay in the clearance of sales tax refunds.
Talking to the newsmen, exporters Abid Hussain, Arif Mehmood Sheikh, Umer Nawaz , Ejaz Hashmi, Rehan Ahmed , Bashir Mehmood, Ghulam Hussain and Muhammad Aslam said that the Sialkot exporters were much perturbed as their duty drawback, sales tax, income tax refund claims amounting to Rs4.5 billion had been lying pending for the last several years. They said that the inordinate delay in the payment of these refund claims was causing financial crisis for the Sialkot exporters, besides, creating hurdles in the smooth flow of cash in the Sialkot's export industries.
They said that the Federal Board of Revenue (FBR) should also encourage and patronise the Sialkot exporters at every level enabling them to struggle hard with full devotion, dedication, enthusiasm and complete peace of mind for enhancing the national exports.
They asked the government to also give some financial relief to Sialkot exporters in shape of releasing their all the prolonged pending cases of duty drawback and refunds claims.
THEFT: Some unknown thieves broke in the PTCL telephone exchange at Bhopalwala, Sambrial tehsil and decamped with 12 batteries. Sambrial police are investigating with no clue or arrest.
http://nation.com.pk/national/14-Sep-2017/cops-held-as-woman-torture-video-goes-viral
--------
Liberia: Women Initiative for Self Help Ends Workshop On Gender Base Violence
13 SEPTEMBER 2017
Buchanan — Women Initiative for Self Help (WISH) Liberia, Inc. has ended a two-day workshop on its nine months project title, 'Rescue My Sister,' in Buchanan City, Grand Bassa County.
The project is an advocacy for abandonment of Female Genital mutilation (F.G.M) practices, violence against women and girls in rural communities and promoting and encouraging girls to go to school in-order to increase women capacity in decision making.
The workshop brought together participants from a cross section of the Liberian society including teachers, community leaders, religious leaders, youth leaders, and students, representatives of the civil society and the county authority of Grand Bassa County.
During the workshop, participants were taught about the root causes of gender based violence and the harmful effects of Female Genital Mutilation or F.G.M and the need to sensitize young girls about the importance of education, the negative impact of early marriages amongst others.
Speaking during the workshop, the program officer of Women Initiative for Self Help and one of the lead facilitators of the workshop, Madam Louise Harvest Hilton said the 'Rescue My Sister' project has been a dream of the Executive Director of Women Initiative for Self Help to advocate for girls in the rural communities to turn away from early marriages and F.G.M and focus on education in-order for them to become productive women in the Liberian society.
"I am not against cultural practices; all I am promoting is education, I am still asking them to continue their practice, but they should allow the girls to grow up and be mature and desire for themselves whether they want to go in the sande bush" Madam Hilton explained.
"They should stop forcing the girls into the traditional society, because when you force a person against their will, it is a human right's violation. All we are promoting is for the girls to be willing to go into the sande society" she continued.
According to Mrs. Louise Harvest Hilton, the practice of Female Genital Mutilation or F.G.M is done with harmful instruments that are used on many girls at the same time, without sterilizing the instruments which causes several medical conditions for the girls including Fistula and other infections and also makes some of them traumatized for the rest of their lives.
For his part, the Imam representing the Muslims religion at the workshop, Imam Mohammed L. Gaytaweh of the Vai Town Mosque in Buchanan City called on men in Liberia to respect the rights of women and to treat them with love and kindness.
"Let the women have their will, let the women have their freedom. We must give our women the free will to think who they are" he averred.
Imam Gaytaweh dismissed global perception that Muslims are violent people; adding that Islam is a loving caring and peaceful religion. "I want to call on all men to stop violence against women" he concluded.
Meanwhile, the Protocol and Communication Officer of Grand Bassa County, Eddie Williams encouraged women and girls at the workshop to take advantage of every opportunity that the government has made available for women empowerment in the country.
Mr. Williams said in terms of decision making in Liberia, women have not done enough for themselves; citing the number of female Lawmakers at the National Legislature compared to the number of registered female voters in the country.
He furthered that women have continuously placed themselves in the back and look up to the men for everything they need and as such they have been seen as inferior to the their male counterparts.
"An empowered women's community is a vibrant way of developing a nation" Williams intoned.
"The government of Madam Ellen Johnson-Sirleaf has done more to empower Liberian women and to give them voice among men in Liberia and the global community" he stated.
At the same time, participants of the workshop thanked WISH for the project and said they will go into the rural communities to inform the traditional people about the importance of girls' education and the need to stop forcing young girls into early marriages and F.G.M practices, which according to some of them has now taken different trend from what it used to be in the past.
The 'Rescue My Sister' project is funded by AmplifyChange-UK and implemented by Women Initiative for Self Help (WISH) Liberia Inc.
http://allafrica.com/stories/201709130804.html
--------
The British female Thai-boxing champion - who kept her training secret from her strict Muslim family
Sally Williams
14 SEPTEMBER 2017
Last April, Ruqsana Begum, who grew up in east London and studied architecture at Westminster University, became the Muay Thai world champion after beating Susanna Salmijärvi from Sweden. She had been selected from a pool of 10 elite female boxers from around the world to compete for the title, and the fight was held in the circular auditorium of The Round Chapel in Hackney.
At first glance it was a straightforward fight: two young women at the height of their careers in a sport growing in popularity. Muay Thai (or Thai boxing) is a form of kick-boxing where fighters strike with their fists and their legs (specifically the lower part of the shin, which if deployed correctly, has the force and impact of a baseball bat). It has a big following among millennials and was recently granted provisional Olympic status (final acceptance can take up to seven years).
For women, gaining the right to box has been a battle – they weren't allowed to compete in conventional boxing in the Olympics until 2012. And for Muslim women, in particular, the problem is compounded.
By the time Begum won her first competition at 19, she had spent several years concealing the fact that she was a martial-arts fanatic from her parents, on the grounds that they wouldn't approve of her training in a gym wearing revealing clothes while hitting and being hit by men.
Not that she isn't respectful of her faith: in the world-title fight she wore red leggings under her shorts; her opponent had bare legs.
Her fighting career was also derailed by an arranged marriage in her early 20s, which proved disastrous. And the final complication is that she suffers from ME, or chronic fatigue syndrome, which is a long-term illness where the severity of symptoms can vary from one day to the next.
'When my ME cuts in I can barely climb the stairs let alone go into the ring and have a world- title fight,' she says. She was struck down a week before the fight. 'I woke on that Saturday morning and I spoke to my coach. I said, "I'm sweating, I've got a fever." And he said, "Rox take a cab, get to the venue, and we'll make a decision then."' Towards the end of the fight she felt so weak she thought her legs would give way.
'I remember my coach held me and he said, "How are you feeling?" I said, "I'm dead, I'm gone." And he goes, "Rox, this is a world- title fight! Wake up!"' She kept going until the bell went. 'Thankfully, it was enough.'
We meet at the KO Gym, a cavernous space beneath three railway arches in Bethnal Green, east London. Revered in Thai-boxing circles, the gym is Begum's home-from-home where she trains six times a week, for up to two hours a day.
It's a subterranean world of locker rooms, fluorescent lights, thumping music, mirrors and the stink of sweat. City boys, Bangladeshi kids from the estates, muscular black dudes, immigrants from Lithuania and Poland; some professional fighters, some here simply to keep fit – all thumping punch bags, sweating sit-ups, beating the hell out of each other in the ring.
'It isn't very female-friendly,' Begum admits. 'But if I can hold my own with the guys, I know that when I step into the ring I will have the edge.'
It's 10am when we meet and she has already done her warm-up: press-ups, sit-ups, skipping, building up her quads – you need powerful legs for Thai boxing. She is tiny, 5ft 3in; weighs in at 48kg (7st 5lbs) and fights as a light flyweight, one of 19 categories in the Muay Thai division.
Now it's time for some conventional boxing – to 'sharpen' her Muay Thai. A bell goes and Brian O'Shaughnessy, one of her coaches, bounces on the spot, as she stalks around the perimeter of the ring. Then she comes in, hammering him with double jabs, hard rights, hooks, uppercuts.
When she's not boxing, Begum is sweet, obliging, with an open, smiley face that makes her look much younger than 33, but in the ring she hardens into elemental aggression. 'She has that kill or be killed instinct,' O'Shaughnessy tells me later. 'A lot of boxers have got the talent, but they haven't got the instinct. When she's outside the ring you'd never know, it's only when she's inside that you realise.'
'I have two sides to me,' she admits. 'I hate confrontation, even now at home, but I love fighting.' Ever since her early teens these two sides have been in constant tension. On the one hand obedience, on the other rebellion. And her sport takes the strain out of that tension.
'Sport is my release,' she says. Ruqsana Begum was born in Bethnal Green, where her father worked as a tailor-cum-machinist in a factory making leather jackets for high- street fashion stores. Her mother was a housewife and Begum is one of five. It was her paternal grandfather who moved to the UK from Sylhet, Bangladesh, to fight for the British in the Second World War.
The family lived in a council flat among the predominantly Bangladeshi community and Begum, who was 'sports mad', went to the local primary school, and then to Swanlea, a mixed secondary in Whitechapel. She describes her family as 'close-knit' and talks often of being 'a good daughter'.
In other words she went to Arabic classes after school; she learnt to read the Koran; she dressed modestly in a salwar kameez (trousers with a knee-length tunic); she helped her mother with the chores.
In fact, she says her father was open-minded in the sense that he supported her education and allowed her to play in the park when she was young. 'My friends' fathers were stricter.'
Her parents even let her have school swimming lessons and go on a week's trip to the countryside when she 10. However, once she hit puberty it changed. No more riding her bike in the park or playing football with the boys. 'Even if we were seen talking to a guy my mum would ask so many questions, "Why are you talking to him? What's going on?"'
No sleepovers with the girls, no after-school visits to friends' houses, unless she needed help with homework and then only for an hour or so. The traditionalist in Begum – the part of her that wanted to be good and do the right thing – went along with it.
'I just accepted that this was their belief: that you're a young woman now, you should learn how to cook, help your mother at home, so that is what I did.'
In 2001, when she was 17, doing her A-levels (art, history, Bengali, media studies) and set on university (in London; living away from home was out of the question), she saw a notice at college for kick-boxing classes. As a child she had been introduced to Bruce Lee films by an uncle who was a frequent visitor. Begum was fascinated.
'But we never had the opportunity to do martial arts at school.' And the cost of private lessons, even if her parents had agreed, was outside the family budget. This was her chance. She told her mother she was going shopping. 'I just loved it. They didn't teach you much, just jab, cross. But I knew I wanted to do more.' Unfortunately that was her first and only lesson. 'The school didn't have the funding to continue the sessions.'
But the instructor handed Begum his card with the address of a gym about a 10-minute walk from her home. A few weeks later, this time with the cover of visiting her grandfather, who was in hospital (the visit wasn't a lie; just the amount of time she spent at his bedside), she went to the gym.
And it was here – at the KO Gym (then in Punderson's Gardens, Bethnal Green), where many years later she would celebrate becoming world champion by taking the entire gym out to dinner – where she found, as she puts it – her 'life', and also her Muay Thai coach.
Bill Judd is something of a hero in the world of Thai boxing, having trained and nurtured many world-class competitors. 'Bill saw something in me,' Begum says. 'I was determined to learn and absorb everything he was teaching.' And so began the period of subterfuge.
'When my younger brother was 16 he was scouted by Arsenal [for a training camp] and my father said, "No."' As he saw it his son's education should come first.
'My brother was quite stroppy for a couple of years because he felt like he'd lost his opportunity. And that played in my head. I thought if they're not letting their son participate in sport, why would they let their daughter?
'I would wake up extra early on a Sunday morning,' she explains, 'help my mum with the cooking, make sure I'd hoovered the house, done all the chores so she was pleased with me and in a good mood, and then I'd politely ask, "Mum, can I go to the gym?" And she would say, "OK, you can go for an hour, seeing as you've done everything else."' The Sunday-afternoon class started at 2pm and actually lasted two hours, but Begum knew she couldn't push it.
'My coach was aware I had to be home at a certain time, so he'd let me leave early.' Of course when Begum said 'gym', her mother pictured running machines and exercise bikes.
'I felt too nervous to reveal any more,' she says. She paid for the classes (£5 a session) and for the kit – gloves, wraps, mouthguard, kick-boxing trousers – with a holiday job in JD Sports, and weekend work in a chemist. She would wash her own kit and dry it as surreptitiously as possible. But deceiving your parents must have made you feel terrible, I say.
'Actually, it made me a much better daughter,' she replies. 'I didn't care about going out with my friends, or wearing fancy clothes. I didn't want to stay out late. All I wanted was to go to the gym for that hour, so I would make sure I was on my best behaviour for the rest of the week.'
Studying architecture at university opened up another opportunity. 'I had evening lectures. So I knew my family wouldn't be expecting me home at a specific time. I started to become a little bit braver and train on Tuesday evenings, too.'
In 2006 she was in her final year at Westminster, thinking about her future career, when her parents broke the news: she was to get married. 'I was just finishing off my dissertation. I said, "Can this not wait?" And my father said, "No. They're a nice family, you will be really happy there."'
And so, at 22, she found herself married to a man who worked in banking and living with her in-laws in Barking. She was also now working at an architectural firm, commuting every day to Epping Forest. Thai boxing faded away.
'It was a new lifestyle,' she says. The comfort of her in-laws became her priority. 'If my father-in-law wanted tea I would have to be the one to make it. If they had guests I would have to be happy and cheery and do the snacks and the food. And if they stayed late, I'd have to stay up and help with the washing-up, even though I had work the next day.' She hoovered, cleaned and helped financially.
'I was trying to please everyone.' She could no longer, for example, just switch on the TV and watch EastEnders. She felt 'suffocated'. Eight months later, she had a breakdown. 'I remember going to work on a Monday feeling more tired than I had done on the Friday. It came to the point where I couldn't keep it up any more.'
One Sunday afternoon, 'just when I thought I'd have to accept this is my life', she collapsed on the kitchen floor. She spent two days in hospital and was later diagnosed as suffering from severe panic attacks. A kindly woman GP told her to pack her bags and move back to her parents' house. 'She was Indian, she understood what was going on.'
Begum went home to recuperate and her husband filed for divorce in 2008, and that was the end of the marriage. But something good came of it: it led to a seismic shift in her relationship with her parents. 'I think my family felt I had done everything they wanted me to.'
A good daughter – and a good daughter-in-law. 'They couldn't fault me on anything. I never raised my voice at my in-laws, I never swore, they knew I couldn't have done any more. And when they realised what the other family were like, and what I was going through, they felt very upset and sad for me. On top of that I'd lost my job because of the recession, so everything was crumbling.'
Her GP prescribed antidepressants, but she knew what would make her happy. 'I said to my father that I wanted to show him something.' She brought him to the KO Gym. 'He sat with my coach and they spoke for an hour.'
Three years later, Begum won a gold medal in the European Club Cup Amateur Muay Thai Championships in Latvia. 'My father was so proud, he showed it to my grandmother. We turned a corner on that day I took him the gym,' she says. 'I didn't have to live a double life any more.'
Within the local Bangladeshi community, Begum says people only really became aware of her success when she became the British champion in 2011, and the media gave her such good press that she was upheld as an example of what Bangladeshis can achieve. She remembers going to a function with her father at that time and being asked to speak: 'I had been so fearful of this, my father's generation, but they were proud of me.'
She has since moved into her own flat in Gants Hill, Ilford, but still spends half the week with her parents, who live nearby. She is now a full-time athlete (until last year she worked part-time as a school science technician).
Her aim is to switch to conventional boxing – 'Women's boxing is really taking off. I want to see what I can do' – and pursue business interests. In 2012, she launched a line of sports hijabs that are made of Lycra and don't require a safety pin to hold together. 'I want to help more Muslim women participate in sport.'
Begum herself only feels the need to wear a hijab at prayer and in the mosque; she also wore it on a recent pilgrimage to Mecca in Hejaz, Saudi Arabia .
She has to work around the ME which was diagnosed in 2010. Sleep helps – eight hours a night is essential – and a tailored training regime. 'It's all about performance, not too much on fitness.'
She does yoga and works closely with a nutritionist. She eats like an athlete: lots of protein (grilled chicken, salmon), vegetables; not so many carbohydrates. 'The important thing is to avoid too much sugar, so I don't have spikes in my blood-sugar levels.'
'I am very happy and proud of myself,' she says. Emotions that Begum has only recently allowed herself to acknowledge. 'Quite often I've forgotten to give myself a pat on the back for what I've achieved and what I've had to overcome.'
http://www.telegraph.co.uk/women/life/british-female-thai-boxing-champion-kept-training-secret-strict/
--------
URL: https://www.newageislam.com/islam-women-feminism/tunisian-women-rights-plan-rattles/d/112524
New Age Islam, Islam Online, Islamic Website, African Muslim News, Arab World News, South Asia News, Indian Muslim News, World Muslim News, Women in Islam, Islamic Feminism, Arab Women, Women In Arab, Islamophobia in America, Muslim Women in West, Islam Women and Feminism